Latest posts by Candace Osmond
(see all)
Buying a new mattress is a process that takes time. You might not get the chance to go from store to store to try lying on a bed (which would be futile because you can never tell if you like a mattress by lying on top of it for 5 minutes), but there are plenty of online models to choose from and considering how big and important this investment is, you want to make sure you get it right.
Sleeping on a mattress that's wrong for you is something that way too many people tend to do, but it's only because they've failed to understand what their bodies require in terms of sleeping conditions. What makes a good mattress? What're the criteria worth taking into consideration? And how do we apply the mattress knowledge we gain into the actual shopping process?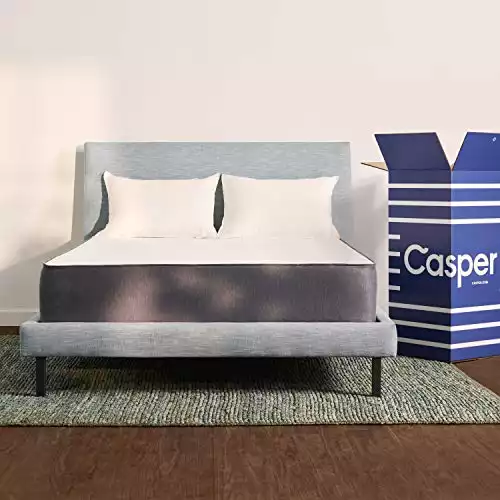 My Top Pick: Casper Mattress
The Casper Mattress really stands out amongst even the best mattresses! It's comfortable, has an affordable price tag and is great for different kinds of sleepers.
Buy Now
We earn a commission if you click this link and make a purchase at no additional cost to you.
12/11/2023 03:26 pm GMT
Firmness & Feel
When you're checking out different mattress models, you'll often come across a term called "firmness". This firmness rating is a number that varies from 1 to 10, but if you've shopped for a new bed more than a decade ago, you didn't have to deal with this concept.
However, the firmness of the mattress is a very important number that might hint a lot about how that mattress is going to feel when you lie down on it.
While the feel of the mattress describes how your body feels when you lie on top of it, the firmness is the main factor that influences how the bed is going to feel.
But even if firmness is just a number, it can be quite a subjective one. The number one rule of mattress shopping that you have to keep in mind at all times is that a mattress that works for somebody else might not work for you.
There is a concept in the mattress industry which is known as "universal comfort". This depicts mattresses that are built to cater to the needs of a wider pool of sleepers. Mattress firmness ratings are grades from 1 to 10, with 1 being the softest surface possible, and 10 being the firmest.
Universal comfort mattresses usually have firmness levels that range between 5 and 7, giving the mattress a medium-feel. Since 80 percent of sleepers are ok with sleeping on such a bed, these mattresses were basically designed to provide a comfortable feel in multiple sleeping positions.
But there are sleepers out there who need a softer mattress, just as there are people who need a firmer one. Because of that, it's important to clarify the concepts of soft, medium, and firm, and what are the firmness ratings for each:
Soft Mattress
A soft mattress is typically preferred by people who like to sleep on the side. As your body pushes the heavier parts inside the bed, the mattress needs to either sink in or push back.
If your body parts are confronted with a firm surface, the mattress will push back instead of sinking it to cradle the body parts. When you sleep on the side, your shoulders and hips push inside the mattress, so if the bed isn't soft enough, you'll wake up in pain. For the most part, soft mattresses have firmness ratings that vary between 3 and 5.
Medium Mattress
A medium mattress is a universal choice. These are the best-selling mattresses for a variety of different reasons, but it's mostly because they are the middle ground that can provide comfort for couples who share a bed, yet would normally have individual sleeping preferences. Medium firmness mattresses will be graded from 5 to 7.
Firm Mattress
Every mattress with a firmness rating of at least 7 or 7.5 is considered to be a firm bed. When you lie on top of such a bed, you'll barely feel your body sinking into it.
They are great for people who like that feeling of sleeping on top of the mattress, but also for heavyweight people that would cause a softer mattress to compress and sink in way too much for their own comfort.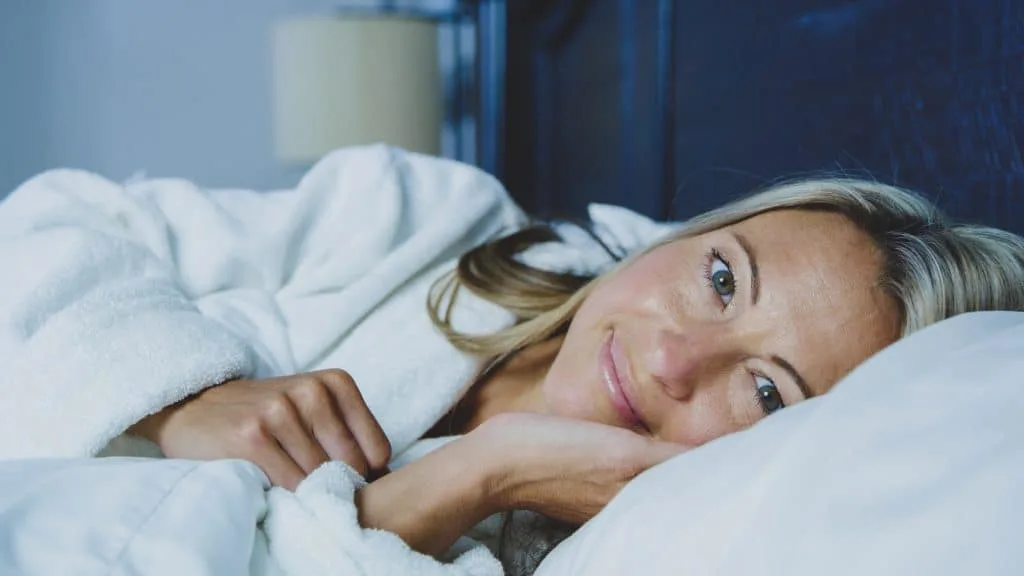 Firmness & Sleeping Positions
There are plenty of factors that will determine what type of mattress is best suited for you, but there are two of them which stand above everything else: your favorite sleeping position and your weight.
There are three main sleeping positions that mattress manufacturers take into account as they're designing their beds: side sleeping, sleeping on the back, and sleeping on the stomach. Needless to say, each type of sleeping position requires a different kind of mattress.
Side sleepers are typically required to buy a softer mattress. When you lie down on the side of your body, there are significant curves that the comfort layers of a mattress should be able to contour so that you can sleep comfortably. Side sleepers would normally need to buy a bed with a firmness rating between 3 and 6.
Back sleepers have it a bit easier because there are plenty of beds out there that do a good job of providing pressure point relief and support for back sleepers. They have the freedom of choosing between soft, medium, and medium-firm beds and the best firmness ratings for a bed for back sleepers range from 4 to 7.
Stomach sleepers should, first and foremost, avoid this sleeping position, if at all possible. Sleeping on the stomach not only forces the spine in a very unnatural position, but it also forces the sleeper to tilt their head to the side, which always puts a lot of strain on the neck, no matter what pillow they're using. But since you can't help but roll on your stomach while you sleep, know that the best mattress for this sleeping position is a medium to firm one. A soft mattress will cause the body to sink into the bed too much, which will eventually lead to lower back problems. A mattress suitable for stomach sleepers can never have a firmness rating lower than 5 (6.5 and higher is preferred).
Firmness & Body Weight
The weight of the sleeper will determine how much they'll sink into the bed, which is what makes it an important shopping consideration. Here is what you need to know about your personal weight and the mattress firmness that would best suit you:
People who weight between 130 and 230 pounds are considered to be average-weight sleepers and are best paired with mattresses of medium firmness, somewhere around 5 or 6. It's up to them to choose if the mattress should fall on the softer side or if they want it to be a little firmer.
Lightweight people are those who weigh 130 pounds or less and they are best paired with mattresses that fall on the softer side. Imagine being lightweight and sleeping on a firm mattress. The upper layers would not allow your body to sink into the surface of the bed up to a point of comfort, which is why you'd be better off sleeping on a mattress with a firmness rating of 5 or lower.
Heavyweight sleepers are those with a minimum weight of 230. They typically need a firmer mattress because otherwise their body would sink into the surface of the bed too deep and they wouldn't get the required amount of support. Heavyweight people would get the best amount of support from a mattress that has a firmness rating of at least 7.
Mattress Types
Naturally, mattresses aren't made from just one single type of material. Back in the day, your options in terms of mattresses were pretty much limited to the traditional coil mattress that would turn out to sag and become really uncomfortable, really fast. Today, even innerspring beds have comfort layers that would prevent the coils from poking you in the back, but the current market is so much more than just coil beds.
Foam mattresses are a very popular choice because they do a really good job of conforming and relieving pressure points:
They are typically made with several layers of high-density polyfoam, memory foam, and regular polyfoam.
They are preferred by couples because of the minimal noise output and superior motion isolation they can provide.
Because they are rather inexpensive, foam mattresses are preferred amongst people who are trying to stick to a limited budget.
Latex mattresses also have a unique feel to them:
The support core of these beds is made from either latex or polyfoam, but you can expect to find latex in the comfort layer as well.
There are two main types of latex that are used in the mattress industry: Dunlop and Talalay. The difference between the two is the density, and not the actual type of latex used. Talalay latex has a fluffier consistency and it's used to make softer beds, while Dunlop is firm and dense, and typically used in making support layers for the beds or comfort layers for firm beds.
Latex is a very durable material, so people who are interested in the durability of the bed should look into such mattresses that contain as much latex as possible.
Heavy sleepers will also benefit from a latex bed because of the superior support and minimal sagging that these beds can provide.
One of the natural properties of latex is that it's naturally cooling. This means that hot sleepers are best paired with latex beds.
Because latex in an organic product, latex mattresses are good for people who suffer from allergies or for those who just want a hypoallergenic bed, or are simply interested in eco-friendly mattresses.
Innerspring mattresses are based on a support system made from coils, which is why people tend to mistake them for hybrid mattresses, which also have an innerspring support system:
Innerspring beds also have their comfort layers that can be made from a variety of different materials, such as foam, latex, mini coils, or blends of cotton and other organic materials.
These beds are quite breathable, making them a viable choice for people who tend to sleep hot. The construction of the beds makes it easy for air to flow through the coils, which results in less trapping of body heat.
One of the main advantages of innerspring beds is the fact that they can evenly distribute the weight of the sleepers across the surface of the mattress.
They are not as conforming as other types of beds because their comfort layers are thinner.
They are good mattresses to look into if you are on a strict budget.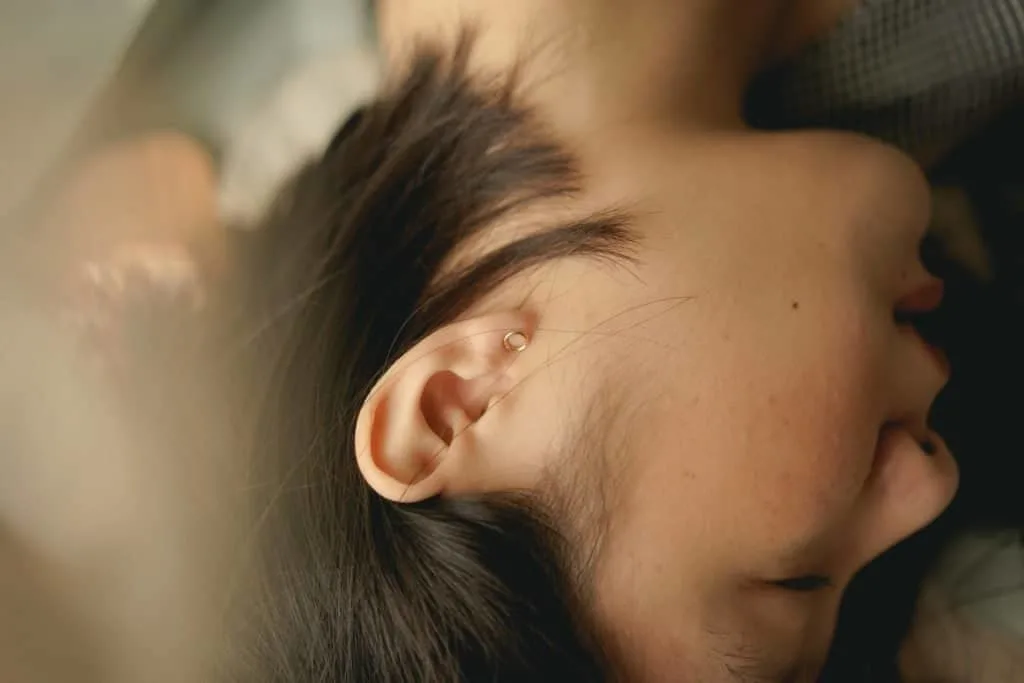 Hybrid mattresses are all the hype right now. They have a coils support system and additional layers on top of them. Note that in order for a mattress to be considered a hybrid and not an innerspring bed, the comfort layer needs to have a comfort layer of at least two inches:
Because they combine coils and other materials, like latex, foam, cotton, etc., hybrid mattresses perform really well in a lot of different tests. Basically, these beds will bring forth the advantages of each of the materials used in the construction of the mattress.
They have good edge support for the most part, as there's typically a polyfoam perimeter that will reinforce the edges so you can enjoy every square inch of your bed.
They are really responsive and good at conforming, but this statement does tend to vary depending on what the upper layers are made from.
For the most part, hybrid mattresses have a support layer that's made from individually-wrapped coils. Instead of the coils being connected to one another, each of them is wrapped in individual fabric. Not only does the spacing between the coils facilitate airflow, but the construction also eliminates the domino effect. If you apply pressure on a regular system of coils, the one that's compressed with will also pull down the other coils it's connected to. With individually-wrapped coils, the pressure applied on top of the mattress is only applied to coils right underneath that area. This helps isolate motion.
Airbed mattresses might not be a very popular choice, but that doesn't make them neglectable:
These beds are constructed with individual air chambers that have some sort of comfort layer on top of them, which is usually made from foam.
The biggest benefit that airbeds provide is the fact that you can control the amount of air that goes inside the chambers, which basically means that you can control the firmness of the bed.
Because their firmness is adjustable, that leads to a series of other important benefits: they are suitable for people who change their firmness preference on a regular basis, they are good for people who suffer from injuries and might require to sleep on a softer/firmer surface until they recover, and they can be suited for couples that require a mattress ranking high in motion isolation tests.
Further Shopping Tips
For a very long time, people have been skeptical about buying items online. While most were worries about credit card theft, others were concerned about receiving a product that doesn't match their description or their expectations. Because of that, the mattress industry has introduced a brilliant concept that boosted online bed sales: the free night trial.
These sleep trials that are available with every mattress you buy online are basically limited periods of time when you can sleep on the mattress and decide if you want to return it for a full refund. Most brands will offer about 100 nights of free sleep trial, but there are companies that grant all the way up to a full year.
However, there are brands that will require you to sleep on their mattress for at least 30 nights before you can initiate a return. That's because not all beds are comfortable from the moment you lie on them, and some materials require time to adjust to your particular body contour.
Always read the warranty claim really carefully, because even if a bed comes with 20 years of warranty, the claims for the first 10 years are most likely different then the ones for the last 10.
While most brands will provide free shipping on their beds, this is typically a matter of where you live. Most beds come with free shipping across the continental US, but Alaska or Hawaii residents are required to pay a flat shipping fee.
Know that mattress can go from really cheap to extremely expensive, which is why you might want to establish a budget and stick to it. For the most part, a decent Queen-sized bed can cost anywhere between $1,000 and $2,000, but there are cheaper beds out there, like those who are made entirely out of foam. Hybrid beds tend to be more expensive, and beds made with organic materials you also cost you a lot.
A Quick Look at the Best Mattresses
Speaking about the best mattresses is really a very tough thing to accomplish, especially since there are so many good beds out there that tailor to different kinds of needs. A good mattress is the one that supports your body, allows your spine to rest in the right position, the one that doesn't cause any discomfort, and won't leave you waking up with any kind of pain.
This is why we're going to list the "best" mattresses that have a large pool of customers that are really happy with their purchase. These brands are widely recognized especially in the US and Canada.
Casper Mattress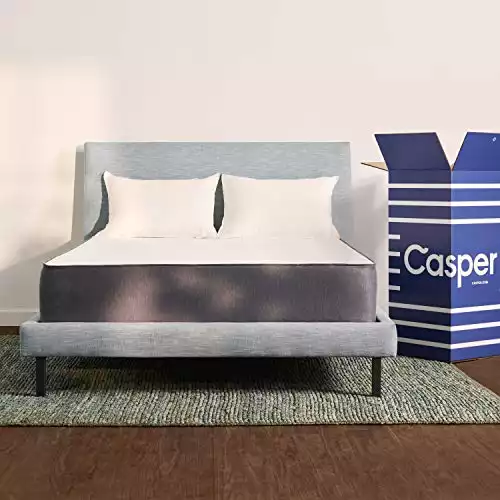 My Top Pick: Casper Mattress
The Casper Mattress really stands out amongst even the best mattresses! It's comfortable, has an affordable price tag and is great for different kinds of sleepers.
Buy Now
We earn a commission if you click this link and make a purchase at no additional cost to you.
12/11/2023 03:26 pm GMT
The Casper mattress is a real hit amongst sleepers. It has a medium firmness rating of 5 and features an all-foam construction that does a really good job at relieving pressure point and providing contouring for the sleeper. It's great at motion isolation, really good for couples, and comes at a very decent price. The cover is polyester and it can be removed and cleaned.
Further read:
Nectar Mattress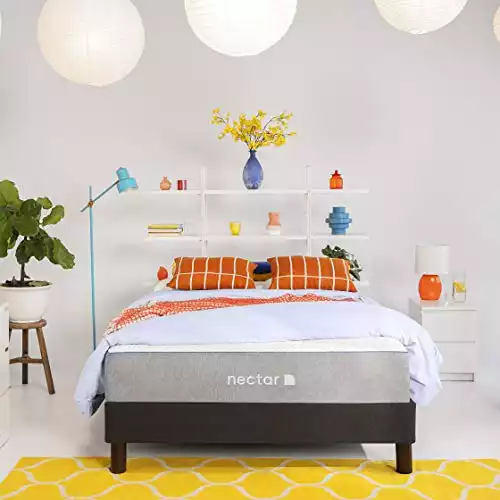 Nectar Mattress
Buy Now
We earn a commission if you click this link and make a purchase at no additional cost to you.
The Nectar mattress ranks high in a lot of different expert reviews. It's a bed that has a firmness rating of around 6 and offers customers a full year of sleep trial and a lifetime warranty. It has a high-quality all-foam construction that adds up to an 11-inch profile. The medium feel of the mattress is perfect for sleepers of average weight that prefer multiple sleeping positions. It's also a good bed for people who are on a budget.
Further read:
Dreamcloud mattress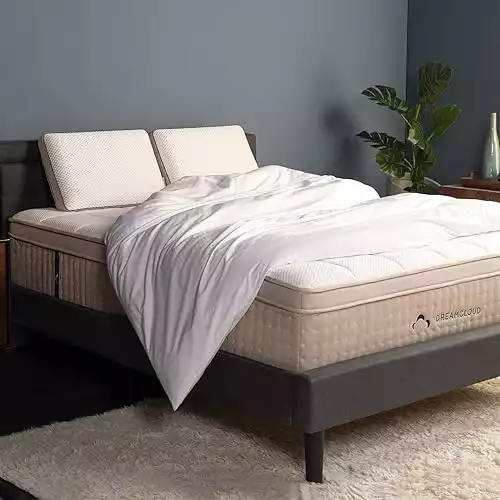 The Dreamcloud mattress is really different from the other beds that are typically considered to be the best. While the general height of good beds is 10 or 11 inches, the Dreamcloud mattress measures 15 inches in thickness, and it's a hybrid with a very interesting construction. The core of the bed is a pocketed coil system that is paired with HD foam, latex, and memory foam to top it all off. It's a great bed for heavy sleepers, and it has a medium-firm rating of around 6.5.
Further read:
Bear Mattress
The reason why the Bear mattress ranks so high in tests and customer reviews is because of the way it's constructed. At first glance, you might think that this is just an ordinary bed, but it's actually one of the few ones that use Celliant technology in its cover, a fabric that promises to speed up recovery using infrared energy. The mattress is made entirely out of foam and it's a bed mostly recommended to athletes, people with injuries, couples, and all those who love a good foam bed.
Further read:
The Avocado bed is all about people who love a green lifestyle. It's an organic hybrid that brings together the power of coils and latex (which are also made from recycled steel). The top of the mattress comes with a pillow top that provides additional cushioning, making it a great mattress for side sleepers. The bed is 11 inches thick and comes in multiple firmness options, you can choose a bed with a firmness rating of 5.5, or one with a 6.6 firmness rating.
Further read:
Other Mattresses to Consider:
Conclusion
The term "best" will always be relative, as it needs a point of comparison in order for it to make any sense. Mattresses that are labeled as being the best are actually best at something. One bed is the best choice for people who weigh 150 pounds and sleep on the side while suffering from back pain. Other beds are best for people who love a bouncy mattress but would also like one with greater cooling abilities.
When you're out choosing what mattress to buy next, there is nothing more important than prioritizing your expectations and needs. And only when you'll fully be able to understand how you sleep and what your body requires will you be able.
Further read: