Floor mattresses are helpful to have on hand in your linen cupboards for when you have guests or the kids have sleepovers. However, gone are the days when you have to make do with a thin, uncomfortable foam mattress that takes up a whole heap of space in your closet and creates an eyesore in your space.
Today I'm here to show you some excellent floor mattress options that will keep your guests come and your home looking fly and stylish. I don't know about you, but getting a decent rest is a massive priority for me any day of the week, so no matter what you're using it for, you want your mattress to leave you feeling comforted and rested after a good night's sleep.
Some floor mattresses, like futons and other specially designed beds, are designed to serve as permanent sleeping situations. Futons have been around in Japanese culture since the 1800s, and they are known for being good for your posture. So there's something to be said for sleeping near the ground. But how do you do this in comfort? I'm here to show you.
Trust me; sleep is by far the most crucial part of my day. I will not steer you towards an uncomfortable sleeping situation. So let's get going and dive into the pillowy softness of some floor mattresses!
Bottom Line Up Front
All in all, when picking a type of floor mattress, I would recommend going for a roll-up version; they're so much easier to store and travel with. After looking at all the options on show here, the mattress I would recommend the most is the MAXYOYO futon mattress. It's cute, it's comfy, and it rolls tidily away into a little bag.
Top Picks at a Glance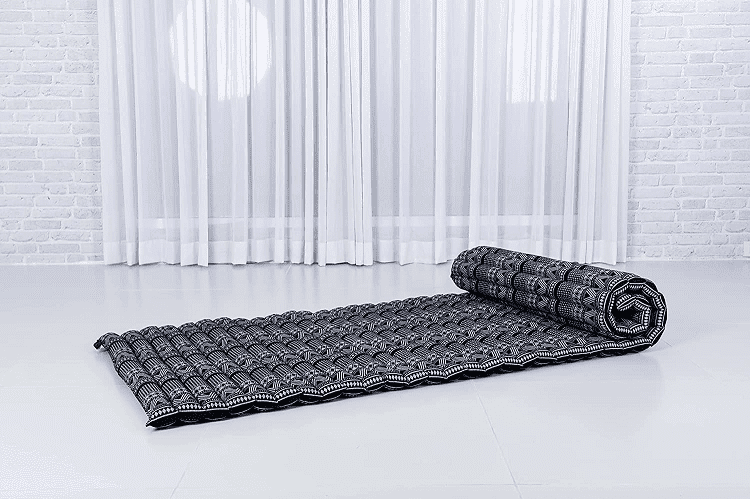 Roll Away: MAXYOYO Japanese Futon Mattress
Pretty, comfortable, and easy to store, this Maxyoyo design is the best of all worlds. Rest comfortably on memory foam softness.
Fold Away: Millard Tri Fold Mattress
Thick memory foam will keep you sleeping peacefully on this Millard mattress. It's breathable and molds to fit you in just the right way.
Sleeping Mat: Lewadee Thai Mattress
A light sleeping mat is a must if you're on the go, and this Lewadee mat is just that. Sleep comfortably no matter where you are.
Type of Floor Mattresses
Roll away- These mattresses are made of thinner or more easily compressed layers that easily roll into a compact little cylinder. These tend to be more affordable and overall better for travel, though some might be a little on the fluffy side for that!
Foldaway- Bi or trifold mattresses are made up of two or three sheets of foam that concertina on themselves so you can store them away. These require a little more space to store, but they can be very comfortable when made from suitable materials.
Sleeping mat- If you want to get back to basics, you can pick a sleeping mat. This is a very thin mat made from soft, cushiony material that rolls up really thin. These are very easy to transport and are ideal for camping, hiking, and generally moving wherever you please. They can also double as exercise mats for retreats or yoga on the road if that's what get's your blood flowing.
But you may be asking yourself:
Why Choose a Floor Mattress?
Oh, there are so many reasons! I underestimated how many floor mattresses there are to suit different situations and whatever aesthetic you could wish for.
Floor mattresses are great for when guests come over, and the kids have sleepovers. They're also ideal as pet furniture or for lounging on when you're relaxing at home. The main benefit of one of these mattresses is that it requires no pumping up, and punctures from unidentified wounds won't constantly plague you. Getting them out and putting them away is quick and easy with construction needed.
Outside of the house, these mattresses are good for camping or hiking, especially those specially designed to be easily portable. This kind of floor mattress can also be used as a yoga or pilates mat, which is super handy when you want to get your body moving when you're away from home.
Another use that some of these floor mattresses fulfill is a kid's playmat. The larger mattresses with soft covers are the best for this since they'll be gentle on the little one's skin, and it will be easy to clean if there are any spit-ups or other accidents.
There are so many adaptable, comfortable, and really cute floor mattresses out there. I hope I can give you some good recommendations and ideas to incorporate your own into your home. I'm going to take you from cloud-like mattresses to minimalistic sleeping mats and have a look at everything in between.
What to Look for In a Good Floor Mattress
Now you might be asking yourself what the main thing are to look out for when you're shopping for a floor mattress. When guiding you through this selection I will be looking at a few different criteria that will help you get the best option for you.
To start off the main element to focus on is, of course, comfort. You don't want your guests waking up with aches and pains from a tough night on the floor.
The best way to make sure your mattress is going to be comfortable is to pick the right material. A nice thick, fluffy or dense foam will be your best bet here. Some mattresses look fluffy from the outside but the second you lie on them you hit the floor; this is why density is so important. The denser better the material the longer this mattress will last you too so its something very important to consider.
Secondly, I want to see how easy they are to clean because laborious upkeep can be a deal-breaker. Obviously, since these beds are going to live on the floor, they're going to pick up some dirt so keeping them clean is a must for your health. The ideal floor mattresses have covers that are removable so you can simply throw them in the washing machine so keep an eye out for these.
Lastly, I like to think about what it looks like. The floor mattresses of my childhood were pretty aesthetically tragic but luckily there are a few options out there now that are at least simple if not downright pretty. Sure, its just about looks, but its always a bonus when your house is full of guests but it still manages to look good.
So with all that said, let's jump into the mattresses.
The Best of the Best
Now I'm going to take you through a couple of floor mattresses for each category so you can find the best one to suit your needs. I'm hoping to toe the line between price, aesthetics, and materials so you can get down to the details to make your decision an educated one.
Roll Away Mattresses
MAXYOYO Japanese Futon Mattress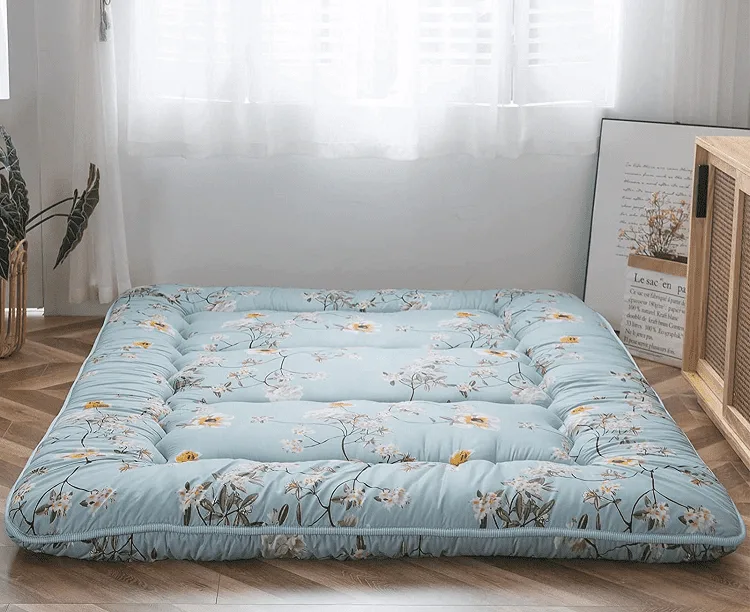 Even if your house is crammed with guests, you still want your living space to look cute and inviting. Well, that's easy if you pick an option like this MAXYOYO roll-away mattress.
Outside, the mattress has a removable machine washable cover that matches the inside of the mattress. So even when the cover is in the wash, the mattress will still be looking aesthetic as possible. Inside is a memory foam and polyester combination that is 17cm thick before quilting, making it super soft and pillowy but also long-lasting.
It comes in 7 different patterns and colors so getting one that fits your decor should be no problem! Looking at the options, I'm honestly torn as to what I would pick myself, although I am always partial to a good flamingo! That design element combined with the pillowy softness makes this mattress a big contender in my books.
This mattress can be used on a futon bed as a permanent sleeping situation or used temporarily, rolled away, and stored elsewhere. It comes in twin, full queen, and king, so there are many options to choose from, and it has its bag so it stays rolled up in your cupboard.
Pros
Many patterns and colors to choose from
Comes in many sizes
Thick and soft
Removable cover
Cons
Better Habitat SleepReady Mattress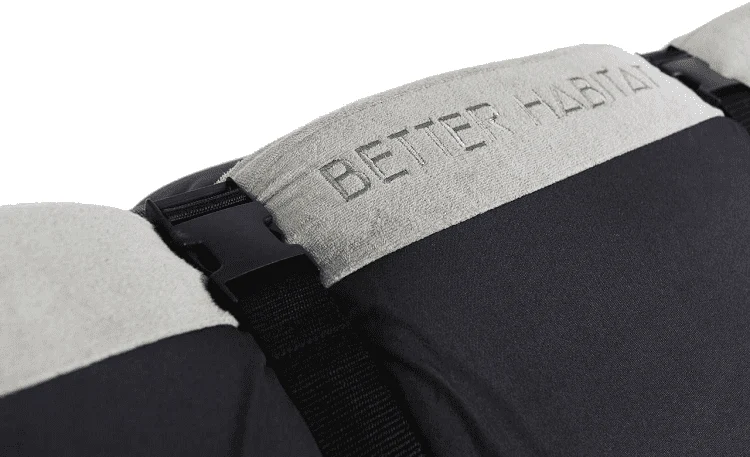 If you prefer a firmer mattress, have a look at this Better Sleep option. This high-density memory foam mattress is thick and so comfortable your guests will be on cloud nine all night. As an added bonus, it is also allergy-friendly and temperature-controlled, so you'll sleep all night in cool bliss without irritation.
The mattress is covered in a waterproof cover made from bamboo; we love to see it in an eco-friendly moment! It is easily removable and machine washable, so keeping it clean will be easy as pie. If you want to travel, then this mattress has you covered with a little travel back that it rolls up into to keep it as small as possible.
Considering how thick and dense this mattress is, it's pretty impressive how much thickness you get from this mattress and, as a result, how comfortable the sleep will be on it. Memory foam like this is also bound to last a long time, so this would be an excellent long-term choice.
Pros
Great for the outdoors
High-density memory foam
Waterproof cover
Cons
Folding Mattresses
Millard Tri Fold Mattress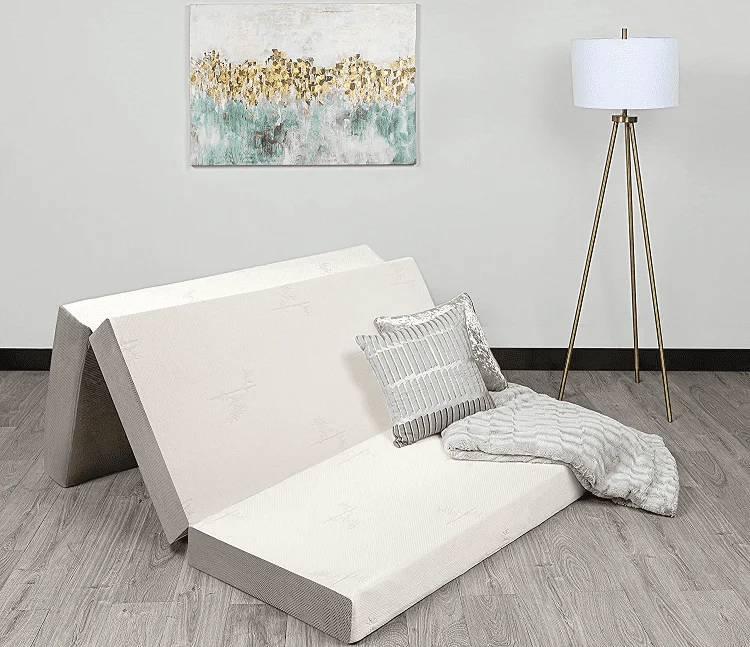 Now to look at the folding mattresses starting with this offering from Millard. With its soft outer cover and layers of memory foam, it's not surprising that many reviewers have lauded this mattress.
Its trifold design reveals three panels of dense memory foam that is just as comfortable as it is supportive. It may not be a beauty like the first mattress we looked at, but I can guarantee your guest will be happy. For convenience, the mattress has been designed for temperature regulation and is equipped with a non-slip base that prevents any nasty accidents when a naught child has decided to bounce on the mattress.
This option comes in twin XL, full and queen, and has a convenient machine washable cover to make maintaining it simple. The one downside that I foresee is the side. Like all these folding mattresses, they are harder to store, so I would recommend considering your space before purchasing any of these mattresses.
Pros
Memory foam support
Removable, washable cover
Cons
Bdeus Portable Folding Mattress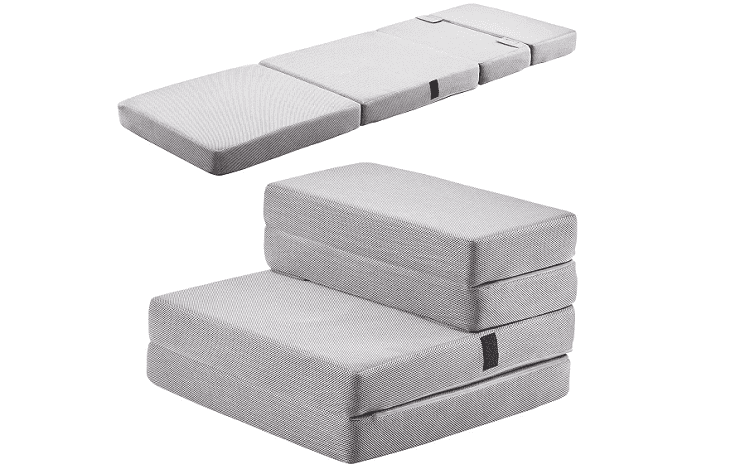 The Bdeus design shows off a quadruple fold to make this mattress super long and adjustable. Depending on how you fold it, the mattress can function in 4 different settings that you can change day by day. It's made of 4-inch foam that will be comfortable but may deteriorate over time as it's not the holy grail; memory foam.
I'll be upfront and say the main downside is how hefty it is when it's folded up. This folded form does double as a soft couch to lounge on, which is convenient but storing this might be a bit of a nightmare! The cover is not attractive enough to want this out regularly so maybe finding a pretty cover would be the solution if this one is calling your name.
I can just picture this with a brightly colored cover on it in some cut, kid's playroom. Then whenever you need it, it's right there and ready to go!
Pros
Many different settings
Durable, removable cover
Cons
Very bulky to store
Unattractive
Sleeping Mats
Leewadee Thai Mattress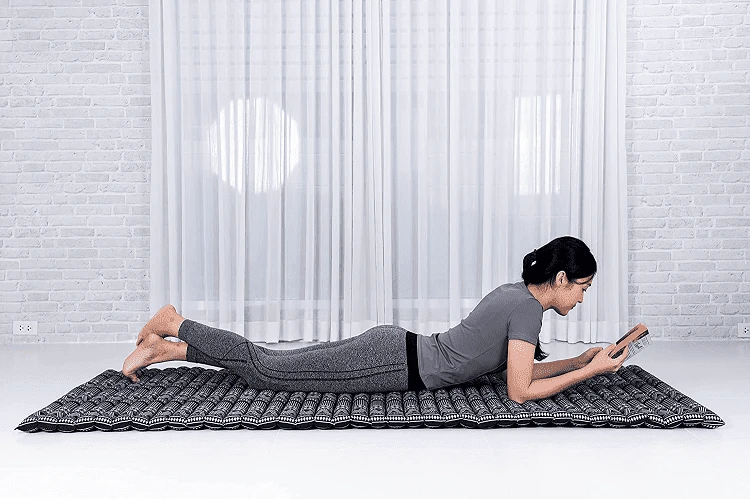 If the great outdoors are calling your name, then the Lewadee Thai Mattress is the sleeping mat you want to be strapped to your back.
This wavy mat comes in 27 different colorways and patterns, so you can pick the perfect one to match your style. Most of them fit the boho vibe that this mat fits so well with, so it's no surprise that you could also use this as a yoga mat in the morning.
I love when I find a cute design that just so happens to be good to the environment, what a joy! This design is one of those cases as it's made from a material for kapok.
Kapok is a plant fiber similar to cotton, which can be found in the form of soft fluffy seed pods of the Kapok tree. It makes an ideal filling because it is eco-friendly and pillowy soft. Each tube that makes up the mattress is firmly stuffed with kapok to keep this mat comfortable no matter what the conditions.
This mattress rolls up into a manageable roll that you can easily strap to a pack and go.
Pros
Easy to store
Comes in many color options
Eco-Friendly material
Portable
Cons
Thin
Not good for long term
Wolf Walker Closed Cell Sleeping Pad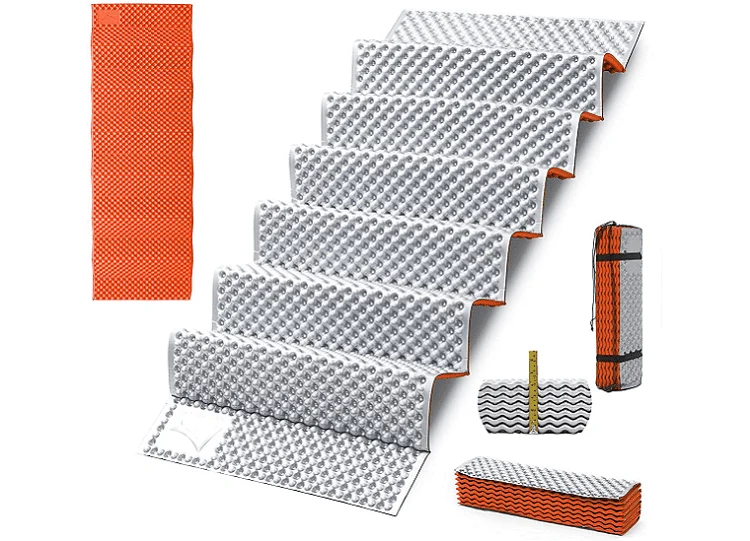 If you like camping, boy have I got an option for you! This Wolf Walker design might be a far cry from the thick memory foam of the previous designs, but it's great for travel and can work as a mattress in any condition if you're in a pinch. It folds up super small, so you won't have a hassle storing it, and it is affordable, so it's a real option to consider just to have handy.
The thin mattress is made from lightweight XPE foam in a closed-cell foam design. This is supposed to keep you comfortable and cushion your pressure points while sleeping. As an added aesthetic choice, this mat also comes in 5 different color options so you can stay styling even on the trail.
This is the most stripped-down version of a floor mattress you could expect, so don't say I wasn't thorough!
Pros
Easy to store
Perfect for hiking and camping
Cons
Some Other Alternatives to Floor Mattresses
All of the mattresses we've looked at here are the more traditional idea of a floor mattress but there are a few alternatives you might want to explore.
Blow-up mattress
A camping classic; a blow-up mattress is always handy. They fold up really small so they store well and suit the outdoors very well. However, they are a bit of a pain to set up and you're going to need a pump or be prepared to put in a lot of work to get it going. They are also very prone to getting punctures.
Sunken Beds
On a more dramatic level, there are sunken beds. These are actually built into the foundation of the house or built on a platform and recessed so the sleeping surface is flush with the floor. These are obviously much more expensive and luxurious but if that's what is in your reach why not explore it as an option? The one downside is that they can collect dust as they are a permanent feature.
Best Value for Budget
When it comes to getting bang for your buck, the Bdeus Portable Folding Mattress wins hands down. This mattress may not be super attractive, but it boasts four different usable positions and can be used from adults to kids and furbabies.
If you have a kid's room or a playroom, this would be great to pop in the corner for your kid's playroom to use as a couch or unfold at their leisure. Then when you have guests, you can unfold it and, hey presto, you have a bed!
Best For Travelling
If you're out and about exploring the world and always want something soft beneath you the Leewadee Thai Mattress is the mattress for you. This traditionally designed mat is light and easy to strap to a pack without adding too much extra bulk. It's relatively soft for its thickness and it will keep you sleeping soundly no matter where in the world you are.
FAQs
Question: What's the Best Way to Clean a Floor Mattress?
Answer: Luckily, most floor mattresses come with removable, machine washable covers so you can just pop those in your machine no problem. For any stains on the mattress itself, I would try spot cleaning as soon as possible with a bit of mild detergent and warm water.
Question: Can I Use a Normal Mattress as a Floor Mattress?
Answer: This is not advisable. These floor mattresses are designed to be used temporarily, but many of them are still specially designed to be well ventilated so they don't get too moist and hot.

Your average mattress doesn't have this design so it could end up getting sweaty and even moldy! They also tend to pick up a lot of dust. All of this is to say; stick to proper floor mattresses for any floor-based sleep needs.
Question: What is the Best Material for a Floor Mattress?
Answer: The most comfortable mattresses are made from, at least in part, memory foam. This magical material molds to fit your body and springs back as soon as you leave the bed. This kind of mattress will degrade less quickly and stay comfy for longer.

If you're looking into a floor mattress as a guest bedroom solution you may be interested in this article about the best mattresses for guest rooms in case you want to go the more traditional route.
Conclusion
In my opinion, the floor mattress that is really worth your money is the MAXYOYO futon mattress. Is it unprofessional to say that the reason I recommend this one is because it's the one I'd most like to curl up on? No, I don't think so!
It can roll away into a relatively easy bag to store, and it is by far the comfiest option. What sells it for me is the perfect balance between comfort and visual appeal. It makes me so happy in my little designer's heart when things come together like this and that's why this is the option I recommend to you.
Sleep well, folks.