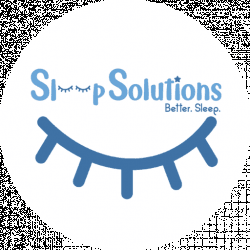 Latest posts by Sleep Solutions HQ Team
(see all)
Saatva is a mattress manufacturer that makes and sell their beds right in the US. The brand was only founded in 2010 but has already made a huge impression on customers. As the rise of online mattress buying has skyrocketed in a positive way, there are more and more brands popping up in this niche. Saatva offers the ideal combination of an online buying experience but with a mattress constructed with coils for a traditional feel.
If you don't want to switch to memory foam, but don't want to have to spend hours scouring mattress stores for the right model, Saatva can save you time and money.
Specs and Features of the Saatva Mattress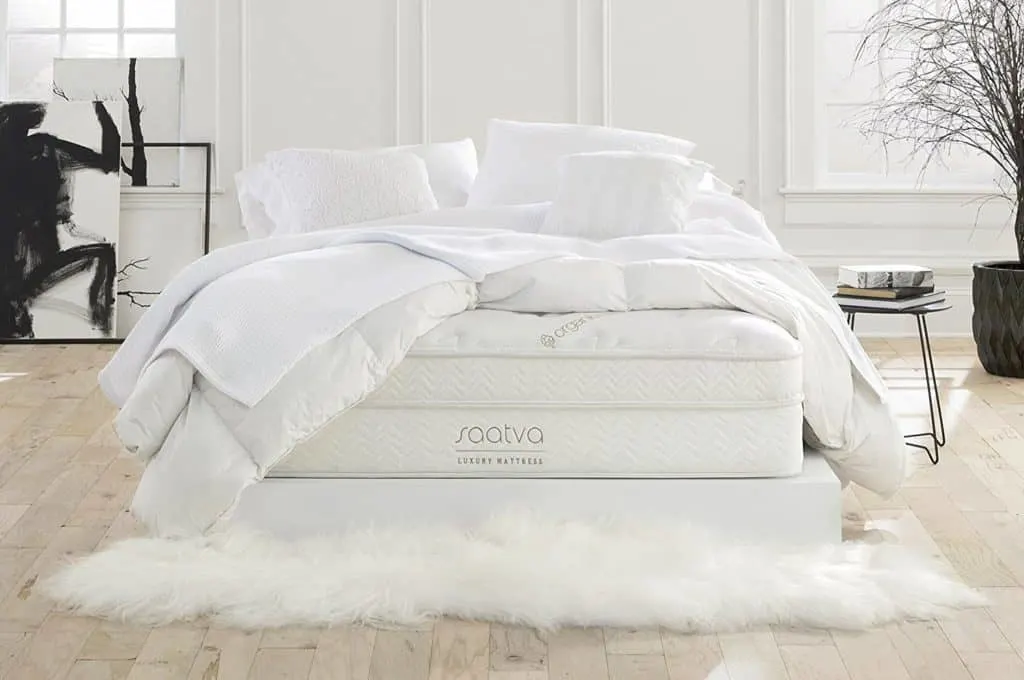 Here is a rundown of the all basics you need to know about the Saatva mattresses.
Buying Details:
Three Comfort Levels – Luxury Firm, Firm, and Plush Soft
Six Mattress Sizes – Twin XL, Twin, Full, Queen, King, and California King
Two Mattress Thicknesses – 11.5″ low profile or 14.5″
Two Foundation Thicknesses – 4.75″ or 8.75″ (split foundation for King and Cal King)
Prices range from as low as $599 for a regular twin mattress or up to $1,599 for a Cal King with a foundation
Can get frame with mattress for additional $99
Complimentary mattress removal for only $39
The Saatva mattress is currently unavailable on Amazon. However, you can buy directly from their site.
Design:
Mattress made of 5 main layers:

Steel coil base support
Individually wrapped Comfort Coils
Dual perimeter edge support system
Lumbar support memory foam
Organic cotton cover + Euro pillow top

Both 11.5″ and 14.5″ mattresses are built identically
Made of eco-friendly materials
Will last 10 to 15 years
All Saatva mattresses come with a 120-day home trial. You will pay full price for your mattress, but if you find that the Saatva you chose isn't for you, simply return it for no extras fees. Saatva also offers free nationwide delivery and setup. The additional service of removing your old bed for only $39 is a great deal. They will remove up to two pieces of furniture, such as your old mattress and your old frame/foundation.
Advantages of the Saatva Mattress
With hundreds of 5-star reviews backing the Saatva lineup, it's really no surprise that there are quite a few reasons why customers love this brand so much. Here are three of the major reasons why you might want to buy your own Saatva.
Available in Multiple Firmnesses
One thing that sets the Saatva lineup apart from the competition is that they offer multiple mattress firmness levels. Many of the newer online-exclusive brands offer just a single mattress without any firmness adjustment. This is great for the average young adult that can get a good night's sleep on any bed, but not so great for those that have specific needs for their bed.
There are five Comfort Levels that Saatva offers, from a very firm to a plush mattress. The Firm Comfort Level is best for back and side sleepers. If you have back issues that require a firmer mattress or if your doctor recommends a firm mattress for support, this would be the best choice. The Luxury Firm Comfort Level is softer than the Firm and is also Saatva's most popular model. It is great for all three types of sleepers (side, back, and stomach) and is ideal for couples that have different mattress needs. Finally, the Plush Soft level is best for major side sleepers that like to feel hugged by their bed.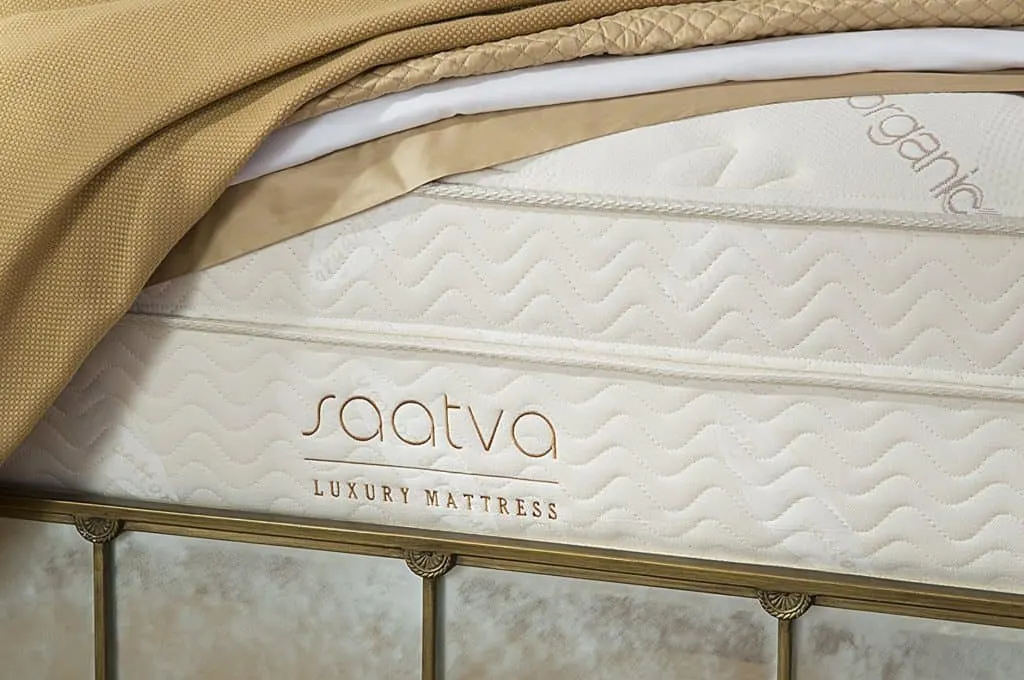 Very Well-Designed, Eco-Friendly Mattress
Those that that environmentally-conscious will find that Saatva is one of few mattresses made from green products. Saatva chose high-quality materials, carefully chosen for their construction design.
The base layer of this mattress is a steel coil base. These tempered steel coils give this mattress a long life and is the major way Saatva provides a firm support to their beds. The mid support base are individually wrapped Comfort Coils. These coils are made with some of the most advanced technology available in the luxury mattress industry. While the coils are made of steel they still contour to the body extremely well.
Wrapped around the Comfort Coils, and between the Comfort Coil and steel coil base, is a dual perimeter edge support system. This is a sturdy foam that prevents edge sag. The layer right under the pillow top cover is a memory foam layer for lumbar support. It relieves back and pressures point relief, allowing your body to completely relax.
Finally, the mattress is wrapped in a soft, inviting organic cotton cover with a European pillow top. The pillow top layer is far more comfortable than most pillow tops and is made of higher quality materials. Unlike most mattresses that have the pillow top sewn on the outside cover, Saatva added their pillow top under the cover. This keeps the pillow top in place with zero shifting.
This isn't a major advantage, but actually very important for a small portion of shoppers. If you tend to sleep hot, as in you find that you sweat or feel uncomfortably warm while sleeping, then finding a mattress that helps with keeping you cool is important. The Saatva design is based on coil-on-coil construction, so it helps to disperse body heat and allow for a more peaceful sleep.
Disadvantages of the Saatva Mattress
The Saatva mattresses are great but there are two possible downsides to keep in mind before purchasing.
Available Only Online Means No Testing Prior to Purchase
As mentioned earlier Saatva is purely an online brand. While this is great because it means costs are kept low, it also means that you don't have the option of being able to test out this mattress before buying. Traditional mattress buying typically involves going to a store and being able to lay on a prospective model before purchasing. For some being able to skip normal shopping is what is so appealing, but for others this can be a disadvantage. It helps that Saatva offers a 120 day return, so if you decide you really don't like the mattress you can return it. Not being able to test the mattress first isn't a huge deal but if you are an extremely picky shopper or have had trouble finding a comfortable mattress in the past, it could be a concern.
Doesn't Hug the Body like Memory Foam
Memory foam has been all the rage lately, and many of the other major online-only mattress brands use this material. Saatva went a different route however. This mattress feels much more like a traditional mattress and is noticeably firmer than memory foam. When laying on this mattress you will very much feel like you're laying on top of it rather than sinking in. If you want a memory foam feel that you can sink into, the Saatva isn't going to give you that feeling. Even the Plush Soft model doesn't quite replicate the feel of a memory foam mattress. You should probably check out a different brand if you don't want a normal coil mattress feel to your new bed.
Some Final Impressions
Even considering these two potential disadvantages the Saatva mattress is still incredibly well made and is a great choice for someone that wants a new coil mattress. It is made of higher quality materials than most mattresses found in stores, not to mention the materials are also eco-friendly and sustainable. The price of these mattresses are also lower than shopping in stores and still very competitive when compared to other online mattress brands.
How Does Saatva compare to Other Mattresses