Latest posts by Candace Osmond
(see all)
Comparing two mattresses can be a very tedious job. You have to look at things like the density of the foam used in each layer, what type of cooling measures has this foam mattress taken to prevent overheating, how fast will it, how firm it is, how the cover feels, etc.
Reading expert reviews isn't always enough, but it can give you a much clearer idea of what to expect from a bed. This time, we are going to compare two foam mattresses that have done a really good job in impressing their target market: the Bear and the Puffy mattress.
Main Differences Between the Puffy vs Bear Mattress
The main differences between the Puffy vs Bear Mattress are:
Puffy is made in Canada, whereas Bear mattress is made in the USA.
Puffy mattress has a lifetime warranty, whereas Bear offers a 100-day warranty.
Puffy offers a 101-night sleep trial, whereas Bear has a similar 100-night trial.
Puffy mattress has 2 types to choose from, whereas Bear has 3.
Key Features
Bear was founded back in 2015, and it is pretty clear that this is a company that means business. This is probably the only mattress manufacturer out there that advertises its products as recovery tools instead of comfortable beds, and you'll soon understand why.
The Bear mattress is a 10-inch bed that's made from three different layers of foam. The cover of this mattress is made with Celliant, a fabric that has been recognized as healing, as it uses infrared energy and body heat to energize the body and speed up recovery while you are sleeping. The comfort layer of the mattress is made from two inches of memory and it's meant to provide pressure point relief for side sleepers. This layer features a graphite-infusion, which is basically a replacement for the traditional gel infusions that you're familiar with by now.
The transition layer of the Bear mattress is made from polyfoam of a higher density, meant to prevent you from sinking into the bed far too deep. The base layer of the bed measures six inches in thickness and it's made from HD polyfoam.
The Puffy mattress, on the other hand, follows a construction that's very similar to what we're used to seeing in similarly priced foam beds. You have a cover that's made from a polyester blend, which feels quite soft to the touch. Underneath the cover lies a two-inch layer of memory foam that's infused with gel in order to give the bed some cooling properties.
Then you have the transition layer which is made from polyfoam of a higher density, while the base of the bed is six inches of HD polyfoam, very similar to that found on the Bear mattress.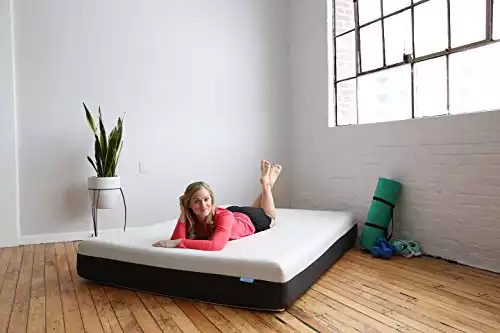 Bear Mattress Pros
Since it uses Celliant in its construction, the Bear mattress comes with a unique set of properties that might help people who are recovering from injury or athletes that need a faster recovery to get back in shape as soon as possible. It's a good bed for people who are physically active.
The Bear mattress does a really good job at isolating motion and performed really well in the tests that were meant to determine if movement in one area of the mattress will cause the entire thing to bounce. Because of that result, the Bear mattress makes an outstanding bed for couples.
This mattress is designed to offer conforming and support at a really superior level. You'd think that this is something that all memory foam beds would do considering that foam is excellent at contouring and pressure point relief, but that's not always the case.
Bear Mattress Cons
Because of its construction (and due to the fact that this is an all-foam mattress), the Bear bed has really bad edge support. When you sit on the edge of the bed, you can feel plenty of compression.
Oddly enough, despite having a firmness of 5.5 which falls in the medium-soft side of the bracket, the Bear mattress feels a little too firm for side sleepers, especially for those who weigh less than 130 and more than 230 pounds.
Puffy Mattress Pros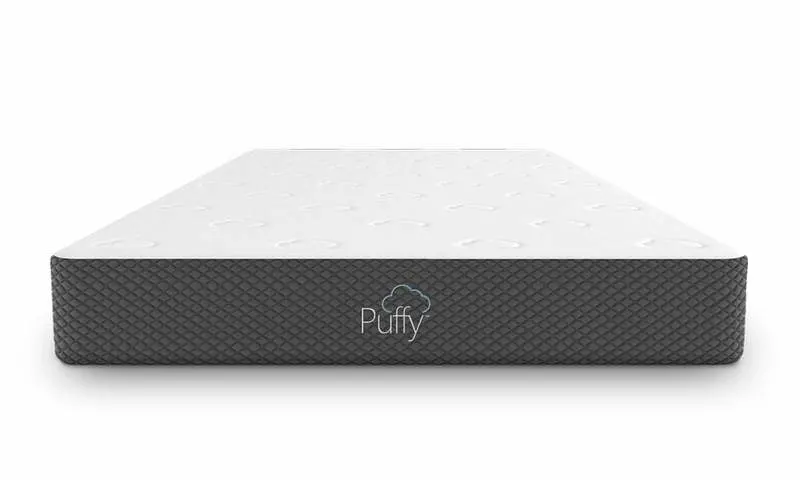 The Puffy mattress is a great product for lightweight sleepers. That's because the comfort layer of the mattress feels very soft. Normally, someone who weighs less than 130 pounds won't apply too much pressure when lying on the mattress, which causes it to feel firm, but with Puffy, side sleepers won't have that problem.
One of the strongest points of the Puffy mattress is how well it manages to contour the sleeper's body and cradle curves in order to eliminate pressure points. Not only does this make it an exception mattress for side sleepers, but it also feels very comfortable for back sleepers as well.
Puffy Mattress Cons
Because of its construction and the density of the foam in the upper layer, people who weigh more than 230 pounds won't be very well supported when sleeping on this bed. If you're a heavyweight sleeper, you want to look for a bed that's thicker than the 10 inches the Puffy has to offer, but also a bit firmer.
Despite it being infused with gel, the Puffy mattress is not a good bed for people who tend to sleep very hot. The memory foam in the comfort layer can still absorb and retain body heat up to a point where people could start sweating at night.
The edge support on the Puffy mattress is also rather poor. This is, however, expected of an all-foam mattress (at least up to a certain point) because of the nature of the material that makes it easy to compress. The Puffy's soft upper layer makes it even more prone to compression, thus offering poor edge support.
Conclusion
Between the Puffy and the Bear mattress, the latter is easier to remark because of the use of Celliant technology. The Bear mattress, however, addresses a rather different category of sleepers compared to the Puffy bed. For instance, the softness of the Puffy mattress makes it a really good buy for lightweight and side sleepers because of its superior contouring and pressure point relief.
The Bear pushes its marketing attempts further because it brings an innovative feature: Celliant technology. If you were to study a little bit about Celliant and its properties, you'd discover the potential of using this fiber in the construction of a bed and it would make plenty of sense. Sleeping is a restorative and energizing process that could further be enhanced by Celliant, which makes the Bear mattress somewhat of an authority in this area.
FAQ's About Bear vs Puffy Mattress
What are the warranty and trial periods on the Bear mattress and the Puffy mattress?
The Bear mattress comes with 100 nights of free sleep trial, and it is backed up by a 10-year warranty. Puffy mattresses come with 101 nights of free sleep trial, as well as a lifetime warranty.
Where do the mattresses ship?
You can purchase the Bear mattress if you live anywhere in Canada or the 50 US states. The Puffy mattress ships anywhere in the United States and Canada.
Does the company offer a white glove delivery service?
Bear does offer white glove delivery services with a purchase of a new bed, but only in the contiguous US states. If you simply want an in-home setup, you will have to pay a flat fee of $100, but if you wish to have your old mattress removed as well, it will cost you an extra $50. Puffy doesn't offer any white glove delivery services yet.
Where can I purchase these mattresses?
The Bear mattress can be found on the company's official website, but it isn't commonly found with third party retailers. The company does have its very own brick-and-mortar showroom in Hoboken, NJ. Here, you can test the mattress, but in order to buy one, you'd still have to go online. If you want to buy a Puffy mattress, you can do so exclusively on their official website.
Recommended Reads: