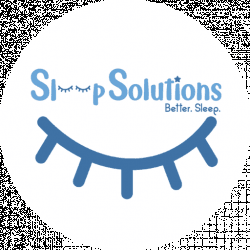 Latest posts by Sleep Solutions HQ Team
(see all)
Twenty years ago, it would have seemed impossible that you could shop for and buy a mattress online, and then have it delivered to your home. It also didn't seem possible that there would be so many small companies competing for business with the big-name brands.
Yet here we are. Mattress stores are closing in droves.
Consumers have swarmed to the online oasis where they can shop from their phones, laptops, or PCs, and skip the in-store experience.
Rather than have to awkwardly lay on a store model while a shop associate asks you questions and pressures you to buy now because this kind of sale only comes around once a year, you can usually try out a mattress you buy online for a few months, and then return it if you don't like it.
Winkbeds is one of those smaller mattress companies that doesn't offer a ton of options, rather it focuses on making one type of bed really well, and then offers a few different firmness levels. Beautyrest has been making beds for a long time.
It's one of those big-name brands that you might be familiar with because its mattresses were often available in big-box and department stores. Now the brand is offering its answer to the industry's shakeup with the Beautyrest Black Hybrid.
Bottom Line Up Front: The clear winner here is the more transparent and less expensive hybrid Winkbeds mattress line here. That's not to say that Beautyrest Black is a poor choice, it's just clearly getting out-competed and disrupted by Winkbeds.
Main Difference Between WinkBeds vs Beautyrest Black Hybrid
The main differences between WinkBeds vs Beautyrest Black are:
WinkBeds is more transparent about the materials used, whereas Beautyrest Black doesn't share all the materials
WinkBeds is almost two thirds less expensive compared to the Beautyrest Black mattresses
WinkBeds offers free reutrn shipping, whereas BeautyRest does not (via Mattress Firm)
WinkBeds is exclusively online, whereas Beautyrest Black Hybrid can also be found in physical showrooms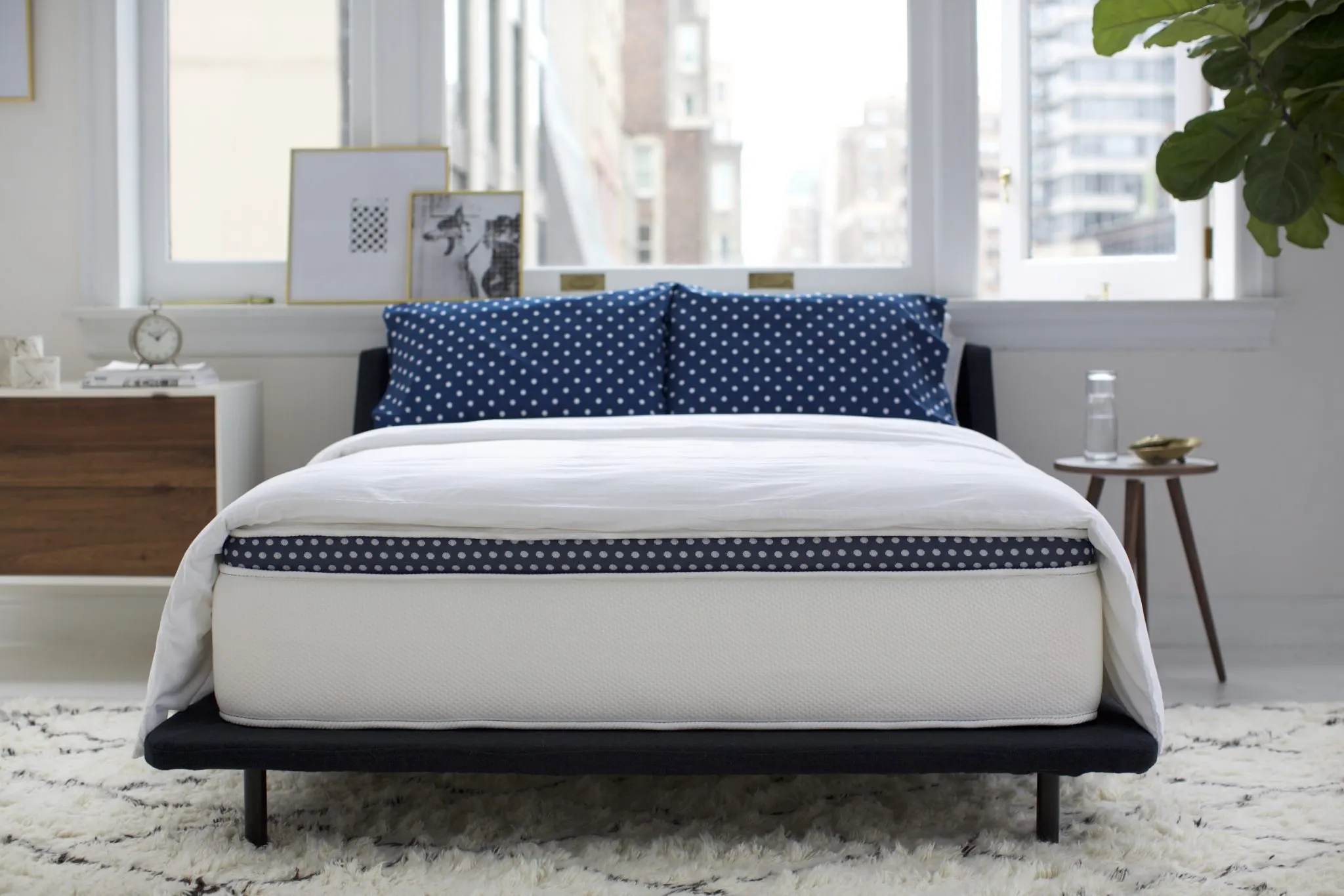 I Personally Prefer Winkbeds
Put simply, Winkbeds offers a better online shopping experience (hassle free delivery and returns), more transparency on materials, and a LESS EXPENSIVE mattress line.
Try Winkbeds Here First
We earn a commission if you click this link and make a purchase at no additional cost to you.
What happens when you put the innovation and enthusiasm of a young company up against the experience and money behind the tried-and-true brand? Let's find out.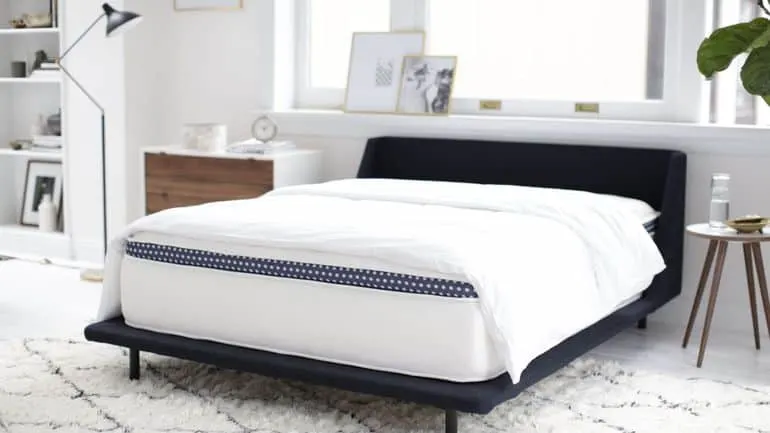 What Do Winkbeds and Beautyrest Black Have in Common?
At first glance, it might seem as though the two beds aren't similar at all. The Winkbeds mattress is a hybrid that combines pocketed coils for added support, breathability, and bounce, with layers of foam for comfort. Beyond offering a different firmness (e.g. firm, medium firm, etc…), that's the only type of mattress Winkbeds offers.
When you take a look at Beautyrest Black, you'll see the brand has three different mattress types, but for the sake of a fair comparison, we'll focus only on the Beautyrest Black Hybrid. The similarities don't stop simply at both being hybrid mattresses. Even the construction and layers are almost identical. Let's dive a little deeper to see how they compare.
What Happened to Force Big Brands to Compete with Small Startups?
It seems as though there were countless mattress brands out there when your only choice was to buy at a mattress or department store, but there's a little secret behind that $15-billion market you might not know. The industry was mostly helmed by Serta Simmons Bedding and Tempur Sealy.
All the brands you may be familiar with, including Stearns & Foster, Beautyrest, and Serta. There were plenty of other brands, too, and you might be able to find one at a mattress store, but not a department store. It was almost impossible to do price comparisons from store to store – that was by design.
If you couldn't find the same mattress from store to store, how could any of the store managers match the price? You were stuck paying what the mattress manufacturers wanted you to pay. It was practically a monopoly.
The mattress racket was finally stopped when smaller mattress sellers started popping up online. Buying products online became the norm, and it wasn't just relegated to small items for your household. You could buy appliances, linens, and mattresses – most with no shipping fees, long return windows, and even trials, so you could give each item a test run to see if it was for you. There was no reason to go back to the mattress stores.
The mattress giants had to adapt to the new and popular direct-to-consumer sales. What that meant was that brand umbrellas, such as Tempur Sealy, started to pull away from the big distribution centers and stores, such as Mattress Firm, and introduced lines of their own to sell directly to consumers online. Meanwhile, Serta Simmons doubled down on the partnership with Mattress Firm, and it put trust in the consumers that would still head to the store to buy a mattress. That exclusive plan includes the Beautyrest Black line, which is only sold at Mattress Firm.
Winkbeds: The Breakdown
Let's take a close look at Winkbeds' mattress, its various materials, the firmness levels, how it's made, and all the details that could push you toward buying this hybrid mattress. We won't leave out the potential drawbacks, either.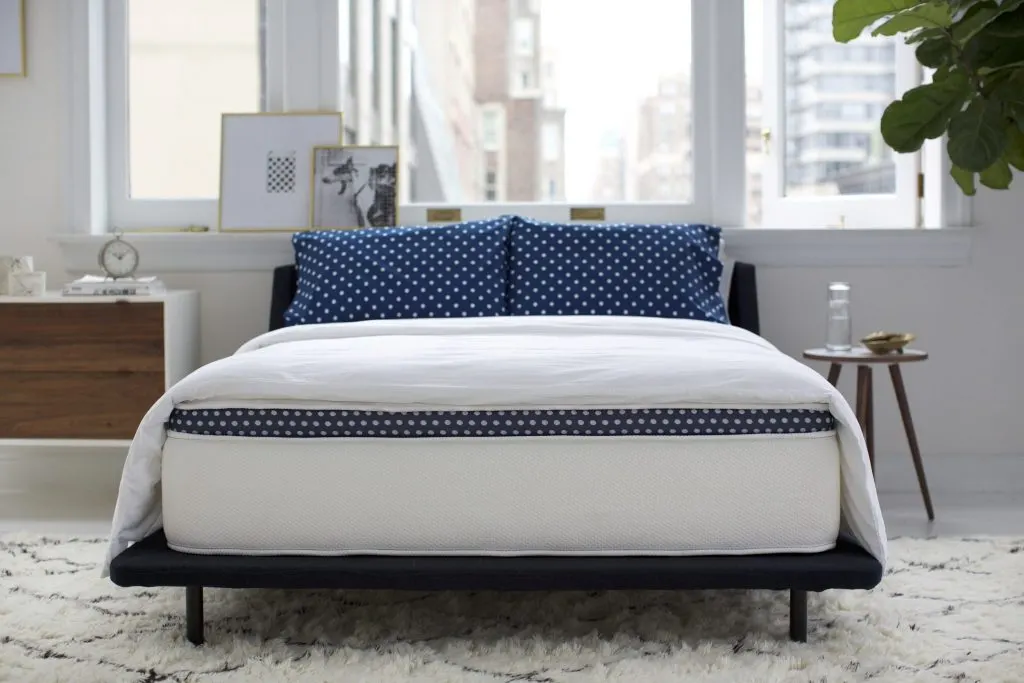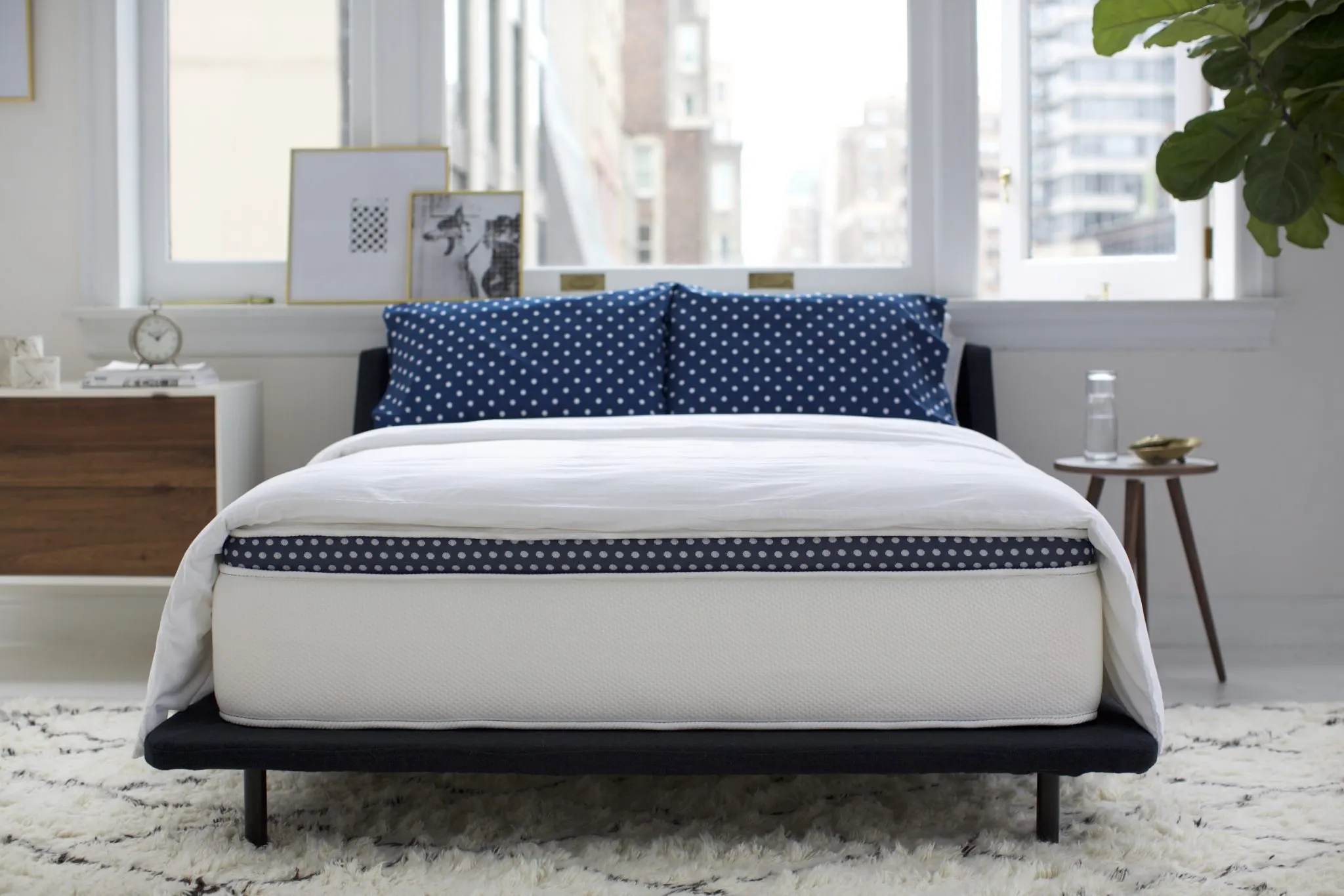 What Makes It a Hybrid?
Starting at the base of the Winkbeds mattress, there's a packed layer of tempered pocketed coils. These provide strong support, but they also contribute to a bit of loft and bounce to the bed. Surrounding those coils is a dense layer of foam, which lends edge support to your bed. Both of these components help prevent sagging and allows you to sit on the side of your mattress, bend over, and tie your shoes without falling off.
On top of those coils is a layer of thick, compressed cotton that offers support for your back, and specifically lumbar support. Just above that cotton is another layer of coils, but this a shorter set of microcoils, which are included to provide more bounce and airflow.
It's a nice touch, considering Winkbeds includes a couple layers of contouring poly foam, which can trap heat a little. These two layers of foam aren't nearly as dense as the support base, which means it should be super comfortable for you when you lay down. On top of all these layers meant to support and comfort you, there's a cover made of Tencel, which is breathable and cool. Now let's look at each layer to see how it benefits you.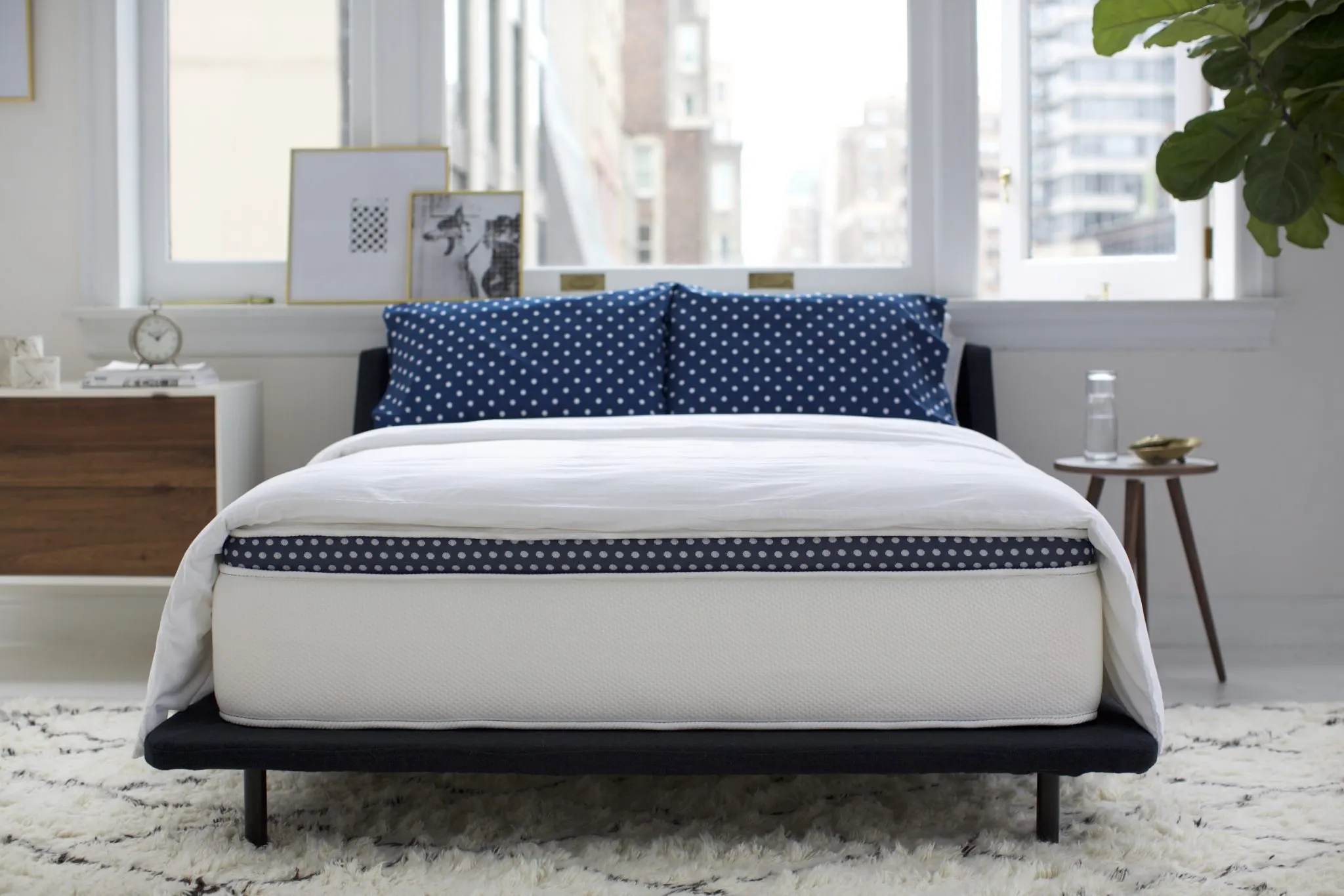 I Personally Prefer Winkbeds
Put simply, Winkbeds offers a better online shopping experience (hassle free delivery and returns), more transparency on materials, and a LESS EXPENSIVE mattress line.
Try Winkbeds Here First
We earn a commission if you click this link and make a purchase at no additional cost to you.
Support Coils
These tempered steel coils provide the support needed to push back on your body when you lay down. It helps keeping you from bottoming out or sinking too far into your bed. It also works to help align your spine and joints, so that you don't wake up with aches and pains. That's only one part of the equation, though.
Perimeter Foam
One of the biggest complaints about foam and hybrid mattresses is that they offer little edge support. With a high-ILD foam wrapped all the way around your mattress, you get durability and strong support, so that whether you're sleeping on the edge of the bed, or sitting on the side, you shouldn't fall off. The ILD rating for this layer is 28.
Lumbar Pad
Just above the tempered coils is a layer of compressed cotton. This is an added layer of support that helps reduce pain in your back, and specifically offers you lumbar support. If you often wake up with lower back pain, then you might be missing lumbar support that this layer could provide.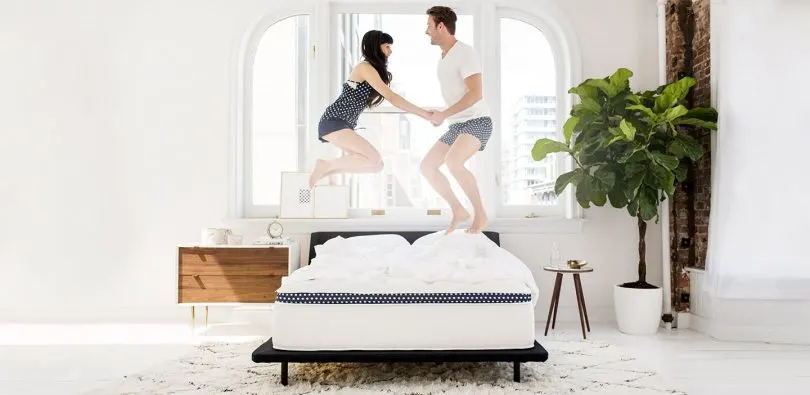 Pocketed Microcoils
On top of the dense cotton layer sits a layer of tiny coils. These are less for base support and more for added bounce. It helps keep you on top of your bed, rather than in it. And it contributes to better sex, as you shouldn't be sinking into your mattress. It also offers airflow, so heat retention isn't an issue with this mattress.
Double Foam Layer
Winkbeds includes two different types of foam in its comfort layer. So, you get the benefit of poly foam that's soft and responsive. It won't leave an impression in it when you roll to a new spot. And the gel foam offers a touch more motion isolation, so you won't feel tossing and turning from your partner in the middle of the night. Plus, the gel foam helps pull heat away from your body.
Tencel Cover
You may have heard of Tencel, which is the brand name for lyocell, a fabric made from wood pulp. The fabric is environmentally friendly, soft, absorbent, and durable. It works well to wick moisture and help with temperature regulation.
Winkbeds' Firmness Levels
Now that you're familiar with the materials that make up the Winkbeds mattress, it's a good idea to look at the firmness levels. There's typically no such thing as a one-firmness-fits-all mattress.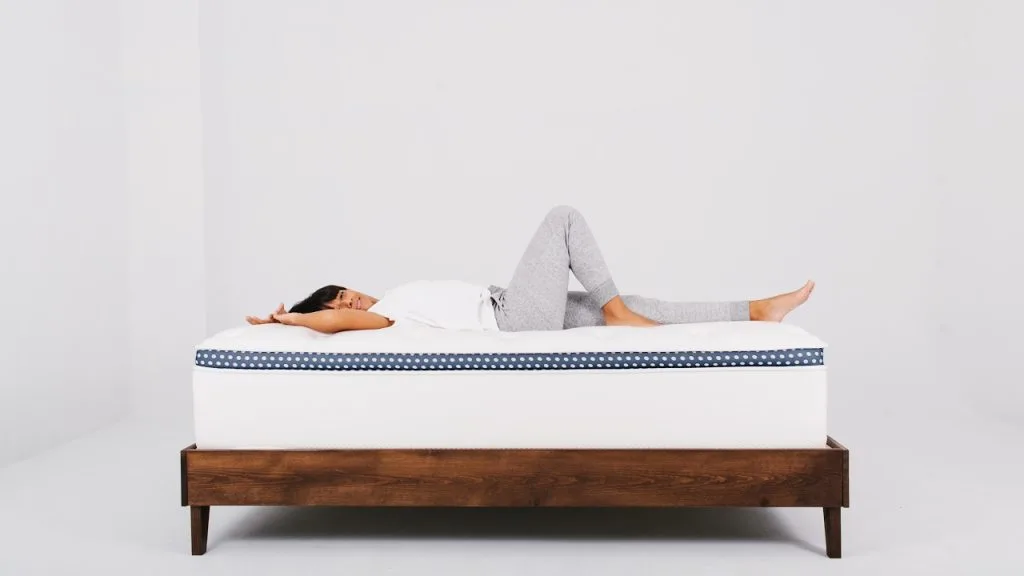 On a scale of 1-10, the soft version of Winkbeds' mattress is about a 4.5. Although the hybrid mattress is designed to keep you from falling into a trench in your bed, this softer version will allow you to sink in a bit. It's a good choice for those who exclusively sleep on their backs or sides. The extra give will help give your pressure points, such as hips and shoulders, a rest and some pressure relief.
The bestseller for Winkbeds is this medium level of firmness bed. It sits at about a 6.5 on the firmness scale. It has a balance of softness, support, loft, and bounce. You can sleep in almost any position, and you should be comfortable. It's a great choice for couples who can't agree on soft or firm, or for those who switch up their sleeping style.
Sleeping on your stomach can be a habit that's hard to break, and it can feel as though you're suffocating on softer mattresses. The firm Winkbeds' mattress is about a 7.5 on the scale, and it keeps you from sinking deep into your mattress. It's still comfortable and conforming, but not nearly as plush. It's also a good choice for those who carry a bit more weight.
Plus
Most mattress companies don't take plus-size sleepers into consideration when making mattresses, but Winkbeds does. The Plus version of this mattress comes in at a 6.5 on the firmness scale for sleepers who weigh 300 pounds or more. You get three layers of coils, which gives you added support, but you still get the comfort levels, so there's no sacrificing the feel of your mattress for more support and durability.
Other Support
It's also important to look at what you get by way of customer support when you buy from Winkbeds. From delivery to warranty, these are the features that you might not consider when you're just looking at an actual mattress and its benefits.
Shipping
When you order your Winkbeds mattress, it's made to order that day. It may take a week or two to get to you because of the manufacturing process, and because your mattress is coming by way of ground shipping. The good news is that shipping is free.
Once your new bed arrives, the delivery people will set up your new mattress and haul away your old one for an added cost, which is called white glove delivery service.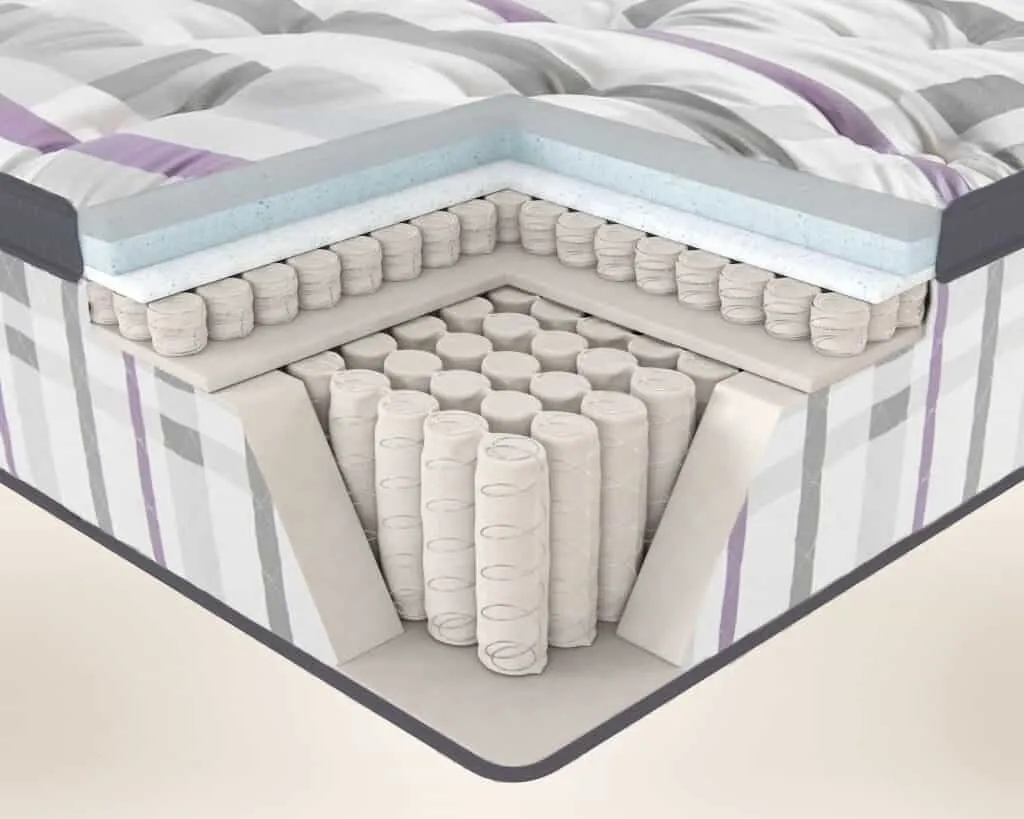 Trial
There's one caveat with the 101-night free trial. After you pay for and get your Winkbeds mattress, the company expects you to sleep on it for at least 30 nights. If you're not totally happy with your purchase, you can return it in that window (after 30 nights). Winkbeds will arrange to have it picked up and returned to the factory. You will be out a white glove delivery service fee, but the remainder of your refund will come back to you within five days.
Warranty
Your Winkbeds mattress is covered by a 10-year warranty, which means that you can get a replacement within those 10 years after purchase if your mattress is proven to have a defect.
What Could Go Wrong
There's always the potential that you'll hate the mattress. That's why there's a trial period. There's also the potential for noisy coils, like the old traditional spring mattresses. That could present a problem if you're, ahem, active in bed. The cost may be a bit high for you, but it's comparable to other hybrid mattresses, and less expensive than some others.
Beautyrest Black: The Breakdown
The Beautyrest Black Hybrid mattress line includes six different firmness levels to suit your sleep style, weight, and comfort level. The prices are also varied, but we'll get there. Let's look at what makes up the mattresses, what you can expect of the feel of each one, and what you get by way of company support with a purchase.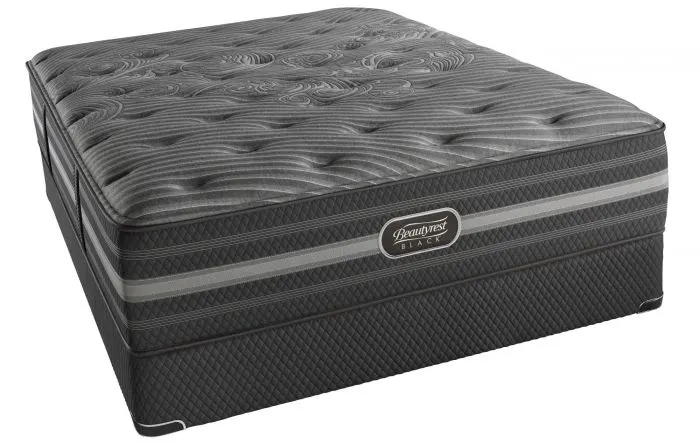 The Makeup of a Mattress
Each Beautyrest Black Hybrid mattress is made up of layers of memory foam and pocketed coils, at least. Some of the mattresses include gel layers, microcoils, and other types of foam for different levels of support, cooling, or comfort. Rather than go through every mattress (there are six), let's just look at what is included in the mattress and how the layers stack up. Just understand that each mattress included different thicknesses or densities of materials, some include a pillowtop, and others offer firmer support.
The Support Base
The bottom of this mattress is a good place to start. The pocketed coils provide the much-needed support your body needs to keep your spine and joints aligned. It's also this base support that provides durability and loft.
Perimeter Foam
You can be thankful for the encasement of Dynamic Response memory foam on these mattresses, as they add a bit of support to the edges of the beds. It's a ventilated foam, which helps with airflow to prevent too much heat retention, which memory foam mattress options are notorious for.
Micro Coils
The layer of micro coils are also pocketed, and they help give the mattresses a bit of bounce, but also added support. This layer can also help to keep you from sinking too far into your mattress.
Aircool Memory Foam
On top of the micro coil layer is a bit of Aircool memory foam, which is meant to give you pressure point relief (pressure relief). It is also responsive, making it easier for you to move about on the mattress.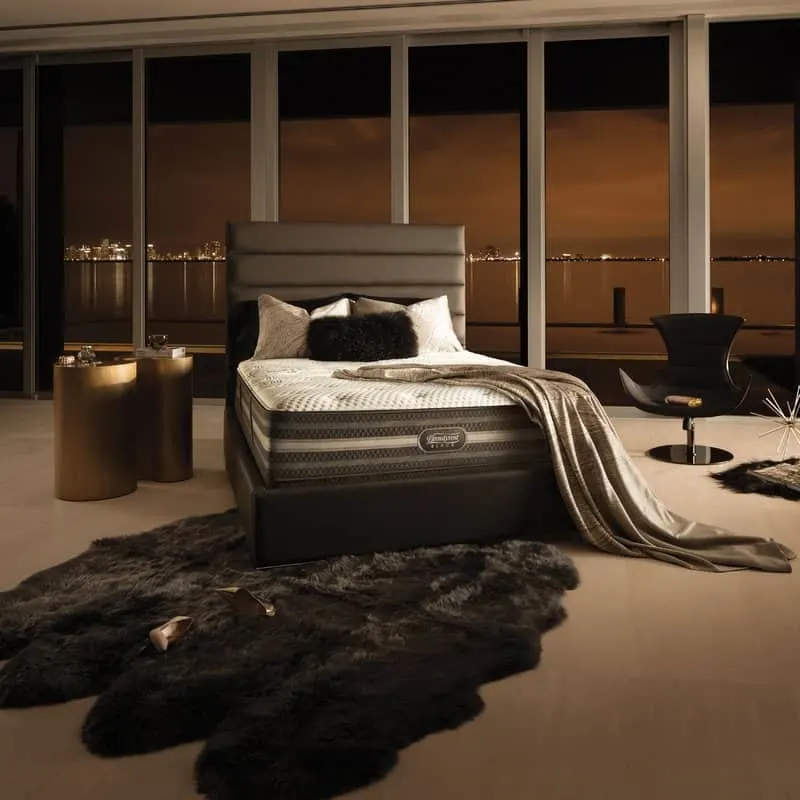 Black HybridICE HD Memory Foam
The Black HybridICE HD memory foam is made by infusing memory foam with gel, which provides more of a bounce and a cooling effect.
Evenloft Fabric Cover
The cover on these mattresses is made with Evenloft fabric, which is only described as being able to easily stretch over the layers of memory foam, which allows for better conforming.
Your Mattress Options
If you're trying to decide which mattress is best for you, here's a handy guide to the Beautyrest Black Hybrid Mattresses.
Wellington
Firmness: Plush (with pillowtop)
Best for: Those who like soft mattresses; side and back sleepers
Tolliver
Firmness: Firm
Best for: Back and stomach sleepers; those who prefer firmer surfaces
Jennings
Firmness: Plush
Best for: Most sleeper positions; those who need support, but like sleeping "in" rather than "on" a mattress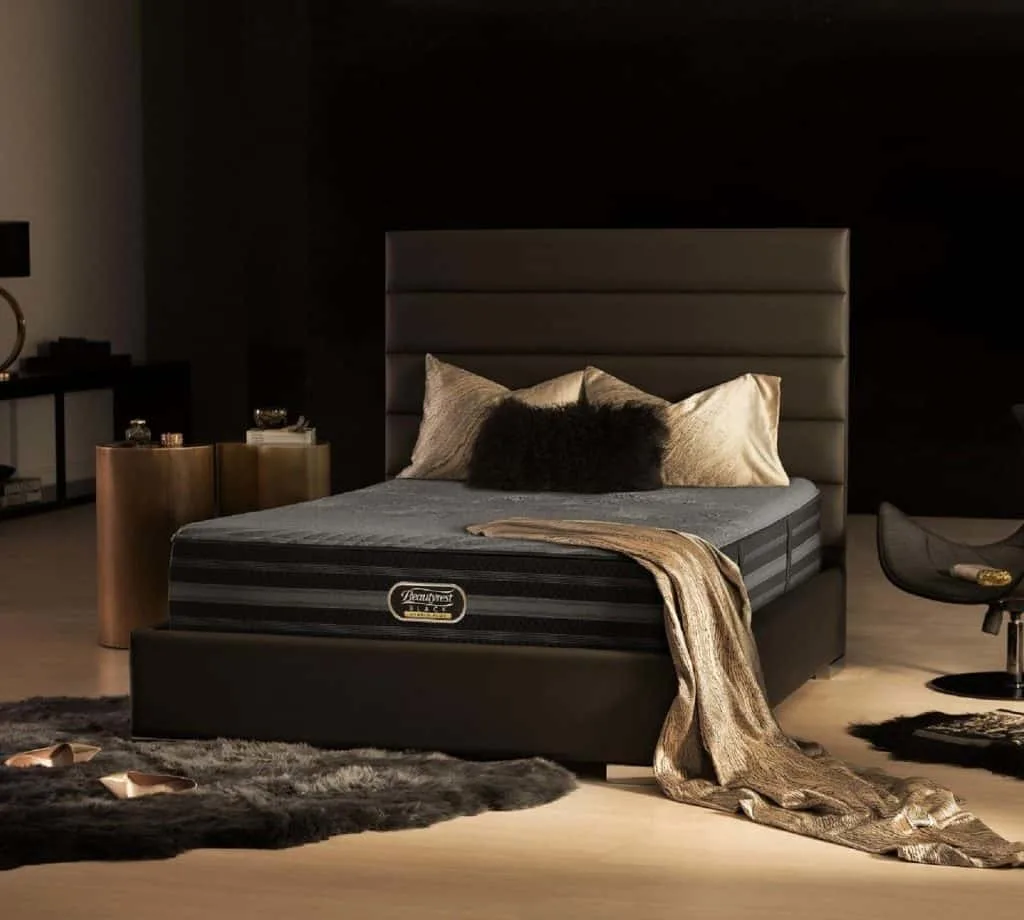 Clermont
Firmness: Ultra plush (with pillowtop)
Best for: Those who like to sleep "in" the mattress; side sleepers
Gladney
Firmness: Luxury firm
Best for: Any sleeping position; couples who can't decide on firm or soft; medium firmness fans
Alcove
Firmness: Plush
Best for: Side, back sleepers; budget-minded shoppers
What to Expect When You Buy
The Beautyrest Black Hybrid series of beds are only available at Mattress Firm, so you're going to have to buy it through the mattress' online store or a brick-and-mortar location. The good news about buying from Mattress Firm is that the store guarantees one-day delivery, in most cases, so you can be sleeping on your new mattress sooner, rather than later. Delivery isn't free, though set up of your new mattress is.
Like other mattress companies online, Mattress Firm offers a sleep trial. You get 120 nights to test run your new mattress. If you don't like it, you can return it, but only for a replacement. You'll have to pay another delivery fee, and if you're still not satisfied, you can return it again (and again pay a delivery fee to have it removed). You'll get a refund, but you must pay a restocking fee of 10 percent of whatever your purchase price was.
The warranty is 10 years on the Beautyrest Black Hybrid mattresses, and it covers defects in materials or workmanship. Whether the mattress is repaired or replaced is up to the manufacturer.
What Could Go Wrong
You're buying a hybrid mattress that includes coils, and although they are pocketed, they can still weaken and be a bit noisy. Just something to keep in mind. Plus, there's always the chance that your mattress doesn't feel as soft or firm as you need it to feel. By choosing the Beautyrest Black Hybrid, you're looking at paying to try this mattress out, which could feel like you're being cheated a bit.
Another bit that's important to keep in mind is that you must used a mattress protector on these mattresses to keep your warranty valid. Using a protector can void the cooling effects of the mattresses' materials, which may be disappointing to those who tend to sleep hot.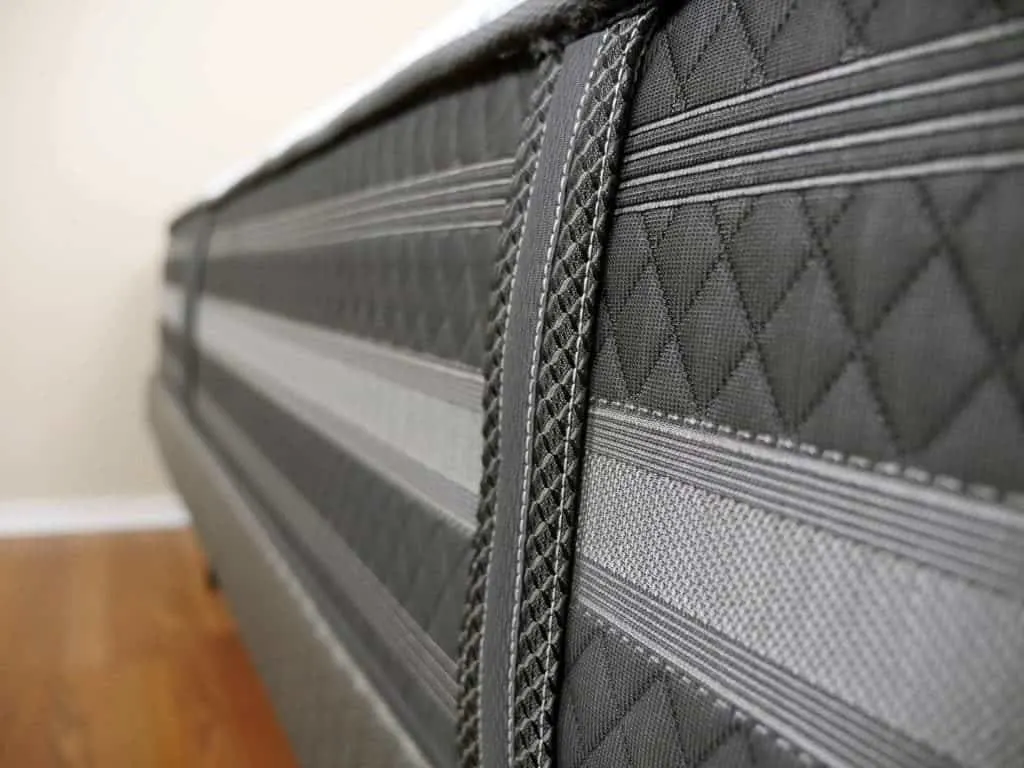 Comparing the Two: Winkbeds vs Beautyrest Black
When comparing the Winkbeds mattress and the Beautyrest Black Hybrid, you have to consider everything from the mattress itself to the support you receive from the company.
| | | |
| --- | --- | --- |
| | Winkbeds | Beautyrest Black Hybrid |
| Materials | Poly foam, coils, Tencel | Memory foam, coils, ? |
| Affordability | $$ | $$$$ |
| Firmness Options | 4 | 6 |
| Value | High | Moderate |
| Trial | 101 nights; delivery fee | 120 nights; replacement (with fee); refund (with restocking, delivery fee) |
| Delivery | Free; White Glove for fee | Delivery fee required |
| Warranty | 10 years | 10 years |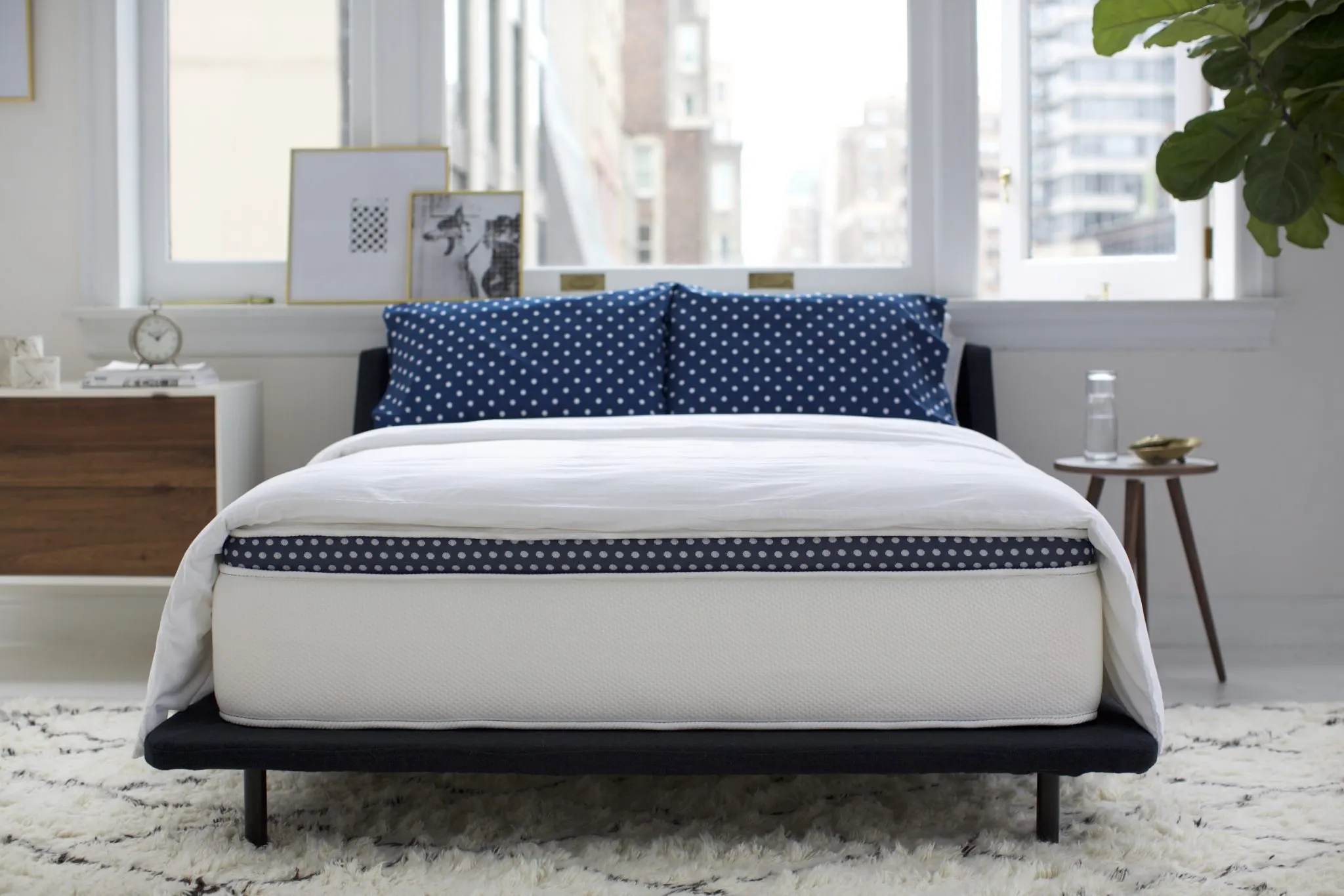 I Personally Prefer Winkbeds
Put simply, Winkbeds offers a better online shopping experience (hassle free delivery and returns), more transparency on materials, and a LESS EXPENSIVE mattress line.
Try Winkbeds Here First
We earn a commission if you click this link and make a purchase at no additional cost to you.
So, Who Wins? Beautyrest Black or Winkbeds?
Brand loyalty is part of the reason why some mattress companies seem to continue to do well, even when the price point is so much higher. If you're a loyalist to Beautyrest, then it could be worth paying up to four time as much for a mattress that's similar to Winkbeds.
Bottom Line: The value of a Winkbeds mattress, though, seems to be far greater. You won't be paying for marketing and buzzwords, or warehouse stocking fees, the way it seems you do with Beautyrest Black Hybrid mattresses. Additionally, there's less of a hassle to return a Winkbeds mattress compared to the Beautyrest Black Hybrid. Be sure to check out Winkbeds latest deals & promos via this page.
The benefit of buying a Beautyrest Black Hybrid mattress is that you have the option of going to a physical store to try the mattress before you buy. Keep in mind, though, that many people who opted to do that said their mattress never felt the way it did in the store – even after years of using the mattress.
Overall, the winner of this match of the hybrid mattresses is Winkbeds. The company provides high-quality hybrid mattresses with four different levels of firmness and excellent pressure relief. The delivery is free, and the free trial comes with little risk. The only fees you'll pay for are for an exchange or if you return your mattress for a refund. And even then, the fees from Winkbeds are less.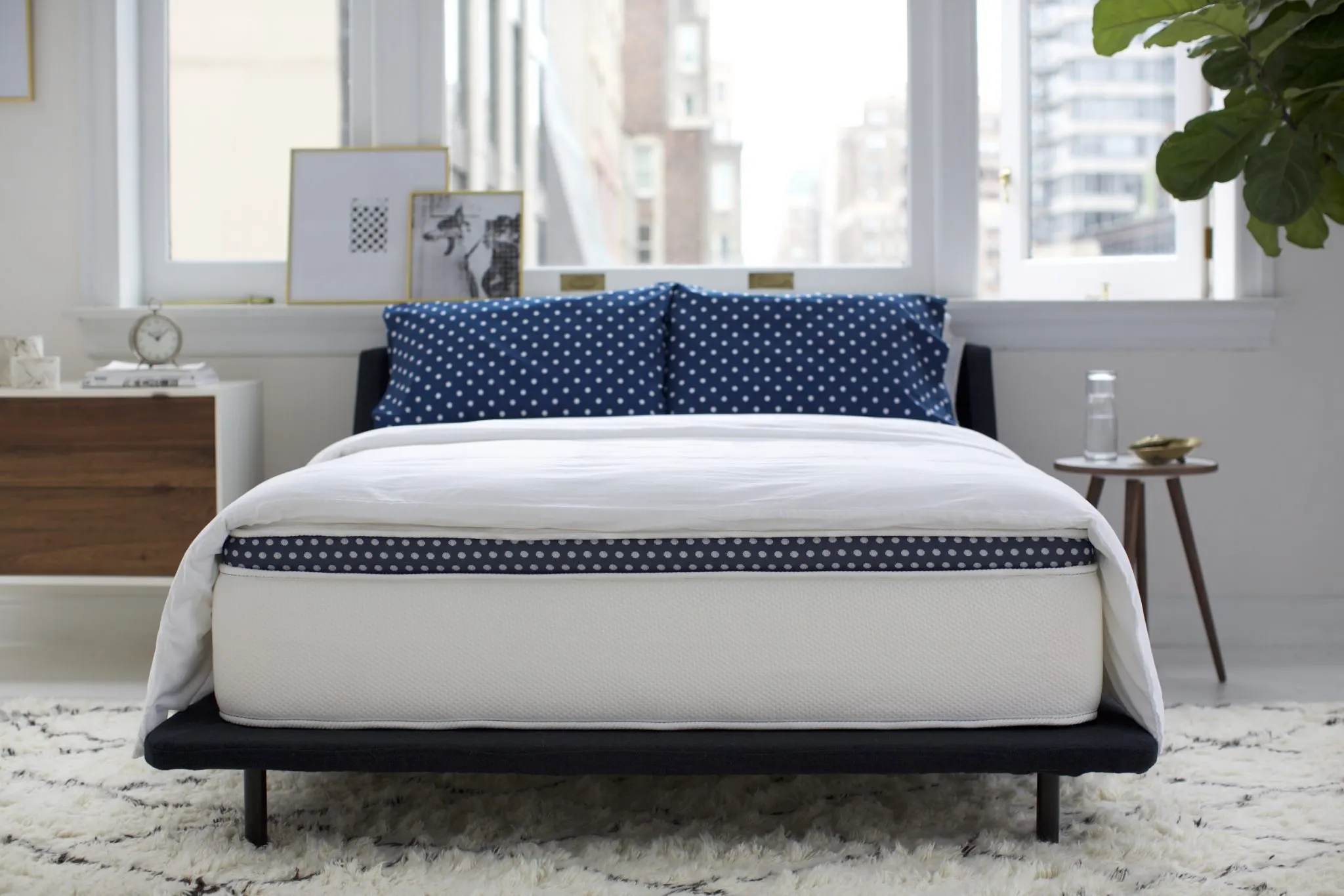 I Personally Prefer Winkbeds
Put simply, Winkbeds offers a better online shopping experience (hassle free delivery and returns), more transparency on materials, and a LESS EXPENSIVE mattress line.
Try Winkbeds Here First
We earn a commission if you click this link and make a purchase at no additional cost to you.
Further Reading on Mattresses and Sleep Solutions