Latest posts by Candace Osmond
(see all)
Everyone knows the importance of sleeping on the right mattress, but how many people know about using the correct type of pillow for their particular sleeping position?
Pillows are often an underrated bedding item, but just as a bad mattress can cause you to wake up with joint aches, a bad pillow can put a lot of strain on your neck, and you'll end up feeling sore in the morning. Each sleeping position requires a different pillow configuration, but what happens when you're a combination sleeper?
Pillows & Sleeping Positions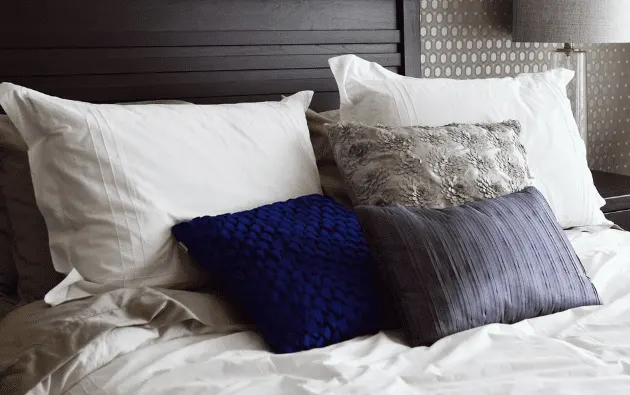 There is this common disbelief that the pillow has to be soft because that's what makes them comfortable. In reality, they are good only for a particular type of sleeping position, as you will soon come to see:
Back sleepers need a firm pillow that will level their head with the rest of their spine. If you buy a contour loft pillow, you need to search for one with divots that can support your head and neck.
Side sleepers require a firm pillow as well, as they require their heads to level with their necks and the rest of their bodies. Memory foam and latex foam pillows are the best options for people who want to feel both comfortable and have their heads and necks supported at a good level. Orthopedic pillows are also a common option amongst side sleepers. These have a special indentation that can support the head and are raised in the neck region, so they can have the necks supported.
Stomach sleepers are the ones who would most benefit from a soft and thin pillow. Of course, we need to remind you that stomach sleeping is the worst possible position because it forces your head to tilt to the side and that will put a strain on your neck no matter what type of pillow you use. But if you do like sleeping on your stomach, you could benefit from a pillow that's both thin and soft.
Combination sleepers are those who often switch from back to side sleeping, and don't exactly have a favorite sleeping position. They are much better off with choosing pillows that have dents in the middle. For the most part, combination sleepers would benefit from pillows of medium firmness, but if you also tend to sleep on your stomach, you need something medium-soft.
Top 5 Pillows for Combination Sleepers
After our brief introduction meant to show you that each sleeping position has its own individual needs, it's time to move on to the tricky part: finding pillows that can support you and make you feel comfortable in more than just one sleeping position at once.
Layla Kapok

Label: best memory foam option
The Layla pillow is filled with shredded memory foam combines with kapok tree fibers, known for its down-like consistency. The cover of the pillow has a copper infusion, which you might have seen in certain mattresses. The role of this infusion is to make sure the cover doesn't retain any heat. The material itself is a combination of Lycra spandex, viscose, and polyester.
While it is a good pillow for combination sleepers, you can't adjust the loft, which can be a downside for some people. It's about four inches thick and does a combination sleeper justice thanks to its medium-soft feel. Because of its filling and construction, the Layla pillow does a good job of conforming to your neck, shoulders, and head.
Even if the loft of the pillow is not adjustable, it is very moldable, which should make it easy for you to adapt it to your specific needs. There are people who like to snuggle with their Layla pillow or sleep with it tucked underneath their knees. What it lacks in terms of firmness options, it makes up for in terms of temperature neutrality and conforming.
Who Should Buy This?
This is a pillow suited for people who like good pressure relief in their pillows, but also for those who tend to sleep hot, as the copper infusion can help with temperature neutrality quite a lot.
Pros:
Good conforming.
Sleeps cool.
Versatile.
Good pressure relief.
Cons:
| Available Sizes | Queen, King |
| --- | --- |
| Filling | Shredded memory foam + kapok tree fibers |
| Cover | Polyester + spandex + viscose |
Tuft & Needle Original Foam Pillow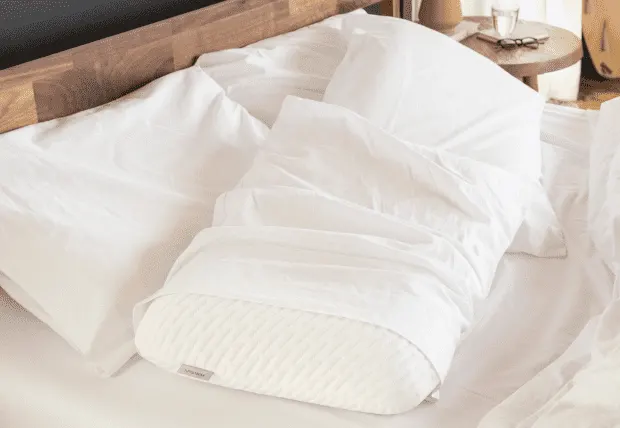 Label: best for hot sleepers
We bring you yet another memory foam pillow because this material does a really good job at contouring, and combination sleepers really need flexibility because of the different requirements each individual sleeping position has. This pillow uses the same type of adaptive foam that Tuft & Needle use in their Mint mattress, and it's a material that provides a great level of support and bounce.
There are plenty of different things that make this pillow really special. First, it's the memory foam construction which is embedded with open-cell technology and graphite infusion. The latter is also accompanied by cooling gel, meaning that you get a product with amazing temperature regulation.
The cover of the pillow is made from a blend of polyester, elastane, and Tencel, and can be removed and cleaned separately, which is always a nice feature to have.
Who Should Buy This?
The Tuft & Needle foam pillow is designed for people who tend to sleep hot because it features graphite and gel infusions, both of which promote temperature neutrality and can absorb heat away from your body, leaving you feeling cool.
Pros:
Promotes temperature neutrality.
Eco-friendly construction.
Removable and washable cover.
Free sleep trial included.
Cons:
The loft is not adjustable.
| Available Sizes | Standard, King |
| --- | --- |
| Filling | Memory foam |
| Cover | Polyester + elastane + Tencel |
Original Casper Pillow

Label: best overall
The Original Casper pillow is one of the best options that you currently have, but note that the company also sells a memory foam and a down pillow. The one that we're focusing on right now is a great option for combination sleepers because it's just the right level of firm to keep your head and neck supported for side and back sleeping alike.
The pillow is made with a polyester microfiber fill, which promotes cooling way more than a pillow made completely out of foam. It is designed with gusseted sides that make sure the fill is evenly distributed inside the pillow from the minute your head compresses its surface. The high level of moldability is another strong point that makes it suitable for more than just one sleeping position. This dual-layer pillow comes with an outer part that's made with a cotton cover and polyester lining.
As far as firmness is concerned, this is a medium-soft pillow that does a really good job at conforming, especially since shape retention is one of this pillow's strongest points. The pillow is great regardless of the weight of the sleeper, but might not be the best option for stomach sleepers.
Who Should Buy This?
The Casper Original pillow is an outstanding product that's designed for people who need neck and head support when sleeping on their back/side.
Pros:
Cooling.
Great conforming.
Soft and comfortable to sleep on.
Pliable.
Even fill distribution.
Cons:
| Available Sizes | Standard, King |
| --- | --- |
| Filling | Polyester microfiber fill |
| Cover | Cotton + polyester fabric lining |
Pacific Coast DownAround® Pillow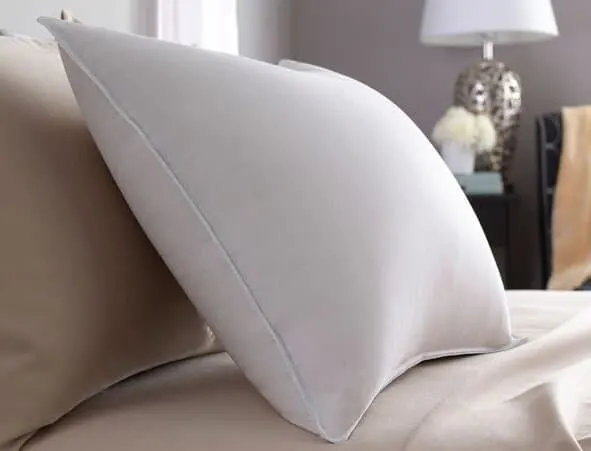 Label: bargain buy
Pacific Coast is a well-known company in the hotel industry, as they are famous for supplying plenty of respectable hotels with quality down comforters and pillows. The DownAround Pillow is available in three different firmness options, but note that each one has its own product page, so you will have to navigate the pillow category of their website to find the firmness of your choice, as this can't be selected regardless of the page you're currently navigating.
There are plenty of characteristics that make this pillow stand out of the crowd. It has a pillow-in-pillow construction and it's filled with proprietary Resilia feathers which have gained quite the reputation for being resilient. The outer pillow is filled with down that has a 550 fill power.
The result is a pillow that's hypoallergenic and provides plenty of cushioning for people who need it. When navigating through the different firmness options, you might notice that the gusset of the pillow is either one or two inches. Thanks to its fill, the DownAround pillow is actually highly moldable and comfortable.
Who Should Buy This?
In spite of the fact that this pillow is filled with down which is normally a more expensive fill, the price of the down around pillow is actually very convenient, making this a good purchase for people who want a less expensive option.
Pros:
Three firmness options.
Three available sizes.
Hypoallergenic.
Machine washable.
Cotton cover.
Cons:
| Available Sizes | Standard, Queen, King |
| --- | --- |
| Filling | Down + Resilia feathers |
| Cover | Cotton |
Avocado Green
Label: best organic pillow
If you own or have at least heard about the Avocado mattress, you know this company is all about eco-friendly and sustainable products. The Green Pillow is made from a combination of kapok tree fibers and shredded latex, making sure that the materials inside the product were in no way harvested with any harm caused to the environment.
Even if the pillow has an adjustable loft (which you can buy more of if you'd like to), adding or removing fill does not affect the firmness of the pillow in any way, it just modifies the thickness. Overall, the pillow has a medium-soft feel to it, just as it should be for a combination sleeper.
But even if this is a good pillow for combination sleepers, it is even better for those who tend to spend the majority of their resting hours lying on their backs, as that's the position that the Avocado Green pillow can support to the fullest. Because of its loft and fill, the pillow does tend to be quite heavy, which could make it improper for people who like to move their pillow around a lot of those who like to slide a hand under the pillow while they're sleeping.
Who Should Buy This?
This is the perfect pillow for people who own an Avocado mattress and love the sleeping experience they get from it. It's also a great buy for people who are trying to live an eco-friendly lifestyle, but also for those who want a hypoallergenic pillow.
Pros:
Eco-friendly.
Adjustable loft.
Decent price considering the construction.
Hypoallergenic.
Three size options.
Cons:
| Available Sizes | Standard, Queen, King |
| --- | --- |
| Filling | Kapok tree fiber + organic shredded latex |
| Cover | Organic cotton |
Bottom Line
Perhaps looking for a suitable pillow isn't as complicated as looking for a new mattress, since beds tend to have more complex constructions that blend different kinds of materials. However, that doesn't make the pillow any less important in determining the ultimate comfort for you as a sleeper.
Much like the mattress, the pillow is also meant to promote correct spinal alignment, but by focusing on your head, neck, and shoulders in the process. As a combination sleeper, you want a pillow that feels comfortable when you sleep on the side, as well as on your back. Stomach sleepers are an exception, as they need a really soft and thin pillow that just won't cut it if you also sleep in the other two positions as well.
FAQ's About Pillows for Combination Sleepers
Question: What is a combination sleeper?
Answer: A combination sleeper is someone who sleeps in many different positions during the night and requires proper support for each of them, which is why they have to get pillows that will suit these positions.
Question: What is the best pillow for all sleep positions?
Answer: The best pillow for all sleep positions is one that provides a good support construction but not too thick. Sleeping on your back requires a lower pillow while a side position requires you to have good neck support to keep your spine aligned.
Question: What's the best pillow for side stomach sleepers?
Answer: If you are sleeping on your stomach, you will have to select a pillow that contours the curves on your neck and contains soft memory foam.
Recommended Reads: