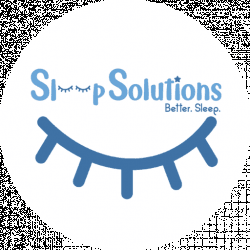 Latest posts by Sleep Solutions HQ Team
(see all)
With so many of these newer online mattress brands popping up it can be tricky to decide which is the best option. After all, you won't have the option of being able to lay on one yourself until you purchase one and have it shipped. Even though you'll be protected by trial periods, it is better to try and get the perfect mattress the first time around.
Two big names in this particular mattress niche are Nectar Sleep and GhostBed. Both brands have their respected fan bases and check out as truly offering high-quality, comfortable beds. There are some similarities between the two, such as designing a "one size fits all" mattress, focusing on the use of memory foam mattress, high customer ratings, and even very similar prices.
Overall it can be a bit confusing deciding which one is the right choice for you.
If you're eager for a better night's sleep, here is what you need to know about Nectar and Ghostbed to make the most accurate purchase.
Specs and Features of the Nectar Mattress
The folks at Nectar Sleep are quick to point out the most important factor of a mattress – the comfort it brings. Nectar refers to their mattress as the "Most Comfortable Mattress" and "The Bed of Your Dreams". Thankfully a plethora of happy customers agree, wishing they had purchased their new mattress sooner.
First things first – the design of the Nectar mattress. This 11″ mattress is made up of 5 different layers, including the cover. The layers are as follows: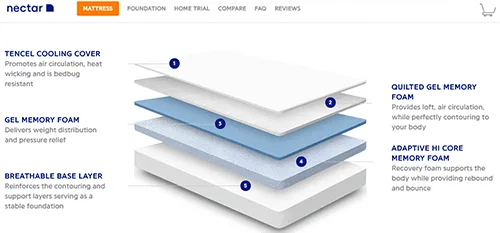 Tencel Cooling Cover – promotes air circulation and moisture wicking

1″ of Quilted Gel Memory Foam – gives loft, a little contour, and more breathability

3″ of Gel Memory Foam – relieves pressure points and distributes body weight

1.75″ Adaptive Hi Core Memory Foam – recovery foam for a little bounce

5.25″ Breathing Base Layer – stable base that also furthers contouring effect
The Tencel cover and first 1″ layer of quilted gel memory foam is actually stitched together.
This makes for a high loft cover, but one that can still be fairly easily cleaned via zippered removal. The color scheme a modern combination of a white top, gray side panels, and blue cording sewn into the seam to separate.
Although this thicker cover is a bit trickier to clean than typical mattress covers, Nectar does offer free cover replacement within their warranty.
As far as pricing goes the full retail structure includes:
Twin – $500

XL – Twin$550

Full – $700

Queen – $795

King – $900

California King – $900
Some other specs you should know include:
Free shipping and free returns

Comes with an extended 365 night home trial

Includes Nectar's Forever Warranty

Regularly goes on sale for upwards of $100 off retail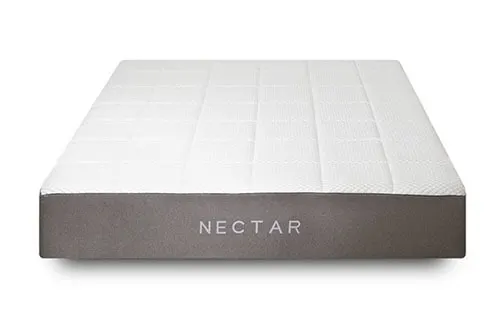 All in all the Nectar is a great example of a more modern but still classy memory foam mattress. The addition of gel memory foam was a wise choice as it really makes this bed cooler to sleep in compared to solid memory foam counterparts.
This a bit of a softer bed which many people who enjoy that sunken in feeling love. Despite the plushness, the responsiveness isn't too bad and there are rarely complaints about pressure point pain, regardless of sleeping position.
Specs and Features of the Ghostbed Mattress
Ghostbed has a few slogans of their own, including "The Coolest Bed in the World" and "Built for Supernatural Comfort", both of which hint at the name and design of their mattress. Despite having a cute logo the Ghostbed is serious when it comes to design and quality.
Let's first take a look at the design of the Ghostbed mattress. This mattress is also 11″ high but made up of 3 different layers, not including the cover. The layers are as follows:
1.5″ of Aerated Latex Foam – supercooling material with excellent responsiveness

2″ of Gel Memory Foam – allow deep compression and relief of pressure point pain

7.5″ of High-Density Support Foam – functions as a strong foundation to add structure
Though not included as a specific layer of the mattress since the cover is totally separate, the cover Ghostbed does include is a fairly simple but attractive polyester blend. The two-tone cover features a 100% white polyester top and gray stitched polyester blend side panels.
The side panels add more strength to this cover. Additionally, Ghostbed includes easy zipper access in the event you need to remove it for spot cleaning.
Pricing structure for the Ghostbed includes:
Twin –

$495

Twin XL –

$650

Full –

$775

Queen –

$795

King –

$975

California King –

$995
Some other specs you should know include:
Free shipping (ships within 24hrs)

Comes with an extended 101 night home trial

Includes a 20-year warranty

Regularly goes on sale for upwards of $50 off retail
All in all the Ghostbed has a deceptively simple design that really does impress. While some might think the more layers, the better, Ghostbed proves that it actually comes down to material choice. While many companies opt for a gel memory foam material for cooling Ghostbed went with a unique aerated latex foam layer.
This is often a cooler alternative to gel memory foam and also is more responsive than memory foam. You'll find this bed to be super comfy but you can still easily move around and change position.
Nectar vs Ghostbed: Which Should You Buy?
Unless one particular foam mattress happens to really appeal to you right off the bat, it can be a bit difficult deciding to be the Nectar and the Ghostbed. Both have a very strong fan base, plenty of unbiased positive reviews, excellent customer service, and overall high-quality construction. Therefore it all boils down to what type of firmness and feel you particularly enjoy in a mattress.
Despite both brands pushing their individual models as being a bit of a universal "fit", if you get them side by side you will find the Nectar bed to be softer. This pushes the Nectar mattress in the category of being a true medium feel, ever so slightly towards the medium-soft side.
The Ghostbed, on the other hand, is a true medium-firm feel, slightly more towards a slight firm. Basically, the Nectar offers a contoured, hug-like feeling you would expect from memory foam while the Ghostbed is a bit denser and more responsive. You can think of it as you lay into the Nectar while you lay on the Ghostbed.
Summed up, the Nectar is best for those that:
Want a plush medium feel to their mattress (think a 5.5/10)

Love the close hug of traditional memory foam mattresses

Tend to sleep on their sides or experience pressure point issues

Prefer an extended trial period (365 nights)
Summed up, the Ghostbed is best for those that:
Want a denser medium-firm feel to their mattress (about a 7/10)

Don't enjoy the feeling of sinking into a bed

Like the benefits of a memory foam/latex hybrid

Sleep in a variety of positions or have different positions than their partner

Veer more towards being hot sleepers and need max. breathability
Overall both are greats beds, but if you keep the above information in mind you'll be able to choose the perfect option for your own needs.
Further Reading on Hybdrid Mattress and Competing Mattress Brand Options: