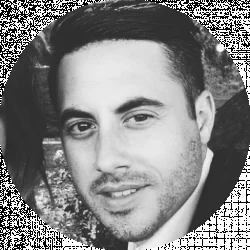 Latest posts by David Borgogni
(see all)
Amerisleep is one of the most popular American producers of all-foam and hybrid mattresses, and it also has one of the greatest variety of models to choose from. Can't decide between Amerisleep Liberty vs Revere mattresses? This comparison will provide you with all the information you need to make the best decision.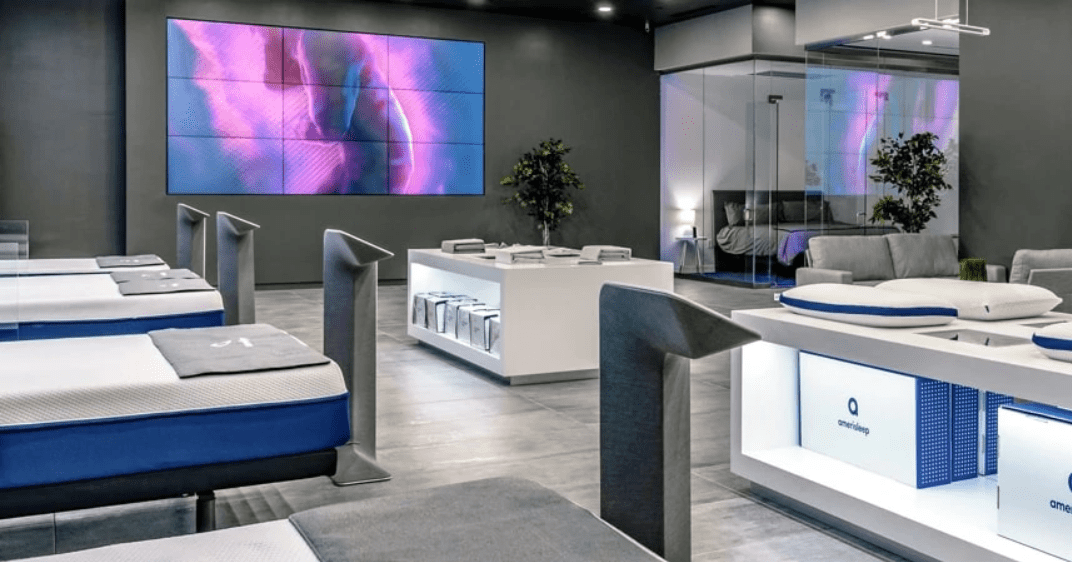 Whether you're suffering from back pain or just crave to sleep more comfortably, choosing the right mattress can be a tough challenge. This article is here to make the process more simple and clear. We'll start with a brief summary of all the incentives and deal-breakers Amerisleep Liberty vs Revere mattresses have.
Important Note: Amerisleep has recently renamed all of their mattresses. Amerisleep Revere can be now found under the product name AS2, whereas Amerisleep Liberty is currently being sold as AS3.
Main Differences Between Amerisleep Liberty vs Revere
The main differences between Amerisleep Liberty vs Revere are:
Amerisleep Liberty is more expensive, whereas Amerisleep Revere is a bit cheaper.
Amerisleep Liberty comes as a middle-firm mattress, whereas Amerisleep Revere is slightly on the firmer side.
Amerisleep Liberty is great for side and combo sleepers, whereas Amerisleep Revere suits stomach and back sleepers very well.
Amerisleep Liberty will suit petite and middle body types, whereas Amerisleep Revere is suitable for heavier weights too.
Amerisleep Liberty vs Revere: The Mattresses Compared
Amerisleep Liberty
Materials and feel
Amerisleep Liberty (or AS3) is currently Amerisleep's most popular bestseller. No wonder, since it provides a golden mean in two key factors that we usually consider the most when it comes to mattresses: their price and firmness.
Although Amerisleep recently started producing some great hybrid mattresses too, their main ingredient is still their top-quality memory foam. Amerisleep Bio-Pur is a sophisticated modern memory foam that boasts various attractive features and above-the-average durability. This material is plant-based, so it's a great choice for those who prefer sleeping on naturally sourced materials.
Although Bio-Pur is arguably the most distinctive and important part of all Amerisleep mattresses, it's not the only patented material they contain. The smooth and cooling cover is made of Celliant – an innovative synthetic fiber that blends natural minerals, PET, and polyester.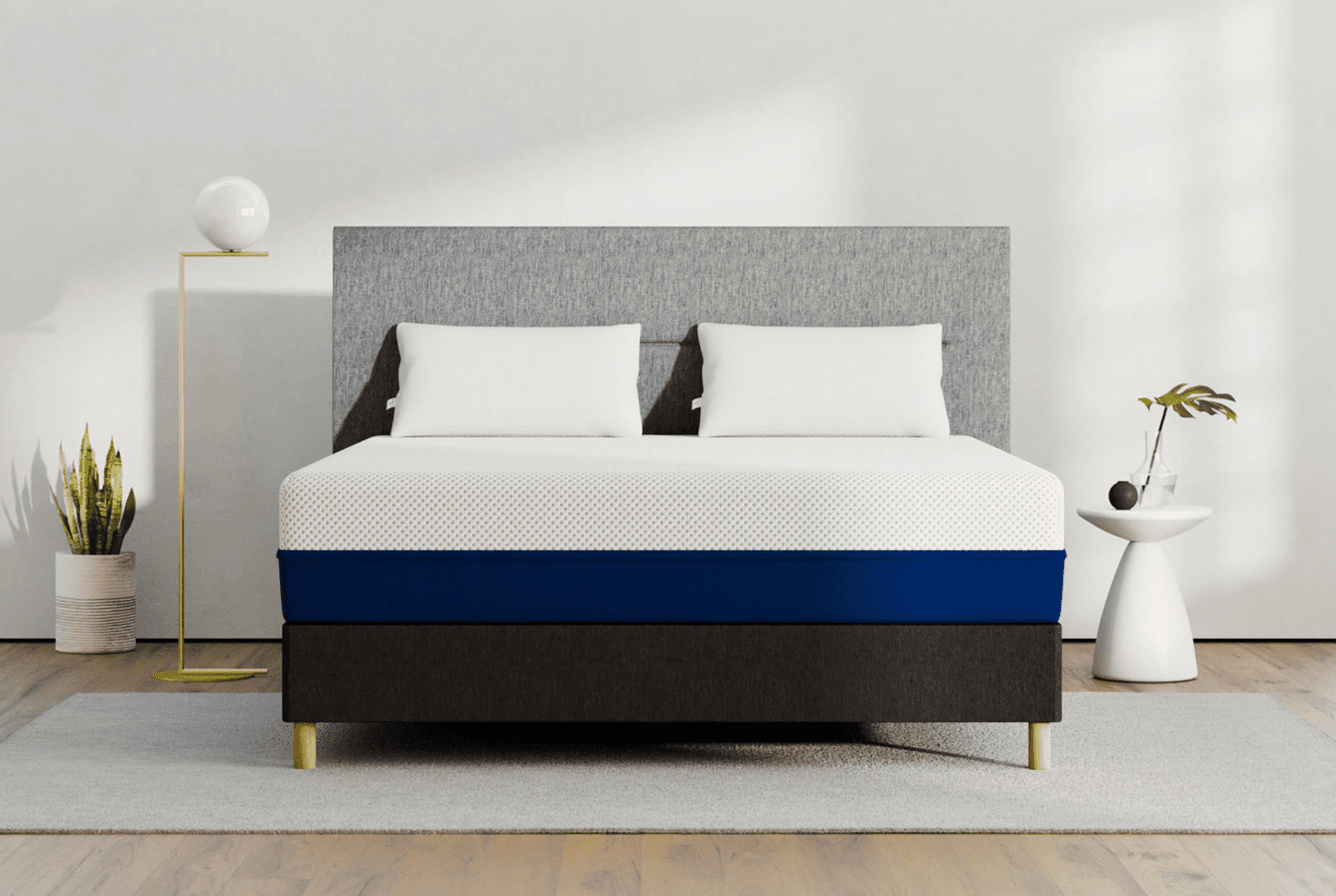 The middle (also known as a transitional) layer is made of HIVE – resilient poly-foam material with numerous cutouts for targeted support under the most problematic areas of your body (head, back, legs).
Finally, all Amerisleep mattresses are seated on a robust layer of Bio-Core – a tough supportive base that makes these mattresses durable and reliable even after many years of intensive use.
How does Liberty feel in comparison with other Amerisleep mattresses? When it comes to firmness, this model stands somewhere in the middle of the scale. This makes it a perfect all-rounder for every type of sleeper and all kinds of sleeping positions. Great balance of hugging comfort and stable support is particularly advisable for combo sleepers who often switch positions over the night.
This mattress is also a marvelous choice if you can't decide on the perfect model with your partner because you're having different preferences or sleeping routines: Amerisleep Liberty should make both of you happy.
Construction
Amerisleep Liberty is a 12-inches thick all-foam mattress with the following construction:
Comfort layer: 3" memory foam (Bio-Pur – see the previous section for more details on the used materials) with 4 lb density
Transition layer: 2" poly-foam (Hive) with 1.65 lb density
Base layer: 7" of high-density poly-foam (Bio-Core – 1.8 lb density)
When it comes to compatibility with various bed foundations and frames, Liberty is again highly versatile: it can be placed almost anywhere including directly on the floor (but keep in mind this doesn't allow proper air circulation and can cause premature wearing of the mattress).
Liberty works neatly with solid frames, but it can be nicely combined with adjustable bed foundations too. Amerisleep even offers its own compatible bases at a great price.
Aside from the classic Liberty/AS3 model, Amerisleep newly offers also AS3 Hybrid version. This mattress combines comfortable memory foam layers with bouncy pocketed coils for extra support and even better spine alignment. Understandably, Liberty Hybrid costs a bit more than the original model, but the difference is quite reasonable.
Hybrid version's core with individually pocketed coils provides zoned support, which means that they are tighter beneath your spine and softer under your hips, head, and shoulders. The hybrid mattress also comes with better breathability and allegedly, they should also be more durable.
Amerisleep Revere
Materials and feel
Revere (AS2) is Amerisleep's middle-to-firm mattress. On the scale of their five mattress models, this ranks as second firmest. However, in general, there's not much difference between its construction or used materials in comparison with the Liberty (AS3) model we've described previously.
The cover of this mattress is made of several innovative materials (including Celliant). It's smooth, nicely cooling, and breathable. It has a lovely soft touch that immediately invites you to lay down on the mattress. Like all Amerisleep mattress covers, it can be unzipped for cleaning, which is really convenient.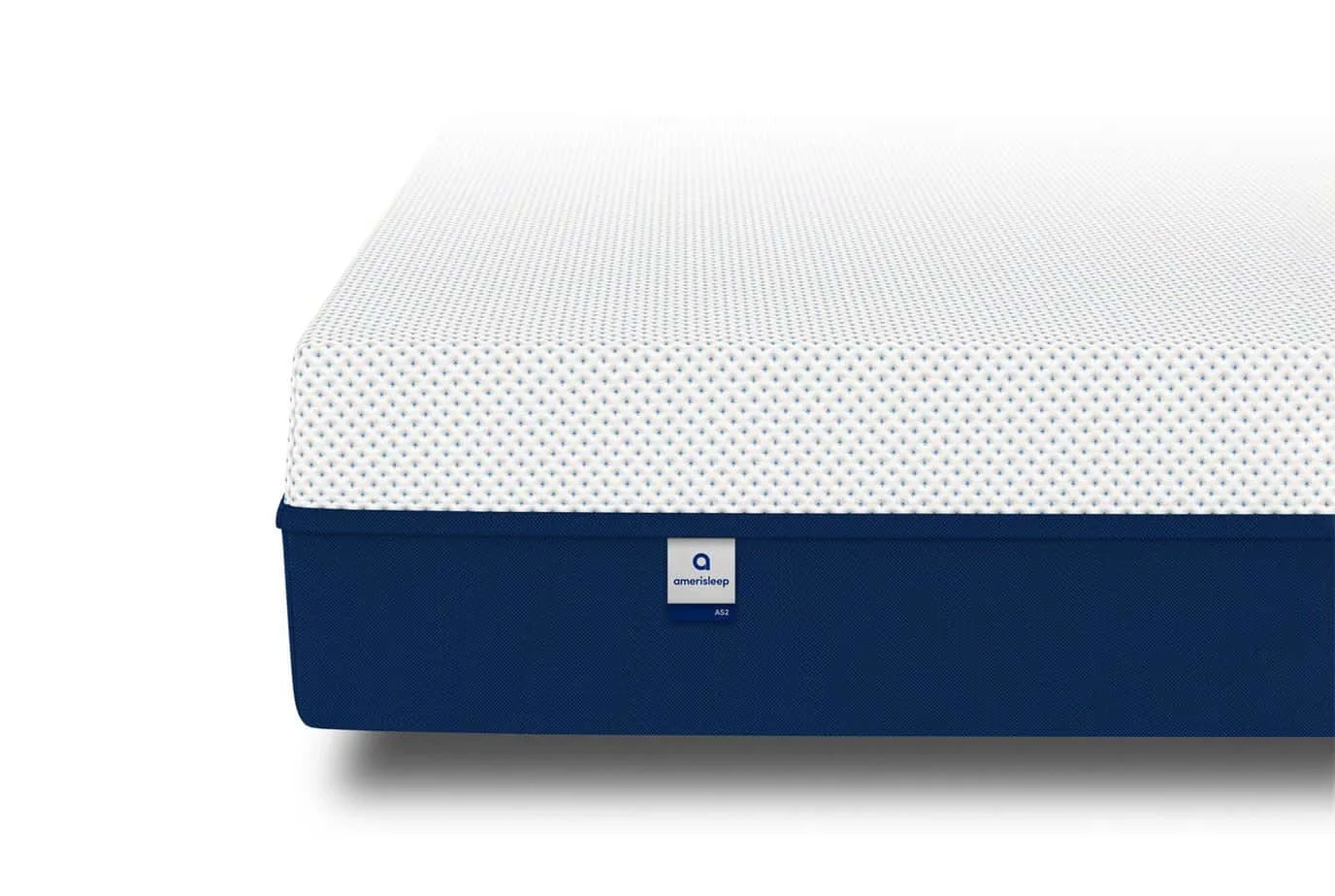 The second layer of this mattress is, again, formed by Amerisleep patented Bio-Pur memory-foam. It is really great in motion isolation. It also feels perfectly relaxing and comfortable, but at the same time, it still has enough 'bounce' to prevent that odd sinking sensation you might experience with some other types of memory foams.
Thanks to its open-cell design, Bio-Pur is also more breathable than most of the similar materials. You will surely appreciate this feature in the summer when it helps with air circulation and keeps you comfortably cool over the night. However, the same technology also contributes to the mattress's great thermoregulation and warming effect during the colder months of the year.
The base of this mattress is formed by transitional poly-foam material (HIVE), that ensures thoughtfully even support, and a robust layer of Bio-Core for extra durability, which allows Amerisleep to offer one of the most generous warranty periods on the marker.
If you'd like to compare your experience with Revere mattress with Liberty, you could definitely say that this mattress feels a little firmer and less flexible. But its true potential is unleashed only gradually when you sleep on the mattress night by night for at least several weeks. Firmer mattresses are great for back and stomach sleepers and they also provide relief to those suffering from back pain.
Construction
Just like Amerisleep Liberty, Revere is also 12-inches thick all-foam mattress made of more or less the same materials. What makes the difference? As you'll see below, the ratio of layers is slightly different:
Comfort layer: 2" memory foam (Bio-Pur) with 4 lb density
Transition layer: 3" poly-foam (Hive) with 1.65 lb density
Base layer: 7" of high-density poly-foam (Bio-Core – 1.8 lb density)
Revere is compatible with many different types of frames and foundations, but Amerisleep mainly recommends perfectly flat bases that won't interfere with Revere's natural characteristics and construction.
Like several other Amerisleep mattresses, AS2 also comes in a Hybrid version that provides even more support and durability thanks to the central layer of individually pocketed coils.
Ease of Mind: Amerisleep Liberty vs Revere Warranties and Test Times
Although Amerisleep Liberty and Revere mattresses surely have many differences, their warranty terms remain the same. An exceptional 20-years warranty makes Amerisleep stand out from (almost) any competition on the market.
Besides the traditional warranty, Amerisleep also offers a very convenient trial period. Since Amerisleep does most of its business online, it's only logical to give its customers some time to explore their products in practice and decide, whether they really like their purchase. In the case of both Amerisleep Liberty and Amerisleep Revere, this trial period is set to 100 nights.
Brand
Trial period
Warranty
Amerisleep Revere /

Amerisleep Liberty

100 nights
20 years
Notes: When you first receive your mattress in a box, carefully unbox it and let it deflate completely. If you feel a subtle factory-like odor, let your mattress off-gas too. This process shouldn't take more than 24 hours.
If you're using a new mattress, it's absolutely normal to experience some discomfort or even a mild back pain during the first nights. Your body needs to adapt to a new surface and material, it's only a temporary problem that will pass. If you really want to know how good or bad your mattress is, wait for at least 30 nights. If you're not happy with it after a full month of use, it's time to request a return.
Amerisleep Liberty vs Revere: Prices
Which Amerisleep mattress is the best choice if you're on a budget? If the price tag is a key factor for you, the answer is pretty simple: Amerisleep Revere (AS2) is undeniably cheaper than Amerisleep Liberty (AS3). However, the difference in their prices is not very big – depending on the size of your mattress of choice, expect to pay between $100 and $200 more for Liberty compared to Revere.
For the best comparison, see the whole price list of Amerisleep mattresses. Amerisleep Liberty and Amerisleep Revere mattresses (including their Hybrid versions) are highlighted in bold:
Model
Twin size
Full size
Queen size
King size
Cal. King
Split King
AS1

(Americana)

$849
$1049
$1199
$1399
$1399
$1399
AS2

(Revere)

$999
$1149
$1299
$1599
$1599
$1898
AS2h

(Revere Hybrid)

$1199
$1349
$1499
$1799
$1799
$2498
AS3

(Liberty)

$1099
$1249
$1399
$1699
$1699
$2098
AS3h

(Liberty Hybrid)

$1299
$1449
$1599
$1899
$1899
$2698
AS4

(Colonial)

$1399
$1549
$1699
$1899
$1899
$2698
AS5

(Independence)

$1799
$1949
$2099
$2299
$2299
$3498
As you see from the table above, hybrid versions of both Liberty and Revere mattress cost a few hundred more than their all-foam counterparts. With greater dimensions, the difference in price becomes more apparent due to the costs of used materials.
A Round-Up on Pricing
If you've decided to invest in a high-quality mattress, you surely already know that it can easily become one of the most expensive pieces of furniture in your household. How to make sure you're making a good investment and not paying more than is necessary?
Unfortunately, there's no straightforward answer to this question. Many people end up being completely satisfied with their low-cost mattresses while others may be tossing all night long on a piece that costs a fortune.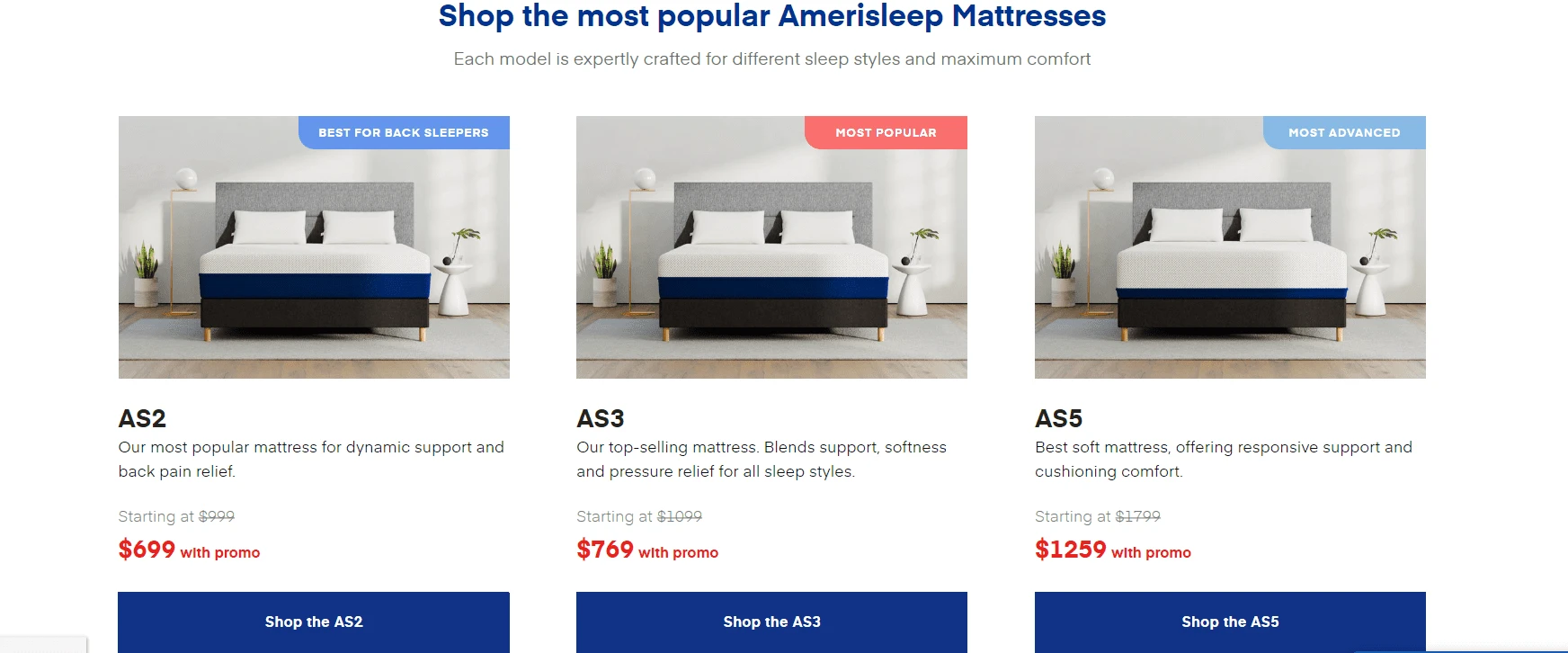 The best strategy is to decide on your maximal budget and then shop around to see what realistic options you have. Generally, all-foam mattresses are cheaper than hybrid solutions. Big sizes are, understandably, also more expensive.
Many brands and e-shops offer regular discounts and promotions and Amerisleep is no different. Sometimes, you can save as much as $200 on any of their mattresses or save on valuable bundles with bedding accessories or bed frames. Check out Amerisleep official sale pages for all currently available offers.
Amerisleep Liberty vs Revere – Who are These Mattresses Best For?
If you've decided to buy any of the Amerisleep mattresses, you surely like the idea of having an innovative all-foam mattress with great thermoregulation, natural materials, good price, and exceptional durability. But deciding on one concrete model can be tricky.
This quick summary can help you pick the one that's best for you:
Amerisleep Liberty
Liberty is currently the most sought-after mattress from Amerisleep. The main reason for such popularity is its wonderful versatility. If you can afford to spend slightly more than you would with some of the cheaper alternatives, the chances are high that you're going to be happy with this mattress regardless of your body build or sleeping habits.
Thanks to offering nearly a perfect ratio of support and comfort, Amerisleep Liberty will suit both side sleepers and combo sleepers. Stomach sleepers, however, might feel a bit too sunk in the rich foamy upper layer.
Liberty has a high-density core layer at the base, so this mattress should work fine with heavier users too, but it certainly suits better those with small to middle build. In case you are significantly overweight, we advise you to focus on some of the hybrid mattresses or pick firmer AS2 (Amerisleep Revere) mattress instead.
Thanks to its thoughtful construction, Amerisleep Liberty provides great air circulation and serves well in both cool and warm environments.
To Recap
You should love Amerisleep Liberty mattress if you:
Are sleeping on your side or changing positions often.
Like slightly softer mattresses.
Don't mind paying a bit more.
Appreciate great air circulation and breathability.
Have small to middle body type.

Amerisleep Revere
Amerisleep Revere is firmer, so you won't feel so pampered and hugged when you lie on it. On the other hand, there are many people who prefer firmer mattresses for various medical reasons since they offer better support and pain relief.
Revere is a great choice for those who sleep on their back or stomach. Side sleepers or combo sleepers might be less impressed. Are you a bit heavier? Another good reason for buying a firmer mattress.
Last but not least, Revere/AS2 is Amerisleep's second cheapest mattress. In comparison with Liberty/AS3, it costs about $100-$200 less (depending on the size).
To Recap
Amerisleep Revere is your best option if you:
Like your mattress on the firmer side.
Are on a budget.
Like to sleep on your back or stomach.
Are a bit heavier.
Suffer from back pain.
Amerisleep Liberty vs Revere: FAQs
Which Amerisleep mattress is the best?
Every Amerisleep mattress is different, and each of them will surely find its happy users.
•Amerisleep Americana (AS1) is the firmest and cheapest mattress on offer.
•Revere (AS2) is the best solution for back and stomach sleepers. •Liberty (AS3) is the most universal model and bestseller among the Amerisleep mattresses.
•AS4 (also known as Colonial) is recommended mostly to side sleepers
•Amerisleep Independence (AS5) is the most luxurious choice for those who want to be pampered in every regard.
What is the best mattress for lower back pain?
People suffering from back pain should focus on firmer mattresses that provide reliable support and pain relief. Amerisleep Revere (AS2) is a medium-firm 12" mattress made of patented Bio-Pur memory foam. It's great for stomach and back sleepers and provides welcome relief to those with back pain too.
Where can I try an Amerisleep mattress?
Amerisleep is a company that sells its mattresses mainly online, so unless you're lucky enough to meet them at some sort of a trade show, your only chance to try Amerisleep products on your own is to order them. Fortunately, Amerisleep now offers a 100-nights trial period – if you're not entirely satisfied with their mattress, you can return it for a full refund within this timeframe.
Can You Recommend Any Alternatives?
If you still hesitate to pick any of the mattresses we've discussed so far, maybe you'll find some of these alternatives more interesting:
Amerisleep Liberty vs Revere: Which is the mattress of your dreams?
Amerisleep Liberty and Revere have a lot in common. They are made of the same materials and designed very similarly, they both come with an exceptional 20-years warranty and 100-nights trial period. The reasons for preferring one over the other are therefore mainly personal: We advise you to decide based on your favorite sleeping positions and your budget.
If we had to pick our personal winner, we would suggest going with Amerisleep Liberty (AS3). Not only is it a more sophisticated and comfortable choice, but this all-rounder is also much more versatile.
Twenty years (expected minimal lifespan of this mattress) is a long time and your sleeping habits, health condition, or body dimensions can change a lot. Amerisleep Liberty should adjust to any of these changes smoothly and still remain your favorite mattress over time.
If you feel like you still need more information before making your purchase, read our in-depth Amerisleep AS4 review, Amerisleep vs Purple, or Amerisleep vs Loom and Leaf comparisons for more detailed information.