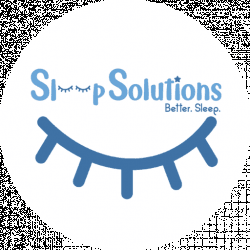 Latest posts by Sleep Solutions HQ Team
(see all)
Getting a good night's sleep does more for the restorative power of the body than any other factor. You can eat a healthy diet of nutritional foods and still lag behind your peers at work because you slept poorly the night before. The million dollar question health care experts have asked since the dawn of bedding is what contributes the most to get a healthy night of sleep.
If you said a mattress, then you can move on to the rest of this article.
We compare two heavyweight brands in the mattress industry: Nolah and Leesa. How each mattress fares in our comparison depends on how we measure the quality of each mattress. Therefore, before we begin the competition, let's review the factors that determine mattress quality. After our Nolah vs Leesa comparison, we provide a few helpful tips for ensuring you purchase the right mattress.
Mattress Buying 101
Consumers prioritize the factors that matter for determining which mattress to purchase. Some of us prefer firmer mattresses, while others refuse to get into bed unless the mattress is super soft. Mattress manufacturers make sure to promote specific mattress features to attract the market segment that does the most to boost sales. Whether you prefer a mattress that sleeps warmer than average or a mattress that does not shrink, you still need to consider five primary factors for buying the best mattress.
What Size Mattress Do You Need?
Mattress sizes refer to both the length and width of the mattresses you compare. Most mattresses span about six feet in length, with manufacturers designing and constructing customized mattresses that are either longer or shorter than the standard of six feet. Width is the size to think more about, as width determines whether a mattress can easily accommodate a larger person or a couple that sleeps together often.
Most mattress manufacturers design mattresses to fit one of five width sizes:
Twin
Full
Queen
King
California King
The size of the width of your new mattress also depends on how you sleep. If you are all over the place during the course of an average night, you should consider upsizing at least one size from what you sleep on now. If you sleep in a position where your legs tuck somewhat into your chest, then maybe a mattress size below what you would normally sleep on would work best for you.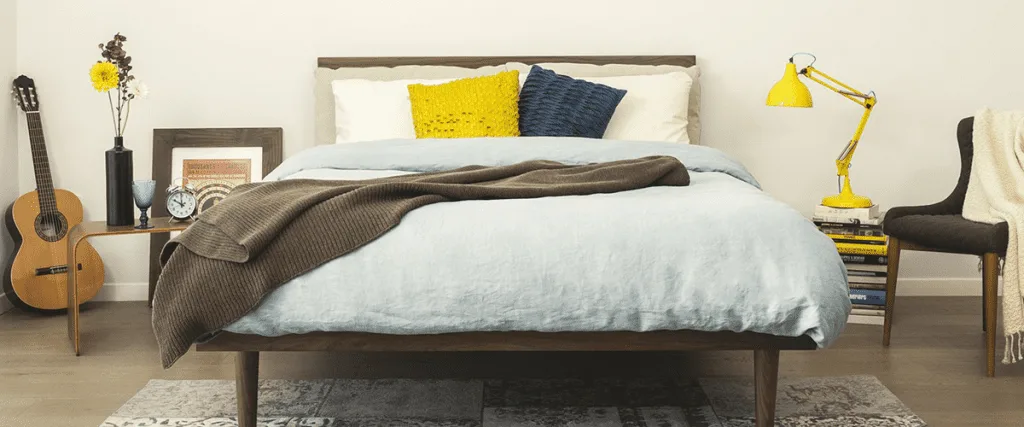 Supreme Comfort for the Entire Body
The definition of mattress comfort for you might differ from what you partner considers to be a comfortable mattress. The key is to find a mattress that meets both of your comfort expectations. Some mattress manufacturers create hybrid mattresses, with one side firmer than the other side to meet the comfort expectations of both partners. However, Nolah and Leesa design mattresses that offer uniform comfort levels.
Mattress comfort zones start at plush and move across the spectrum to very firm. Many manufacturers that include Leesa and Nolah have developed color charts that allow customers to discover mattresses matching their comfort preferences. Mattress comfort is the most important factor for getting a sound night of sleep. Compromising on mattress comfort is a recipe for developing health issues down the road.
Do You Sleep Cool or Warm?
There are plenty of things that go own while you sleep that you do not comprehend. All of a sudden, you wake up feeling sweaty hot or teeth chattering cold. Part of the reason derives from the temperature of the room where you sleep. Another reason for the uncomfortable feeling of hot and cold is what your body goes through during the transition from light sleep to deep sleep. Some of us warm up and some of us cool down. You need to know whether you sleep warm or cool to select a mattress that provides a counteracting effect to keep you comfortable all night long.
What Position Do You Sleep In?
It is common to fall asleep in one position, only to wake up in a completely different position. We recommend using the starting sleep position as the reference point for buying the right mattress. Every mattress manufacturer caters to different sleeping positions, which typically include side, back, front, and stomach positions. For example, side sleepers like to sleep on plush or pillow top mattresses. Stomach sleepers are prone to turning over several times per night, which means a firmer mattress works better.
You Need to Get Rid of a Pain in the Neck
Bedding experts devote a lot of time and mattress manufacturers devote a lot of money to prevent mattresses from causing neck, back, and shoulder pain. However, one of the best reasons for buying a mattress is to reduce pain. Specialized design strategies put much less pressure on the parts of the body susceptible to acute pain. You cannot put a dollar amount on how a mattress helps reduce or eliminate back, neck, and shoulder pain.
Characteristics of a Nolah Mattress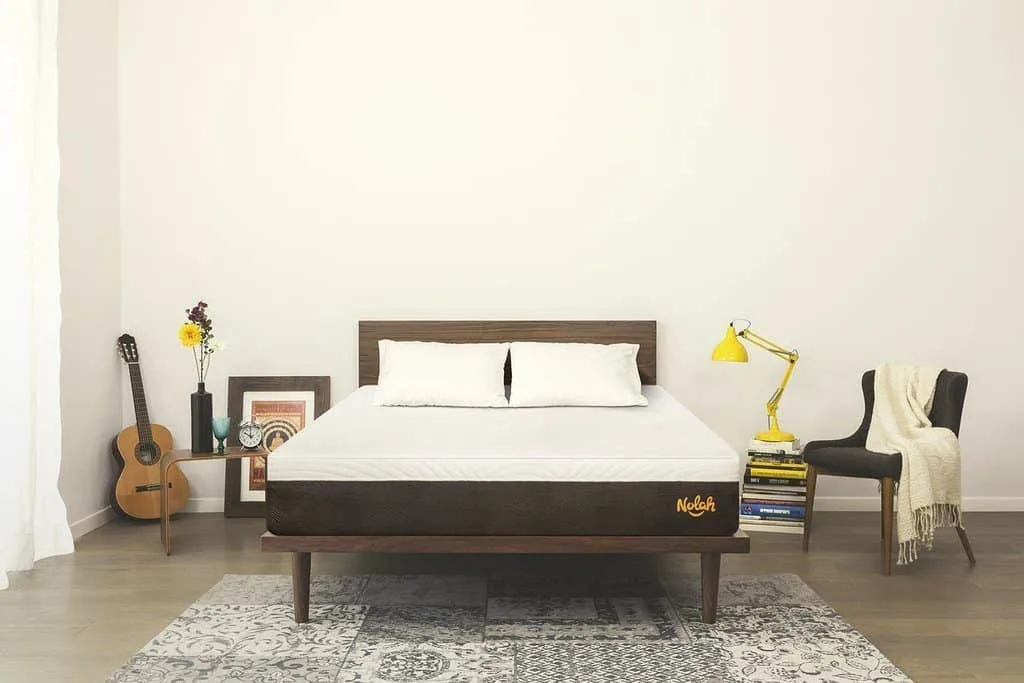 Nolah publicizes the company's mission to create "tomorrow's mattress." The founders of the company went the unconventional route by shunning latex and memory foam mattresses for the trademarked Nolah AirFoam. Nolah engineers have developed the same body contouring properties you experience by sleeping on memory foam mattresses, without overheating during the transition into deep sleep.
Comfort
Nolah designs and manufactures its AirFoam mattress by using three different layers that measure a combined 10 inches thick. The mattress should appeal especially to side sleepers that enjoy sleeping on soft foam that contours the body naturally. With a firmness rating of 5.6, the AirFoam mattress sits near the average firmness on a scale of one to 10. Most bedding experts refer to firm mattresses that fall within a range on the firmness scale from six to 10. Nolah compensates for the lack of firmness by designing the three layers to work flawlessly together for reducing the discomfort caused by tension building at the hips and shoulders.
As one of the softer foam mattresses on the market, the AirFoam should appeal to sleepers that enjoy sinking a bit into a mattress. On the other hand, if you already experience hip, back, and/or shoulder pain, the AirFoam mattress from Nolah might not be the right mattress for you.
Layers
With the lack of firmness for the AirFoam mattress, Nolah has devised a strategy to get the three layers to work in concert to support most sleepers. An almost half and half mixture of viscose and polyester comprise the material inside the plush cover. The semi-synthetic cotton replacement material feels soft and it consistently delivers a cool feeling to the touch. Nolah builds the comfort top layer with two inches of the AirFoam. As mentioned in the previous section, Nolah AirFoam provides the contouring benefit of memory foam, while not trapping nearly as much body heat. The soft foam sinks at spots that offer side sleepers pressure point relief.
Directly underneath the comfort layer is the transition layer, which consists of one-inch foam that is similar to the texture of latex foam. The transition layer quickly responds to body pressure to seamlessly integrate the comfort provided by the top layer of AirFoam with the solid foundation set by the base layer. The base layer spans seven inches, with high-density polyfoam responding well to pressure giving the entire mattress its solid structure. As the body sinks on the top layer, the bottom two layers of the Nolah AirFoam mattress stand up to pressure and stabilize your bed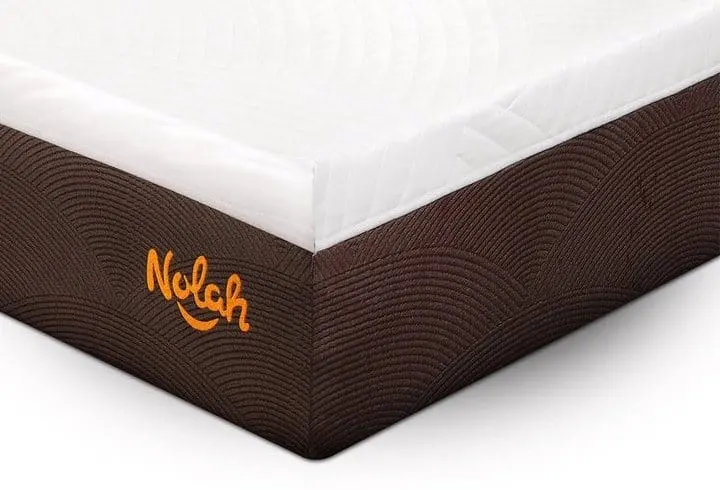 Motion Transfer
If you share a bed with another person, you need to know how the mattress handles motion transfer. From moving around to sleep at night to getting out of bed to prepare for work, the motion transfer of a mattress has a lot to do with determining how well you and your partner sleep. Several tests conducted on the Nolah AirFoam mattress demonstrate the mattress transfers motion at an above-average rate and distance.
An a10-pound steel ball dropped from a height of four inches mimics the force applied by an average size adult rolling around in bed to adjust sleeping positions. Tests performed by dropping a 10-pound steel ball from eight inches simulate the motion transfer caused by an average size adult getting out of bed. Memory foam mattresses typically perform well in motion transfer tests, which means the AirFoam mattress designed to perform like memory foam mattresses falls a little short in the motion transfer department. If you expect to sleep alone most of the time, motion transfer will not be a major factor in the decision to purchase the Nolah AirFoam mattress.
Price and Other Factors
Nolah offers a convenient monthly payment plan for customers that qualify for financing. The more money you put down on a Nolah AirFoam mattress, the more likely you will receive approval to participate in the monthly payment plan.
Here are the prices for the five AirFoam mattress sizes:
Twin-$519
Full-$749
Queen-$724
King-$949
California King-$949
The reason Nolah has priced the queen mattress lower than the full mattress is that the company sometimes offers a coupon discount for the purchase of a queen mattress. To ensure an AirFoam mattress matches your sleep preferences, Nolah offers a 120-night free trial. You can cancel the purchase of an AirFoam mattress any time during the 120-day free trial. Nolah offers a 15-year warranty that covers virtually any AirFoam mattress defect you discover. The company provides free shipping, with the AirFoam mattress delivered inside a compressed box.
Characteristics of a Leesa Mattress
Leesa lives by the motto of "Giving the gift of sleep" by offering two completely different styles of mattresses. We review the Leesa mattress, which generates most of the revenue for the mattress manufacturer. Leesa targets the hybrid Sapira mattress to customers that experience chronic hip, neck, and/or back pain. The company earns praise for running a charity program called One-Ten, with Leesa donating one mattress for every 10 mattresses purchased by customers.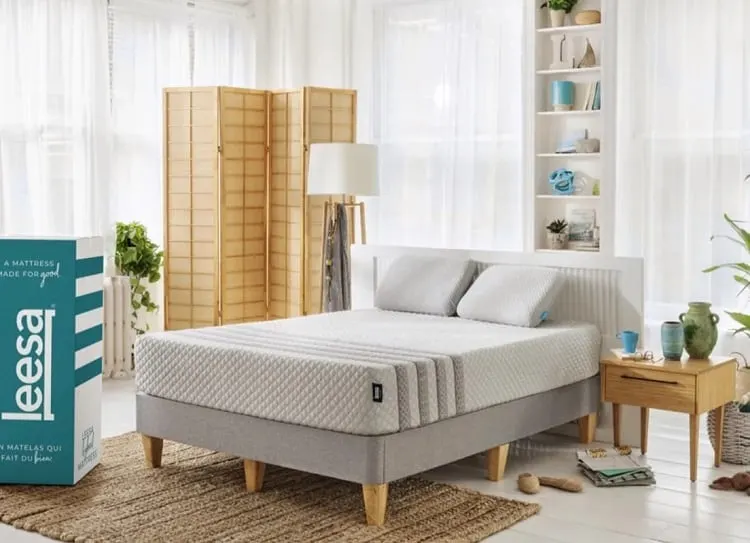 Comfort
Leesa designed it flagship mattress to fall within the firm category ranking between six and 10. This makes the Leesa mattress firmer than what Nolah designs for its AirFoam mattress. The firmer than average Leesa mattress helps support sleepers that need to sleep with stable necks and backs to prevent pain. Leesa also touts its flagship mattress for reducing pain for customers who suffer from neck, back, and/or shoulder injuries. The initial soft feel of the mattress hugging the body quickly gives way to firm support. You enjoy the same level of firmness throughout the night until you need to get out of bed to use the bathroom or indulge in a late-night snack.
Layers
The flagship Leesa mattress contains three layers of support, which equals the number of layers offered by the Nolah AirFoam mattress. Leesa creates two inches of Avena foam for the top layer. Sleepers immediately feel the Avena foam layer contouring to the shape of their bodies. Avena foam delivers the same type of sleep performance as latex foam delivers. However, tests show Avena foam is more durable than latex foam. Leesa customers should feel comfortably cool throughout the night, as well as experience below-average bouncing.
Two inches of thickness allows the middle foam layer to provide support for the pressure points that cause pain to the back and shoulders. Leesa emphasizes the middle layer is ideal for adults and adolescents that are above average in size, as strong compression support stabilizes the body during sleep. The foundation layer measures six inches of incredible high-density support. In fact, Leesa has created a foundation that does what few other foundation layers can accomplish: offer breathability. Strong airflow between the middle and foundation layers ensures hot sleepers remain comfortably cool throughout the night.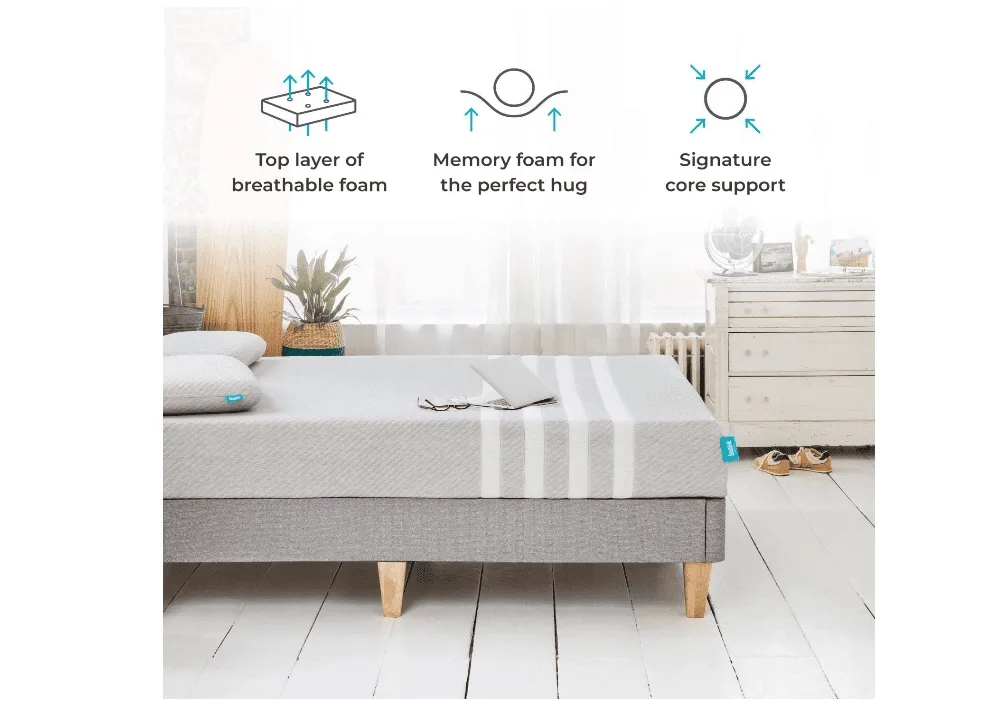 Motion Transfer
One of the benefits of Nolah AirFoam mattresses for side sleepers is the softer than average top foam layer. However, the soft first couple of inches mean Nolah mattresses experience far more motion transfer than what Leesa mattresses deliver. In fact, lack of motion transfer makes Leesa mattresses ideal for couples. Little or no sinkage at the point of the body to mattress impact translates into motion transfer of fewer than two inches for Leesa mattresses. Sitting at the edge of a Leesa mattress causes a little more than three inches of motion transfer. If you stand in the middle of a Nolah mattress and a Leesa mattress, you can expect to see significantly more motion transfer standing in the middle of a Nolah AirFoam mattress.
Price and Other Feature
Buying a mattress can take a chunk out of a household budget, especially if you go large by opting for a king or California king mattress. Nonetheless, substituting the saving of a few bucks for top-of-the-line performance can lead to costlier health issues such as hip arthritis and chronic back pain. As a factory-direct manufacturer, Leesa offers mattresses that fall within the average price range. For twin, full, and queen mattresses, Leesa charges about $50 more on average than what your pay form similar size Nolah AirFoam mattresses. Leesa king and California king mattresses can run up to $200 more than Nolah charges for king and California king AirFoams.
Leesa's 100-day home free trial lasts 20 days shorter than the 120-day home free trial offered by Nolah. The 20-day difference should not be a factor in your buying decision, as a vast majority of consumers know if a mattress is right for them after about one month of sleeping on the mattresses. Leesa reminds customers it takes about two weeks for its firmer than average mattresses to settle in and provide customers with what they expect from a mattress that comes with a firmness rating near seven.
The Bottom Line
Although not considered the "Odd Couple" of mattress comparisons, there are plenty of differences between a Nolah and a Leesa mattress to make the choice of which one to buy relatively easy. Nolah is definitely for side sleepers that enjoy a few inches of contouring sinkage, without causing the body to warm up overnight. On the other hand, Leesa mattresses deliver firm support, which is particularly important for people who sleep on their backs. The softer-than-average Nolah AirFoam mattress experiences above-average motion transfer, which can be a problem for people who share beds with their partners. A price comparison between the two mattresses shows Leesa king and California king mattresses cost up to $200 more than what you pay for the same AirFoam models.
Mattress Buying Tips
The Internet represents a fertile source for learning how to buy the right mattress. From emphasizing the importance of comfort to describing how to use online coupons to save money, consumers have more information than ever at their disposal when they walk into a bedding store. We have come up with a few tips you will not see very often online; these are tips most mattress retailers and manufacturers prefer you never learn.
Read the Terms of Service Agreement
When you purchase a mattress, you do not have to sign a legally binding contract like you do for obtaining auto financing or purchasing a new home. What you have to do is thoroughly read the terms of service agreement. A terms of service agreement should clearly define buying incentive like the length of a free home trial period and whether the manufacturer offers free home delivery.
You should read the warranty section a couple of times to ensure the mattress manufacturer has not slipped unfavorable terms into the fine print. Mattress warranties can come with stipulations that void warranty coverage altogether. Warranties for mattresses typically run between 10 and 25 years, which is a long time to enjoy sleeping on a high-quality mattress. However, a mattress warranty means nothing if language within the terms of service voids a warranty for a reason outside of your control. You also want terms of service agreement to spell out how the retailer and/or manufacturer handles returns. Do you receive a full refund for a mattress return or do you receive credit for the purchase of another mattress from the same manufacturer?
Spend Time Lying on Different Mattresses
You see the sea of consumers lying on mattresses in bedding stores. If most mattress manufacturers offer generous free home trials, why is it important to spend time at a store lying on different mattresses? The reason is the mattress you take home for a free trial is the mattress most likely to remain on your bed for 10 to 20 years. At a bedding store, you lie on different mattress to narrow down the mattresses to the one that makes the free home trial cut. We recommend spending five minutes in your favorite sleeping position on several mattresses. No, you will not fall asleep, but should immediately recognize if a mattress has what it takes to put you into slumber at home.
Negotiate Like a Pro
Buying a mattress sets you back several hundred dollars, with some mattresses costing consumers four figures. Although not as expensive as buying a new car, buying a new mattress still requires you to negotiate the price of a mattress. Some bedding retailers mark up mattresses more than 50% to give them the flexibility to reduce the price during negotiations. Savvy consumers offer to make substantial down payments and they use the down payments as bargaining leverage to ask for price reductions. Remember you have the power of the purse or the wallet. Never accept an unfair mattress deal.
The last tip involves avoiding the pressure mattress sales representative apply to consumers to buy accessories they do not need. You might hear a "terrific" offer for the sale of a box spring you do not need.
Maybe a mattress sales rep will try to get you to purchase a duvet, which you did not know existed before you walked into the store. Mattress sales reps work on commission; the more bedding accessories they sell that you do not need, the more money they make on payday.