Latest posts by Rosie Greaves
(see all)
We all love our sleep. A good or a bad night's kip affects our wellbeing, our productivity, and our overall energy levels. Poor quality sleep "slows you down" and is linked to obesity and weight gain. Given that 1 in 3 adults say they don't get enough sleep, we think that buying the right mattress to help you get those all-important zzz's is paramount.
So, when it's time to throwing out the old mattress and investing in a long-lasting new one, the choice can seem overwhelming, so it's worth doing your research first.
Memory foam mattresses have long been a popular choice for sleep lovers and with good reason. They absorb and support your body weight and keep you fresh at night. Not only that, but they also last a long time, don't (generally) need turning, and come in a wide range of prices to suit most budgets.
In this review, we're going to take a look at a couple of popular brands of memory foam mattresses, the Dynasty Mattress, and the Tempurpedic Mattress, and tell you what they're all about.
Our review outlines:
The core differences and similarities between the two mattress brands
What a Tempurpedic mattress is
What a Dynasty mattress is
Tempurpedic's core features
Dynasty's core features
Tempurpedic mattress prices
Dynasty mattress prices
FAQs
That's a fair amount to cover! So, let's dive in and check out the core differences and similarities between Dynasty Mattress vs Tempurpedic.
You may think that price is really the only differentiator with memory foam mattresses, but there are other factors to consider. So, here's a brief outline of the core differences and similarities between Tempurpedic and Dynasty.
Main Differences Between Dynasty Mattress vs Tempurpedic
The Main Differences between Dynasty Mattress vs Tempurpedic are:
Tempurpedic offers a 90 sleep trial, whereas, Dynasty offers 120 days.
Tempurpedic offers credit options, whereas Dynasty doesn't.
Tempurpedic has NASA credentials that boast mattress technology using NASA designs, whereas Dynasty doesn't claim the same.
Dynasty offers a full refund with their mattresses within the first 120 days of purchase, whereas Tempurpedic doesn't have a refund policy.
Tempurpedic offers a 10-year warranty, whereas Dynasty provides a 30-year warranty, although its website also states in the small print that guarantees can be anything between 10-30 years, depending on the model of mattress.
Tempurpedic offers financing options, whereas Dynasty does not.
Tempurpedic mattresses can be bought in-store or online, whereas Dynasty only sells online.
The Similarities
Both are memory foam mattress brands.
Both offer free shipping, with Dynasty offering shipping within 24 hours of ordering.
Both offer a wide range of mattress sizes.
Both come with a removable mattress cover.
What's a Tempurpedic Mattress?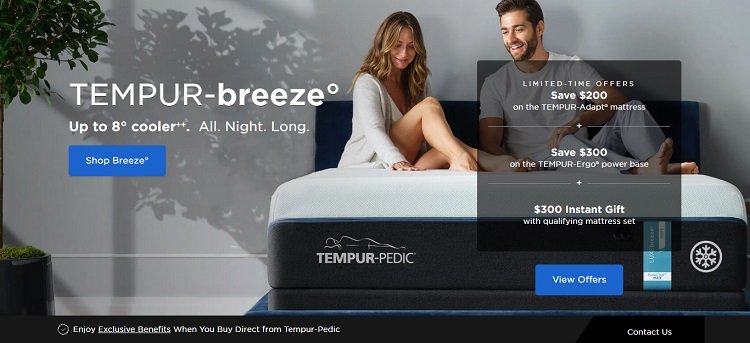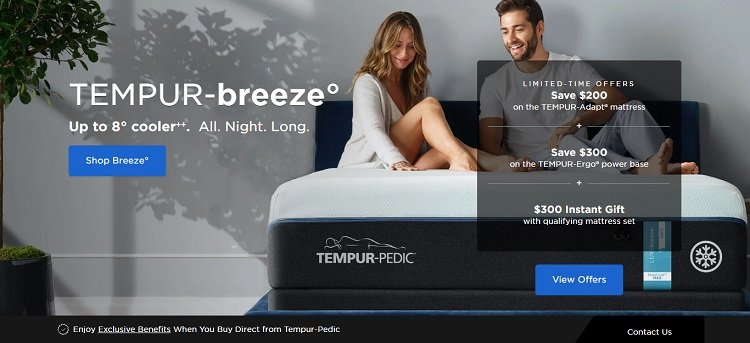 Tempurpedic is a well-known, much written about, brand of a memory foam mattress. Tempurpedic has five different mattresses to choose from that you can buy online or from one of the retail outlets listed on their website.
These include:
Tempur-Cloud: A medium-firm mattress
Tempur-Adapt: The first-ever Tempur mattress utilizing NASA-invented technology (available in medium or firm)
Tempur-ProAdapt: This mattress comes in soft, medium, medium hybrid, and firm options.
Temur-LuxeAdapt: This is designed to offer the sleeper more support and is available in soft or firm.
Tempur-Breeze: This provides up to an 8% cooler night's sleep, and is available in soft, medium, medium hybrid, and firm
Tempurpedic is perhaps best known for introducing the memory foam mattress to the world in the early '90s when the rest of us were still rolling around on lumpy, old spring mattresses.
Now merged with Sealy, the Tempurpedic brand also offers sleep accessories and boasts a history that aligns itself with NASA technology (more about this in a sec).
Tempurpedic mattresses are specifically designed to respond to your body's shape, temperature, and weight. They call themselves the creators of "The Most Highly Recommended Bed in America" and say that their mattresses offer "life-changing sleep."
Perhaps, their biggest claim is their promise to hopeful but sleep-deprived customers that their "mattress like no other," gives you "unparalleled pressure relief and motion cancellation to help you fall asleep faster and stay asleep longer."
What's a Dynasty Mattress?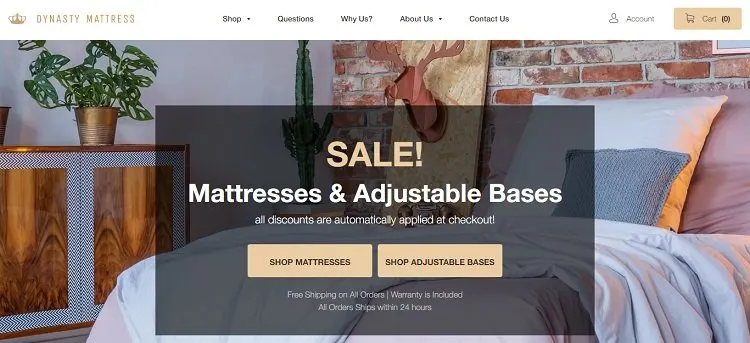 Describing its mattresses as "high quality, top of the line and luxurious," California-based Dynasty, boasts more than 15,000 glowing reviews on its website. You can buy Dynasty mattresses online as well as a variety of supporting products such as mattress covers, bases, and pillows to complement your new Dynasty purchase. The brand bills itself as a cheap alternative to the Tempurpedic mattress.
Dynasty describes itself as "a bedding company that manufactures and produces the highest quality Mattresses and Adjustable Bases possible. With only one mission in mind: to deliver quality night's sleep without having to spend thousands over big-name brands."
They started out in 2007, selling online via Amazon, which has since awarded the Dynasty mattress the "Top Selling Product over the Holidays" award in 2011. The company describes its mattresses as being made from "premium memory foam" and introduced its CoolBreeze™ Gel memory foam mattresses to help you stay cool as you sleep.
Tempurpedic's Core Features
Tempurpedic is renowned for its use of NASA technology and, of course, its longevity. It's no new kid on the block. There's little information on the Tempurpedic site about its mattress composition, but they do say that the materials are "one of a kind." In this instance, given they use materials created by NASA in the 1960s and 70s, we're going to assume that this claim is correct.
NASA created a foam that springs back to its original shape after weight was placed on it. The foam was used in space shuttle seats and also in aircraft. The foam has billions of open cells that are heat sensitive.
When NASA released their foam formula to the broader world, Tempurpedic jumped on it and created what they call their TEMPUR® material that's used to develop their five mattress models, available in eight different sizes.
Mattress sizes come in Twin, Twin XL, Full/Double, Queen, King, Cal. King, Split King, Split CA King. If you're unsure which to go for, Tempurpedic guides you through that process with descriptions of which mattress suits specific kinds of consumers. For example, which mattress is best for a couple with kids and a pet or two, and so on!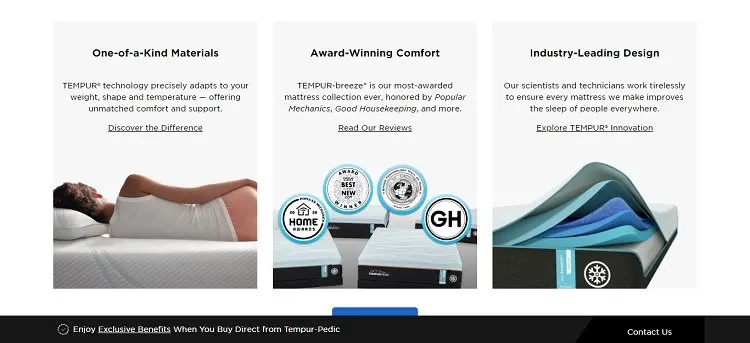 Back to the mattress makeup, Tempurpedic says that their mattress comprises a material that's "uniquely formulated to respond to your body's weight, shape, and temperature."
The mattresses are built with foam layers that are housed in a knit cover that's treated with antimicrobial products. These protect you against mold and allergens. Each foam layer has a different use.
For example, the Tempur Breeze has four layers. The top layer is called the "Smart Climate Dual Cover System," which promises to keep you up to 8% cooler as you sleep. The second layer is made of an unspecified material that absorbs heat. Layer three encourages airflow, and tier four adds breathable pressure-relieving material into the mix for added support.
It's great to have this information, but they don't say what's actually in the material. They do tell us that an impressive 2.6 million research hours (so far) have been spent on developing their products.
Dynasty's Core Features
Dynasty color codes its mattresses so that you can choose the correct firmness for your body.
Red is for anyone who wants an extra firm mattress.
Blue is for anyone who wants a firm mattress.
Black is for anyone who wants a medium-firm mattress.
Green is for anyone who wants a soft mattress.
Their first-ever mattress was the 12″ Inch Medium Firm Gel Memory Foam. Dynasty says it's their most popular mattress and is classed by the Sleep Foundation as the best budget option (more about prices below).
Dynasty mattresses are also memory foam. Their website also refers to NASA but doesn't claim to use its technology. Dynasty describes its mattresses as consisting of "Gel-infused memory foam," which has been "filled with gel microbeads."
The benefit of such microbeads is to give the sleeper the ability to rest on a mattress made out of breathable materials. Some memory foam mattresses provide sleepers with somewhat of a sweaty night's sleep. Whereas, Dynasty promises that their gel memory foam mattresses promise to keep you cool and dry.
At the time of writing, all Dynasty mattresses were made out of gel-infused microbeads, and Dynasty calls these CoolBreeze and CoolBreeze2. The following mattresses are currently sold in the different firmness listed below:
2-inch Cooling Gel mattress
3.5-inch Cooling Gel mattress
15.5-inch Atlantis Breeze Cooling Gel mattress
14.5-inch CoolBreeze Plus Gel mattress
14-inch Grand CoolBreeze
14-inch LA Comfort Gel mattress
12-inch CoolBreeze Gel mattress
12-inch XL Deluxe mattress
12-inch CoolBreeze Classic Gem mattress
10-inch CoolBreeze Gel mattress
CoolBreeze2 Cooling Gel memory foam mattress (comes in extra firm, firm, medium-firm, medium soft and soft)
CoolBreeze3 Gel memory foam mattress (comes in medium-firm)
*The inch measurements above relate to mattress thickness.
There are also mattresses available for RVs and sofabeds, but the above mattresses are available in five sizes:
King
Cal-King
Twin
Queen
Twin XL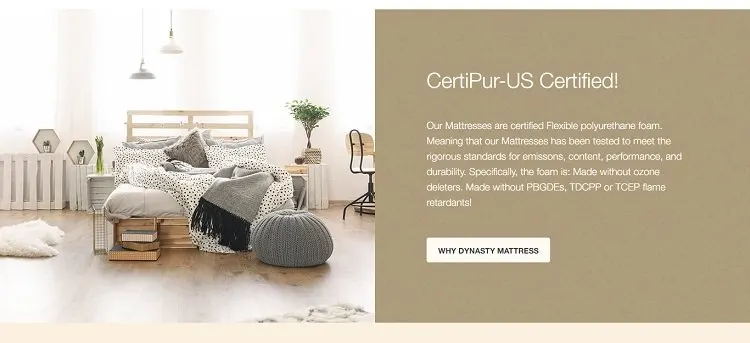 The Dynasty website is pretty unsophisticated in our view, and, in comparison to Tempurpedic, it isn't as easy to differentiate between the different mattress types without deep-diving into each category.
However, Dynasty mattresses are certified "flexible polyurethane foam." This means they're tested for durability, emissions, performance, and content and made without PBDGEs, TECEP, or TDCPP flame retardants, although Dynasty doesn't explain further what these actually are.
All the mattresses take a weight of up to 600lb, and different mattresses appear, at the time of writing, to have different numbers of layers. The difficulty is that some mattresses have more information about them than others. One mattress that did explain its technology a little more is the 14.5-Inch CoolBreeze Plush GEL Memory Foam Mattress, which has five layers.
The top layer is a fire barrier, followed by a 2-inch high-density gel memory foam layer. Tier three is also 2 inches thick and is described as a "gel memory foam sleep foam technology" layer. Layer four, also 2 inches, is a "cool airflow" support layer and the final layer is 8.5 inches thick and acts as a base foam support layer.
What's lacking, in all the above, are fuller descriptions about what these layers are made of and what they actually do, although most of us can make an educated guess or two!
Now onto the all-important part: how much do these mattresses cost?
Tempurpedic Prices
Dozens of sites sell Tempurpedic mattresses, and all offer slightly different prices and discounts. At the time of writing, the Tempurpedic website was offering 0% APR for 36 months on purchases. But what that actually entails is you taking out a credit card underwritten by Wells Fargo Bank for purchases of $2,000 or more. You should note, this boasts less generous terms for lower spending.
Also, at the time of writing, the Tempurpedic website had the following (full price) mattress costs, plus discounted rates too. We're going to focus on their popular King mattress size to give you an illustration of how expensive they are: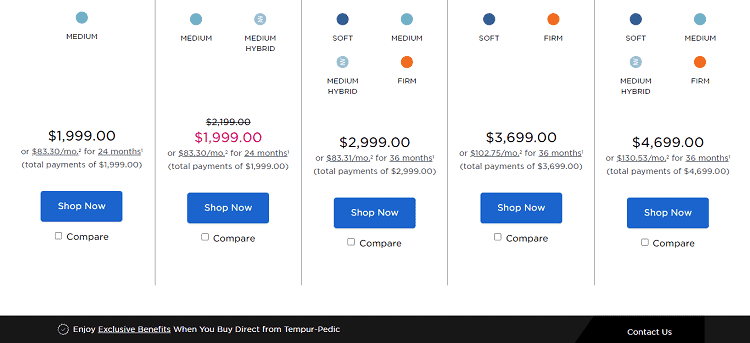 Prices for King mattresses are as follows:
Tempur-Cloud: $2,399 (discounted to $1,679.30)
Tempur-Adapt: $2,899 (discounted to $2,699)
Tempur ProAdapt: $3,699 (no discounted price)
Tempur Luxe Adapt: $4,399 (no discounted price)
Tempur Breeze: $5,399 (no discounted price)
Dynasty Prices
Dynasty, too, sells its mattresses in a variety of outlets such as Amazon and, of course, its own website. We've taken prices from its website and again are looking at their King mattress for comparison. The Dynasty website doesn't allow you to filter prices by mattress size, so be prepared to spend more time looking around.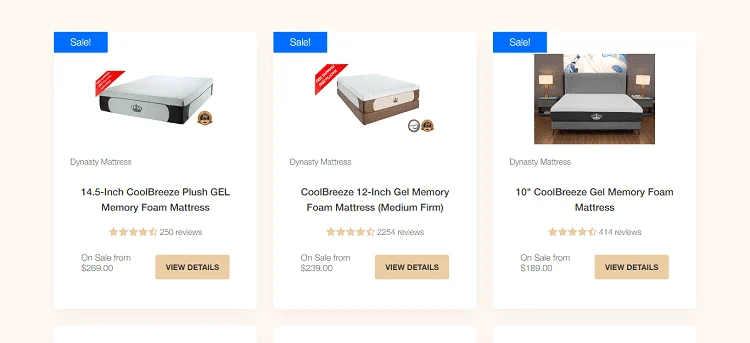 We've taken each Dynasty mattress and then listed its price for a King mattress and what type of mattress firmness was available:
2-inch Cooling Gel: $129, comes in firm only
3.5-inch Cooling Gel: $179, comes in soft only
15.5-inch Atlantis Breeze Cooling Gel: $729 in medium-soft only
14.5-inch CoolBreeze Plus Gel: $549, and comes in medium-soft only
14-inch Grand CoolBreeze: $629, and comes in medium-soft only
12-inch CoolBreeze Gel: $519, and comes in medium-firm only
12-inch Twin XL Deluxe: $319
10-inch CoolBreeze Gel: $459 (discounted to $429) in medium-firm only
CoolBreeze2 Cooling Gel: $599 available in all options of firmness
CoolBreeze3 Gel: $579
What's immediately clear is that Dynasty prices are way lower than those of Tempurpedic. Dynasty is clearly the budget option for the more wallet-conscious consumer.
Frequently Asked Questions
We hope we've covered all the essential details for both kinds of mattresses and added a few more golden nuggets of information to help you make the right decision.
However, before you go ahead and buy either of these brands, we've put together a few questions that we anticipate most buyers will need answering before committing to their new Dynasty or Tempurpedic mattress for that perfect night's sleep:
What's the customer care offer like?
The Dynasty site has a customer care email address and telephone number for consumers to use. Customer support agents are active from 8 am to 5 pm (PST), and you should receive a response to your email within 24 hours.
There's also a blog where they cover a variety of mattress-related topics such as "How to know which mattress is right for you?" "What is a short Queen mattress?" and "How long does a memory foam mattress last.?"
The Dynasty site also has a "Questions" section, like FAQs, although the answers are pretty short. Questions covered include information about mattress sizes, warranties, shipping, pricing, and fitting your mattress.
Whereas, the Tempurpedic website tells us that they are the "#1 in Customer Satisfaction," Customers can talk to one of Tempurpedic's sleep experts via phone or live chat. There are also separate numbers to call for completing an online order and for queries for customers who have already bought their mattresses.
Office hours are 9 am to 9 pm (EST) Monday to Friday, and 9 am to 6 pm Saturday and Sunday. You can also email customer services via an online form and choose how you'd like them to contact you back (email or phone).
Tempurpedic's self-help resources on their website are pretty comprehensive, with sections on orders, shipping, and delivery, product registration, return policy, warranties, and FAQs.
How do I care for my Dynasty or Tempurpedic mattress?
Here's what Dynasty says about looking after their mattresses. You can remove the mattress cover, and machine wash it, except for the 15.5 inch Atlantis Breeze mattress, which Dynasty recommends only spot washing.
If you're keen to use heat pads or blankets during those cold winter months, Dynasty recommends keeping your blanket on a low heat setting.
Tempurpedic tells customers their mattresses are "virtually maintenance-free." Good news so far. But, if you're a heated blanket fan, you may be disappointed because it's not recommended that you use one with a Tempurpedic mattress.
After all, the heat from the blanket or heating pad may stop your mattress from reacting to your body's natural temperature at night and, subsequently, its ability to adjust to your body shape. If, however, this is an absolute must-have, then sure, go ahead, but for no longer than 30 minutes.
If you want to adequately protect your mattress with an extra cover, Tempurpedic recommends buying one of their own brand mattress protectors. Apparently, conventional mattress covers may stop your mattress from molding to your body.
If you plan on sticking to the mattress cover provided, you can remove and wash it according to the instructions on the tag. Wash and dry at a cool temperature and don't use any harsh chemical detergents and/or stain removers. Think of your mattress cover a bit like your favorite sweater, and you won't go wrong.
Tell me more about shipping and delivery?
Dynasty offers free shipping to anywhere in the US, but they don't ship to PO Boxes, Alaska, or Hawaii. Customers receive their mattress within 3-7 days of purchase via FedEx free shipping. There's no expedited shipping or delivery options for any of their orders.
If you buy a bed base, Dynasty will come and set it up for you, and if you want them to take your old mattress away, they'll do that too for an extra $85.
Tempurpedic mattresses take a little longer to arrive (1-2 weeks) via the company's white glove delivery service. Tempurpedic will remove your old mattress for free and set up a frame (if you buy one with them). If you live in Alaska or Hawaii, you can buy from Tempurpedic, but delivery times can take a bit longer.
With Tempurpedic, mattress deliveries within the US are free, but for remote locations such as Alaska, Hawaii, APO/FPO, and US Territory addresses, there's a massive $600 surcharge per order.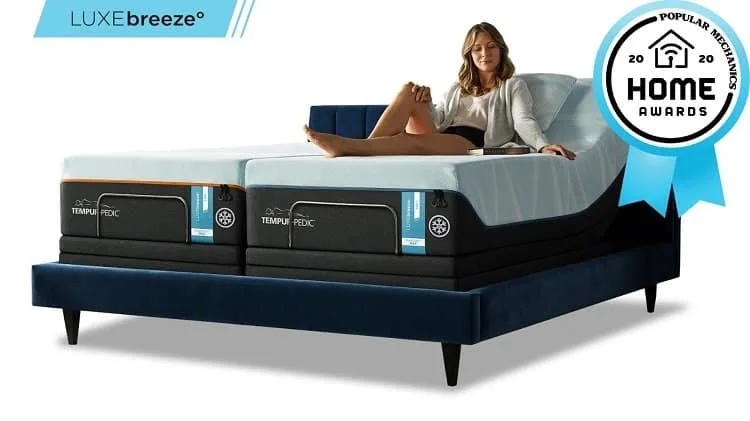 Decision Time for Sleep Time
Now you have all the info you need to go ahead and place your order for a Dynasty or Tempurpedic mattress. It's a big decision to spend hundreds of dollars on a mattress, so it's crucial you make the right choice for you and your family.
We think that both mattress brands have pros and cons. The obvious go-to brand, if you're looking for a lower-cost option, is Dynasty. It's no-frills, and it doesn't pretend to be anything it's not – but still boasts plenty of positive reviews. The downside is that you can't go into a store and take a look first, whereas, with Tempurpedic, you can.
That said, Dynasty's warranty cover is longer. However, it's worth reading the small print on your mattress choice, because although Dynasty advertises a 30-year warranty, in fact, some mattresses only come with a 10-year warranty. Also, remember that if you're unhappy with your Dynasty mattress, you can return it within 120 days – whereas you don't have that luxury with Tempurpedic.
Tempurpedic mattresses are clearly the more upscale offer, and their prices reflect that. However, their website frequently offers discounts and throws in a few freebies every now and again too. In our opinion, they're a slightly more trusted brand not only because they've been around longer, but because its customer service is superior to that of Dynasty's.
However, their mattresses are expensive, and there are no refunds. That being said, if you have the budget and look at your mattress as a long-term investment, then the Tempurpedic may be the right choice for you and your family.
Whichever mattress you go for, we hope you have some genuinely excellent sleeping time!