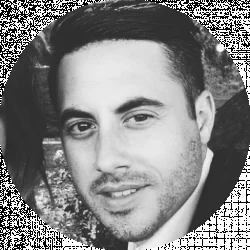 Latest posts by David Borgogni
(see all)
Looking for the best mattress that would finally help you get the good night's sleep you truly deserve? Today we'll discuss two great brands that are surely worth trying: Brooklyn Bedding vs Casper.
Both of these relatively new brands produce their premium mattresses exclusively in the U.S., both sell them mostly online, and both have cheaper foam mattresses and also luxurious hybrid solutions in their portfolios. How can you know which one is best for you? Let's see how they stand in comparison with each other.
Main Differences Between Brooklyn Bedding vs Casper
The main differences between Brooklyn Bedding vs Casper are:
Brooklyn Bedding offers three different firmness levels, whereas Casper uses patented Zoned Support technology in all of its models.
Brooklyn Bedding has six models to choose from, whereas Casper has only four alternatives.
Brooklyn Bedding is generally cheaper, whereas Casper mattresses cost a bit more.
Brooklyn Bedding is more responsive, whereas Casper is more static.
Brooklyn Bedding vs Casper: The Mattresses Compared
Brooklyn Bedding
Materials and feel
Brooklyn Bedding is a brand that offers a perfect blend of quality and affordability. Thanks to having their own factory, they can maintain the top quality while keeping the prices down.
Another thing that makes Brooklyn Bedding mattresses stand out from the crowd is their material. Their famous Signature mattress contains two layers of high-grade TitanFlex latex foam, offering a completely different experience than your traditional coil-only or memory foam alternative.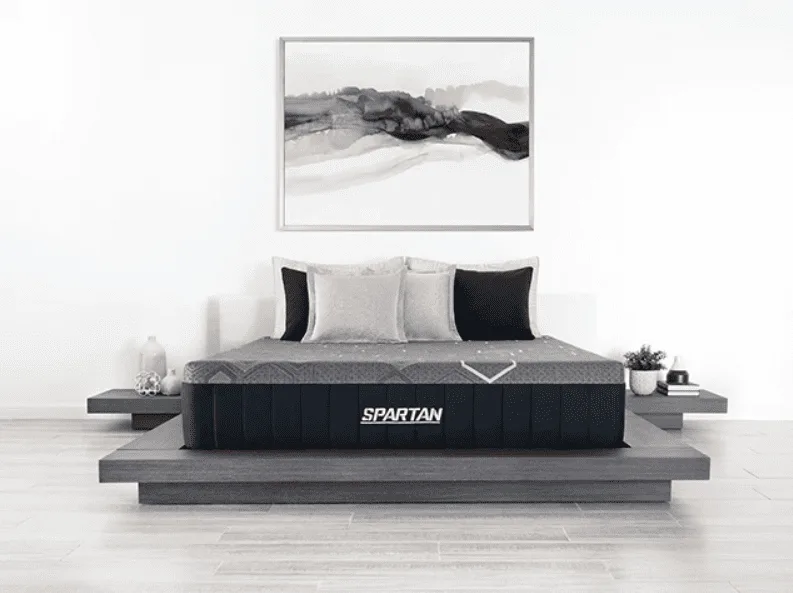 These are the four layers that make Brooklyn Bedding Signature mattresses as good as they are:
Top Cover – Quilted Polyester and Cotton blend padded with 1" of foam for an extra luxurious feel. It's pleasantly smooth and soft to the touch and always stays straight, free of folds and wrinkles.
First Layer of Latex Foam – 2" thick proprietary TitanFlex Foam injected with TitaniumGel, which adds convenient cooling effect and improves overall comfort.
Second Layer of Latex Foam – 2" thick layer of firmer TitanFlex foam works as a transitional layer.
Coils – As a hybrid mattress, Brooklyn Bedding also has 6" individually pocketed coils for extra bounciness and sturdiness that makes this mattress suitable even for the heavier users. Coils also help air circulation and thermoregulation inside the mattress.
Support Foam – This is a high-density foam layer that protects the mattress at the base and prevents uneven wearing caused by the coils above.
Altogether, Brooklyn Bedding Signature mattress is 11,5-inches thick. When you lie down on it for the very first time, you immediately feel how perfectly it contours your body and accommodates your natural curves and proportions. It feels very soothing and effectively relieves you from the stress and tension.
However, expect to experience significantly more bouncing and motion transfer than you would feel with a regular memory foam mattress. If you are used to solid edge support, you can probably also find the borders of this mattress a tiny bit weaker than you'd prefer.
Construction
All of Brooklyn Bedding mattresses come in three firmness levels: Soft / Medium / Firm. How to pick the one that's good for you?
If you're usually sleeping on your side, pick the softest version that provides you with the best pressure relief. If you're switching your sleeping positions often, or you simply can't stand the sinking feeling that comes with soft mattresses, go with the medium version that ranks approximately 6/10 on the firmness scale. If you like your mattress very firm and flat, select the firmest Signature version. It should suit mostly those who sleep on their back or stomach.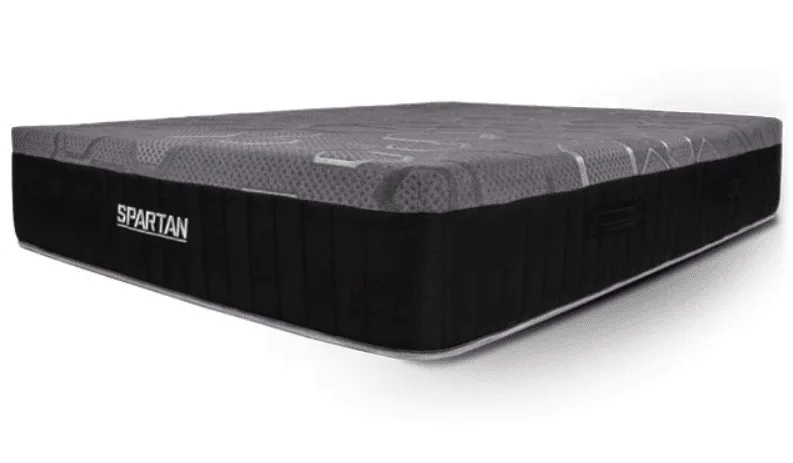 Besides the well-known and popular Signature mattress, which we described in detail above, Brooklyn Bedding currently offers 4 other models too. Here's a brief description of each of them:
Brooklyn Aurora is a luxurious hybrid mattress with advanced cooling technology. It's a bit more expensive than Signature, but it's also thicker (13") and comes with an added layer of patented CopperFlex™ foam for extra antimicrobial protection.
Brooklyn Spartan is Brooklyn Bedding's most expensive mattress. It offers active recovery thanks to the unique Far Infrared Rays technology that transforms your body's natural heat into waves of energy, which are subsequently reflected in your body and improve the quality of your night rest. Great choice for actively sporting people or those work manually.
Brooklyn Bloom is a hybrid mattress with a twist of sustainability – it comes with natural organic materials, exceptional breathability, and a perfectly clean and healthy feeling.
Brooklyn Bowery comes in two versions: hybrid mattress or all-foam mattress. Both versions are very budget-friendly and perfectly comfortable.
Casper
Materials and feel
Casper mattresses are relatively new on the market (only since 2014), but they surely know how to attract their customers. Their first – and still most popular – model is called Original, and it's an all-foam mattress with sophisticated construction and thoughtful materials.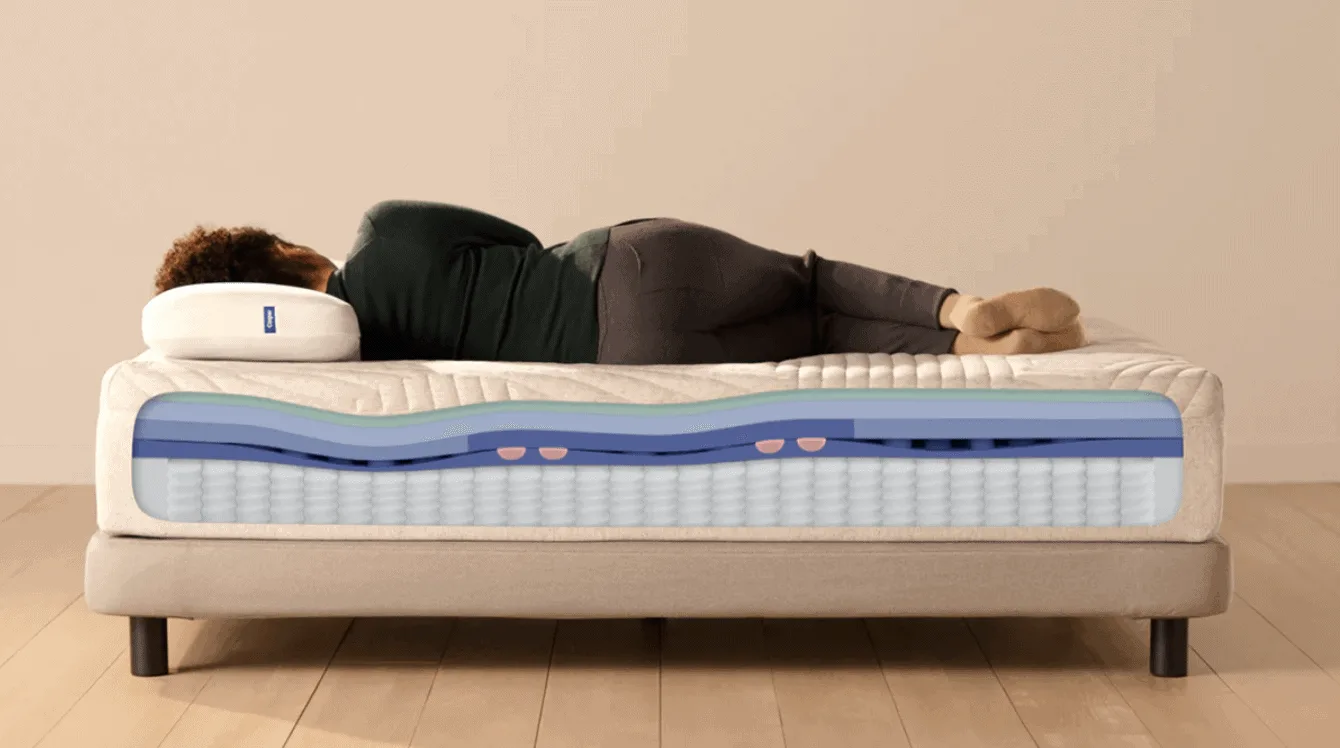 What makes this mattress unique is its patented Zoned Support™technology – the foam is softer under your head and shoulders, to provide the best possible relief to your upper body while being firm under your lower back, waist, and hips, which helps with the correct alignment of your spine.
Casper Original consists of these three layers:
Top Layer – Upper layer is 1.5" thick and consists of a non-allergic latex material with Zoned Support™technology. It feels very comfortable especially if you need some pressure relief. It is a bit bouncy, but not too much.
Middle layer– This transition layer consists of 1.5-inches thick memory foam. It absorbs most of the motion and energy and stabilizes the whole mattress when you change positions during the night.
Bottom Layer – The thickest layer is on the bottom – 7 inches of support foam with great breathability.
If you compare how it feels to lie on Casper Original with lying on some other mattress, it surely has some benefits. If you like the softness and motion absorption provided by the all-foam mattresses but hate that they usually make you feel warm, the cooling layer of latex on the top of Casper will help you stay fresh.
If you want some extra support for your spine to relieve you from the back pain, Casper's zoned support will make you feel better than most of the evenly firm memory foams.
Construction
Casper's Original all-foam mattress comes in 6 different sizes, but you can't pick your preferred firmness level or any other variable parameters. However, for those who are not entirely thrilled by the all-foam mattresses in general, Casper created an alternative Original model in the hybrid version – Original Hybrid.
This "crossover" mattress combines the best of both worlds – it's breathable and cooling, it has the zoned support foam layer, but there's also a firmer core with resilient spring that prevents you from sinking in too deep or moving over the edge.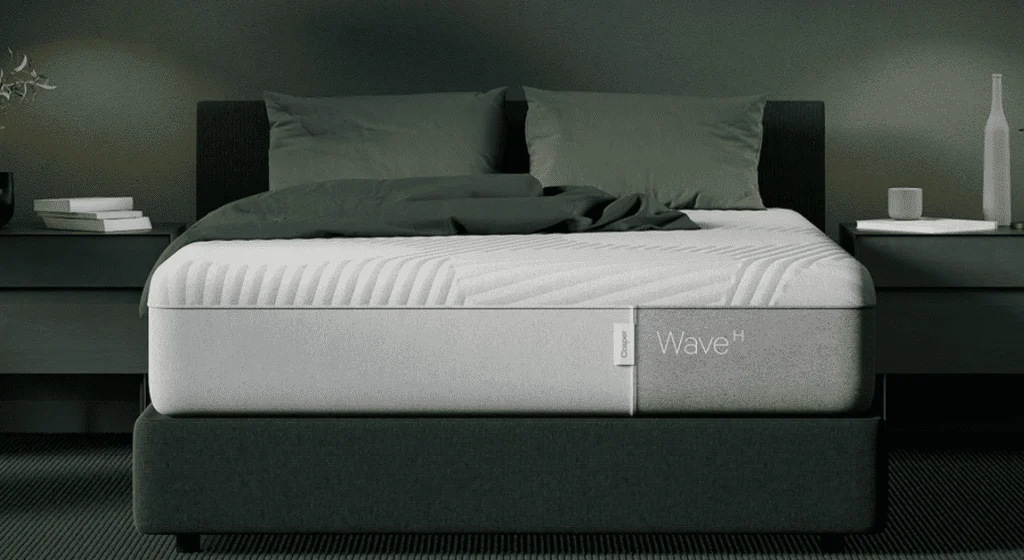 Besides this, Casper has two other hybrid models you can choose from too:
Nova Hybrid: Casper Nova Hybrid boasts wonderful breathability, 7 zones of sophisticatedly targeted support foam, and resilient coils in its core. What makes this hybrid mattress really special is its top plush layer for extra coziness and comfort.
Wave Hybrid: Casper's most expensive model comes with even more support thanks to unique gel pods installed directly under the most problematic areas of your spine. Gel pods can provide much more support than the foam alone. This is a great investment for those with serious back pain.
Note that these two models are significantly more expensive than the Casper Original mattress.
Ease of Mind: Brooklyn Bedding vs Casper Warranties and Test Times
Both Casper and Brooklyn Bedding are companies that sell their premium mattresses mainly online. Although this business model has various advantages for both sellers and their customers, it also means that you literally can't put your hands on the product before you buy it.
This problem is usually resolved when the seller offers his products with a generous trial time. This period allows you to try your new mattress for a given number of days/nights and return it for free if you're not happy with its quality.
Besides this trial period with a money-back guarantee, both Casper and Brooklyn Bedding also offer a standard warranty. The table below compares their terms:
| | | |
| --- | --- | --- |
| Brand | Trial period | Warranty |
| Brooklyn Bedding | 120 nights | 10 years |
| Casper | 100 nights | 10 years |
As this table indicates, Brooklyn Bedding and Casper both sell their mattresses with a 10-year warranty, but Brooklyn Bedding gives you 20 more nights to decide, whether you like their product and want to keep it.
Note that it usually takes some time before you get used to your new mattress. It's always advised to keep your product for at least one full month before making the final decision to return it.
Brooklyn Bedding vs Casper: Prices
Brooklyn Bedding and Casper mattresses have very similar prices – they both offer some cheaper alternatives along with some really luxurious mattresses too. Do you think the mattress of your choice is a bit too pricey? If you're lucky to catch some of the regular promotions or discounts, you can save on both of these brands quite significantly.
Brooklyn Bedding
Brooklyn Bedding currently offers six standard models in six different sizes. Here's their informational price list :
| | | | | | | |
| --- | --- | --- | --- | --- | --- | --- |
| Model | Twin | Twin XL | Full | Queen | King | Cal King |
| Bowery | $499 | $549 | $649 | $699 | $949 | $949 |
| Bowery Hybrid | $549 | $649 | $749 | $799 | $1049 | $1049 |
| Signature | $599 | $699 | $849 | $999 | $1249 | $1249 |
| Aurora | $999 | $1249 | $1549 | $1699 | $2124 | $2124 |
| Bloom | $1199 | $1249 | $1499 | $1799 | $2199 | $2199 |
| Spartan | $1399 | $1449 | $1699 | $1999 | $2399 | $2399 |
Casper
Casper mattresses come in 6 sizes and four models. Prices start at $595 for the smallest Original mattress, the most expensive option (Wave Hybrid King/Cal King) currently costs $2995. The table below indicates actual prices at the time when this article was written:
| | | | | | | |
| --- | --- | --- | --- | --- | --- | --- |
| Model | Twin | Twin XL | Full | Queen | King | Cal King |
| Original | $595 | $695 | $995 | $1095 | $1295 | $1295 |
| Original Hybrid | $695 | $795 | $1195 | $1295 | $1495 | $1495 |
| Nova Hybrid | $1095 | $1245 | $1795 | $1995 | $2295 | $2295 |
| Wave Hybrid | $1495 | $1695 | $2395 | $2595 | $2995 | $2995 |
Saving tip: Casper often offers various seasonal sales or value bundles that can help you save some money. Check their official sales website for frequently updated offers.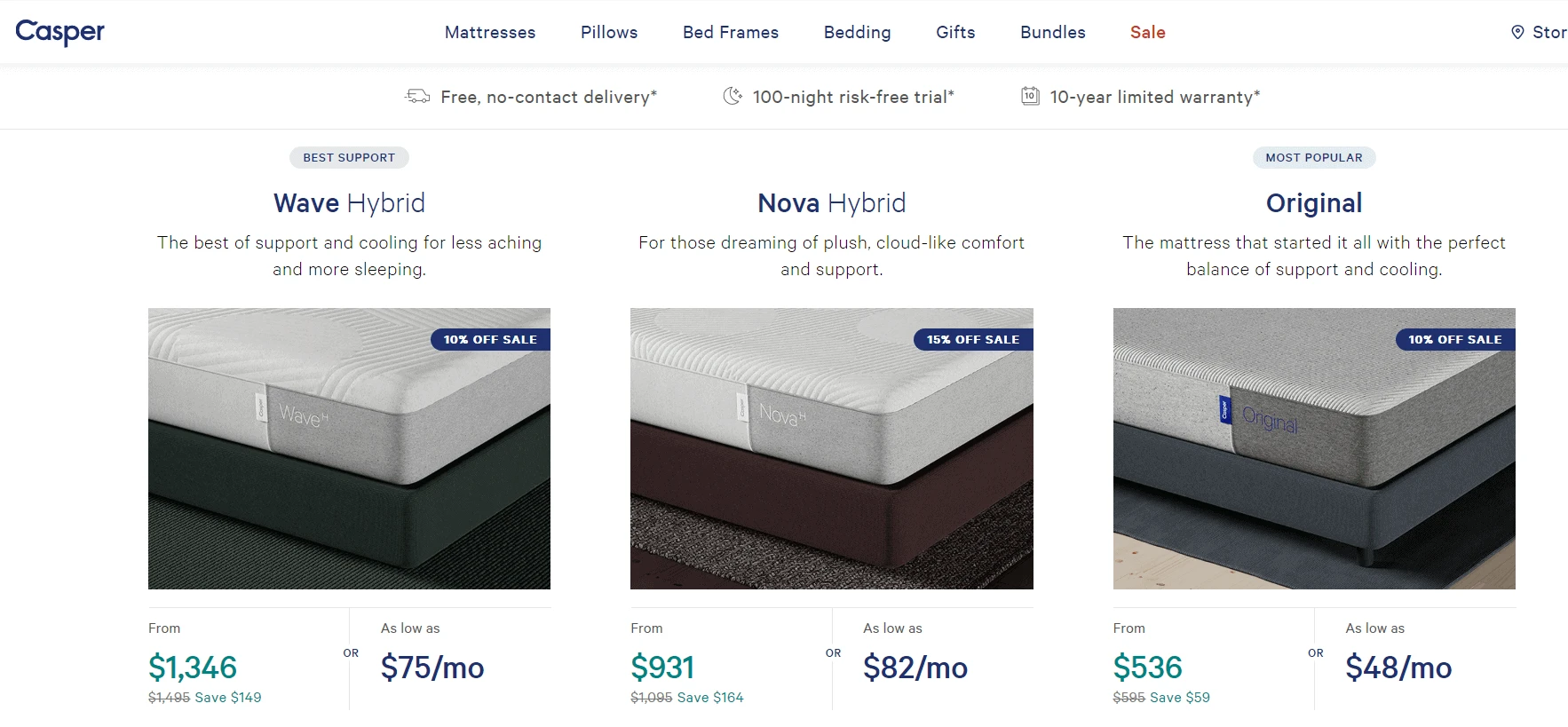 A Round-Up on Pricing
Simple memory foam mattresses with fewer layers and no significantly innovative technologies usually cost less. Hybrid constructions that combine various types of materials and technologies are, obviously, more expensive. This mathematics applies to Brooklyn Bedding and Casper mattresses very similarly.
Another key factor that determines the final price of your mattress is its size. If you already have your bed foundation, you cannot affect this choice too much, but if you haven't bought it yet and need to stay on the budget, reconsider how big bed do you really need.
Pro-tip for you: Contrary to the information above, King Size and California King Size mattresses usually cost the same, so you don't have to pay more for getting those few extra inches.
Brooklyn Bedding vs Casper – Who are These Mattresses Best For?
Brooklyn Bedding, or Casper? We are sure that both of these premium mattresses will find their die-hard fans among their customers. If you can't decide which of them is better for you, here is our quick guide:
Brooklyn Bedding
Brooklyn Bedding should work perfectly for those, who are picky about the firmness of their mattress – each of their models comes in three different firmness levels, so you can easily adapt your choice to your practical preferences.
This brand is also slightly more budget-friendly – expect to save about $100 on each of the similar models in comparison with Casper mattresses (note that seasonal discounts can affect the prices of both brands so this information might not be always 100% accurate).
Brooklyn Bedding offers more bounciness and slightly less motion isolation, so if these factors are really important to you, this might not be your dream mattress. On the other hand, you can always opt for some of the BB's hybrid mattresses, which provide a very different experience.
To Recap
You should love Brooklyn Bedding mattresses if you:
Want the best possible value for money
Don't mind some bounciness and motion transfer
Appreciate longer trial period
Are picky about the firmness level.
Casper
If you love innovative technologies such as Zoned Support or gel pods for perfectly targeted spine support, Casper mattresses always have some nice surprises.
On the other hand, in comparison with Brooklyn Bedding, these mattresses come in fewer models and variations – you cannot pick your preferred firmness level, which might be an issue for those who have really specific needs.
Casper mattresses are also more expensive – although the difference is not too big, saving a few bucks is always welcomed if you're deciding between two products with similar parameters and qualities.
To Recap
Casper mattresses are perfect for you if you:
Don't care about paying a bit more
Are excited about all innovative technologies and new materials
Don't need to pick your preferred firmness level
Don't mind slightly shorter testing time.
Brooklyn Bedding vs Casper: FAQs
Are Brooklyn Bedding mattresses non-toxic?
Brooklyn Bedding uses modern and very clean materials such as the TitanFlex foam, which is 100% hypoallergenic and non-toxic. If you prefer all-natural and organic materials, Brooklyn Bloom is their most sustainable and clean model.
Can you flip the Casper mattress?
Casper mattresses shouldn't be flipped over – their construction consists of different layers with position-specific functionality. If you want to avoid uneven wear of the mattress (especially if you and your partner have large weight differences), you can rotate your mattress 180° approximately once every 4-5 months.
How long do Brooklyn Bedding or Casper mattresses last?
According to the length of their warranty, both Brooklyn Bedding and Casper mattresses should last at least 10 years. But premium mattresses often outlive their warranty periods by many more years in reality.
Can You Recommend Any Alternatives from Other Companies?
If for any reason you don't want to buy any of the mattresses we've discussed and compared in this article, we have some alternative tips for you:
•If you prefer all-foam mattresses with exceptional motion isolation, try some of the Loom and Leaf mattresses. They are also very comfortable and cooling thanks to the gel-injected layer.
•Amerisleep is another highly recommendable memory-foam alternative. They are exceptional in heat-storing and distribution – a great choice for colder environments!
•If you care about sustainability and organic materials, you will love Avocado Green mattresses. These hybrid models are also anti-microbial and repel dust mites.
•For a perfect blend of traditions and innovations, go for the Serta Coralee mattress. This brand was founded back in 1931 and keeps supplying us with top-quality mattresses ever since.
Brooklyn Bedding vs Casper: Which Mattress is Better?
Both of the brands we've discussed today are undeniably attractive and offer some wonderful features. Brooklyn Beddingcomes with a pretty wide selection of models and each of them also has three firmness levels to choose from. This brand is slightly cheaper and comes with a lovely organic model too (Brooklyn Bloom). We also like that it gives you a longer trial period in comparison with Casper.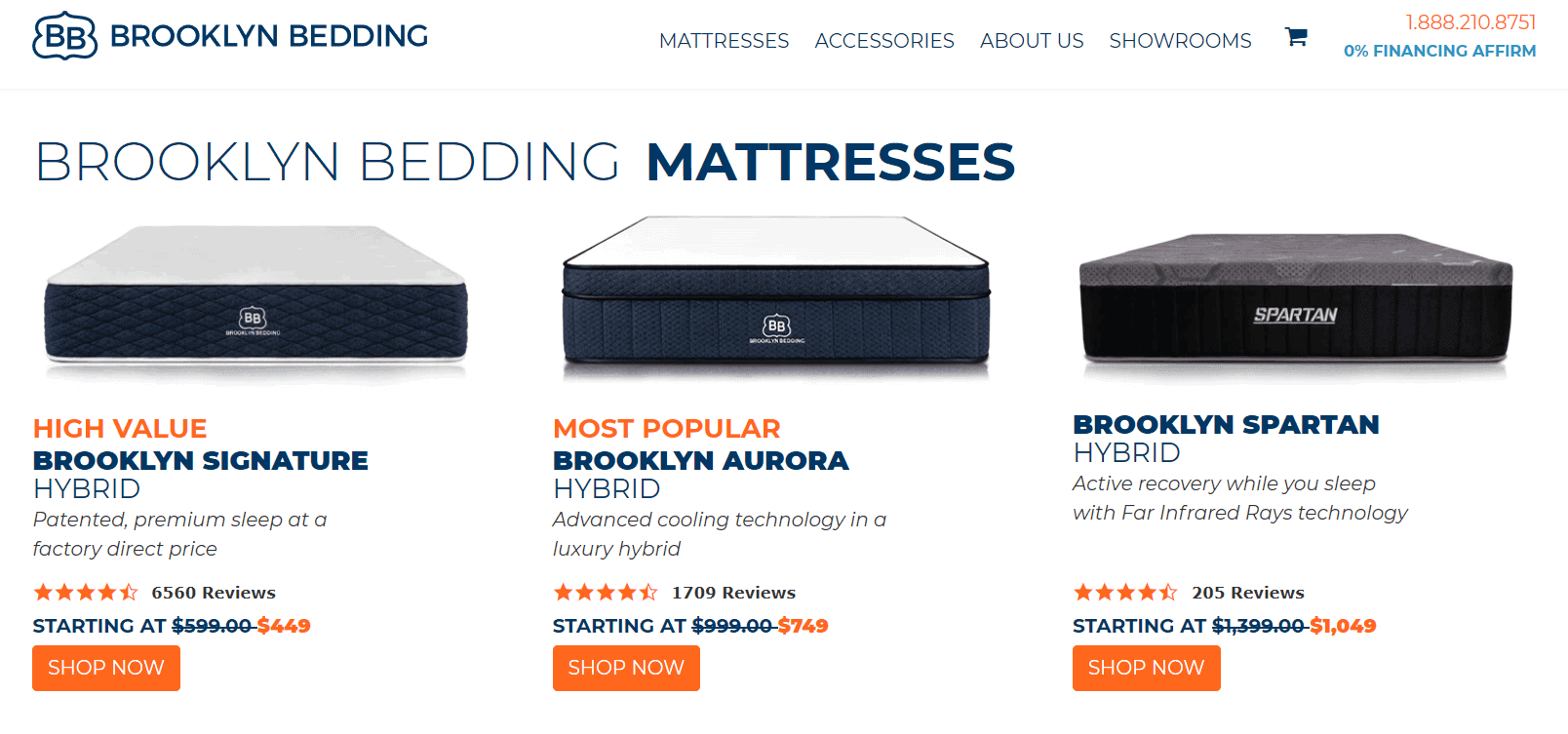 Casper mattresses come with great innovations such as Zoned Support™technology or gel pods. They are better in motion isolation and their breathability feels slightly more effective too. At the same time, Casper has fewer options to choose from in comparison with Brooklyn Bedding, so it might not be your best choice if you have some specific needs. Another disadvantage – it's also a bit more expensive.
For all of these reasons, we prefer Brooklyn Bedding. That being said, you can't really go wrong with either of these reliable and popular mattresses.
Need more inspiration? Read our Layla vs Bear Mattress comparison or our in-depth Dynasty Mattress review for more great options.