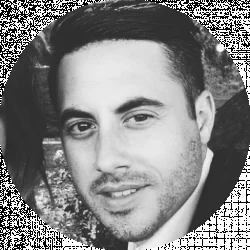 Latest posts by David Borgogni
(see all)
Many people underestimate the importance of a great mattress – but you definitely shouldn't. Today we're going to compare two of the best on the market – Amerisleep vs Loom and Leaf.
What can you expect to learn from this article? Well, we'll discuss all the Amerisleep and Loom and Leaf's similarities as well as their most important differences. We'll get into detail uncovering their pros and cons, comparing their offers and pricing, construction and durability, money-back guarantees, and warranties.
Main Differences Between Amerisleep vs Loom and Leaf
The main differences between Amerisleep vs Loom and Leaf are:
Amerisleep offers five basic models in six sizes, whereas Loom and Leaf comes in two models and eight sizes.
Amerisleep offers a warranty for 20 years, whereas Loom and Leaf provide a fifteen-year warranty on its mattresses.
Amerisleep offers various thicknesses to choose from, whereas all Loom and Leaf mattresses are 12 inches thick.
Amerisleep is more suitable in the colder environments, whereas Loom and Leaf mattresses fit warm sleepers better.
Amerisleep vs Loom and Leaf: The Mattresses Compared
Amerisleep
Materials and feel
The main ingredient of all Amerisleep mattresses is memory foam, so if you like the embracing feeling of this material, you will surely enjoy lying on any of the Amerisleep mattresses too. What makes them stand out from the crowd?
Amerisleep's Bio-Pur is a highly sophisticated memory foam that comes with various features and above-average durability. It has a wonderful thermoregulatory function, so it provides you with a gentle cooling comfort and heat preserving effect at the same time.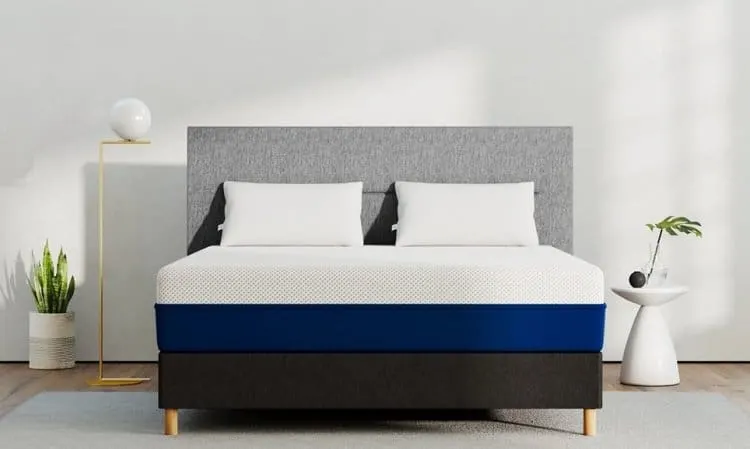 You'll immediately notice the high responsiveness of these mattresses, but you can also pick from five different firmness levels to make sure that your mattress reacts to your movement and holds its shape just like you want it to.
Amerisleep mattresses consist of these layers:
Celliant cover: Celliant is a hi-tec synthetic fiber consisting of natural minerals blended with polyester and PET. Although this fiber is mostly used in the sports environment, recently it also became popular for bedding sheets and mattress covers. Celliant is one of the reasons why you feel comfortable on Amerisleep mattresses even if you're having a hard night.
Bio-Pur: Bio-Pur is on the top of every Amerisleep mattress. This memory foam is manufactured exclusively in the U.S., boasting above-the-standards breathability, organic origins, and heartwarmingly comfortable feel that will relieve your body from all the stress.
Affinity layer: Middle layer is designed to support your spine and address the problematic areas of your body. This layer is characterized by thoughtful cutouts that provide your body with a focused support exactly where it's needed the most.
Bio-Core: This is a support layer that protects the mattress from the bottom and improves its durability. It also works as a final reassurance that you won't sink into your mattress too deep even after many years of intensive use.
Construction
Amerisleep's mattresses come in five different models and all of them offer different experiences and benefits. Their construction has many similarities, but still enough variables to suit all the different requirements and preferences.
The main difference between these mattresses (they are conveniently named AS1, AS2, AS3, AS4, and A5) is in their thickness and softness. The cheapest alternative (AS1) is also the firmest one, it will suit mostly those who like to sleep on their back or stomach and don't have any specific health issues or pains that should be addressed by a more sophisticated mattress.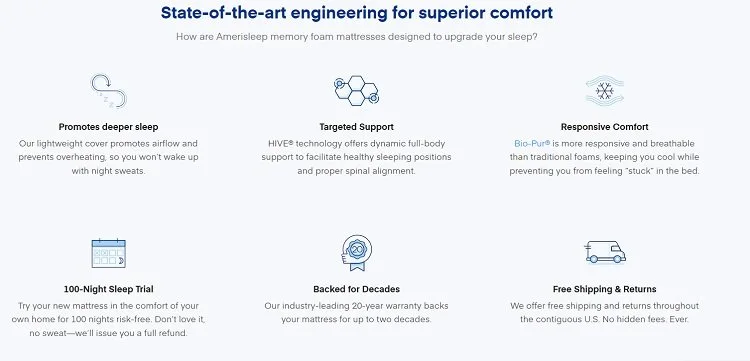 AS2 offers more dynamics and softness, while AS3 (reportedly Amerisleep's most sought after model) stands somewhere in the middle with a perfect combination of support and comfort that should suit customers regardless of their usual sleeping position or routine.
The most expensive AS5 mattress is 14 inches thick and offers perfect pressure-relief even to the pickiest sleepers. Some of the Amerisleep models also come in a 'Hybrid' version that combines the best of memory foam and coil mattresses.
Loom and Leaf
Materials and feel
Luxurious Loom and Leaf mattresses consist of four layers that slightly differ in material, features, and functionality. But the main 'ingredient' is always a sophisticated memory foam, which provides you with all the relief and comfort that you'd expect from a first-class mattress.
Top layer: Two-inch foam infused with gel panels helps you stay cool and fresh even throughout the warmest summer night. The gel panels also assist with correct spine alignment. The padded-like cover consists of a quilted 100% organic cotton for a natural and homely feeling.
Memory foam core: Visco-elastic memory foam core is in the center of this mattress. It perfectly adapts to your body and provides you with all the necessary support.
Polyfoam: This is a third and transitional support layer, which is two inches thick and perfectly combines responsiveness and firmness of the remaining layers.
Base: The bottom of the mattress consists of a 5.5 inches thick HD polyfoam that emphasizes the overall compactness, robustness, and sturdiness of its design.
Construction
Loom and Leaf mattresses come in two firmness variations – the standard one (Relaxed Firm) provides you with 5.5-grade firmness that will probably suit most of the side-sleeping customers the best.
The 8-grade alternative (Firm) is designed particularly for those sleeping on their back or stomach, as well as those who need a firmer mattress for various medical or preferential reasons.
One of the greatest Loom and Leaf's features is the incredible movement isolation. Although this might be expected from all memory foam mattresses, this brand is really exceptional in motion transfer reduction, which is great especially if you're coping with restless legs syndrome (or a restless partner syndrome).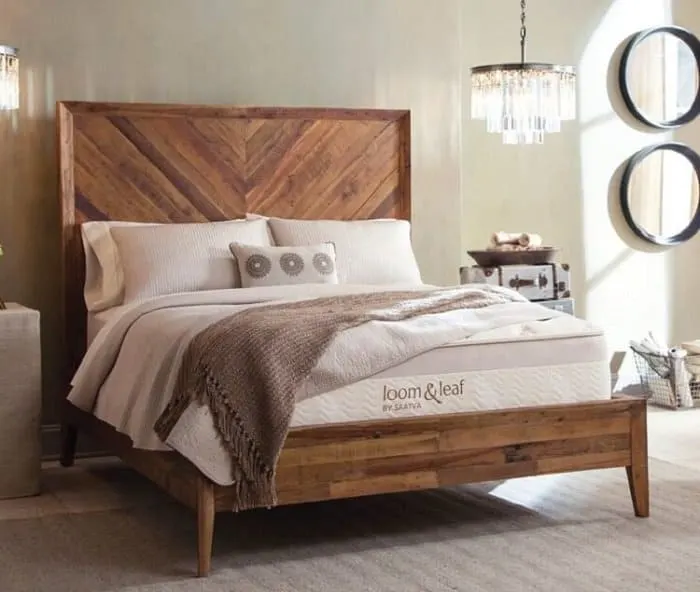 You will also surely appreciate Loom and Leaf extensive edge support, which helps you stay in an optimal position and prevent the discomfort of leaping over the edge.
In comparison with most of the competition, Loom and Leaf mattresses offer reasonably more foam and gel in all of its layers, which makes them feel more luxurious and comfortable.
Ease of Mind: Amerisleep vs Loom and Leaf's Warranties and Test Times
A luxurious mattress is not the kind of product you would like to replace every couple of years. The best of the best on this market promise to last at least a quarter of an average human lifespan – Amerisleep and Loom and Leaf are no different.
To reassure their clients of the top-quality and durability of their products, both companies offer two types of guarantees: free-trial period, which allows you to try mattresses for a specified period of time with no strings attached, and the standard warranty, which covers your back in case your product would demonstrate some faults only later.
Here's a comparison of Amerisleep's and Loom and Leaf's warranties and test times:
| | | |
| --- | --- | --- |
| Brand | Trial period | Warranty |
| Amerisleep | 100 nights | 20 years |
| Loom and Leaf | 120 days | 15 years |
As you can see, Loom and Leaf give you more time to reconsider whether you want to keep the mattress you've purchased for good, but it subsequently comes "only" with 15 years of standard warranty.
Amerisleep rounded their trial period to 100 nights. After this test time expires, you cannot return your mattress without a relevant reason for a full refund, but you still have 20 more years to evaluate if the product is really as good and durable as you've been promised.
Important note: If you've never used a memory foam mattress before or your previous one was already significantly worn out, be prepared that it will likely take about a month to fully adjust to the new mattress (regardless of the brand or model you buy). If you want to return your mattress too soon, you might miss out on its real qualities.
Amerisleep vs Loom and Leaf: Prices
As we've already mentioned above, Loom and Leaf and Amerisleep are in a similar price range, so the price is unlikely to become a deal-breaker for most of the customers. While Amerisleep offers more models to choose from, Loom and Leaf mattresses come in more sizes, so comparing their models one-on-one can be a bit tricky.
If you take a look at the whole range of products these brands offer, you will find more and less expensive mattresses on both sides. Both brands also offer free shipping with all of their products.
Amerisleep
Here's a quick overview of Amerisleep's general price list. Note that regular deals and promotions can affect the prices quite significantly:
| | | | | | | |
| --- | --- | --- | --- | --- | --- | --- |
| Model | Twin size | Full size | Queen size | King size | Cal. King | Split King |
| AS1 | $849 | $1049 | $1199 | $1399 | $1399 | $1399 |
| AS2 | $999 | $1149 | $1299 | $1599 | $1599 | $1898 |
| AS3 | $1099 | $1249 | $1399 | $1699 | $1699 | $2098 |
| AS4 | $1399 | $1549 | $1699 | $1899 | $1899 | $2698 |
| AS5 | $1799 | $1949 | $2099 | $2299 | $2299 | $3498 |
If you opt for the hybrid mattress, expect to pay between $1999 and $4098 depending on the size and model you choose.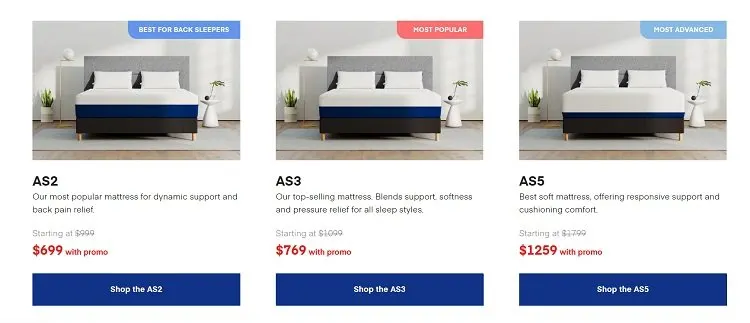 Loom and Leaf
Just like Amerisleep, Loom and Leaf also come with seasonal price reductions, promo offers, and other deals that affect the pricing of their products. Here's a standard price list for each of their currently available models. Note that prices depend only on the size of a mattress, they have nothing to do with the firmness you prefer:
| | | | | | | | | |
| --- | --- | --- | --- | --- | --- | --- | --- | --- |
| Model | Twin | Twin XL | Full | Queen | King | Cal King | Split King | Split Cal King |
| Relaxed | $849 | $1149 | $1599 | $1699 | $1999 | $1999 | $2299 | $2376 |
| Firm | $849 | $1149 | $1599 | $1699 | $1999 | $1999 | $2299 | $2376 |
Saving tip: If you make your purchase with Saatva (Loom and Leaf mattresses producer), you can currently catch their summer sale on all Loom and Leaf products. This can save you about $100-$200 on each of the mattresses (table above shows regular prices prior to the temporary reduction).
A Round-Up on Pricing
A good mattress is a big investment – you can probably get a fully functioning second-hand car cheaper than some of the mattresses we discuss today.
On the other hand, if you make a wise choice, you probably won't have to buy another mattress for the rest of your life. (hard to expect the same durability from an old car, right?)
If you compare prices of Amerisleep vs Loom and Leaf products, you'll see that they are very similar. What's really different is the number of options each of these brand offers.
In this regard, Amerisleep comes with significantly more choices – while Loom and Leaf's prices stand somewhere in the midrange, Amerisleep has both cheaper and more expensive alternatives.
Amerisleep vs Loom and Leaf – Who are These Mattresses Best For?
Similar prices, similar memory foam technology, similarly great reviews: the truth is that Amerisleep and Loom and Leaf mattresses probably have many more similarities than differences. Still, there are some types of customers who will definitely prefer one to the other for various objective and subjective reasons.
Can't decide which one to choose? This might help you to pick your final winner:
Amerisleep
Amerisleep has a wide variety of products that will suit all the different tastes and preferences. Firmer models (AS1-AS2) are great for those who like to sleep on their back or stomach and need sturdier support. Softer models (AS3-AS5) are the best for customers who prefer sleeping on their side and those who want to experience the lavish comfort.
Foam mattresses, in general, don't suit obese people very well – sometimes they find the 'sinking' feeling really uncomfortable and struggle with getting up from the bed. If you're weighing 240 lbs and more, we advise you to invest in one of Amerisleep's hybrid models that will provide you with the stability and durability you need.
Amerisleep is also known for its ability to store and redistribute heat, so it might be a good choice if you're staying in cooler parts of the country (Loom and Leaf's extra cooling layer might not be of much use here).
To Recap
You should love Amerisleep mattresses if you:
Need many options to choose from
Want extended warranty (20 years)
Are not significantly overweight
Live in colder parts of the country or higher altitudes
Like memory foam or hybrid constructions.
Loom and Leaf
Loom and Leaf mattresses are great for those who don't need tons of options to choose from – just two simple models with the same thickness and very similar constructions – but many sizes to fit any bed you can imagine.
Introducing an exclusive gel-injected layer, these mattresses are usually preferred by those who sleep better when they'refeeling cool – ideal choice in warm environments.
But Loom and Leaf is also praised for providing probably the best motion isolation on the market, so if your partner twists and turns all night long, this might be your final salvation.
Some of the Loom and Leaf's downsides include a shorter warranty, less firmness levels to choose from, or absence of any hybrid solutions.
To Recap
Loom and Leaf mattresses are great for you if you:
Have non-standard bed size and need more size options
Live in a warm climate and like the idea of extra cooling
Struggle with night restlessness and need perfect movement isolation
Don't need many options to choose from
Prefer longer trial period to longer warranty.
FAQs
Question: How long do Amerisleep mattresses last?
Answer: In general, memory foam mattresses are believed to last in great condition for up to 10 years. However, Amerisleep apparently trusts its first-class products to last at least twice as long since they offer them with a 20-year warranty.
Question: Can you flip the Amerisleep mattress?
Answer: Amerisleep mattresses are designed with specific top and bottom layers, so they are not meant to be flipped around. After all, there's really no reason to do that, because (unlike innerspring or coiled mattresses), memory foam mattresses are not wearing out unevenly.
Question: What is the difference between Loom and Leaf and Saatva?
Answer: Saatva is a renowned mattress manufacturer with several subdivisions and different ranges. Loom and Leaf represents Saatva's premium brand.
Question: Is Loom and Leaf good for side sleepers?
Answer: Loom and Leaf offers two models that differ in firmness – Relaxed Firm and Firm. Side sleepers are generally advised to invest in softer mattresses that will provide them with more comfort and flexible support. This makes Loom and Leaf's Relaxed Firm mattress a great choice for anyone who prefers sleeping on their side.
Are you ready to buy the mattress of your dreams?
When it comes to mattresses, different people can have very different tastes. Some of us are limited by their medical conditions, others simply can't get used to certain types of materials or have a restricted budget. But once you've decided to buy a memory foam mattress, choosing between Amerisleep and Loom and Leaf shouldn't be too difficult.
Amerisleep is great for those who want to pick their preferred thickness and firmness – it comes with five distinctive models that will satisfy all types of sleepers. Amerisleep is also better for cooler environments and provides you with a wonderful 20-years warranty.
Loom and Leaf offers fewer models to choose from, but they come in more sizes – you'll surely appreciate that if you have a non-standard bed. Loom and Leaf is also better for hot environments thanks to its cooling gel-injected layer.
Need more info before making your final decision? Read our Amerisleep vs Purple and Nectar vs Loom and Leafcomparisons for more detailed comparisons.