Are you stuck in a Brooklyn Bedding vs Leesa mattresses dilemma?
We'll help you pick the best mattress according to your specific needs, preferences, and budget.
Brooklyn Bedding and Leesa are both trustworthy and popular brands operating mainly online. While their products surely have a lot in common, there are still enough differences that can prove to be the real deal-breakers in practice.
This article will help you decide which of these mattresses is going to serve you better. Let's start with their most important dissimilarities:
Main Differences Between Brooklyn Bedding vs Leesa
The main differences between Brooklyn Bedding vs Leesa are:
Brooklyn Bedding offers three different firmness levels, whereas Leesa only has one solution for all.
Brooklyn Bedding has six models, whereas Leesa offers only four models to choose from.
Brooklyn Bedding contains TitanFlex latex foam, whereas Leesa uses its patented Avena foam.
Brooklyn Bedding is slightly cheaper, whereas Leesa is the more expensive one in this comparison.
Brooklyn Bedding vs Leesa: The Mattresses Compared
Brooklyn Bedding
Materials and feel
Brooklyn Bedding, established in 1995, was one of the first companies on the market offering a bed-in-a-box concept to American customers. Later they opened their own factory on American soil, and that's where they make their original and popular mattresses to this day.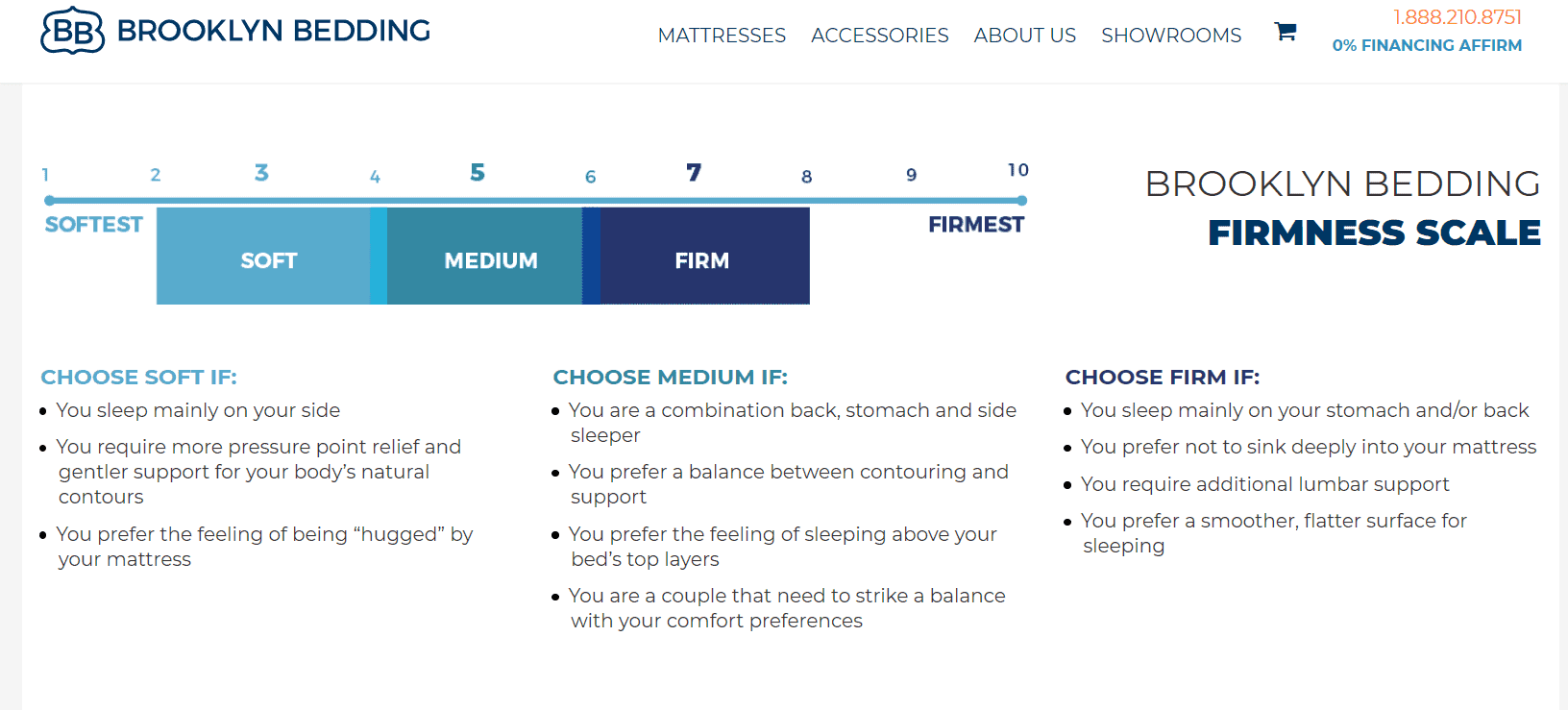 If you say Brooklyn Bedding, most people will probably automatically think about their famous Signature mattress. What makes this affordable foam mattress so special is mainly its material: unlike most of the traditional memory-foam mattresses, Brooklyn Bedding Signature consists of high-grade TitanFlex latex foam – a patented hyper-elastic material that provides great response and adjusts to your body neatly with every move.
These are the five layers that make Brooklyn Bedding Signature mattress:
Padded Cover – Polyester and Cotton blend cover filled with 1-inch thick foam adds this mattress soft touch and keeps it free of folds.
1st Latex FoamLayer – 2" thick TitanFlex foam is injected with TitaniumGel. This provides the mattress with a nice cooling effect and extra comfort.
2nd Latex Foam Layer – this 2-inches thick TitanFlex foam is firmer in order to absorb most of the motion from the surface and isolate it as an effective transitional layer.
Coil Support Core – Brooklyn Bedding Signature mattress is a hybrid model. Aside from the two latex foam layers on the top, it also has 6-inches thick individually pocketed coils in the core for extra support. Hybrid mattresses are recommended for all body types and sleeping positions.
Support Base Foam – A high-density foam on the bottom provides the mattress with reliable protection and improves its durability.
Brooklyn Bedding Signature mattress is an 11,5-inches thick mattress that will suit most body types and sleeping positions. Some users might, however, dislike its gentle bounciness and its imperfect motion isolation.
Construction
Unlike most of the competition, Brooklyn Bedding allows you to pick your preferred firmness level. Each of the Brooklyn Bedding mattresses comes in Soft, Medium, and Firm versions, so you can pick the one that suits your sleeping routine or health condition the most.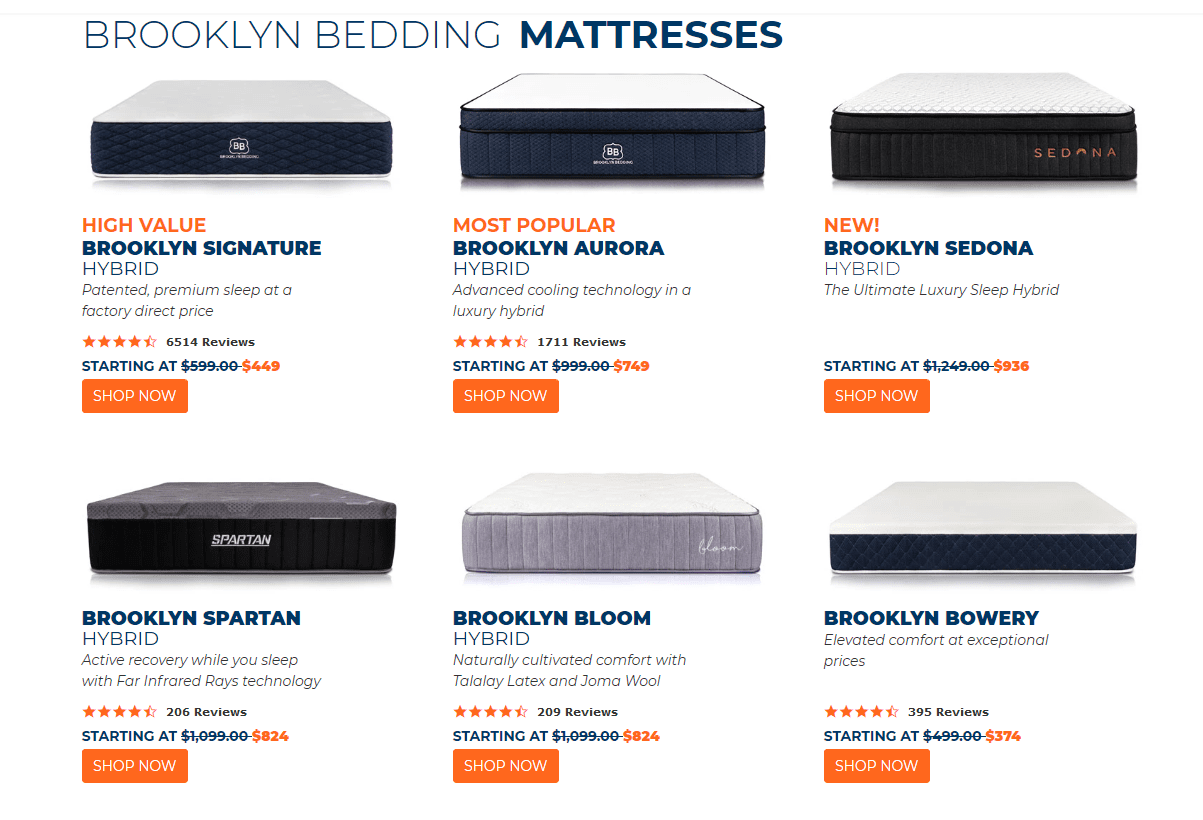 Aside from the Signature mattress we've discussed above in detail, Brooklyn Bedding also produces five other models with various distinctive features and different price tags. Here's their brief description:
Aurora: This premium hybrid mattress is significant by its advanced cooling technology. It's 13-inches thick and has a patented CopperFlex™ top layer with antimicrobial effect.
Spartan: Although Spartans were famous for their toughness and discipline, this luxurious mattress will pamper you with the 'Far Infrared Rays' active recovery system. This exceptional technology literally turns your body heat into energy, which is sent back to your body to improve the quality of your sleep. Although this is BB's most expensive mattress, it's a well-worth investment.
Bloom: If you care about the environment, this premium hybrid mattress will attract you with its natural materials such as the sustainably sourced Joma Wool™ and organic cotton. It's also exceptionally breathable and feels very clean and healthy.
Bowery: Brooklyn Bedding's most budget-friendly mattress consists of a 3" patented Energex foam plus two layers of transitional and high-density memory foam. Starting at just $499.00, this is probably one of the best value for money mattresses currently on the market.
Bowery Hybrid: If you're willing to pay just $50 more, you can have Bowery in a Hybrid version with 6" encased Ascension™ coils for improved support and minimal motion transfer.
Leesa
Materials and feel
Founded in 2014, Leesa is one of the younger brands on the market, but it already shows-off its impressive potential. At first, Leesa only had one all-foam mattress on offer: its Original model that consists of a combination of high-density memory foam and latex-like Avena foam. This mattress is still Leesa's most popular product thanks to its attractive value for money ratio.
But what really makes it stand out from the competition is mainly its nice resilience and elasticity. This mattress officially ranks somewhere in the middle on the firmness scale, but its surface made of a 2" polyurethane foam feels perfectly soft and smooth.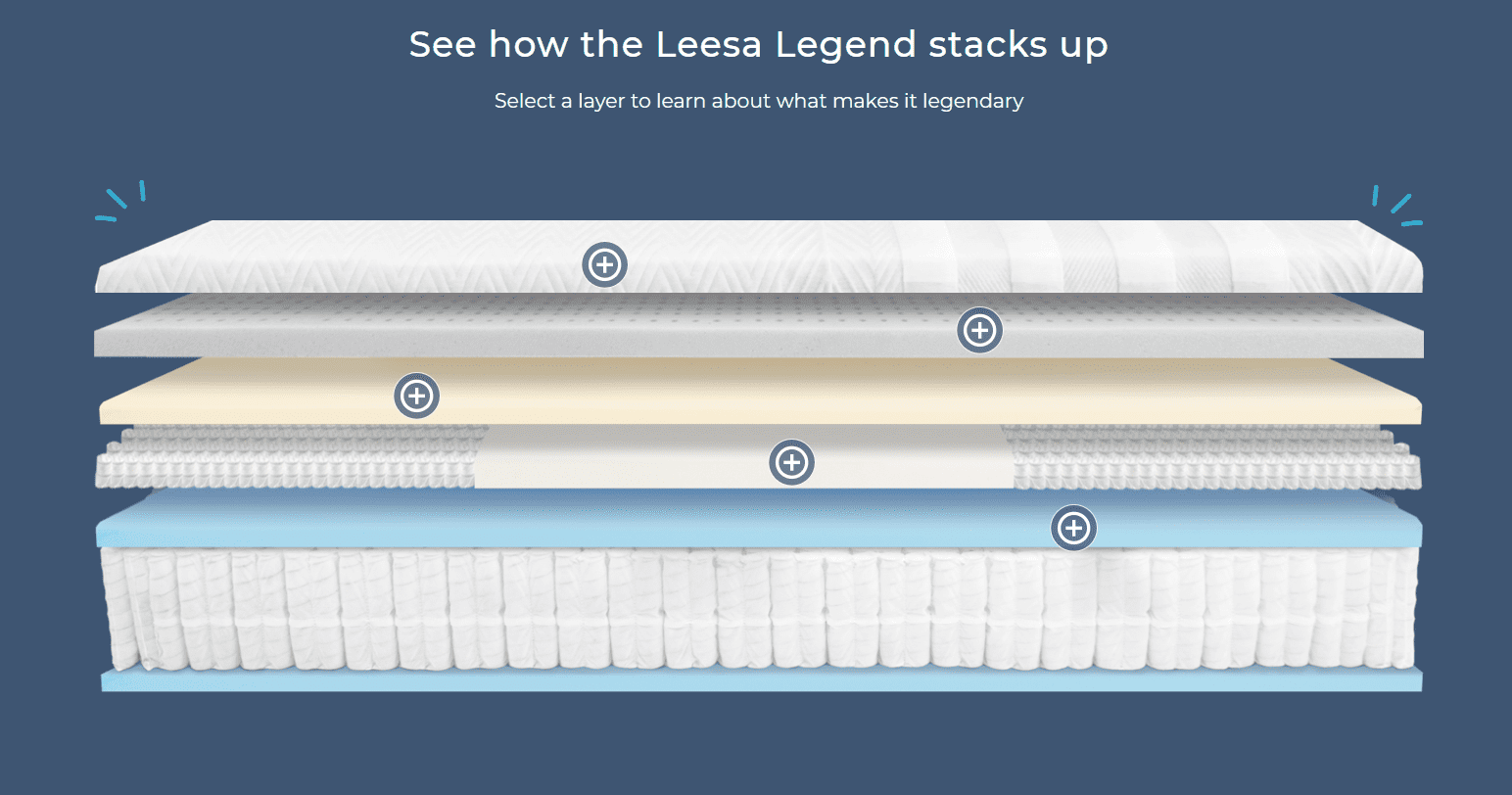 Leesa Original is mostly recommended to those with a petite to middle body type. If you're on the heavier side, you might feel like you're sinking in a bit too deep.
The most popular Leesa mattress consists of these layers:
Top Layer – Breathable 2-inches thick highly responsive Avena foam provides cool, gently hugging, and decently bouncing feeling. This material is exclusive to Leesa and provides a great alternative to widely used latex foams. It's hypo-allergenic and more durable than standard latex.
Memory foam core– Middle layer of this mattress is formed by 2" of a high-density (3lb.) memory foam that nicely contours your body and provides a well-deserved relief to your hips, shoulders, and spine.
Bottom Layer – The thickest layer of this mattress is on the bottom – 7 inches of support foam with great breathability.
To summarize all the information above, Leesa Original is a sophisticated yet relatively simple 10-inches thick foam mattress designed for masses. While it will most likely satisfy those with an average build and unspecific expectations, pickier customers need something different.
Construction
Aside from the aforementioned all-foam Original model, Leesa currently offers three other types of mattresses. Most of them are available in six standard sizes from Twin to California King (the Legend mattress comes only in five sizes starting with Twin XL).
These are the basic characteristics of their construction:
Hybrid: This advanced hybrid version of Leesa Original mattress combines the softness of foam with support and durability of 1,000+ actively responding pocket springs. Unlike Leesa Original, this hybrid mattress is fully recommended to all types of body build and all kinds of sleepers.
Studio: This is Leesa's newest and least expensive model that provides great value for money. Leesa Studio consists of three foam layers and is suitable for all sleeping positions.
Legend: Legend is the most exclusive type of Leesa mattress. This hybrid model comes with two layers of springs: pocket springs for perfect edge-to-edge support + micro-coils for aimed shoulder & hip support. This mattress also boasts a sustainable cover made of 100% organic cotton, Merino wool, and recycles fibers from plastic bottles.
Ease of Mind: Brooklyn Bedding vs Leesa Warranties and Test Times
If you're buying your new mattress online, you don't get a chance to touch it, sit on it, or lay down on it before it arrives at your door. Online businesses such as Brooklyn Bedding and Leesa address this issue by offering their customers generous trial periods. If you decide that you're not entirely happy with your purchase, you can return the mattress within a specified trial period for free.
Of course, both brands also provide a standard warranty. As the table below shows, their terms are very similar:
| | | |
| --- | --- | --- |
| Brand | Trial period | Warranty |
| Brooklyn Bedding | 120 nights | 10 years |
| Leesa | 100 nights | 10 years |
If you're not sure when is the best moment to return your mattress, you should know that It usually takes some time before you fully adjust to your new bed.
It's not even uncommon to experience some temporary back pain or other discomforts when you're getting used to a brand new mattress. To make sure that you're making the right decision, allow at least 30 nights for the mattress to show its true qualities or faults.
Brooklyn Bedding vs Leesa: Prices
When you compare some of the similar models from Brooklyn Bedding and Leesa, you'll see that Brooklyn Bedding is a tiny bit cheaper. For example, BB's Signature mattress is about $100 less than Leesa Original mattress of the same size.
Additionally, Brooklyn Bedding also comes with a wider offer, so you have numerous cheaper alternatives to choose from in their catalog if you're strictly on a budget.
Brooklyn Bedding
Brooklyn Bedding mattresses start at $499 (standard Twin size Bowery all-foam mattress). Their most expensive mattress (Spartan California King) currently costs $2399.
Of course, if you're lucky to catch some of the BB's regular sales and discounts, you can get their mattresses significantly cheaper. Here's an informational price list of all Brooklyn Bedding mattresses:
| | | | | | | |
| --- | --- | --- | --- | --- | --- | --- |
| Model | Twin | Twin XL | Full | Queen | King | Cal King |
| Bowery | $499 | $549 | $649 | $699 | $949 | $949 |
| Bowery Hybrid | $549 | $649 | $749 | $799 | $1049 | $1049 |
| Signature | $599 | $699 | $849 | $999 | $1249 | $1249 |
| Aurora | $999 | $1249 | $1549 | $1699 | $2124 | $2124 |
| Bloom | $1199 | $1249 | $1499 | $1799 | $2199 | $2199 |
| Spartan | $1399 | $1449 | $1699 | $1999 | $2399 | $2399 |
Leesa
Leesa offers only four types of mattresses, and each of them is available in 6 sizes. Prices start at $539 for the smallest version of Leesa Studio mattress (their all-new budget-friendly model), while the most luxurious option (Leesa Legend mattress in King/Cal King size) costs $2499.
The table below indicates actual prices at the time when this article was written. If you catch some of the regular promotions or discounts, you can usually save around 20% of these prices:
| | | | | | | |
| --- | --- | --- | --- | --- | --- | --- |
| Model | Twin | Twin XL | Full | Queen | King | Cal King |
| Studio | $599 | $649 | $699 | $799 | $999 | $999 |
| Original | $699 | $749 | $899 | $999 | $1199 | $1199 |
| Hybrid | $999 | $1099 | $1399 | $1699 | $1899 | $1899 |
| Legend | – | $1699 | $1999 | $2199 | $2499 | $2499 |

A Round-Up on Pricing
Understandably, price is one of the key factors we consider when we're looking for our new mattress. After all, a good mattress is quite an investment, and every dollar counts.
On the other hand, comparison of two similar mattresses with different construction and different materials is never 100% accurate, so the price tag shouldn't be your main reason for preferring one mattress over the other.
If you want to save some extra bucks, try to catch some promotion, seasonal sale, or discount codes for the mattress you really like, instead of settling on the cheaper alternative you're not really excited about.
Or consider buying a smaller size of the same quality (of course, just in case you haven't bought your base already). (Tip for you: King and California King size mattresses cost the same!)
Brooklyn Bedding vs Leesa – Who are These Mattresses Best For?
Still can't decide between Brooklyn Bedding and Leesa mattress? Here's a brief summary of all their pros and cons that can help you pick your winner:
Brooklyn Bedding
Brooklyn Bedding mattresses cover an exceptionally wide range of different models, materials, sizes, and firmness levels. If you need to make sure that your new mattress ticks all of your boxes, this brand might have what you're looking for.
In comparison with many other similar brands (including Leesa), Brooklyn Bedding is also more budget-friendly, while even their cheapest models provide great quality and durability.
However, the latex foam used by Brooklyn Bedding comes with a specific bounciness that might not suit everyone. If you crave flawless motion isolation, maybe this won't be your mattress of choice.
To Recap
You should love Brooklyn Bedding mattresses if you:
Are on a budget.
Like some gentle bounciness and don't mind some motion transfer.
Want to choose from a wide range of products.
Require to pick your preferred firmness level.
Leesa
Leesa won't overwhelm you with many different options and alternatives. Their goal is to produce high-quality mattresses that would suit (almost) everyone.
Since their mattresses feel a bit firmer, they are particularly good for those who prefer sleeping on their back or stomach. Leesa Original mattress also might be a bit uncomfortable for heavier weights.
Leesa mattresses are slightly more expensive, so they might not be your best option if you're on a budget. On average, expect to pay about $100 more than you would pay for a similar model and size of Brooklyn Bedding mattress.
To Recap
Leesa mattresses are good for you if you:
Prefer latex alternatives to real latex.
Like firmer mattresses.
Prefer sleeping on your back or stomach.
Don't mind paying slightly more.
Brooklyn Bedding vs Leesa: FAQs 
Can You Recommend Any Alternatives from Other Companies? 
Brooklyn Bedding and Leesa are both top-quality mattresses with many happy customers. But they are definitely not the only recommendable brands on the market. If you're not excited about any of the products we've discussed in this article, check out some of these alternatives:

Brooklyn Bedding vs Leesa: Which Mattress is Better? 
This comparison really has no 'winners' or 'losers' – both Brooklyn Bedding and Leesa are first-class mattresses with many advantages and strengths.
But if we had to recommend just one of them, we'd have to pick Brooklyn Bedding due to its greater variability and more affordable prices.
Brooklyn Bedding really ticks all the boxes: Whether you like your mattress firm or soft, all-foam or hybrid, basic or luxurious, their wide range of products caters to every taste and need.
Do you need more inspiration before making the purchase? Read our new Amerisleep AS4 Mattress in-depth review or our detailed Purple vs Nectar Mattress comparison.