Latest posts by Rosie Greaves
(see all)
Few things can ruin anyone's day more than a bad night's sleep the evening before. Without enough beauty sleep, we feel grumpy and sluggish, leading us to spend every waking moment counting down the hours until we can crawl back into bed.
If you've found yourself tossing and turning recently, uncomfortable and unable to sleep, you may want to consider invePreview Changes (opens in a new tab)sting in a new mattress.
There's nothing better than sinking in amongst the cushions, pulling the covers up, and settling into the dip of the mattress that remembers precisely where you like to drift off.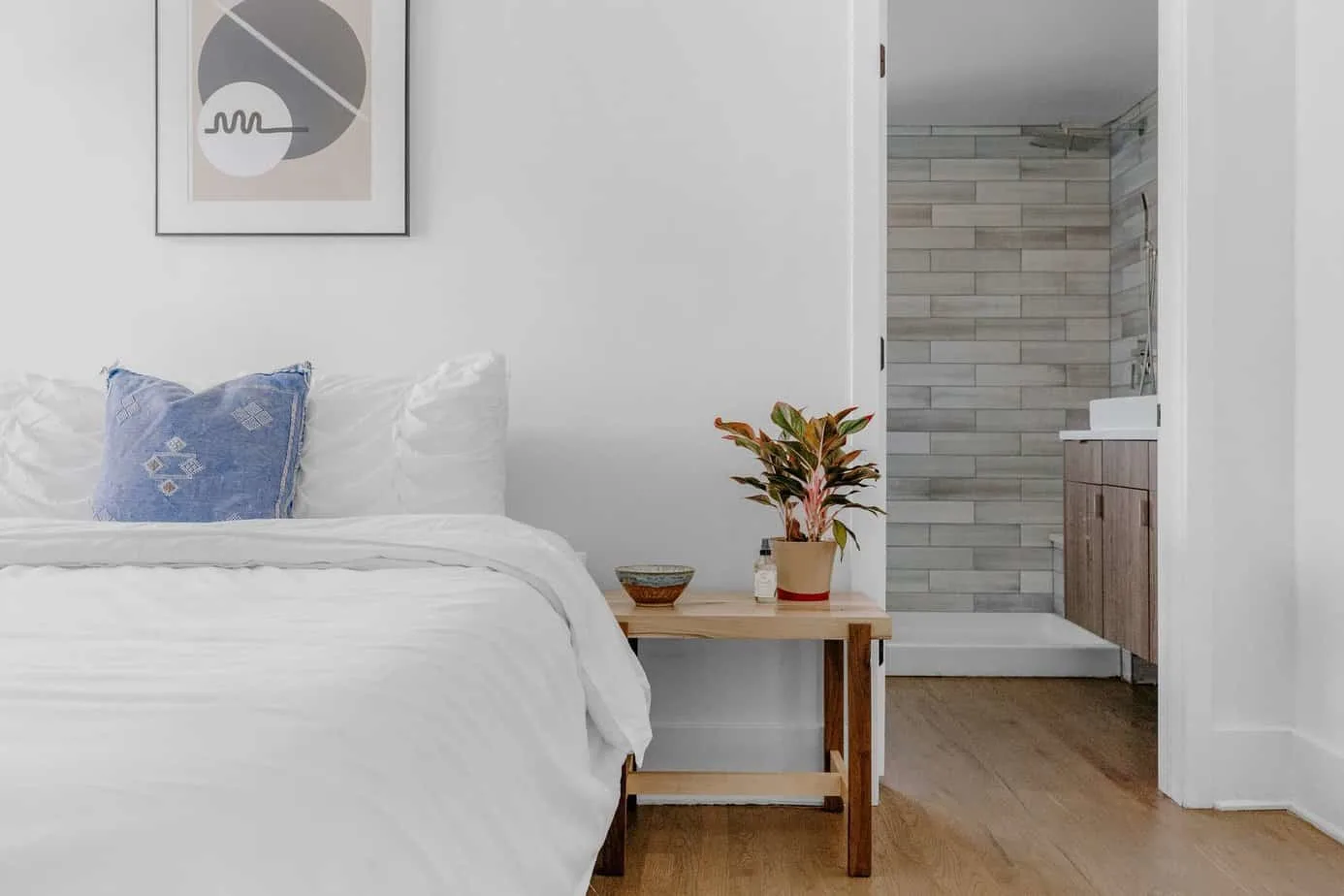 Of course, there are loads of different kinds out there: spring mattresses, pocket sprung beds, open coil mattresses, memory foam mattresses, latex mattresses…
The list goes on…
So, to help you make an informed choice, we've done our research and put together this review of Dynasty's most popular mattress: the 12" Medium-Firm Gel Memory Foam.
Read on to discover its pros, cons, and key features. Hopefully, this guide provides you with everything you need to know to answer the question —is this the perfect mattress for me?
Does that sound good to you? Fab. Let's dive straight in!
About Dynasty
Dynasty Mattress Inc. is a bedding company and manufacturer. They create and sell high-quality mattresses and adjustable bases, retailing them online at very affordable prices.
Initially founded in 2007 as an eCommerce store that sold mattresses on Amazon, they soon expanded both in terms of scope and range, and are proud to say they're still growing!
Their brilliant cooling technology—CoolBreeze™ Gel Memory Foam, which reduces heat to help you get a more refreshing night's sleep—quickly gained them a reputation for innovation in their field.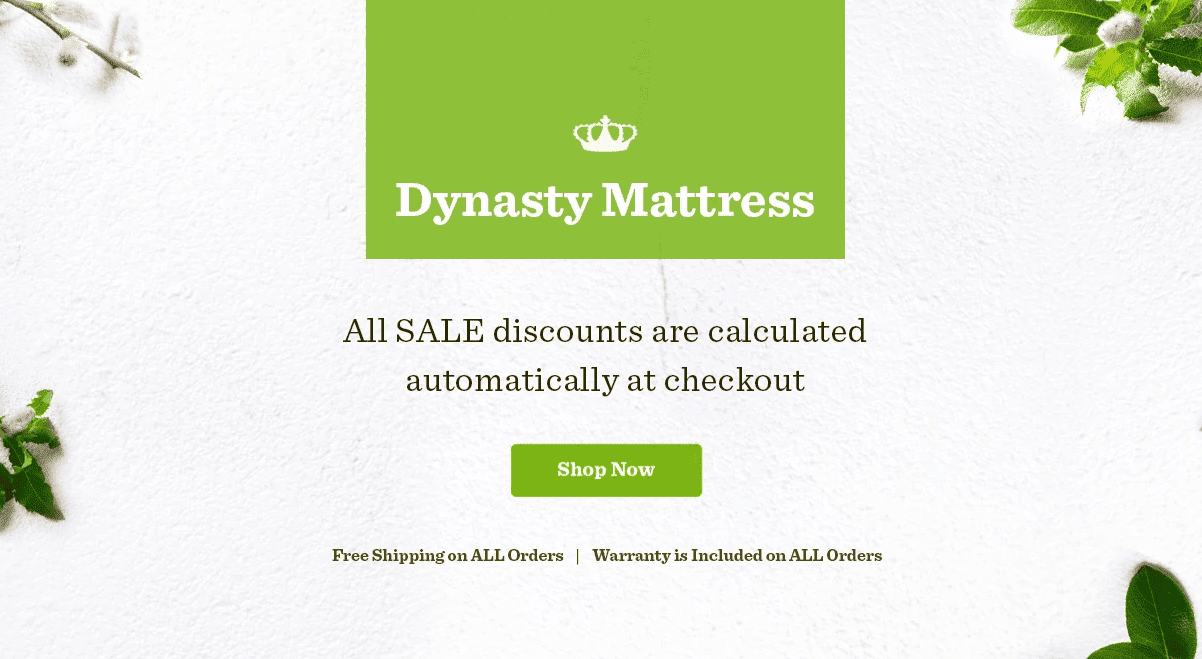 Today, they sell far more than just mattresses. In fact, with their assortment of adjustable beds, pillows, and toppers, they stock almost everything you need to get a good night's sleep!
For their full range of products, you should check out their online store. But, to focus on the 12" Medium-Firm Gel Memory Foam Mattress, keep reading!
Key Features
The 12" Medium-Firm Gel Memory Foam Mattress is made out of five layers:
At the very bottom, you get 5" of high-density, durable base construction foam, which helps the mattress retain its shape and structural integrity over years of prolonged use.
Next, come 2" layers of fresh airflow support. These allow air to enter the mattress, which stops you from overheating while you're sleeping.
Then you have the high-density cooling gel, Dynasty's USP. This consists of 3" of 3lb, premium gel infused into the memory foam. This remarkable innovation allows your body to remain extra cool and helps the foam to mold with even more success to the shape of your body.
Finally, on the top layer, there's a fire barrier to keep your mattress safe from burning, even in the event of an emergency.
Furthermore, the foam used to make this mattress (in fact, all foams used to make every single one of Dynasty's mattresses!) is CertiPUR-US certified.
What Does This Mean?
Well, simply put, this means all the materials used have been tested to ensure they meet the US's standards for emissions, content, performance, and durability.
Their flexible polyurethane foam has been rigorously examined and verified. So we can confirm all of the below:
It's made without ozone depleters.
It's imperative we look after the ozone layer! That's why the CertiPUR-US label prohibits the use of chlorofluorocarbons (CFCs) and other ozone depleters during the foam manufacturing process.
Unfortunately, not all countries hold themselves to the same standards, so always check when you're buying a new mattress that it's produced in an eco-friendly manner!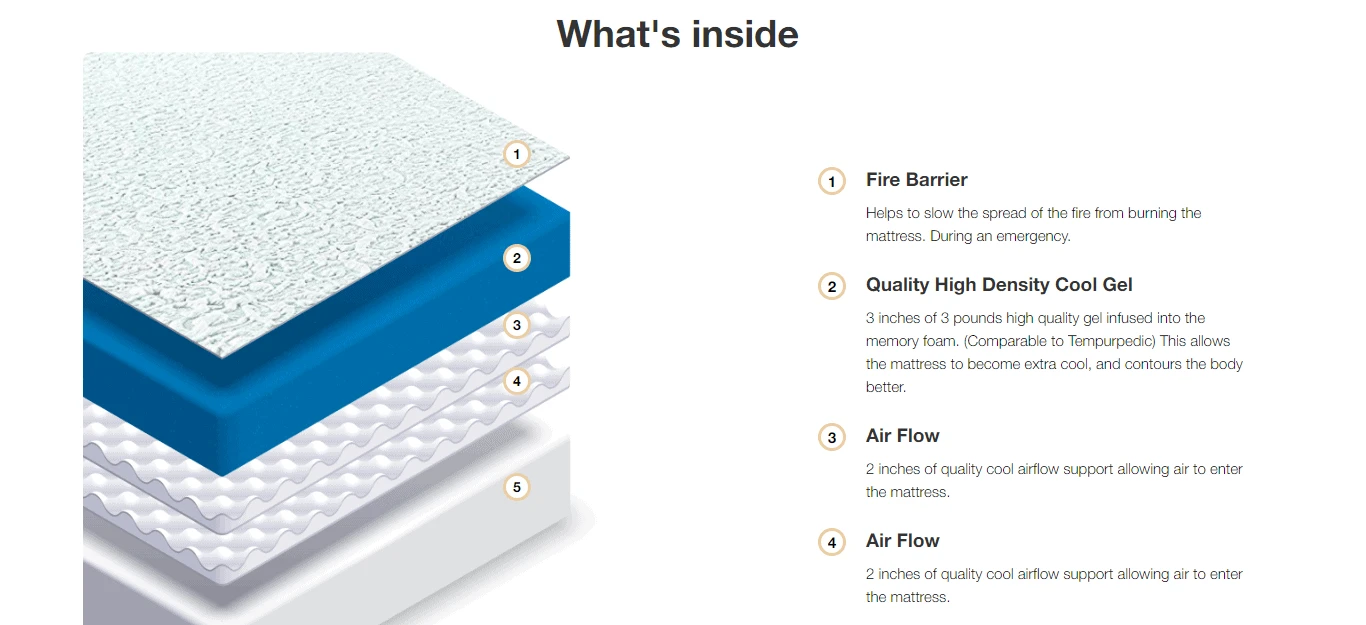 Made without PBDEs, TDCPP, or TCEP ("Tris") flame retardants.
Unless, perhaps, you're a scientist, these acronyms probably mean nothing to you. They just look like a jumble of letters. But, the vital thing to take away from them is that these compounds can be hazardous.
The great thing is, Dynasty mattresses don't contain any of them. They're environmentally friendly and won't do any damage to your health – win-win!
Low VOC (Volatile Organic Compound) emissions for improved indoor air quality.
Volatile Organic Compounds (VOCs) contribute majorly to air pollution levels. This is why it's essential to keep an eye on VOC emissions from household products to ensure the air quality in your home remains good.
Results from tests conducted under CertiPUR-US guidelines verify that all compliant foams (like the ones used by Dynasty Mattresses Inc.) have low emissions, which helps to ensure the quality of indoor air in your home.
You can sleep snugly and safely on your new mattress, knowing it will do no damage to you, your family, or your property and that it has a limited impact on the broader, global environment.
The 12" Medium-Firm Gel Memory Foam Mattress is Dynasty's Most Popular Mattress
And is that any wonder? It's perfect for every kind of sleeper; whether you sleep on your side, back, or stomach, it adapts to accommodate your exact size and position, providing extraordinary comfort.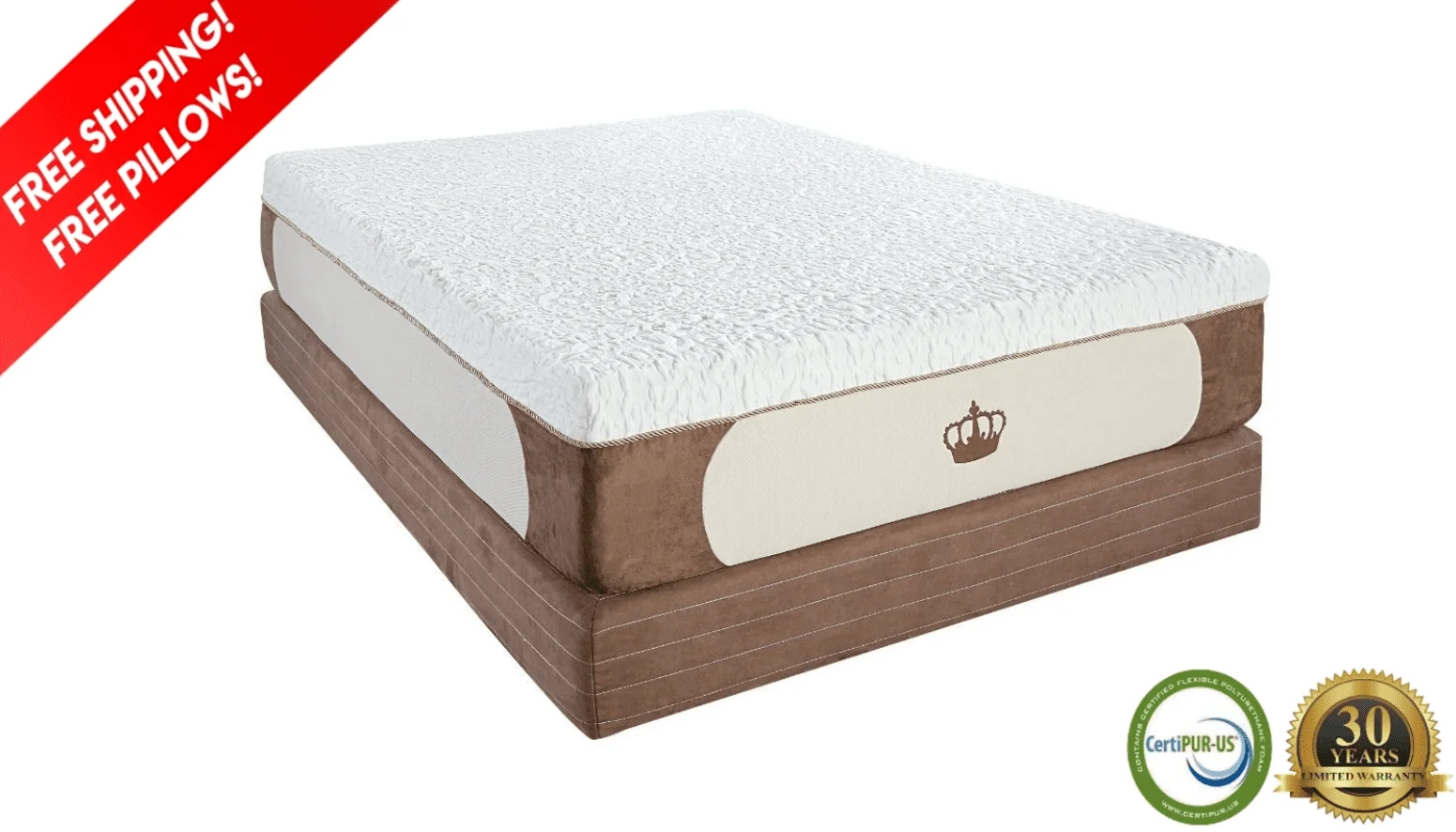 This mattress boasts a 30-year limited warranty and free shipping. The average delivery times currently rest between one and four days across the US.
And, if you're still not 100% sure, they'll even let you test it out at home for 120 days! If you're not satisfied, they offer a full refund.
Pros & Cons
There's nothing like a quick pro-con list to help you decipher whether a product will meet your needs. So, to help you decide whether the 12" Medium-Firm Gel Memory Foam Mattress is for you, we've listed its main benefits and drawbacks:
The Pros:
The product is comparable to the Contour Elite mattress from Tempur-Pedic but costs a fraction of the price. A full-sized Contour Elite usually costs $3,149.00, whereas its Dynasty equivalent comes in at just $369.00!
Not only is it easy on the wallet, but it's also very environmentally friendly.
The Dynasty 12" Medium Firm Gel Memory Foam mattress is made using the company's own, innovative CoolBreeze™ technology, which prevents both you and the memory foam material from overheating.
The mattress comes with two gel memory foam pillows (for free!), and a removable, machine washable, allergen-resistant cover.
It's effortless to set this mattress up. It's ready to use in just five steps: open the box, remove the plastic covering, unroll the mattress, let the mattress expand, and snooze away! Simple, right?
It's also suitable to use in an RV or motorhome.
You get the Dynasty guarantee – a 120-day test-at-home trial and a 30-year warranty.
The Cons:
Advertised as "Medium Firm" on their website but found to be very firm by more than a few customers. Not necessarily an adverse outcome if you like a lot of support from your mattress. But, for those who like a softer mattress, this may not be the right choice for you.
Found to be less durable than their competitors' mattresses. Over time, even with regular turning, the mattress may start to sag and lose its shape.
FAQs
Who makes the Dynasty products?
Dynasty design and manufacture all their own mattresses.
How long will it take me to get used to my new Dynasty mattress?
Every person and, to some extent, every mattress is different, so, unfortunately, there's no one answer to this question. All of Dynasty's mattresses are shipped sealed from the factory, and they'll take some time for your body to adjust to.

The more you sleep on it, though, the more the memory foam responds to your body weight and temperature, making it feel more natural and better-molded to your body's shape and sleeping position.
My new Dynasty mattress has a slight odor. How long will that last?
That new mattress smell should dissipate inside a week. For quicker ventilation, leave the windows in your bedroom open. But don't worry if it's cold or raining outside, this odor is entirely natural and not at all harmful.
As we've already mentioned, all Dynasty mattresses are made from certified flexible polyurethane foam, which means they're all tested to the highest standard for emissions, content, performance, and durability.
Does my bed need a foundation?
In the quick answer to this is yes.
Due to the weight of the memory foam (up to 120lb for a King size of this 12" model), Dynasty recommends using wide wooden slats to support all their mattresses.
How will the memory foam affect my temperature while I sleep? Will I be too hot?
This is a big concern for most mattress shoppers. But, thankfully, the majority of Dynasty customers report that they enjoy a very cool night's sleep. Dynasty's CoolBreeze™ gel technology is specially designed to be significantly colder than standard memory foam. Plus, the two inbuilt layers of airflow support allow air to circulate through the mattress instead of trapping the heat inside.
Can I use a heating pad or an electric blanket with a Dynasty mattress?
Again, the short answer to this question is yes.
If you like to sleep with a heating pad or an electric blanket to make your bed extra toasty, that's absolutely fine with this mattress.
Remember, though, that memory foam is temperature-sensitive, so it's recommended you keep them on as low a temperature as possible to avoid any danger of distortion.
Can Dynasty mattresses be used with an adjustable bed base?
Yes, all Dynasty mattresses are adaptable and can be used with adjustable bed bases. Dynasty even keeps some in stock. If you want to check out their full range, just click here!
Why does my mattress feel firm some nights but soft on others?
As we've just said, memory foam is temperature-sensitive and responds not only to body heat but also to changes in the room temperature. So, if the temperature in your bedroom fluctuates, so will the feel of your mattress.
Do I need to rotate my mattress?
Yes. To maintain even weight distribution, and to help your mattress keep its shape, Dynasty recommends rotating this mattress by 180 degrees every three to four months.
Can I wash the cover?
Yes. All Dynasty mattress covers are removable. You just unzip and pull them off. They're also all machine washable, and allergen resistant.
What's the weight of the mattress?
The weight of the mattress varies on the size and the firmness level you choose.
For the 12" Medium Firm Gel Memory Foam mattress, the weights vary between 50lb for the Split CalKing and the Twin XL to 120lb for the regular King.
For a full breakdown of sizes and weights, please consult Dynasty's product dimensions chart.
What's the maximum weight capacity of the mattress?
The maximum weight capacity for all sizes and models of Dynasty mattresses is 600lb.
What's the warranty period for the mattress?
The 12" Medium Firm Gel Memory Foam Mattress comes with a 30-year warranty.
My Final Verdict
The 12" Medium-Firm Gel Memory Foam Mattress from Dynasty comes with a lot of plusses:
It's both economically and environmentally friendly;
The innovative CoolBreeze™ technology patented by the company will keep you cool no matter the temperature outside;
It's packaged with your comfort and ease in mind;
It comes with a couple of extras, not to mention that 30-year limited warranty.
However, there's some suggestion that Dynasty's mattress won't last that long. Over time, even with regular turning, this mattress reportedly starts to sag and lose its shape.
Overall, considering the price, its pros, and its 4.8-star rating on Amazon!, we would say this product is worth at least its 120-day trial.
Try it out and get in touch to let us know how you got on. Was it too firm? Too soft? Or, like Goldilocks in Baby Bear's bed, did you find it to be just right?
And, before you go, here's one more bonus to bear in mind today: Dynasty Mattresses Inc. is currently offering a sale on selected items. So, buy now to save even more money on the mattress of your dreams!