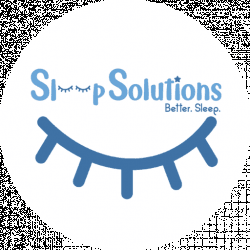 Latest posts by Sleep Solutions HQ Team
(see all)
So, you have an extra $400 to burn and you have no idea how to spend your windfall. Did you know $400 dollars goes a long way in the mattress industry? You can find several brand name mattresses for under $500 that do not skimp on quality. The question for you is what factors do you use to shop for a mattress under $500.
Let's find out.
Mattress Buying Factors
$500 or less will not get you in line to buy luxury mattresses such as Saatva or Loom & Leaf. However, you still should consider the five most common buying factors before pulling out the wallet.
Body Support
When you purchase a mattress for under $500, you do not have to compromise sleeping quality. Any mattress you select should provide enough body support to keep you comfortable all night long. Mattress firmness ranks on a scale between 1 and 10, with one the softest rating and 10 the
firmest rating.
To each his own when it comes to body support, as long as what you like matches the body support provided the a mattress.
Cover
Mattress covers complement the comfort delivered by first foam layer. Any cover you consider should contain soft fabric and produce breathability to keep your skin comfortably dry and cool throughout the night. Anti-allergen properties prevent the build-up of allergens such as dust mites and dog dander.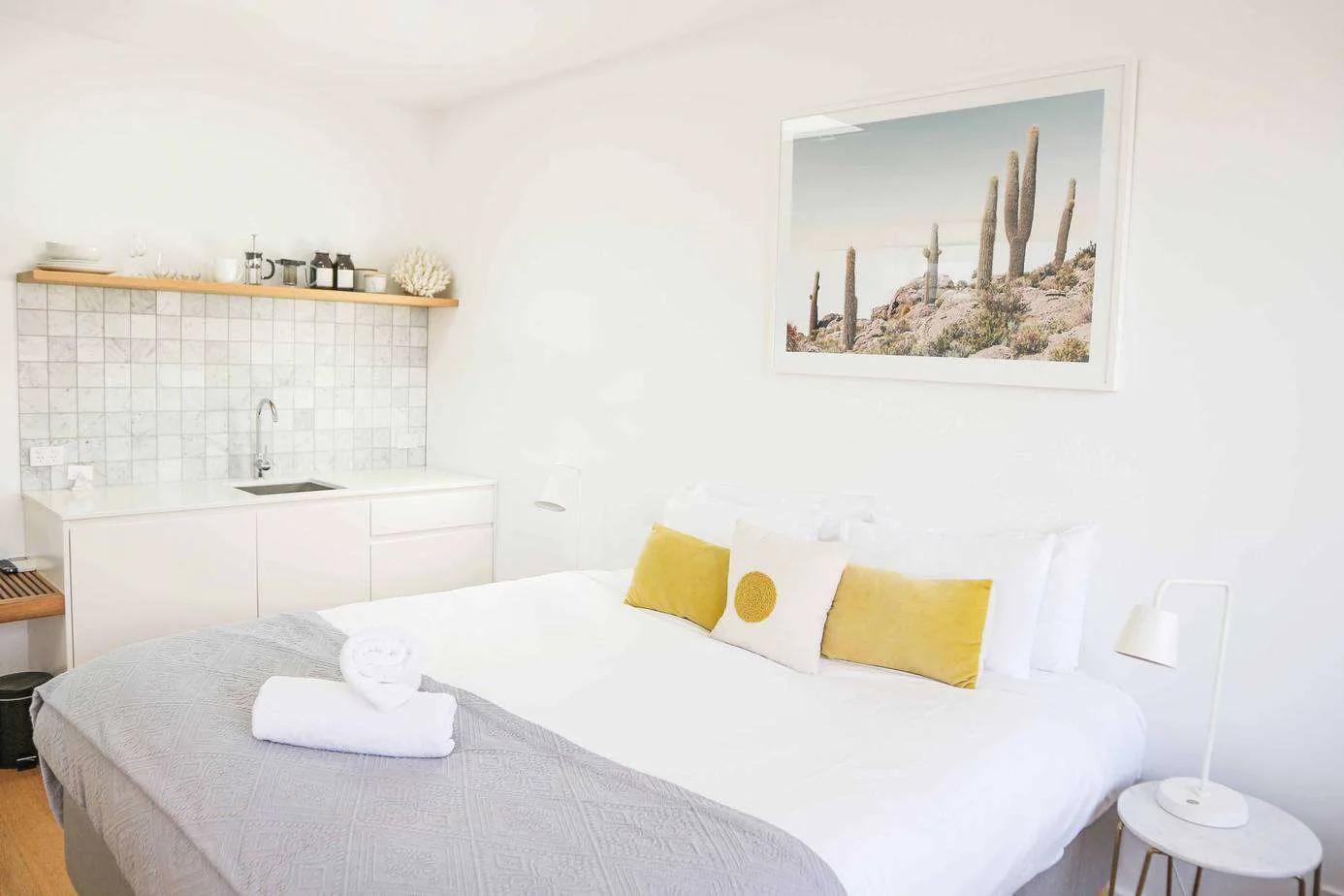 The Price is Right
Shopping for a mattress requires you to create a budget, yet you never want to sacrifice quality for savings a few dollars. Your health is too important to risk by buying a mattress that causes neck and back pain. This factor does not play much of a role for us, as we are looking for mattresses under $500.
More about Allergens
Foam mattresses have the potential to leech chemicals that trigger allergic reactions, such as hives and sneezing. You need to perform online research to read consumer reviews of foam mattresses to determine whether you run the risk of purchasing a foam mattress that leeches chemicals.
Moreover, only consider mattresses that lie flat against a bed board to prevent allergens from calling open spaces home.
Warranty
For mattresses under $500, you probably will not enjoy a warranty that lasts as long as the length of warranties offered by high-end mattresses. Nonetheless, you should not settle for anything less than a five-year warranty for any mattress under $500.
Best Mattresses under $500
Consumers who want to buy a mattress for under $500 have a surprisingly large number of options. We have tested numerous mattresses and discovered four that provide high quality for you, as well as guests that stay overnight.
The Zinus Green Tea Mattress delivers several features that you will not find for mattresses that come with costlier price tags. Zinus earned the coveted Centi-PUR certification for the Green Tea mattress, which means the mattress does not leech chemicals that trigger allergies.
Manufactured with green tea and castor seed oil extracts, the mattress offers bacteria-free sleeping that enhances your sleep pattern. Although reviewers praised the support for the base layer of memory foam, the fact is the foam works best for sleepers who weigh less than 200 pounds.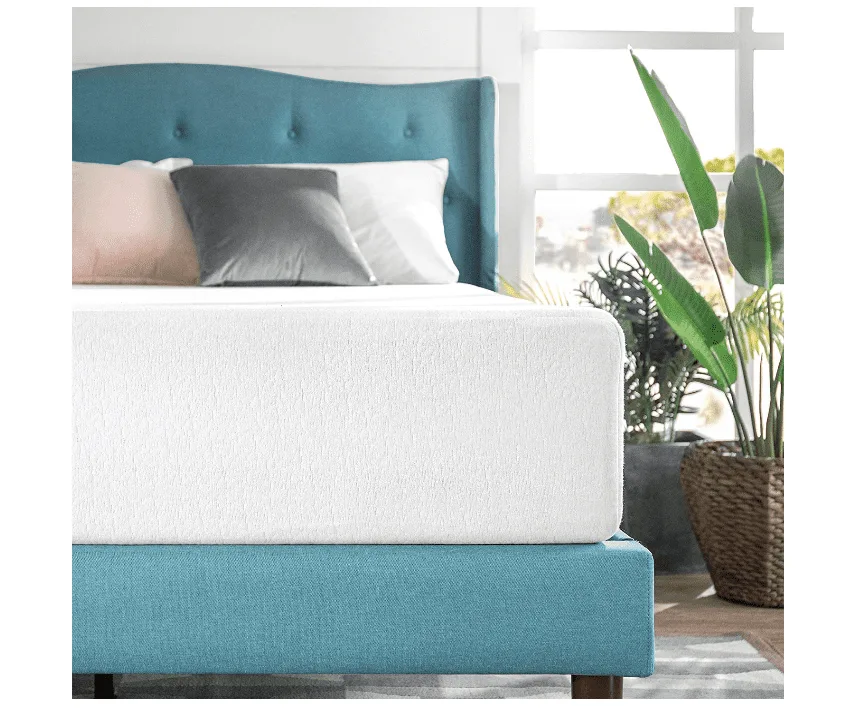 Memory foam does a wonderful job of conforming to all types of body shapes and sizes. Pressure relief makes the Zinus Green Tea mattress ideal for sleepers who experience light to moderate back pain. The lack of motion transfer makes the mattress a must-have for couples who struggle with unexpected wake-up calls during the night.
Mattress motion is like the waves of energy that roll into shore after a Tsunami. This mattress does not generate any energy waves and the sinkage in the middle is minimal.
Sleep Innovations designs and manufactures the Shiloh Pain Relief mattress primarily for sleepers who need hip, neck, and spine support. The mattress is more about preventing neck and back pain than alleviating it.
Lack of sleep because of inferior mattresses that cost hundreds of dollars more make the Shiloh Pain Relief mattress a must-have mattress for consumers who place a high priority on maintaining
vibrant health.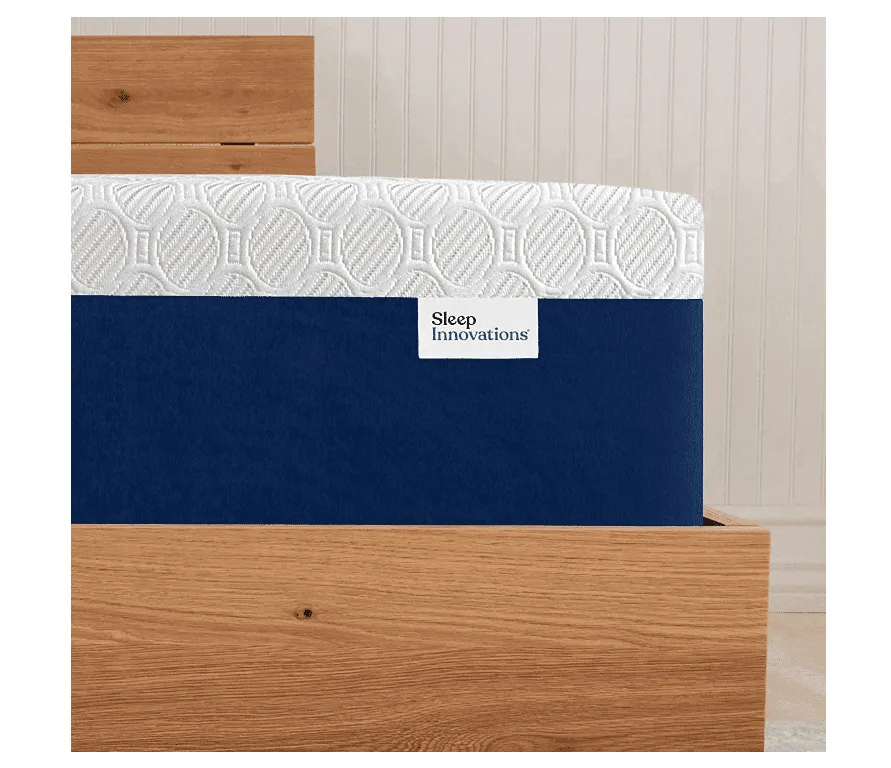 Full support that is not too soft or too firm creates a balanced feel that keeps you comfortable at night. Mattress that is too soft cause neck and back pain and mattresses that are too firm lead to a night of tossing and turning. Sure Temp memory foam technology prevents the mattress from getting too hot by providing better air circulation to cool the body.
We tend to generate heat as we sleep, and Sure Temp makes sure the heat does not linger. If you tend to sweat during sleep, this mattress is your cure for overheating. Sure Temp memory foam also includes about 10 inches of high-density support foam that keep the spine properly aligned, even if you move around a lot during the night.
Dust mites, which are the annoying microscopic spiders that trigger allergic reactions, have no place to hide under mattresses. An encounter with an army of dust mites at the very least keeps you up all night sneezing. Sleep Innovations ensures you never have to worry about dust mites because the Shiloh Pain Relief mattress is allergen resistant.
Dynasty mattress incorporates proprietary sleep cool technology to ensure a comfortable night's sleep that results in you feeling alert and relaxed the second the alarm clock rings. Four layers offer plenty of support for the neck and back at a fraction of the price of more expensive mattresses that do not always deliver on the same claim.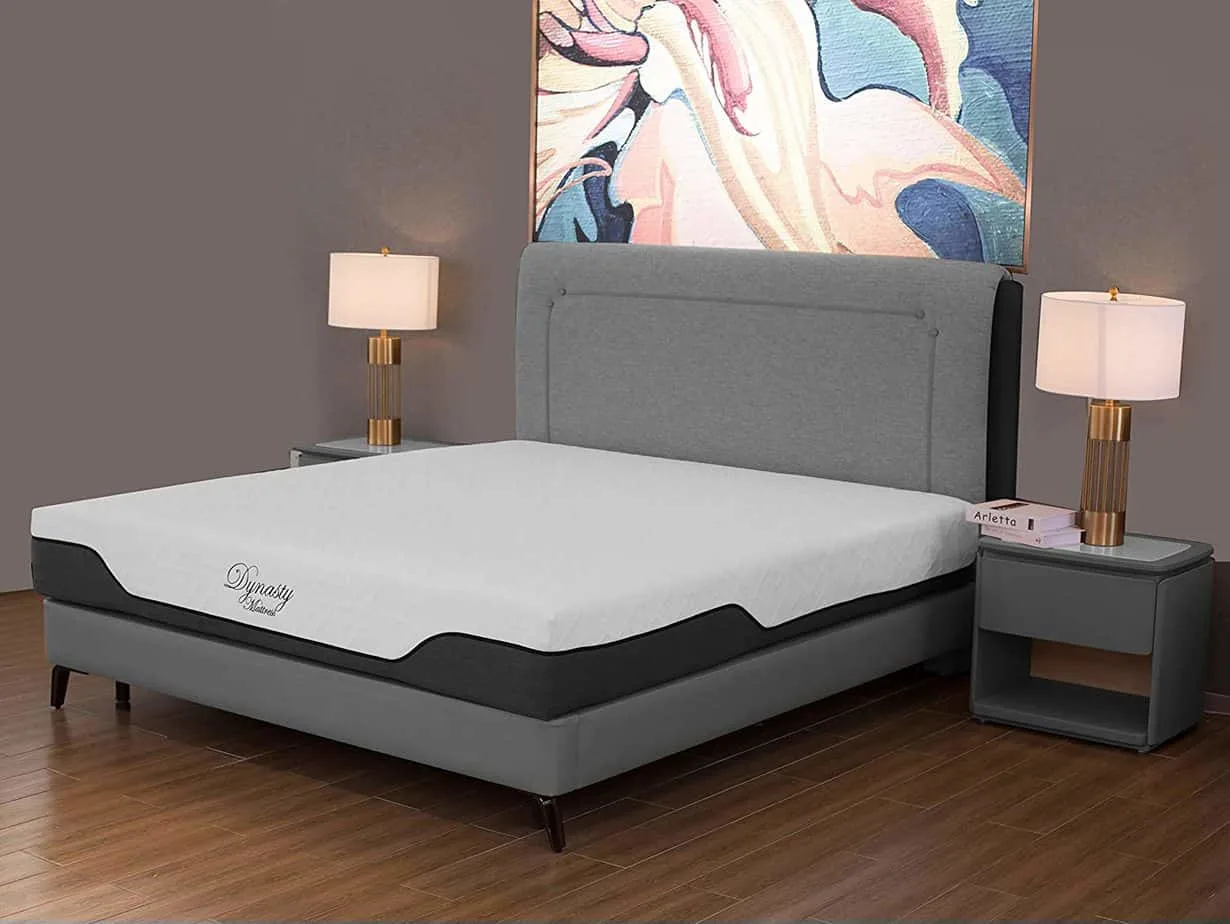 Sleepers that suffer from back pain can feel a reduction in pain after sleeping on the Dynasty mattress for a few weeks. At the heart of the back pain reduction feature is the hugging sensation produced by the soft top layer. By hugging the body during sleep, you do not move around as much and hence, place less pressure on the neck and back.
In addition to healing the neck and back, the mattress mitigates pain in the hip and upper leg areas.
The simple setup makes the bed a convenient travel companion for consumers who travel in large groups. Add the mattress to the sleeping accommodations of a large hotel room. The lightweight design of the mattress makes it easy for one adult to carry it from the car into the home. In addition to the affordable price, the Dynasty mattress comes with a generous warranty and trial period.
Memory foam mattresses have increased in popularity because of mattresses such as the Signature Sleep Foam. The mattress creates no motion transfer to make it the perfect choice for partners. Advanced foam technology encourages a healthy sleep pattern by contouring the mattress to the body.
Sleepers who move around during sleep should enjoy the much more stable contouring that keeps the body still at night. The polyurethane foam conforms to the position of the sleeper to prevent back, head, and joint pain.
At 12 inches thick, the Signature Memory Foam Signature Sleep 12 Inch Memory Foam Mattress, Queen consists of two layers of memory foam, as well as eight inches of high-density support foam. Indentation load deflection returns sunken areas of the mattress to the original position instantly after you move away from the compressed area.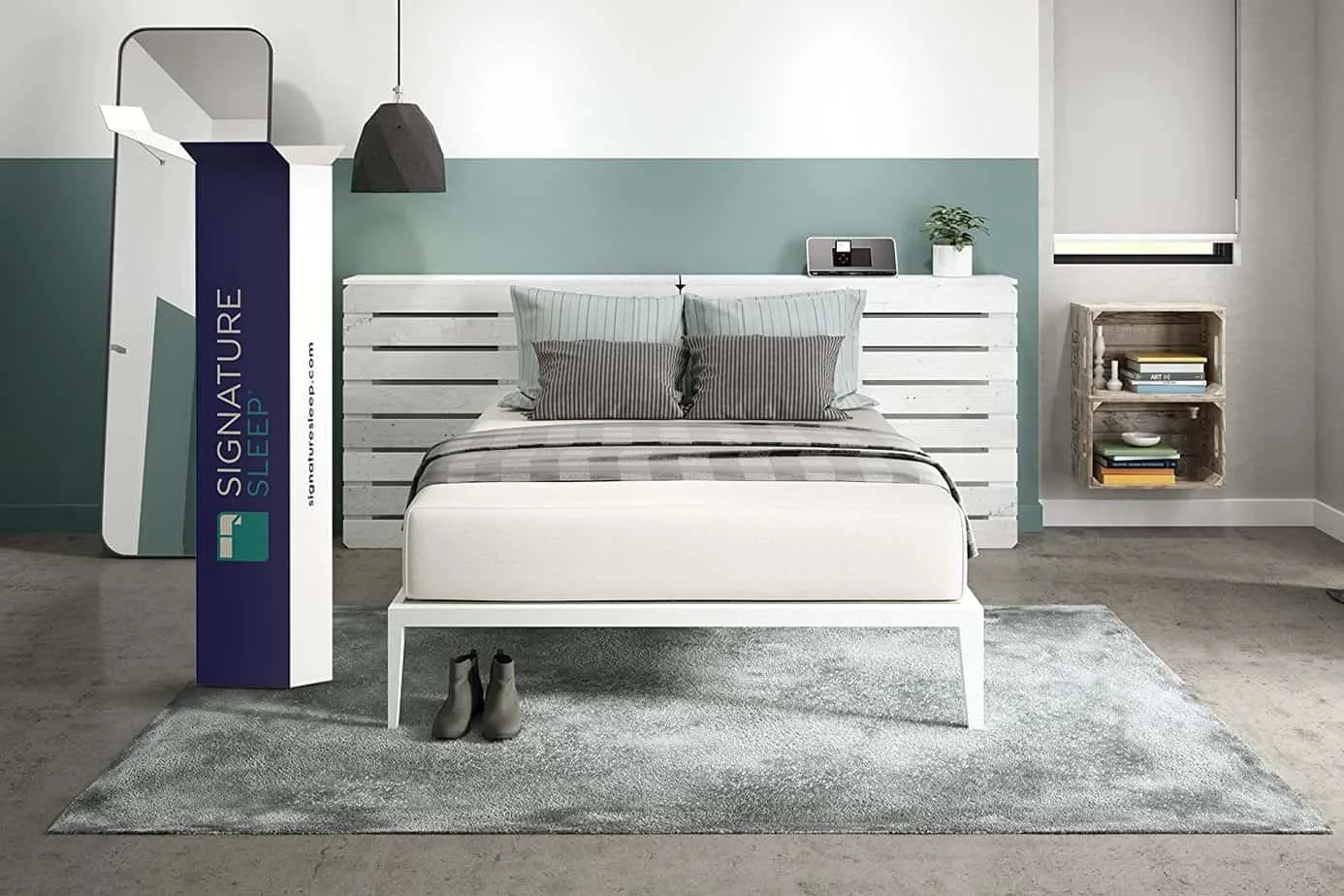 The quick rebounding of the mattress is what you expect from mattresses that cost more than $1,000 Signature Sleep Foam. Signature Sleep 12 Inch Memory Foam Mattress, Queen. Some consumer reviews wrote the middle of the mattress sinks more than expected for sleepers who weigh more than average.
Overall, the mattress sleeps medium-soft, which offers consumers a softer sleeping surface than what the other three mattresses on this list offer.
Designed to support a wide variety of pressure points, the mattress takes little time for you to break in. After an intense workout, send your sore joints and muscles to this mattress to enjoy soothing comfort. The Signature Sleep Foam arrives vacuum packed, which means you have to unroll it and allow it to expand to its proper size.
You can expect between 24 and 48 hours for the mattress to fully expand. Allowing the mattress to expand also eliminates any odors caused by prolonging time inside of the vacuum-packed box.
The mattress does not include cooling technology, but the foam does a good job of generating enough airflow to cool the body. With a super soft cover that wicks moisture, any heat produced by the foam is dispensed by the breathable cover.
The Bottom Line
You do not have to rack up more than $1,000 in credit card charges to enjoy a high-performance mattress that delivers supreme comfort and optimal support. All four of the mattresses on this list offer you body support to either mitigate or prevent neck and back pain. Foam layers encourage air circulation for all of the mattresses except the Signature Sleep Foam.
Because of its unique design of green tea and castor oil extracts, the Zinus Green Tea mattress creates an unmatched level of comfort that makes the mattress the best mattress under $500 for 2022.