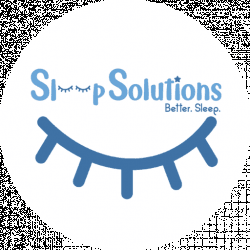 Latest posts by Sleep Solutions HQ Team
(see all)
Buying a new sofa bed mattress is a foreign process to many, simply because the mattress may only be used occasionally for guests or many assume that sofa bed mattresses are inherently uncomfortable. Replacing your mattress is actually really easy and relatively inexpensive compared to the increased comfort you'll get from your hide-a-bed style couch.
Here are two things to keep in mind when replacing a sofa bed mattress:
Know Your Mattress Size
By far the most important factor when shopping for a new mattress is the size of your existing mattress. If the mattress is fairly new and you want to replace it for comfort reasons you can simply measure the mattress itself and compare. If you're instead replacing an old worn down mattress you'll want to measure the actual bed frame, as your old mattress is probably smaller from use.
Just like regular beds sofa mattresses come in different sizes, including:
Single – 24″ x 72″
Twin – 35/38″ x 72″
Three-Quarter – 48″ x 72″
Full – 52/54″ x 72″
Queen – 58/60/68″ x 72″
Your mattress might have a tag on it that says the size, but it's always a good idea to measure it for yourself since dimensions can vary slightly within sizes.
Double Check Mattress Thickness
Another thing to do while you have your tape measure out is measuring the thickness of your mattress. Now, this can be a little tricky because if you measure your old mattress you may get a false thickness, due to compression from being slept on.
The majority of sofa bed mattresses are 4.5″ thick, with most sofa beds being able to handle a 4″ to 5″ mattress. If you measure your used mattress and it's between 4″ and 4.5″, you may want to go with the 4.5″ model, as your mattress probably compressed. If it's under 4″ then you should look up your sofa bed model number and see what size mattress it can take.
Measuring the framed and how thick the mattress could be is possible, though it can be tricky to get an accurate measurement. When it comes to sofa beds don't size up when it comes to the mattress size. If your sofa is made for a 4.5″ mattress, just the extra .5″ of a 5″ can leave you unable to fold it properly.
Whether your mattress is just plain worn out or you're tired of feeling bars under your back at night, here are 4 different replacement mattresses to choose from.
PlushBeds Slice of Heaven Mattress
PlushBeds is a well-known manufacturer of memory foam and latex beds, so it's a wonderful surprise to find that a reputable bed manufacturer also makes sofa bed mattresses. The Slice of Heaven mattress is highly recommended for those that want a memory foam experience from their sofa bed.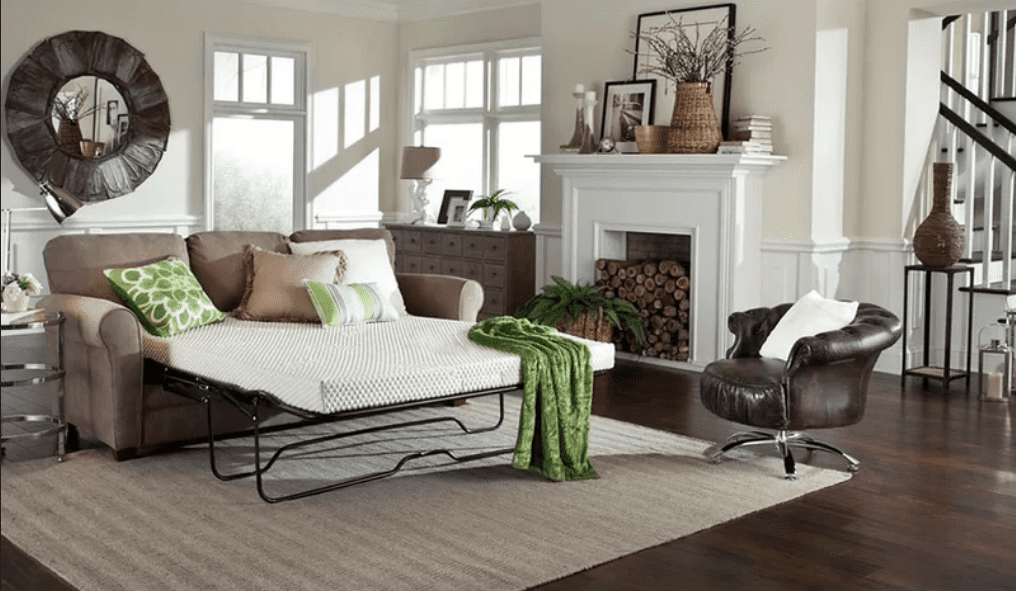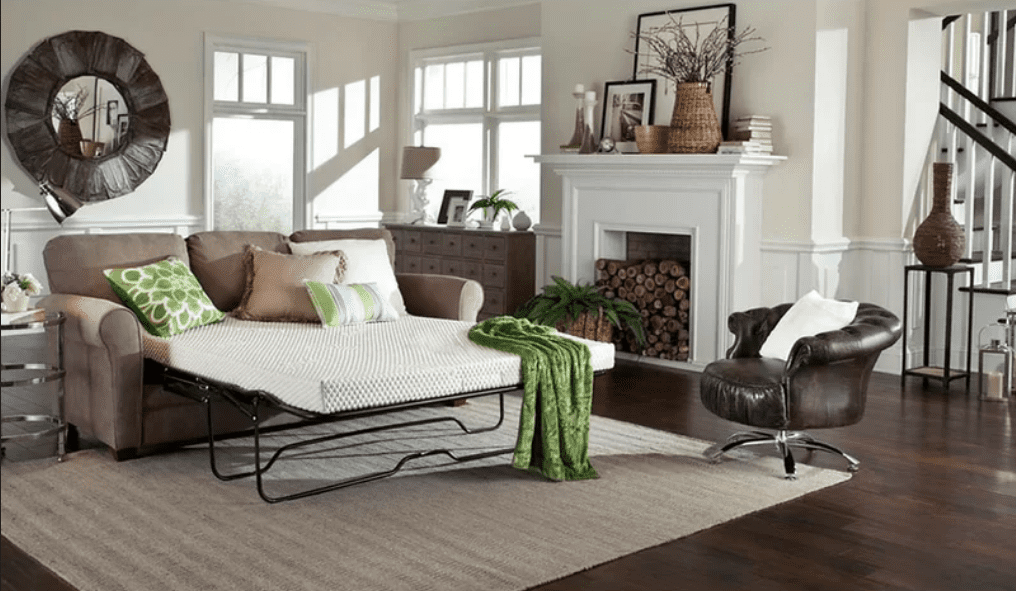 Specs and Features:
Available in Single, Twin, Wide Twin, Full, Wide Full, Queen, and Wide Queen
Retails for $299 up to $349
Comes with free shipping and monthly payment options
5″ thick memory foam Plushfoam
GreenGuard and CertiPUR certified
The Slice of Heaven mattress is available in all major sizes, all at 4.5″ of thickness. PlushBeds is all about providing a safe, non-toxic bed for its customer and it follows suit with this sofa bed mattress. The Plushfoam memory foam material is not only incredibly comfortable but also offers enough support that you can sleep comfortably without feeling bars. This mattress also passes strict chemical emissions requirements.
Many mass-produced mattress brands have low levels of toxic chemicals in them, and while the amounts are low enough to be considered "safe" PlushBeds doesn't agree. The Slice of Heaven mattress is free of any VOCs, phthalates, heavy metals, and numerous other unsafe chemicals. There are no fillers or additives in this mattress.
Classic Brands is a fairly inexpensive brand that is a popular choice for those that need a new sofa bed mattress and wants something comfortable but doesn't want to spend a lot. It can be difficult to find a brand that maintains comfort and quality as well as a low cost, but the Memory Foam Sofa Mattress comes pretty close.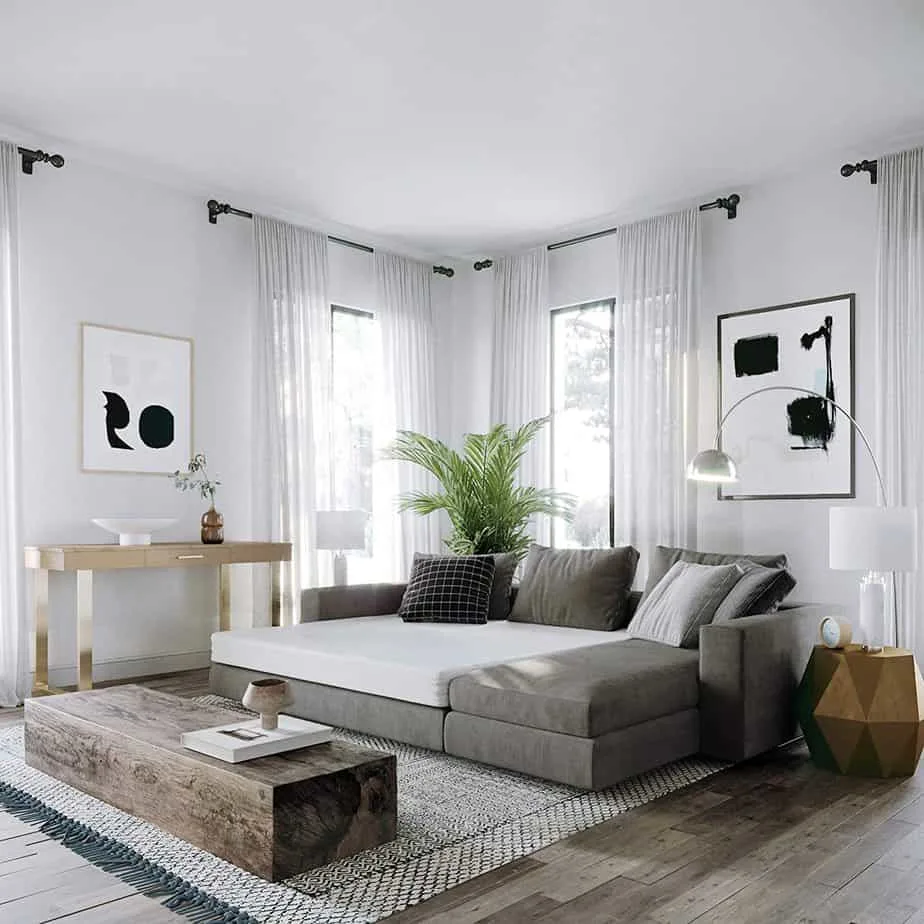 Specs and Features:
Available in Twin, Full, and Queen
Retails between $120 and $150, depending on retailer
Can be purchased from retailers with free shipping and other promos
5″ memory foam mattress with cotton cover
Made of CertiPUR certified foam
The Classic Brands Memory Foam Sofa Bed mattress is pretty basic but it is pleasant to sleep on and affordable. It offers 4.5″ of certified foam, made of two layers for maximum comfort. The top layer is a soft plush memory foam while the bottom is a dense core foam for support. These two layers mean you can't flip the mattress but you will be getting great pressure relief and support from the dual layers anyways.
Many find that this mattress is surprisingly long-lasting and well-made, despite the low price. Though it only comes in three sizes, the three sizes are the most common for sofa beds. Classic Brands also points out that these mattresses are also versatile enough to use in an RV sofa bed or in a bunk bed situation.
As you can tell so far, memory foam is very popular material manufacturers use for sofa bed mattresses. It's comfortable, alleviates pressure and many people find the term "memory foam" to feel like a more high-quality material. Unfortunately, memory foam can leave some people too warm at night. If you or your guests are so-called hot sleepers or you live in a warm climate, consider the Zinus Sleep Master Cool Gel hybrid mattress instead.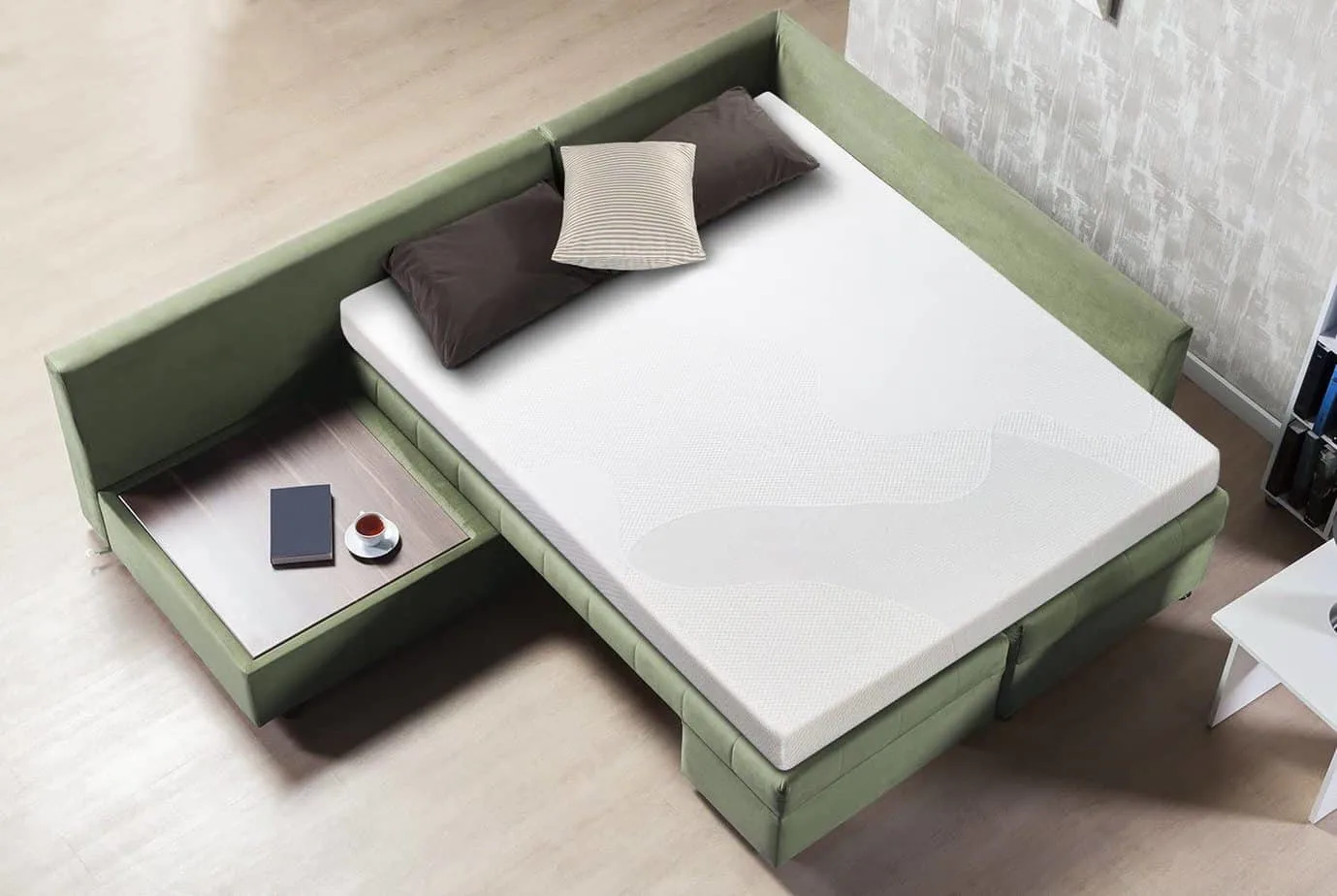 Specs and Features:
Available in Twin, Full, and Queen
Retails for $100 to $150, depending on retailers
Thicker 5″ mattress works well for some sofa beds
Made with CertiPUR foam and has a 5-year warranty
Ships compressed in a compact box to your door
There are two layers of this mattress – 4″ of supportive memory foam topped with 1″ of cool gel to disperse body heat. This combination offers the best of both worlds when it comes to comfort without sacrificing staying cool at night. The memory foam in this bed is called Biofoam which is a more eco-friendly option and also has a couple interesting additions to it. Biofoam has green tea extract and active charcoal impregnated in the mattress which reduces moisture from the body and keeps the mattresses smelling fresh.
You can find the Zinus for less than Classic Brands and from a variety of different retailers online. If you have shied from foam in the past because you associate it with waking up sweaty and sticky, this sofa bed mattress should leave you very happy.
Moving away from the classic memory foam and foam hybrid mattresses, another option is inflatable sofa bed mattresses. In an effort to combine the ease of use of an inflatable with the comfort of a normal sofa bed, AirDream offers their Hypoallergenic Inflatable Sofa Mattress.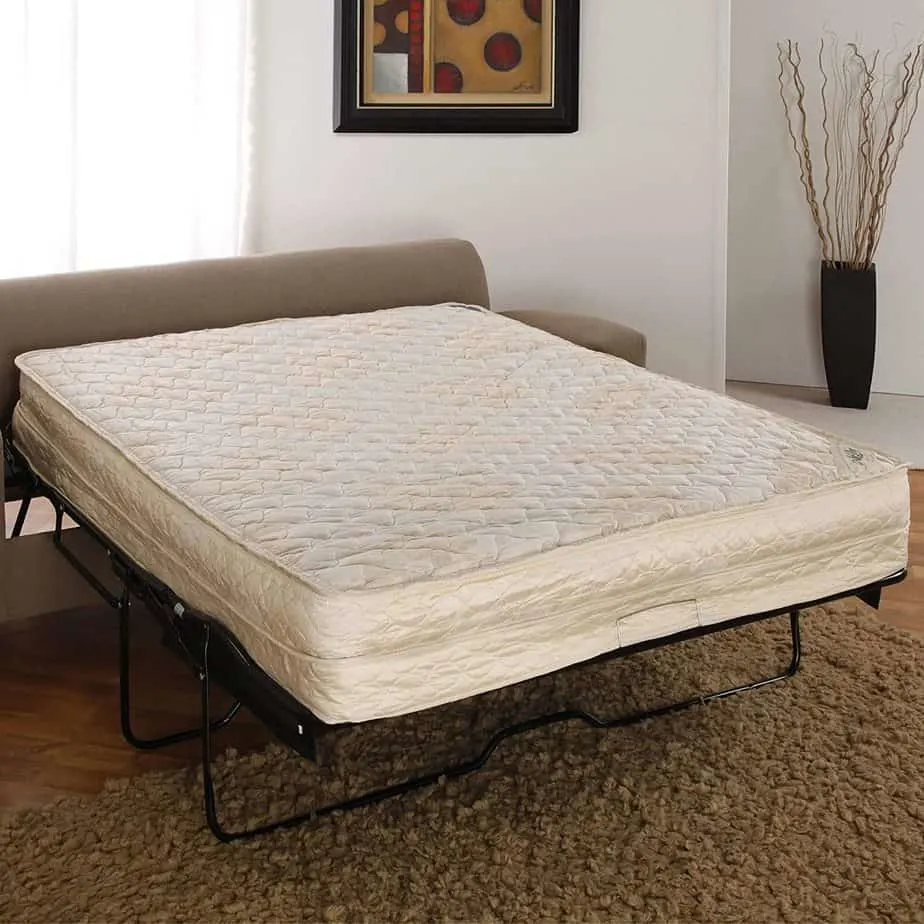 Specs and Features:
Available in Full or Queen
Retails for $260 to $320 on average
Inflates to 11″ thick, almost like a normal bed
Completely eliminates the chance of feeling bars
Their patented air-over-coil design is fairly ingenious, and a surprise that more sofa bed mattress makers don't adopt it. The AirDream comes with its own hand-operated electric air pump and quickly inflates to its full 11″ thickness in just a few minutes. Guests can adjust the amount of air they want based on whether they like a soft, medium, or very firm bed to sleep on.
Once deflated you can fold up your couch like normal. The inner springs in the mattress are only .5″ and hardly get in the way of putting the sofa back to its normal position as a couch. You can also use this mattress on the ground if you wish.
The Final Snooze
Sofa beds often have a bad rap for being uncomfortable, but with a new mattress, you just might find that sleeping on your sofa bed is almost as comfortable as a regular bed. Just be sure you carefully measure your current mattress to ensure a prospective model is the right fit and you'll be well on your way to a more comfortable bed for guests.