Latest posts by Candace Osmond
(see all)
When it comes to venturing out into the marketplace for a new mattress, the number of options presented to you can be incredibly overwhelming.
Narrowing down your choices based on needs and preferences can help ease the pressure of making your decision. Your preferences can often dictate the type of mattress you want, which then helps you seek out the best among those.
Foam and memory foam mattresses have become increasingly popular with their contouring effect, and the Purple mattress as well as the Nectar mattress rate at the top of the list. Taking a look at them side by side can give you a better idea of what's out there and what will work best for you.
Main Differences Between Purple vs Nectar Mattress
The Main Differences Between Purple vs Nectar Mattress are:
Purple measures 9.5" thick, whereas Nectar Mattress measures 11" thick.
Purple features a SoftFlex Wave Knit cover, whereas Nectar Mattress features a Tencel cooling cover.
Purple 10-year warranty, whereas Nectar Mattress comes with a lifetime warranty.
Purple comes with 100-night sleep trial, whereas Nectar Mattress comes with a 365-night sleep trial
How to Choose an All Foam Mattress
Check out reviews that are unbiased from various sites of the top-rated foam mattresses to get the best information on specifications and construction.
Visit each manufacturer website to get vital information about the company, its goals, and how they operate.
Pay close attention to user reviews to get an accurate idea of performance as viewed by those who actually ordered the mattress.
Set a budget. Foam mattresses have a very wide price range, and you should have a cap on what you'll spend for the quality you want.
Nectar Mattress
Buy Now
We earn a commission if you click this link and make a purchase at no additional cost to you.
09/28/2022 12:05 am GMT
Key Features
The Nectar mattress consists of four layers of foam, with the core base layer support being constructed from 5.5 inches of dense polyfoam. This base layer helps not only give support to the softer layers but achieve a solid shape and frame for the entire mattress.
On top of that, an additional 1.75 inches of high-density memory gel foam creates a transition layer so that you don't sink into the comfort layers and feel the harder foam beneath.
There are two comfort layers of gel memory foam (gel-infused memory foam), one a bit denser and 3 inches thick, with the top layer softer and only 1 inch thick. The mattress cover on the Nectar mattress is very breathable, constructed from a blend of Tencel and cotton. It's entirely removable and machine washable.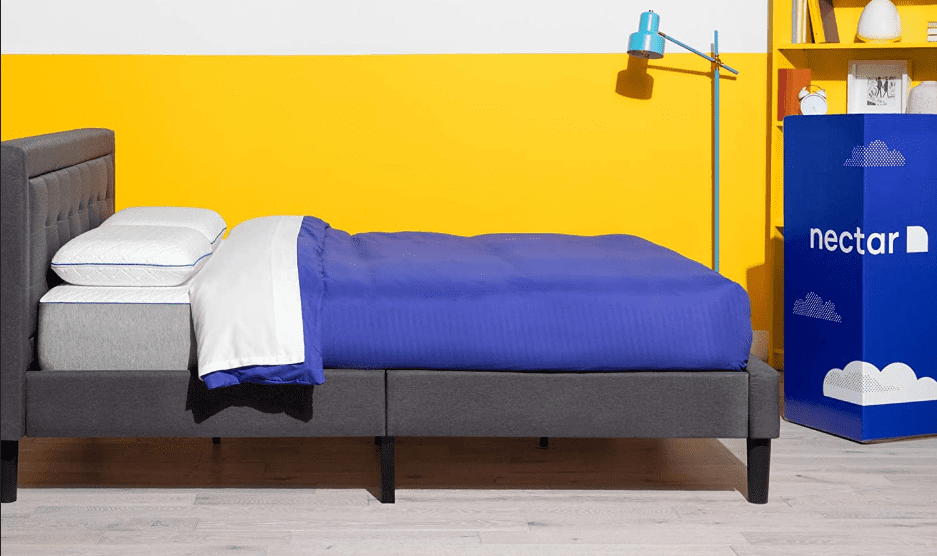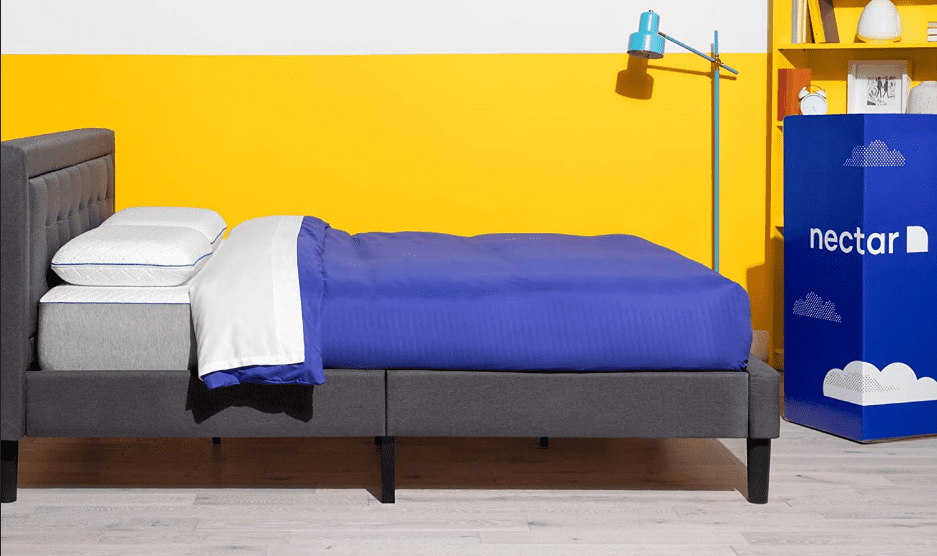 The Purple mattress is a little different. While it is considered an all-foam bed, the 9.5-inch profile consists of 3 layers instead of 4 and has a comfortable top layer of a proprietary material that is 2 inches thick and labelled as a hyperelastic polymer. The transition layer is another 3.5 inches thick and is made from a dense polyfoam that helps support the softer upper layer. Beneath this, the core of the mattress that gives it full support and shape is a 4-inch layer of high-density polyfoam (dense foam). The top cover is a knit blend, consisting of 67% polyester, 29% viscose, and 4% Lycra, which also has a slip guard bottom. That means you'll have the little shifting of the cover and a breathable surface.
In terms of feel, the Nectar mattress rates a solid medium-firm firmness, coming in at about a 6 on a scale of 1 to 10. It satisfies a large number of individuals, catering to all sleep positions fairly well and offering comfort for combination sleepers who don't have a preferred sleep position.
The Purple mattress, too, falls into the medium firm category, with just a slightly higher rating of about 6.5. Both mattresses are great with motion isolation, as is typical with foam beds. They also have very little noise when there is movement, so you sleep soundly through the night without interruption.
Despite being mostly foam, the Purple bed is excellent with heat dispersal, and it doesn't have much off-gassing, rating higher than the average bed in a box mattress in this aspect. Of course, the Nectar bed is highly durable, and while both have long-lasting traits, the Nectar seems to outperform the Purple bed in this aspect.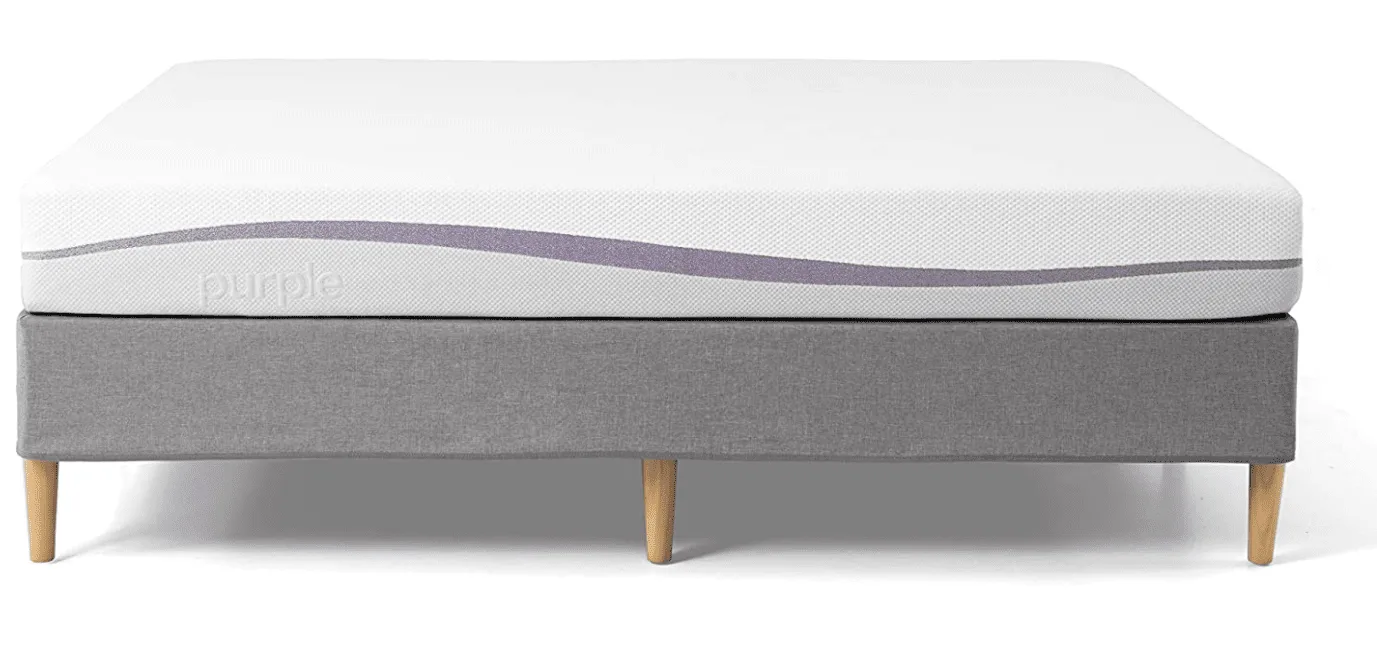 Nectar Mattress Pros
The Nectar bed is touted for its motion isolation and noise reduction properties, with little to no noise and almost complete motion isolation for great partner sleep.
The Nectar mattress is also perfect for relieving pain in joints by implementing pressure point relief (pressure relief) through its contouring properties that offer spinal alignment.
Off-gassing, temperature neutrality, and edge support are all above average for an all-foam mattress, which creates a more satisfactory sleep space for a wider selection of users in these areas.
Construction and feel invite all types of sleep positions, including combination sleepers.
The Nectar mattress is more affordable than the average memory foam mattress so it works with most budgets.
Nectar Mattress Cons
Because it is made of memory foam, the Nectar bed sleeps hotter than a hybrid or other material mattress, but the manufacturer has included properties that make it sleep cooler than its counterparts.
Doesn't ship outside the contiguous United States
Purple Mattress Pros
The Purple bed is rated highly in terms of motion isolation and noise reduction properties, so partner sleepers and light sleepers will find it easier to sleep through the night.
As with most foam beds, and with the added bonus of its proprietary materials, the Purple mattress is also ranked among the top of its class in alignment and pressure point relief.
Off-gassing and temperature neutrality are both above average for a foam bed in a box, which means greater comfort faster and less concern with overheating and night sweats than the average foam mattress.
Construction and feel invite all types of sleep positions, including combination sleepers.
The Purple mattress is reasonably priced so it is affordable for most individuals.
Purple Mattress Cons
Edge support may be lacking, so if you like sleeping at the edge of the bed, this may not be the mattress for you.
Heavier weight sleepers tend to get less satisfaction out of this mattress.
The Purple Mattress
Buy Now
We earn a commission if you click this link and make a purchase at no additional cost to you.
09/27/2022 06:23 pm GMT
Q and A
What are the warranty and trial periods on the Nectar mattress and the Purple mattress?
The Nectar mattress comes with a lifetime warranty, offering a full replacement for the first 10 years and prorated replacement and repair thereafter. The Purple mattress offers a 10 year non prorated full warranty.
The Nectar bed has a 365 night trial period with a full refund for returns. The Purple mattress allows a 100 night trial period.
Where do the mattresses ship?
The Nectar mattress is a bed in a box that can be shipped anywhere in the 50 states, as well as Puerto Rico. The Purple mattress is available to ship to all 50 states in the United States and all of Canada.
Does the company offer white glove delivery service?
Nectar mattresses can include white glove delivery, as well as old mattress removal, for a flat fee of $149. At this time, there is no white-glove service available from the Purple mattress manufacturer.
Where can I purchase these mattresses?
The Nectar mattress has no brick-and-mortar store offers. Nectar mattresses are sold online, directly from the manufacturer or through third-party retailers. The Purple mattress is available directly from the manufacturer's website, on Amazon.com, and in several large brick and mortar mattress stores across the United States, including Mattress Firm. You may also find a pop-up showroom from time to time.
Conclusion: Nectar or Purple Mattress?
When it comes to your sleep comfort, only you can decide what's right for your needs. What kind of sleeper are you? Are you a stomach sleeper, side sleeper, or back sleeper? What are YOUR key factors for a good night's sleep?
The Nectar bed offers a much longer warranty and is readily available for purchase online at any time, with the added value of having an optional white glove delivery service. This means you don't have to worry about lugging mattresses around or finding a means and location to dump your old mattress.
On the other hand, the Purple mattress can be found in stores as well as online and gets higher ratings for durability. It's available for shipping in more areas, but it doesn't have a white-glove service.
Both mattresses are quite affordable and offer better than average pressure relief, and both sleep cooler than the average foam mattress. Take your pick, based on your needs, and sleep soundly!
Further Reading: