Choosing between two foam mattresses is actually a lot more complicated than it sounds. It's wrong to assume that two beds that measure 10 inches in height and have three layers of foam each are identical because every type of foam that's used to make a layer within a bed is different from the other.
Today we're going to explore two all-foam mattresses designed by manufacturers with experience in the industry and with a huge community of buyers each: the Puffy and the Nectar mattress brands.
Bottom Line Up Front: For a side sleeper or those who prefer a neutral mattress (not too hard or soft), the better buy is the Puffy mattress here. Otherwise, Nectar is a great value buy for those who want a memory foam mattress feel. 
Main Differences Between the Puffy vs Nectar Mattress
The main differences between the Puffy vs Nectar Mattress are:
Puffy has a soft foam neutral feel, whereas Nectar has a more traditional memory foam mattress feel
While Puffy is made in Canada, Nectar mattress is made in the USA
Puffy mattress has a lifetime warranty, whereas Nectar offers a forever warranty (which is the same as lifetime but covers more)
Puffy offers a 101-night sleep trial, whereas Nectar has a 365-night trial
Key Features of the Nectar vs Puffy Mattress Comparison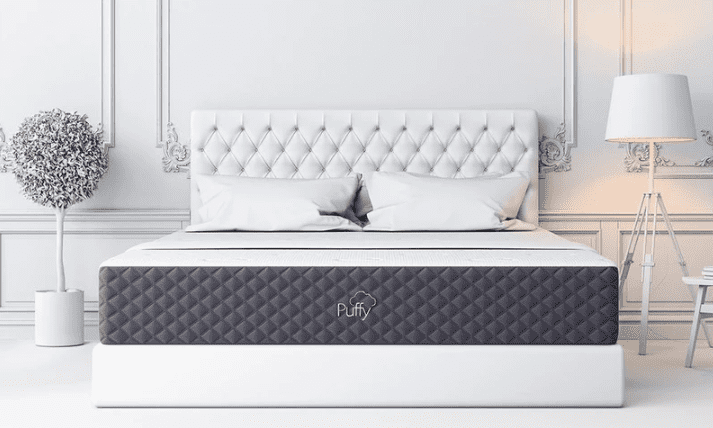 The Puffy mattress first saw the light of day back in 2017, and it has quickly become one of the best foam beds in the US. Their signature mattress is a medium-firm bed with a rating of 6.5 out of a possible 10 (with 10 being the firmest option out there), which pretty much placed it in the middle of the bracket.
The mattress is made with three different layers of memory foam, covered up by polyester fabric. With 10 inches in height, the Puffy mattress is targeted to offer support and contouring. That is done partly due to the two foam layers located on the upper side of the mattress. These measures two inches each. The first layer has been infused with gel in order to prevent the mattress from heating up at night, and it has a soft feel to it because of its low density.
The second layer of the bed is made from temperature-resistant polyfoam and features a higher density compared to the layer above it. The support of the bed is given by a block of polyfoam that measures six inches in thickness and is of a higher density compared to the top layer (top comfort layer). 
The Nectar mattress comes in with an 11-inch profile and a firmness rating that's also 6.5, making it a medium-firm bed as well. While also made with three layers of foam, the Nectar bed is different from Puffy and you can tell that from the moment you touch the cover.
Nectar uses a cover made from a combination of cotton and Tencel, which is a fabric known for being breathable and eco-friendly. The cover also has a layer of gel-infused memory foam quilted into it (gel memory foam), to add more breathability to the bed.
The comfort layer is made with three inches of memory foam, with a slow response to pressure and doing a very good job at contouring the body without causing the sleeper to sink into the bed, providing pressure relief over time.
The transition layer is made from memory foam (foam layer), but this time one with a faster response to pressure and more immediate pressure relief. The base of the bed consists of six inches of HD polyfoam (base layer), giving the bed shape and durability.
Let's dig into the pros and cons for this mattress comparison…
Puffy Mattress Pros
The Puffy mattress is one of the best all-foam options designed for lightweight side sleepers. If you weigh less than 230 pounds, the softness of the comfort layers will make it easy for you to find the right level of contouring whilst avoiding pressure points in the hips and shoulder areas (pressure relief).
Because it performs really well at chapters such as noise reduction and motion isolation, the Puffy mattress is a viable choice for couples who share a bed and one isn't a heavier sleeper. This is especially true when one of the partners tends to be a fussy sleeper as motion isolation is key for limiting the effects of motion transfer during sleep.
If you love a soft memory foam mattress, you will adore the Puffy bed. Despite it having the same firmness rating as the Nectar, the Puffy tends to have a plushier feel to it, and it's a great choice for people who love that "sinking into the bed" feeling.
Puffy Mattress Cons
If you prefer to feel like you're resting on top of the bed instead of having the mattress cradle your body too deep, you're not going to like the Puffy bed from a comfort standpoint, as it offers noticeable sinkage.
Because it's soft, the Puffy bed is not recommended for people who like to sleep on their stomachs (stomach sleeper), as the hips will sink into the surface of the bed too much and force the spine in an unnatural position.
Nectar Mattress Pros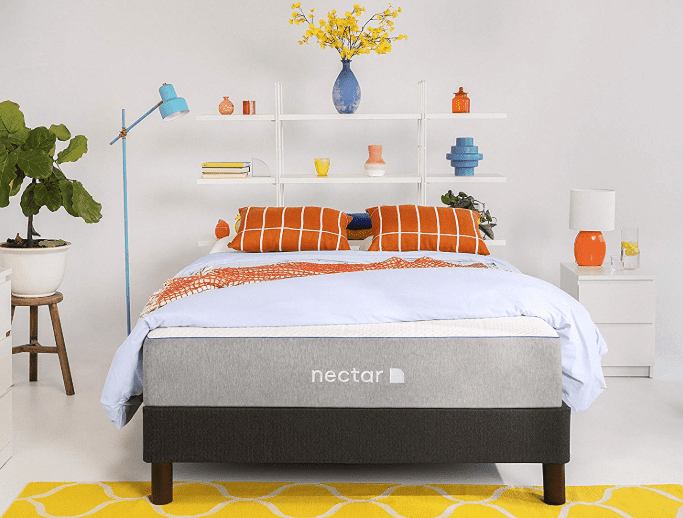 The Nectar bed does a really good job in providing support in all sleeping positions, provided that the people who rest on top of it weigh at least 130 pounds. The medium feel of the mattress allows one to rest on top of the bed without feeling any pressure points.
The mattress ranks high in motion isolation features, being a really good choice for couples with fussy sleepers that could end up waking up their partners when tossing and turning too much.
The Nectar mattress is one of the most cost-efficient foam mattresses out there, as you'll barely find a mattress this good at the same price.
Nectar Mattress Cons
If you are a lightweight sleeper, you will not get enough support from the Nectar bed. Its 6.5 firmness rating (firmness scale) will make this bed too firm for people who weigh less than 130 pounds.
If you are the type of sleeper that prefers a bouncy mattress, we regret to inform you that the all-foam construction of the Nectar mattress doesn't offer that at all. It makes it a bad choice for people with limited mobility who could use that bounce to get out of bed easier.
Mattress Review Conclusion: Nectar or Puffy?
In spite of their similarities, the Puffy and Nectar mattresses feel different and cater to the needs of different types of sleepers.
Best for Side Sleepers? If you're looking for a foam mattress that has a softer comfort feel and would appeal to side sleepers, Puffy is definitely the mattress you want to opt for. The Nectar, on the other hand, tends to feel a bit firmer, and it's best paired with sleepers that weigh more than 230 pounds for optimal comfort.
Best Budget Pick? If the price is an important consideration for you, you should opt for the Nectar mattress, as it is about $50 cheaper when compared to the same-sized Puffy mattress. The Nectar mattress comes with a way more generous sleeping trial and you're offered a lifetime warranty with your purchase.
In the end, it depends on what your favorite sleeping position is and how much you weigh in order to determine which of these two beds is better for you.
FAQ's About Puffy vs Nectar Mattress Comparison
Recommended Reads: