Latest posts by Candace Osmond
(see all)
Investing in a mattress is a big decision. It's not something you're going to use for a little while and then discard. It's not even like a computer, which you'll often replace every couple of years. Your mattress is a long-term commitment, and you'll have it for a decade or more. That means making a very careful decision to assure your comfort and peace as you sleep. Shopping at mattress stores can be a nightmare, without enough time to really learn anything about mattresses at all.
That's why it's important to do your research ahead of time. One way to learn quickly about mattresses is by reading unbiased reviews of their construction and performance online. You can do this research without ever leaving your home. In fact, with reviews of some of the best-sellers out there, such as the Brentwood Home Oceano mattress, you'll learn more about mattress construction, the details that matter to you, and how you should shop going forward to find that perfect mattress to meet your needs.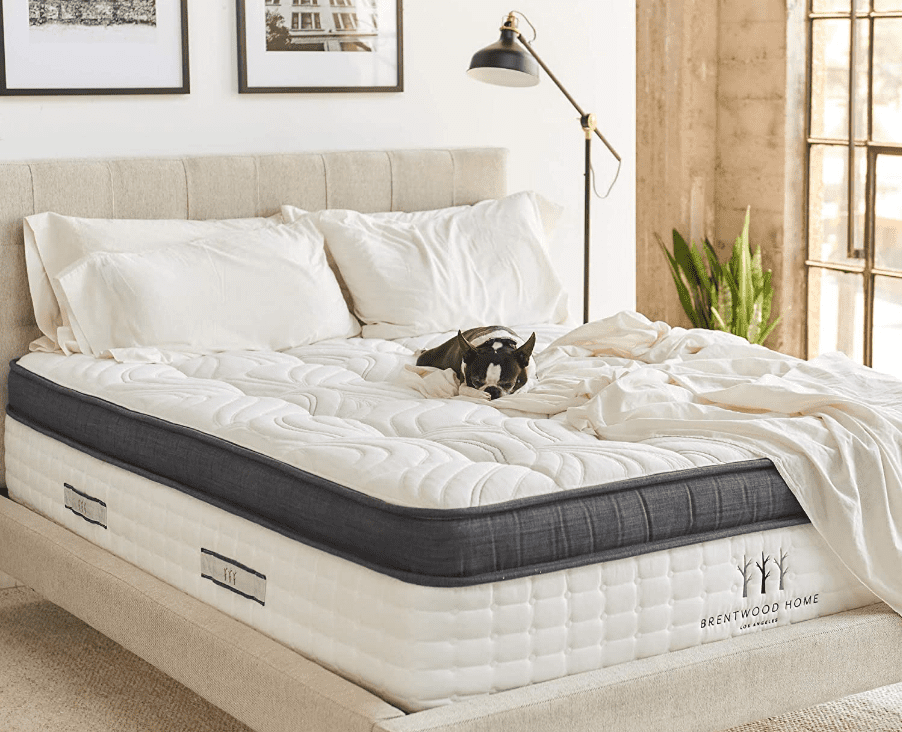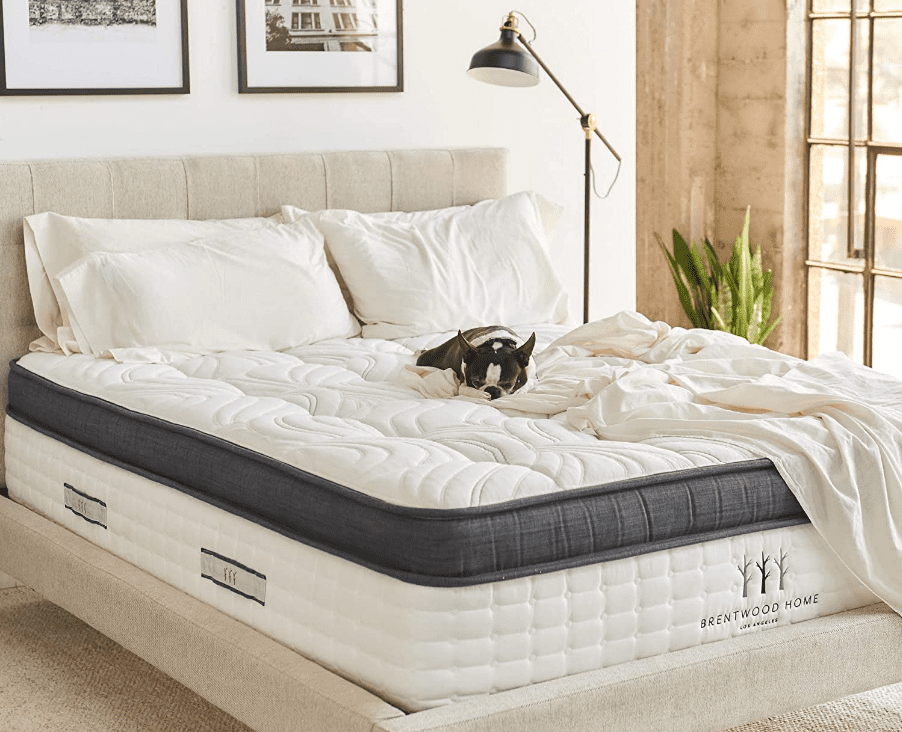 Pros & Cons
Pros:
The excellent price point for the construction and materials (great value)
Medium-firm loft to accommodate most sleepers
Organic and sustainable materials for eco-friendly construction
Excellent motion isolation and edge support
Great for combination sleepers with hybrid construction
Cons:
Some off-gassing
Heavy to move
The Beginning
When it comes to knowing the mattress industry, Brentwood Home has the market conquered with more than 30 years of experience. They are far superior to a great many online mattress manufacturing companies that have entered the scene in recent years, with expert artisanship and top quality coming out of the years of research and practice in creating the perfect sleep space. Brentwood Home has put all this knowledge to good use in their newest line of mattresses, which includes the Oceano mattress, to bring about an innovative design as well as high quality with a reasonable price.
What Brentwood does so well is saturate the market with availability while retaining low overhead. You can find the Oceano and their other mattresses both on their website for direct purchase, as well as through major online retailers. What you won't find is a storefront offering this incredible bed in a box, so there are savings that can be passed on to the consumer. Even better, Brentwood Home has incorporated GREENGUARD Gold certification materials into their products, assuring that there are no emissions and that many of the materials are natural and organic, as well as ecofriendly.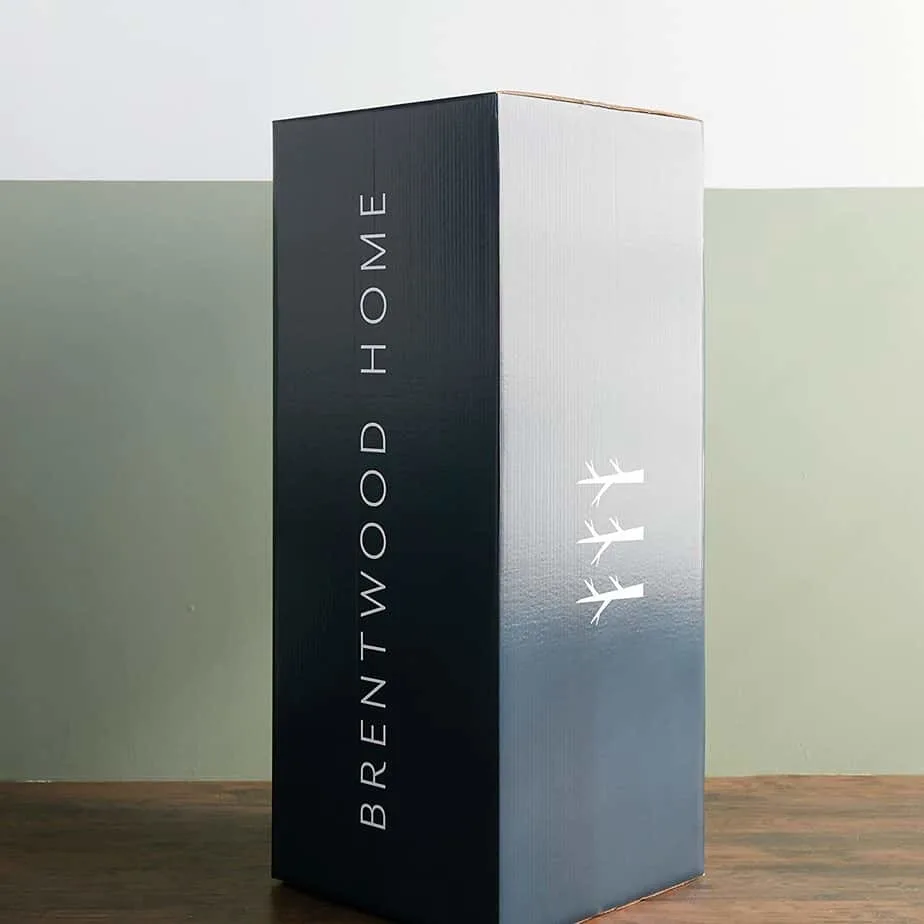 The Details
The Brentwood Home Oceano mattress ships rolled and compressed in a box right to your doorstep, all for free within the United States. Another option is the white glove service, which, for an extra fee, gets you a crew to unpack and set up the Oceano mattress, as well as to haul away the existing mattress so you don't have to do any work at all. Simply accept delivery and then sleep on your new mattress.
Because of the process used to compress the mattress, unboxing can lead to some off-gassing. However, this shouldn't cause an overwhelming noxious scent. You can easily disperse any unwanted scent by opening the mattress in a well-ventilated room opening doors or windows.
Like the rest of the line of mattresses produced by Brentwood Home, the Oceano mattress works with sheets that have standard depth pockets. There's no need to spend excess money to procure sheets with deep pockets. Also, the Oceano mattress offers a great number of advantages, even over other bed-in-a-box mattresses, such as a longer than average trial period and an excellent warranty. While most shipped mattresses offer you between 100 and 120 nights to sleep on the mattress risk-free with easy return, Brentwood Home gives you 365 nights, an entire year, to decide if the bed is right for you. If you decide to keep it, you benefit from a 25-year warranty with simple, hassle-free repairs and replacements. While there are some limitations to what's covered, it's all within reason.
Initial Impressions
As mentioned, the Oceano mattress is one of five mattress styles offered by Brentwood Home, all of them offering their own benefits. As for the Oceano, upon receipt and opening, the compressed mattress fills quickly and barring any unusual circumstances, will be ready to sleep on within a few hours. That includes the off-gassing process being completed so that what little odor there is dissipates quickly. When I unwrapped my Oceano mattress, it took about four hours to fully fill.
On the subject of off-gassing, however, I have to say that I was quite impressed with the performance of the Oceano mattress. Many bed-in-a-box mattresses have a considerable odor from chemicals used in the manufacturing and packing processes. However, Brentwood Home has chosen to use a lot of natural materials, which means there is little to no chemical compound useful in the manufacturing process. That means, too, that these mattresses are environmentally friendly and leave a little carbon footprint.
To determine how effective the white glove delivery was, I opted in, paying the additional fee. That fee is quite reasonable, considering the service received. The delivery was on time, the service quick, and the servicemen kind and courteous as they set up the mattress on my platform and took away the old one. All in all, the entire event took less than twenty minutes. The efficiency and expertise, as well as having someone to do the heavy lifting, definitely made it worth the cost.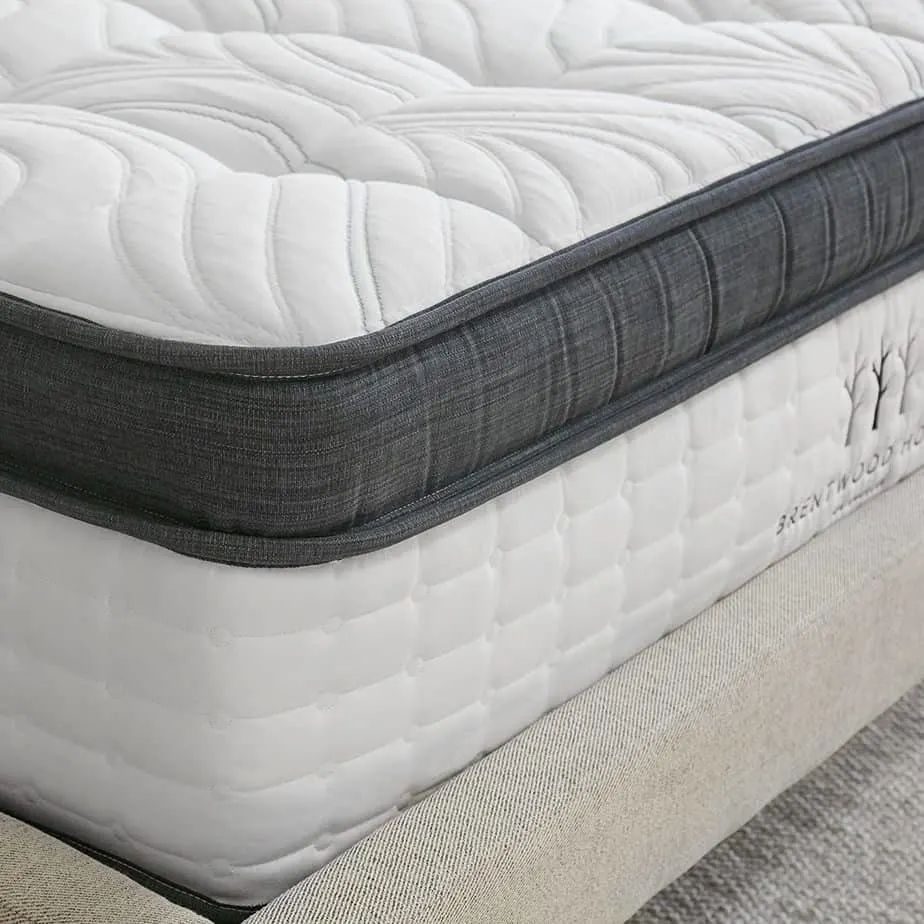 Construction
Brentwood Home has created five different mattresses to accommodate the various needs of different sleepers, including the Oceano mattress. However, one thing remains constant about the different models, and that is the quality of construction in them. The Oceano is no different in that aspect.
In fact, this particular model is better received than its counterparts. Having been rated among the best mattresses in its class for several years now. The Oceano is a hybrid mattress, constructed of a blend of coils and foam to create the perfect sleep environment for a great many people rather than catering to a single type of sleeper.
The construction of the mattress starts with close to 800 base coils, individually wrapped for comfort and contouring. Those coils are the main support of the mattress and are zoned through size and give to help create the right amount of relief around particular pressure points, aiding in your comfort and overall spinal alignment through the night, regardless of your favorite sleep position.
Above those five zones of coils, there's a layer of gel memory foam. The memory foam acts to soften the way that the coils contour, disallowing any sensation of a coil spring in your back and dampening the bounce that would otherwise come from the traditional innerspring mattress. Above that, there is another innovative layer of coils, this one adding up to over 1,300 in a queen-sized mattress. These are four inches tall and help to transition and support your body. This means that there is not too much give while also allowing you to find the right position to relieve the pressure on your shoulders and hips specifically.
All of this is covered by a Belgian stretch knit with quilting, lined with New Zealand wool that is both breathable and moisture-wicking. This assures that you don't sleep too hot, with plenty of airflows, and that, should you sweat during the night, the moisture does not pool beneath you and make your sleep space uncomfortable.
When it comes to the feel of the Brentwood Home Oceano mattress, you'll find that it's midrange in terms of firmness. In fact, it ranks about a 6 on a scale of 1 to 10, which comes in at a solid medium firm. This is great for combination sleepers, as well as those who sleep mainly on their backs and sides. Of course, stomach sleepers can enjoy the support as well, but it's likely that lightweight individuals who sleep on their backs or stomachs will have less satisfaction than others.
Features and Benefits
Like all Brentwood Home mattresses, the Oceano has its benefits, a few features that set it apart from other mattresses. To start with, the mattress is quite durable, and upon arrival, you'll notice that there are no loose threads or uneven sewing patterns. It's carefully constructed and inspected for quality, and it can withstand a great deal of use, thus leading to its long warranty for assurance.
The edge support on the mattress is ideal, partially due to the double layer of coils. This is something you don't get with many foam-only mattresses, and it allows you to both sit on the edge of the bed to pull on slippers or shoes as well as to roll to your side and sleep close to the edge of the bed.
Motion isolation is another great trait of the Oceano mattress. Because the coils are individually pocketed and a great deal of bounce is dampened by the memory foam, you can easily sleep with a partner without either person's motion causing the other to waken. I found that, when I shared the mattress, I slept much more soundly, despite my sleep partner is the sort to get up and down several times during the night. I actually only woke once in the middle of the night, with the rest of my partner's trips for a drink or otherwise completely slipping past me.
Brentwood Home works hard to assure its mattresses remain cool during the night, keeping the sleep space well suited for a night of deep, restful sleep. That means that the Oceano mattress incorporates temperature control as well. In this case, the gel memory foam is the source of cooling, with the pocketed coils providing space for airflow that helps disperse any heat that seeps into the mattress.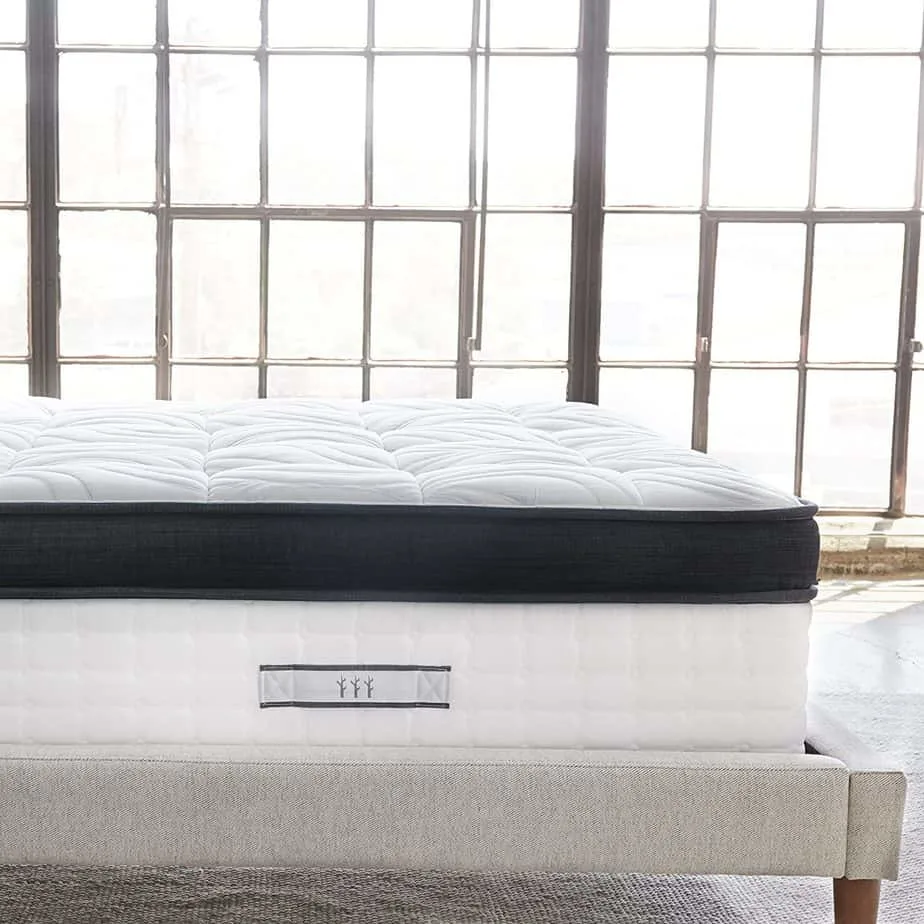 The contouring and zoned coils creating pressure point relief help with daily pain and aches. This is especially crucial for those who suffer from arthritis or other joint problems. With a better chance at remaining aligned from neck to hips, sleepers will find that nerves fire properly, and there are no pinched nerves, pulled tendons, or unnecessary joint pain.
Of course, it would be remiss to leave out that one of the greatest benefits of the Brentwood Home Oceano mattress is the quality you get for an affordable price point. As mentioned earlier, while the company sources organic, sustainable materials and uses few chemicals in the manufacturing process, it also conserves a great deal of overhead by not having a brick-and-mortar store. As an online-only entity, Brentwood Home can pass on a great deal of savings to you as the consumer.
Sizes
The Oceano mattress can accommodate any space, large or small, in any home. Aside from the standard sizes of twin, full, queen, and king, the Oceano mattress is also available in the extended sizes of twin LX and California king. If you like, you can also order your Brentwood Home Oceano mattress is split king.
Heat Transfer
Heat is dispersed easily with airflow through two layers of pocketed coil springs, as well as with the cooling properties of the gel in the memory foam. Unlike standard memory foam mattresses, which often retain a great deal of body heat, the Oceano incorporates gel to help with cooling properties. And the added bonus of the coils, as well as a moisture-wicking cover on the mattress, keep you comfortably cool throughout the night.
Durability
Every Brentwood Home Oceano mattress is carefully constructed to be of the highest quality, and the materials used are sustainable and durable. Aside from being environmentally friendly, the Oceano mattress is also quite tough, with few or no faults or weaknesses and the ability to withstand some of the harshest circumstances.
Maintenance, Protection, Care, and Warranty
All Brentwood Home Oceano mattresses come with removable covers, allowing for removal and laundering with ease. Wash the cover on a gentle cycle in cool or cold water for safety and long-lasting use and hang to dry. While most are rated for tumble dry on low heat and delicate settings, it's always safer to hang dry, since the specifications on dryers are all different. Between washes, which is a recommended task at least every three months, you can spot clean the mattress cover. The mattress, too, can be spot cleaned, should you have a spill directly on it. with the moisture-wicking properties of the cover, however, you aren't likely to have trouble with the mattress itself, and you won't end up with sweat stains or odors.
The Oceano mattress also comes with one of the best warranties in the industry. Aside from a trial period that far outranks most of those in the business (typically between 30 and 120 days) of a full 365 nights, you also get a 25-year warranty that covers all manufacturer faults, as well as certain performance errors as mentioned within the warranty. Be sure you have the mattress properly supported on a frame, or that warranty may be voided.
Cost
In terms of cost, it's hard to decide how much you should pay for a good quality mattress since you'll find offers that are both quite low and exorbitantly high. With the Brentwood Home Oceano mattress, however, you'll find that you get excellent quality for a reasonable price. This makes it a great value all around since you probably won't find a better-constructed mattress for less. To give you an idea, a queen-sized Oceano mattress costs $1,495.
Reviews and Feedback
Seeing what others say about their experiences with a mattress is a great way to determine whether or not that mattress is right for you. When it comes to reviews from consumers on the Brentwood Home Oceano mattress, you'll find almost exclusively positive reviews. Consumers are pleased with a number of aspects, especially when it comes to motion isolation and edge support. The Oceano is found to be durable, produce relatively no off-gassing compared to competitors, and break in quickly. A few people mentioned that the edge support could have been better, or that the zoned coils didn't fit their sleep pattern, but these seem to be singular complaints rather than those of the masses.
Who Would We Recommend Brentwood Home For?
The Oceano mattress is perfect for back sleepers, offering support and contouring that matches these needs. However, anyone who wants to sleep cool and has a slight bounce like a traditional mattress without motion transfer can also benefit. Hot sleepers and side sleepers may also enjoy the Oceano mattress.
Our Final Verdict
Conclusively, the entire line of Brentwood Home mattresses has a lot to offer, but the Oceano, in particular, is a high-quality bed in a box with the ability to please a vast array of consumers in both durability and comfort. Price points are reasonable for the product and construction, and the inclusion of eco-friendly materials with few chemicals used is a bonus that pleases people who care about our environment as well as their health and well-being.
Delivery is free in the United States, but if you opt into the white glove service, you'll be pleased with the value and the time and effort you'll save. A full year to break in and evaluate the mattress and its ability to meet your needs eases your mind about your investment and knowing that it's covered by a 25-year warranty is another peace-giving detail.
FAQs:
Is a mattress cover needed?
All Brentwood Home Oceano mattresses come with removable mattress covers, so you don't need to purchase one separately.
How does the returns process work?
Oceano mattresses come with a 365-night sleep trial. If you aren't completely satisfied with your mattress after that time, or at any point during this trial, you can return it hassle-free for a full refund.
Where can these mattresses be shipped?
The Brentwood Home Oceano mattress can be shipped or delivered with white-glove service anywhere in the contiguous United States.
Is the loft adjustable?
The loft is not adjustable. The Oceano ranks as a medium-firm 6 (on a scale of 1-10, where 1 is so soft you are laying in a pillow and 10 means that you're on a wooden board). For other options, consider the other mattresses offered by Brentwood Home.
What type of sleeper is this mattress best suited for?
Any hot sleeper or sleeper who deals with joint pain. Back sleepers and side sleepers, heavier weight stomach sleepers.