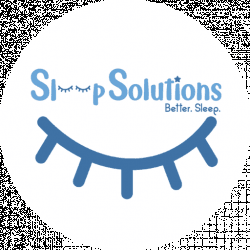 Latest posts by Sleep Solutions HQ Team
(see all)
The Serta Counting Sheep are easily recognizable in any of their commercials, but Serta as a company has been around since 1931 when they released their very first mattress.
Serta quickly became a household name for everything to do with beds, from luxurious mattress topper to perfectly stuffed pillows, but it's their mattress that they are best known for.
Serta mattresses are typically very durable, comfortable, and are priced well for the quality of bed you are getting.
They are available from nearly any furniture store you go to and can be found in essentially every major chain store, like Sears, JC Penny's, and Macy's. They are the #1 mattress manufacturer in the United States, which isn't an easy achievement to gain.
Serta mattress has been named as America's Most Recommended Mattress, Pillow, and Box Spring Brand for the past few years by the Women's Choice Awards.
During their 80+ years reign in the mattress industry, Serta has experimented with various different designs and firmness levels. Generations ago it was often believed that firm mattresses were the answer to back pain issues, often leading doctors and other health authorities recommending them.
However, anyone that has slept on an overly hard mattress can attest that it is not only difficult to get comfortable, which leads to a restless night, but sometimes back, hip and neck pain is exacerbated.
Serta is known for designing mattresses that offer firmer stability, but with a soft top that is cozy and comfortable. One example of this style of mattress is the Coralee.
The Coralee Firm Mattress also goes by the name Coralee Tight Top, which hints at how the mattress feels to sleep on. Read on to find out all about the design and features in this Serta Coralee Review!
Design and Features of the Serta Coralee Mattress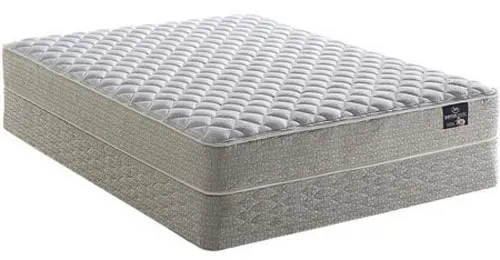 The Coralee features an older, traditional design when considering how it looks and the type of sleeping surface it offers.
This is an economical firm mattress that typically rates at about a 3 out of 5 stars.
Lower ratings for firm mattresses are more common as many people tend to have different ideas about how much (or how little) firmness they would really like.
A brand new firm mattress is going to feel much firmer than a 15-year-old used, worn down firm mattress, even if they were the same exact model. For this reason, it is important to not just go by ratings alone, but rather investigate into what this mattress offers and whether it meets those expectations.
The Serta Coralee is available in twin, queen and king sizes, with the queen mattress size being their best seller for this model. The Coralee is a very durable mattress, and though it isn't Serta's most firm, it does seem to have less plushness compared to other firm mattresses.
The Coralee is designed with three ComfortRight layers:
Serta PillowSoft Top Layer
The Serta PillowSoft top layer is made of very soft foam, though this layer is fairly thin. This small amount of foam keeps this mattress firm while still giving some cushion to enhance comfort and reduce pressure points.
SertaFlex Custom Support Mid-Layer
The 420 SertaFlex Innerspring Custom Support middle is where this mattress gets its flexibility. This offset coil design gives the mattress some response to movement, to allow for easier repositioning, but doesn't transfer much movement across the mattress.
It helps promote back support and proper spine alignment during sleep. This layer is the bulk of the mattress, so it also gives some stability and strength.
Serta StabL-Base Comfort Last Bottom Layer
The Serta StabL-Base Double Beam Foundation is designed to be resistant to sagging, giving this mattress more durability than others in its price range. The Comfort Last Construction is responsible for the overall weight distribution and stability of the mattress as a whole.
The Coralee Queen is priced at $599 on average from online retailers, which makes it fairly inexpensive compared to other mattresses. It would be better suited for a single person who enjoys a very firm mattress, though a couple would enjoy this mattress as long as both have similar sleeping styles.
The firmness of the mattress makes it best for back or stomach sleepers, as side sleepers may find it not soft enough. It helps with pressure relief and many back sleepers do find they toss and turn less. Another benefit is that the firmness and overall coil design means if you sleep with a partner your movement (or theirs) won't ripple across the bed but rather isolates it.
Advantages of the Coralee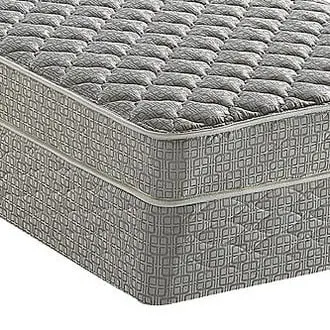 Summing up the design and features of the Coralee leaves 3 main advantages.
It is priced on the low end, making it ideal for a guest or emergency-purchase bed.
Offers a truly firm feel, reminiscent of older mattress designs.
Provides very consistent support across the entire mattress.
If you need a firm mattress fast, such as for outfitting a guest bedroom or if you have very low funds, then the Coralee is about as low as you can get for the price for a queen firm mattress designed by a leading brand. The Coralee is a very firm mattress that doesn't have a plush pillowtop so commonly seen on a newer mattress.
This dated design could be a positive for someone specifically wanting an older style of mattress made with higher quality materials. Last but not least, the Coralee maintains its firmness fairly evenly across the entire mattress without dipping in.
Issues with the Coralee
There are two main problems with the Coralee mattress, both of which are related to one another.
It has a dated design that no longer competes with new mattresses.
This model is no longer available through Serta or major retailers.
Many of the negative mattress reviews for the Coralee state that it is far more firm than other mattresses. Another common complaint is that the bed isn't as durable as other mattresses, sometimes sagging in the middle after only a couple years of use. It is difficult to say whether the sagging complaint is a customer problem (i.e. not using proper foundation or customer is very overweight).
The firmness issue can also sometimes be attributed to that fact that many people wait a very long time before replacing their bed, which means they've grown accustomed to sleeping on a less firm mattress, making a new one seem far too hard.
However, overall the Coralee isn't really worth scouring stores for as the design is outdated.
The Coralee was still available as recent as mid-2016 through retailers but has since been made unavailable and unlikely to ever be restocked. The mattress industry is always evolving, with brands improving their designs constantly, so this is really not unusual at all.
However, since the design of the Coralee is now dated it is natural to assume that those accustomed to newer designs will not really appreciate this model.
If you are searching for a firm mattress that is budget-friendly in terms of pricing like the Coralee was, a Serta alternative would be their Sertapedic line. This is their less expensive line of beds which include firm mattresses under an $800 price range.
The current Sertapedic models are far more up-to-date in design than the Coraline and have much more positive reviews surrounding them. Due to the outdated design of the Coralee and no longer being easily available, it is best to look into Sertapedic beds.