Latest posts by Candace Osmond
(see all)
Today's comparison has got us really excited because we're going to talk about two beds that impressed us: The Bear and the Nectar mattress. While both of these feature all-foam construction, they are two distinctive mattresses that have plenty to offer to their target markets. Despite the fact that we're dealing with two mattresses that are made entirely out of foam, there are plenty of details that set these two beds apart from one another.
Main Differences Between Bear vs Nectar Mattress
The Main Differences Between Bear vs Nectar Mattress are:
Bear measures 10 inches in height, whereas Nectar Mattress measures 11 inches in height.
Bear features a Celliant cover, whereas Nectar Mattress features a Tencel and cotton cover.
Bear comes with a 10-year warranty, whereas Nectar Mattress comes with a lifetime warranty.
Bear has a 100 nights of free sleep trial, whereas Nectar Mattress has a sleep trial of 365 nights.
On the other hand, the Nectar mattress has a very traditional foam feel, so people who are fans of this classic choice will love sleeping on the Nectar bed.
It offers superior pressure point relief for side sleepers, but also performs really well in chapters like edge support and motion isolation, indicating that this could be a real winner for couples who share a bed. It is wrong to assume that two mattresses made from foam are similar.
The Bear mattress is a firmer version of what people generally expect from an all-foam mattress. It offers excellent support for back sleepers, while also introducing the Celliant innovation which is available in a very limited number of beds. Promising a quicker recovery in a mattress that targets athletes, the Bear bed is actually a cooling bed that will serve people who need support.
Bear Mattress
Construction
The Bear mattress debuts with a Celliant cover: a material that promises to revolutionize recovery because it helps speed it up to a point where you can wake up feeling pain-free and refresh. Next up you have the comfort layer, translated into two inches of memory foam.
This layer does a really good job of contouring and making sure that sore joints get the cradling they need. Since it's infused with graphite, this layer also does a good job of maintaining a cooler sleeping environment.
The transition layer of the Bear mattress is made of polyfoam. Because it is firmer compared to the comfort layer, it prevents the sleeper from sinking into the mattress and also facilitates swiping positions while sleeping. The base of the mattress is made from six inches of thick polyfoam, which end the 10-inch construction of the bed.
Firmness
Firmness and feel go hand-in-hand when it comes to talking about the experience of sleeping on a certain mattress. The Bear bed doesn't really feel like a traditional foam mattress, as it has a firmness rating of about 7, being quite firm considering that people normally associate foam with something soft.
Also considering the fact that the industry standard for medium firmness is around 6.5, this reassures us that the Bear mattress falls on the medium-firm side of things.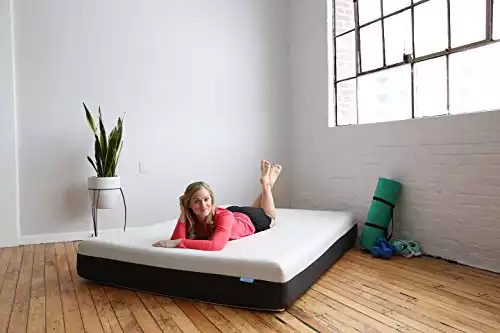 Recommended For
It is not every day that we get to tell people that a certain mattress is recommended for physically active individuals, so the fact that we can say that about the Bear mattress tells us it's special. But the Celliant cover isn't everything that's important and makes this mattress good.
The construction of the bed is good for people who need support in general. The firmness indicates that it isn't the most comfortable mattress for side sleepers, but it is an excellent choice for those who prefer sleeping on their backs.
Sleep Trial & Warranty
Upon purchasing your Bear mattress, you will also benefit from 100 nights of free sleep trial. Much like Nectar Bear does require that you give the mattress a spin for at least 30 nights before initiating a return. You will also benefit from a 10-year coverage thanks to the warranty which becomes active from the moment you've made your purchase.
Nectar Mattress
Construction
Nectar's cover is very different compared to that found on the Bear mattress. It's made from a combination of Tencel (a type of eco-friendly fabric that has made a reputation for itself by being breathable and soft) and cotton. But that's not all; the cover also sports an inch of gel memory foam, to further boost its cooling capabilities. Aside from the coolness it offers, this layer makes the bed feel softer from the first minute you lie down.
The comfort layer of the Nectar mattress is made from three inches of memory foam. Because it has a slow response to pressure, you will slowly feel your body being hugged by the bed. The foam does a really good job at contouring the body, but the fact that you will feel like you're somewhat sinking in the bed indicates that the construction of the Casper bed makes it more suitable for side sleepers.
Next, we have the transition layer, which is also made from memory foam, only this one has a quicker pressure response compared to the layer on top of it. This layer doesn't just help with the transition to the firm base but also does a good job of further contouring the body. The Nectar mattress ends with a six-inch layer of high-density polyfoam, which feels pretty durable.
Firmness
Firmness is a very subjective matter and if we ask several owners of the Nectar mattress, they will most likely give different ratings for how this bed feels. Being as objective as possible, we can state that the Nectar mattress has about a 6 or a 6.5 rating out of a possible 10. The mattress does a really good job at body contouring and pressure point relief.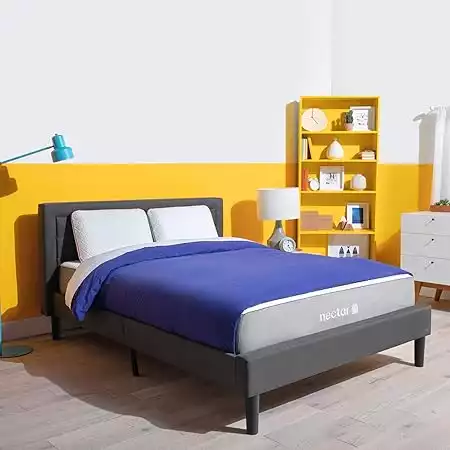 Nectar Mattress
Buy Now
We earn a commission if you click this link and make a purchase at no additional cost to you.
12/11/2023 10:04 pm GMT
Recommended For
Because of its choice in materials and construction, the Nectar mattress is good for sleepers that prefer any of the three main sleeping positions but has proven much better at supporting people with a weight of over 130 pounds.
It is a great bed for people who prefer an all-foam mattress, as Nectar is a brand that has been in the game long enough to understand how such a mattress should behave and serve its market. Thanks to its minimal noise output and decent motion isolation, the Nectar bed is also great for couples and for those who are looking to buy a good mattress at a very reasonable price.
Sleep Trial & Warranty
Unlike most other foam mattresses, the Nectar bed comes with a very generous sleep trial. You can test the mattress for an entire year and decide whether it's a keeper or you'd like to return it. You are, however, required to sleep on the mattress for at least a month before initiating a return. What's even more interesting is the fact that this mattress comes with a lifetime warranty, which is definitely not something you see every day.
FAQ
What are the warranty and trial periods for each mattress?
For the Bear mattress, the sleep trial period is 100 nights, while Nectar has a 360-night trial for you to test out their bed.
Nectar has a lifetime warranty, and Bear has a 10-year warranty.
Where do the mattresses ship?
Both mattresses ship to anywhere in North America.
Does the company offer white glove delivery service?
Yes, both beds have a white glove delivery option where the delivery guys will bring it into your home and set it up for you.
Where can I purchase these mattresses?
Online via their websites, Amazon, or right here!
Conclusion
As you've noticed, these two beds are quite different from each other. The density of the materials, the choice of cover fabrics, and how the layers are structured and divided throughout the height of the mattress are indicators that they serve sleepers with different needs. There is no winner here, since side sleepers are much better off with the Nectar bed, while those who need back support will surely fall in love with the Bear mattress.