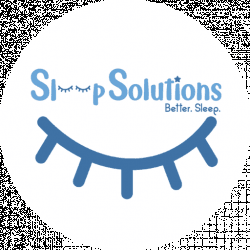 Latest posts by Sleep Solutions HQ Team
(see all)
Bed in a Box has created a catchy slogan for its line of Pacbed mattresses: Keep it simple, sleepy. The mattress manufacturer touts its two Pacbed styles as mattresses that provide plenty of hug and support to give you a deep, restful night of sleep.
Does Bed in a Box live up to its slogan of keeping it simple and offering high quality? Before we find out, let's review the factors involved in selecting the best mattress for you.
Mattress Buying Factors
Buying a mattress is not a spur of the moment purchase. You have to spend hours researching different brands and styles to narrow your choices down to a few mattresses. First, do you know what you want from a mattress? Does uncompromising firmness top the list? Do you have a preference for how much your body sinks the top memory foam comfort layer?
How long do you want a warranty to cover your mattress investment? The most important step, which is the final step in the mattress buying process, involves lying on different mattresses to get a feel for what each mattress has to offer.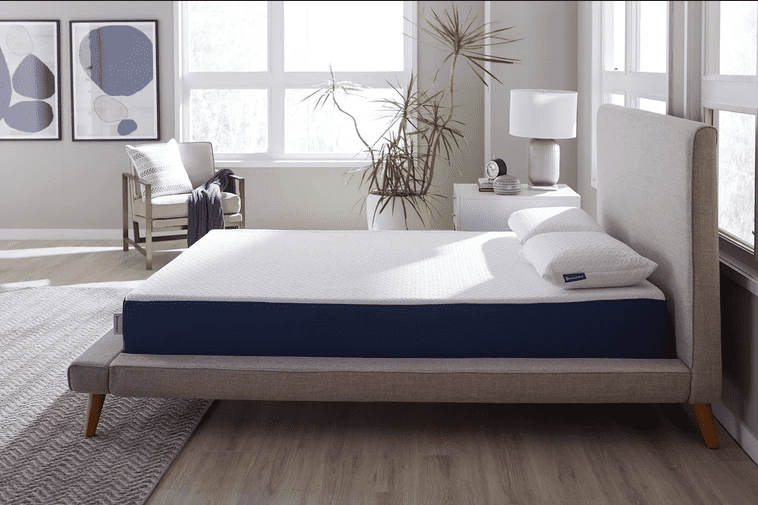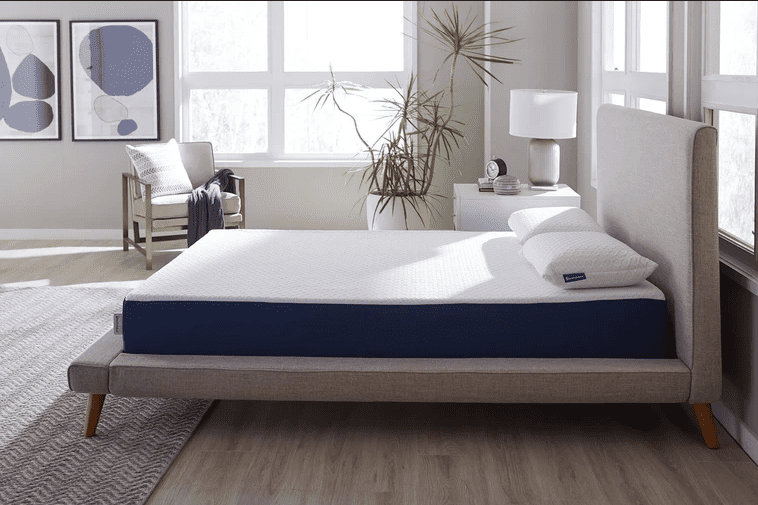 Body Support
Mattress manufacturers present firmness ratings that range from 1 to 10. Most mattresses carry firmness ratings between 4 and 7, with a 5 designating a mattress that possesses average firmness. However, firmness can be somewhat subjective, as what you consider to be a firm mattress might not feel the same to your significant other.
Testing the sinkage of different parts of the mattress gives you a good idea about the overall body support you receive. Body support determines how comfortable you can expect to be, which makes it the most important mattress buying criteria.
Cover
Mattress manufacturers typically do not promote the positive attributes of mattress covers, but they should. The material covering a mattress goes a long way in determining sleeping comfort. A high performance mattress cover wicks away moisture, especially perspiration that builds up on the body overnight.
You want a cover that prevents allergens such as dog dander and dust mites from collection on the surface.
The Price is Right
When you shop for a mattress, follow the rule that the higher the price, the better the quality of the mattress. If you are looking for a mattress to complete the furniture lineup for a spare room, you do not have to bust the bank to find the right mattress. Otherwise, price should not represent the only factor you consider for purchasing a mattress.
Set a minimum and maximum amount you want to spend and stay within the budget. Search for retailer and manufacturer deals such as bulk discounts and free bedding accessories.
More about Allergens
Some foam mattresses leech chemicals that cause allergic reactions as benign as a few sneezes to as severe as a hives outbreak. You need to research online reviews to eliminate manufacturers that have a record of producing leaky foam mattresses. Allergens tend to build up along the edges of a mattress, as well as within the space that separates a mattress with a bed board.
Warranty
You want a comprehensive mattress warranty that covers everything from resisting odors to retaining firmness for a specified period. Mattress warranties give you peace of mind, with most warranties running between 5 and 20 years. You should consider awarranty that extends for at least 10 years
Overview of Bed in a Box Pacbed
Data collected from owners of the Bed in a Box Pacbed mattress suggests the mattress does well in the durability category. The Bed in a Box Pacbed mattress averages a lifespan of just over 6-1/2 years, which ranks higher than average for similarly designed and manufactured mattresses. However, the question remains does the extended lifespan mean the mattress delivers high performance features?
Layers
The top comfort layer consists of proprietary CoolRest gel that ensures pressure relief and cool, comfortable sleep. Gel foam creates ideal contouring for most body shapes and sizes, with the enhanced pressure relief minimizing tossing and turning throughout the night.
The open cell design encourages air flow and the foam decreases motion transfer, which allows you get up for a drink of water, without disturbing your partner. Three inches of the top layer rebounds nicely to allow for quick sleeping position changes.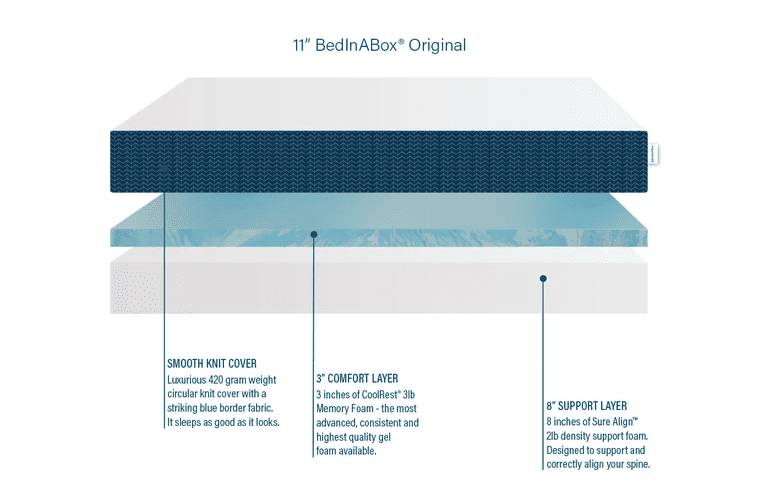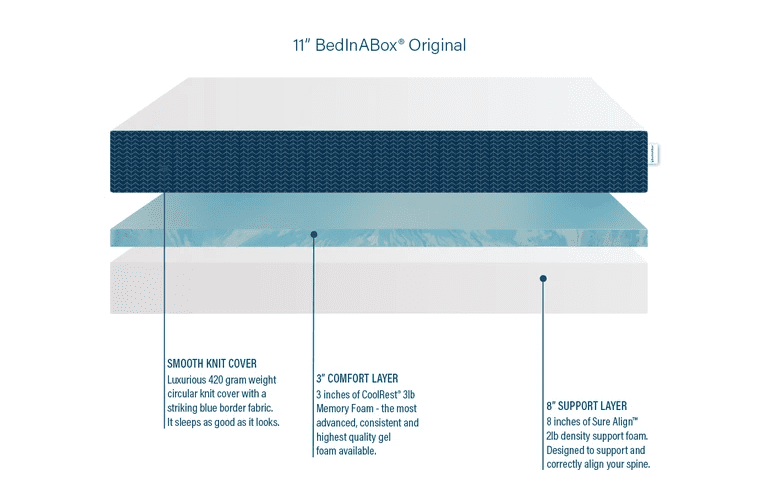 Eight inches of SureAlign foam forms the foundation for the Bed in a Box Pacbed mattress. The bottom layer supports and aligns your spine to prevent back pain. Two and a half pounds of high density core offers more durability than what conventional foams offer.
The bottom layer evenly distributes body weight across the entire mattress. SureAlign foam works seamlessly with CoolRest gel memory foam to ensure lasting perfect support.
Cover
The Bed in a Box Pacbed mattress includes a soft knit cover exclusively designed for memory foam mattresses. Super soft polyester stretches to create a taut fit, which prevents the cover from bunching up over the course of a night's sleep. The exceptionally strong polyester fibers prevents rips and tears to keep the cover working for you throughout the lifespan of the mattress.
Rugged polyester also dries quickly and resists abrasions. Highly breathable to help regulate temperature, the cover enhances the soft memory foam feel. Back, side, and stomach sleepers should enjoy the cover that protects the top of the Bed in a Box Pacbed mattress.
Comfort and Support
Average size consumers that range between 130 and 230 pounds should find the Bed in a Box Pacbed to provide more than adequate comfort and support. After breaking in the mattress, you might experience extra firmness if you possess a body mass index of less than 20.
Larger consumers who weigh more than 230 pounds should find the three inches of initial cushion enough to support the body. Base foam density prevents the mattress from bottoming out and hence, losing its capability to provide body support.
Many tests of the Bed in a Box Pacbed mattress report that sleepers with back pain experience mitigation of the pain after sleeping on the mattress nightly for a couple of weeks. The mattress has earned the reputation of conforming to most body shapes and sizes, without overdoing hugging the body.
Minimal pressure helps evenly distribute body weight to prevent one area of the body from receiving too much concentrated pressure.
The mattress allows you to move around and get off the mattress with relative ease. Larger sleepers might find the edge support lacking. However, the Bed in a Box Pacbed mattress does a great job of isolating motion, which makes the mattress ideal for couples sharing the same bed. A small percentage of tests revealed a slight odor that lingers.
The mattress dispenses body heat to create an overall comfortably cool sleeping experience. .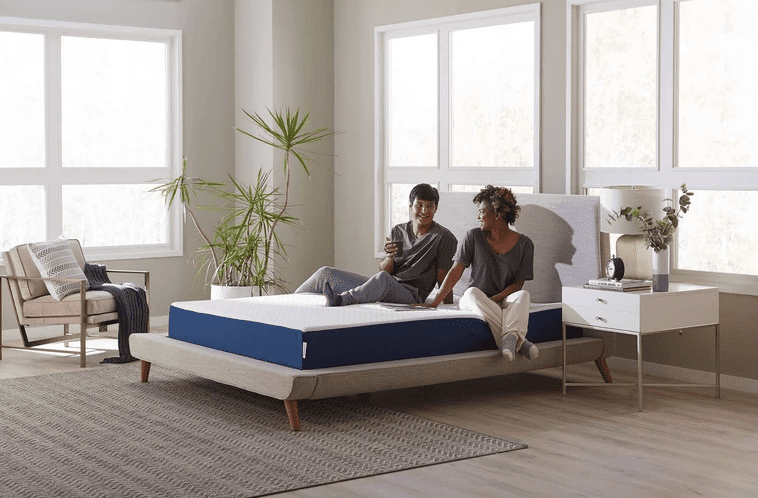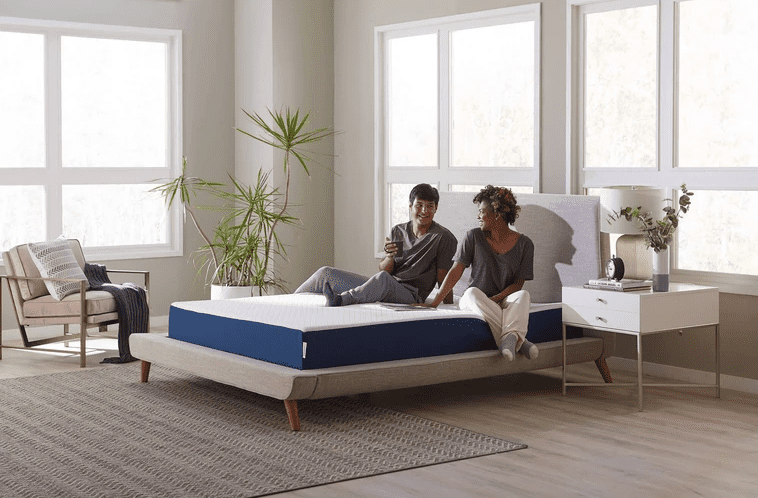 Price
For the all of the positive attributes of the Bed in a Box Pacbed mattress, consumers do not have to take out a second mortgage to afford the high performance mattress. For the Pacbed Lite line of mattresses, a twin costs $400 (Check for latest price) and a Full costs $600 (Check for latest price).
If you want a larger size, expect to pay $700 (Check for latest price) for a queen and $800 (Check for latest price) for a king. The standard version of the Bed in a Box Pacbed mattress costs a little more, buy you enjoy more features in return. Twin Pacbeds set you back $650, while a full size mattress costs $ 800.
The manufacturer's price for a queen size Pacbed is $850 and a king sells for $950.
Free shipping and free returns make the purchase of a Bed in a Box mattress affordable and risk free. You can sleep on the mattress for up to 120 days to enjoy the risk free return feature. If you are not satisfied with the mattress, you receive a 100% refund of your money. Shipping takes the industry standard of between two and five days.
The mattress comes with a 20-year warranty, which represents the high end of the mattress warranty scale. Most mattress manufacturers offer warranties that on average cover about 10 years.
The Bottom Line
Although many manufacturers design mattresses to include three layers of support, the Bed in a Box Pacbed mattress requires only two layers to offer superior comfort and support. The initial three inches sinks very little, even if you stand in the middle of the memory foam mattress. Proprietary CoolRest gel absorbs body heat to provide cool comfort throughout the night.
Eight inches of SureAlign memory foam creates the foundation that aligns the spine and supports your body.
With a cover designed specifically for memory foam mattress, the Bed in a Box Pacbed limits your exposure to common household allergens. The small space between the mattress and a bed board prevents the build-up of dust mites and dog dander to prevent restless nights of constant sneezing.
All of the positive attributes of the Bed in a Box Pacbed mattress does not mean you have to spend more than $1,000. In fact, the priciest king model of the standard Bed in a Box Pacbed mattress costs only $950.
Check out how Bed in a Box compares to Amerisleep in our full comparison here, and vs Tempurpedic here.