Latest posts by Candace Osmond
(see all)
When you think about material such as foam, you can't imagine there being so many variations out there to create a wide variety of mattresses that cater to every taste and need. The Puffy and Purple lines of mattresses are just two examples that the playground for these manufacturers is huge, so it can be daunting to make a choice between two big brands that know what they're doing.
With foam constructions and a large database of fans, these brands will always be strong competitors, but when it comes down to choosing either one, which is the natural choice to make?
Main Differences Between the Puffy vs Purple Mattress
The main differences between the Puffy vs Purple Mattress are:
Puffy is made in Canada, whereas Purple mattress is made in the USA
Puffy mattress has a lifetime warranty, whereas Purple offers a 10-year warranty
Puffy offers a 101-night sleep trial, whereas Purple has a similar 100-night trial
Puffy mattress has 2 types to choose from, whereas Purple has 3
Key Features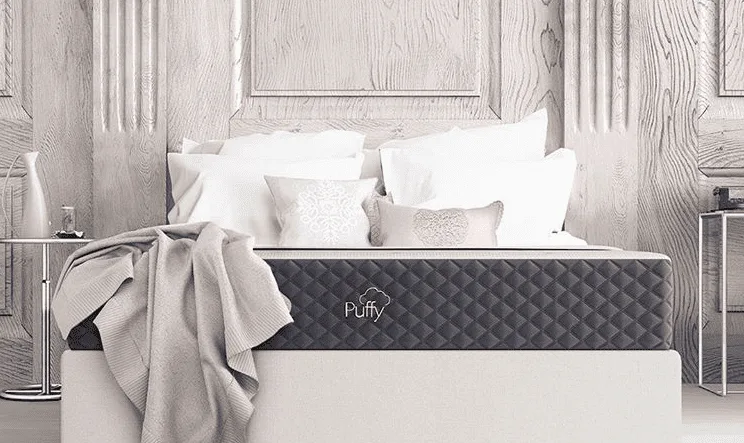 The Puffy mattress seems like a very basic foam bed, divided into three well-chosen layers of material that offer different properties that blend well together. The Puffy mattress debuts with a cover that's made from a pretty standard polyester blend. It's thin enough to facilitate airflow, which is something you want to see in a bed that's made entirely out of foam.
The comfort layer of the Puffy bed is made from two inches of Cooling Cloud foam, as the company likes to call it. This is just a fancy name that expresses foam that's been infused with gel, in order to prevent it from heating up too much.
The mattress continues to show off its foam construction with two inches of polyfoam, which is pretty standard. The base layer of the bed is a generous six inches of HD polyfoam, with a density that's meant to support the entire weight of the bed and the sleeper.
The Purple mattress will always stand out from the pool of foam beds because of its unique construction. The current Purple is a little bit different compared to its original model. The cover is made from a blend that combines lycra, polyester, and viscose, and it's designed to be both stretchy and breathable.
The comfort layer of the Purple mattress is one of the things that make this product one of a kind. We're talking about their Hyper-Elastic Polymer, which represents a layer where the material is distributed to form columns in a grid-like pattern.
The transition layer is made from 3.5 inches of high-density polyfoam that makes it easy to switch between sleeping positions. The base layer of the mattress consists of 4 inches of HD polyfoam. Check out how Puffy compares to Puffy Lux here.
Puffy Mattress Pros
The Puffy mattress has a construction that makes it suitable for combination sleepers. The combination of the different types of foam makes it easy to switch from one sleeping position to another. It is even a great bed for side sleepers because of its medium firmness.
It's a great mattress for people who weigh less than 230 pounds. People below this weight will find that the bed gives them enough support in different sleeping positions.
It's a really good mattress for people who tend to experience joint and muscle pain because of sleeping on the wrong type of bed. The foam construction does a very good job of contouring the body and manages to eliminate pressure points in order to create a comfortable sleeping environment.
Puffy Mattress Cons
The Puffy mattress is not designed for heavyweight people. In fact, people that weight over 230 pounds will discover that the mattress fails to give them enough support regardless of their favorite sleeping position.
People who tend to sleep most of the night lying on their stomachs might not be comfortable using the Puffy mattress. Its plush feel makes it feel as if you are sinking in the surface of the bed instead of lying on top of it. For stomach sleepers, this prevents the spine from resting in its natural position.
Purple Mattress Pros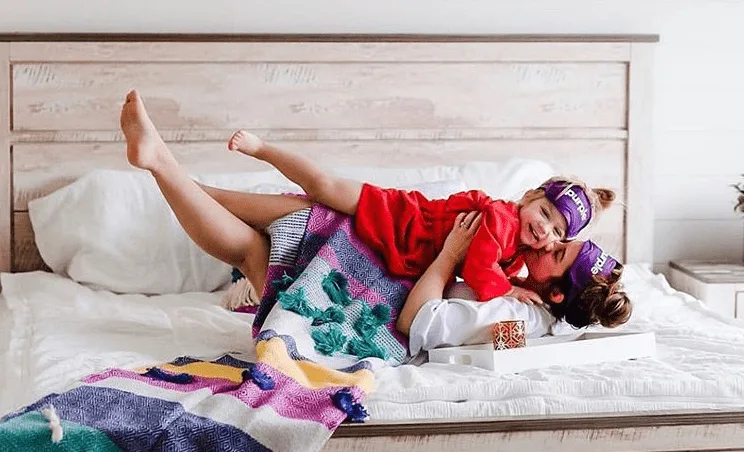 Purple is a mattress designed to promote airflow, making it a good choice for people who tend to sleep hot. The construction of the comfort layer provides columns that allow air to circulate inside the mattress, promoting temperature neutrality for the sleeper.
Due to the hyper-elastic polymer that's used to make the comfort layer of the Purple mattress, people will find it very easy to switch between sleeping positions. The bounciness of the mattress resembles latex and also makes it easy for sleepers to get in and out of bed.
Despite it being a mattress with quite a lot of bounce, the Purple manages to do a good job in isolating motion, making it a good choice for couples who share a bed. It also doesn't make a lot of noise, which further reduces the chances of one waking up their sleeping partner.
Purple Mattress Cons
The mattress can be a little too firm for side sleepers, especially for those who weigh under 130 pounds. People above that weight should be comfortable sleeping on the side as the pressure of their bodies will trigger the support of the comfort layer.
It's also not a bed recommended for people who weigh more than 230 pounds, as it won't manage to give them enough support either.
Conclusion
Despite the fact that we're dealing with two beds made from foam, these mattresses could not be more different, which is why picking the very best of them is a complicated matter.
The Puffy mattress is a product suited for people who weigh less than 230 pounds and love the feel of traditional memory foam. It offers good support across multiple sleeping positions and isolates motion really well, being a valid choice for couples.
The Purple mattress and its buyers have a love/hate relationship. However, it's a very popular bed amongst its customers and people are really happy with their purchase. It's a solid bed with a firmer feel that appeals to back sleepers that weigh above 130 pounds. Overall, the unique construction of the Purple mattress ranks it above the Puffy bed.
FAQ's About Puffy vs Purple Mattress
Question: What are the warranty and trial periods on the Puffy mattress and the Purple mattress?
Answer: The Puffy mattress comes with a lifetime warranty and 101 nights of free sleep trial. On the other hand, the Purple mattress is backed by 10 years of warranty and the company allows you to test the mattress for 100 nights before deciding whether or not you should ask for a refund.
Where do the mattresses ship?
The Puffy bed is available for everyone who orders from one of the contiguous US states, but also for people who place their orders from Canada. Paid shipping is also available to Alaska and Hawaii. The Purple mattress is shipped to anyone who orders from the 50 US states, but also for Canadian residents.
Question: Does the company offer a white glove delivery service?
Answer: Neither Puffy nor Purple have white glove delivery services included with the purchase of their beds, nor are you given the option to pay extra for this service.
Question: Where can I purchase these mattresses?
Answer: Those of you interested in the Puffy mattress should know that you can only buy this bed online, through the company's official website. The Purple mattress is available on the company's official website, but also with some third-party online retailers, like Amazon. You can find their mattresses in brick-and-mortar stores throughout the US (the company's website features a directory with showrooms where you can find this mattress).
Recommended Reads: