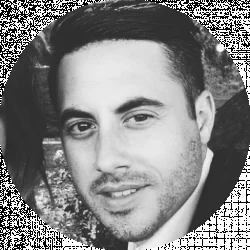 Latest posts by David Borgogni
(see all)
Saatva and Amerisleep are among two of the most popular online mattress brands, and with good reason. Both offer premium quality mattresses at reduced rates – but when comparing Saatva vs Amerisleep which one is right for you?
When investing in a bed, there's a lot to consider. The feel, firmness, and type of sleeper can all make a difference. However, it can be confusing to know which option will fit your comfort and lifestyle needs. Does it matter if a bed has pocketed coils? Are memory foams a fad, or are you missing out?
Our comprehensive review puts both mattresses under the lens to showcase the highlights and pitfalls of each. And, ultimately, help you make the right decision for your long-term bliss.
Main Differences Between Saatva vs Amerisleep
The main differences between Saatva vs Amerisleep are:
Saatva is cheaper but not keen on discounts, whereas Amerisleep is more expensive but frequently has promotions.
Saatva is a two-stack coiled and innerspring mattress, whereas Amerisleep is a pure memory foam bed.
Saatva has a 15 year warranty, whereas Amerisleep has a 20 year warranty on their mattresses.
Saatva vs Amerisleep: The Mattresses Compared
Saatva Mattresses
Materials and feel
Saatva Mattresses distinguishes itself through its unique construction. Its three-layer structure provides exceptional comfort and durable support. The top cover is fashioned out of 100% organic cotton, which gives it a soft feel. While the inner construction consists of spring coils, its top layer consists of memory foam (foam mattress).
This allows the sleeper to have a durable, stable, and fluffy feel. Moreover, it will enable off-gassing wherein the mattress will be less likely to absorb or emit odors. It should stimulate airflow to provide added temperature neutrality in various weather conditions.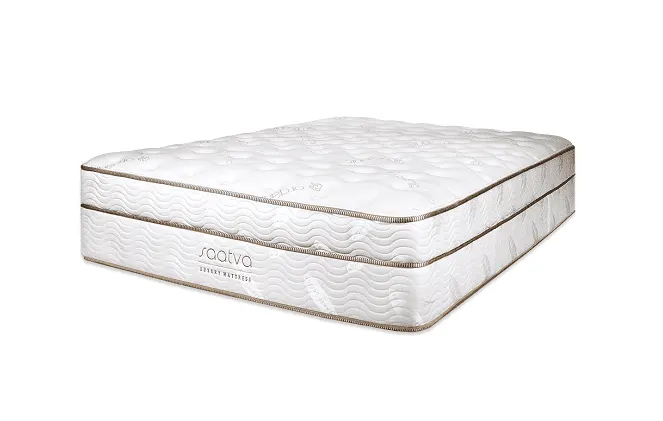 In terms of feel, Saatva has a primarily traditional innerspring touch with some improvements to give it that premium feel. The sleeper has three firmness options, which include:
Plush Soft: Medium Soft
Luxury Firm: Medium Firm
Firm: Firm
For side sleepers, plush soft would be the ideal choice. Overall, the mattress does provide an excellent balance regardless of its firmness level. Its encasing also provides adequate edge support, especially given its unique support boundary.
All in all, Saatva provides a sturdy, durable mattress with multiple firmness options. It's built ensures minimal motion transfer, which is ideal for partners as well. The sleeper also has a 120-day money-back guarantee in case you want to see if it's worth the expenditure before you commit.
Construction
Saatva comes in two height sizes: 11.5″ custom slim model and a 14.5″ premier luxury model; and it has the following construction profile:
The first layer consists of memory foam, which is about 3/8″ thick. This provides the softness and comfort you need for some relaxing sleep. However, as any memory foam mattress owner will relate, the beds often provide this slow sinking feeling. This is taken care of by Saatva through its inner dual coil layers.
The second layer prevents the sleeper from sagging due to its individually wrapped, pocketed coil makeup. The coils are 4-inch tall with a 14-gauge; this aims to provide high yielding resilience while still being relaxing.
The third layer adds more support to the mattress. The springs within this layer are interconnected through a metallic wire. Additionally, to ensure a springy structure, the thickness of the coils is around 13-gauge, with a length of 5.5 inches. Each layer benefits the user in different ways to ensure overall comfortable yet lasting experience.
Due to its make and height, not all kinds of sheets will fit and users will need to be a little wary about the sizing. That said, it should be compatible with most bed frames.
Amerisleep Mattress
Materials and feel
Amerisleep mattress has more range in their product line. They offer five different firmness levels at differing prices. While the base product remains the same, the thickness is different between their models.
To start off, the sleeper is constructed from a responsive memory foam mattress. Unlike the Saatva mattress, it does not use any innerspring. That said, it still does not possess the traditional sinking-in feeling when lying or getting up from the mattress.
The firmness of the mattress allows for pressure relief without locking you in place. The design of its memory foam also gives it a breathable quality. The air circulation allows for uninterrupted sleep and a cozy environment, whether it's cold or warm.
Another feature of Amerisleep mattresses includes a celliant cover. This unique textile helps with air circulation, temperature control, restful sleep, and comfort. Moreover, the cover can be unzipped at any time for a quick machine wash.
The bed is designed to hug the contours of your body to provide you with maximum comfort. Its dense memory foam construction may feel firm at first but quickly adjusts to wrap you. That said, its firmness allows for durability, which may be lacking in other memory foam mattresses. Amerisleep offers a 100-day money-back guarantee and a generous 20-year warranty.
If you have issues sleeping on innerspring mattresses, Amerisleep is a good option with its various firmness options. There is essentially something for everyone.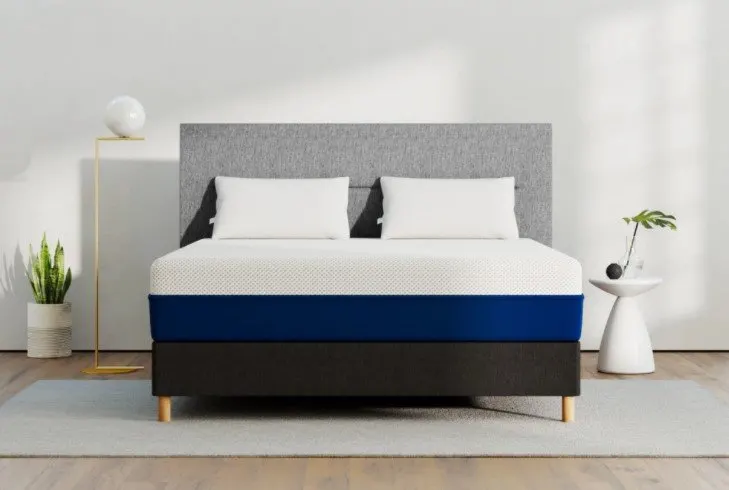 Amerisleep Mattress Construction
The thickness of their mattresses ranges from 10-14 inches, but the base layers of all models remain the same.
Bio-Core Foam: Foundation layer between 7 to 8 inches thick, and it is primarily manufactured from eco-friendly materials instead of petroleum.
Bio-Pur Memory Foam: The signature Amerisleep memory foam is between 2-4 inches thick.
Celiant Cover: A removable cover with advanced thermo-reactive properties to allow for increased airflow.
Amerisleep is a much slimmer option than Saatva, and it has more options as well. Its softer models are priced more highly than its firmer ones. The five memory foam models of Amerisleep include:
AS5: Soft
AS4: Medium-Soft
AS3: Medium
AS2: Medium-Firm
AS1: Firm
Note: You can opt for a hybrid pocketed coil system in models like AS2, AS3, or AS5.
Overall, Amerisleep is a more versatile option for those seeking a pure memory foam option. It is compatible with a variety of frame types and foundations. Additionally, depending on your model, standard sheets can easily be fitted on the bed.
The mattress is a well-made, thoughtfully-constructed sleeper. Its memory foam is an improvement to other brands to provide a balance between firmness and comfort.
Ease of Mind: Saatva vs Amerisleep Warranties and Test Times
Although both companies provide warranties that go beyond the traditional; there is a difference. Amerisleep offers a 20-year warranty, which is 5 years more than Saatva's 15 year warranty. That said, both are still leading other competitors and should not make a massive difference in the long run.
In terms of test time, Saatva has a slight advantage over Amerisleep mattresses here. It has a money-back guarantee stretching 120 days as opposed to the latter's 100-days. It might not seem significant, but it's nearly 3 extra weeks for you to make your decision.
| | | |
| --- | --- | --- |
| Brand | Trial period | Warranty |
| Amerisleep Mattresses | 100 nights | 20 years |
| Saatva Mattresses | 120 nights | 15 years |
On the topic of ease of mind, their delivery styles also differ. Amerisleep offers the popular online bed-in-a-box shipping. The buyer will receive the mattress quicker in a box that they will need to disassemble and place on their bed frame.
Typically, Amerisleep shipping takes between 3-5 business days. Moreover, the mattress should be unrolled and allowed to sit for at least 4-6 hours to decompress properly. Most users find that it generally takes a full 24 hours according to their experience.
Saatva uses wholly traditional means. It provides customers free white glove delivery as well as the removal of your old mattress. Essentially, the shipping takes longer, but Saatva gives you the movers to set things up. Another bonus point: No wait time. You can simply use the bed as it arrives.
Dissatisfied or in need of additional support? Both companies have professional and friendly customer service representatives who would be happy to help you.
Saatva vs Amerisleep: Prices
One of the most significant determinants of mattress buying is our own budget. A heftier price tag does not always mean better—especially when it comes to our beds. It mainly does depend on what kind of comfort you need.
That said, we all need to understand the costs of our purchases before we make them. They are both luxury mattress brands, and their pricing reflects it. Generally, the Saatva mattress has a lower price, but Amerisleep does have frequent sales or promotions.
Additionally, Amerisleep has multiple price points depending on their hybrid mattress model, while Saatva has a fixed price. We've tabulated the prices below for you to review:
Saatva Mattresses:
| | | | | | | |
| --- | --- | --- | --- | --- | --- | --- |
| Model | Twin size | TwinXL | Full | Queen | King | Cal King |
| Luxury Firm | $799 | $949 | $1199 | $1299 | $1699 | $1699 |
| Plush Soft | $799 | $949 | $1199 | $1299 | $1699 | $1699 |
| Firm Mattress | $799 | $949 | $1199 | $1299 | $1699 | $1699 |
Amerisleep Mattresses:
Model
Twin size
Full size
Queen size
King size
Cal. King
Split King
AS1

(Americana)

$849
$1049
$1199
$1399
$1399
$1399
AS2

(Revere)

$999
$1149
$1299
$1599
$1599
$1898
AS2h

(Revere Hybrid)

$1199
$1349
$1499
$1799
$1799
$2498
AS3

(Liberty)

$1099
$1249
$1399
$1699
$1699
$2098
AS3h

(Liberty Hybrid)

$1299
$1449
$1599
$1899
$1899
$2698
AS4

(Colonial)

$1399
$1549
$1699
$1899
$1899
$2698
AS5

(Independence)

$1799
$1949
$2099
$2299
$2299
$3498
A Round-Up on Pricing
There are significant price differences between Saatva and Amerisleep. Still, their full list of characteristics should help you pick out the right mattress for you and your partner. Making a budget decision is difficult given the size of this investment and its actual function. Should you pay for added comfort, or is it a luxury you can do without?
Typically, you'd want to opt for a mattress that ticks all your requirements without feeling like a compromise. Investing in a bed is often the best home-purchase decision you'd make as it helps to avoid tossing and turning every night. Moreover, it prevents back injuries, which can cost you more in the long run.
Still, you need a budget to work out. It might sound great to invest in the softest bed or the largest, but take a realistic look at your environment and requirements. Given these mattresses are online brands, you're going to have limited exposure beforehand. Make use of their trial policy and look into any bundles or sales that you can avail.
Saatva vs Amerisleep – Who are These Mattresses Best For?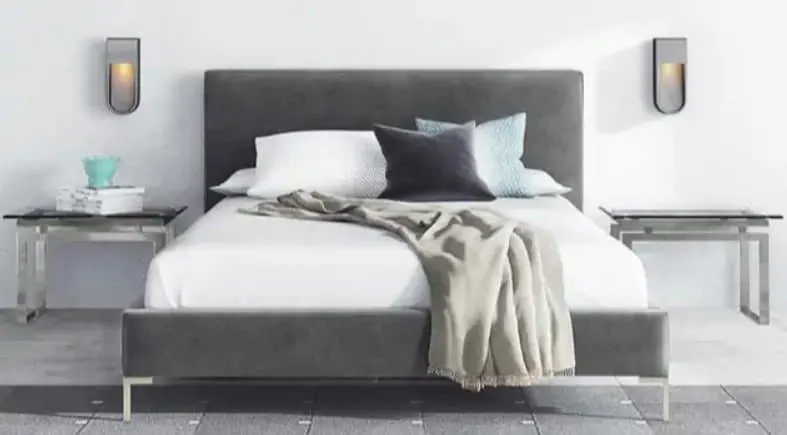 Aside from pricing, there are significant differences between the mattresses and who they might appeal to. For example, if the new-age pure memory foam mattresses aren't your vibe, then Amerisleep is probably not a good option for you. To match up and discuss the differences, here's a quick breakdown:
Why Choose Saatva Mattresses
Saatva's bounce and structure are what make their sleeper unique. It is incredibly soft and provides adequate pressure relief. It can handle load due to its innerspring mechanic and, therefore, might be a good option for larger body types. Saatva has been running sparse sales, you might still have to pay a slightly higher price for this option.
The plush model will be soft and smooth enough for side sleepers. In contrast, back and stomach sleepers will find their Luxury or Firm options more suitable and supportive.
It provides a layer of memory foam to aid in comfort without giving you a sunken feel. Additionally, due to its quality spring construction, you can expect it to last and stay durable for the years to come.
To Recap…
You should love Saatva mattress if you:
Need a comfortable, yet firm base
Don't mind a taller mattress than traditional options
Prefer to have great air circulation and breathability
Have small to large body type
Why Choose Amerisleep Mattresses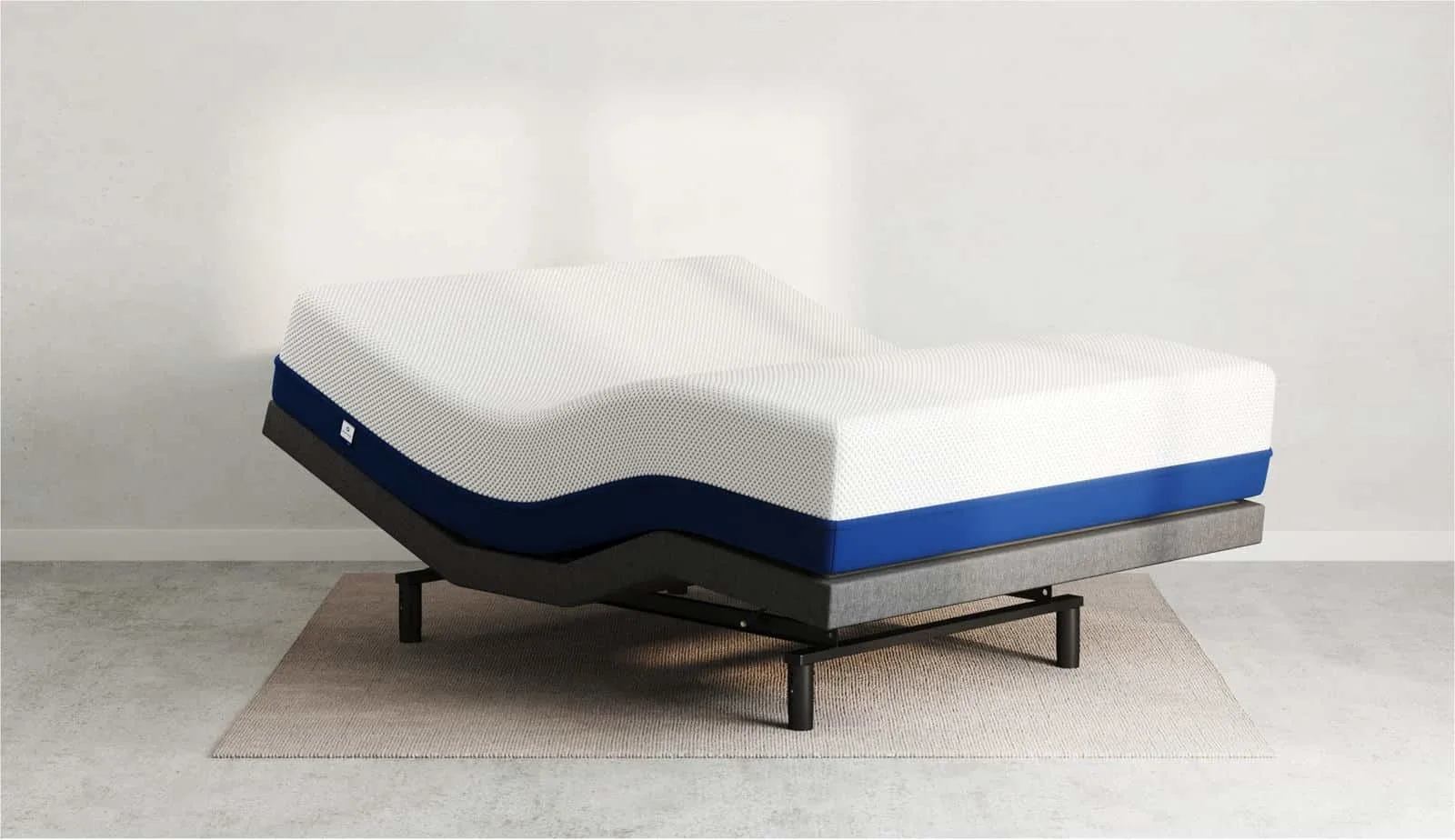 Amerisleep provides you comfort as you need. They offer firmer and softer options depending on your own preference. Therefore, individuals with specific requirements will have more wiggle room.
While the mattress is an excellent choice for back and stomach sleepers. Strict side sleepers may experience some difficulties. The AS4 and AS5 provide softness, which side sleepers may be able to appreciate.
Additionally, as Amerisleep is firmer memory foam, it has some pros and cons. It is ideal for individuals looking for a little structure in their foam. Still, it cannot compare to the capacity Saatva and innerspring mattresses can.
In terms of price, the mattresses can vary a lot in terms of their specifications. That said, look for promotions and you can generally find a better deal to get more bang for your buck.
To Recap…
Amerisleep mattress is your best option if you:
Prefer a firm memory foam mattress
Require a cost-effective option
Like to sleep on your back or stomach
Have a small to medium body type
Can You Recommend Any Alternatives?
If neither Saatva nor Amerisleep sound like the right choice for you, you may want to look at other similar options. Our suggestions include:
FAQs
Question: Is Amerisleep Better for Back Pain Than Saatva?
Answer: Amerisleep is different from other memory foam options on the market. It has a certain firmness that provides a reliable, yet relaxing base to sleep on. That said, Saatva generally provides better stability due to its Spinal Zone sleep technology, which reduces back pain and stiffness to correct spinal alignment.
Moreover, individuals with back pain may want to avoid the misalignment from lying on or off a memory foam. It will broadly differ person-to-person, but our choice for back pain has to be Saatva.
Question: How To Wash an Amerisleep cover?
Answer: A crucial selling point for Amerisleep is its Celiant cover which allows for increased breathability and thermal-regulation. It can be unzipped and washed to remove any odors or bacteria. To clean, simply use your machine on a cold and gentle cycle. It should be air-dried before refitting on the mattress.
Question: Can I try these mattresses before buying?
Answer: Given both companies are online entities without physical stores, you can't get the first-hand experience without purchasing one. That said, both companies have a trial offer. Amerisleep offers a full refund if returned within the time frame; whereas Saatva charges $99 as transportation fee or returns.
Saatva vs Amerisleep: Which is the mattress of your dreams?
Saatva and Amerisleep are unique due to their construction and utility. Each is a premium luxury mattress brand that feels the part. They offer competitive services at a relatively affordable price compared to traditional mattress companies.
Additionally, their trial period of 120 and 100 days makes it easier for users to test out the bed. Their impressive warranty plans also make either an excellent option to have. The decision is ultimately yours to make based on your personal environment and preference.
However, if we had to choose out of the two options, we would go for Saatva Mattresses. They provide you with a structural base for added support while the memory foam top for comfort. It's a sophisticated build that testifies its durability. Not to mention, it both adapts to your sleeping habits without losing structure over time. Due to its construction, price, and utility, Saatva is our pick.
Want to see other mattress options? Check out our Amerisleep vs Leesa Mattress comparison or our Winkbeds vs Saatva review for more great alternatives.