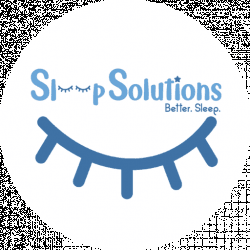 Latest posts by Sleep Solutions HQ Team
(see all)
At the fragile age of 3, children spend about 10 to 12 hours per day sleeping. That means that half of the time, they find themselves tucked in bed. Needless to say, this bed should meet all the required criteria for your child to get all the rest he or she needs, in order to stay healthy and energized. Sleep deprivation is a serious concern, especially amongst children who, as you know, have to eat and sleep correctly in order to grow healthy. This means that investing in a proper mattress for your toddler is a must. The question is, what are the main things to look after when you're out shopping for a mattress for your kid?
Shopping Criteria
Throughout their childhood, kids are in a permanent growth process, both physically and mentally. Needless to say, the quality of their sleeping hours is important in their development. In consequence, here is a list of the things you should pay attention to when looking to buy a new kid's mattress.
Size
The most common mattress size for your 3 years old is a single size. Since they are small, children don't need a huge bed. In addition to that, a single sized bed and a fitted mattress will occupy less space in the child's room, leaving more space open for playing, toys, or other pieces of furniture. There are some children that feel more comfortable sleeping in bigger beds and if the room size allows it, you can opt for a bigger one, but this is not mandatory, nor does it guarantee a better night's sleep. However, in most cases, children at the age of 3 can still snuggly fit into their cribs (unless you have super-human genes that make your kid grow twice as fast compared to the other kids on the block). In this case, you will have to spend even less money on a new mattress, because of the reduced size which means fewer materials going into the product.
Durability
Contrary to what some people may think, a kid's mattress is subject to more wear and tear compared to an adult-sized one. Kids toss and turn a lot in their sleep, they like jumping on the bed, playing on it and may even spill a glass of juice or milk every now and then. All these factors need to be taken into consideration if you want to buy a durable mattress. However, remember that since your kid will grow up pretty fast, you don't exactly need a mattress that lasts 15 years. Latex is a very common choice, as it provides the most durable mattress construction. It's also pretty important to choose a mattress that comes with a removable cover that can easily be cleaned in the washing machine and then put back on the bed.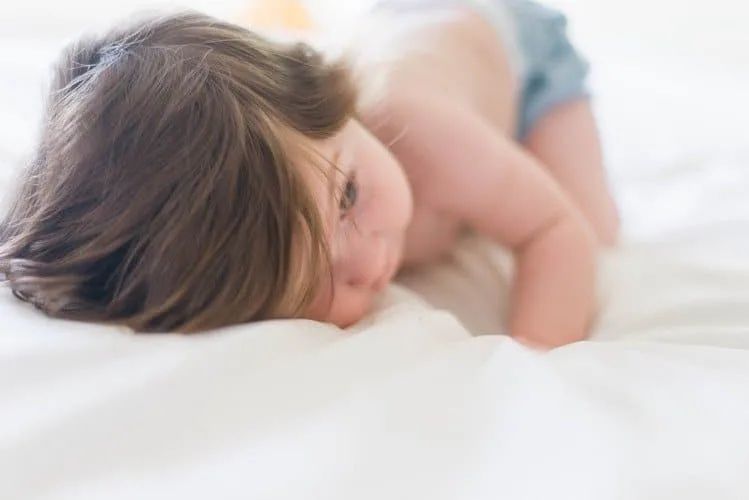 Breathability
Depending on where you live, summer nights can be a pain in the… Even we, as adults, have a hard time sleeping when the air feels too moist and it seems like the sheets get stuck to our skin. As you can imagine, a child is even more bothered by nasty summer climates and will require a mattress that provides optimal air circulation to ensure that your child doesn't wake up soaking wet and cranky in the middle of the night. Again, latex mattresses provide a pretty decent level of coolness and breathability. Most models come with pinholes that create air passages to draw heat away from the child's body. By default, latex mattresses have an open cell structure, to make sure that their surface stays cool.
Allergies & Other Issues
During their growth, children's immune systems are in constant development. So, at the age 3, you need to be very careful with making sure your child isn't exposed to things that can make him sick. When you're out shopping for a new mattress, it's important to find one that doesn't have harsh chemicals in its construction, but also one that is resistant to mold and dust mites. Again, depending on the climate of the area where you live, the mold is a phenomenon that can be encouraged. Once mold grows into the mattress, the results can have consequences on your kid's health, not to mention the costs of you having to clean or replace the mattress altogether. Dust mites can also be a problem, as they trigger allergies and cause damage to your child's health in the long run. However, you should know that in order to prevent the apparition of mold and dust mites, some manufacturers add harsh chemicals to the composition of the mattress, and these are a definite no-no for both you and your child. You don't want kids breathing these chemicals 12 hours each day.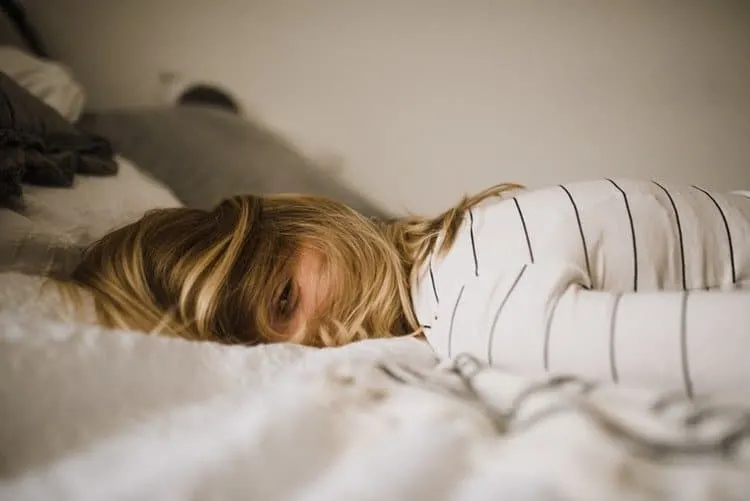 Firmness
We have taken the expression of "sleeping on clouds" way too literally. Thinking that your child should sleep on a mattress that's as soft as possible is a mistake. As your child's body is in development, it's important for him to sleep on a mattress that provides correct spinal support and alignment.
It's always a good idea to invest in a mattress that has a waterproof cover. We don't need to tell you how many accidents can happen when you have a small child and it would be a shame not to be able to put him to bed because he just spilled milk on the mattress. If you want to buy a mattress that doesn't have a waterproof top layer or cover, you can purchase one separately.
Typically, toddler mattresses are made from foam, latex, coco fiber, horsehair fiber or batting, and some models can even have springs. Out of all these, foam and memory foam mattresses are the most common ones, because they are extremely affordable and provide good support for your child's body. Typically, foam mattresses are available in all sorts of levels of firmness, you just have to search until you find the right one. However, latex mattresses are growing in popularity, mainly because it's a very durable material, not to mention highly-elastic. However, the mattresses that your child uses in this transitioning period from being an infant to switching to a full-time bed, parents aren't really interested in a durable mattress like ones made from latex. Instead, latex is more popular on adult mattresses, as this is an investment made for a longer period of time.
Foam is considered to be one of the most popular materials used in the construction of a mattress, mainly because it provides high levels of comfort and flexibility. The foam layer is encased in a hypoallergenic cover which is also waterproof: a feature that you definitely want to see in a toddler's mattress. The cover promises to keep all dust mites, mold, and bacteria away from your child.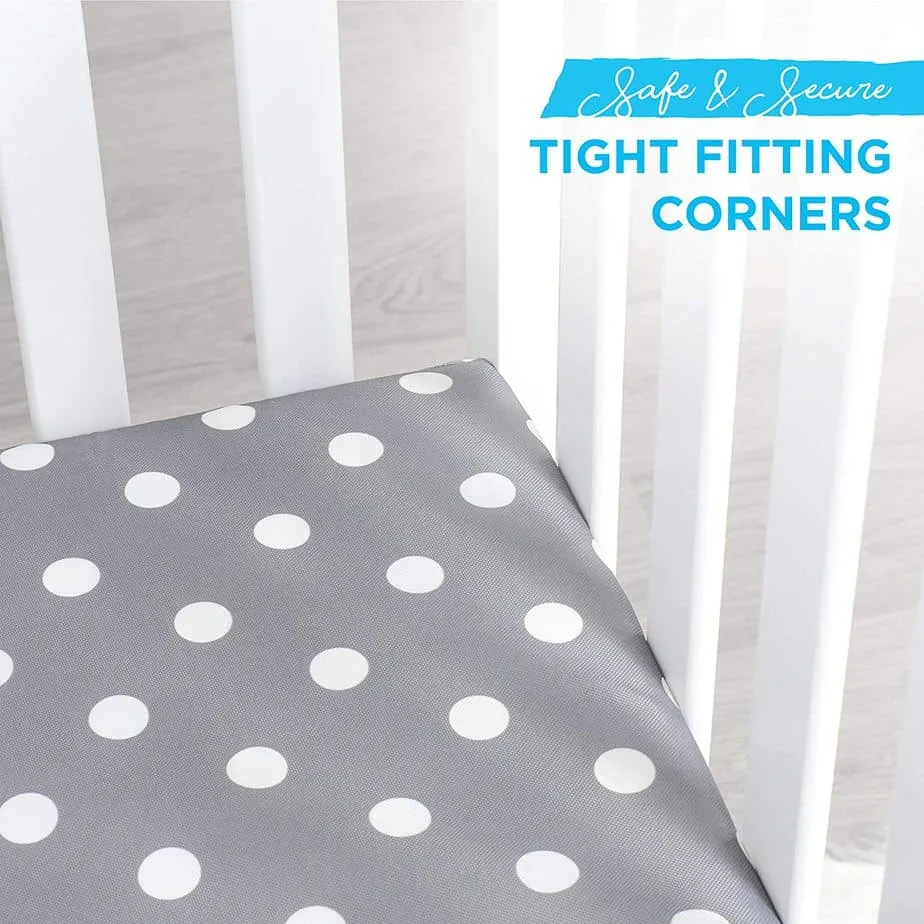 When you receive the mattress, you'll notice that it's vacuum-sealed and rolled in a box. Rip the package open and unroll the mattress, laying it flat. It will take about 48 hours for the mattress to decompress. While the mattress doesn't use any chemicals in its construction, it does have a particular smell, which can be removed by allowing the mattress to rest in a well-ventilated room for about 3 days max. After having analyzed a generous number of customer reviews, we came across the touching story of a German Shepherd owner that bought this mattress for her dogs with arthritis and is extremely happy with the product. You have to love versatility!
Pros:
Features a hypoallergenic waterproof mattress cover.
The foam inside the mattress is CertiPUR-US certified.
Waterproof cover can be removed.
Doesn't have any chemicals added.
Cons:
Initial smell after unboxing can be quite unpleasant.
Specs:
Dimensions: 52 x 27.5 x 5 inches
Weight: 8.85 pounds
Made from: Foam
If you're looking to buy a mattress that's both comfortable and breathable, Graco has a pretty neat product in store for you. Aside from that, the mattress seems to meet all the other requirements that are needed from a product of its kind. Made with anti-microbial materials, it doesn't have any added chemicals that can take a toll on your child's health. Even if the mattress is shipped in a compressed roll, it is fully expandable within a timeframe of maximum 72 hours.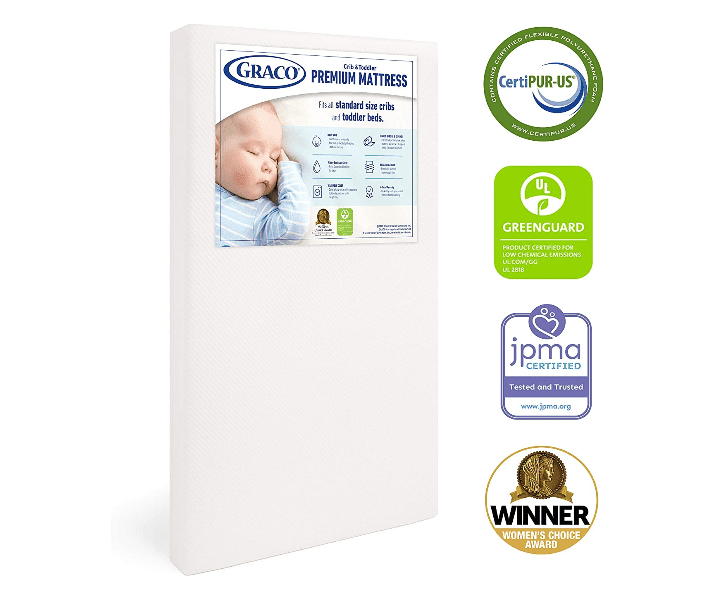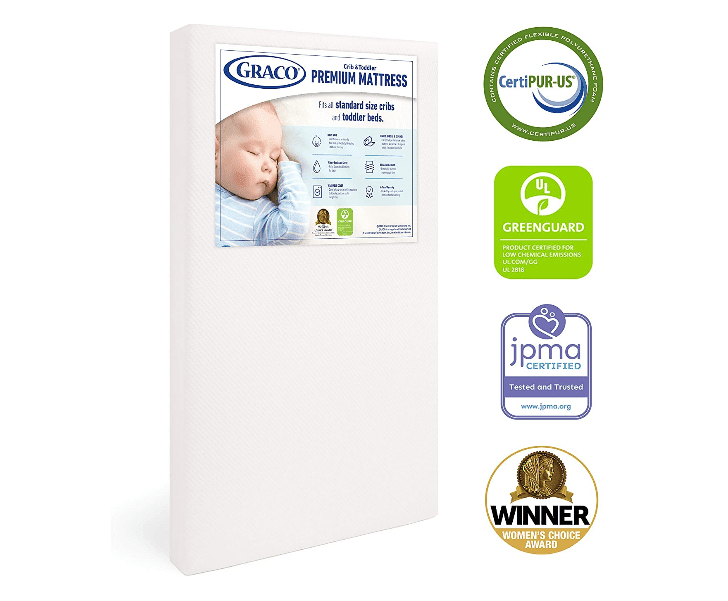 The mattress cover is removable, which makes it super-easy to clean. It meets all the flammability standards, to make sure you are buying a high-quality product for your kid. We would have liked this mattress to be waterproof, but it is merely water-resistant.
Pros:
Made from highly-breathable foam.
Doesn't have any added chemicals.
Made with anti-microbial materials.
Cons:
Can take up to 3 days to expand to its full size.
Isn't waterproof, just water-resistant.
Specs:
Dimensions: 27.6 x 52 x 5 inches
Weight: 10.7 pounds
Made from: Foam
With a center layer of 150 coils that are intelligently wrapped in hypoallergenic cushioning, the Sealy Perfect Rest mattress is definitely in our list of top 5 mattresses for 3-year-old kids. At the top of the mattress lies a waterproof cover that's meant to avoid any kind of wet accidents. Right in the middle of it lies a layer that features 150 interlocking steel coils that are supported by a steel border, which ensures firmness on the edge of the mattress, while providing good body support on the rest of its surface.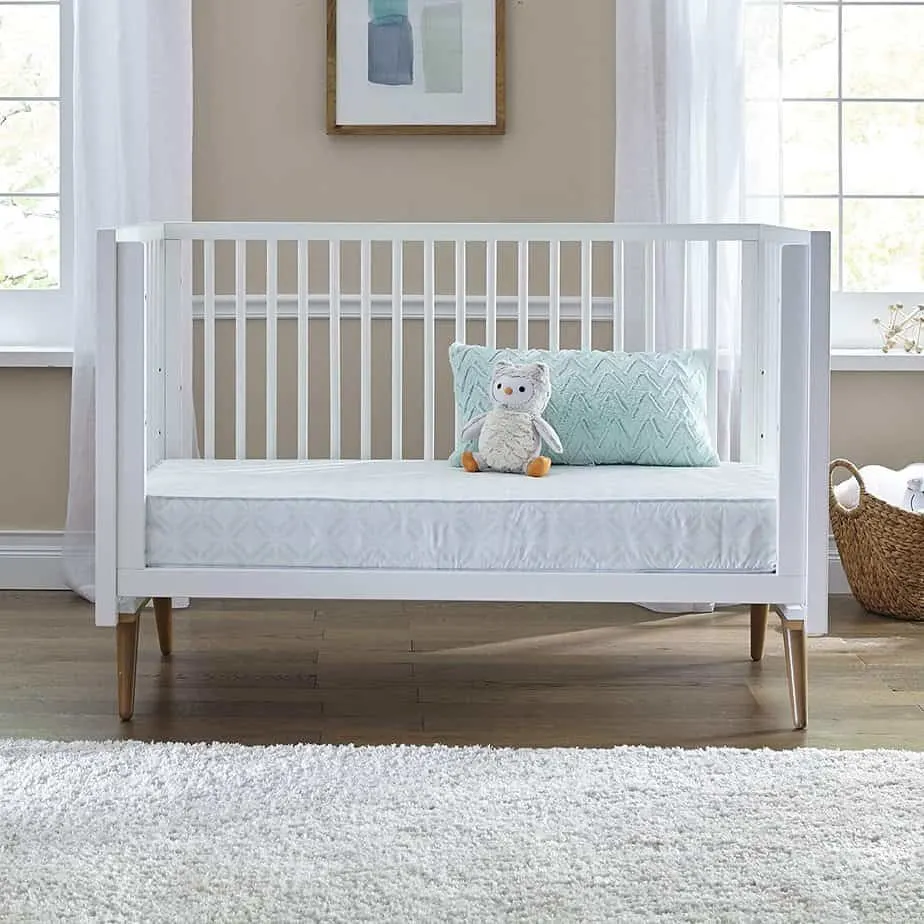 The steel border will make sure that the mattress doesn't sink in even when your child is sitting on the edge of the bed. The kid's posture is easily supported because of the weight distribution system of this mattress. The cover in itself seems to be ideal for a child's bed, since it has a waterproof surface and binding. This binding helps ensure that the edges won't turn into a safety issue because of unraveling. The bottom side of the mattress features a breathable layer, that allows the air to pass through the pockets.
Pros:
The middle layer comprised of 150 innerspring coils that give great response and bounciness.
Steel border keeps the edges unsinkable when your kid stands on the edge of the bed.
Features a waterproof cover.
A layer of hypoallergenic cushioning is added right under the top cover.
Cons:
Not very durable in the face of sagging and indentations.
Specs:
Dimensions: 51.6 x 27.2 x 5.2 inches
Weight: 13.13 pounds
Made from: coils and hypoallergenic layers
Here is yet another product with all the chances to succeed. My First Crib mattress can be purchased with either a plain or quilted cover, to bring your toddler's comfort to the next level. Here are the most important things you have to know about it. First of all, this mattress lack all the chemicals you definitely don't want hanging around your child: PBDEs, TDCPP or TCEP, any kind of ozone depletes, lead, mercury or other heavy metals. It doesn't have any formaldehyde or phthalates. In other words, it's absolutely child-safe. The low VOC emissions will ensure that the air quality indoors remains at high levels.
The waterproof cover of the mattress is made from plush velour which feels amazing when in contact with the skin. This material manages to keep the child's skin warm during the winter and cool during the summer. As with all crib mattresses, this one is also vacuum sealed and you will have to give about a day (or three) before it fully returns to its original shape.
Pros:
A chemical-free product, super-safe for children.
Made from comfortable and supporting high-density foam.
Features a waterproof cover.
The cover is made from plush velour and is soft to the touch.
Cons:
Expanding time takes longer than advertised (somewhere around 4 days).
Specs:
Dimensions: 51.6 x 5 x 27.2 inches
Weight: 11.9 pounds
Made from: high-density foam
This is the next level in toddler mattresses, no doubt about it. That because everything about it screams organic and chemical-free, which means that no part of this product could ever represent a safety hazard for your child. First off, let's talk about what's inside the mattress. The soy-enhanced foam core is firm enough to make sure that your kid's spine rests in the proper posture, without giving him any paint and while helping him get a good night's rest.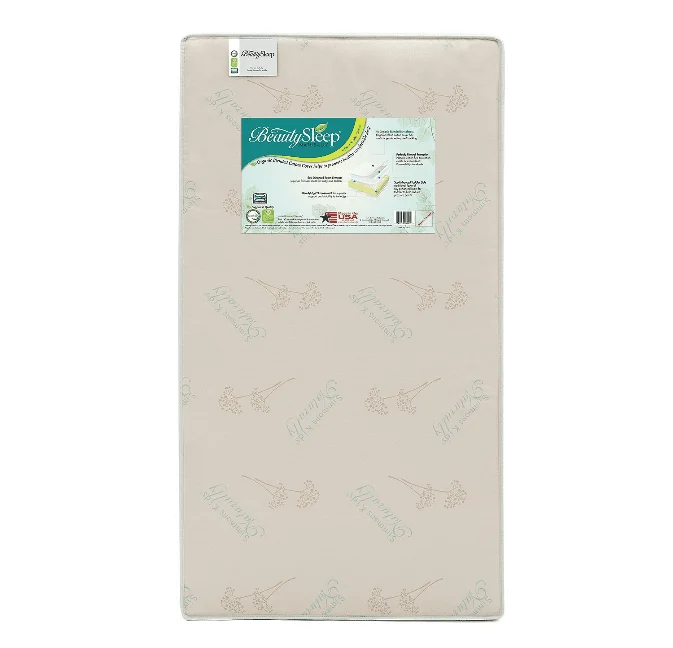 The BeautyEdge foam technology developed by Simmons is here to make sure that the edges of the mattress are stable. The cover itself is made from organically blended woven cotton, which makes this product neatly perfect for children that suffer from allergies or for parents that want peace of mind knowing that their child is sleeping on a non-chemical product.
Pros:
GreenGuard Gold certified mattress, with low chemical emissions.
Features a soy-enhanced core for the firmness that your toddler requires.
The cover is made from organic cotton.
Cover features medical-grade waterproof backing.
Cons:
More expensive than your average toddler mattress.
Specs:
Dimensions: 52 x 27.5 inches
Weight: 17 pounds (shipping weight)
Made from: soy-enhanced foam
Bottom Line
If your toddler is still small enough to fit into the crib, then every one of the mattresses presented in this article has a high chance of becoming your favorite. However, if your kid has outgrown the crib and is ready to switch to a full bed, you're also going to need a bigger mattress. You shouldn't feel the need to rush this process, as the vast majority of toddlers move from crib to bed between the ages of 2 and 4. This decision should be assessed in a discussion with your child, as he should be emotionally prepared for this transition. Cribs are way better than the bed when it comes to the safety of your child, especially since there are no chances of him falling out of bed while sleeping.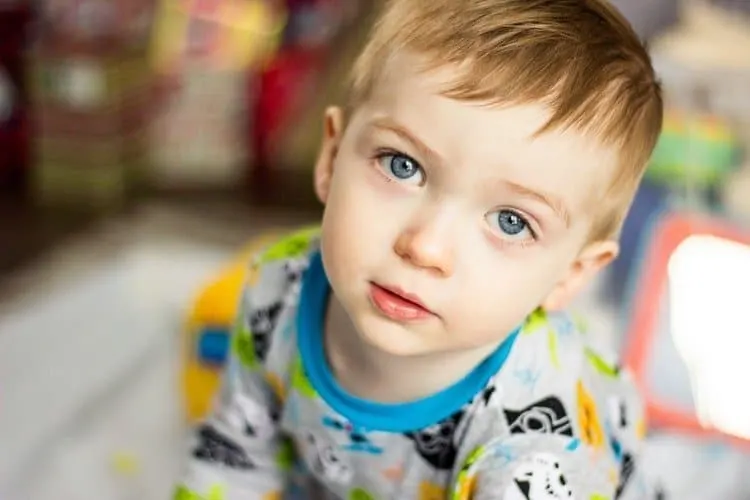 But if you do decide to leave your 3-year-old in the crib for a while longer, you can opt for a new mattress in case the old one feels worn out. Crib mattresses are typically made from innerspring or foam, each of them is pretty firm. A firm mattress is very important for a toddler because you don't want the child to sink into it and you want it to provide a high level of spine support. If you want, you can opt for a convertible mattress, which is generally more firm on one side and softer on the other.
As a general note, a mattress for your toddler needs to meet 3 important criteria: it has to be firm enough to support the spine and to prevent the little one from sinking into the mattress; it should be waterproof, to avoid any accidents; it should be made from anti-microbial and chemical-free materials, so make sure your child isn't exposed to whatever triggers may affect his health. Most manufacturers will list their certifications on the product's page, so make sure you look for this information to know if a particular mattress meets the health standards.