Hi, there!
I'm Alizabeth, a first-time mom. It's lovely to meet you.
What I've discovered as a first-time mom is that it doesn't matter if this is your first kid or if you've gone through the loops of having a baby a time or two: kids take up a lot of energy. I never imagined how exhausting being a parent would be. Sure, everybody warned me. But, I don't think you could ever really prepare for the type of exhaustion that comes with being a parent.
And what I've really struggled with is finding a mattress that's everything I need it to be to keep my son asleep. Don't get me wrong; I'm grateful for the times my son does wake up throughout the night. I know him waking up throughout the night means I have a healthy baby.
But I miss sleep.
Even as I'm writing this review now, I'm pounding back a Monster and pushing through to write this for you. Why?
Well, you deserve sleep too.
And if you find that you're having a hard time getting your baby to sleep at night because they dread bedtime or because you're tired of your baby waking up every hour or so, I'm here to present a solution to you. What if the answer to our sleep problem wasn't some complex nighttime routine? What if the answer was as simple as trying out a new mattress?
That was the question that I asked myself as I clicked 'order' on the Sleep Ovation mattress.
And I'm going to be completely honest with you. I didn't have high expectations for this mattress. It was an expensive investment, but it was an investment I was willing to try out if it meant that I could at least get one night's worth of sleep that was better than what I had been having.
I know, this was an expensive night's worth of sleep. But, I figured, if I'm willing to pay $500 for a hotel room, I'm ready to pay the same amount for the mattress to try to sleep in the comfort of my own home. So, without any further hesitation, I'm here to share with you whether or not I think the Sleep Ovation mattress is worth the money.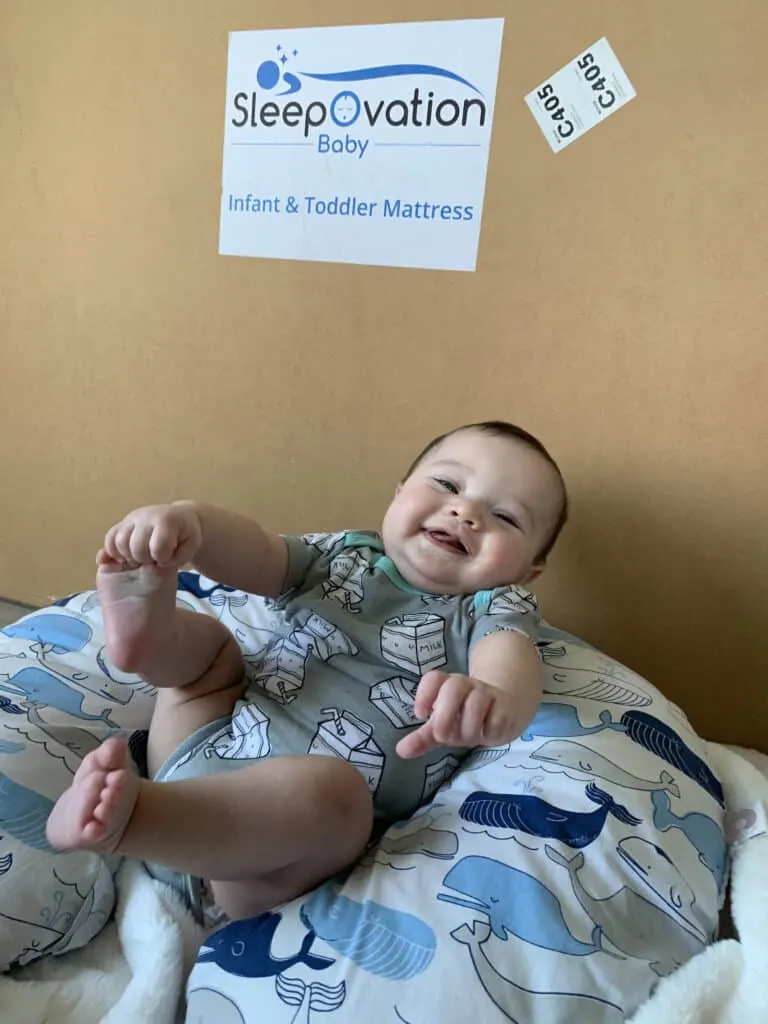 Bottom line up front: I absolutely think this mattress is worth the money. I saw such a drastic improvement in my son's overall sleep schedule. If you're having a hard time getting your child to sleep through the night, I would highly recommend you try out this mattress.
Even if you aren't looking for a mattress that'll help your baby to sleep through the night, I still think you're missing out if you haven't tried this mattress out yet.
Meet My Son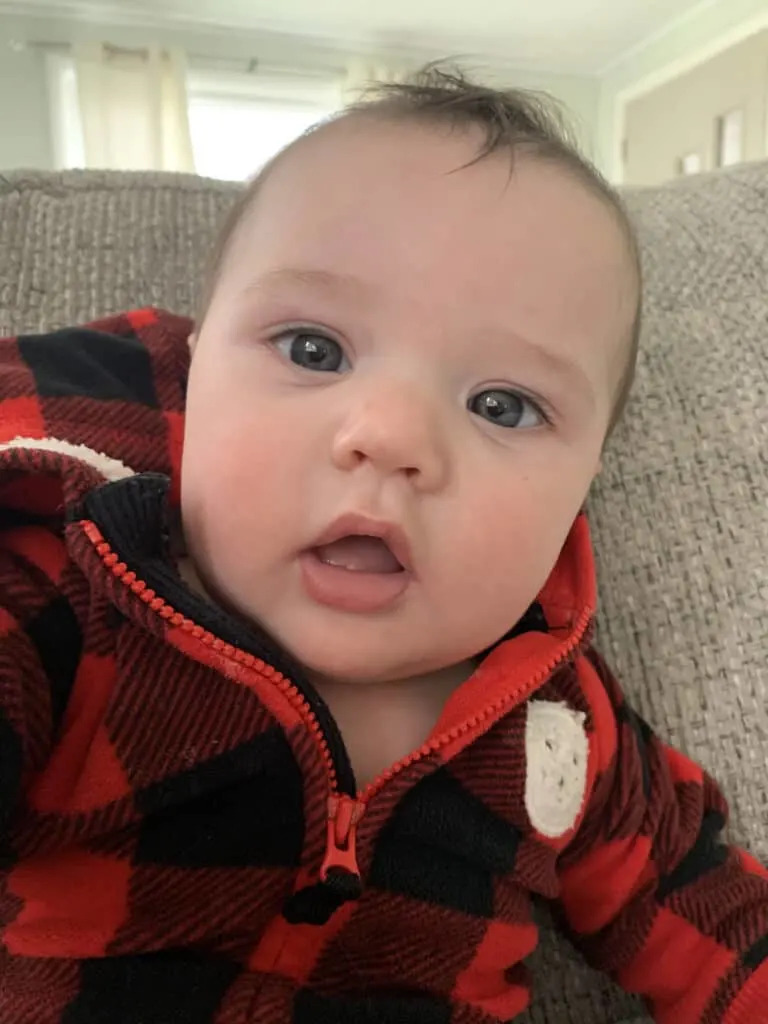 So, since we're talking about my son and his sleeping habits, I figured I would introduce him to you. This is my son Nathanael. At the time of this review, he's just turned five months old.
He hasn't started cutting teeth yet, but he has started teething. We haven't introduced him to any solids, but that milestone is coming up quickly, and I'm excited.
Nathanael has never been a good sleeper. He wakes up pretty easily. When we brought him home from the hospital, he would startle himself awake every time anyone opened or closed the door. My husband thought that Nathanael had some traumatic reaction because of the doors opening and closing at the hospital frequently.
We practiced contact napping just to keep him asleep longer. If he isn't laying on one of us, he doesn't sleep for very long. So, that's made putting him to bed in his bassinet very difficult. It takes us at least two hours just to try to get him down at night. And he wakes up all throughout the night, too, so both my husband and I are exhausted when the next morning rolls around.
And I'm a working mom, so it's been really hard to balance my son's poor sleep schedule and all the responsibilities that come with being a full-time working mom and an adult.
What Does Sleep Ovation Offer?
There's a lot about Sleep Ovation baby that caught my eye. Their mattresses offer eight different layers. The layers are:
Washable infant and toddler covers

Zipper cover

Health and safety barrier

Fireproof flame barrier

2x cushion elements

Springs
Plus, Sleep Ovation says that their baby and toddler mattresses are currently in the process of applying for FDA clearance. This tells me that this company is serious about its product. In addition, Sleep Ovation says all of their infant-toddler mattresses are Greenguard certified.
My First Impressions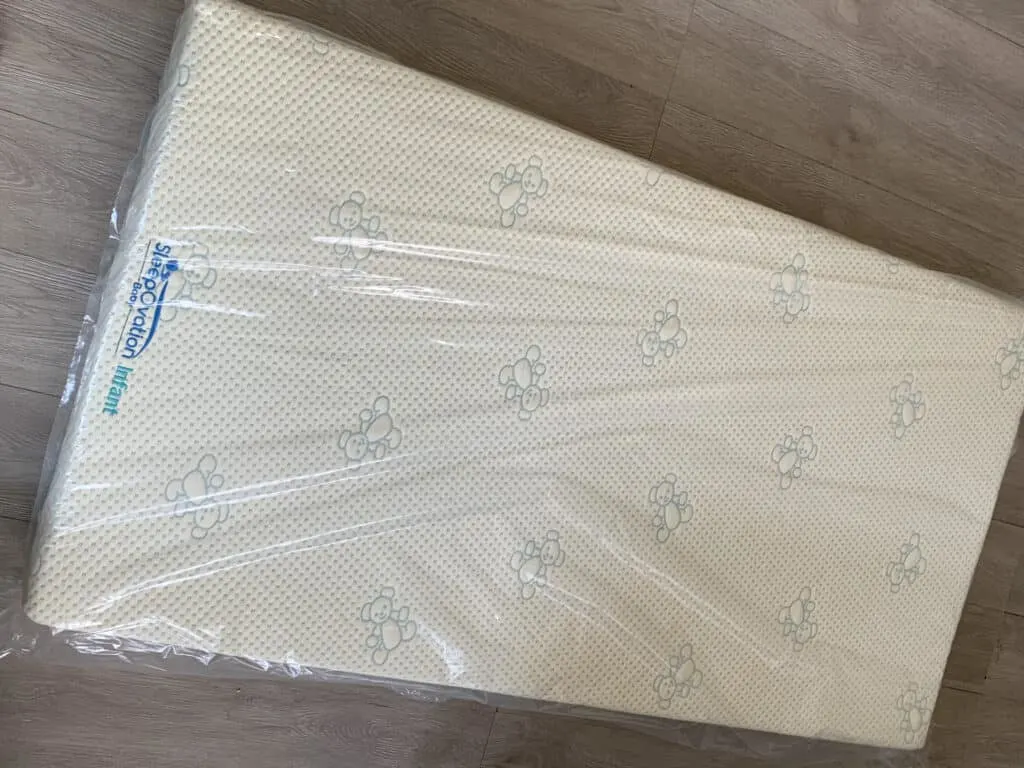 I was super excited when the Sleep Ovation box showed up on my doorstep. It was a really light box and way less bulky than I was anticipating it to be. I've had a lot of experiences with roll-up foam mattresses, and I always struggle to take care of them myself.
Normally, I have to wait for my husband to get home. I even had to ask my husband to get the other mattress that I had previously bought my son to help me get upstairs. But, to be fair, I was eight months pregnant when that box was delivered, and it was really heavy.
But that wasn't the situation with this box at all. It was super lightweight, and I was able to drag it inside by myself. It was just a little too tall and wide for me to feel comfortable picking it up, but that didn't have anything to do with the weight of the package.
The opening of the cardboard box was super easy. I didn't have any problems doing that. I love that the mattress was wrapped inside of a plastic bag. It made me feel like I didn't have to worry about any possible dirt or debris from the outside world getting on the brand new mattress I bought my son.
Immediately after that, I was able to put the mattress on the floor and let my son explore.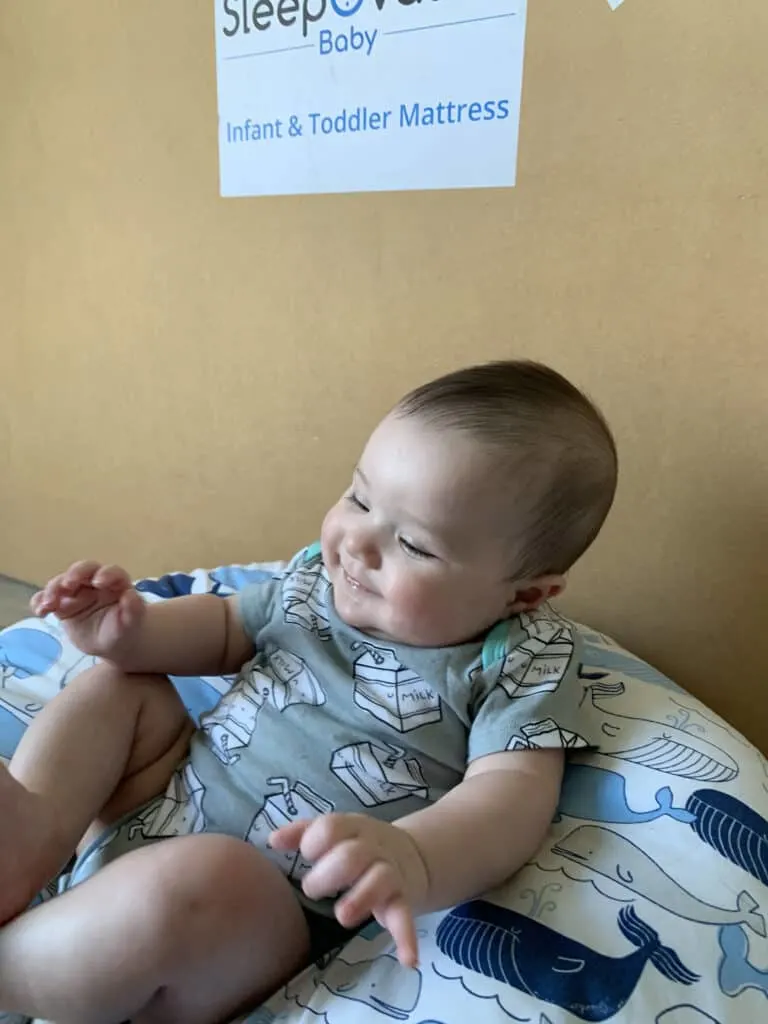 So, overall, the setup process was super easy. It literally took no time or effort to get it out of the box. That in itself was a huge deal to me because I was prepared to put in a lot of legwork to get this mattress set up for my son. I also really loved that there wasn't any extra waste from this mattress. A lot of companies that I have bought from in the past have put way too much packaging in their products.
So, when I'm done unboxing the product, I'm left with a lot of leftover plastic, advertisements, and other stuff that just wasn't necessary. But, thankfully, that was no problem that I had at all with this mattress.
Plus, this mattress is going to last us a few years. One side of the mattress is for toddlers, and the other side of the mattress is for infants. Since my son is only 5 months old, I'm still using the infant side.
But, I love knowing that we're to have a mattress for several years to come that's safe, comfortable, and supports all of my baby's sleep needs.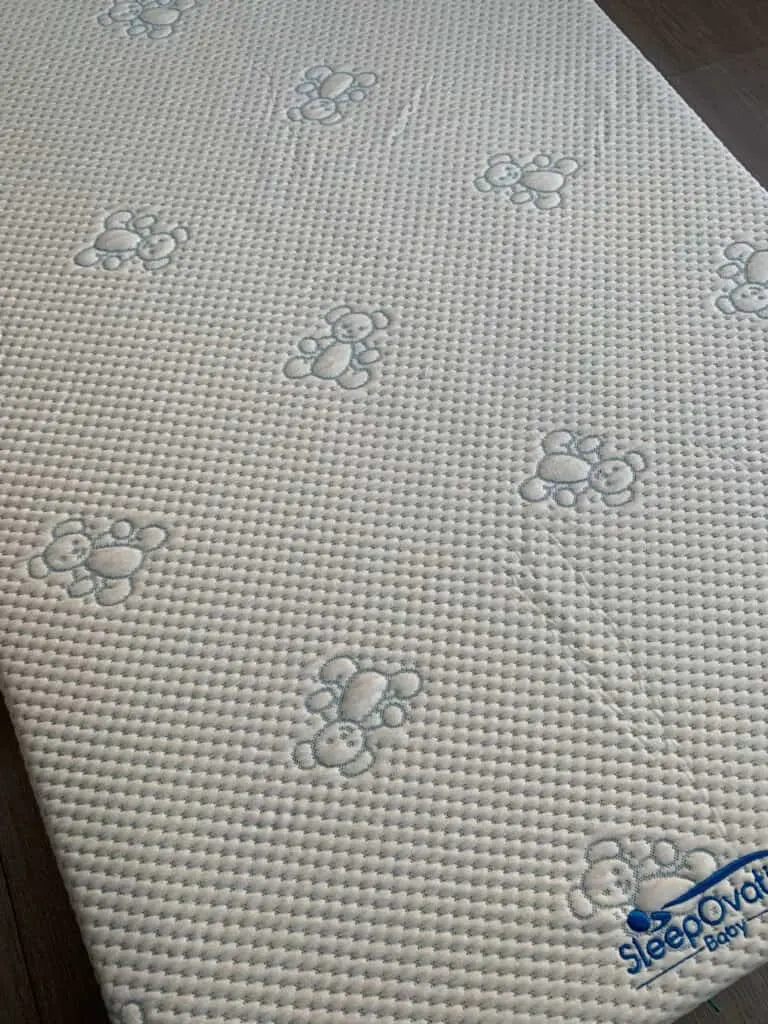 My Son's Impressions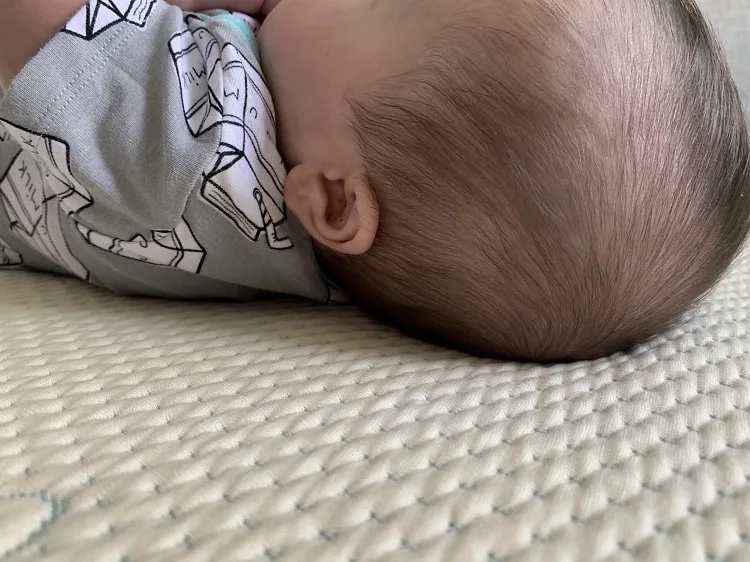 So, I don't feel like I should be the only one voicing my opinion here on the overall rating of the mattress. After all, Nathanael is the person sleeping on the mattress. So, of course, I had to let him lay on it when I got it out of the box.
There are a few things that I wanted to make sure that I watched for as he lay on the mattress. I wanted to make sure that the toddler mattress was firm enough for him to not pose any potential health risks. I also wanted to see if I was going to need a waterproof cover for my son to sleep on this.
When I first laid my son down on this mattress, he was super happy. And, my son isn't the type of baby who loves every type of material. He's actually kind of picky. He hates being put on the floor or put on anything that's too hard. There are also some fabrics that he's way more fond of than other options.
First, I had to make sure that he posed with the box. He had a lot of fun doing this, as you can probably see from all the pictures that I've included.
Nathanael really enjoyed it when I first laid him down on this mattress. I wasn't expecting him to be a happy camper because there's not a lot these days that he's ever super happy about. But he loved lying on this mattress!
And after I got the mattress in his nursery, this is what it looked like. Easy – no one would know that my son was sleeping on a super luxurious mattress.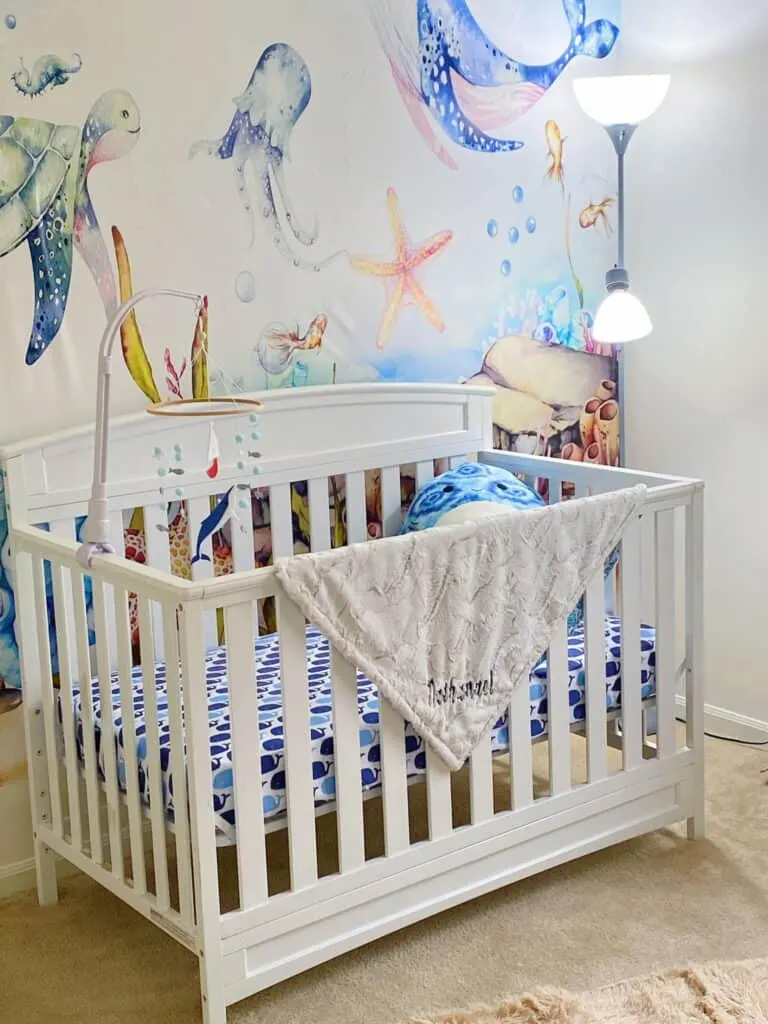 Testing It Out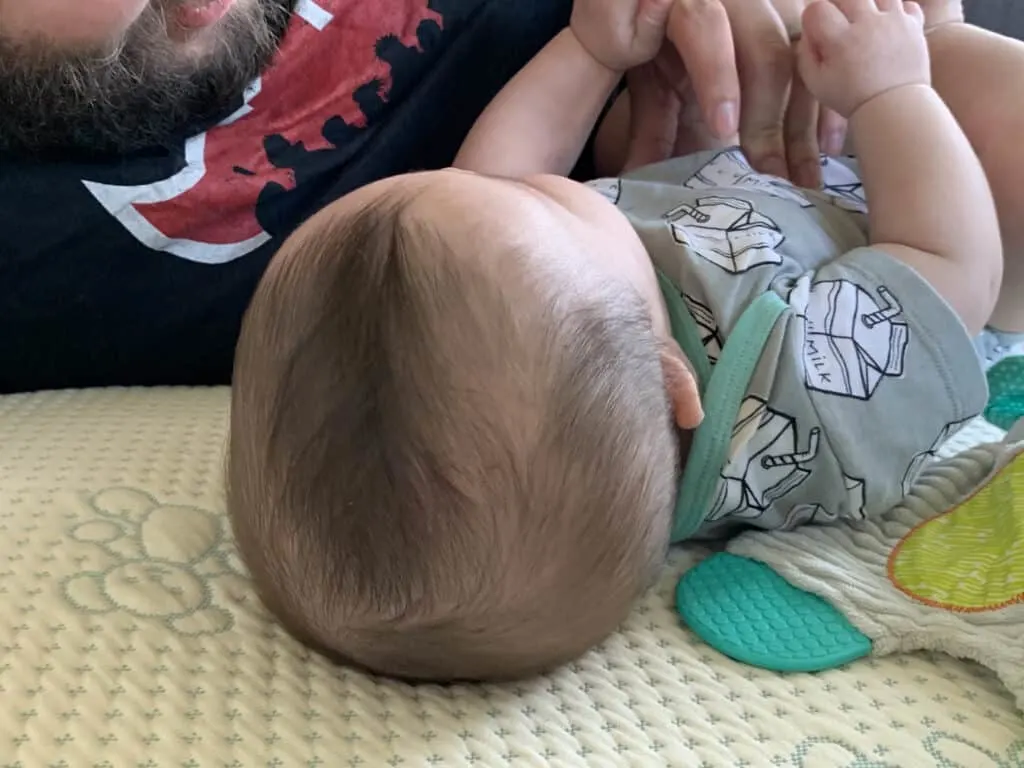 I was really interested to see how the science put into the mattresses would translate to spinal support for my son. When I was buying this mattress, I looked at Sleep Ovation's unique cushion construction that allowed for the heavier parts of my baby's body, like his head, to be kept even with the rest of his body while he was lying on this mattress.
It made me so happy to see that my son's head didn't sink into the mattress. I really feel like Sleep Ovation proved themselves to be reliable just based on their overall design, legitimately reducing the pressure that the mattress put on my son's skull.
And, I made sure to include plenty of pictures for you to see as well. You can see that when Nathanael is laying on the mattress, his body and his head don't sink in at all. But, I can tell you from laying on this mattress myself and having my husband lay on it that the mattress is super comfortable.
Honestly, it's so comfortable that it has me considering buying a mattress for myself. So, Sleep Ovation has me considering converting my whole family to their products just because of how comfortable I found the infant mattress to be.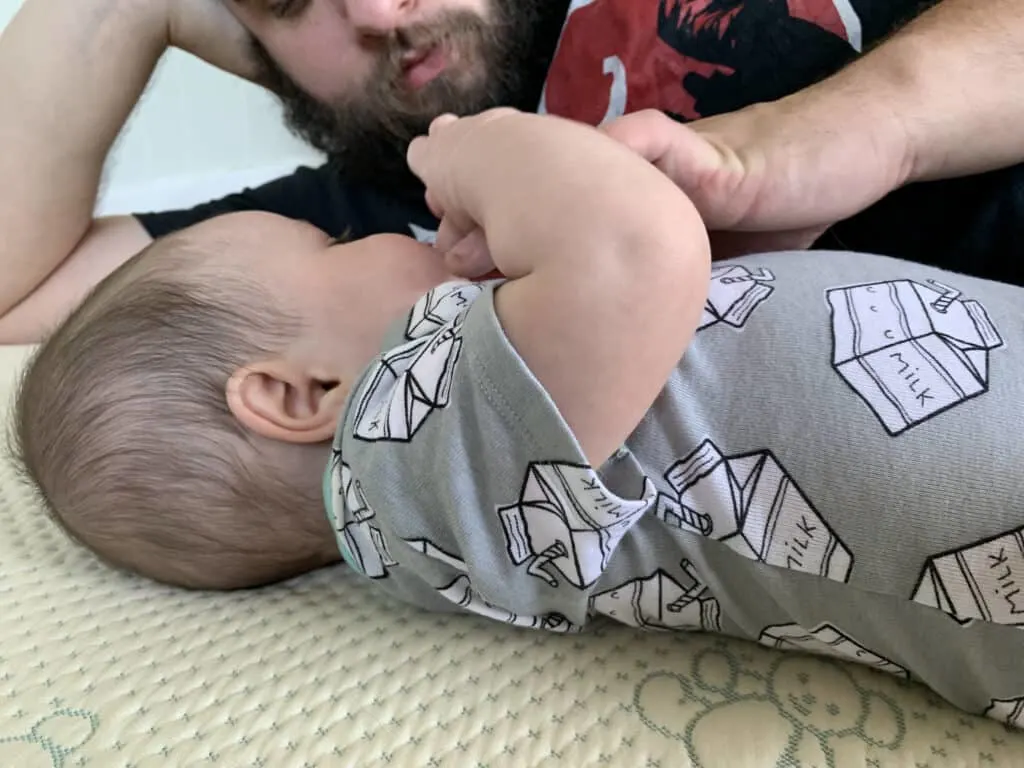 But, as a mom and someone who's passionate about safe sleeping, I was really worried that this infant/toddler mattress wasn't going to hold up to my own standards.
But it absolutely did. My son rolls around a lot on this mattress, and there wasn't a whole lot of movement in the actual mattress itself. Even as he rolled around and crawled around, there weren't any spots where I was really concerned because of the level of sinking.
Even after having him sleep on it for a few days, the mattress has stayed firm and perky. I think my son enjoys sleeping on this mattress a lot more than sleeping on the thin and hard mattress inside of his bassinet.
Is It Waterproof?
So, nowhere does Sleep Ovation say that their mattresses are waterproof or water-resistant. But, Nathanael did spit up while he was laying on his mattress.
And what did I do?
Well, what any good mom would do, of course.
I took a picture of it.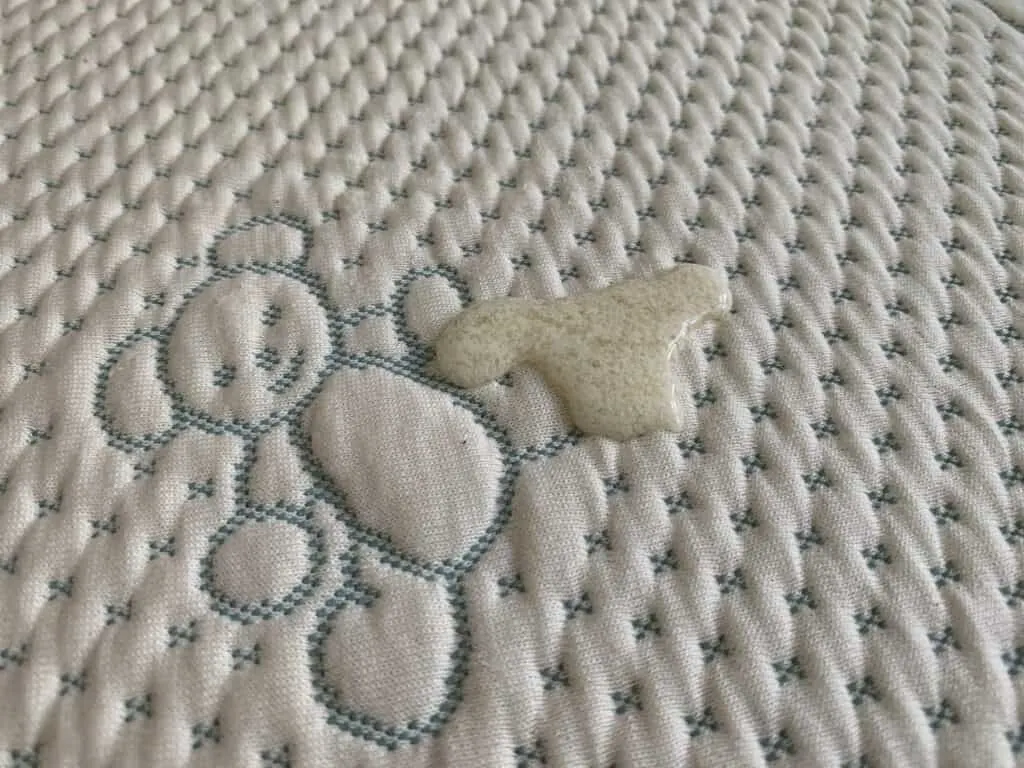 I literally just let the spit-up sit on there for 10 minutes just to see what would happen. And, as you can see by the picture, the spit-up didn't sink into the fabric of the mattress at all. In fact, it literally just stood on top of the mattress, not soaking into the fabric at all. This is both a good thing and a bad thing for me.
On one end, I'm happy that moisture isn't getting into the fabric, increasing the chance of molding. But on the other hand, I wish I could say a mattress was so good up so that my son wouldn't be sleeping in a pile of whatever liquid is on the mattress. Whether that be pee or spit up, I have mixed feelings about this.
What if My Baby Rolls Over?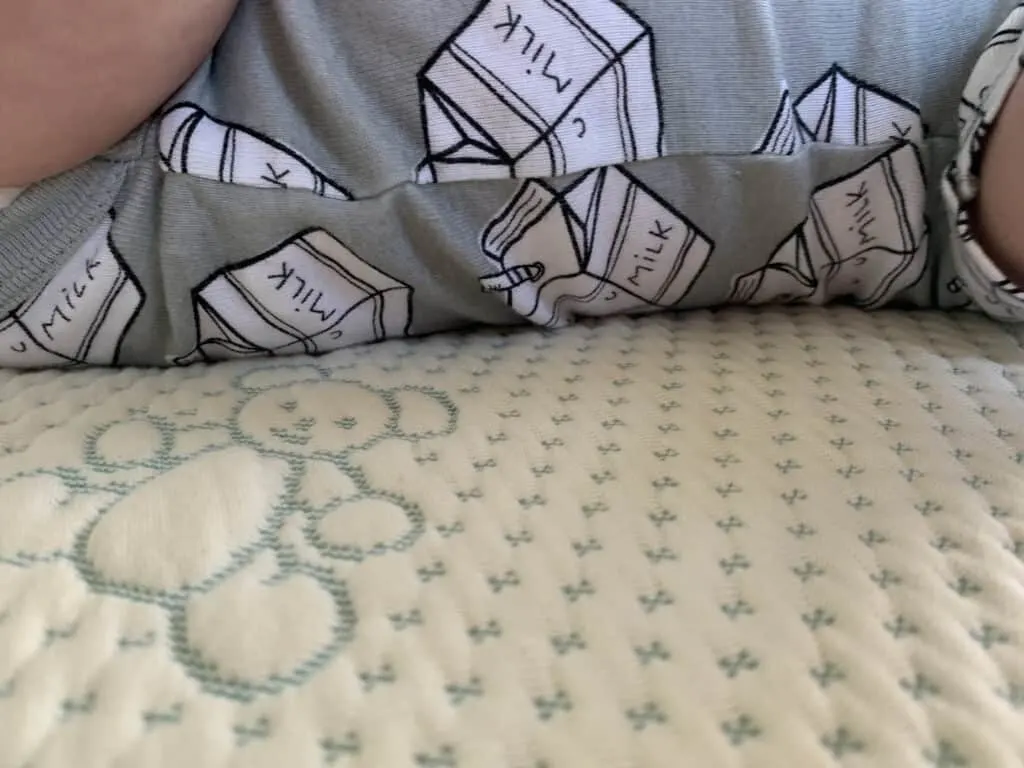 Don't worry if your baby rolls over; this mattress it's still completely safe. I even put my son on his stomach and had him wiggle around so you could see how this mattress moves. But, you can see that it's still completely safe and doesn't pose new risks, even though he's on his stomach.
Does Sleep Ovation Offer a Trial?
What I think it's really awesome about this is that Sleep Ovation offers a 45-day trial. Plus, the mattress comes with a five-year warranty, which I think is even better. So, worst-case scenario, I can always use this mattress again or donate it to someone having a baby.
Pros & Cons of SleepOvation Infant Mattress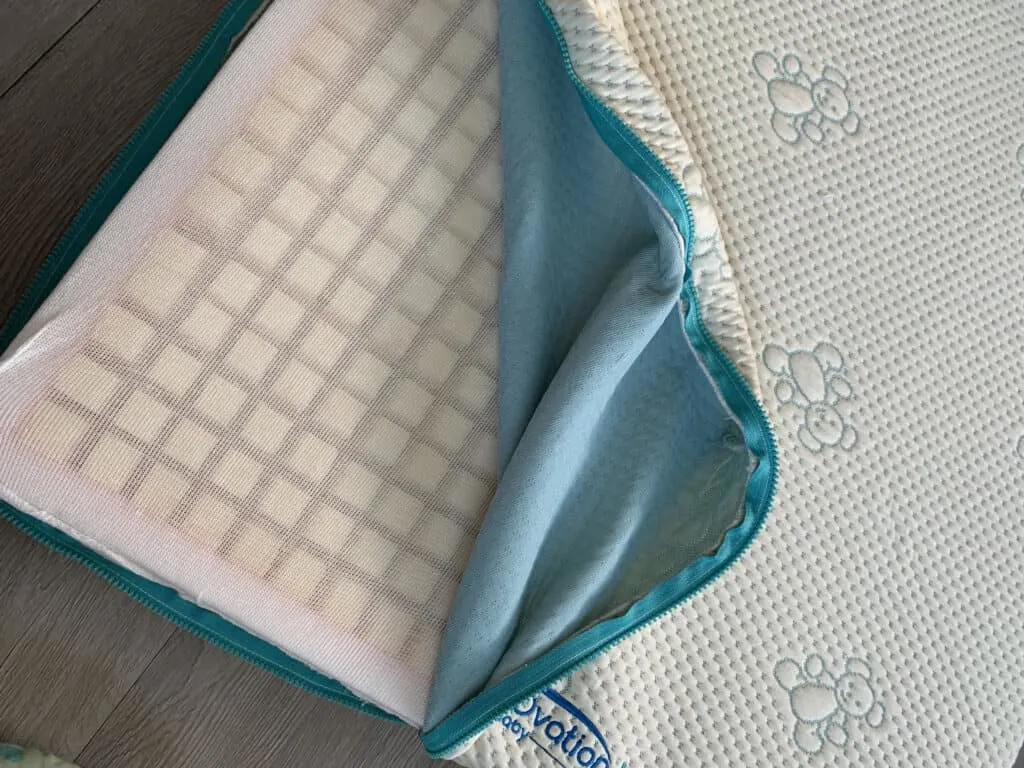 Pros
Super comfortable

Supports my baby's big ol' noggin

Safe for babies who are rolling over

Reversible; there's a side for toddlers and a side for newborns

Comes with a 45-day trial

Washable cover

Feels high quality

Comes with the payment plan
Cons
Would I Recommend Sleep Ovation Infant Mattress?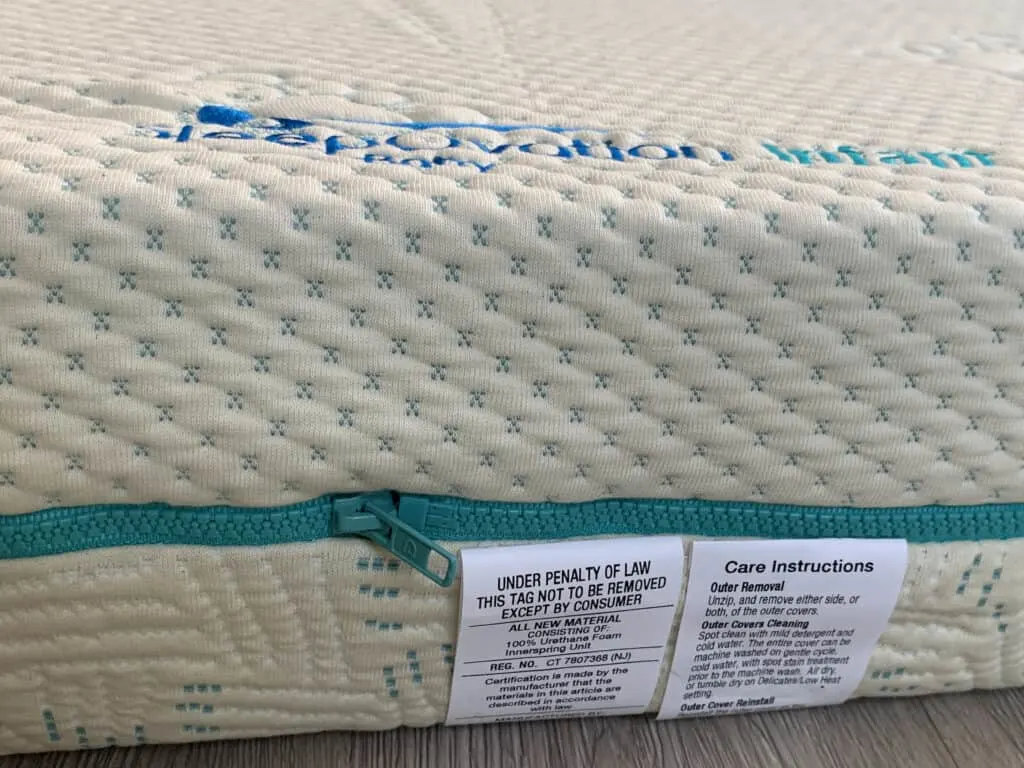 Literally, the price is the only negative thing that I have to say about this mattress. I think if every new parent could be sent one of these mattresses home with them when they take their baby home, there would be a lot fewer parents complaining about sleep problems.
I don't understand why this mattress hasn't been used in bassinets. It's literally life-changing seeing how much of a difference this mattress is made in my son's overall sleeping schedule.
Plus, it's not just the difference that I'm seeing if Nathanael and how much better he sleeps. But I've also seen him toss and turn around on his mattress, and he's been completely safe. SIDS it's always something that I'm concerned about, and seeing how responsive this mattress is to my wiggly child, I'm thrilled.
So, if you're debating on this mattress because you're not sure if the price is worth the plunge, stop it. You deserve to sleep. So does your baby.
This mattress is everything that I could have ever wanted and more. And I understand that with all of the super high-quality materials and the unique design used in this mattress, I'm going to end up paying more than for some cheap and poorly designed mattress that I found on Amazon.
So, for me, there's no question and whether or not I should buy this mattress. I would apply it again in a heartbeat and just get on the payment plan that's offered.
In all honesty, I don't even want to list other alternatives for you to consider. I don't think that there's any other brand or any other mattress that could even hold a candle to the amazing technology and overall quality that's featured in this mattress. But, I understand that not everybody has the money to spend on a mattress for their baby.
And to that, I would recommend that you get on the payment plan. But, I'm recommending other alternatives for you to consider coming just in case there is one reason or another why you don't want to go with this mattress.
Alternatives to Consider
Newton Baby Crib Mattress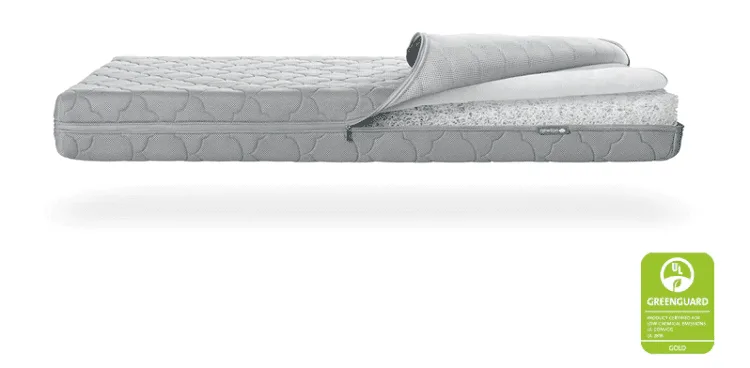 This is a GreenGuard gold-certified mattress, but it's much cheaper than the Sleep Ovation mattress. A lot of parents like how breathable this mattress is. Personally, I think the best part of this mattress is that you can wash the actual mattress itself just in case you ever have any diaper blowouts.
I think this is a great option for someone who isn't looking to spend a lot of money on the mattress but still wants to ensure they're providing something that has both breathability and coolness for their baby.
Graco Premium Foam Mattress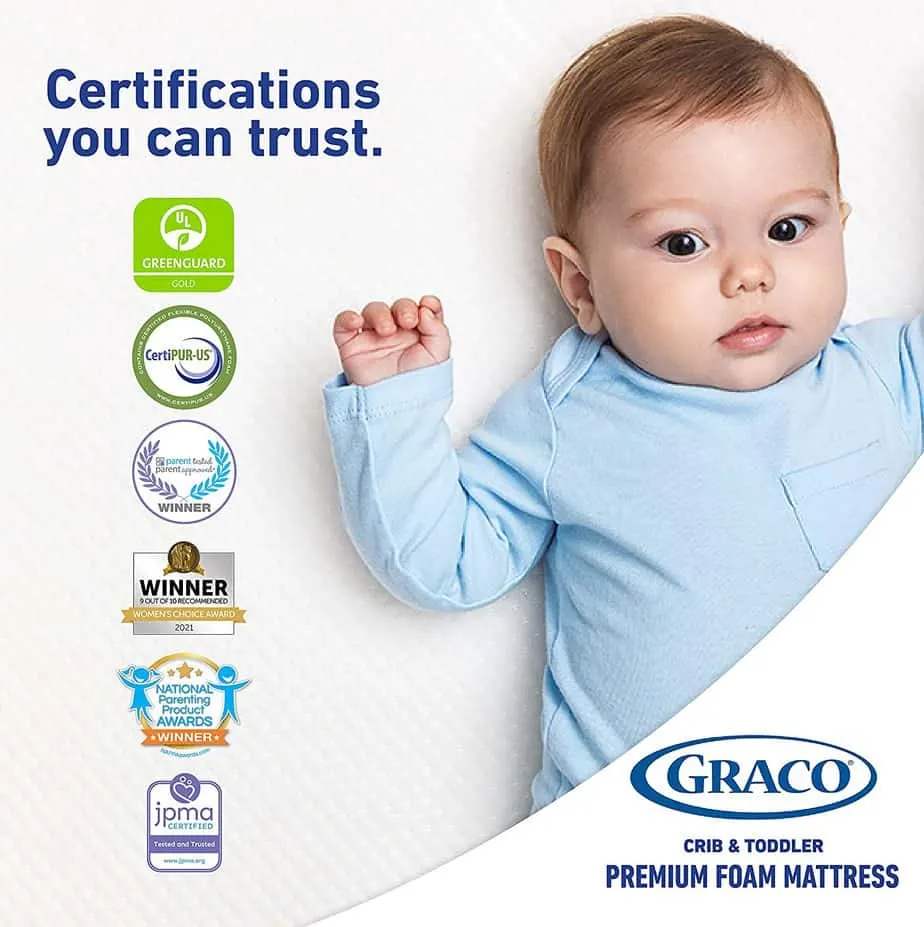 A lot of parents really like Graco products because of the quality that they're known for. And their mattresses are a great example of why gray so is known for such a high-quality product.
This is an infant and toddler mattress that's made with foam that offers plenty of breathability for your baby. I also really like how there's a cover that comes with this mattress that's water-resistant. Plus, the cover easily zips off the mattress, so you can throw it in the wash for a quick clean.
Avocado Organic Mattress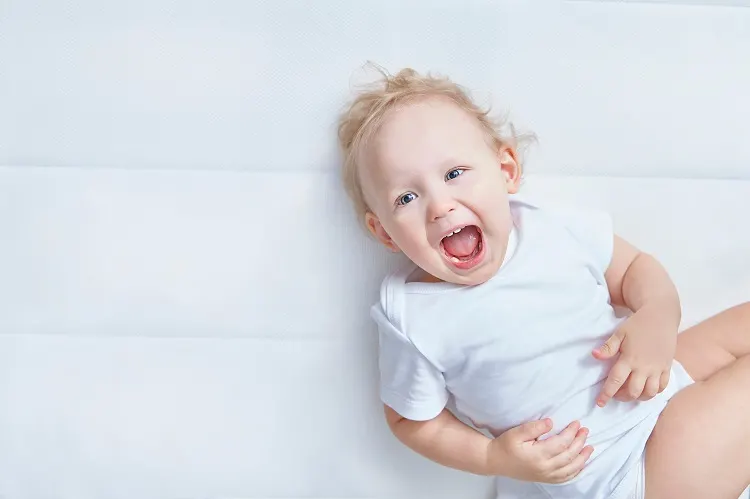 If buying organic materials is super important for you, I would highly recommend that you check out the Avocado Organic mattress. There's a lot that this mattress has to offer for those parents who are looking to keep bringing their children up in a more organic and natural environment.
This is a non-toxic mattress that comes with both a toddler side and an infant side. However, I would warn you that there isn't any sort of cover on top of his mattress that's waterproof. So, if you want to make sure that you keep the mattress protected, I would recommend that you get some sort of cover.
FAQs
Question: Where do You Buy Sleep Ovation Mattresses?
Answer: You can only find Sleep Ovation mattresses online. Sleep Ovation currently only offers shipping it to the United States. So, if you're international, you're going to have to find a different mattress try out.
Question: Do Babies Need Hard or Soft Mattresses?
Answer: It's important that you buy a mattress for your baby that's firm. If a mattress is too soft, it increases the risk of SIDS. This is because your baby can sink into the soft mattress texture and suffocate.

You can test to see if a mattress is firm enough by pressing around the entirety of the mattress to see how much it stinks in. If it sinks in too much, your baby won't be able to move around or turn themselves to breathe.
Question: What's the Difference Between a Toddler and Infant Side of the Mattress?
Answer: The toddler side of a mattress has additional cushioning while also providing support for your growing child. But, the infant side of a mattress is firmer and flat, which ensures that your baby has enough support that they aren't going to sink into the mattress and suffocate.
Sleep Ovation Infant Mattress Review: Final Thoughts
Yes, thousand times yes! I don't think that there's any other infant mattress I'm on the market that could allow me as much as this mattress did.
Even the mattress I bought for my son that I spent many hours researching didn't 'wow' me as much as this mattress dead. My husband even laid on this mattress, and as you can see, there's still tons of support offered with him lying on it.
I know my husband doesn't way nearly as little as he did when he was a baby. But, even with him lying on this mattress with our son, the mattress didn't sink too low to the point where he was lying on the floor. Instead, it was still really comfortable for him to lay on himself. Jake laying on it with our son made me realize how badly I want an adult-sized version of this mattress in our bedroom.
And because he slept better, I slept better. So, for the price of a stay at a fancy hotel room, I was able to drastically improve the overall quality of sleep the post my husband and I forgot because we had a happy baby getting a good night's sleep. What more could I ask for?
Photos by Alizabeth Swain