Latest posts by Candace Osmond
(see all)
When it comes to choosing a new mattress, you have so many options it can be greatly confusing. Narrowing down your choices is essential to making a good decision. Starting with an idea of the type of mattress you want can help, and if you like the feel of memory foam, you're likely to come across some excellent quality choices. Here, we're comparing the Nectar vs Loom and Leaf mattress, both of them made from layers of memory foam and available online as a bed in a box delivery. Take a look below to see how they stand up under scrutiny and how they compare to each other so you can make an informed decision.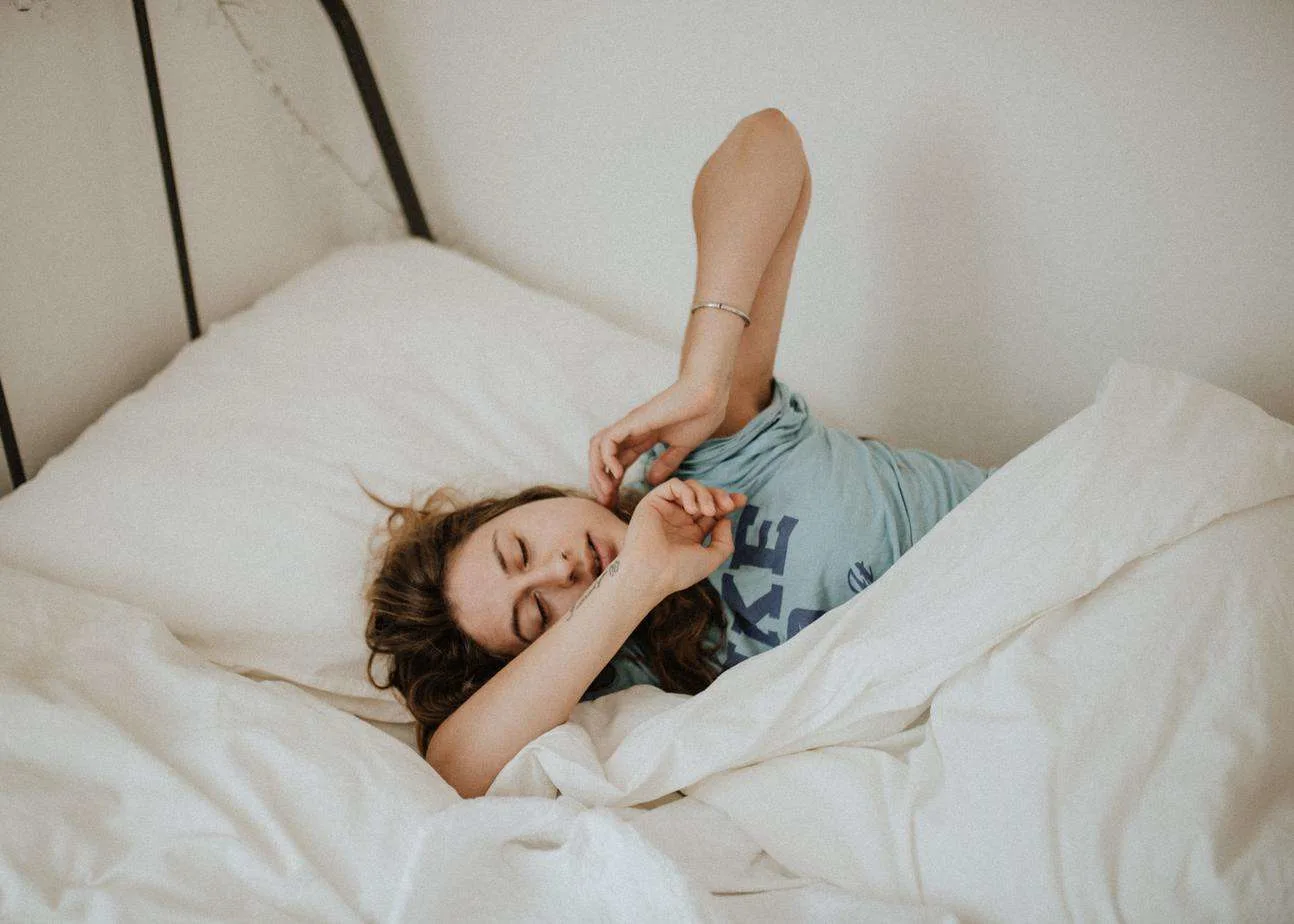 Main Differences Between Nectar vs Loom & Leaf
The Main Differences Between Nectar vs Loom & Leaf are:
Nectar features a Tencel cooling cover, whereas Loom & Leaf features an organic cotton cover.
Nectar comes with a lifetime warranty, whereas Loom & Leaf 15-year warranty.
Nectar 365-night sleep trial, whereas Loom & Leaf 120-night sleep trial.
How to Choose a Memory Foam Mattress
Check out unbiased reviews of the top-rated memory foam mattresses to get the best information on specifications and construction.
Visit manufacturer websites to learn more about the company, their goals, and how they operate.
Read user reviews to get an idea of actual performance as viewed by those who were excited about the mattress when ordering.
Know your budget. Memory foam mattresses vary greatly in price, and you want to have a cap on what you'll spend for the quality you want.
Key Features
The Nectar mattress consists of four layers of foam, starting with 5.5 inches of dense polyfoam for core support, with an additional 1.75 inches of high-density memory foam to help with the transition from the comfort layers. Those comfort layers include two layers of gel memory foam, one a bit denser and 3 inches thick, with the top layer a bit softer and only 1 inch thick. The entire mattress is surrounded by a very breathable cover made of Tencel and cotton, which is removable and machine washable.
The Loom and Leaf mattress is also made entirely of memory foam. There are 2 versions with 2 different lofts, but they are the same thickness with a slight variation in the configuration of the memory foam. In both models, you get a supportive base of 5.5 inches of high-density polyfoam, with an additional layer of 2 inches of slightly less dense polyfoam. There is a transition layer of memory foam that is a medium density of 2.5 inches, with the soft, comfortable layer of memory foam on top being 2 inches thick. The Loom and Leaf mattress cover is constructed of organic cotton for softness and breathability, and it's coated with an antimicrobial treatment and quilted with just over half an inch of foam for additional cushioning.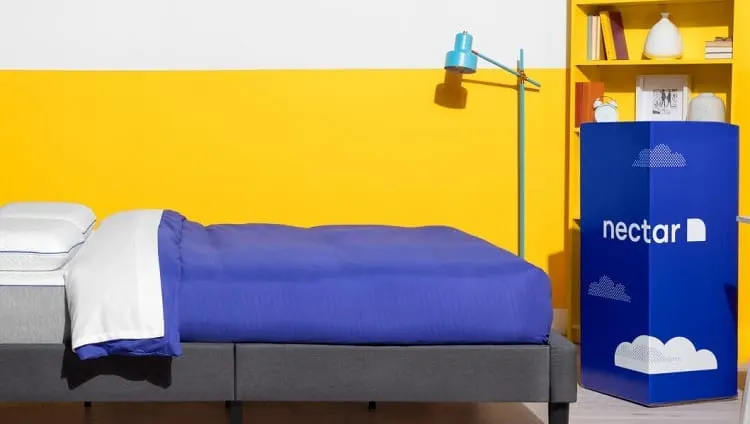 When it comes to the feel of the mattresses, the Loom and Leaf offer 2 options – one medium (a 5.5 on a scale of 1 to 10) and a medium-firm (about a 6.5 on the same scale). The Nectar mattress only comes with one option, but it's a solid medium-firm, ranking a 6 on the scale, which accommodates a large number of sleepers. In fact, mattresses rating a 6 on this scale are the most well-received across the board, satisfying the largest number of users.
Nectar Mattress Pros
The Nectar bed is top of the line when it comes to motion isolation and noise reduction, with little to no noise and almost complete motion isolation.
The Nectar mattress is also more than adequate at relieving pain in joints by implementing pressure point relief through careful contouring for better spinal alignment.
Off-gassing, temperature neutrality, and edge support are better than average for an all-foam mattress, leading to satisfaction for a vast number of users in these areas.
Great construction invites all types of sleep positions, including combination sleepers.
The Nectar mattress is more affordable than the average memory foam mattress, so it is good for most budgets.
Nectar Mattress Cons
Because it is all memory foam, the Nectar bed does sleep hotter than a hybrid or other material mattress, though it is cooler than the average memory foam.
Doesn't ship outside the contiguous United States
Loom and Leaf Mattress Pros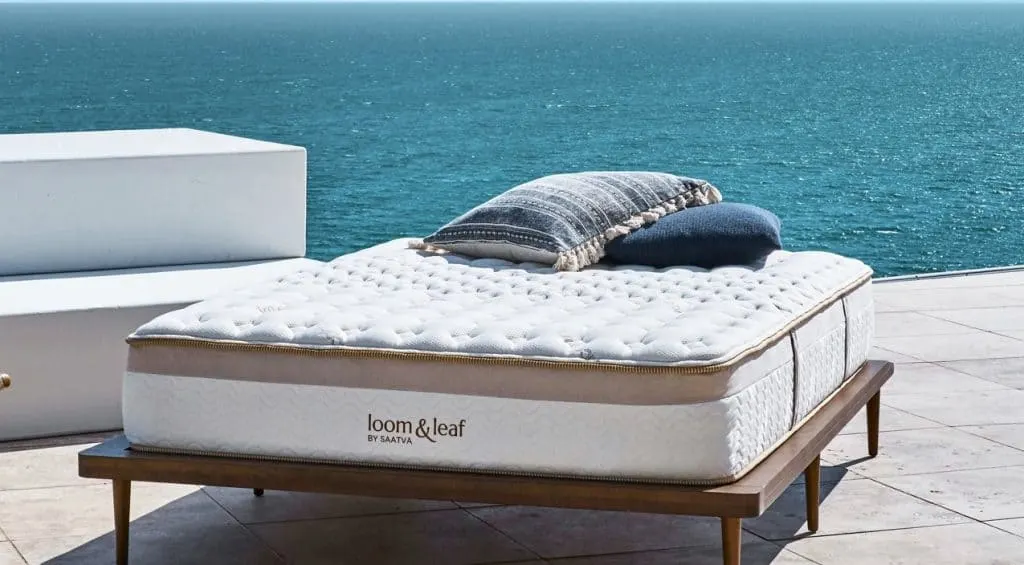 The Loom and Leaf mattress is touted especially for its pressure point relief, with almost perfect contouring to keep you aligned and pillowed through the night.
The Loom and Leaf are also known for being incredibly great with motion isolation and noise dampening for better, solid sleep, regardless of your sleep partner's habits.
Durability is a big bonus with the Loom and Leaf mattress, with additional points for better than average edge support in a memory foam mattress.
Off-gassing is minimal.
Pricing is beyond reasonable, with white glove delivery included, at $1,499 for the queen size.
Loom and Leaf Mattress Cons
Like most memory foam mattresses, the Loom and Leaf tend to sleep quite warm, with little temperature control implemented to reduce heat retention.
Cost may still be prohibitive to some.
Q and A
What are the warranty and trial periods on the Nectar mattress and the Loom and Leaf mattress?
The Nectar mattress comes with a lifetime warranty, offering a full replacement for the first 10 years and prorated replacement and repair thereafter. The Loom and Leaf mattress carries a 15-year non-prorated full warranty.
The Nectar bed has a 365-night trial period with a full refund for returns. The Loom and Leaf allow a 120-night trial period.
Where do the mattresses ship?
The Nectar mattress is a bed in a box that can be shipped anywhere in the 50 states, as well as Puerto Rico. Loom and Leaf offer shipping to the contiguous US, as well as Western Canada and Ontario.
Does the company offer white glove delivery service?
Nectar mattresses can include white glove delivery, as well as old mattress removal, for a flat fee of $149. Loom and Leaf include white glove delivery upon request free of charge with all orders.
Where can I purchase these mattresses?
Neither mattress manufacturer has a brick-and-mortar store offers. Nectar mattresses are sold online, directly from the manufacturer, or through third-party retailers. Loom and Leaf, on the other hand, can be bought directly from the website or, in select locations, you can find them in Macy's.
Conclusion
What really stands out about both the Nectar mattress and the Loom and Leaf mattress are the overall quality and the warranties offered by the manufacturers. While you have more options with the Loom and Leaf mattress because they offer 2 different lofts, you get a great mattress at a very low price point from Nectar. Both mattresses are all memory foam, so they are similar in feel and performance.
The Nectar seems to sleep cooler, so if you have problems overheating or sweating at night, this mattress would definitely be better for you. Both mattresses have excellent motion isolation and noise control, but the Loom and Leaf also come with the white glove delivery service included, which reduces the time, work, and effort you have to put into setting up the mattress and hauling off the old one.
Depending on your needs and budget, the Nectar bed seems to outperform the Loom and Leaf, if you take price and value into consideration. However, if you don't mind sleeping a little warm, and you have the money to invest, the Loom and Leaf may be more durable.