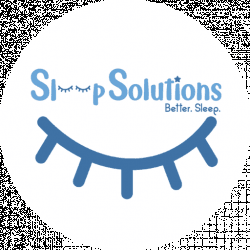 Latest posts by Sleep Solutions HQ Team
(see all)
You've probably done a fair amount of research on mattresses already, and you're likely tired of reading about how you spend a third of your life sleeping. So, we're going to skip that old piece of information. Rather, let's focus on why it's important to get enough sleep, and how your mattress can help you get that much-needed sleep.
Mattress options are seemingly endless. There's memory foam, poly foam, coils, air, water, something with numbers, and everything in between. One of the latest materials to become popular in the sleep world is latex. It's one of those materials that's not only natural but also sustainable. To top it off, it's breathable, comfortable, hypoallergenic, and won't cause you to sink to the floor. Sounds like a dream, right? Some of the best organic latex mattress options are all those things – and more. Your research should end here with this guide, where you'll learn why it might be prudent to go organic for your mattress, what all the benefits of latex are, whether it's an eco-friendly choice and whether you can sleep on a latex mattress if you have a latex allergy.
Why is Organic Latex Important?
You can find organic produce, beauty products, cleaning solutions, clothing, and even mattresses. It seems that industries everywhere have adopted the word as a bit of a marketing catchall for "healthy" or "better-for-you." When you break down the real meaning of the word, everything is organic. When it comes to labeling a mattress as made of organic latex, it must pass a series of tests by GOLS, or Global Organic Latex Standard, a group that certifies a latex product is made of at least 96 percent natural latex. The remaining four percent of materials or ingredients are usually sulfur, sodium, zinc oxide, and some sort of soaps.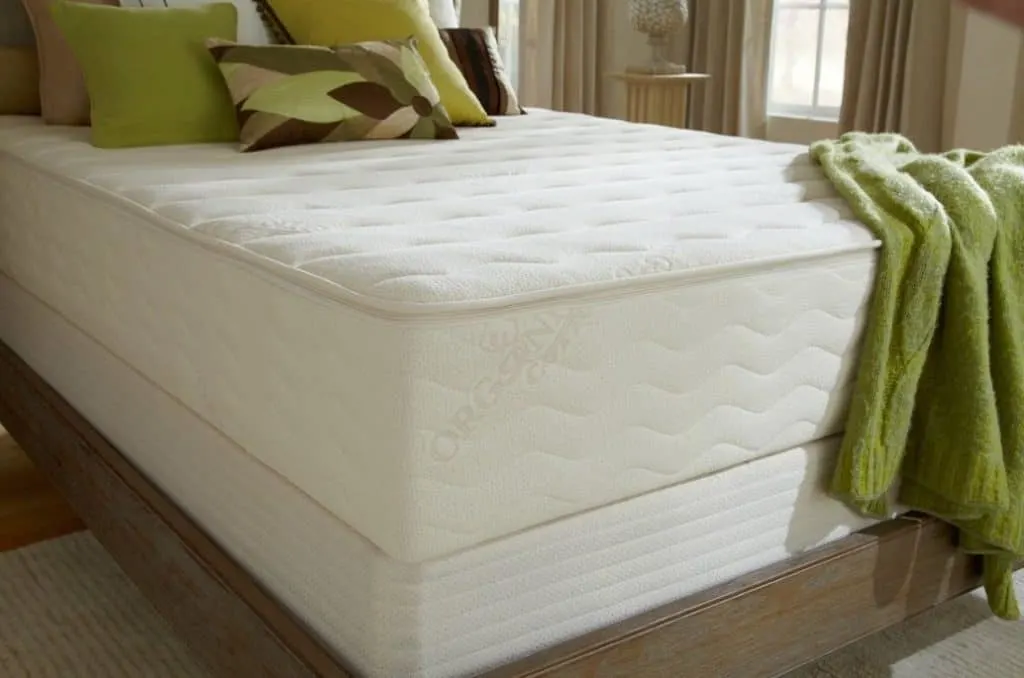 Latex is made from the sap of rubber trees, and it starts out as a milky white substance. It takes a bit of processing to get it to a foam material and into the shape of a mattress. So, when you buy an organic latex mattress, you can be assured that you're getting mostly natural latex, and not a blend of natural and synthetic materials. So, when you buy an organic latex mattress, part of what you're paying for is the certification, so you know that you aren't just buying a good marketing strategy.
Why Sleep is So Important – and What Your Mattress Has to Do with It
Have you ever seen a person who's suffering from sleep deprivation? There are various levels of sleep deprivation, so it can range from minor to severe when it comes to the symptoms. At the minor stages, you might feel a bit lethargic, less focused, and less productive. On the extreme side, you could experience delirium or hallucinations.
When you don't get enough sleep, you're acutely aware of it, even if you aren't all that aware or alert of what's going on around you. It can make for dangerous situations, especially if you're driving or operating heavy machinery.
If delirium sets in, you might feel disoriented or start doing some odd things. You might even start seeing things. You might start imagining inanimate objects speaking to you, or you could see things that simply aren't there.
Sleep is essential for all sorts of bodily functions and general health. When you get your required seven to nine hours (or a little more or less) of sleep every night, you get benefits you probably don't even realize. For example, you're likely to eat fewer calories throughout the day. And when you get enough sleep, you're less likely to be obese.
Benefits of Sleeping on a Latex Mattress
Any latex mattress is going to offer a totally different sleeping experience than other foam or traditional spring mattresses. Latex has lots of positives, but it also has a few drawbacks.
Softness & Support
Latex is usually soft, but supportive. So, your body should feel as though it's floating on a cloud, rather than sinking into a cloud. As soft as it is, though, your bones, joints, and muscles are supported by the dense foam. This can take pressure off your joints, which keeps everything aligned properly. This can combat aches and pains you might typically wake up with when sleeping on another surface.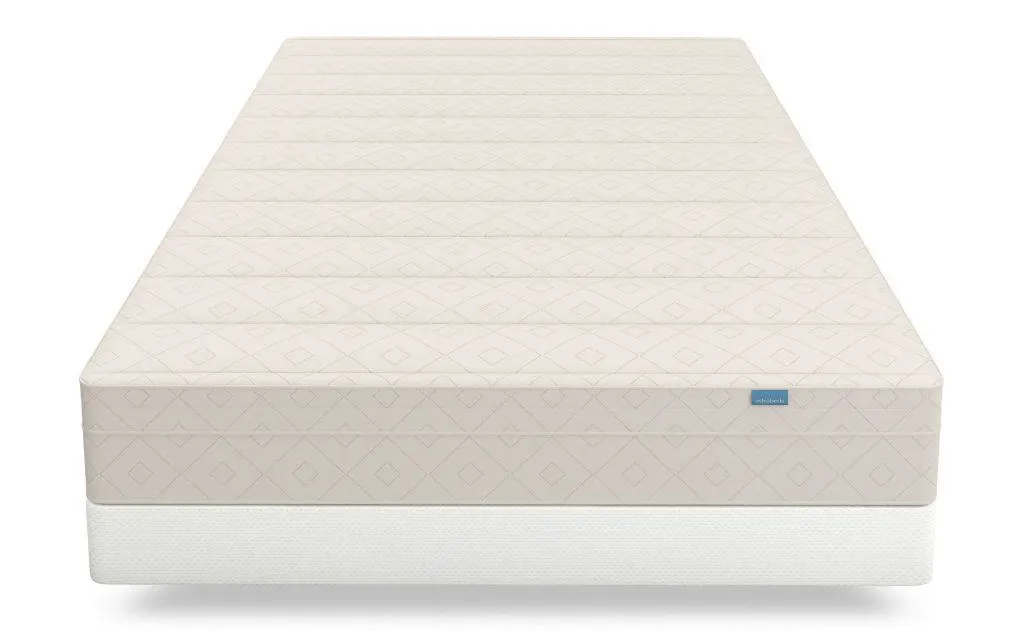 That Bounce
Latex is also springier. If you missed the bounce of a traditional coil spring mattress, but you still want a foam solution, then latex is your best bet. Aside from making it easier to get in and out of bed, latex is a better surface for sex. On a memory foam mattress, you might have less leverage, bounce, and edge support, making intimate activities more challenging or frustrating.
Temperature
Although some people report sleeping hot on a latex mattress, most people sleep much cooler on one compared to a memory foam mattress. It isn't fair to compare a latex mattress to a coil mattress or a hybrid with coils, as those have much more space for airflow.
Healthier
Another big plus with latex mattresses is that they're hypoallergenic. Dust mites and other bugs aren't likely to try to make a home on your bed because latex doesn't have a nook for them to settle in and nest. That means you should have a reduction in allergy-producing stuff. It naturally repels fungi, mold, and bacteria, so it's one of the healthiest choices you can make in a mattress.
Eco-conscious
Additionally, latex mattresses are environmentally-friendly. The rubber trees that produce the sap that's turned into latex are allowed to live and are only tapped for the sap. So, there's no harvesting. A rubber tree can give its sap for up to 30 years, and it will continue transforming carbon dioxide into oxygen.
Two Main Types
There are two types of latex mattresses, generally speaking, that people look for: Dunlop and Talalay. The difference between these two types is mostly in the processing.
Dunlop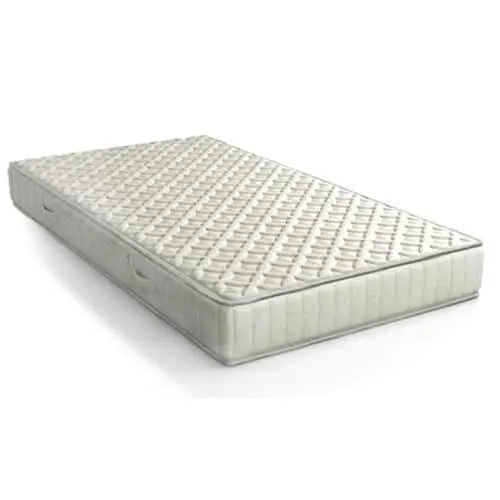 Manufacturers have been using the Dunlop process for nearly 100 years now, and it's the simpler of the two processes. The sap is whipped into a frothy, fluffy texture, and then it's poured into a mold. The latex "batter" is baked using steam. Some of the bits and pieces settle at the bottom when it's baked, which gives a Dunlop latex mattress a firmer base.
Pros
Firm
Dense
Durable
Supportive
More affordable
Cons
Talalay
The process for creating Talalay latex is a bit more complicated, and it includes two extra steps compared to Dunlop latex. It's whisked into a fluffy substance in the same way as Dunlop, but when the frothy sap is poured into a mold, that mold is sealed and then put into a vacuum. Air is sucked out of the latex, and then the whole thing is flash frozen. After being frozen, which stabilizes the material, it's baked using steam. The result is a foam that is much softer and has more loft.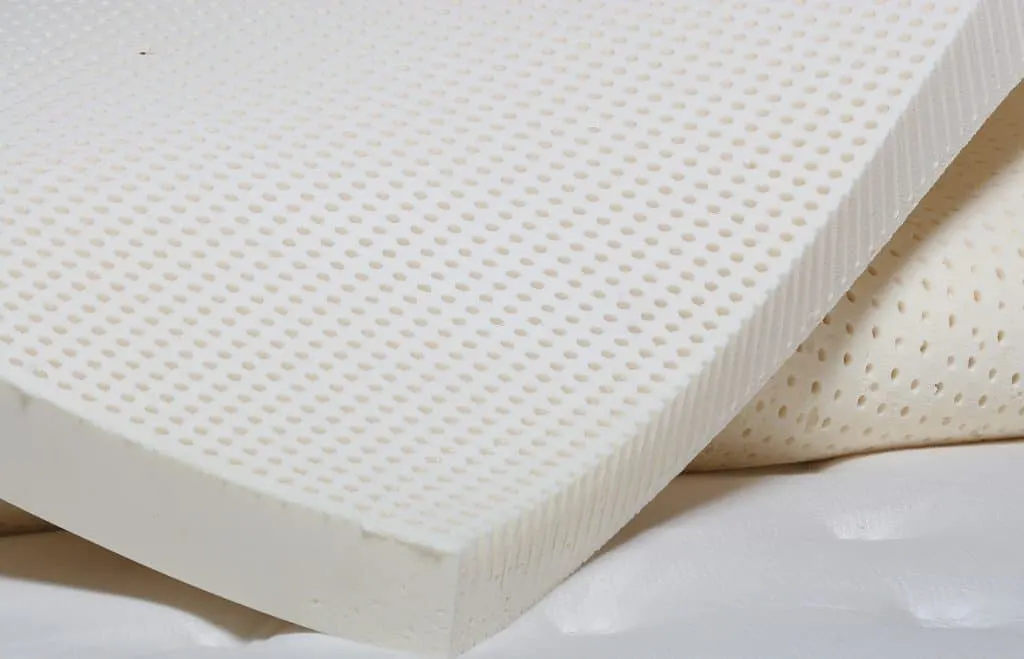 Pros
Consistent feel
Super soft
Bouncy
Lightweight
Cons
It's also important to note that Talalay latex mattresses are usually not labeled as organic latex because it won't pass the GOLS certification process. The process requires far too many synthetic ingredients to pass. It's still a good choice, but if that certification is important to you, then you'll likely have to skip the Talalay latex types.
Can I Sleep on a Latex Mattress if I'm Allergic?
There's no way to pinpoint exactly how many people have an allergy to latex, but the Centers for Disease Control and Prevention estimate that 1 to 6 percent of the population suffers from a latex allergy.
Latex allergies can range from mild to serious. If you have a serious latex allergy that could send you into anaphylactic shock and potentially kill you, then you'll need to steer clear of a mattress with any amount of latex in it. A mild latex allergy shouldn't be much of an issue, though.
Some latex can be made less allergic to some people, such as Talalay latex. The many processes can reduce the protein found in latex, which is what causes the issue. So, if you only get a bit of an itchy rash when you come in contact with latex, you might still be able to safely use a latex mattress. Be sure you don't touch the mattress uncovered. The use of sheets, blankets, and pillows, or even an added mattress topper can protect you further.
The Best Organic Latex Mattress Options – No, Really
If you'd prefer a list of the best organic latex mattress options with a list of pros, cons, and the details you need to know before buying, well, here you go. These are the absolute cream of the crop, so anyone you choose here will be awesome. Is there one that's the best for anyone? Keep reading.
PlushBeds Botanical Bliss Natural Organic Latex Mattress
You'd be hard-pressed to find anyone who bought the PlushBeds Botanical Bliss Natural Organic Latex Mattress leaving a negative review. This bed seems to be universally loved, and why wouldn't it be? It's made entirely of organic latex, which has been certified, so you don't have to question the company and its sourcing. The latex is thick, dense, and resilient, so you can expect a durable mattress that shouldn't sag or leave you in a pit every morning when you crawl out of bed.
The wool cover is an important part of this mattress. Wool is naturally temperature regulating, so it can wick away any moisture as you sleep, which keeps you cool in the summer, and warm in the winter. Plus, it stays dry, so you shouldn't have any issues with mildew, mold, or dust mites, especially in conjunction with latex.
You get your choice of profile height, so you can pick a lower bed at 10 inches high or go with the 13-inch mattress for a supreme loft. You also get to choose the firmness you prefer between medium and firm. It's possible that the medium may be too soft for you, even if you're a side sleeper, but it could be perfect. PlushBeds will work with you if you need to exchange, though. This latex mattress takes a short time to get used to, so give it a little time before you send it back for a refund. Once you break it in, though, you may find that it was well worth the extremely expensive cost.
Pros
Certified organic
Wool cover
Firmness choice
Choice of profile
Cons
Specs
Materials: Latex, wool
Certified: Yes
Sizes: Twin, Twin XL, Full, Queen, King, California King, Split Queen, Split King,
Split California King
Height: 10, 13 in.
Weight (Queen): 100 lbs. (10 in.); 130 lbs. (13 in.)
Trial: 100 nights
Warranty: 25 years
Who should buy this: Side sleepers (medium firmness), back and stomach sleepers (firm firmness), allergy sufferers, eco-conscious folk
Lifekind – The Euro Certified Organic Natural Rubber Latex Mattress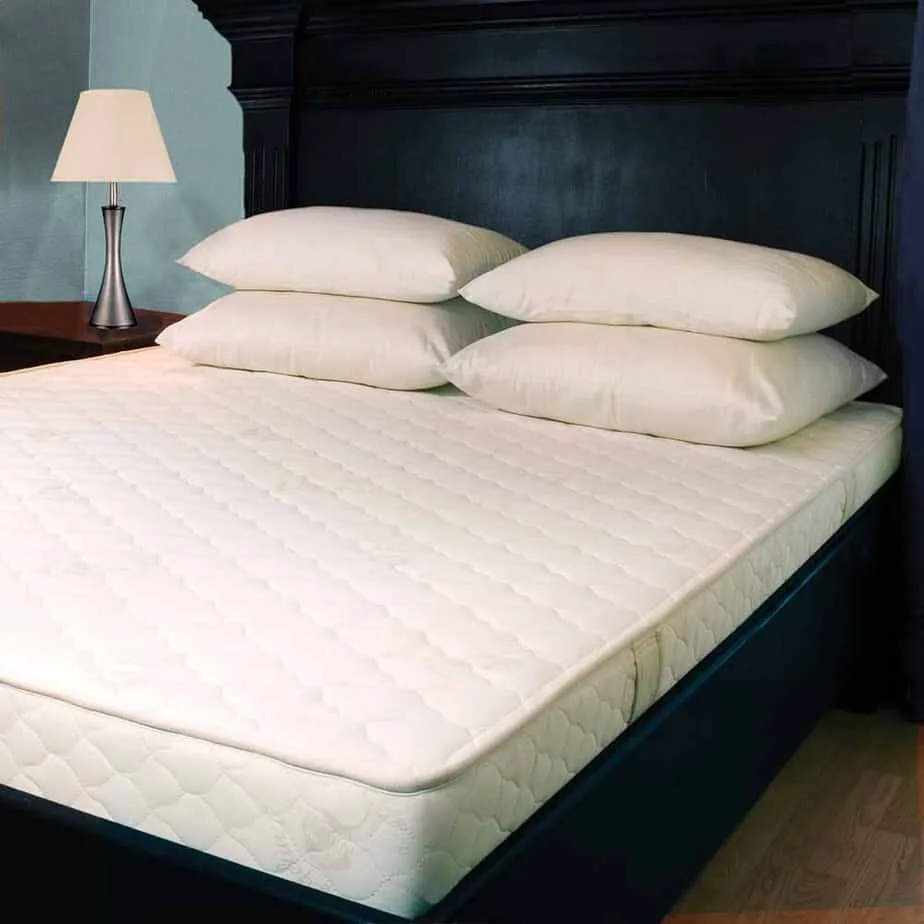 When a reviewer mentions that they've owned the Lifekind Euro Certified Organic Natural Rubber Latex Mattress for 10 years and it still looks new, you know this is a mattress you should consider. A latex mattress is going to provide you the support your body needs to keep your body aligned and to keep you comfortable. Although this mattress lets you choose your firmness preference between medium, medium-firm, and firm, they all might seem too firm at first. Lifekind wants you to give it at least two weeks before you try to exchange the mattress.
These certified organic latex mattresses all come with a 90-day exchange program, so if you've chosen the wrong mattress for your sleep style, or a mattress is too firm, you can contact the company to switch it out for one that will work for you. In some cases, a mattress topper is needed to provide a softer surface for some sleepers, especially those who prefer to sleep on their side.
A wool and cotton blended cover is wrapped around this mattress, which provides a breathable surface, so you shouldn't sleep hot at all. Latex is naturally motion isolating, as well, so you shouldn't notice when your partner shifts in their sleep or gets out of bed. Handles are often overlooked on mattresses these days, but they're included on The Euro. These can't support the full weight of the mattress, but they are helpful when you're rotating the bed every year.
Pros
Three firmness choices
Wool/cotton cover
Motion isolating
Includes handles
Cons
Specs
Materials: Latex, wool
Certified: Yes
Sizes: Twin, Twin XL, Full, Queen, California King, Eastern King
Height: 13.5 in.
Weight (Queen): 100 lbs. (10 in.); 130 lbs. (13 in.)
Trial: 90 nights (exchange)
Warranty: 25 years
Who should buy this: Back and stomach sleepers, especially; side sleepers, but may need mattress topper; eco-conscious people
Astrabeds Harmonybed Certified Organic Latex Mattress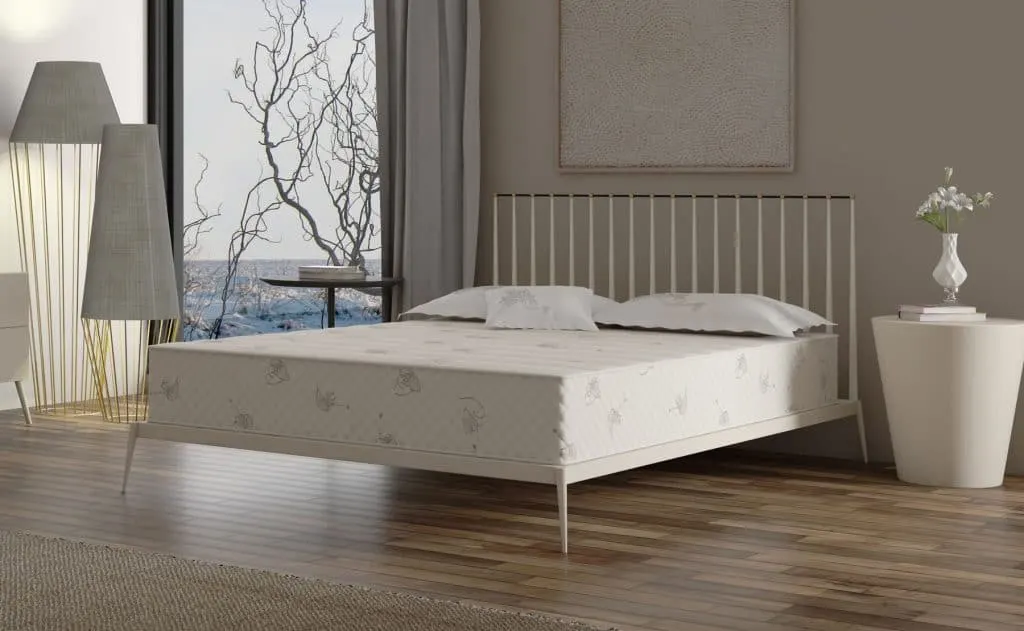 One of the best features of any latex bed is that they tend to sleep on the cooler side, which is the case for the Astrabeds HarmonyBed Certified Organic Latex Mattress collection. The term collection is used here because you get your choice of three different levels of firmness. You could go with soft, medium, or firm. The differences between the three levels are in the density of the latex. The soft mattress has an ILD rating of 18-22, while the firm has an ILD rating of 38-42.
The medium, which has an ILD rating of 24-30, is the most popular choice, as it's good for back, stomach, and side sleepers alike. You'll get the softness you want, but also enough support that you won't have to worry about waking up sore and aching or having to crawl out of a trench. You see, unlike a typical foam mattress, latex foam has a bit of buoyancy to it, so you're sleeping on top of the mattress, rather than in it.
You shouldn't notice any odor to this mattress at all, as there are no chemicals used that could cause the unpleasant smells you might associate with mattresses. In fact, this brand of mattresses has just about every certification you can get as a mattress manufacturer. Although this is still a pricey mattress, it's more affordable than most other latex options. Perhaps part of that cost savings is because you have to assemble the layers of the mattress yourself and zip the cover over it all.
Pros
More affordable
Three firmness choices
Wool/cotton cover
Motion isolating
Cons
May be too firm
Quite heavy
Specs
Materials: Latex, wool
Certified: Yes
Sizes: Twin, Twin XL, Full, Queen, King, California King, Split King, Split California
King
Height: 7 in.
Trial: 90 nights
Warranty: 25 years
Who should buy this: Back, stomach, or side sleepers; those who don't mind a little DIY; health nuts
Sleep EZ Select Sleep Organic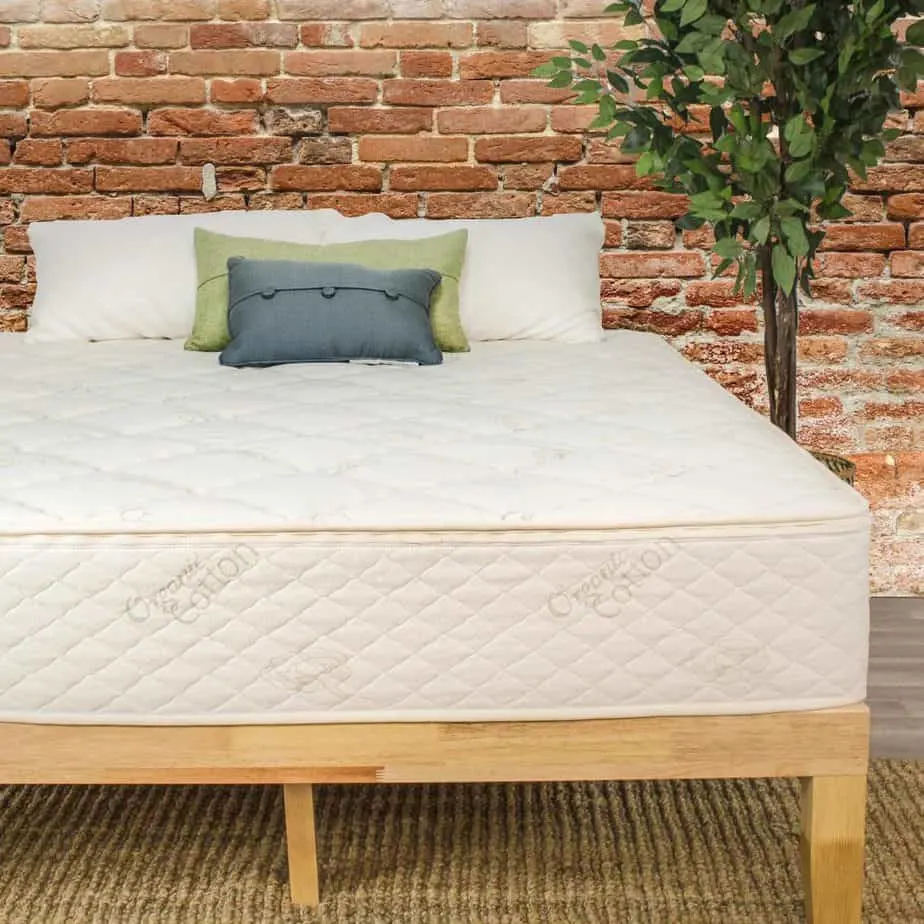 There's an important difference between the Sleep EZ Select Sleep Organic latex mattress and others that are available with their certifications – Sleep EZ doesn't have that stamp from GOLS. While the GOLS certification is the best, it's worth looking into Sleep EZ, as long as you don't mind that some layers of your bed will be made with Talalay latex. It takes a few more synthetic ingredients to use the Talalay process, which means this mattress won't pass the GOLS standards. That doesn't mean that this isn't a fantastic mattress.
This mattress is almost completely customizable. Start by choosing the size you need – and you have two split options, so you can customize each side based on your and your partner's comfort and support needs. Just like all the other latex mattresses, this one is breathable, comfortable, and supportive. It also includes a wool and cotton cover, but here's another difference: You put it all together yourself.
Once you choose the size you want, you can pick the profile, from 7 to 13 inches in height. Following that, you can pick the level of firmness you want. It's all shipped to you, and then you arrange the layers in the cover and zip it closed. The benefit of this method is that you can switch up the layers whenever you want a firmer or softer surface. Plus, you get 90 days to decide whether this mattress is for you. The density of the foam of this mattress is a bit less than its competitors, which raises questions about its durability, but it does come with a 20-year warranty, which implies this is a good option.
Pros
More affordable
Customizable
Wool/cotton cover
Motion isolating
Cons
May be less durable
Talalay latex used
Specs
Materials: Latex, wool, cotton
Certified: Yes
Sizes: Twin, Twin XL, Full, Queen, King, California King, Split King, Split California
King
Height: 7, 9, 10, 13 in.
Trial: 90 nights
Warranty: 20 years
Who should buy this: Any style sleeper; those who want to customize a mattress; co-sleepers who need different comfort and support levels; eco-conscious folk who don't mind lack of certifications
Which One is the Best?
The best organic latex mattress options are fewer than you might expect, but there are some out there that are worth checking out. Choosing just one mattress as the best is a tall order. After all, you may not necessarily want a mattress that costs thousands of dollars, while another person thinks it's a justified price. When it comes to finding the right firmness and feel, though, it seems that you shouldn't take issue with any of the organic latex mattresses out there. You'll get a soft, but firm, and buoyant bed that should last you decades.
Still, you want to know which one is the best, so the crown would have to go to PlushBeds Botanical Bliss Natural Organic Latex Mattress for its overall excellent rating and return policy. There are hardly any negative reviews of this latex mattress, and that makes sense for many reasons. Not only do you get to choose your firmness preference, you also get to choose the profile height. Yes, it's an expensive bed, but it's practically risk-free. You get 100 nights to try this bed out to make sure you love it, otherwise, you can get your money back. With a 25-year warranty, though, it seems that the company stands firmly behind its ideally firm, but soft mattress.