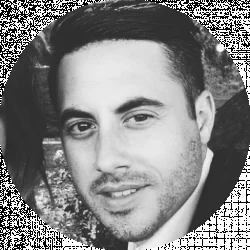 Latest posts by David Borgogni
(see all)
There is no doubt that the Tempur-Pedic brand manufactures one of the best foam and hybrid mattresses on the market, but some of the best Tempurpedic alternatives can offer a similar level of comfort at a considerably lower price.
In case you're wondering if the Tempur-Pedic Mattresses are worth thousands of dollars, you're far from being the only one, as so many competing brands offer models that come with a similar set of features as Tempur-Pedic's flagship models.
Finding the best mattress is a very peculiar process, as each person has a different body shape, sleeping positions, or mattress firmness preferences, which is the reason why the most expensive mattress on the market doesn't necessarily have to be the right mattress for you.
We've selected several brands whose mattresses are among the best Tempur-Pedic alternatives, so let's take a closer look at what they have to offer.
8 Best Tempurpedic Alternatives
Here follow the Best Tempurpedic Alternatives:
Saatva – The best luxury Tempur-Pedic alternative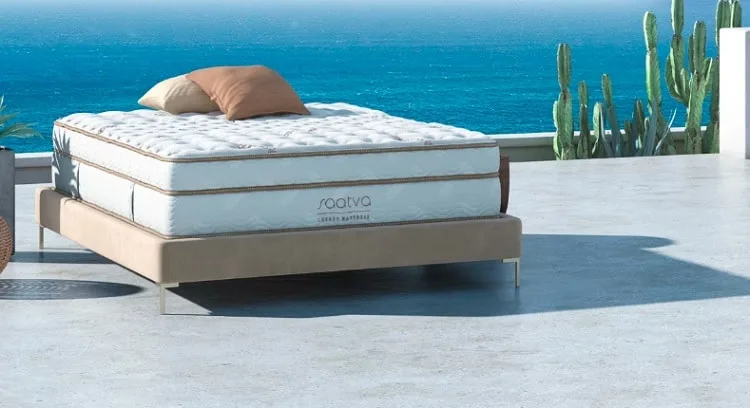 Whether you're looking for foam, innerspring, or a hybrid mattress, one of Saatva's models is an obvious choice. Although less expensive than Tempur-Pedic mattresses, Saatva's Loom & Leaf, Saatva Latex Hybrid, or Saatva HD are still pricier than most mattresses on the market.
All of the brand's mattresses are designed to provide pressure relief at high-stress points and to keep the spine aligned in different sleeping positions. The materials used to produce each layer of a Saatva mattress are breathable so that the air can flow through each layer and disperse the body heat.
Also, the Saatva mattresses have stunning motion isolation properties that enable you to change the sleeping position without waking your partner up.
The company offers a 15-year warranty for all their mattress models, which is five years longer than what you get when you purchase a Tempur-Pedic mattress. Read our Saatva Mattress review to get more information about this model.
Pros
Offers foam, innerspring, and hybrid mattresses
Each model features pressure relief points
Made from highly breathable materials
Suitable for all types of sleepers
Cons
It may not be suited for everyone's budget
All accessories must be purchased separately
Amerisleep – The best cooling Tempur-Pedic alternative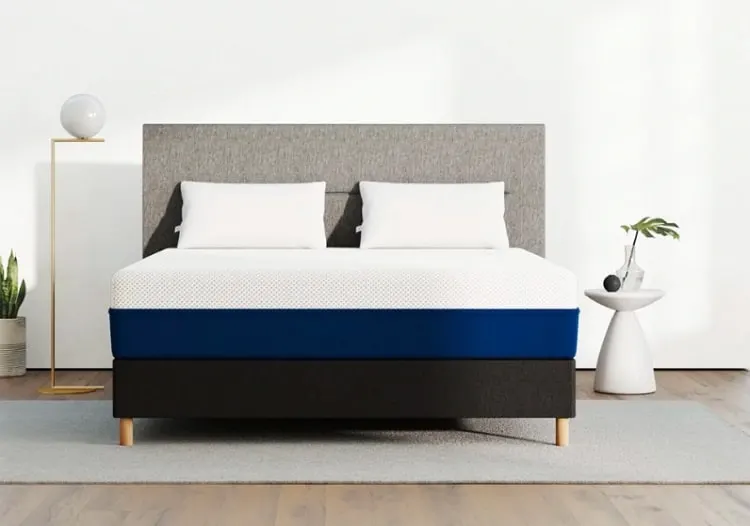 Hot sleepers love Tempur-Pedic mattresses for their cooling features, but models produced by Amerisleep can provide you with similar cooling properties at a much lower price. The brand utilizes the plant-based Bio-Pur® that solves many of the heat retention problems associated with foam mattresses.
The company manufactures memory foam and hybrid models which enables you to opt for a mattress type that matches your sleeping style. Both foam hybrid and memory foam mattresses are designed to take the pressure off the high-stress points and keep the sleeper comfortable.
In addition, Amerisleep's memory foam mattresses are relying on the HIVE technology to deliver even body support that allows the spine to remain in a natural position. You can try an Amerisleep mattress for a hundred nights and return it if it fails to meet your expectations.
All mattresses produced by Amerisleep are covered by a 20-year warranty. Read our Amerisleep vs Lessa comparison to find out which brand makes better mattresses.
Pros
Offers a broad selection of mattresses
Bio-Pur® manages the body heat efficiently
Great motion isolation properties
Long warranty period
Cons
No hypoallergenic features
Choosing the firmness level is not possible
Tuft & Needle – The most versatile Tempur-Pedic alternative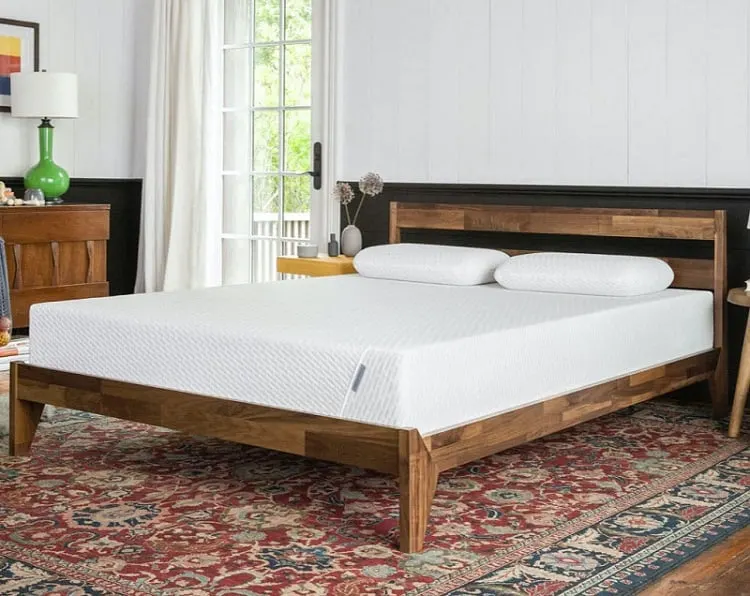 There are only three Tuft & Needle mattresses to choose from, and you can either opt for T&N Original Mattress, T&N Mint Mattress, or T&N Hybrid Mattress.
The features of these mattresses are not identical, but they all use the same Adaptive® foam that makes them a great choice for all types of sleepers. Also, the number of layers these mattresses have is not the same, as the T&N Original has just two layers, while the T&N Hybrid mattress has five layers.
Even though the heat-absorbing graphite is added to all mattresses this brand manufactures, only the hybrid model has the cooling features that are comparable to those you can find on a Tempur-Pedic mattress.
You shouldn't expect industry-leading support and pressure relief properties, as this is not one of the strong points of T&N mattresses. However, each model produced by this brand is comfortable enough to improve the quality of sleep of most people.
Go through our Puffy Mattress vs Tuft and Needle comparison to find out more about the differences between mattresses produced by these brands.
Pros
Offers antimicrobial protection
Easily adapts to the body type and sleeping position
Available in all standard sizes
Made from eco-friendly materials
Cons
Modest pressure relief and support
Limited 10-year warranty
Nectar – The most affordable Tempur-Pedic alternative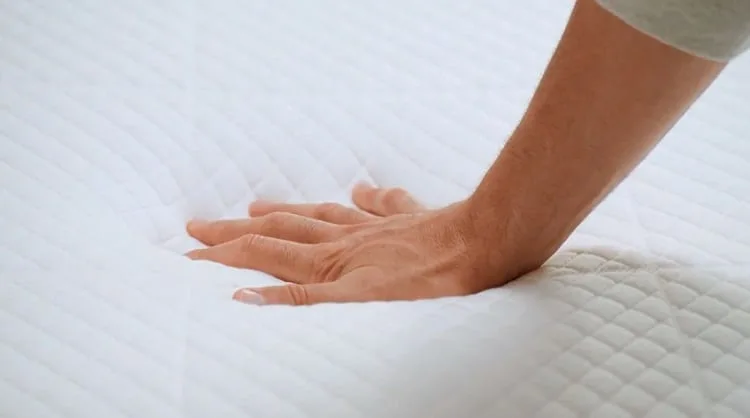 In case your budget is tight, but you still want to get a comfortable foam mattress that cushions the body and adjusts to its positions, you should consider getting a Nectar Mattress.
You can choose between the Nectar Memory Foam Mattress and Nectar Lush Mattress models that have the same 5-layer construction.
However, the Lush model features the Cooling-Action Poly-Blend mattress cover, Energex™ Adaptive Response Transition Foam, and the AquaCool™ Surface-Infused Gel memory foam with Phase Change Material which is the reason why it is the more expensive option.
On the other hand, the Nectar Memory Foam mattress has a Tencel™ Poly Blend Cooling cover and contouring gel memory foam that ensure sleepers are always cool and comfortable.
Both of these mattresses come with a mattress protector, a sheet set, and a cooling pillow so that you don't have to spend more money on accessories.
Pros
Excellent contouring capabilities
Made from durable and breathable materials
Ships with additional accessories
All models are covered by the Forever Warranty™
Cons
Lacks sufficient edge support
Motion isolation properties can be improved
Brooklyn Bedding – The best hybrid Tempur-Pedic alternative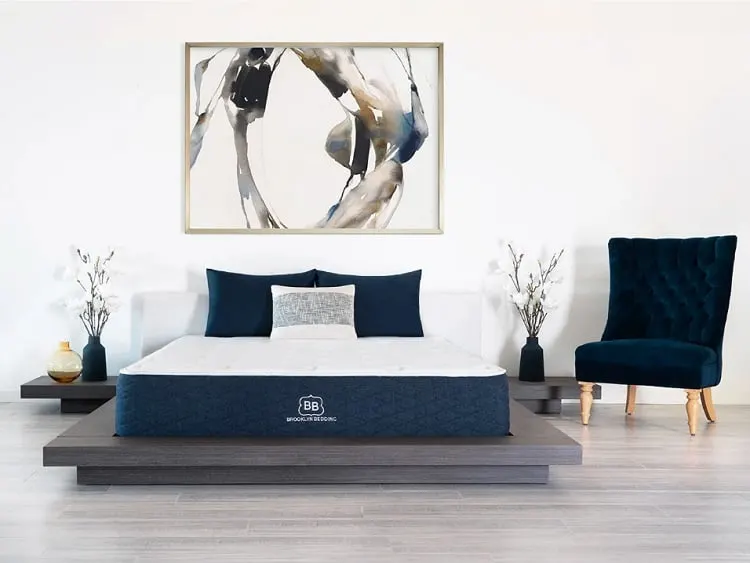 Although known primarily for the memory foam mattresses, the Tempur-Pedic brand also offers hybrid versions of their Tempur-ProAdapt® and Tempur-breeze models. However, these mattresses are much more expensive than those manufactured by the brand's competitors like the Brooklyn Bedding.
The company offers a wide range of hybrid mattresses, and models like the Brooklyn Signature Hybrid, Brooklyn Aurora Hybrid, or Brooklyn Spartan Hybrid are just a few options you have at your disposal.
Features of Brooklyn Bedding mattresses vary from model to model, and the level of support, pressure relief properties, or cooling capacity depends on the model you choose. Nonetheless, each of the brand's mattresses adjusts to the body moments after you change the sleeping position.
Also, the firmness level of Brooklyn Bedding's models is not always the same, as the brand offers mattresses that range from soft to firm. Read our Brooklyn Bedding vs Tuft & Needle comparison for more information about the mattresses made by these brands.
Pros
Excellent cooling capabilities
Great for all types of sleepers
Different firmness levels are available
Outstanding edge support
Cons
Prone to body impressions
10-year warranty
Layla Sleep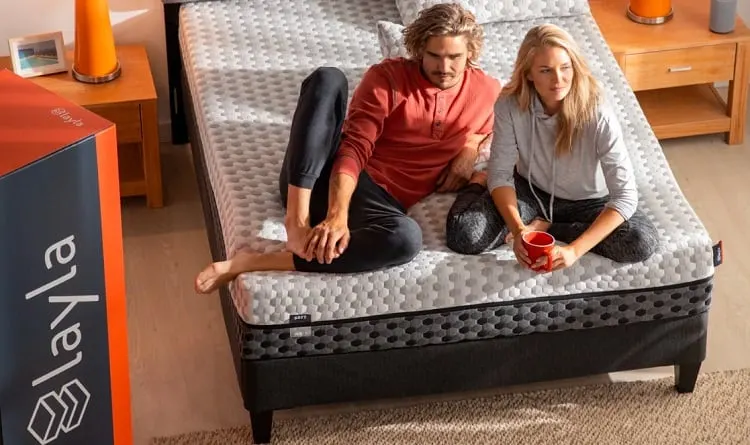 If you are looking for a moderately priced, reliable, and durable mattress, you should take a closer look at the models offered by the Layla Sleep brand. You can either opt for a memory foam or hybrid model depending on your preferences and your budget.
The hybrid version of the Layla mattress is a great choice for hot sleepers as its industry-leading cooling properties prevent overheating. Its motion isolation features are also impressive for a hybrid mattress, but still not better than those provided by Tempur-Pedic mattresses.
Layla mattresses have a different firmness level on each side which enables you to test which comfort level best fits your sleeping style.
Both hybrid and memory foam versions of Layla mattresses provide the same level of support in the center and around the edges. Besides, they utilize a copper gel that disperses the body heat quickly and helps distribute its weight evenly across the surface of the mattress.
Pros
More affordable than mattresses with comparable features
Dual firmness
The copper gel has antimicrobial properties
Compatible with most foundations and bases
Cons
Loses some of its support capabilities over time
Not a great options for a heavy person
Helix Sleep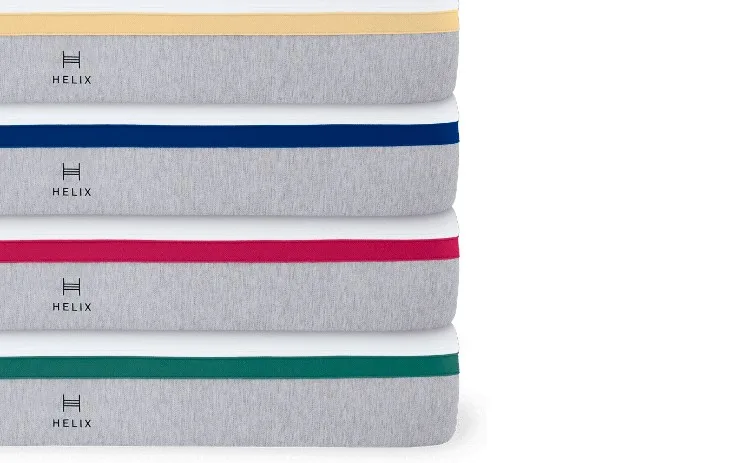 A large selection of mattresses, the Helix Sleep brand offers all types of sleepers to find the model that meets all of their expectations. Models from the Standard Helix Mattress collection are inexpensive and suitable for almost anyone.
However, they may not be able to provide sufficient pressure relief support, so if this feature is important to you, you should search for a model from the Luxe series.
The Helix Dusk Lusk is among the brand's most popular mattresses for couples, while the Helix Midnight is one of the best mattresses for guest rooms. Moreover, the stress relief features of the Helix Plus mattress make it a great choice for a heavy person.
The duration of the warranty depends on the collection, since models from the Standard Helix series come with a 10-year warranty, while mattresses from the Luxe series are covered by a 15-year warranty.
Read our Helix vs Leesa comparison to find out which mattress is a better fit for your bedroom.
Pros
Great for all types of sleepers regardless of their weight
Good body contouring properties
Available in soft, medium, and firm comfort levels
Keeps the body in a relaxed and natural position
Cons
Some models can be very expensive
The warranty period is not the same for all Helix mattresses
Purple Mattress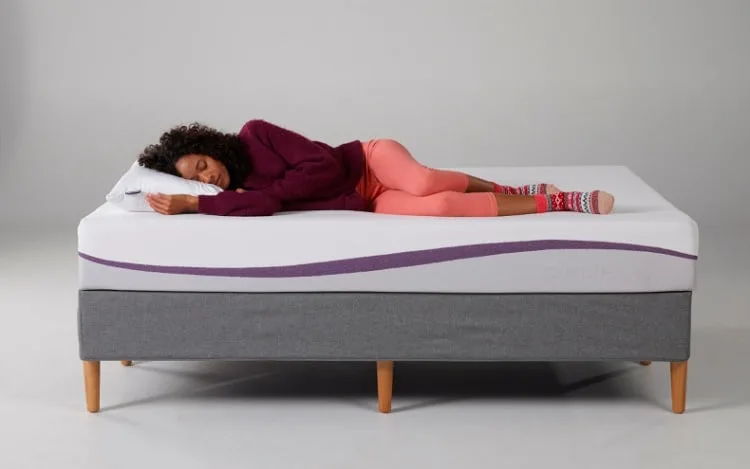 The industry-leading pressure relieving properties of Purple Mattresses can be attributed to their unique grid construction. The company offers The Purple Mattress, The Purple Hybrid, and The Purple Hybrid Premiere models that feature different variations of the grid construction.
Also, the company manufactures Kid Mattresses that share key features with all other Purple's models, which means that they are durable and breathable. All versions of Purple mattresses are available in seven different sizes which enables you to find the one that matches the size of your bed foundation.
Optionally, you can purchase a Purple bed frame to accompany the mattress if you don't already have one. Purple's memory foam and hybrid mattresses cushion the body but they also prevent it from sinking far below the surface.
All mattresses produced by this brand are hypoallergenic and are made from eco-friendly non-toxic materials. Read our Amerisleep vs Purple comparison to determine which of the Tempur-Pedic alternatives is better.
Pros
Unique grid construction
Excellent body support and pressure relief
Great cooling features
Made from renewable resources
Cons
The brand offers only three models
Motion isolation properties can be better
The most important factors to consider while choosing a Tempur-Pedic alternative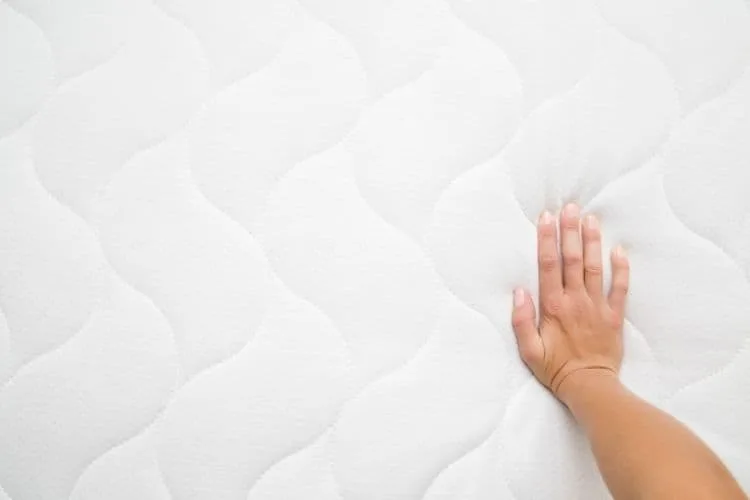 The high price tag may be the most obvious reason to consider Tempur-Pedic alternatives, but it is not the only one. There are just five models to choose from, and only two of them are available in the hybrid version.
So, if you prefer a hybrid construction to the full memory foam construction the Tempur-Pedic mattresses may not be the right choice for you. Let's take a closer look at other factors you'll need to pay attention to while searching for a Tempur-Pedic alternative.
Materials
Tempur® memory foam is widely accepted as the best type of memory foam on the market, but there are countless other options that are as comfortable and eco-friendly as the Tempur® memory foam.
Most mattress manufacturers develop their own unique memory foam formula that has specific characteristics, which is the reason why you need to check the properties of the memory foam that was used to produce the mattress's comfort layers.
In case you are prone to allergies, you should search for a mattress that has antiallergenic and antimicrobial properties as they can reduce the chances of strong allergic reactions.
Support and pressure relief
This is one area where Tempur-Pedic mattresses excel and it is difficult to find a mattress that can provide the same level of support and pressure relief as any of the Tempur-Pedic mattresses.
However, some high-end models offered by Saatva, Brooklyn Bedding, or Purple provide admirable support for the entire body and they keep the spine perfectly aligned. So, before purchasing a mattress you should make sure that it can take the pressure off the shoulders and lower back.
Motion cancellation
Generally speaking, memory foam mattresses have better motion cancellation properties than hybrid mattresses. However, hybrid models that feature pocket coils are highly efficient at eliminating motion transfer and provide additional body support.
Opting for a mattress that has good motion cancellation features is a great option for combination sleepers who change their sleeping position often as constant turning isn't going to disturb their partners.
Cooling and breathability
The mattress's cooling and breathability are important for hot sleepers as these features ensure that the body heat is dispersed efficiently. Memory foam can trap the body's heat which can cause the mattress to be too warm for some sleepers.
Although most manufacturers claim that the memory foam they are using maintains constant airflow through the mattress, some models still fail to move the body heat away from the sleeper. Also, the mattress you choose should have a cooling cover if you tend to run hot in your sleep.
The cost and warranty period
All Tempur-Pedic models have a ten-year warranty which is a bit underwhelming for a mattress that can cost more than $4000.
Besides being more affordable, the brand's competitors often offer longer warranty periods, and you can get a 15-year or a lifetime warranty for a mattress that costs around $2000. However, these mattresses may not be able to provide you with the same level of comfort as Tempur-Pedic mattresses.
FAQs
Question: Are Tempur-Pedic mattresses made from the same materials as their alternatives?
Answer: All memory foam mattresses are made from variations of polyurethane foam, and most manufacturers develop their own variety of memory foam.
Tempur-Pedic mattresses are made from Tempur® foam that is a polyurethane foam that has properties that are similar to most other types of memory foams.
Question: Do Tempur-Pedic alternatives contain harmful materials?
Answer: Most foam mattresses are made from natural and renewable sources that don't have any negative health side-effects.
Question: How long can I use Tempur-Pedic alternatives?
Answer: The mattress's durability depends on the model, but most manufacturers offer at least a 10-year warranty which means that you can use the mattress you choose for a decade or even longer.
Question: Can Tempur-Pedic alternatives help alleviate back pain?
Answer: Each memory foam mattress that provides additional support in high-pressure areas can help reduce or eliminate neck, shoulder, and lower back pains.
Best Tempurpedic Alternatives: Final Thoughts
The true value of a Tempur-Pedic mattress becomes obvious after you spend a few nights sleeping on it, but these mattresses may not be for everyone's budget. Luckily, countless alternative options can improve your sleep quality at a significantly lower price.
The Saatva's mattresses are not cheap, but their features are comparable to those offered by Tempur-Pedic mattresses, which makes them a great option if you are looking for an alternative in a similar price range.
Amerisleep's models come with a set of advanced cooling features, and you should consider these mattresses if you're having trouble staying cool in your sleep.
A Nectar Mattress is probably the most affordable alternative to the Tempur-Pedic mattresses, but you shouldn't expect the same level of comfort. Which of the best Tempur-Pedic alternatives are you going to choose?
Let us know in the comments or continue reading our Novaform vs Tempur-Pedic compression for more details about mattresses produced by these brands.