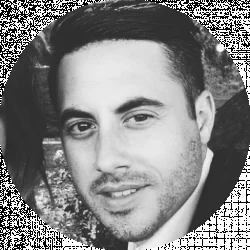 Latest posts by David Borgogni
(see all)
So you're looking for a comfortable mattress, and it has come down to the Tempur-Pedic vs Purple Mattress choices. One is the original mattress made better, while the other claims to be the best advancement in mattresses in 80 years. So how do you judge which one is better for your back and your sleep? Well, I've done the judging, so you don't have to.
In this comparison guide, I'll tell you what I've found to be true and false about the two mattress brands and their products.
Keep reading to find out!
Bottom Line Up Front: The overall better value buy here is the complete range of Purple mattresses, which tends to be cheaper than Tempur-Pedic mattresses (compare prices for Purple vs Tempur-Pedic). That said, if you really need a traditional mattress with a memory foam feel, Tempur-Pedic mattresses are a great choice.
Main Differences Between Tempur-Pedic vs Purple Mattress
The main differences between the Tempur-Pedic vs Purple Mattress are:
Tempur-Pedic's products are in the luxury price range, whereas Purple's are in the affordable price range.
Tempur-Pedic mattresses come with all-foam and hybrid material combos, whereas Purple mattresses come with foam, coil, and their iconic GelFlex Grid.
Tempur-Pedic has more models and firmness levels, whereas Purple has only a few of both.
Tempur-Pedic has two temperature-regulating products: PRObreeze and LUXEbreeze, whereas all Purple mattresses have the temperature-regulating GelFlex Grid.
How to Choose a Mattress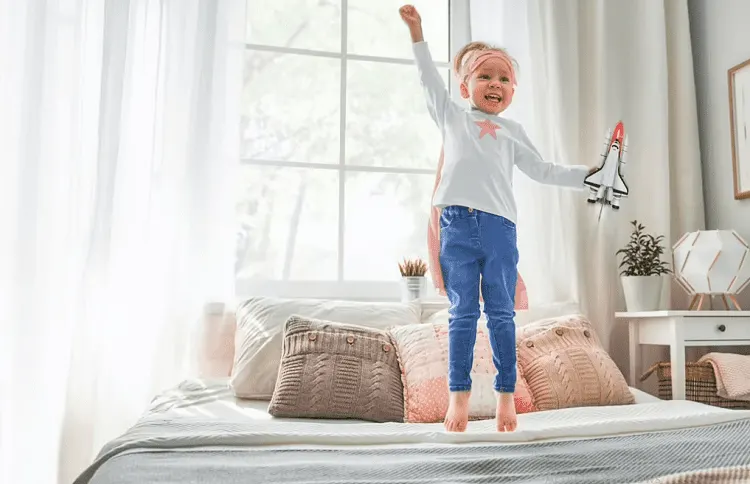 If you're looking to educate yourself on some common mattress terminologies, this section is for you. If you already know your way around, then jump to the comparison right away!
Size
A non-negotiable aspect of a mattress is size, and it often gets people confused. It often does not even cross their minds until they're fitting the mattress on their bed base. If you're interested in bed bases, here's our guide on some base alternatives from Sleep Number.
Here's what you should check when it comes to mattress sizes—height and width dimensions available and your own requirements. Most manufacturers provide height dimensions within a 9 – 13 inch range and width dimensions like:
Twin
Twin XL
Full
Queen
King
California king
Split California king
Materials and Firmness
Mattress materials are the main reason why a bed feels too firm, soft, hot, cool, or comfortable. As different types of people experience these factors differently, no one material is perfect for all. Choosing a mattress is a matter of making the best choice considering your requirements.
Some of the most common materials found in mattress construction are:
Foam
Wool
Cotton
Polyester
Airbeds
Latex
Innerspring
Some mattresses will come with one or more of these materials.
Sleeping Position and Body Type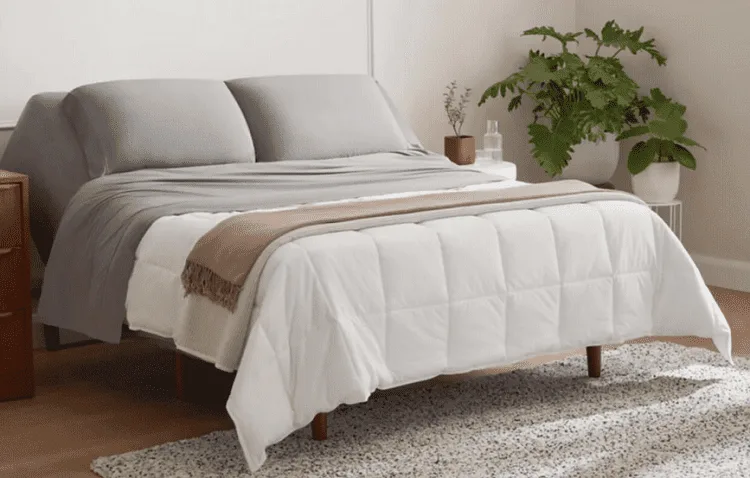 Mattresses must support the body throughout the night. They should be able to hold the body in the right spinal alignment while supporting the body weight. However, they should not be too firm or too soft, as this may defeat the purpose.
Most people sleep on their sides, back, or stomach. There are mattresses for every type of sleeping position. People also change their sleeping position throughout the night, so the mattress should factor in such aspects. Did you know your sleeping position could be causing you back pain?
Here's are some tips to avoid waking up with back pain.
Layers
A mattress has multiple layers. While layers can differ based on models, being aware of the classification of layers and their purpose will help you while deciding on a mattress. The comfort layer refers to the topmost layer in a mattress. It keeps the sleeper comfortable and their body aligned.
The layer below it is the transitional layer. This layer supports the structure of the mattress. The final layer is called the base layer, and it holds all the layers. Keep these factors in mind, and your mattress buying will be a breeze. Check out this detailed mattress buying guide if you're still new to the world of mattresses.
Now moving on to the comparison.
Tempur-Pedic vs Purple Mattress: Comparison of the Mattress Brands for 2022
Tempur-Pedic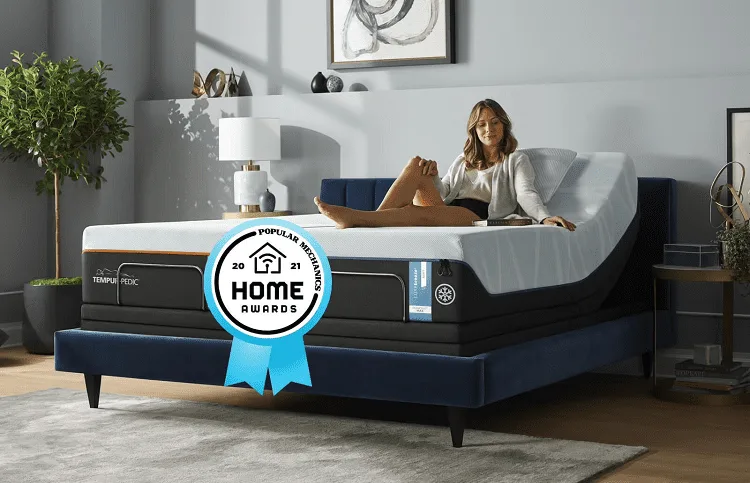 Awarded #1 in Customer Satisfaction with retail and online mattresses, Tempur-Pedic is one of the best luxury mattresses in the industry. Let's see what makes a Tempur-Pedic mattress special.
Models Available
Tempur-Pedic has a long list of models for you to choose from. These include:
Tempur LUXEbreeze
Tempur PRObreeze
Mattress Type
Tempur-Pedic mattresses are made with their iconic Tempur material that was created by NASA to cushion astronauts during space travel. The material is made of quality memory foam layers that accommodate the body but also support it. The core layer is made of denser material like soil or polyfoam to support the structure and prevent sinking.
It has an open cellular structure that adapts to the sleeper's weight, shape, and temperature. It softens with heat and absorbs pressure while also preventing motion transfer.
Motion transfer is the ability of a material to transfer movement along its surface. Mattresses that restrict motion transfer are great for people who move around a lot while asleep. It does not help the sleeper directly but instead allows their partner to sleep without disturbances.
Firmness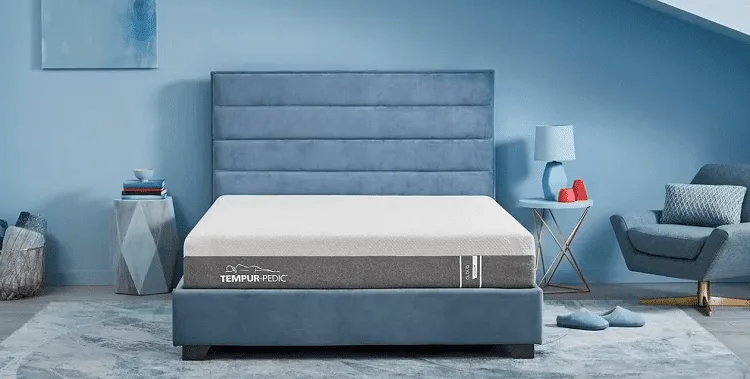 The firmness of Tempur-Pedic mattresses differs based on the model, but the options available go from soft, medium to firm. I find that the Tempur-Pedic mattresses have a great firmness level regardless of which one you pick. That is because their Tempur material is made to relieve pressure points and alleviate discomfort.
What does this mean? Whether you're a side sleeper or a back or stomach sleeper, you will find the Tempur-Pedic mattresses suited to your tastes.
Sizes Available
Tempur-Pedic mattresses are available in the following size options:
Twin
Twin XL
Double
King
Queen
Split King
California King
Split California King
Certifications
All Tempur-Pedic mattresses come with a foam material that is 100% CertiPUR-US certified. This means all their foam products are made without:
Ozone depleters
Formaldehyde
PBDEs, TDCPP, TCEP ("Tris") flame retardants
CFCs, lead, mercury, and heavy metals
Phthalates (as regulated by the Consumer Product Safety Commission)
The foam also has Low VOC (Volatile Organic Compound) emissions for indoor air quality.
Tempur-Pedic ranked #1 in Customer Satisfaction with Online Mattresses in 2021. Once you use the product, you will agree that the product does deserve the title.
It also ranked #1 in Customer Satisfaction with Retail Mattresses in 2017-2019.
Temperature Regulation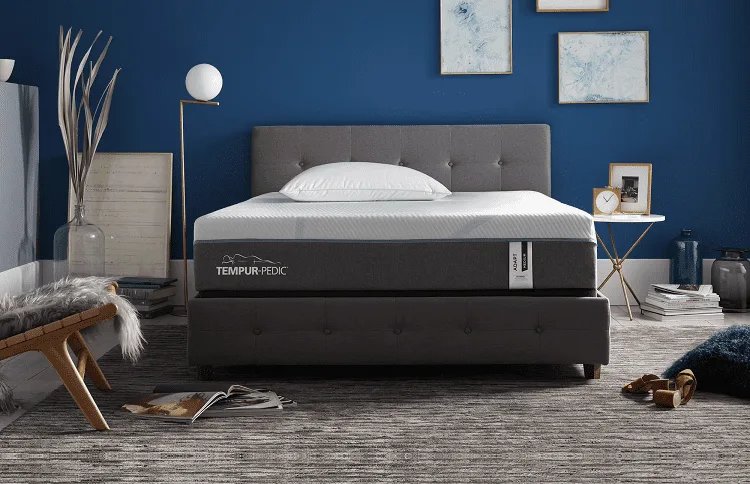 Does your mattress do a bad job of absorbing heat and ventilating the bed? Tempur-Pedic has two products for you, the Tempur-LUXEbreeze and Tempur-PRObreeze. These products come equipped with cooling covers and layers that help reduce the heat of the mattress. For example, the PRObreeze makes you feel at least 3 degrees cooler, while the LUXEbreeze cools down at least 8 degrees.
Their Breeze Collection is the only thing I'd buy if temperature regulation was my priority. Other Tempur mattresses do provide cooling features. However, I think they are not on par with some of the low-priced mattresses from other brands.
Pricing
Tempur-Pedic is a luxury mattress, and you can tell this by its price tag alone. Their starting range is priced similarly to most other mattress brands' high-end products. However, they do offer you a superior choice of products. Customers love and trust the low-range products from this brand too. So while I wouldn't say you can't get a quality product at lower prices, I can't deny the quality of Tempur-Pedic products.
Go for it if you need a reliable mattress and do not want to waste time looking for one. Tempur-Pedic also offers financing for customers through their credit card. It is applicable on their mattresses and some of their power base products for 0% APR over 12-60 months.
Warranties and Offers
A 90-night trial, free delivery, and 10-year limited warranty are available with the purchase of any Tempur-Pedic mattress. Items are shipped through UPS ground shipping for free to all locations in the contiguous United States. They charge an additional fee for expedited and standard shipping to Alaska, Hawaii, Puerto Rico, or any other U.S. territory.
The 90-night trial comes with a minimum 30-night break-in period for which you need to try out the mattress. You can choose to return it within 90-nights if you wish to. Tempur-Pedic's return policy gives you a full return minus the shipping costs.
Reviews
Tempur-Pedic users all agree that the mattresses feel softer than but similar to the traditional memory foam mattresses. This, however, is not a universally loved feature. Most customers also noticed the mattress get softer with time. Some loved this while others detested it.
Most customers prefer the Hybrid range. They love its structure and firmness. Also, the Hybrid seems to hold its structure better than the other models.
Features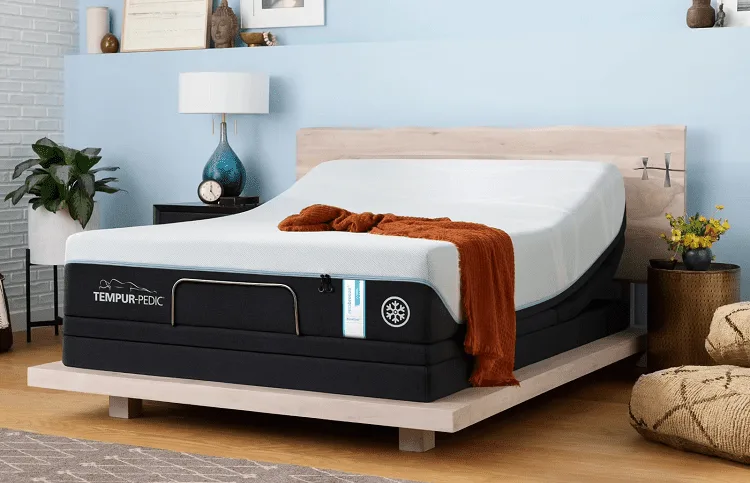 100% CertiPUR-US certified foam
Made with the TEMPUR Material
Available in 8 size options
Free delivery
10-year limited warranty
90-night trial
Pros
Prevents motion transfer
Durable
Relieves pressure points
Alleviates discomfort
Great for all sleeping positions
Cons
Expensive
Only two models with heat-regulating features
Purple Mattress
Made with the patented Hyper-Elastic Polymer, Purple mattresses are the popular colorful mattress making the rounds online. Let's learn more about this brand and its range of super comfortable mattresses.
Models Available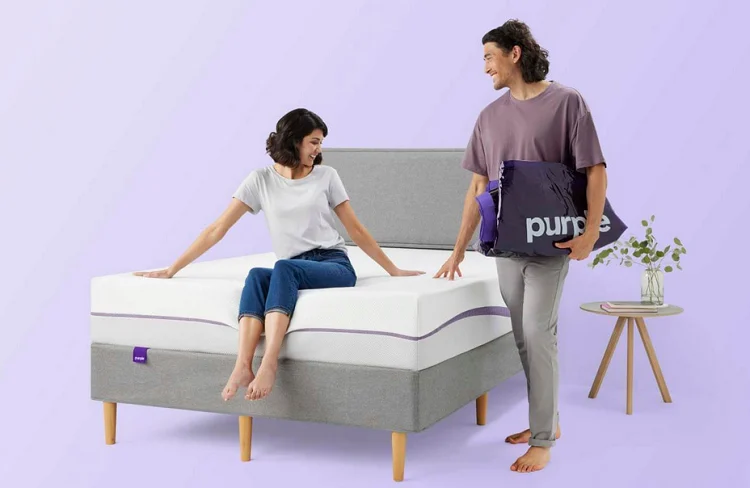 Purple has fewer options than Tempur-Pedic. Their offerings include:
Mattress Type
A unique feature of the Purple mattresses is their purple GelFlex Grid that can be 2 to 4 inches depending on the model. The Grid contours to the sleeper's body much better than foam and has a great ability to spring back into its original shape. It also relieves a lot of pressure from points like the hips and shoulders.
If you sleep on your sides, then mattresses from Purple are the best thing for your shoulders and hips. Their mattress models also come with additional comfort layers made of foam for a softer top layer. The base layers on the Hybrid mattresses are made of individually wrapped stainless steel coils.
Purple and Tempur-Pedic have one feature in common—motion isolation. With Purple, you get superior motion isolation thanks to the stainless-steel coils. As the coils are pocketed separately, they help dissipate the vibrations from movement better.
Your partners' tossing and turning won't reach your side of the bed. The drawback? The individually wrapped coils are a feature only available across the Purple Hybrid range.
What's more?
Their mattresses are hypoallergenic and non-toxic. This means no more worrying about dust or bacteria in the mattress that could give you an allergic reaction.
Firmness
All Purple mattresses come with a firmness level of medium-firm. Their Hybrid models also come with soft, medium-soft, and firm options. I found their mattresses comfortable no matter what side I chose to sleep on. Its perfect firmness level is ideal for couples who have different preferences and for those who want versatility from their mattress.
I particularly liked The GelFlex technology feature for its middle ground on support and comfort. It feels like the perfect cushion for your body without making you feel like you're sinking.
Sizes Available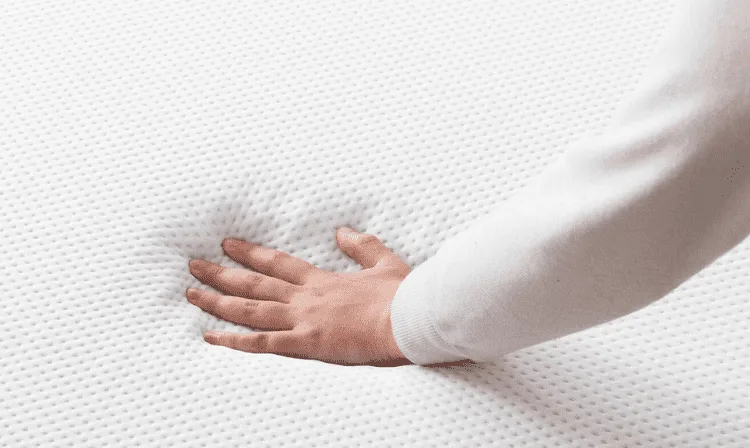 Purple makes mattresses in the following sizes:
Twin
Twin XL
Full
Queen
King
California King
Split King
Certifications
Similar to Tempur-Pedic, the Purple mattress' high-elastic polymer material is also CertiPUR-US certified.
Temperature Regulation
The GelFlex Grid comes with over 1,400 built-in air channels that keep the Grid temperature neutral. It also has a breathable base that's made from foam. However, the foam isn't as reliable as the Grid.
Pricing
Purple mattresses win the pricing debate without question. Their complete range of products is much cheaper than those from Tempur-Pedic's line. The most affordable range of products in the Purple line is from the Purple Mattress category. The Purple Hybrid and Purple Hybrid Premier are their top-range offerings.
Overall, the prices fit any brand's average mattress category.
If it still feels too much for your budget, Purple also offers financing options through Affirm. The plans are available for a minimum monthly payment of $50. The monthly installment plans range from 6 to 48 months, and qualified customers even get the benefit of 0% financing.
Warranties and Offers
When you buy from Purple, you also get free delivery on shipping and returns. You get two shipping options with Purple. These include white gloves or standard delivery. Standard delivery is free and sent via FedEx, while the white glove delivery is only available on select models.
They ship to all 48 contiguous United States for free. They charge an additional fee to ship to other places. They have a limited warranty of 10 years with a 100-night in-home trial offer.
Their 100-night trial offer also has a minimum trial period of 21 days. The company accepts returns within the first 100 nights so long as the mattress is clean and undamaged. You get a complete refund minus shipping charges, interest accrued, or discounts applied.
The same conditions are also applicable for those who wish to exchange their mattresses with a minimum break-in period of 30 days.
Reviews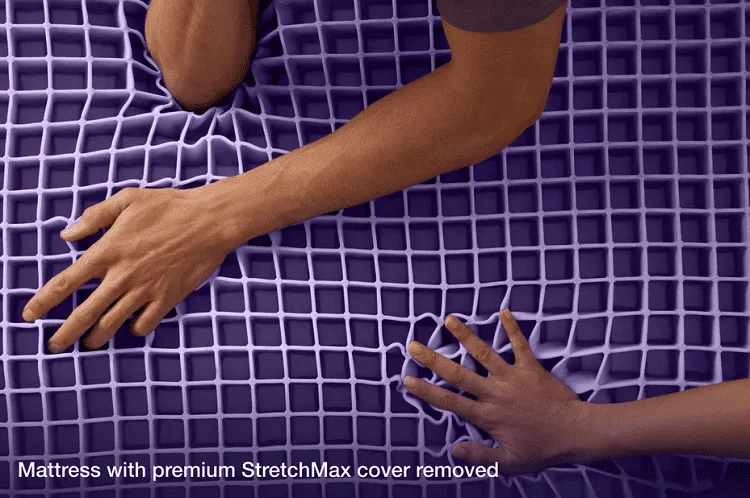 Customers love the Purple mattress for its breathable material and the way its temperature stays neutral throughout the night. Another much-loved feature I found is their mattress material, which many have claimed is better than even memory foam. It has helped several customers get rid of bodily aches, fatigue, and pain they suffered from a bad bed.
However, some customers did complain of too much sagging and trouble rolling over when getting out of the bed.
Features
GelFlex Grid
Hypoallergenic and non-toxic
100-night in-home trial period
10-years limited warranty
Free delivery
Motion isolation
Pros
Affordable
Stretchable and spring
Durable
Relieves pressure points
Good airflow
Prevents motion transfer
Good quality
Cons
Too heavy to transfer
Not suitable for heavy people
Alternate Mattress Brands You Can Trust
Tulo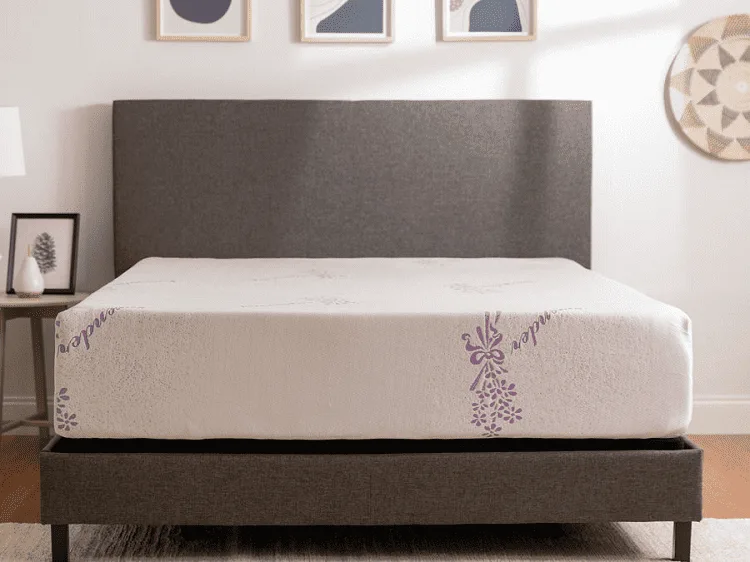 Founded in 1986, Tulo is an old name in the industry. It is a good choice for those who need a mattress that supports all weight groups. They are also an alternative for sleepers who need a mattress that stays neutral during the night.
Read our complete review of Tulo in our Nectar vs. Tulo comparison guide!
Intellibed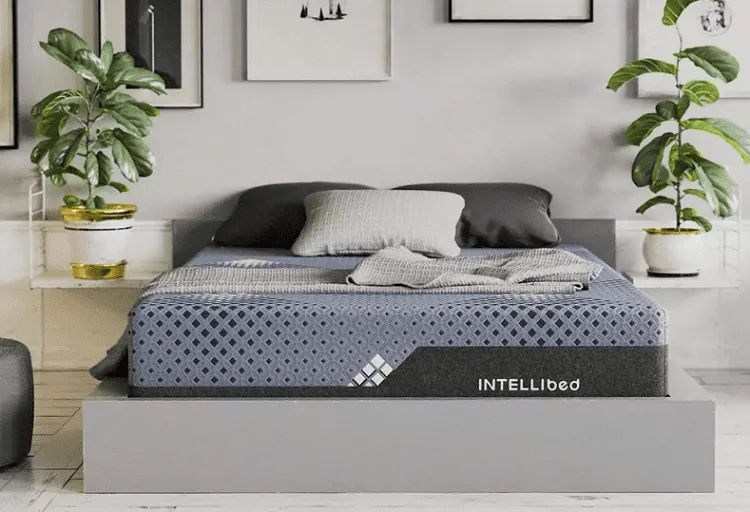 Need a mattress that'll relieve your back pain and finally grant you some sleep? Intellibed is an alternative to look into. The mattresses come with highly responsive memory foam and a pocketed coil system similar to that of the Purple Hybrid mattresses.
Their list of options is long, and prices are such that they can compete with those of the Tempur-Pedic mattresses. Yet, I can't find something as reliable for my chronic back and joint pain. Check out more features of this brilliant product in our Intellibed review.
FAQs
Question: What is the Purple Mattress Return Policy?
Answer: Purple accepts returns within the 100-night trial period. That is, only if the customer has used the product for at least 21 days of the trial period and the mattress is clean and undamaged. Purple gives a full refund if products are returned within the trial period.
Question: What is the Return Policy for a Tempur-Pedic Mattress?
Answer: You can return your Tempur-Pedic mattress within their 90-nights trial period as long as you've used the product for at least 30 nights. You will get all your money refunded after deducting shipping charges. However, mattresses purchased from retail stores are subject to the retailer's return policy.
Question: What are the Coils in Purple Hybrid Mattresses?
Answer: The individually wrapped coils are made of stainless steel. Unlike spring mattresses that are made with one piece of metal throughout the structure, these coils are separately wrapped.
This helps reduce the transfer of motion across the mattress and also gives better relief for pressure points. I prefer these over springs as these are quiet in comparison.
Question: Is There a Fee for Returning a Tempur-Pedic Mattress?
Answer: Yes. Tempur-Pedic charges its customers a $175 shipping fee for mattress returns. This applies to the return requests made within their 90-night trial period.
Question: Can You Feel the GelFlex Grids on the Purple Mattress?
Answer: No. While you do not feel the shape of the grids, you do get a squishy feeling and can also feel the grid layer collapse. The floating sensation grid collapse is normal and does not mean your mattress is breaking down.
The Verdict: Tempur-Pedic vs Purple Mattresses 2022
That's the complete lowdown on Purple vs Tempur-Pedic mattresses. Here's my brief verdict of the two mattress brands and their products:
Purple mattresses are a good bet if you're looking for:
An affordable mattress
A different floating feeling
One mattress for all types of sleepers
Something that supports your spine and hips (especially if you are a stomach sleeper)
A mattress that remains temperature neutral throughout the night
In contrast, pick a Tempur-Pedic mattress if you:
Need a mattress you can rely on to support your back
Need relief from backaches
Need a mattress to support your shoulder and hip as you sleep on your side
Change positions throughout the night
Can afford a luxury mattress
Did the comparison and verdict make your decision simpler? I hope it did! I also hope you can soon find a mattress that will resolve your sleep problems and relieve your aches and pains.