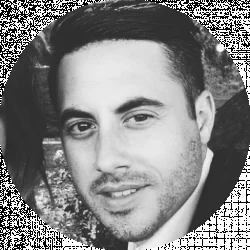 Latest posts by David Borgogni
(see all)
Today, we're comparing PlushBeds vs Zenhaven to help you decide which mattress is the best choice for you.
The mattress's quality and feel are crucial in achieving a good night's sleep, but often it's not given enough thought. The last thing you want is to end up with a cheap and uncomfortable mattress.
PlushBeds offers a range of organic mattresses and is widely considered amongst the best mattress companies today. For this review, we will compare The Botanical Bliss by PlushBeds, one of their premium mattresses that hold up well against the best mattresses available.
Saatva is another major name in the natural mattress segment that you should consider. Zenhaven is a latex mattress that claims to offer superior comfort, cooling, and class, all with the most environmentally-friendly materials and manufacturing.
But when it comes to PlushBeds vs Zenhaven, which one is better?
Bottom Line Up Front: Both PlushBeds Botanical Bliss and Saatva Zenhaven are great mattresses, but the Botanical Bliss takes the slight edge. I feel it has better comfort features and because it comes in three thickness options, it caters to a broader audience.
Let's have a look at the main differences, design, build, and features of the PlushBeds Botanical Bliss and Saatva Zenhaven mattresses to help you decide which one is the right choice for you.
Just In: Check out our extensive Bed in a Box Pacbed mattress review.
Main Differences Between PlushBeds vs Zenhaven
The main differences between PlushBeds Botanical Bliss vs Zenhaven mattresses are:
The Botanical Bliss is made out of denser Dunlop Latex, whereas Zenhaven is made out of Talalay latex which is naturally bouncier and airier.
The Botanical Bliss mattress has customizable layers to adjust to your firmness preference, whereas Zenhaven is a flippable mattress with a dedicated soft and firm side.
The botanical bliss is available in three thickness options: 9″, 10″, and 12″, whereas Zenhaven is available in only 10″ thickness.
Botanical Bliss comes with a 15-year warranty, whereas Zenhaven comes with a 20-year warranty.
PlushBeds vs Zenhaven – Comparison
What are the mattresses like, how are they made, what do they feel like and what are the other factors which make them worth buying? Let's start with the PlushBeds mattress.
PlushBeds Botanical Bliss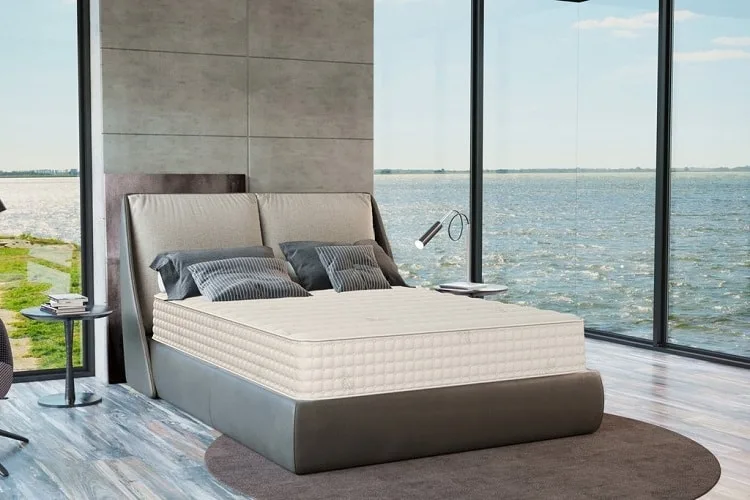 The California-based organization's flagship model, the Botanical Bliss, is an all-natural latex mattress that is free from harmful chemicals and naturally allergen resistant.
It comes in a variety of sizes and two firmness options – medium and firm. PlushBeds also offers thickness from 9 inches to 12 inches, where the 12-inch mattress has 2 support layers for added comfort…
Let's take a closer look at the material, firmness, and feel of PlushBeds Botanical Bliss.
Materials and Feel
The Botanical Bliss is made of natural materials including a natural cotton cover, a layer of natural New Zealand fleece-wool, and several layers of natural Dunlop latex. Dunlop latex has a reputation for being denser than Talalay latex.
You can customize the firmness levels of their mattress from medium to firm. The different layers in the mattress are easily accessible through a zip on one of its sides. They can be easily rearranged by shuffling the layers to achieve the desired firmness.
Then why is PlushBeds offering two different mattresses as medium and firm? Well, the firmness level depends on the type of latex used in the comfort layers.
The Botanical Bliss's Medium option is equipped with medium-soft, medium, and medium-firm layers of latex. Therefore, if you have a medium-firm mattress and want to slightly change its firmness, all you need to do is remove that soft cotton cover and rearrange the latex comfort and support layers to your preferred firmness.
On the other hand, the firm option of the Botanical Bliss is equipped with medium, medium-firm and extra firm latex layers, which gives it a more rigid surface compared to their medium variant. You can customize the firmness depending on your needs with the same method as PlushBeds' other firmness variation.
The medium-firm 9-inch and 12-inch models have 2 comfort layers of Dunlop latex and 2-3 support layers of Dunlop latex for the thickness you choose.
It is crucial to choose the firmness according to your weight and sleeping style as mattresses have a stress check level. In other words, they are specifically designed to cater to different weights and styles of sleepers.
The Botanical Bliss Medium option is excellent for all sleepers below 130 lbs ideally. In contrast, the firm variant is suitable for sleepers above 130lbs, especially for back and stomach sleepers.
Now let's dive in deeper and learn how the mattress feels with different firmness and sleeping styles
The critically acclaimed and certified PlushBeds Botanical Bliss offers an ultra-luxurious feel as noted by majority of its users.
The Medium firmness option is excellent for all sorts of sleepers and ideal for people who weigh between 130 lbs and 230 lbs. Though some of the heavier people may sink down, it's not as much compared to a memory-foam. If that doesn't bother you, cross that off the list.
The Botanical Bliss is topped with a 1-inch layer of natural wool with 3 support layers of organic latex, which differ in firmness when choosing between medium and firm options.
All that is wrapped in an adequate cover made of organic cotton to keep the sleeping surface cooler. The wool layer helps you stay dry while you sleep.
The Botanical Bliss sleeping pad is Global Organic Latex Standard certified, strengthening the quality of the mattress. Likewise, the cotton and wool are 100% natural and certified by the Global Organic Textile Standard.
This means that you get a completely toxin-free, chemical-free, and allergen-free mattress for a peaceful sleep. It is also treated with an antimicrobial solution to keep it germ-free.
The firm option is great for people over 200lbs as it supports their posture and weight perfectly. That said, some side sleepers might feel pressure on their hips and shoulders. That can be fixed by rearranging the firmness level to medium to ease the pressure getting built due to your sleeping style and weight.
The soft cotton cover and wool collectively keep your bed cool and dry. The Dunlop latex keeps you on the mattress rather than making you sink in the mattress, as is the case with memory foam. This makes it easier for people to change positions during sleep.
While couples love the Botanical Bliss because of the features stated above, it does have a little bit weaker motion isolation than other mattresses out there.
Construction
The PlushBeds Botanical Bliss mattress has 4 layers:
Cover – 1-inch layer of organic cotton cover, with up to 10 lbs of organic wool batting
Top layer – 2-inch layer of Talalay latex
Base Layers – Two 3-inch layers of organic arpico latex
The base layers can vary in size and number depending on the firmness level you choose. The thickness of the mattresses ranges from 9 inches to 12 inches and the number of layers increases with the increasing thickness.
Can't find a mattress for your weight group? Here are the best mattresses for heavy persons in 2021.
Zenhaven Mattress
Zenhaven mattress is prepared with pure natural materials and sturdy construction. Saatva is also recognized for its excellent customer service and fantastic return policy.
Let's have a closer look at the material composition, firmness, and feel of the Zenhaven mattress.
Material and Feel
Saatva's Zenhaven is a 100% Talalay latex mattress with a 10-inch thickness providing two firmness levels on either side of the mattress. The eco-friendly mattress is crafted with organic Talalay latex combined with organic cotton and wool and is Guardian antimicrobial treated.
It is available in all standard U.S. sizes starting from twin to California king with split designs to choose a different firmness level for either side.
Zenhaven is made up of four layers of Talalay latex which consists of comfort layers and support layers for each side. Both sides are covered with organic cotton covers and organic wool padding to provide a very soft and fluffy experience.
The firm-er side has a 1.5 inch N2 Talalay latex comfort layer with an ILD range of 20-24. There is a 3-inch N4 Talalay support layer under the comfort layer which we can rate at 7/10 on the firmness scale.
It has a comfort layer of 1.5 inches of Talalay latex with an ILD range of 14 to 19, allowing closer conforming. Underneath it, the soft medium side's support layer features 3 inches of Talalay latex with an ILD range of 25 to 29. We give it a 4/10 on the firmness scale level.
These layers are split into 5 zones of different sized pinholes. This adds breathability and provides a cool sleeping surface with firmer support under the abdomen and shoulder region.
The organic cotton cover adds to the Zenhaven mattress's breathability while also providing a soft, smooth surface. Below it is a fine layer of organic New Zealand wool which acts as a natural fire barrier and keeps the moisture to ensure you sleep sound and dry.
The Zenhaven mattress provides a plush yet firm experience from either side, which does not sink you right in and keeps your spine stable.
Zenhaven is a flippable latex mattress built for everyday use. It provides two firmness levels on either side, medium and firm, so you can just flip it for the firmness you might be looking for at that moment. This makes it very easy for you to choose between the firmness, making it an excellent option for couples and individuals alike.
Zenhaven is considered to have one of the best feels as acclaimed by their users. The 100% Talalay Latex is airier, bouncier, and more silent than most mattresses, and works well for heavy persons.
The soft-medium side conforms to your body's shape and is better suited for side sleepers or people who like to sleep in the mattress.
Couples experience less motion disturbance from their partners' movements which is due to the high elasticity of Talalay latex and the specially designed zones. These help cushion sensitive areas while providing firmer support to your spine.
Construction
Let's take a look at the layers in the Zenhaven mattress:
Cover – Organic cotton and wool fire barrier
Comfort layer – Medium soft and firm side both have a 1.5-inch Talalay latex
Base/Support Layer – Medium soft and firm side both have 3-inch talalay latex
The unique part about the Zenhaven is that the mattress can be overturned to experience different firmness levels. Both the medium firm side and the firm side have the same materials but with different properties to cater to different types of sleepers.
PlushBeds vs Zenhaven – Warranties and Test Times
PlushBeds Botanical Bliss comes with a 15-year warranty, whereas Zenhaven offers a 20-year warranty on their mattress. Both the mattresses offer a complimentary 180-night trial for their mattresses.
| | | |
| --- | --- | --- |
| Brand | Trial period | Warranty |
| Brooklyn | 180 nights | 15 years |
| Zenhaven | 180 nights | 20 years |
PlushBeds vs Zenhaven – Price Comparison
PlushBeds Botanical Bliss and Saatva Zenhaven have almost the same price point, so it's a matter of personal preference and what features better suit your needs.
Both mattresses use sustainable materials and are certified for their quality. In my opinion, though, Botanical Bliss takes the edge as it offers more than one firmness level than Zenhaven.
In the end, it comes down to your personal choice when the price is not a major factor between two mattresses.
PlushBeds vs Zenhaven – Who Are Best Suited for These Mattresses?
Let's quickly recap the two mattresses, starting with PlushBeds Botanical Bliss.
PlushBeds Botanical Bliss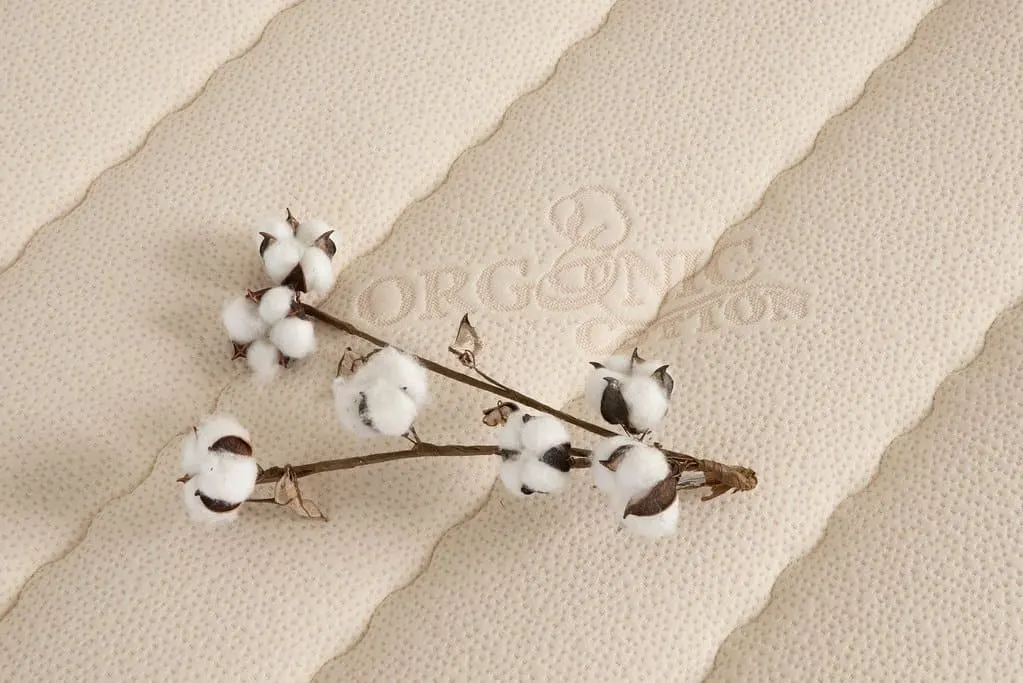 PlushBeds is one of the best mattress companies today and the Botanical Bliss is a prime example of their craftsmanship. The Botanical Bliss is a durable, 100% latex mattress that can easily be customized to suit your firmness level needs.
I personally believe that the Botanical Bliss is one of the best mattresses when it comes to edge support and relieving pressure. This makes it a natural choice for side sleepers. Its ability to control moisture and heat makes it ideal for people who live in the hotter parts of the country.
The only problem I have with the PlushBeds Botanical Bliss is that there is noticeable motion disturbance as compared to other mattresses in its price range. Other than that, the Botanical Bliss is a great mattress that will suit the needs of many individuals and couples.
Recap: You Should Buy PlushBeds Botanical Bliss If You
Have differing sleep preferences after short intervals
Are a hot sleeper and fed up with all those soggy uncomfortable nights
Have allergies
Have back problems
Zenhaven Mattress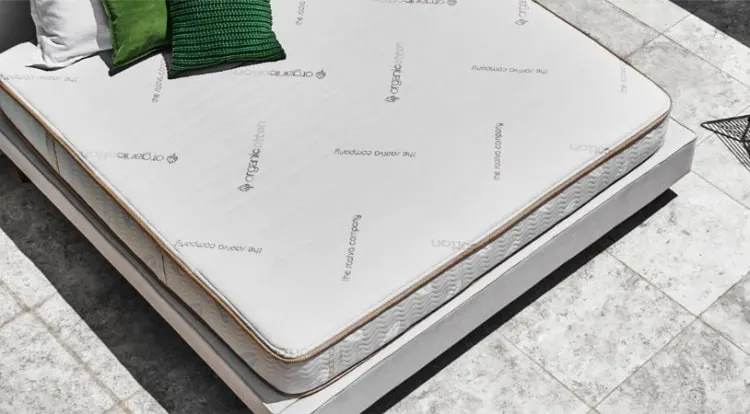 Saatva Zenhaven compares very well to the PlushBeds Botanical Bliss and in some areas may edge its competitor. It's an ideal mattress for people looking for dual firmness so they can switch easily based on their preference at the time.
Zenhaven has good temperature regulation which allows hot sleepers to remain cool, dry, and comfortable all night long. It has an edge over PlushBeds in motion isolation, which is something you should consider as a couple.
My only concern with the Zenhaven is that it doesn't have the same level of edge support that the Botanical Bliss boasts. Despite that, it's an excellent mattress for people who vary switching firmness every now and then.
Recap: You Should Buy Zenhaven If You
Are looking for an all-natural mattress
Are a hot sleeper
Have allergies
Have a partner who easily gets disturbed with motion sounds and vibrations
Looking for pillows to go with your new mattress? Check out our list of the top 3 bamboo pillows in 2021.
Can You Recommend Any Alternatives?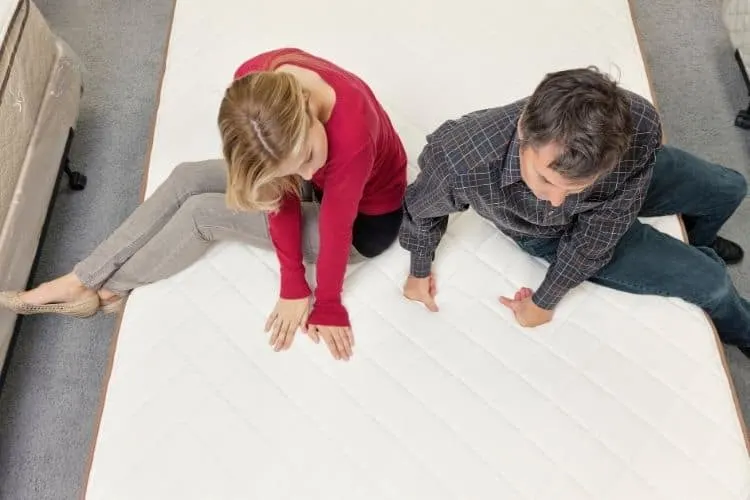 It's always good to know other options that might fit your preferences or budget. Here are 3 alternatives we've covered:
GhostBed: GhostBed is a popular mattress company known for their cooling and comfort features. Their synthetic latex foam mattress is an excellent choice for people who just want to enjoy that little bounce. You can read more about it in our Nectar vs Ghostbed mattress comparison.
Helix: Helix mattresses have something for everyone and the Birch mattress is an excellent choice for couples that allows you to adjust the firmness levels according to your preference. You can read more about it on our Helix vs Leesa mattress comparison.
Winkbeds: Winkbeds is one of the premium mattress manufacturers and their EcoCloud is a combo sleeper mattress that you may consider. It provides excellent pressure relief and a good sleep experience even for the heavier sleepers. You can read more about it in our Winkbeds vs Saatva mattress comparison.
FAQs
Question: Is the PlushBeds Botanical Bliss Good for Couples?
Answer: Yes, it generally is but with one small caveat. As compared to the Zenhaven mattress, it's motion control is not that great. On the other hand, you get better edge support and fitness when you go with the PlushBeds Botanical Bliss. So it's a matter of preference.
Question: Is It Difficult to Clean Latex Mattresses?
Answer: No, and they don't require regular cleaning either. 100% natural latex mattresses are antibacterial and antimicrobial. This means they're low maintenance and don't require frequent cleaning. However, when you do have to clean the mattress, the Botanical Bliss will be easier to do so as it weighs less than the Zenhaven.
Question: Is the Weight of the Zenhaven Mattress Going to be An Issue?
Answer: Not really, because you will only need to move the mattress when it's being installed or reinstalled after cleaning. Setup and installation are provided by Saatva so you won't have to deal with the weight of the mattress too often.
PlushBeds Vs Zenhaven: Final Thoughts
PlushBeds and Saatva are well-established brands and have produced many great quality mattresses with a high rate of customer satisfaction and service. At the end of the day, it all comes down to personal preference.
If you are looking for a plush feel that contours to your body while keeping the temperature optimum for sleeping, then go ahead with the PlushBeds Botanical Bliss Medium firmness option. You can easily customize the firmness option by rearranging the support and comfort layers in the PlushBeds Botanical Bliss.
If you are a heavy person or prefer a gentle cradle feeling, you can flip your Zenhaven to have a firmer option with great buoyancy.
Overall, both mattresses are great solutions for most individuals and couples, offering excellent posture support for all styles of sleepers.
Want to find out more about the best mattresses available today? Check out our latest comparison articles: