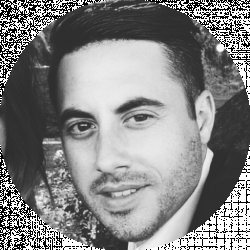 Latest posts by David Borgogni
(see all)
$94.9 billion. That's the annual cost of healthcare for sleep disorders in the US. You'd be surprised to know that a large number of such sleep problems are connected to the quality of your mattress. A poor mattress can cause discomfort and back problems and disrupt your sleep cycles.
Want to stop losing sleep? Maybe it's time to invest in a high-quality mattress for yourself.
I've brought you an in-depth comparison of two of the best products on the market — Intellibed, and Tempur-Pedic. These two popular mattress brands offer diverse benefits, but the debate of Intellibed vs. Tempur-Pedic can be challenging to maneuver.
Keep reading to discover the various features of these mattresses and find the perfect mattress to turn your insomnia around!
Bottom Line Upfront: The overall better value buy here is the Tempur-Pedic, which tends to be quite expensive across the industry but is cheaper than Intellibed. That said, if you really need a luxury mattress for pressure relief and want to try the Gel Matrix feeling, Intellibed is a good alternative.
Main Differences Between Intellibed vs Tempur-Pedic
The main differences between Intellibed vs Tempur-Pedic are:
Intellibed uses Gel Matrix® for its mattresses, whereas Tempur-Pedic uses the TEMPUR® material.
All Intellibed mattresses offer only one firmness option, whereas Tempur-Pedic mattresses have multiple firmness options.
Intellibed does not have a temperature-balancing collection, whereas Tempur-Pedic has its separate breeze range.
Tempur-Pedic provides a 10-year warranty on its mattresses, whereas Intellibed provides a 20-year warranty.
Mattress Buying Guide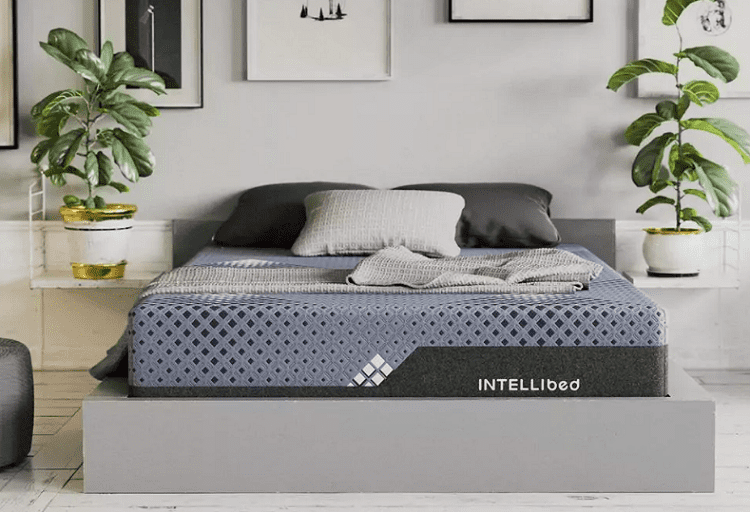 If you're feeling confused with all the features that different brands of mattresses offer, here's a handy guide on the factors you should consider when buying a mattress.
Firmness
Different mattresses have different levels of firmness. Soft mattresses are a good choice for people looking for more cushioning, while firm mattresses are preferred by people who don't like the sinking feeling that soft mattresses give.
This is all determined based on what layers make up the interior of your mattress. Look at the different layers and understand how they work and feel by testing out the mattress. Soon, you'll know how a mattress feels just by looking at its layers.
Mattress Type
Mattresses are made of many layers but the types of materials used to make these individual layers decide how well the structure holds. No matter how many layers of foam you add, your mattress won't be comfortable unless the support layer does its job.
In this article, we'll be looking at materials such as foam, fabric-covered coils, and gel.
Sizes Available
Instead of going for the biggest mattress, try to measure how much space you need while sleeping. Do you have a partner? If yes, you will need to factor in that extra space.
Do you have kids? Some extra space will come in handy on those nights when everybody wants to crawl into one bed. If you're looking for mattresses for a guest room, you can check out this guide to the Best Guest Room Mattresses in 2022. Some mattress manufacturers also provide size customizations. Make sure to ask around.
Intellibed vs Tempur-Pedic: Comparison
Intellibed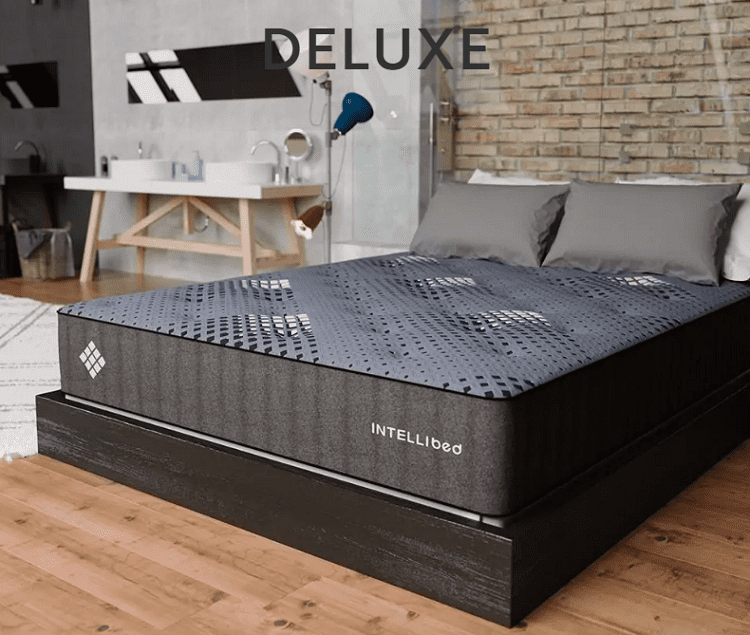 Founded in 2000, Intellibed advertises itself as a sleep and health wellness company. They offer a range of products, including mattresses, adjustable bases, pillows, blankets, and throws. Let's dive in and check how their mattresses perform.
Models Available
Intellibed has two collections on offer — Signature Collection and Limited Collection.
The Signature Collection includes the following mattresses:
The Limited Collection includes the following mattresses:
Intellibed also has a Legacy Collection that is no longer available on their online store. However, you may be able to find it in one of their retail partner stores.
Mattress Type
The first feature of the Intellibed mattresses that I want to discuss is Intellibed's Gel Matrix® technology. These true therapeutic mattresses are made from non-toxic and hypoallergenic food-grade mineral oil. This makes your mattress 60% softer and 3 times firmer, which is difficult to achieve for any mattress.
The Gel Matrix® is designed such that it aligns your spine in the perfect position, allowing you to get restorative sleep. It also helps relieve pressure points for all body types and sleeping positions.
Firmness Levels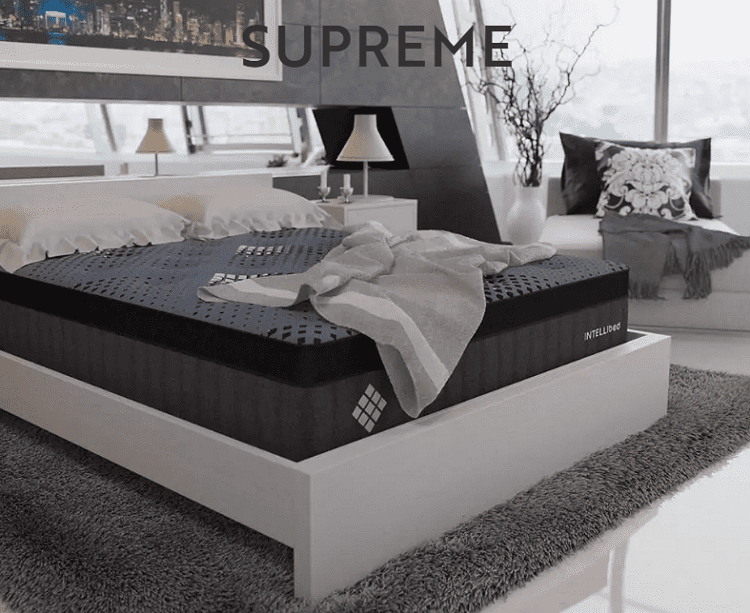 Let's start by looking at the firmness levels of the Signature Collection models.
Matrix
The Matrix is the first model offered by Intellibed and the most affordable. The mattress has a soft and firm support level with the following layers:
A soft, breathable, and cushioning layer for surface comfort
An additional comfort layer of memory foam
A layer of comfort foam
A Gel Matrix® layer of 1 1/4 inches
Another layer of comfort foam
Pocketed coils for motion control and support
Matrix Deluxe
Next on the list is the Matrix Deluxe. It is soft, firm, and resistant to body impressions created with time. Its layers include:
A luxury quilted cover that aligns to the body contours perfectly
A comfort foam layer
A 2 1/2 inch layer of Gel Matrix®
A second comfort foam layer
A pocket coil system that forms the support layer
Matrix Supreme
Another soft and firm mattress, the Matrix Supreme comes with the following layers:
A luxury quilted cover that contours the body
A Titanium-infused Energex™ layer that increases heat transfer while resisting compression
A 2 1/2 inch layer of Gel Matrix®
An open-cell material to promote airflow and absorb shock
A foam comfort layer
A layer of pocketed coils
Matrix Grand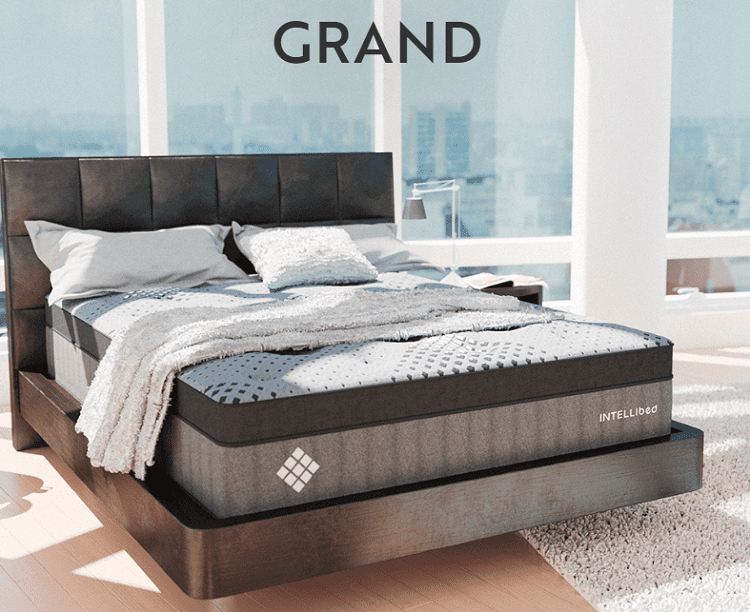 The Grand comes with 8 layers that are classified as soft and firm. The layers include:
A luxury quilted cover
A Titanium infused Energex™ layer that increases heat transfer and resists compression.
A Talalay latex layer for superior pressure relief
A 1 1/4 inch layer of Gel Matrix®
A comfort layer of foam
A 2 1/2 inch layer of Gel Matrix®
A layer of open-cell material to promote airflow and absorb shock
A support layer of steel coils
Let's now take a look at the firmness level of the Intellibed Limited Collection mattress models.
Starlight
Classified soft and firm, the Starlight model has 5 layers:
A phase-change material woven into the cushioning top cover
A comfort layer of foam
A 1 1/4 inch layer of Gel Matrix®
A comfort layer made of foam
A support layer of fabric-encased 14.5-gauge coils
Midnight
Like the Starlight, this model also has 5 layers in the mattress. They include:
A quilt cover made of phase-change material for comfort and cooling
A comfort layer of foam
2 1/2 inches layer of Gel Matrix®
Gel-infused support latex
A support layer with three zones of fabric-encased 15-gauge coils
Nightfall
Coming to the best of the Limited Collection, the Nightfall mattress is classified as firm and soft and has 7 layers. Let's take a look at what the layers are made of:
A cover of phase-change material for cooling and comfort
A layer of Talalay latex for pressure relief
A layer of 1 1/4-inch Gel Matrix®
A foam comfort layer
A 2 1/2-inch layer of Gel Matrix®
A layer of gel-infused support latex
Five zones of quantum edge elite 15-gauge coil support
Sizes Available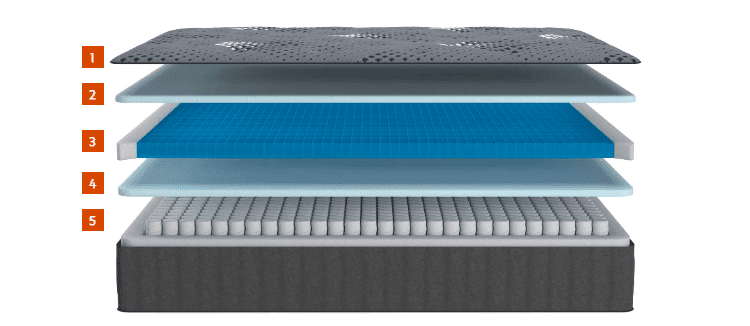 Intellibed's collection of mattresses come in the following sizes:
Twin
Twin XL
Full
Queen
King
Split King
California King
Certifications
All of Intellibed's foam comfort layers are independently certified and meet the national standards for furniture-grade quality and safety.
Temperature Regulation
Intellibed has several features that help regulate the mattress temperature, such as its breathable outer covers, the Titanium-infused Energex™ layer, the reticulated airflow layers, and the phase-change material.
While all these features and the Gel Matrix® help with heat transfer, they are also decent cooling systems. However, if heat regulation is a non-negotiable factor, it may also be worth looking into other brands.
Pricing and Financing
Intellibed is a luxury mattress brand; there's no denying that. Both their collections have a higher price range. If you were looking for an affordable mattress, this is not what you want. But if the Intellibed features align with your needs, you can also try their financing options available through Wells Fargo. Customers are approved based on their credit, and the purchase limit available is between $240 and $480.
The best part? If you pay the full amount back in 6, 9, or 12 months, then you won't have to pay any interest!
Where to Buy
You can purchase an Intellibed mattress from one of their many retail locations across the United States or online.
Warranty and Shipping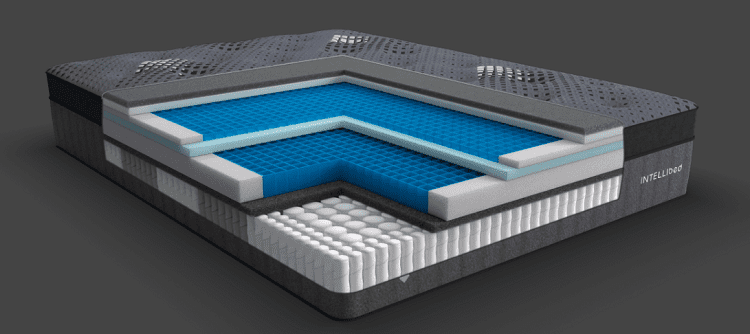 The Intellibed mattress comes with a 20-year warranty.
Their mattresses are shipped to all locations across the continental US, with a flat-rate delivery charge of $199.
Intellibed offers customers a 90-night trial period, of which the minimum break-in period is 30 days. You can get a full refund (minus delivery charges) if you return your mattress within the 90-night period. However, the return request must be accepted by Intellibed.
You will also need a mattress protector for warranty, exchange, and return claims.
Take note that their returns policy only applies to mattresses purchased directly through Intellibed.
Customer Reviews
Customers report seeing a significant improvement in their sleeping patterns, some even experiencing complete pain relief.
Customers with injuries and different types of sleeping positions have tried the Intellibed mattress and found it holds to its promises. Many have felt their neck, back, and body aches disappear, and their hip injuries improved.
Another feature that seems to be a hit among users is the great support that this mattress provides.
There were, however, a few users who noticed troubles with the firmness of the mattresses they'd ordered.
Features
Gel Matrix® technology
Motion Control
Coil support
Non-toxic and hypoallergenic
20-year warranty
90-night trial period
Pros
Redistributes weight evenly
Relieves pressure points
Financing options available
Cons
Too expensive
Poor temperature regulation
Tempur-Pedic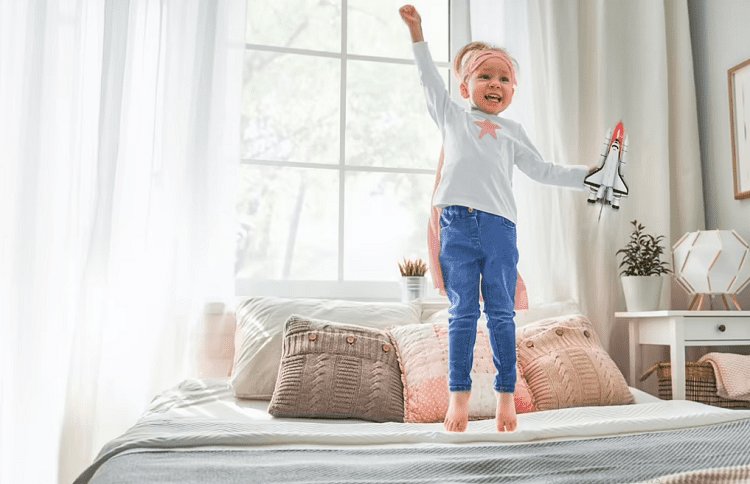 Founded in 1992, Tempur-Pedic is a mattress and pillow company specializing in products made using viscoelastic foam. Their TEMPUR® material was originally developed by NASA and has evolved over the last 25 years.
Let's take a look at their mattresses and how they stand up against those from Intellibed.
Models Available
Here are the mattress models available from Tempur-Pedic:
Mattress Type
The TEMPUR® material is a type of viscoelastic that was made to absorb the G-force of astronauts traveling into space. Its great quality is that the foam is slow to spring back and compresses upon application of heat and pressure.
While their mattresses do feel soft like memory foam, they're a notch above it. Unlike memory foam, the viscoelastic material does not cushion the body but rather contours it. It adapts to the sleeper's weight, shape, and temperature.
All of these features together enable the mattress to relieve pressure points and alleviate the discomfort that sleepers normally experience with memory foam.
The TEMPUR® material is also great at preventing the transfer of motion across the surface of the mattress. After all, you don't want to wake up every time your partner tosses or turns around, do you?
Firmness
Every model of Tempur-Pedic mattress comes with its own combination of layers that determine mattress firmness. All mattresses consist of a base, support, and comfort layer.
Here's a detailed overview of the mattress models, their firmness levels, and layers.
Tempur Cloud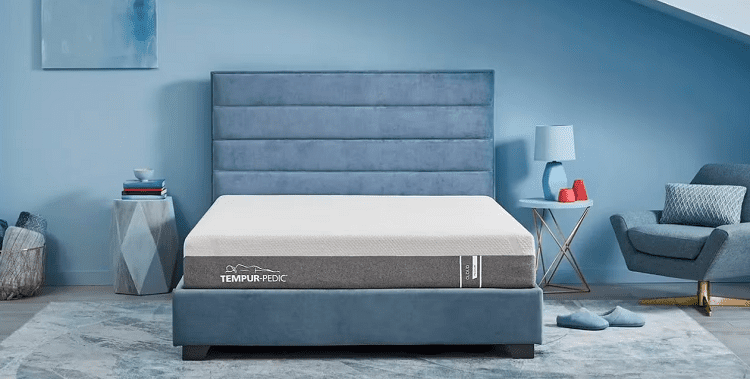 The Tempur Cloud mattresses come in medium and medium-hybrid firmness levels. The medium-hybrid option has an additional support layer made of over 1000 premium spring coils. Other layers included in both Cloud models are:
A premium foam base layer
A TEMPUR® support layer
A TEMPUR® comfort layer
A breathable, moisture-wicking 360-degree stretch cover
Tempur Adapt, ProAdapt, and LuxeAdapt
The Tempur Adapt model comes in medium and medium-hybrid firmness levels and the original TEMPUR® material for support. The Tempur ProAdapt offers soft, medium, medium-hybrid, and firm levels. This one has advanced pressure-relieving APR material.
With the Tempur LuxeAdapt, you get two options in firmness levels — soft and firm. In this model, the support layer is switched to an APR+ material that provides maximum relief from pressure and conforms 30% better.
All the Adapt models come equipped with:
The TEMPUR® material (although in increasing height)
A washable cooling cover
Motion cancellation technology
Tempur PRObreeze and LUXEbreeze
Tempur PRObreeze offers medium and medium hybrid firmness levels. The LUXEbreeze mattress model is classified as soft and firm.
Both the Tempur PRObreeze and Tempur-LUXEbreeze models have the following layers:
Machine-washable SmartClimate® cover
A PureCool+™ phase change material
A TEMPUR-CM+ material
A ventilated TEMPUR-APR® material (LUXEbreeze) or original TEMPUR® material (PRObreeze)
Together, they work to absorb heat, promote airflow, relieve pressure, and let the humidity out of the mattress.
Sizes Available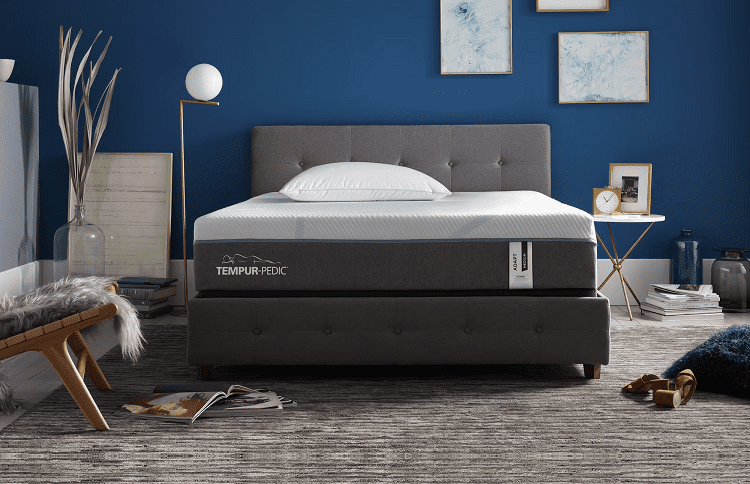 Tempur-Pedic mattresses come in the following sizes:
Twin
Twin Long
Double
Queen
King
California King
Split King
Split California King
Certifications
Tempur-Pedic's performance foam is 100% CertiPUR-US® certified. Tempur-Pedic was also awarded first place for customer satisfaction in the retail mattresses category by J.D.Power in 2017 and 2019-2021. The company also received first place for customer satisfaction in the online mattresses category in 2021.
Temperature Regulation
If you're a hot sleeper like me, then you want a mattress to keep you cool at night. Well, here are two products I think are quite reliable if temperature regulation is your priority.
Tempur-LUXEbreeze
The LUXEbreeze mattress is one of the best products that Tempur-Pedic offers in terms of temperature regulation. It is supposed to feel at least 8 degrees cooler and stay cool all night long.
Tempur-PRObreeze
The company claims it to be their second-best product in the cooling category and guarantees it feels 3 degrees cooler.
Pricing and Financing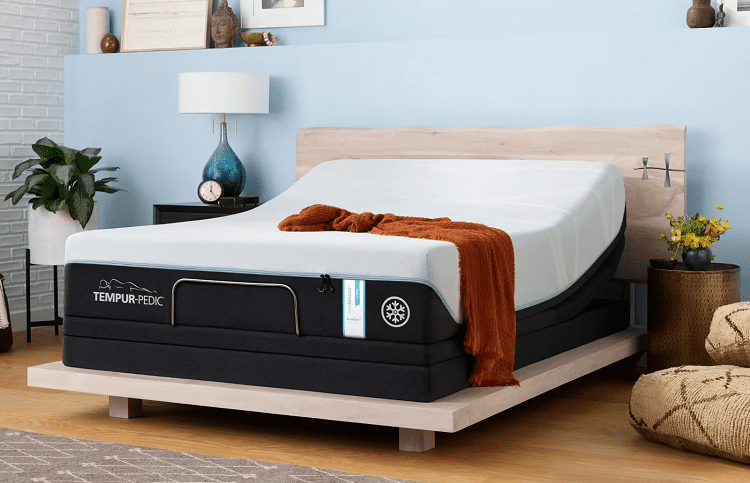 You will find the Tempur-Pedic mattress range to be comparatively cheaper than the Intellibed, but it's still a high price range for mattresses.
Those on a budget might want to look at cheaper options such as the Tempur-Cloud range. Those with a flexible budget should consider the PRObreeze and LUXEbreeze models.
Tempur-Pedic also provides financing options through their credit card by Wells Fargo. The repayment schedule ranges from 12 to 60 months, and you can get financing for purchases worth $1000-$8000.
Where to Buy
You can buy their products from their large network of retail partners located across the United States or order from their website.
Warranty and Shipping
Your mattress from Tempur-Pedic comes with a 10-year warranty and a 90-night trial period. The standard shipping is free and takes 5-7 days, while expedited shipping can be done in 1-2 days for an additional fee. You can have your products delivered free with UPS ground shipping to all locations in the contiguous United States. Products shipping to Alaska, Hawaii, Puerto Rico, and other U.S. territories are shipped at an additional fee.
You can also get the free white glove delivery, but it is only available on purchase of select mattresses.
Customer Reviews
Tempur-Pedic is loved by customers for its comfortable design that supports all sleeping positions. A lot of them experienced a reduction in their chronic back, joint, and injury-related pain since they started using Tempur-Pedic mattresses. Many people could feel their muscles relaxing within a few days of using the product.
A majority of customers found themselves waking up feeling refreshed after using Tempur-Pedic mattresses. However, some did report that the medium-firm mattresses were too hard and uncomfortable to sleep on. Their breeze collection is one of their most popular products. Users (especially hot sleepers) love the all-night cooling that their PRObreeze and LUXEbreeze mattresses provide.
Features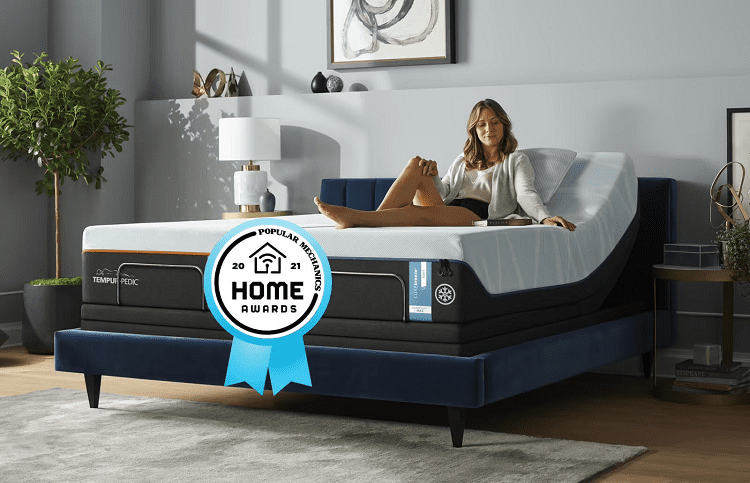 TEMPUR® Material
Reduces motion transfer
Relieves pressure points
10-year warranty
90-night trial period
Pros
Slow spring back
Relieves back pain
No aches or pains
Great cooling technology (breeze collection)
Great support
Distributes weight evenly
Financing available
Cons
Are There Any Alternatives?
Avocado Green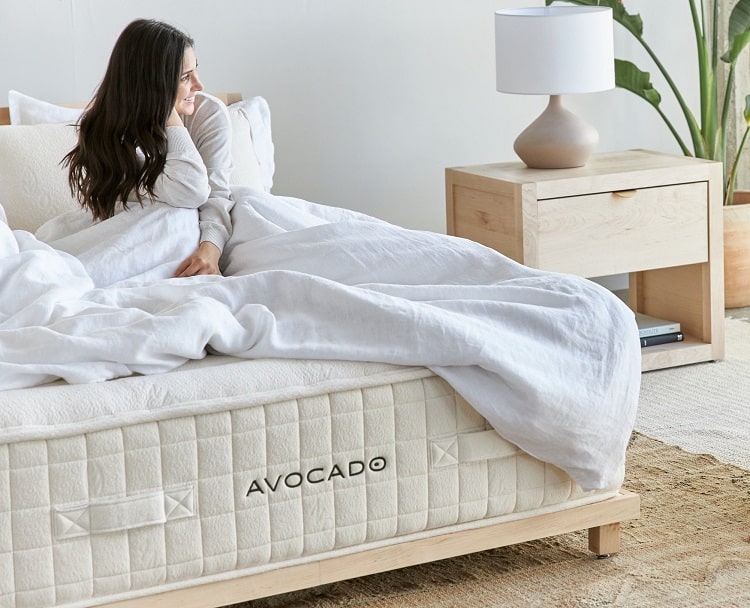 If you're looking for a greener, cleaner option, I know a product you will love!
Avocado Green claims to use 100% natural materials in its mattresses and offers its products at an affordable price. Learn all about the different features of their mattresses in this Avocado vs. Purple Mattress Comparison article.
WinkBeds

WinkBeds is a great option for back sleepers on the heavier side who are looking for a foam mattress. It is a worthwhile option for those seeking pressure point relief for the back.
Check out how it fares in this WinkBeds vs. Saatva Comparison.
Amerisleep AS4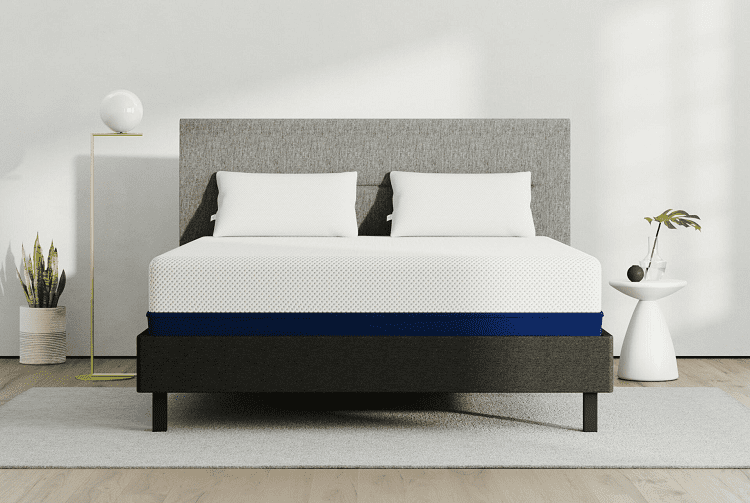 It's not common to find a mattress that provides the right cushioning for side sleepers. Side sleepers are a tough category to please, after all.
Being a side sleeper myself, I think this mattress is definitely worth checking out!
This Amerisleep AS4 Review provides an in-depth overview of the mattress.
FAQs
Question: Can You Flip a Tempur-Pedic Mattress?
Answer: No. Tempur-Pedic mattresses must not be flipped. What you can do instead is rotate the mattress to 180 degrees once every six months.
Question: What Is the Intellibed Acclimation Period?
Answer: Intellibed has a 30-day acclimation period. This is the time it takes for its Gel Matrix® mattresses to break in.
Intellibed vs Tempur-Pedic: What's the Verdict?
There's not a lot of confusion with this verdict. It is clear that Tempur-Pedic wins on most of the features listed. Tempur-Pedic might be expensive, but it does offer temperature-regulating products, a comforting experience, and pain relief. I think their Adapt and Breeze range are worth every penny.
Intellibed, for its premium prices, does not offer a superior experience. And the Gel Matrix® might take some time to get adjusted to. If you've got the curiosity and patience to try their mattress for 90 nights, then I say go for it. It is a worthwhile experience and might just be right for you.
That's the complete comparison guide on Intellibed and Tempur-Pedic mattresses. Which one are you choosing as your partner?
Remember These Tips When Buying a Mattress
Take a five-minute nap to test the mattress before you finalize one.
Plan your mattress shopping during big holiday sales.
Always read the fine print for return/exchange policies and trial offers.
Look for customer reviews.
Negotiate the price or ask for complementary accessories.