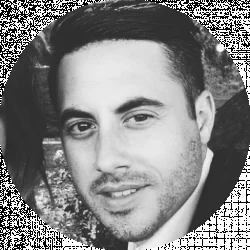 Latest posts by David Borgogni
(see all)
Strict stomach and back sleepers may have a tough time finding a mattress that can support their body weight and keep them comfortable at the same time. This Airweave Mattress review will help you discover why this unique mattress is such a great option for people who prefer to sleep on a firm surface.
Although most memory foam and hybrid mattress manufacturers claim that their models are suitable for all types of sleepers, it can be difficult to find a mattress that keeps your spine aligned and in a natural position when you sleep on your stomach or back.
Besides a mattress, you will also need a pillow for stomach sleepers if you're experiencing negative side effects of this sleeping position. So, in this Airweave Mattress review, we are going to walk you through all the mattress's most important features that can improve your sleep quality.
About Airweave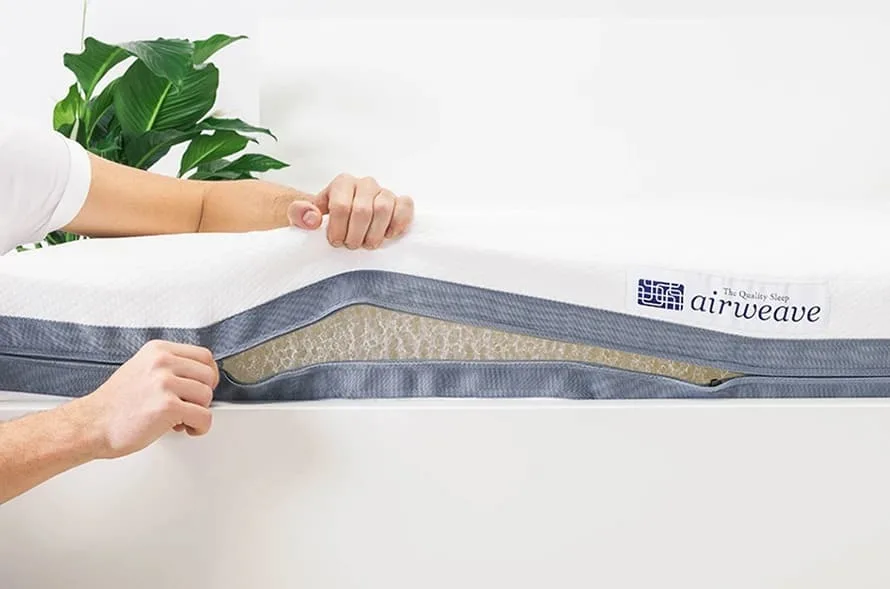 This Japanese brand doesn't have a long history in the bedding industry, as its first mattress product was released in 2007.
However, its swift success does have something to do with tradition, as the innovative construction of Airweave mattresses is directly related to the life story of the person who established to company.
Motokuni Takaoka was experimenting with different types of resins used to produce finishing lines for his father's business. After he inherited his father's company he used his knowledge of fishing line materials to create mattresses and bedding equipment.
The Airfiber® material the company uses in its Airweave mattresses is a great alternative to memory foam as it is both more supportive and breathable than any memory foam variant on the market.
Consequently, Airweave mattresses have a more firm feel than most of their competitors which makes them suitable for people who suffer from chronic back or joint pain. Read our guide to the best mattresses for back pain for more information about mattresses that can help alleviate back pains.
In addition to mattresses, the brand also produces pillows, duvets, dog beds, and other accessories that all contain the Airfiber® material.
Airweave also manufactures traditional Japanese futons that share many of the features provided by the brand's mattresses.
Key Features of the Airweave mattress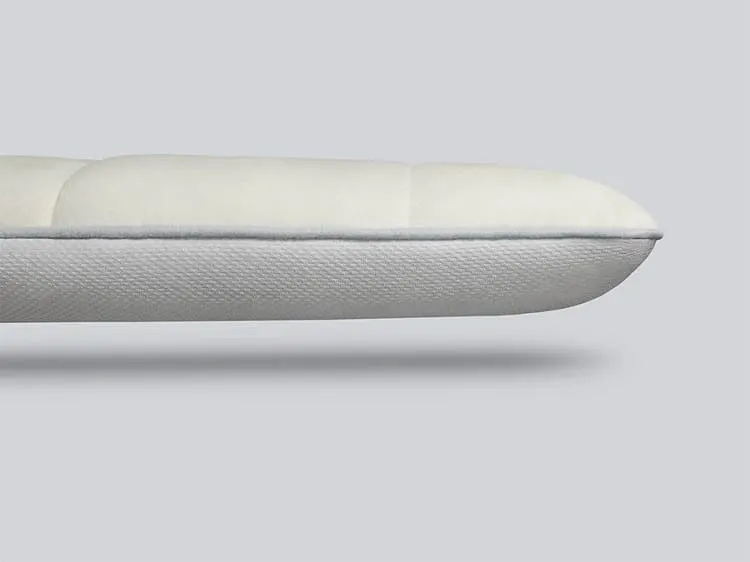 Currently, there are three versions of the Airwave mattress, and you can choose from:
It is worth pointing out that the original version of the Airweave mattress was replaced by the New Airweave Mattress that features an additional removable layer for extra cushioning.
The top layer of these mattresses is composed of 100% polyester that has moisture-wicking properties aimed to improve their cooling capacity. Beneath the outer cover, you can find the pillow layer that cushions the body and enables it to move easily.
The third layer of this mattress is composed of three 4-inch wide cushions made from the Airfiber® material. These cushions give the mattress an extra firm feel as they can withstand a lot of pressure and weight before starting to contour.
Also, the bottom layer is made from the same material on all Airweave mattress models, but the New Airweave Advanced mattresses offer dual functionality and you can flip the base cushions to create better support for the spine and improve the pressure relief performance.
This model also comes with two removable top layers that make the New Airweave Advanced mattress softer than other brand's models, but this feature can be misleading as this is still a fairly firm mattress.
In addition to being drastically firmer than memory foam, the Airfiber® material is also more breathable as it allows for a core structure of woven threads that provide sufficient space for the air to flow.
When paired with a polyester cover featured at the top, all Airweave mattresses offer supreme cooling properties. However, the motion isolation capacities of Airfiber® material are far from ideal as each impact spreads quickly across the entire surface.
The manufacturer offers Airweave mattresses in the following sizes:
Twin (39.4 x 74.8 inches)
Twin XL (39.4 x 79.9 inches)
Full (53.1 x 74.8 inches)
Queen (59.8 x 79.9 inches)
King (76 x 79.9 inches)
CAL King (71.9 X 83.9 inches)
The height of an Airweave mattress depends on the model and varies from 7.9 inches to 11 inches, but removing the top layer and the cover is going to reduce the mattress's height.
Each of the Airweave's models has excellent edge support which enables you to sit or lay down next to one of the edges comfortably without feeling that you're going to fall off the mattress. These mattresses don't ship assembled, but the assembly process is quick and simple.
Understanding the features of the Airweave mattress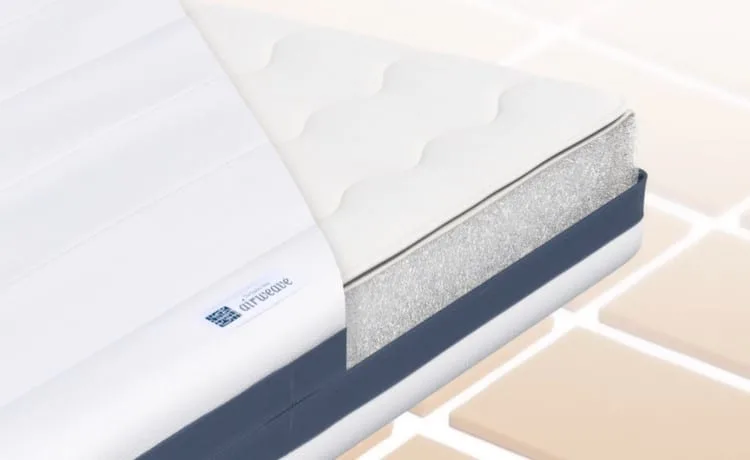 Firmness and breathability are the two most characteristic features of an Airweave mattress, as each model this brand offers comes with a high firmness level and excellent cooling features.
The reason for this can be found in the Airfiber® material that is used to produce the core of all Airweave mattresses. The core looks like a tangled web of weaved threads, and once a moderate amount of pressure is applied to it the structure tends to remain in the same position.
Consequently, a considerable amount of pressure is required before the core of the mattress starts contouring the body. So, you won't feel like you're sinking into the mattress when you lay down on it, but rather have a floating sensation.
Sleeping on a firm surface can have a number of health benefits, but most people prefer to sleep on a medium-firm mattress that contours the body and still provides plenty of support. The pressure relief properties of Airweave mattresses depend on your sleeping position.
Some combination sleepers can find this mattress comfortable because it adjusts to the body's movement, but each person has different preferences in terms of comfort and softness of the mattress, so it is best to test an Airweave mattress and decide if it is the right choice for you.
The core of an Airweave mattress is breathable because the Airfiber® threads are not too close to each other, which allows the air to flow through the gaps between them.
Besides, the manufacturer includes a polyester cover that has moisture-wicking properties, which means that the cover absorbs sweat and dries up quickly. That's why your body won't overheat while you're sleeping on an Airweave mattress.
Excellent edge support indicates that you can sleep near one of the mattress's edges and the side won't collapse under pressure. You should keep in mind that none of the Airweave mattresses is particularly tall, and you should consider other options if you prefer a mattress that is taller than 11 inches.
Who is this mattress for?
Hot sleepers who are struggling to find a mattress that can help them stay cool during the night are going to benefit from getting an Airweave mattress. You can go through our guide to the best mattresses for hot sleepers to learn more about mattresses that have excellent cooling features.
Also, these mattresses are suitable for heavy people because their firmness level enables them to carry a lot of weight without caving under pressure.
The Airweave mattresses are an excellent choice for anyone who prefers to sleep on their backs or stomach as they eliminate the pressure from the high-stress points around the hips and shoulders. However, these mattresses can be too firm for stomach and back sleepers who like to sleep on relatively soft surfaces. The pressure relief capacity of an Airweave mattress reduces drastically when you turn on the side.
Even though both Airweave Advanced models include pillow layers that provide additional cushioning for side sleepers they are still very firm, which means that the sleeper's hips and shoulders are going to be taking a certain amount of pressure.
The motion isolation features of Airweave mattresses are far from ideal, which makes them a poor choice for couples, as you're likely to feel every turn your partner makes during the night.
Moreover, these mattresses may not fit everyone's budget, since the least expensive Airweave mattress costs $1.400.
The Pros
An excellent alternative to memory foam mattresses
The core of the Airweave mattress is made of Airfiber®
Industry-leading cooling features
Excellent support for back and stomach sleepers
Machine washable and hypoallergenic
Available in all standard sizes
Good edge support
Not prone to sagging and body impressions
The Cons
The manufacturer offers a limited 10-year warranty
Not the most budget-friendly mattress on the market
Doesn't ship assembled
Poor motion isolation performance
The best alternatives to the Airweave mattress
The unique construction, high firmness level, or excellent breathability are some of the most distinctive characteristics of an Airweave mattress. However, none of the brand's mattress models is suitable for people who don't like sleeping on a hard surface.
Strict back and stomach sleepers searching for a mattress that can provide more cushioning than an Airweave mattress have a broad range of options at their disposal. We've shortlisted several of the best alternatives to Airweave mattresses, so let's take a closer look at their features.
Lessa Hybrid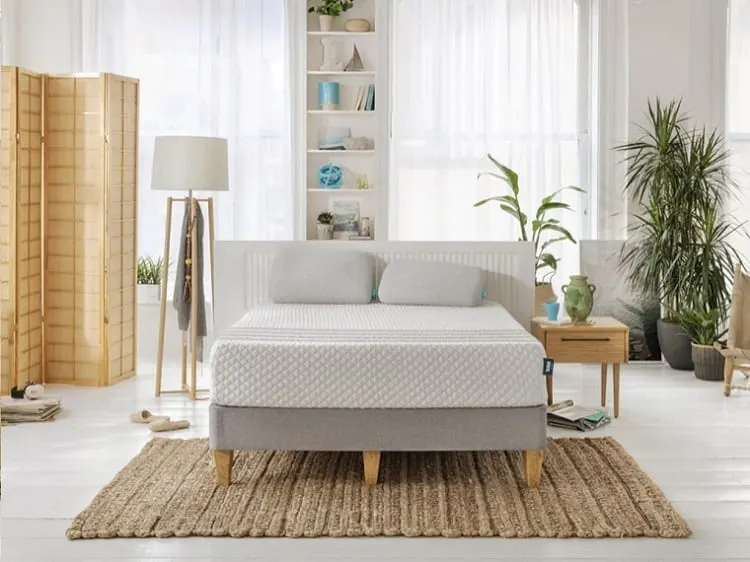 The 5-layer construction ensures that the Lessa Hybrid mattress is both comfortable and supportive. This is a medium-firm mattress that is capable of delivering an admirable level of support to stomach and back sleepers due to its 14.5 gauge pocket spring system and a 1-inch core support layer.
The top two layers of this hybrid mattress are made of contouring memory foam and cooling premium foam that enables the mattress to adjust to changes of the sleeping position while keeping the sleeper cool.
Check out our Brooklyn Bedding vs Lessa comparison to find out which brand produces better mattresses for back and stomach sleepers.
Eco Terra Hybrid Latex Mattress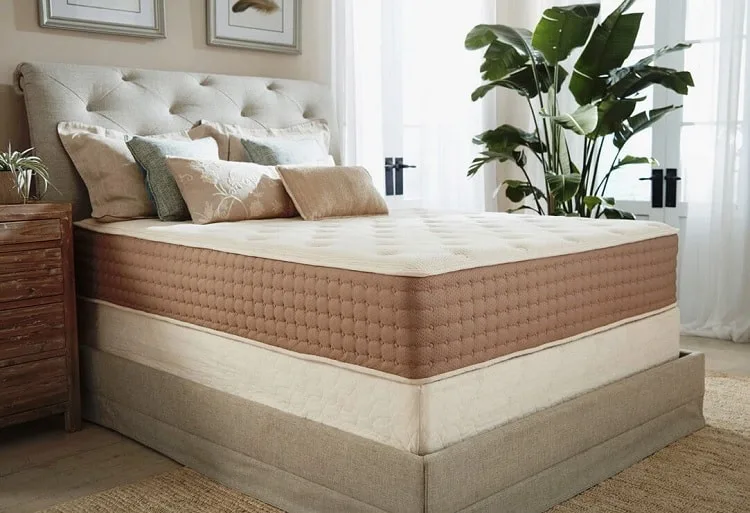 The combination of natural latex, organic wool, and cotton makes the Eco Terra Hybrid Latex Mattress one of the most responsive and healthiest mattresses available. It also features quantum upcycled steel coils that are individually encased using a non-toxic polypropylene fabric.
These features enable the sleeper's spine to be perfectly aligned regardless of the sleeping position and contribute to the mattress's already impressive cooling features. Top layers contain single-origin latex that responds to the body's movements and has a high degree of natural ventilation.
The Eco Terra Latex mattresses are available in Medium and Medium Firm firmness levels so that you can choose the one that feels the most comfortable.
The GhostBed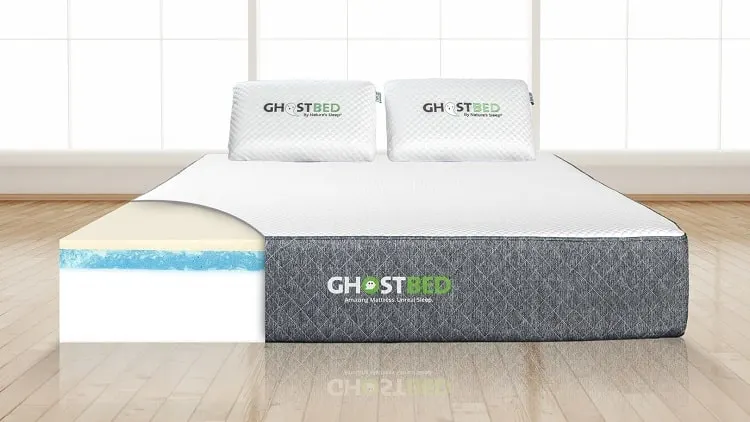 If you are looking for a mattress that has natural cooling properties and a firm feel, then you should take a closer look at the GhostBed Mattress.
The top two layers of this GhostBed four-layer mattress are made from aerated latex foam and gel memory foam that is designed to move the body heat away from the sleeper. The high-density base ensures that the mattress is firm enough for the spine to be in a natural position.
The mattress's motion control features allow you to change sleeping positions without the risk of disturbing your partner. Read our full GhostBed review for more information about this exceptional mattress.
PlushBeds The Botanical Bliss®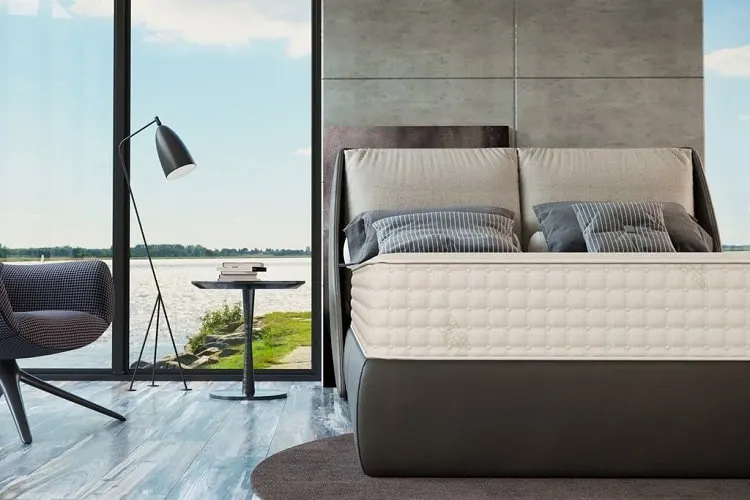 Each layer of the PlushBeds The Botanical Bliss® mattress is made from organic and non-toxic materials. You can choose between medium and firm mattress builds that contain the same materials, but their upper layers have a different firmness level.
Even so, both versions of the Botanical Bliss® mattress are suitable for back and stomach sleepers, but the firm mattress built is a better choice for people who weigh more than 275lbs.
Moreover, you can adjust the comfort level of these mattresses by unzipping them and rearranging the layers. Go through our PlushBeds Botanical Bliss vs Zenheaven comparison to learn more about the properties of these organic mattresses.
FAQs
Question: Can I try an Airweave mattress before I purchase it?
Answer: Yes, you can. The manufacturer offers a 100-night trial period which gives you enough time to decide if this mattress is the right choice for you.
Question: How long does it take to adjust to an Airweave mattress?
Answer: Your body may need up to one month to adjust to sleeping on an Airweave mattress. However, the adjustment process may take even longer if you're not used to sleeping on firm mattresses.
Question: Are Airweave mattresses durable?
Answer: You will get a limited 10-year warranty when you purchase an Airweave mattress, but whether or not you'll be able to use it for an entire decade depends on a number of factors. Even so, an Airweave mattress should remain in perfect condition for at least five years.
Question: Can I wash an Aiweave mattress?
Answer: All Airweave mattresses are washable, as their modular construction enables you to disassemble them quickly and wash each part separately.
The Final Verdict: Does the unique design of Airweave mattresses justify their cost?
Most people find sleeping on a hard surface to be uncomfortable, which is the reason why an Airweave mattress is not the right choice for you if you prefer to sleep on a mattress that cushions you.
Models like the New Airweave Mattress, the Airweave Mattress Advanced, or the New Airweave Mattress Advanced can improve the sleep quality of back and stomach sleepers, as their firmness level ensures excellent pressure relief and support.
Each of these mattresses is highly breathable so you won't have problems staying cool even during warm summer nights. Airweave mattresses can be an excellent choice for people who are suffering from allergies as they don't attract mold, mites, or dust, and each of their components is washable.
We hope that this Airweave mattress review has provided you with the information you needed to decide if this mattress can improve your sleep quality. Let us know in the comments or read our guide to the best organic cotton sheets that can further extend the health benefits of Airweave mattresses.