Latest posts by Rosie Greaves
(see all)
Few purchases are quite as crucial to your wellbeing as a comfy mattress. This is made all the more evident when you consider that the average person enjoys an astounding 26 years of sleep in their lifetime!
And here at Sleep Solutions HQ, we think it's essential to make that time count! After all, the quality of our sleep affects our energy, productivity, and mood. So, it's imperative to get a good night's sleep to face each day as our best self.
Whereas if you've ever had the misfortune of spending the night on a bad mattress, you'll know how difficult it is to drift off – and in the long run, it can even cause aches and strains affecting your back, neck, and shoulders.
So, if you're in the market for a new mattress to get away from such problems, you'll want to make doubly sure you make the right choice. But, these days, with so many innovative beds on the market, the decision is anything but simple.
Two such brands that produce excellent-quality mattresses are Amerisleep and Purple. However, the mattresses they make couldn't be more different. Where Amerisleep innovated upon the traditional memory foam mattress, Purple created an entirely new material: Their patented Hyper-Elastic Polymer.
So, how do these two products differ, and which will provide the better night's sleep? Continue reading to find out…
Main Differences Between Amerisleep vs Purple
The main differences between Amerisleep vs Purple are:
Amerisleep mattresses are constructed using memory foam, whereas Purple creates a grid out of its own patented Hyper-Elastic Polymer.
Amerisleep offers a twenty-year warranty on all its mattresses, whereas Purple only provides a ten-year guarantee.
Amerisleep offers five different mattress models, whereas Purple only offers four.
Amerisleep mattresses aren't as well-suited to heavy people, whereas Purple's mattresses are.
Amerisleep vs Purple – The Mattresses Compared
Amerisleep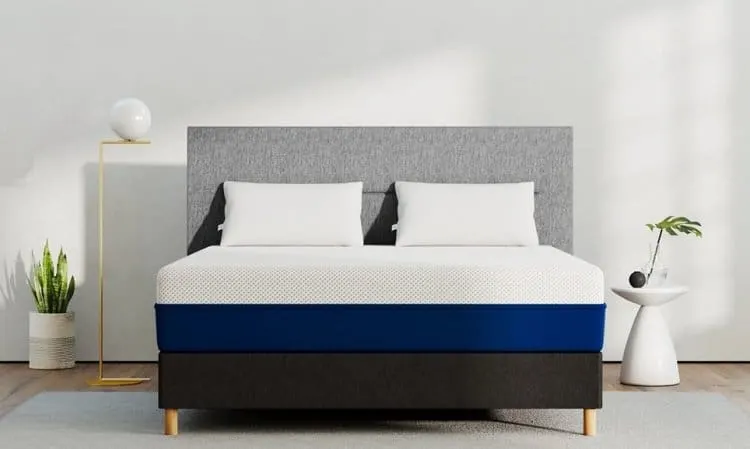 Materials and Feel
As we've just hinted at, Amerisleep makes memory foam mattresses with a twist. They offer five different models with a combination of just three materials, so each of them has a similar feel.
Within Amerisleep mattresses you'll find a combination of 2-3 of the materials below:
Bio-Pur memory foam. This material is present in every Amerisleep mattress. It's engineered for cooling comfort, responsive support, and healthier sleep. The material is manufactured in the USA and is significantly more breathable than traditional memory foam. Bio-Pur is plant-based and snaps back into its shape within seconds, which stops sleepers from sinking into the mattress too deeply.
Affinity with Hive: The affinity layer promotes proper back support, targeting different regions of the body. It contains hundreds of hexagon-shaped cutouts for ultimate head, shoulder, back, hip, and foot comfort. Please note, the Hive layer features in Amerisleeps' softer mattresses. Check out our list of best mattresses for hip pain.
Bio-core support foam: This foam provides the base layer of some of Amerisleep's mattresses. It works wonders for increasing the mattress' durability and supports the top layers to prevent mattress sinkage.
Construction
Amerisleep offers five different mattress models, titled A1, A2, A3, A4, and A5. The construction of these mattresses are quite similar, but each layer of the mattress has a different thickness to it. This is what enables Amerisleep to achieve their different firmness levels.
AS1 is the firmest mattress and the cheapest. From the A1 and upwards, the models get softer and more expensive. The A2 is best suited to those that sleep on their back, as it offers dynamic back support and a medium-firmness. Whereas, the A3 mattress is advertised as their most popular model. It provides a comfortable blend of comfort, softness, and pressure-relief that's suited to all sleep styles.
The AS5 mattress is the softest. It offers responsive support and extra cushioning and is also the tallest with a profile of 14 inches. It includes two inches of Active flex support and two inches of Affinity with Hive layering. All mattresses include an ultra-breathable white cover, complete with blue trim. This is what gives Amerisleep's mattresses their lightweight and airy feel as the cover serves to prevent heat from getting trapped within the bed.
The AS2, AS3 and AS5 mattresses are also available as hybrid mattresses. These include a layer of pocketed coils to provide more bouncy support. Hybrid mattresses offer the benefit of better airflow, isolated motion, and they prevent you from feeling 'stuck' in the foam layers.
Purple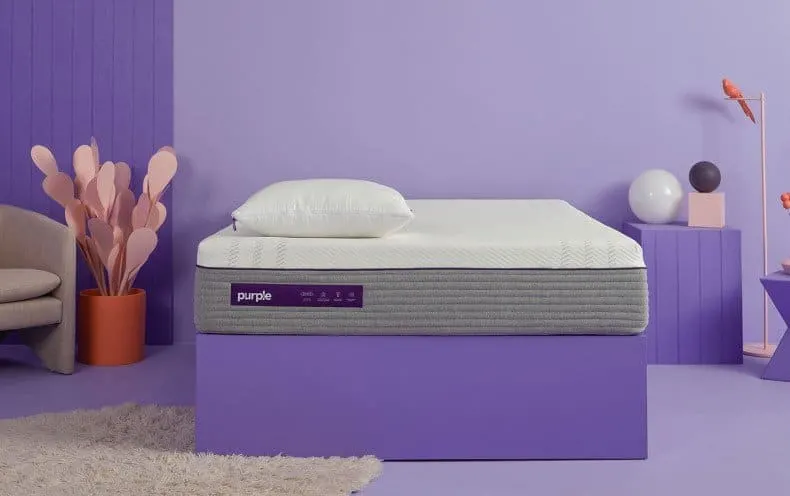 Now, let's see how Purple compares…
Materials and Feel
Purple's brand is tightly linked to its patented Hyper-Elastic Polymer material. This material is the brand's most significant selling point, and features in all its mattresses, as well as the Purple Pillow and Seat Cushion.
So, what's so special about this material? In short, it's incredibly stretchy. Hyper-Elastic Polymer could stretch 15 times its resting size and never take a body impression. This means it relaxes under pressure points, redistributing pressure to other areas, which, in turn, provides excellent back support for the sleeper.
As the Hyper-Elastic Polymer material snaps back so quickly, it trumps memory foam mattresses. Namely, because with memory foam, it remains pressed into one shape for too long, making it challenging to switch positions. In contrast, Hyper-Elastic Polymer returns to its original form immediately so you can effortlessly change position during the night without any discomfort.
The material feels nothing like foam. Instead, it has an almost gel-like quality. It's bouncy, responsive, and soft. You can even request samples of this material on Purple's website to test it out for yourself.
Purple's unique Hyper-Elastic Polymer offers a different feel compared to other materials. Some people find it really comfortable to sleep on while others sometimes report it as 'odd' and 'distracting.' But if you're willing to try something new, this could well become your new favorite mattress.
Construction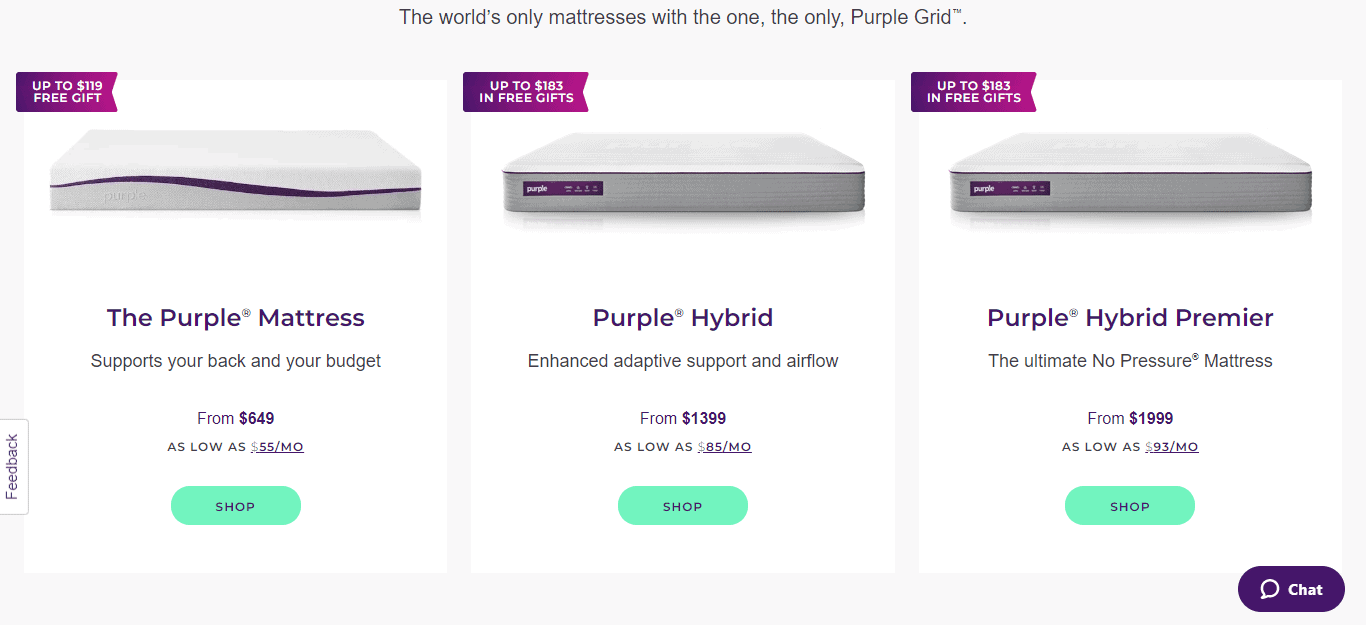 Purple offers three different mattresses with its grid technology. This grid is constructed out of their patented Hyper-Elastic Polymer material, which, as we've just said, provides a sleep surface that adapts to the body, offering no-pressure support.
The deeper the lattice, the more weightless you feel when lying on your mattress. It also allows for optimal airflow to help prevent you from sweating during the night.
Below's a quick rundown of the three mattresses we just referred to:
The Purple Mattress: This includes a two-inch-thick Purple grid that sits on dual-layered comfort foam to support your back. It's also the most budget-friendly option of the three.
The Purple Hybrid: This mattress also includes a two-inch-thick Purple grid layer, but this mattress has a slightly firmer feel to it. The grid is supported with coils to provide enhanced no-pressure support. Customers have described this mattress as soft and firm at the same time.
The Purple Hybrid Premier: This is advertised as the ultimate no-pressure mattress. It's available with either three or four inches of Purple Grid layering, for plusher pressure cradling. This grid support also consists of active coils to create a feeling of complete weightlessness.
Ease of Mind: Amerisleep vs Purple's Warranties and Test Times
Both Amerisleep vs Purple have mattress-in-a-box schemes that enable you to test their products at home for a whole 100 nights. If you don't like their mattresses for any reason, they'll arrange to pick it back up in exchange for a full refund. Both Amerisleep and Purple offer free shipping and returns
Please note: These trial period refunds don't apply to any accrued interest or delivery fees that may have accompanied the purchase.
The 100-night trial begins when the mattress arrives. It's said that it can take around 30 days to adjust to the new mattress fully.
But, where warranties are concerned, Amerisleep has a Purple beat. The American memory-foam merchant offers a whole 20 years with of warranty on all its mattresses.
In contrast, Purple only provides 10. This reflects on the life expectancy of Purple's mattresses (as Purple believes its mattresses have a life expectancy of 8-10 years.) Needless to say, this is well worth considering if you're deciding between Purple and Amerisleep.
Amerisleep vs Purple: Prices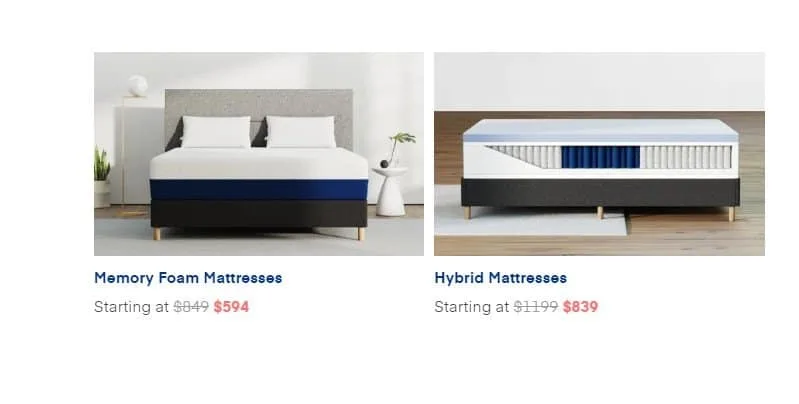 A mattress is a hefty investment, especially when you're looking at premium brands like Amerisleep vs Purple. Neither of these sellers offers mattresses that could be considered cheap.
Instead, they're luxury brands, and their prices reflect this. So, if you're looking for a wallet-friendly option, the original Purple mattress will be the closest you'll get.
Amerisleep
Amerisleep regularly offers sales where you can enjoy any of their five different mattress models for cheaper. So, keep an eye out for that!
But, in the meantime, here's a breakdown of the regular cost of their mattress models and sizes:
The AS1 Mattress is available for:
$849 for a twin size
$1049 for a full size
$1199 for a queen size
$1399 for a king size
The AS2 Mattress is available for:
$999 for a twin size
$1149 for a full size
$1299 for a queen size
$1599 for a king size
The AS3 Mattress is available for:
$1099 for a twin size
$1249 for a full size
$1399 for a queen size
$1699 for king size
The AS4 Mattress is sold for:
$1399 for a twin size
$1549 for a full size
$1699 for a queen size
$1899 for a king size
The AS5 Mattress costs:
$1799 for a twin size
$1949 for a full size
$2099 for a queen size $2299 for a king size
Their most expensive mattress is the hybrid AS5 mattress that ranges from $1999 to $4098. The largest size on offer is a split king size.
Purple
Purple's mattresses start from $650, and affordable pricing plans are available for all models. It's also worth noting, like Amerisleep, Purple also hosts regular sales. .
But, again, here's a breakdown of their standard costs:
The Purple Mattress costs:
$650 for a twin size
$950 for a full size
$1099 for a queen size
$1399 for a king size
The Purple Hybrid is available for:
$1299 for a twin XL
$1499 for a full size
$1599 for a queen size
$1899 for a king size
The Purple Hybrid Premier is sold for:
$1899 for a twin XL
$2099 for a full size
$2199 for a queen size
$2699 for a king size
If you're looking to size up, the largest available for all these models is a split king. The split king Purple hybrid Premier mattress is available for $3648.
A Round-Up on Pricing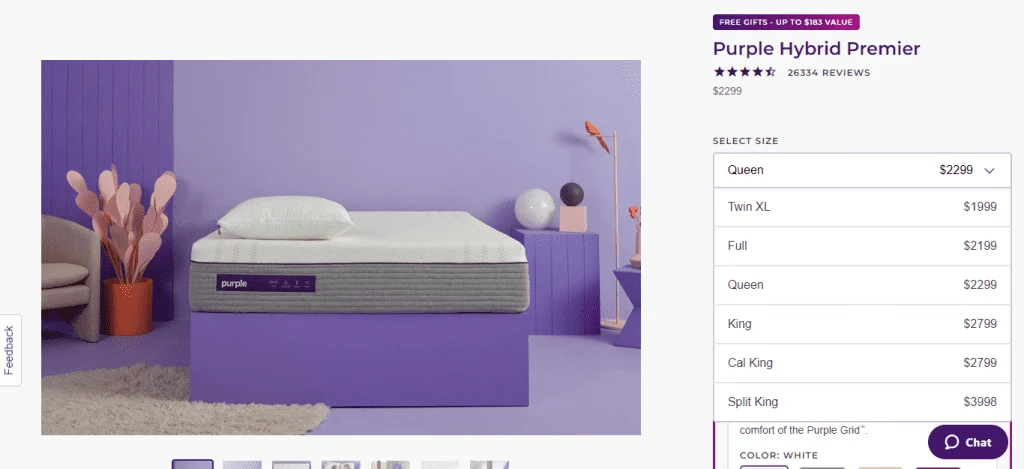 Overall, Amerisleep's premium mattresses are more expensive than the Purple's equivalents. However, Amerisleep offers a longer life expectancy and a 20-year guarantee. With this in mind, it's up to you to decide whether you want to spend a little more for a mattress that will last you longer.
Amerisleep vs Purple – Who are These Mattresses Best Suited to?
When it comes down to it, both Amerisleep vs Purple offer high-quality mattresses, and you can try either one of them for 100 days to make sure it's the right choice for you.
Your sleeping position and mattress material preferences should guide your choice. So, as we bring this review to a close, let's explore who these brands are better geared towards:
Amerisleep
Plenty love Amerisleep for the sheer choice they present. And, if you're a fan of memory foam, Amerisleep can definitely offer you a premium mattress to suit your tastes. The firmer models are better suited to those that sleep on their backs and/or stomachs, as this provides them with much-needed support under the heaver regions of their body, which, in turn, keeps their spine well-aligned.
Whereas, for side-sleepers, the softer models offer excellent pressure relief along the shoulders, arms, and hips. Alternatively, 'combo' sleepers should look towards the middle range of the AS models to support their sleep preferences.
As Amerisleep's mattresses rely on memory foam technologies, they're not ideal if you're overweight. Anyone weighing around 250lb (or more) might find Amerisleep's durability lacking, and that the mattress doesn't provide the best support. Memory foam is famous for sinking and conforming heavily to the body, which is only accentuated when more weight is placed on them.
On a separate note, Amerisleep also uses open-cell memory foam to make the material more breathable, which can lower the sleeping climate to neutral temperatures. However, their cooling technologies aren't entirely on par with Purple's.
To Recap…
You'll be a fan of your Amerisleep mattress if you:
Like memory foam

Want lots of different options from (five models available)

Are a side, back or combo sleeper

Are of petite or average size

Want a mattress for the longterm with a lengthy warranty.
Purple
The Purple mattress is the result of a long history of innovation, so if you're after something unique that doesn't feel like memory foam, this could be the mattress for you.
The budget-minded should look towards the original Purple mattress amongst their selection. Whereas, back and stomach sleepers could benefit from the Purple Hybrid, with the Premier recommended for combo-sleepers. Or, if you're a side sleeper, choose the four-inch variant for the best support.
No matter what your body type, the Purple mattress should work for you. It bounces back from any pressure placed on it, and is immensely elastic, making this the better choice out of the two brands if you're on the heavier side.
Those looking for a cooling mattress might also prefer the Purple range. Their innovative materials handle temperature regulation incredibly well, ensuring you don't wake up in a sweat. This is, namely, thanks to the polymer grid that allows for optimal airflow. You can actually feel the air between your fingers when you push down on the surface!
Here check how Purple vs Nectar Mattress Compare before making the final choice!
To Recap…
Choose a Purple mattress if:
You're not a fan of memory foam and want to try something new.

You're looking for excellent support.

A cooling mattress is a priority for you.

You want something to compliment your sleeping position.
FAQs
Do Purple mattresses contain memory foam?
Purple mattresses contain neither memory foam nor latex. Memory foam can break down quickly and leave you in a hammock-like position, which can be harsh on the back.

This is why Purple relies on Hyper-Elastic Polymer as its primary material. Not only will this cradle your pressure points without sinking, but it's also temperature neutral, whereas memory foam often gets warm.
Which mattress is best for partners with mixed sleeping preferences?
Both Amerisleep and Purple provide a choice of models that are well suited to couples with mixed preferences. If you fall into this category, look towards Purple's Hybrid Premier 3-inch variant. This provides the right level of flexibility around your pressure points while still offering excellent support for your neck and back.

Alternatively, the middle range of Amerisleep's AS5 models also accommodates the needs of combo-sleepers.
Where are Amerisleep's mattresses made?
All Amerisleep mattresses are built in the USA using eco-friendly materials and are CertiPUR-US certified. Their US location allows Amerisleep to ship to most places in a matter of days.
Will these mattresses make me hot?
No! Both Amerisleep and Purple mattresses are optimized to keep sleepers fresh throughout the night. Contrary to standard memory foam, Amerisleep's mattresses use Bio-Pur material that boasts an advanced open-cell structure, to allow for better airflow.

However, Purple has even better cooling technology, with its unique Purple grid. This forms the top layer of every Purple mattress and is both soft and supportive. It's constructed out of the temperature-neutral gel and features over 1,800 air channels that allow for optimal cooling. Not only that, but the Hyper-Elastic polymer ensures the Purple grid is elastic enough to adapt to the shape of your body. But, as you move, it jumps back to its original position.
Is there an adjustment period for new mattresses?
When you get your new mattress and start your 100-day trial, it's recommended that you allow for an adjustment period of 30 days. During this time, you might experience some aches or pains.

Having said that, most customers find these mattresses comfortable from the start. However, if you developed a sleep posture on a previous mattress, your body will need to readjust. This will be a positive in the long run as your body will eventually adjust to a healthier sleeping position.
Are You Ready to Sleep Better?
In the battle between Amerisleep vs Purple, it may just come down to whether you like memory foam mattresses. Whatever your decision, you can relish 100 worry-free nights trying out your new mattress. Simply place an order to see if you sleep any better!
These premium sellers offer highly innovative materials and constructions to support comfortable, cool sleeping for any sleep preference.
Not yet convinced? Never fear, there are plenty of other mattresses on the market, many of which offer more budget-friendly options. Keep perusing through our reviews until you find the sweet spot! Let us know what mattress you're looking to buy, or whether you've tried either of the brands we've discussed today in the comments box below. We look forward to speaking with you soon!