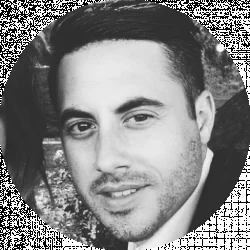 Latest posts by David Borgogni
(see all)
A number of studies have proven that obesity can cause insomnia, sleep apnea, and numerous other sleep disorders. Getting the best mattress for a heavy person can alleviate some of these problems and enable you to feel rested throughout the day.
The fatigue you're experiencing can be caused by sleeping on a mattress that can't carry your weight, and for that reason, you should check the mattress's weight limit and its type before you purchase it.
Latex mattresses, as well as innerspring or hybrid mattresses, are among the most popular options for overweight people. Nearly all industry-leading brands, including Saativa or WinkBed, offer a variety of models that are suitable for a heavy person.
The abundance of available options can be overwhelming, so in this article, we are going to help you choose the best mattress for a heavy person.
The 8 Best Mattresses for a Heavy Person
The DreamCloud – Luxury Hybrid Mattress – The Best Mattress for a Heavy Person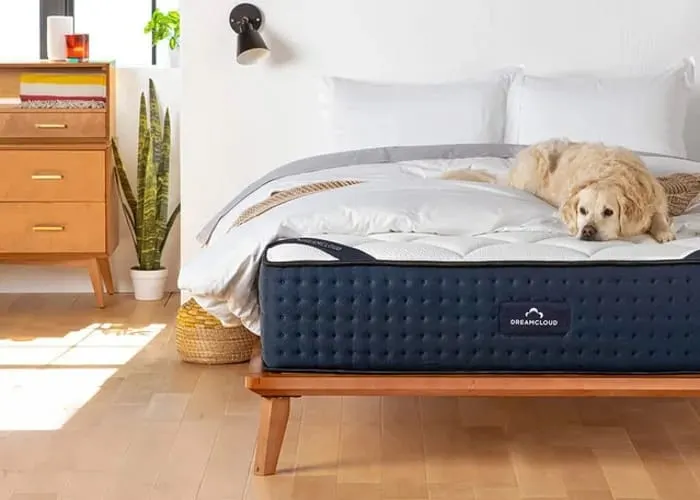 The level of comfort the DreamCloud Luxury Hybrid mattress offers can be paralleled by a handful of models produced by other manufacturers. This mattress has five layers that are skillfully crafted to accommodate the needs of people who frequently change sleeping positions.
The combination of innerspring coils and DreamCloud's foam that meets CertiPUR-US® standards for durability and emissions ensures that your body gets the support and pressure relief it needs regardless of your weight.
The 14-inch height and 6.5 firmness rating are perfectly suited for overweight or obese people as they ensure the body can't sink into the mattress and adjust to the needs of combination sleepers.
A 365-night free trial period allows you to test a DreamCloud Luxury Hybrid mattress before deciding to purchase it. The manufacturer also offers a lifetime warranty for this model and includes a mattress protector, cooling pillow, and a sheet set into the offer.
Read our DreamCloud mattress review for more information about the brand's products.
Pros
The sturdy base handles the weight with ease
Comfortable and adjustable pressure-relief layer
Optimum firmness level for a heavy person
One-year free trial period and a lifetime warranty
Cons
Cooling properties could be better
No hypoallergenic features
The WinkBed – The Most Durable Mattress for a Heavy Person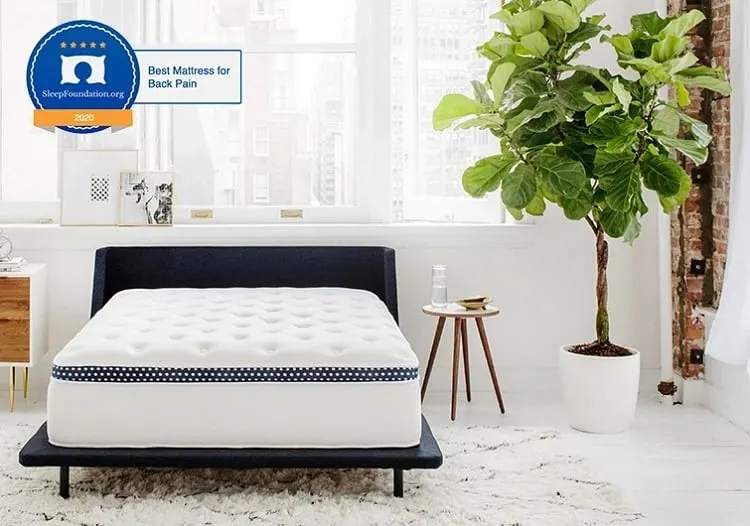 The selection of Luxury Firm, Firmer, and Plus firmness levels makes the WinkBed mattress suitable for a heavy person. In addition, the Extra-Edge™ anti-sag support allows the mattress to maintain the same level of firmness at its center and the edges.
This innerspring mattress features individually pocketed coils that support the vital zones of the sleeper's back, while the Proprietary Lumbarlayer™ allows the lower back region to remain in a natural position.
The manufacturer also utilizes the Duratech™ Lifetime Durability System that consists of triple-tempered coils and high-density foams to ensure that the mattress remains in perfect condition even after years of daily use.
The Sleepcalm™ motion isolation technology eliminates motion transfer and prevents you from disturbing your partner. The cooling properties of this mattress are remarkable, as it is equipped with the Triple-Layer Heat Disperse™ technology that pulls the body heat away from the sleeper.
Check out our WinkBed mattress review to get more details about these mattresses.
Pros
Several different firmness levels available
More durable than mattresses offered by other brands
Minimal motion transfer
Excellent edge support
Cons
The free trial period lasts for 120 nights
No mattress accessories are included in the offer
Helix Plus – The Best Pressure Relief Mattress for a Heavy Person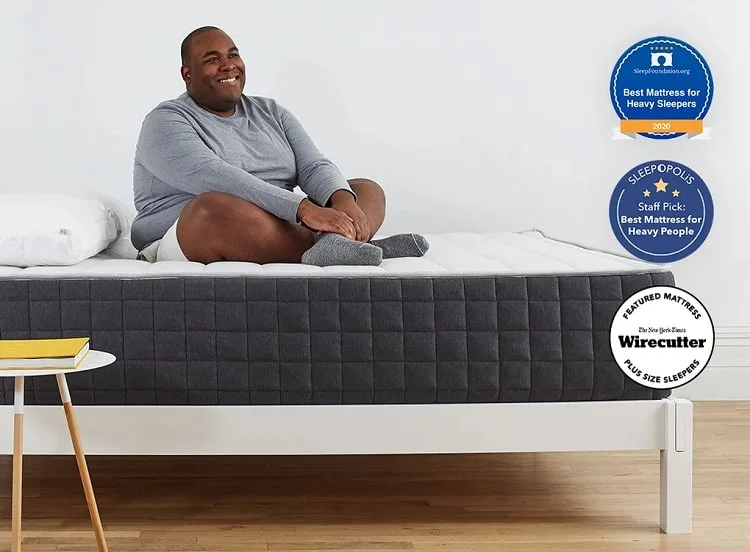 If you're suffering from chronic pain in joints or you've noticed that your muscles remain tense throughout the night, then you should consider getting the Helix Plus mattress that is designed for tall and heavy people.
The base layer is made from the DuraDense foam that prevents the mattress from sagging under pressure, while the body shape layer contains extra-large coils that are built to support hundreds of pounds of weight and ensure that the edges have the same firmness as the center of the mattress.
Comfort and transition layers contain firm memory and Helix dynamic foams that provide supreme cushioning and contouring properties. The Helix Plus mattress is equipped with a Helix Tencel cover that moves the heat away from the body and reduces night sweating.
The mattress's firmness level is rated between 7 and 8 which means that it may not be the right choice for you if you prefer to sleep on a soft mattress.
Read our Helix VS Leesa comparison to find out which brand produces better mattresses.
Pros
The mattress has a height of 12 inches
Designed specifically for tall and heavy people
Industry-leading pressure relief features
Affordable
Cons
This mattress may be too firm for some people
Not suited for people that suffer from strong allergies
Saativa HD mattress – The Most Comfortable Mattress for a Heavy Person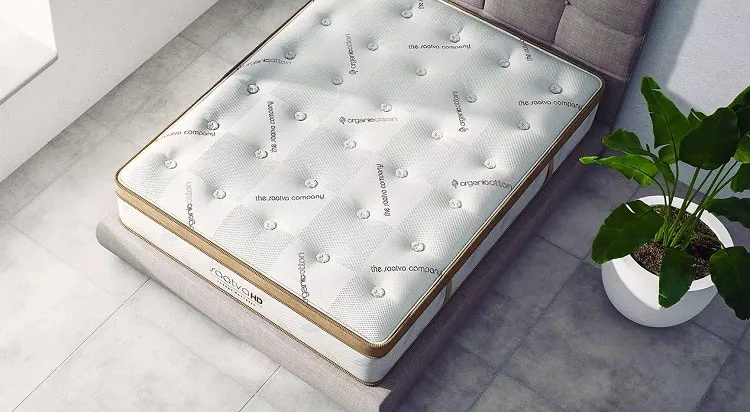 Designed for people who weigh more than 200lbs, the Sativa HD mattress brings luxury and comfort to your bedroom. The mattress's height is 15-inches and it features five separate layers.
Its base contains 12.5 gauge tempered recycled steel coils that are threaded with a 17-gauge helical wire that reduces the motion transfer to the minimum. Also, this layer is designed to provide additional support to the lower back and to keep the sleeper's spine in a natural position.
The comfort foam layer is directly above the mattress's base and it contains a memory foam that enhances the model's contouring properties. The 5-zone Talalay latex layer has high-density zones that are arranged in such a manner to provide maximum support and pressure relief.
The top 3-inch Euro pillow layer is made of hypoallergenic materials that enhance air circulation and disperse heat efficiently. The Sativa HD mattress can be purchased with a 4.75-inch or 8.75-inch foundation but this will increase its already steep price.
Pros
500lbs weight limit
Durable base made of high-quality coils
Excellent contouring properties
Hypoallergenic features prevent the accumulation of allergens
Cons
Very expensive
No lifetime warranty
GhostBed Flex mattress – The Best Luxury Hybrid Mattress for a Heavy Person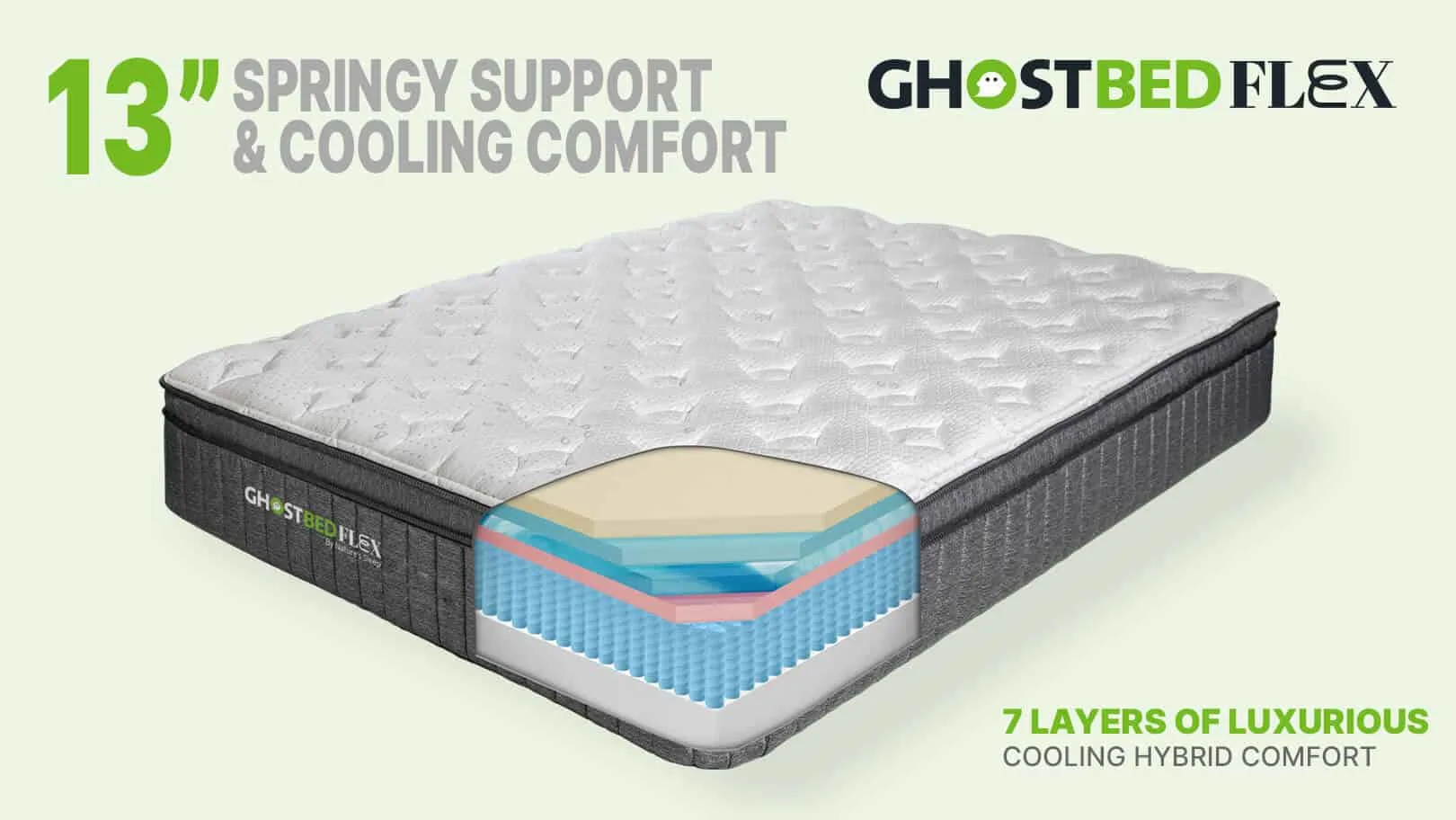 Despite being just medium-firm, the GhostBed Flex mattress is still a comfortable option for an overweight person. Each of the mattress's seven layers is made of durable materials that don't lose their properties over the years.
The lower layers of this mattress are designed to provide stability and support, as they feature reinforced GhostFlex coils that can hold several hundred pounds of weight with ease. The Spirited Edge™ support ensures that you can have the same level of support in all areas of the mattress.
Several layers of highly responsive gel memory foam allow your back and spine to remain comfortable, regardless of your sleeping position. The height of the GhostBed Flex mattress is 13 inches and its firmness level can be best described as medium-soft.
The manufacturer also offers several bed frame options that can be purchased separately from the mattress. Go through our GhostBed review for more details about the mattresses the company offers.
Pros
Suitable for all sleeper types
Good cooling features
Adjusts to the body type to relieve pressure points
Available in all standard sizes
Cons
Choosing the firmness level is not possible
The free trial period lasts for a hundred nights
The Big Fig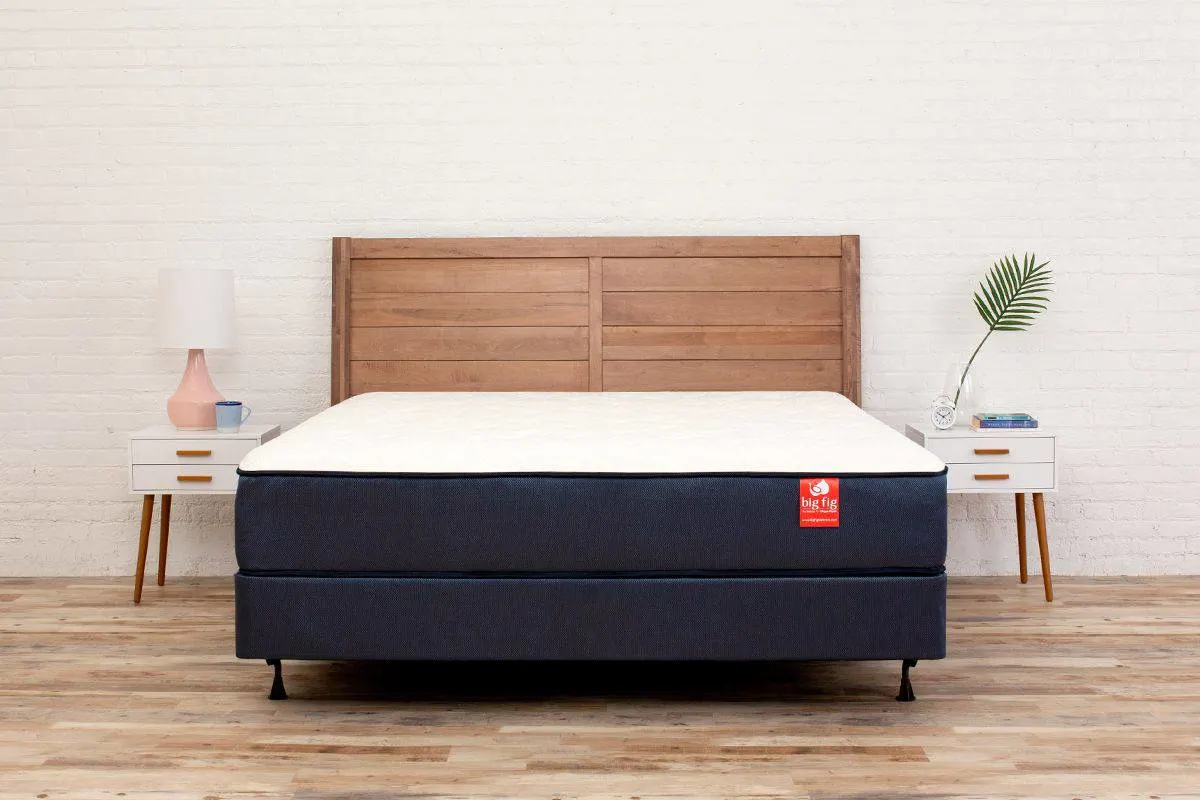 With the capacity to support 1100lbs of weight, the Big Fig mattress is arguably one of the best options for overweight and obese people. The 15-gauge thickness provides exceptional support to all body types and they can retain their properties for two decades.
The 7-inch coils and five layers of foams make this mattress suitable for all sleeping positions, which means that a heavy person who likes to sleep on their stomach will get all comfort they need to rest properly.
There are three levels made of high-density poly foam that adjust to the body as it changes positions throughout the night and allows the spine to be perfectly aligned. On the top of the Big Fig mattress, you'll find the ThermoGel fabric which lowers the body temperature and disperses the heat efficiently.
The manufacturer offers free delivery anywhere within the United States and a 20-year warranty for this model.
Pros
1100lbs weight capacity
A great choice for stomach sleepers
Excellent heat dispersion capacity
Available in all conventional sizes
Cons
Limited pressure relief potential
The frame and accessories are not included in the offer
Awara Hybrid Mattress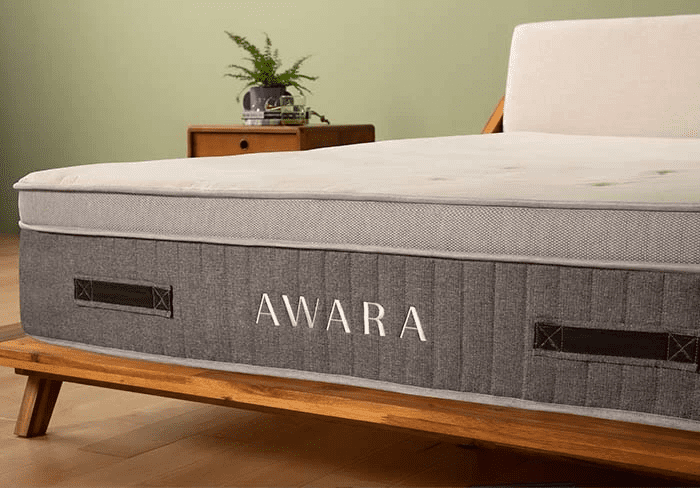 Besides being relatively affordable, the Awara Hybrid mattress is also incredibly durable as it is designed to accommodate sleepers' needs that weigh over 200lbs. The top layers of this mattress are built from latex that is famous for its adjustability.
The sleeper's weight is evenly distributed across all areas of the mattress which prevents you from sinking or sleeping in an unnatural position. This allows the spine to remain straight, while the design of the mattress offers pressure relief for the neck, shoulders, back, and hips.
The New Zeeland wool maintains a constant air flow that eliminates the heat and prevents allergenic particles from reaching the lower layers of the mattress. Each component of Awara's model is made of organic materials that leave a minimal ecological footprint.
The trial period lasts for 365 nights, and the manufacturer offers a lifetime warranty for all of their products.
Pros
Moderately priced
Even bodyweight distribution
Made from eco-friendly materials
Suitable for hot sleepers
Cons
Sagging can become an issue over time
The mattress may be too soft for some sleepers
Leesa Hybrid mattress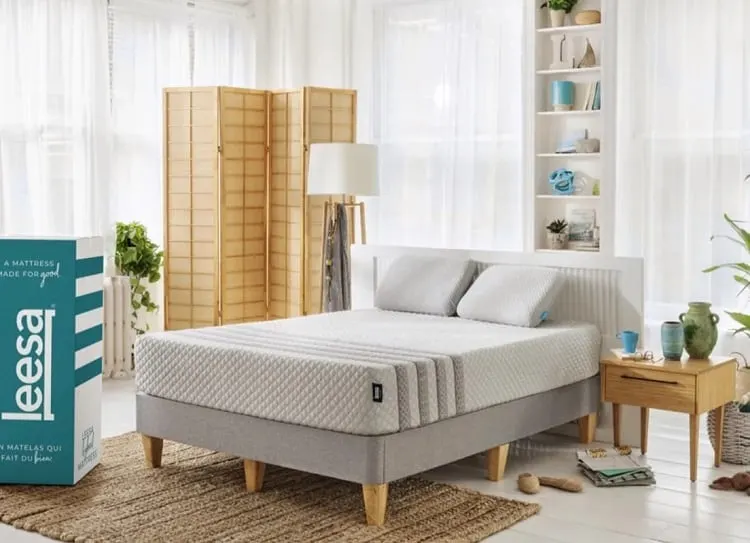 The high-quality support system is one of the reasons why the Leesa Hybrid mattress is one of the top choices for a heavy person.
The mattress features over a thousand pocket springs that respond to every movement you make and provide exceptional support that enables you to sleep comfortably on your stomach or your back.
The 1-inch core support layer and 1.5-inch contouring foam layer prevent your body from sinking into the mattress while enabling it to remain in a comfortable position. Consequently, the Leesa Hybrid mattress reduces back pains by relieving pressure from the shoulders and hips.
Besides excellent contouring features, the top layer of this mattress contains perforations that allow the heat to escape into the lower layers. This is a medium-firm mattress that matches the expectations of most people, but it may be too soft for a heavy person that prefers to sleep on a firm mattress.
Pros
Premium hybrid design
Suitable for combination sleepers
Sturdy base
Excellent contouring features
Cons
10-year warranty
Removing dust or mites from this mattress can be difficult
Features to look for in a mattress for a heavy person
Mattresses that can carry hundreds of pounds of weight for decades are usually more expensive than those that are designed for people that weigh less than 200lbs.
However, spending a little extra on a hybrid or innerspring mattress is a good long-term decision that will enable your body to rest. We've shortlisted several features that will make it easier for you to choose a mattress for a heavy person, so let's take a closer look at them.
Mattress thickness and durability
The quality of the base usually determines how good a mattress is at supporting a lot of weight. Also, the number of layers between the base and the top impacts the model's contouring and pressure relief properties.
You should choose a mattress that is at least 12-inches tall or that has five or more layers, as it will ensure that your body will be distributed evenly across its surface.
The quality of materials
Opting for a model that features high-quality memory foam will allow you to remain in a comfortable position throughout the night. Also, considering the motion transfer features may be important as it will ensure that you won't disturb your partner by turning in your sleep.
Some mattresses also have hypoallergenic properties that prevent dust or mites from settling in. This feature can be important if you are suffering from chronic allergies.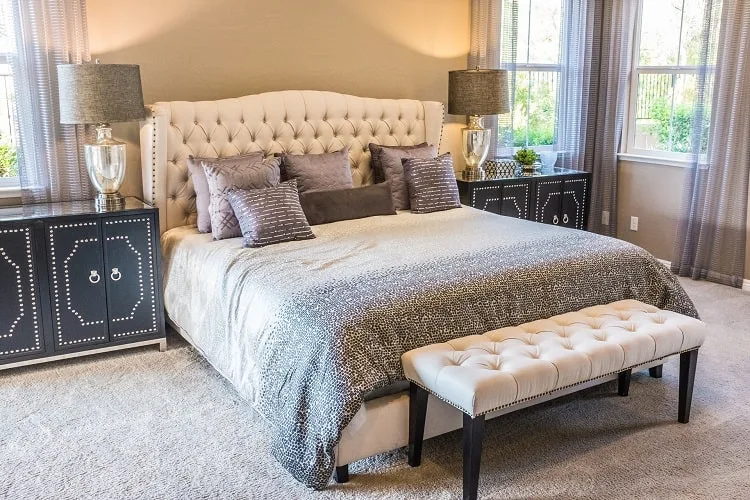 Support and firmness
A mattress that doesn't offer the same level of support at the center and around the edges may be uncomfortable to sleep on. That's why you should search for a model that provides excellent edge support as it will allow you to sleep comfortably in all areas of the bed.
The firmness level is yet another factor you should take into consideration since soft mattresses are usually not a great fit for a heavy person. Although medium-firm mattresses are the most common option they may struggle to keep the body of an overweight person in a natural position.
On the other hand, a mattress with a firmness rating higher than ten is only suited for people who like to sleep on a hard surface.
Sleeping positions
Your mattress should be able to adjust to all movements you make in your sleep. If you prefer to sleep on the stomach you will need additional support that is provided by hybrid models that feature a strong coil base.
In case you prefer to sleep on your back, you should look for a mattress that has high-density regions that support the head, back, and hips. Combination sleepers can benefit from a mattress that has excellent contouring properties that allow it to adjust to frequent changes of sleeping positions.
Temperature regulation
Almost all latex and hybrid mattresses have good cooling properties that let the body's heat to escape and ensure the constant flow of air.
Some models may have a top layer that contains holes that are specifically designed to regulate temperature, while others only come with a cover that should prevent night sweating. Checking the cooling features will help you determine if a mattress can dispose of heat efficiently.
Frequently asked questions about mattresses for heavy persons
Question: Can a mattress for a heavy person help solve sleeping problems?
Answer: Yes, it can. A mattress that offers better support of the back and hips can help an overweight person improve the quality of their sleep.
Question: Are mattresses for heavy persons prone to sagging?
Answer: Sagging can occur over time on any mattress, which is the reason why you should look for a model that has great anti-sagging features.
Question: What is the weight limit for a mattress?
Answer: The weight limit for a mattress depends on the model since some mattresses can hold more than 1000lbs of weight, while others have a 500lbs weight limit.
Question: How expensive are mattresses for heavy persons?
Answer: Most mattresses for heavy persons cost more than a thousand dollars, while there are only several options that cost less.
The Verdict: How to choose the best mattress for a heavy person?
The quality of your sleep doesn't have to suffer because of your body weight, as a simple change of mattress you're sleeping on can alleviate some of the issues you're experiencing. Almost all of the industry-leading brands produce models that are perfectly suited for an overweight person.
We recommend the DreamCloud Luxury Hybrid mattress because of its remarkable features, but also because of its moderate price. If you don't mind a high price tag, then the Sativa HD mattress may be the right choice for you, as it will ensure that you feel comfortable regardless of your sleeping position.
We hope that this article helped you find the best mattress for a heavy person. Leave a comment and let us know which mattress you're going to choose, or check out our full guide on how to find the best mattress.