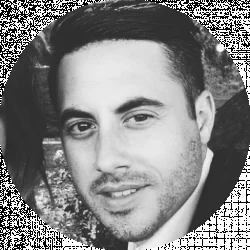 Latest posts by David Borgogni
(see all)
The search for the mattress that fits all your needs might not be short or easy, since there are so many brands and models to choose from. Our Purple Mattress vs Intellibed comparison will help you figure out which brand produces mattresses that are better suited to your sleeping style.
For the purposes of this article we'll be comparing only hybrid mattresses these manufacturers offer, even though Purple also produces foam models. Either brand lets you choose between standard mattress sizes and offers a broad range of mattress accessories.
In addition, you can fit these mattresses on different types of bases which gives you more versatility when choosing a bed frame for the model you decide to purchase.
This Purple Mattress vs Intellibed comparison will put the core features of these mattresses side by side in order to determine which one is the right choice for you.
The Main Differences Between Purple Mattress vs Intellibed
The main differences between Purple Mattress and Intellibed are:
Purple has just several individual models, whereas Intellibed has three different mattress collections
Purple also manufactures mattresses for children, whereas all Intellibed mattresses are designed for adults
Purple mattress comes with a 10-year warranty, whereas Intellibed offers a 20-year warranty for its mattresses
Purple utilizes The Purple Grid™ foam to produce their mattresses, whereas the Intellibed mattresses contain the Gel Matrix®.
Purple mattress can be purchased for less than $2000, whereas Intellibed mattresses cost several thousand dollars
Purple Mattress vs Intellibed – Mattress comparison
Although Purple and Intellibed share the properties of all hybrid mattresses, there are a number of differences between the models these two manufacturers offer.
Besides the materials used to produce a Purple or Intellibed mattress, these mattresses don't have the same number of layers and their coil systems are different. Let's dig in deeper and see how the core features of these mattresses compare to each other.
Also, you can read our Avocado vs Purple mattress comparison to check which of these options is a better choice for you.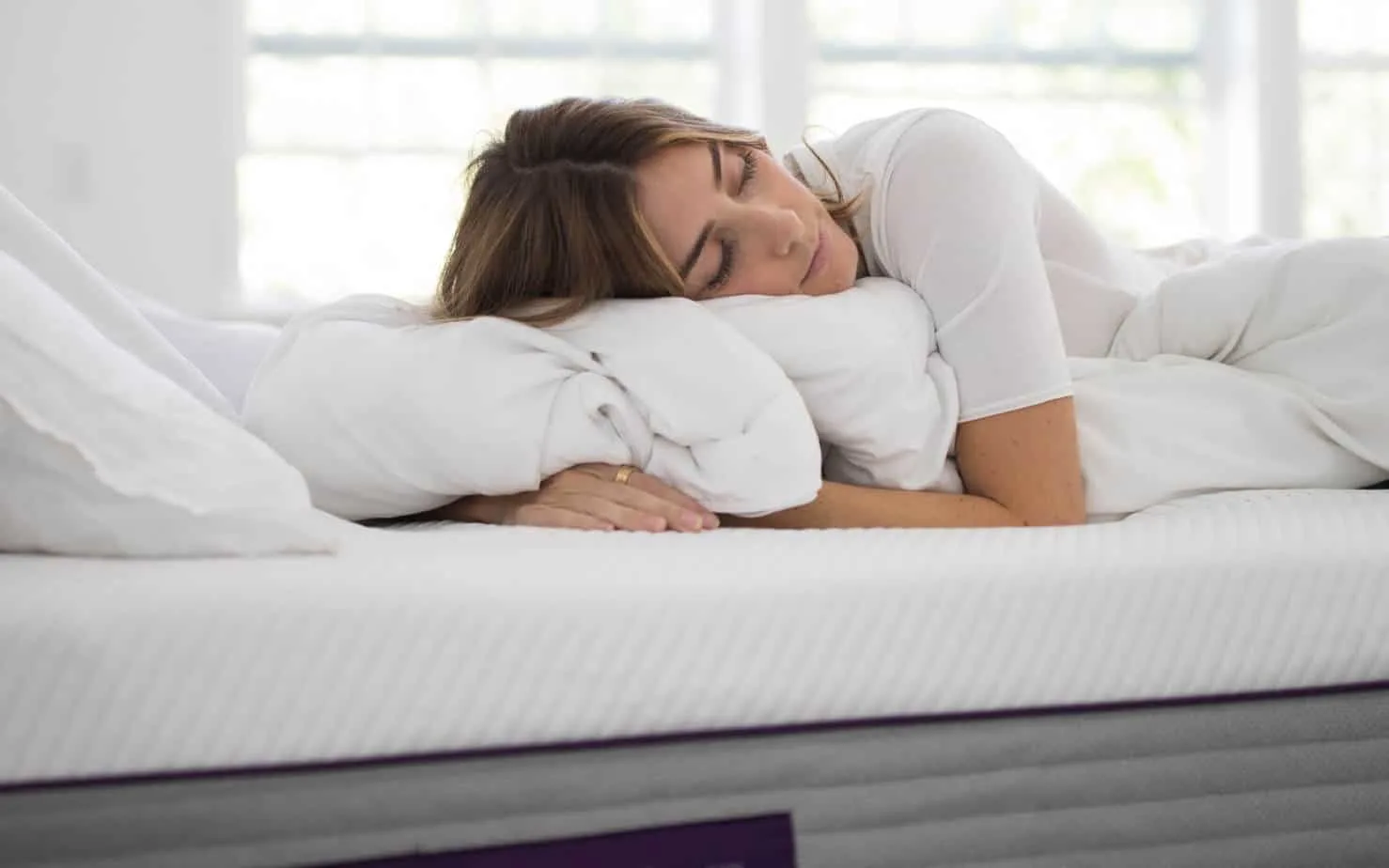 Purple mattress
Materials and feel
The first Purple mattress hit the market in 2015, and just a few years later the brand established itself as one of the leading manufacturers in the industry.
The reason behind such rapid success can be largely attributed to the hyper-elastic gel called the Purple Grid™ that is used to produce the comfort layers of Purple mattresses. Hence, both the Purple Hybrid and Purple Hybrid Premiere models are made from this highly responsive gel.
This material is organized into the grid formation so that it can fold or bend based on the amount of pressure that is being applied at any given moment.
Consequently, the layers composed of this hyper-elastic gel flex in regions around your hips and shoulders to relieve the pressure these parts of the body are taking.
The grid construction of the comfort layers in Purple mattresses prevents them from overheating which makes these hybrid mattresses suited for hot sleepers. The StretchMax cover makes the heat dispersion properties of Purple Hybrid mattresses even more effective.
It consists of woven panels that maintain a constant airflow despite the room conditions or your current sleeping position. All materials utilized to produce these mattresses are high-quality, and they stay in perfect condition for years.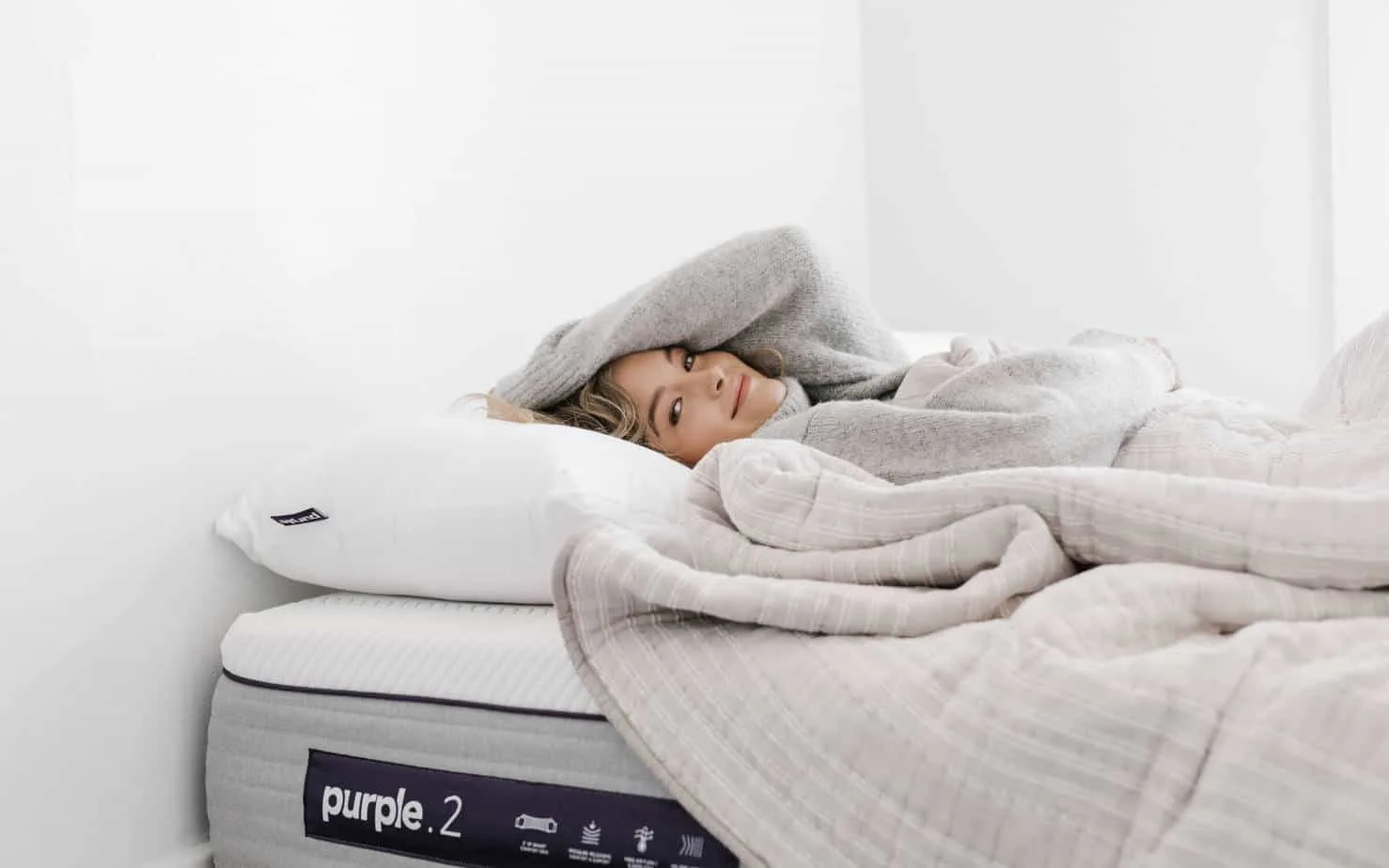 All hybrid mattresses are medium-firm and the manufacturer doesn't include soft or firm options in its offer. Despite being medium firm these mattresses still have an impressive weight capacity as they are designed to carry a maximum of 600lbs of weight.
Moreover, the support layer features 7.5-inch pocketed springs that eliminate motion transfer almost entirely and distribute the weight of sleepers evenly while preventing them from sinking deeply into the mattress.
It is worth noting that all Purple Hybrid mattresses are 11-inches tall and their dimensions depend on the size option you select.
Construction
The Purple Hybrid mattress has the following layers
The top layer – 2-inch Hyper-Elastic Polymer™ that is arranged in the Purple Grid structure. This layer also features the non-toxic polyethylene copolymer powder coating.
Foam layer – a 1-inch layer of 2.0lbs density polyurethane foam
Support layer – Features highly responsive 7.5-inch pocketed springs
Intellibed
Materials and feel
Although it has been on the market longer than the Purple Company, Intellibed is still a relatively new brand in the mattress manufacturing industry.
The company started producing mattresses in the early 2000s and it offers models that are specifically designed to accommodate people who suffered third-degree burns or hospital patients that are immobilized.
This is accomplished with the use of the Matrix® gel that is highly elastic, and its elasticity enables it to supply localized pressure relief and keep the spine in a natural position by distributing a person's weight across the surface.
Intellibed lets you choose between models from the Legacy, Signature, and Limited collections that all contain a number of different models. It is worth pointing out that each collection contains between three and five models that have slightly different features.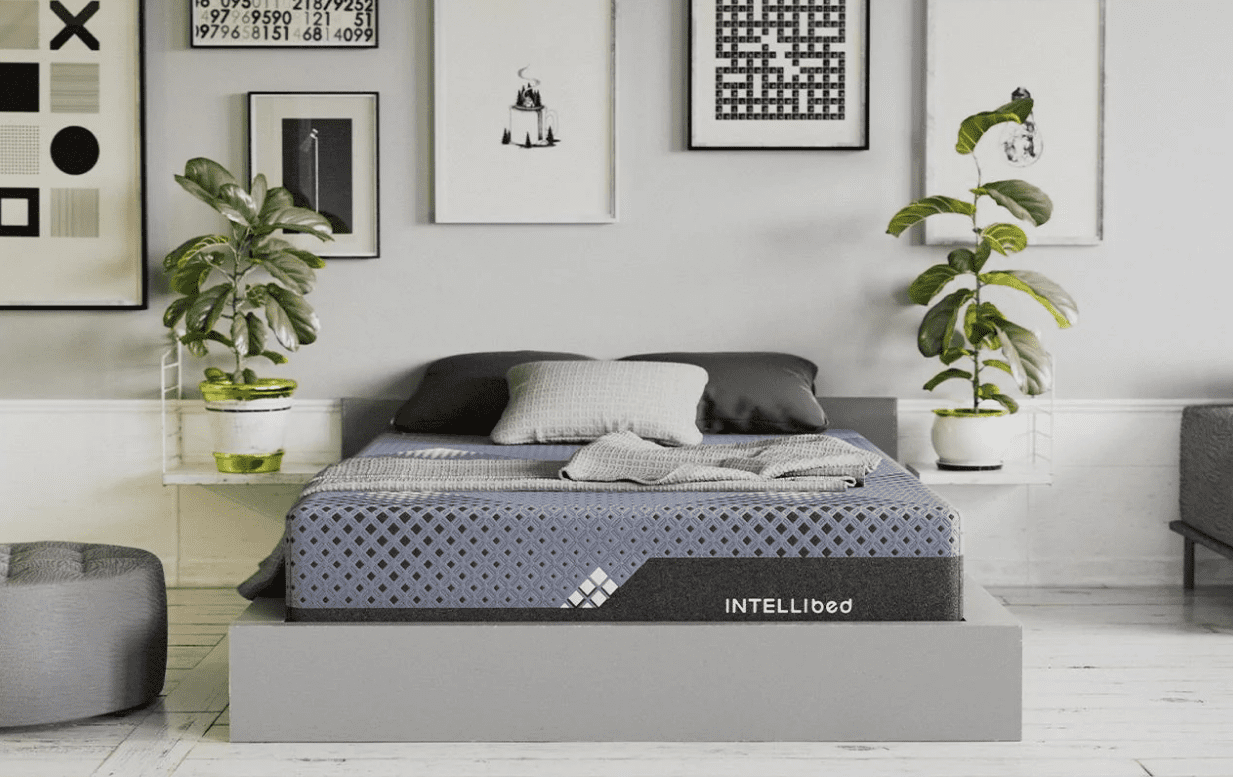 For instance, the Azure mattress from the Intellibed's Legacy collection is 12-inches tall while the Midnight model from the Limited collection is 16.25 inches tall.
In addition, mattresses from different collections also have different numbers of layers, since models from the Legacy have four layers, while Signature series mattresses have five layers. Only mattresses from Intellibed's Limited collection have seven layers.
However, all Intellibed mattresses have coil-based support systems that keep the motion transfer at the minimum, while their cooling properties are among the best in the industry. Hence, these mattresses are suitable for all types of sleepers as they swiftly adapt to the sleeping position.
The firmness level of Intellibed mattresses is approximately the same, as the manufacturer only offers medium-firm models, and you cannot choose a soft or very firm variant of an Intellibed mattress. Even so, either of the Intellibed models is a good match both for a heavy or a skinny person.
Construction
Mattresses from the Legacy collection have the following layers:
The foam comfort layer – Adjusts to the current body position and facilitates the heat dispersion process
Gel Matrix® layer – Helps distribute the sleeper's weight evenly and provides pressure relief for the neck, hips, and shoulders
The second foam comfort layer – Adds to the mattress's comfort level and prevents body impressions from forming
Pocket coil layer – Supports the sleeper's weight and eliminates movement transfer
In addition, all Legacy collection mattresses come with a luxury quilted cover that complements the Gel Matrix® technology. The mattresses from other Intellibed's collections have additional layers that contribute to the comfort they provide and their durability.
Intellibed vs Purple – Free trial period and warranty
Both brands allow you to test their products for a limited time before deciding if they are a good fit for you. Purple's trial period is ten days longer than the trial period offered by Intellibed, which gives you slightly more time to return the mattress in case it fails to meet your expectations.
| | | |
| --- | --- | --- |
| Brand | Trial period | Warranty |
| Purple | 100 nights | 10 years |
| Intellibed | 90 nights | 20 years |
All Purple mattresses come with a ten-year limited warranty that covers the defects of the material but it doesn't include damages that can occur as the result of daily use. The company also has free shipping and free return policies.
On the other hand, Intellibed's mattresses have a 20-year limited warranty that can be voided by stains, tears, or placing the mattress onto an inadequate base.
Purple vs Intellibed – Pricing
The price difference between the Purple and Intellibed mattresses is huge since the most expensive Purple's model is similarly priced to the cheapest Intellibed mattress.
Price comparison
For instance, you can purchase the king-sized Purple Hybrid mattress for approximately $2,000, while the king-sized version of the Intellibed's Azure model from the Legacy collection costs $4,499.
Other models from the same collection are even more expensive as the king-size Sapphire mattress costs $4,999 while you have to spend $6,399 to get the king-size version of the Indigo mattress.
Also, mattresses from the Signature and Limited collections are significantly more expensive than those featured in the Legacy collection. Intellibed does offer a variety of financing options that enable you to pay for the model you select within 6, 9, or 12 months without any interest.
Purple mattresses are much more affordable than the models offered by the Intellibed, which makes them a better fit for families that don't want to overspend on a mattress but still want to sleep on a comfortable mattress that is suitable for all types of sleepers.
You should check out our guide to the best mattresses under $500 if either of these brands is too expensive for you.
Purple vs Intellibed: Who should opt for mattresses made by these brands?
The mattresses produced by Purple and Intellibed have stunning features, so it may be difficult to know if they are a good fit for your sleeping style. Here's who these mattresses are for.
Intellibed
The Gel Matrix® is the reason why the Intellibed mattresses are so highly praised that they are even used in hospitals to accommodate patients that suffered from serious skin injuries.
A mattress like the Intellibed Azure adapts to the body's position as you move during the night and it provides several pressure relief points.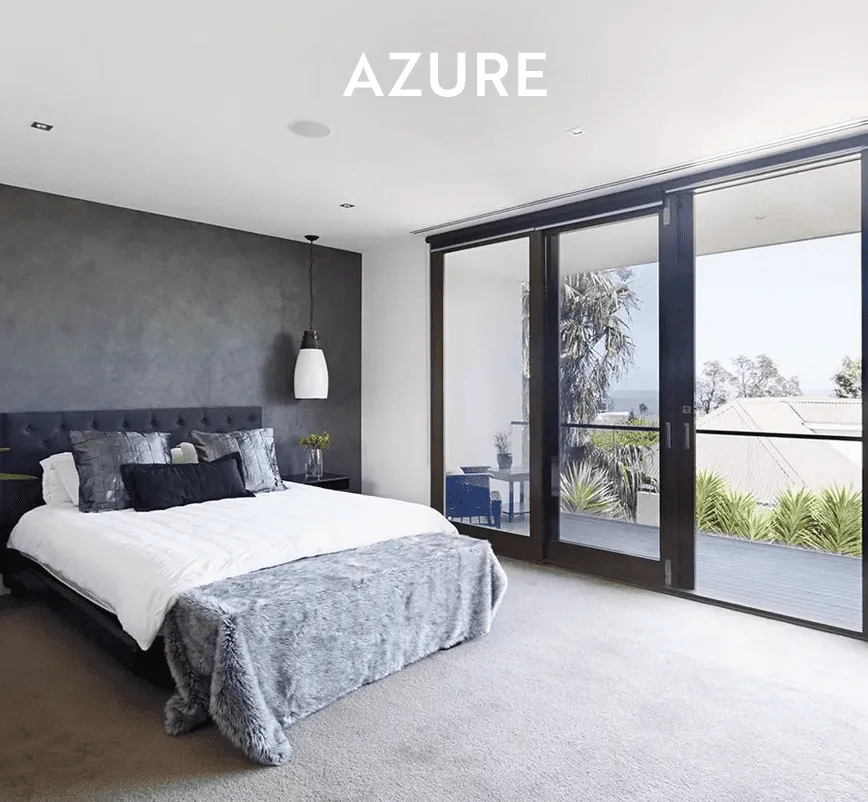 Besides being suited for all sleeping positions, the Intellibed mattresses also have incredible cooling features that enable hot sleepers to stay cool in their sleep.
All of the mattresses produced by the Intellibed brand have hypoallergenic features as they don't allow the most common allergy triggers to pass beyond the mattress's top layer. Consequently, you should consider getting an Intellibed mattress if you are suffering from allergies.
Recap – You should get an Intellibed model if
You have chronic back issues
Prefer to sleep on a medium-firm mattress
Want a mattress that can last for decades
Don't mind a hefty price tag
Purple Mattress
Despite having just three layers, Purple mattresses provide more comfort than most mattresses produced by competing brands. Their internal construction includes the Purple Grid™ that is made of a highly elastic gel that adjusts to the sleeper's current position.
Although the pressure relief properties of Purple Hybrid mattresses are not as good as those offered by Intellibed's models, you can still expect a high degree of support for your hips and shoulders.
Besides its remarkable adjustability, the Purple Grid™ also ensures a constant airflow that helps hot sleepers get rid of night sweats. However, Purple doesn't allow you to choose the mattress's firmness level so you may find it too soft or too firm depending on your preferences.
Recap – You should get a Purple model if
You want a mattress that fits different types of bed frames
Don't want a tall mattress
Like to sleep on medium-firm mattresses
Want to get a durable mattress
Frequently asked questions about Intellibed and Purple mattresses
Question: Are Intellibed and Purple mattresses prone to sagging?
Answer: No, they are not, although body impressions may start to form over time. You can't get rid of body impressions by flipping these mattresses over, as the layers are organized in the top to bottom structure.
Question: What is the weight limit of Purple and Intellibed mattresses?
Answer: The Purple brand claims that all of their mattresses can carry up to 600lbs of weight which makes them suitable for all sleepers regardless of their weight.

Intellibed doesn't provide information about the weight limits of their mattresses, but their durable construction ensures that a heavy person can feel comfortable sleeping on these mattresses.
Question: Can a Purple or Intellibed mattress be damaged easily?
Answer: Neither of these mattresses is fully resistant to physical damage, and their surface can be torn. Also, removing stains from these mattresses can be a challenging task.
Question: What are the best alternatives to Intellibed and Purple mattresses?
Answer: Almost all brands that manufacture mattresses also offer hybrid models, which means that there are plenty of alternative options at your disposal. Here are some models you should consider.

• The Sealy Posturepedic Hybrid Mattress – This hybrid mattress allows your body to remain in a comfortable position while you're asleep. Its properties ensure that your body isn't under pressure, and allow you to move without disturbing your partner.
• The Brentwood Home Oceano Mattress – Produced by one of the most reputable brands in the industry, the Oceano mattress can accommodate the needs of most sleepers. The mattress is made of organic and eco-friendly materials that cannot trigger allergic reactions or affect your health in any way.
• Avocado Green Mattress – The combination of highly comfortable and organic materials makes this hybrid model an attractive option for all homeowners who want to be sure that they are sleeping on a mattress that actually improves their quality of sleep.
The Verdict: Does Intellibed offer more comfort than a Purple mattress?
The simple answer is yes, the Intellibed mattresses outperform Purple's hybrid models at all levels. In addition to being more comfortable, models like the Azure mattress from the Intellibed's Legacy collection adjust better to your body shape than the Purple Hybrid mattress.
The same can be said about the cooling features of these mattresses, and even though the cooling properties of the Purple Hybrid mattress are undoubtedly outstanding they are still lagging behind the cooling capabilities of Intellibed mattresses from Legacy, Signature, and Limited collections.
The price tag is actually the only downside of Intellibed mattresses, as they are much more expensive than any Purple Hybrid model. That's why an Intellibed's Sapphire mattress or the Midnight model from the Limited collection are only a good choice if you don't mind the extra cost.
On the other hand, Pure's hybrid mattresses are a durable and affordable option that can accommodate the needs of all types of sleepers. We hope that this Purple Mattress vs Intellibed comparison has helped you decide which of these manufacturers offers mattresses that best match your expectations.
Share your opinions in the comments or check out our Amerisleep vs Purple comparison to learn more about the differences between these mattresses.