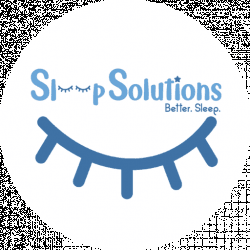 Latest posts by Sleep Solutions HQ Team
(see all)
Even the most luxurious bedding and the perfect mattress won't ensure an excellent night's sleep unless you also have quality pillows. A sore neck or consistent tossing and turning are common signs that it's time to buy some new pillows.
Shopping for pillows can be tricky, but spending the time ensuring you buy a product that is designed for your sleeping type (back, side, or a versatile sleeper) and quality material will help you get the best sleep possible.
Cheaply made pillows are often stuffed with polyfill or some other low-quality material. These pillows have little structural integrity and must be replaced every 6 months. Pillows are such an important aspect of getting a restful sleep that it makes sense to invest in a pillow that is higher-quality and therefore more comfortable.
Bamboo pillows have been growing in popularity as a super comfortable pillow type that has some advantages over regular memory foam.
Bamboo pillows are growing in popularity for a few very good reasons. First off, bamboo pillows are a perfect choice for allergy sufferers or those needing hypoallergenic bedding.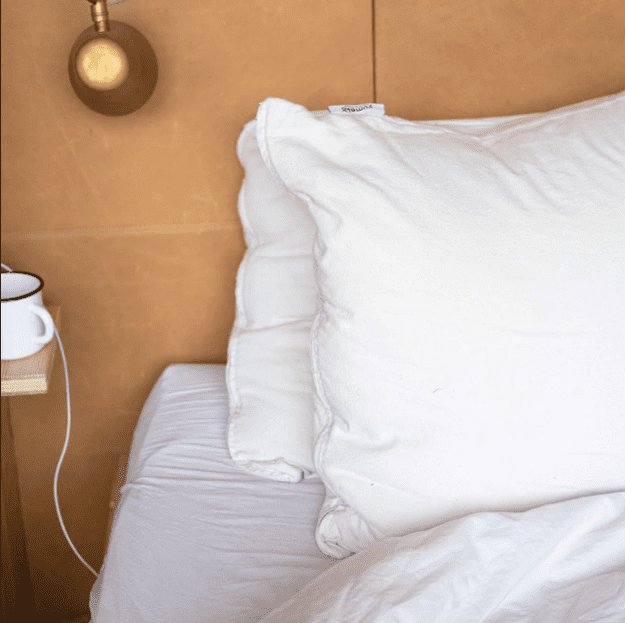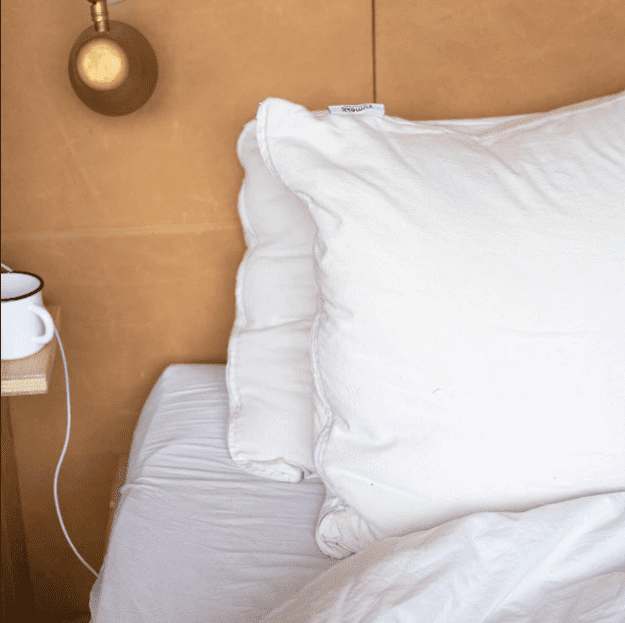 Bamboo is naturally non-allergenic. Additionally, bamboo is also naturally antimicrobial and antibacterial. This means that your bamboo pillows are beneficial for your health and won't harbor nasty germs like other materials might. Interestingly, bamboo does absorb moisture, but its antimicrobial advantage means that any bacteria is neutralized.
Bamboo pillows are great for any bedroom any time of the year but are especially useful in warm climates or in the summer months. Bamboo is very light and highly breathable, making it more comfortable to sleep on when the temperatures are warm.
Despite being so breathable, bamboo or bamboo blends are sometimes heavier than normal pillows which can be a positive or a negative depending on the user.
The only possible downside of bamboo pillows as a whole is that they tend to be more expensive, however, they are no more expensive than other high-end pillows, such as those made of
premium down.
If you're interested in bamboo pillows but don't know which brand to go with, here are three of the best bamboo pillows to choose from.
When choosing a product to purchase from an online retailer it is important for it to be backed by some positive reviews. The Snuggle-Pedic Ultra-Luxury shredded bamboo memory foam pillow is one of the most often purchased bamboo pillows on Amazon – and for good reason!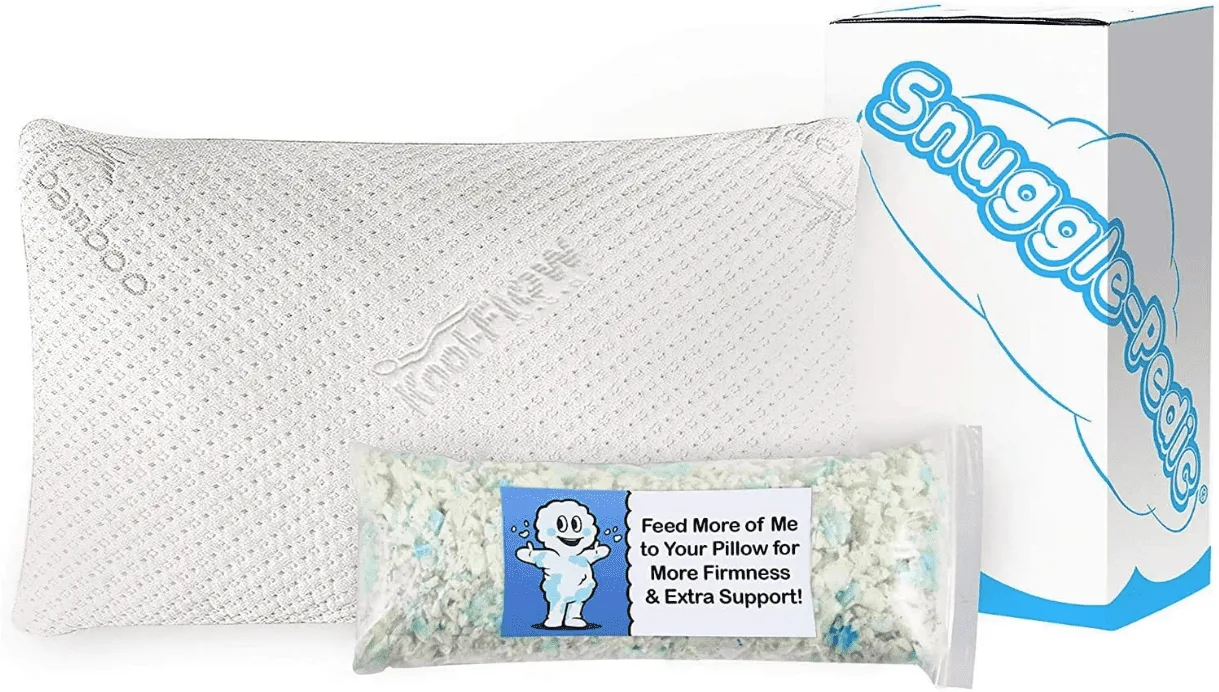 This brand's pillow has over 8,000 reviews and a solid 4.5-star rating. Going by customer satisfaction alone it would be safe to assume that this would be a great pillow to choose.
But before getting too hasty, here are some of the main specs and features of this pillow to consider:
Retails for $59.99 for a single Queen size pillow
Shredded combination memory foam style
Comes with a bamboo blend pillowcase for extra softness and breathability
Completely made in the US
Memory foam is Eco-Friendly Biogreen and CertiPUR-US certified
Comes with a 20-year warranty and a 90-day money-back guarantee sleep trial
Snuggle-Pedic offers 2 free customizations for those that aren't quite satisfied
May be adjusted for less thickness if desired
Hypoallergenic and highly resistant to dust mites
Ideal for side, stomach, and back sleepers
The Snuggle-Pedic pillow is a superb overall choice for someone that wants the benefits of bamboo but tends to be picky when it comes to pillows. The 90-day money-back guarantee is already extremely generous, but Snuggle-Pedic also offering customers to return their pillow for free customization twice is rare for a pillow company.
This pillow might not be the best for absolutely everyone, and it is a little on the expensive side, but it makes it to the top of the list of bamboo pillows to try.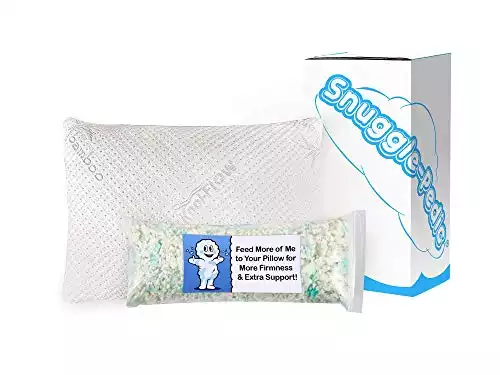 Up next is a bamboo memory foam pillow designed by a brand that specializes in bamboo and bamboo-infused products – Bamboo Sleep. Bamboo Sleep has a variety of different bamboo pillows, including specialty orthopedic choices, but their Premium Bamboo Memory Foam Pillow is a great
all-around choice.
Bamboo Sleep sells this model in a two-pack like many traditional pillow manufacturers tend to do.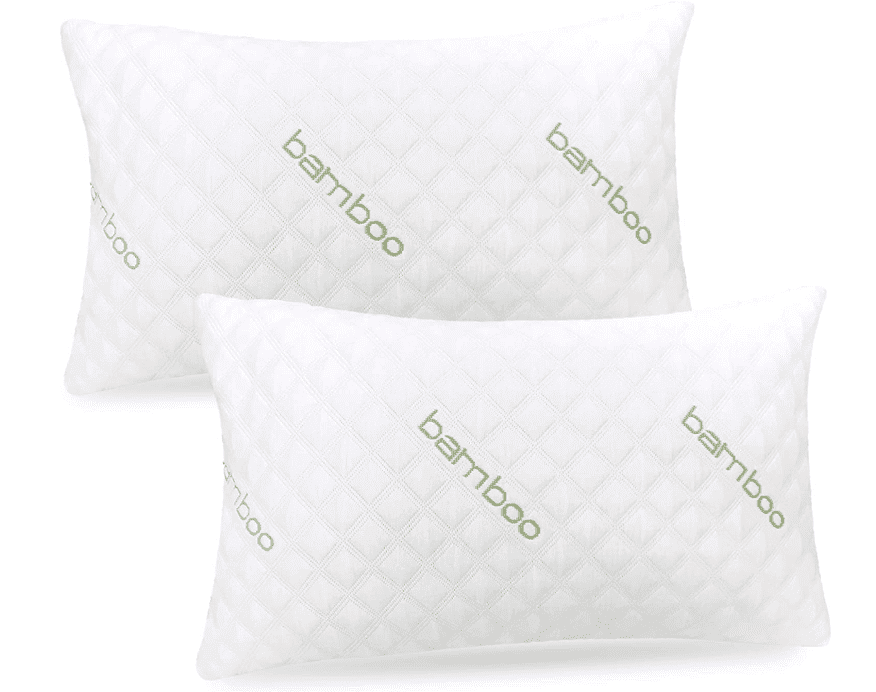 Here is a rundown of what you can expect from this pair of bamboo pillows:
Retails for $49.99 from most retailers
Made of a quality blend of 40% bamboo and 60% polyester
Designed in the US to combat body pain and sleeplessness issues associated with poorly made pillows
Conforms easily to the body while still keeping its structural integrity
Comes with a hypoallergenic washable bamboo pillowcase
Memory foam may be moved around within pillow for customization
Bamboo Sleep includes a 30-day money-back guarantee
This pack of Bamboo Sleep pillows is a great choice for someone that isn't too picky when it comes to pillows and really wants a cooling effect. The 40% bamboo in the blend and pillowcase notably have a cooling effect. The pillowcase is completely hypoallergenic and is durable (can be washed often) as well as very soft.
These pillows have an excellent rating and are a great option for someone wanting a solid foam bamboo pillow rather than shredded. The price is also excellent for the quality considering you are getting two pillows.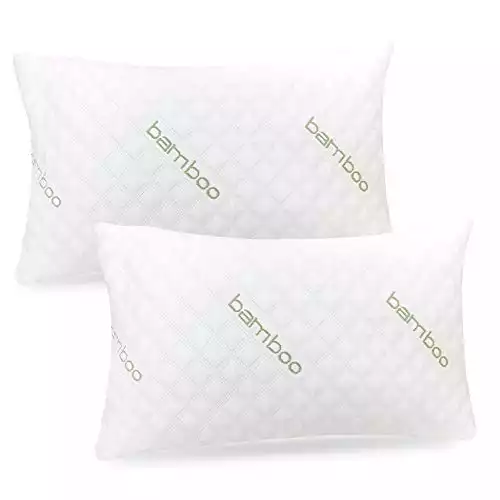 Another excellent bamboo blend pillow set is Clara Clark's Bamboo Shredded Memory Foam Pillows. These are marketed as being made of rayon derived from bamboo and have an adjustable loft to match any type of preference. This pillow has excellent reviews supporting it and many find this to be a great choice for stomach and back sleeping.
Some of the basics you need to know about this model include:
Comes in a set of two Queen-sized pillows for $41.99
Pillows are made of a 40% bamboo blend and pillowcase
Removable zippered pillowcase is washable
Pillow stuffing is 100% shredded memory foam
May remove some of the foam to reduce pillow loft
Not apt to flat and easily fluffs back up after sleep
100% refund guarantee
These Clara Clark pillows have plenty of positive reviews backing them, though customers are quick to point out that you must properly fluff up these pillows before use. Clara Clark ships these pillows like many other online brands, which means they are vacuum-packed into very small carrying cases.
Be sure to properly fluff and let the pillows expand before you sleep on them. Other customers noted a chemical scent, but this isn't too uncommon from brand new pillows, especially bamboo pillows.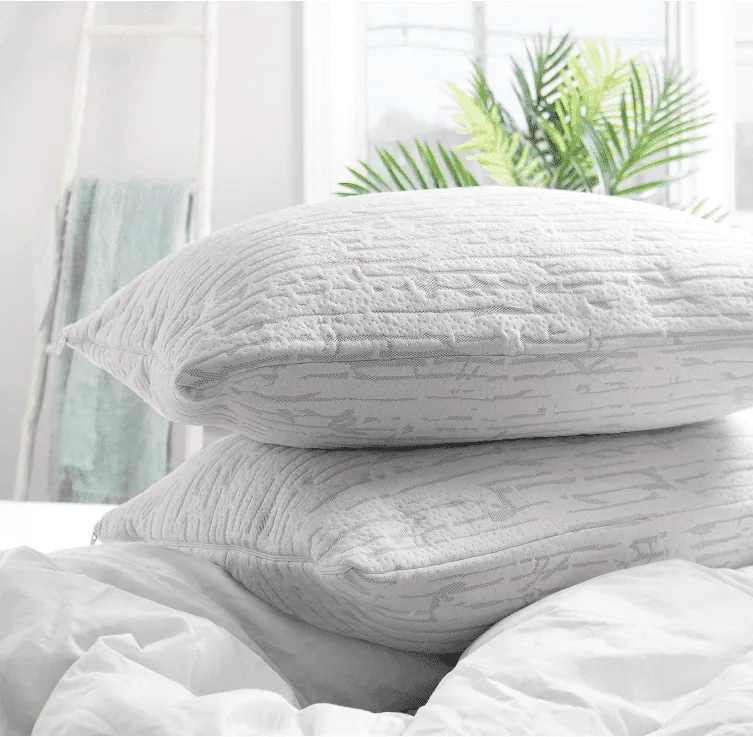 All in all the Clara Clark pillows are a wonderful choice for a reasonably priced set of shredded memory foam pillows. The easy ability to shift around the shredded foam for a bit of your own customization is useful if you suffer from neck pain, arthritis, sleep apnea, and may help with back pain and potentially snoring as well.
If you've been sleeping on poorly made pillows for many years you'll be shocked at how much better you rest on a new set. Bamboo pillows may be a little pricier than others but chances are you'll become a big fan of them like so many others.
Thankfully bamboo pillows are becoming easier to find in stores in addition to online retailers. Instead of jumping straight to expensive luxury down pillows, consider this amazing hypoallergenic choice instead.