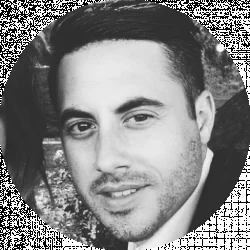 Latest posts by David Borgogni
(see all)
Sleeping on your left or right side has a number of health benefits, but it can also result in back or shoulder pain if you're sleeping on an uncomfortable mattress. Finding the best memory foam mattress for side sleepers will help you deal with the drawbacks of this sleeping position.
An old worn-out mattress may affect the quality of your sleep and diminish the advantages of side sleeping, and in most cases switching to a new mattress ultimately enables you to rest better.
Foam mattresses distribute your weight equally and provide pressure relief in the shoulder and lower back areas which make them a great fit for side sleepers. Besides the mattress, you should also choose a pillow for side sleepers that will enhance the properties of the mattress.
We've combed the Internet for some of the best memory foam mattresses for side sleepers, so let's take a look at the models we've shortlisted.
8 Best Memory Foam Mattresses for Side Sleepers
Helix Midnight – The best overall foam mattress for side sleepers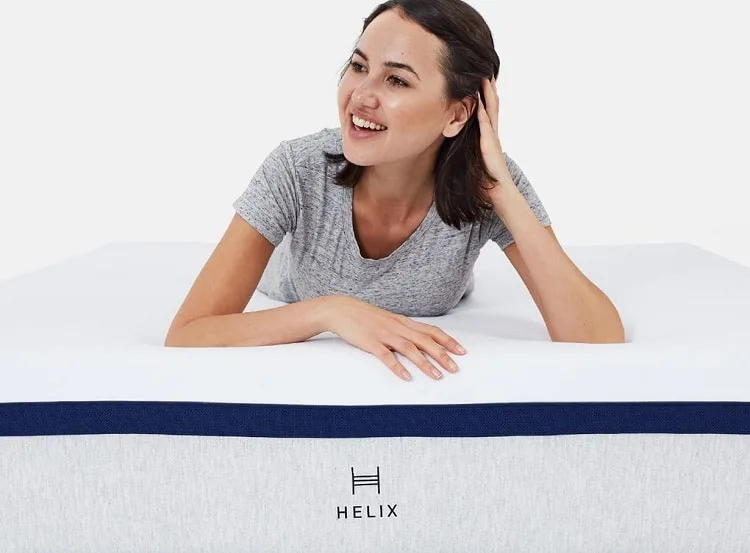 Its ability to contour your body as soon as you change a sleeping position makes the Helix Midnight mattress a great option for side sleepers who frequently turn in their sleep. This foam mattress features six layers, and each layer is designed to maximize the sleeper's comfort.
The Helix Midnight has pressure relief points that provide additional support to your hips and shoulders regardless of the side you're sleeping on. The mattress is neither firm nor soft, and it is suitable for couples that don't have the same firmness level preferences.
Also, this foam mattress is equipped with wrapped coils that reduce the transfer of motion and provide excellent support around the edges of the mattress.
The cover of the Helix Midnight mattress is breathable and it disperses the body heat efficiently, which guarantees that you're not going to overheat while sleeping on this mattress.
Pros
Different layer densities for enhanced pressure relief performance
Wrapped coils prevent sagging around the edges
A high degree of breathability
Excellent price-performance ratio
Cons
No hypoallergenic properties
Short try out periods
Winkbeds GravityLux – The best foam mattress for side sleepers who are easily disturbed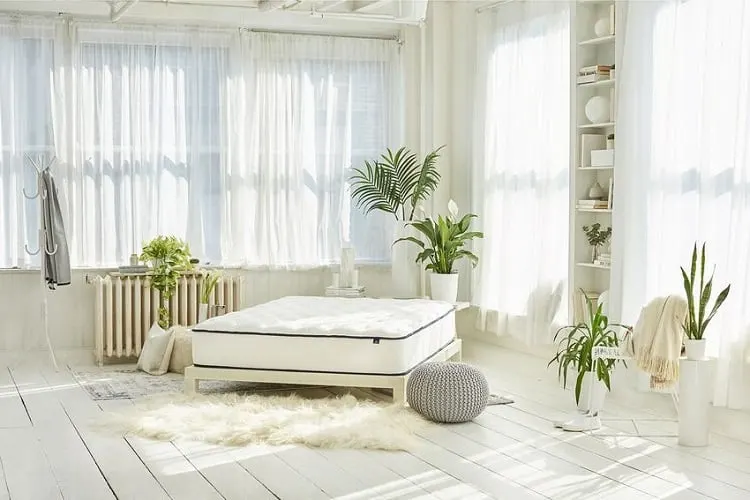 Couples that don't want to wake each other up every time they get out of the bed during the night should consider getting Winkbeds GravityLux. This mattress is not designed exclusively for side sleepers as it is comfortable enough to accommodate all types of sleepers.
The Motion Isolation technology dampens vibrations you make when you move, reducing the chances that you'll wake your partner up by tossing and turning in your sleep.
The top of the mattress is covered with a Tensile cover that is 30% cooler than linen, while the AirCell™ memory foam ensures the body heat disperses quickly. The AirCell™ foam features a huge number of microscopic cushions that relieve pressure efficiently.
Also, all of the mattress's layers have an open-cell structure that further enhances its contouring and pressure relief properties, while the LumbarLayer ensures your spine remains perfectly aligned regardless of your current sleeping position.
Pros
Zoned progression foam provides support for targeted areas of the body
AirCell™ foam adjusts to the body as it shifts positions
Great cooling features
Three different firmness levels are available
Cons
More expensive than most foam mattresses for side sleepers
All accessories must be purchased separately
Zinus Green Tea Memory Foam Mattress – The most affordable foam mattress for side sleepers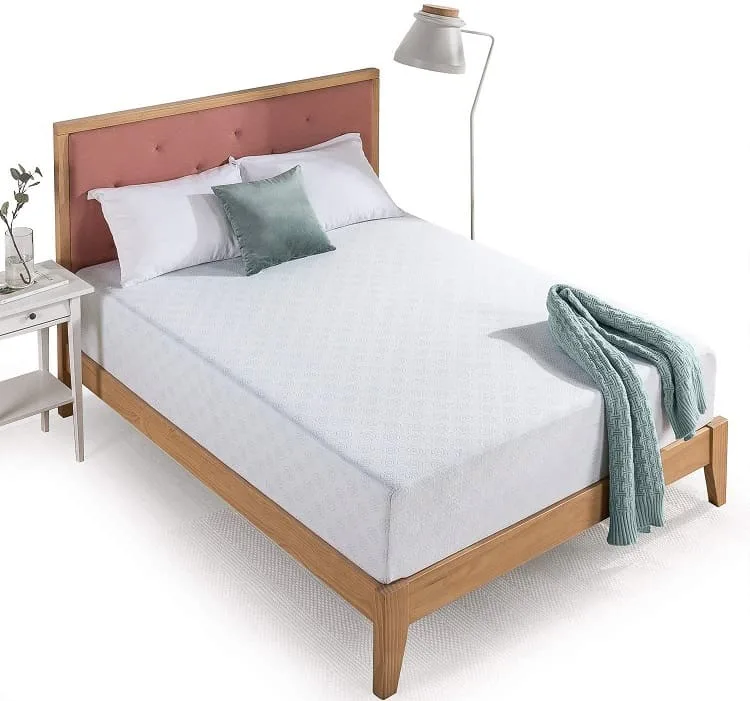 You don't necessarily have to spend more than $1000 on a foam mattress for side sleepers since a model Zinus Green Tea Memory Foam mattress can provide you with a high level of comfort at an affordable price.
This mattress can be 6, 8, 10, or 12 inches thick, which enables you to choose the option that best fits your needs. Its cooling properties are remarkable, as it is made from memory foam that doesn't trap the body heat.
The Zinus Green Tea Memory Foam has just three layers and its top layer is designed to adjust promptly to the changes of sleeping positions. The mattress's second layer ensures that the sleeper's weight is distrusted evenly and provides support to the shoulders and hips.
Read our Zinus Green Tea Memory Foam review for more information about this memory foam mattress.
Pros
Holds up to 500lbs of weight
Outstanding contouring capabilities
Efficient body heat dispersion
Moderately priced
Cons
Poor edge support
The mattress sags over time
Layla Memory Foam Mattress – The best cooling foam mattress for hot side sleepers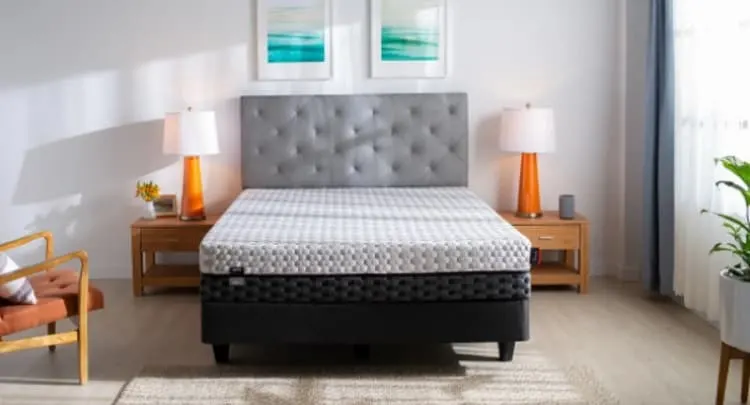 The copper-infused gel used to produce the Layla Memory Foam Mattress is the reason why this mattress is so comfortable. This gel reacts to pressure in order to prevent the body from sinking into the mattress, while its superconductive particles transfer the heat away from the sleeper.
What's more, this mattress has different firmness levels on each side, so you can flip it to the medium side if you don't like to sleep on firm surfaces. The other side of the mattress is better suited for a heavy person that weighs more than 230lbs and prefers to sleep on their back or stomach.
This mattress is also highly efficient at eliminating motion transfer, but its edge support properties can be improved. Even so, the Layla Memory Foam Mattress is a great fit for any bedroom, children's room, or guest room as it is suitable for all types of sleepers.
Pros
The flippable design offers different firmness levels
The copper-infused gel forms an antimicrobial barrier when you lay on the mattress
Highly breathable
Reduces back and shoulder pain
Cons
Questionable edge support
Not suited for all types of bases
Nectar Memory Foam Mattress – The most versatile foam mattress for side sleepers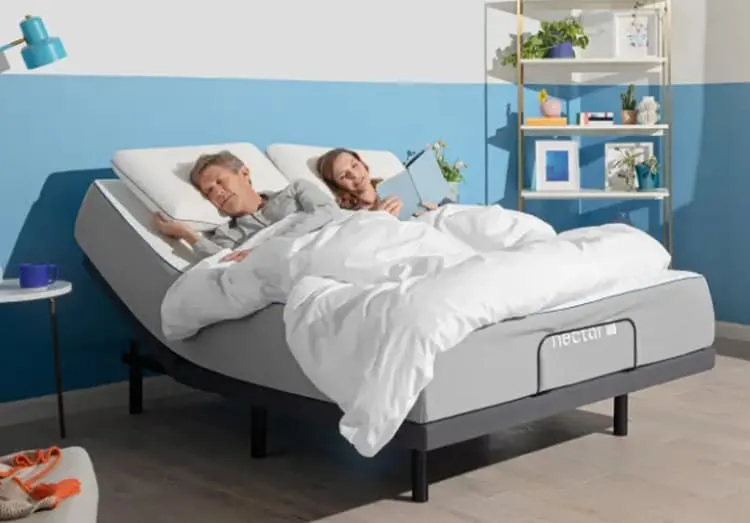 A moderate price, a broad range of sizing options, and high-quality materials make the Nectar Memory Foam Mattress suitable for most side sleepers. Even if you weigh over 230lbs or struggle to keep cool in your sleep, this memory foam mattress can help you sleep better.
The quilted cooling tancel™ cover ensures that the heat moves away from the body, and ensures that the air can flow freely through the mattress. Lower layers are made contouring and comforting gel, adaptive response transition foam, and a supportive base layer foam.
That's why the Nectar Memory Foam Mattress reduces back pain by delivering the pressure relief points where your body needs them to be and responding to the slightest change of the sleeping position.
You can read our comparison of the Nectar vs Layla mattress if you want to find out which of these foam mattresses is more comfortable.
Pros
Ships with additional accessories
Good motion transfer control
Foam is CertiPUR-US® certified
Adjusts to all types of bed frame types
Cons
Only one firmness level is available
No antimicrobial or hypoallergenic properties
Saatva Loom & Leaf – The best luxury foam mattress for side sleepers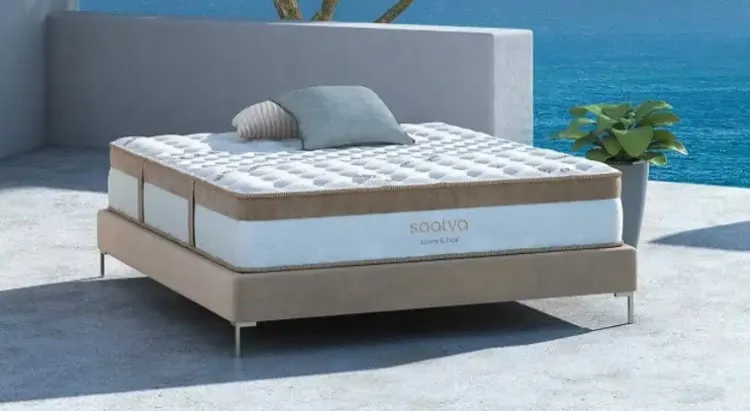 Saatva produces a broad range of high-quality mattresses, and their Loom & Leaf foam mattress is among the best options for side sleepers. This model is available in 8 different sizes and you can choose between relaxed, firm and firm comfort levels.
The top of this mattress features a quilted organic cotton cover that is both breathable and hypoallergenic. Below it, you can find a proprietary spinal zone layer made of gel-infused foam that maintains constant airflow and keeps the sleeper's spine in a natural position.
The ultra-premium 5lbs memory foam layer is designed to take the pressure off the hips and shoulders by providing extra support in these regions. You can try using the Saatva Loom & Leaf mattress for 180 nights before deciding to purchase it, and you'll get a 15-year warranty if you buy this mattress.
Check out our Saatva vs Loom & Leaf compassion if you want to find out how this memory foam mattress compares to the brand's flagship hybrid innerspring model.
Pros
Provides additional support for the lumbar region
Minimal heat retention
Features a hypoallergenic and antimicrobial cover
Produced from eco-friendly materials
Cons
More expensive than most foam mattresses for side sleepers
The relatively short warranty period for a mattress in this price range
Nolah Original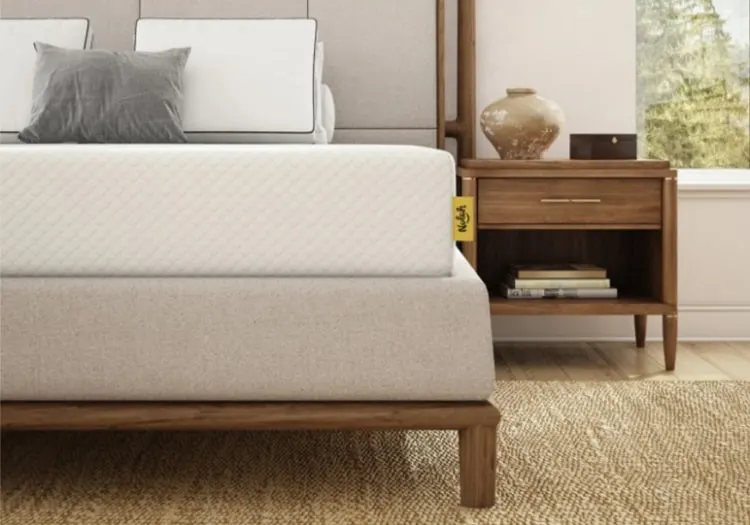 You will be able to feel the benefits of upgrading to the Nolah Original Mattress just weeks after you start sleeping on this foam mattress. The manufacturer has made this model available in six different sizes, but you can't choose the firmness level.
The Nolah Original is a medium-firm mattress that is highly praised for its pressure relief properties. The top layer of this mattress is made from Cooling Nolah AirFoam™ that contours the body and relieves pressure in high-stress areas.
It also helps hot sleepers stay cool by moving the heat away from the body and preventing it from getting trapped near the sleeper. The layer below contains deep supportive high-resilience foam that allows the mattress to adjust to your movements.
Besides, the supportive layer stops the mattress from sagging and boosts its durability, which makes the Nolah Original a great long-term investment.
Pros
Reduces the pressure on shoulders and hips
The Cooling Nolah AirFoam™ maintains a constant airflow
Suitable for heavy side sleepers
Lifetime warranty
Cons
You can't choose the firmness level
The model's height is just 10 inches
Cocoon Chill Mattress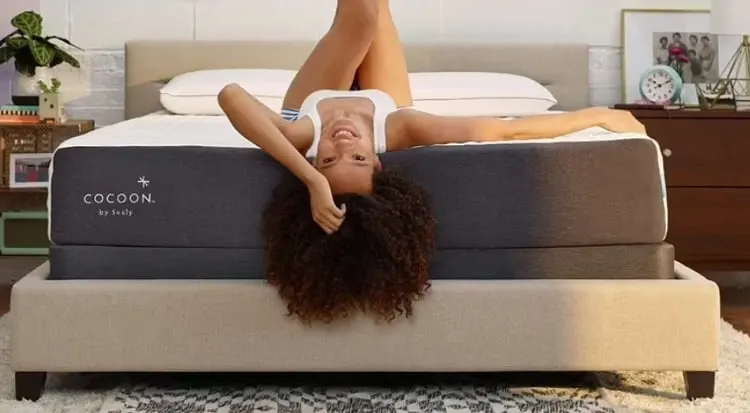 Besides being one of the best mattresses for side sleepers, the Cocoon Chill Mattress is also an excellent choice for hot sleepers due to its heat dispersal properties. Also, this is a medium-firm mattress that adjusts to the sleeper's body and sleeping position to provide maximum comfort.
The Perfect Fit Memory Foam layer that is located directly below the cooling cover contours the body and ensures that its weight is evenly distributed across the mattress's surface.
The layer composed of the responsive comfort foam is tasked with reducing the motion transfer and keeping sleepers from sinking into the mattress.
The Cocoon Chill mattress doesn't make sounds when you're changing the sleeping position, which guarantees you won't disturb your partner when turning or getting out of the bed.
The manufacturer offers a 100-night free trial period and a 10-year warranty, and it ships with a pair of dual-sided pillows that complement its pressure relief properties.
Pros
Adapts to the body's size and shape
Features a highly breathable cooling cover
The responsive comfort foam eliminates motion transfer
Medium firmness levels fit the needs of most side sleepers
Cons
Foundation or base must be purchased separately
It may take a while to break in the mattress
The most important factors to consider which choosing a foam mattress for side sleepers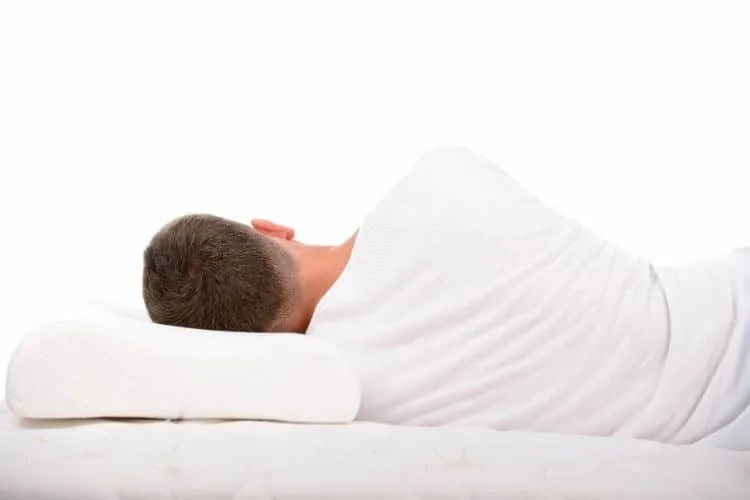 Sleeping on the left or right side can help alleviate the symptoms of chronic back pains, sleep apnea and improve sleep hygiene. In order to make the most of the potential health benefits of side sleeping, you're going to need a mattress that can keep your body in a natural and comfortable position throughout the night.
There are thousands of foam mattresses on the market, which makes it difficult to determine if a particular model is a good fit for a side sleeper. We've shortlisted several factors that will help you pinpoint a mattress that is a perfect match for your sleeping position.
Support and pressure relief
Foam mattresses are known for their capability to distribute the body's weight evenly and preventing it from sinking below the surface. Although innerspring models contours the body faster, foam mattresses remain among the best options for side sleepers due to their pressure relief capabilities.
A foam mattress is designed to provide additional support around the sleeper's hips and shoulders, which effectively eliminates the pains that are commonly associated with this sleeping position.
Cooling properties
The vast majority of high-end foam mattresses have excellent cooling properties, as they don't trap the heat near sleepers but rather move it away from them.
However, hybrid mattresses are much more breathable and better suited for hot sleepers as they disperse the body heat more efficiently than foam mattresses.
Hot sleepers are often side sleepers, and if you fall into both of these categories you should pay attention to the cooling capabilities of the mattress you'd like to get. Doing so can reduce overheating and improve your sleep quality.
Firmness level
These mattresses are available in different comfort levels, and you can choose between soft, medium firm, and firm models depending on your preference. Most people find a medium-firm mattress to be the most comfortable, but this may not be a good choice for an overweight person.
You should also keep in mind that some manufacturers don't allow you to select the preferred firmness level, and you must check if the model you're interested in is soft, firm, or anything in between.
Motion isolation
This feature is only important if you share a mattress with someone, as it ensures that you won't disturb your partner by changing your sleeping position frequently.
Foam mattresses don't always have great motion isolation capabilities, which can make them a relatively poor choice for couples. That's why you should check if a mattress you'd like to buy has the ability to dampen motion.
Besides, you should also search for a model that has good edge support as this feature ensures a mattress offers the same level of comfort from one end to the other.
FAQs
Question: Are hybrid mattresses a good option for side sleepers?
Answer: Yes, they are. Hybrid mattresses are usually comfortable and provide pressure relief support in high-impact areas.
Question: How durable are foam mattresses?
Answer: With proper care and maintenance, a foam mattress can last for decades, but some models can sag over time.
Question: Are foam mattresses only suitable for side sleepers?
Answer: No, foam mattresses can be used by anyone regardless of their preferred sleeping positions. So, if you sleep on your back or your stomach you'll find foam mattresses as comfortable as side sleepers.
Question: How expensive are foam mattresses for side sleepers?
Answer: A foam mattress for side sleepers can cost anywhere between $500 and $2500 depending on the manufacturer and the model. The pressure relief capabilities of foam mattresses that cost less than $500 may not be good enough to cater to the needs of side sleepers.
The Final Verdict: Which foam mattress for side sleepers to pick?
Sleep quality affects your life quality since sleeping on an uncomfortable mattress can result in chronic fatigue and a number of serious health issues.
A foam mattress can help people who like to sleep on the side to maximize the health benefits of this sleeping position by taking the pressure off from the high-impact areas around shoulders and hips.
The Helix Midnight mattress is one of the best foam mattresses for side sleepers because it cushions the body to make it comfortable and it distributes its weight evenly to prevent sleepers from straining the lower back or the neck while sleeping.
The Zinus Green Tea Memory Foam mattress is the most budget-friendly option for side sleepers that also provides excellent support for the hips and shoulders.
In case you don't mind the high price tag, you should consider the Loom & Leaf foam mattress as each of its features is designed to enhance the sleeper's comfort.
Which foam mattress for side sleepers are you going to choose? Let us know in the comments or continue reading our guide to finding the best mattress.