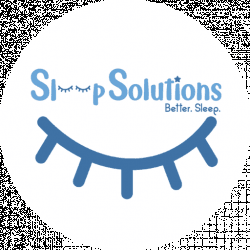 Latest posts by Sleep Solutions HQ Team
(see all)
We all have a favorite sleeping position that makes us the most comfortable and allows us to fall into that deep satisfying sleep where you can almost feel how blissful it is, even while you are sleeping! I am sure there are scientific and physiological reasons that play a part in which sleeping position you prefer, however, I am not a scientist or a doctor and will leave that discussion to the experts.
From a practical standpoint, we do not choose what sleeping position feels the best. It is something that just seems to happen naturally. For those that enjoy sleeping on their stomach, it is a relatively well-known fact stomach sleepers can suffer from a wide range of physical issues due to constantly sleeping in this position.
There is no doubt sleeping on your stomach does bring a higher risk of developing physical ailments as a result. However, there are some measures you can take in order to reduce the risks and effectively manage the situation while still sleeping in your favorite position.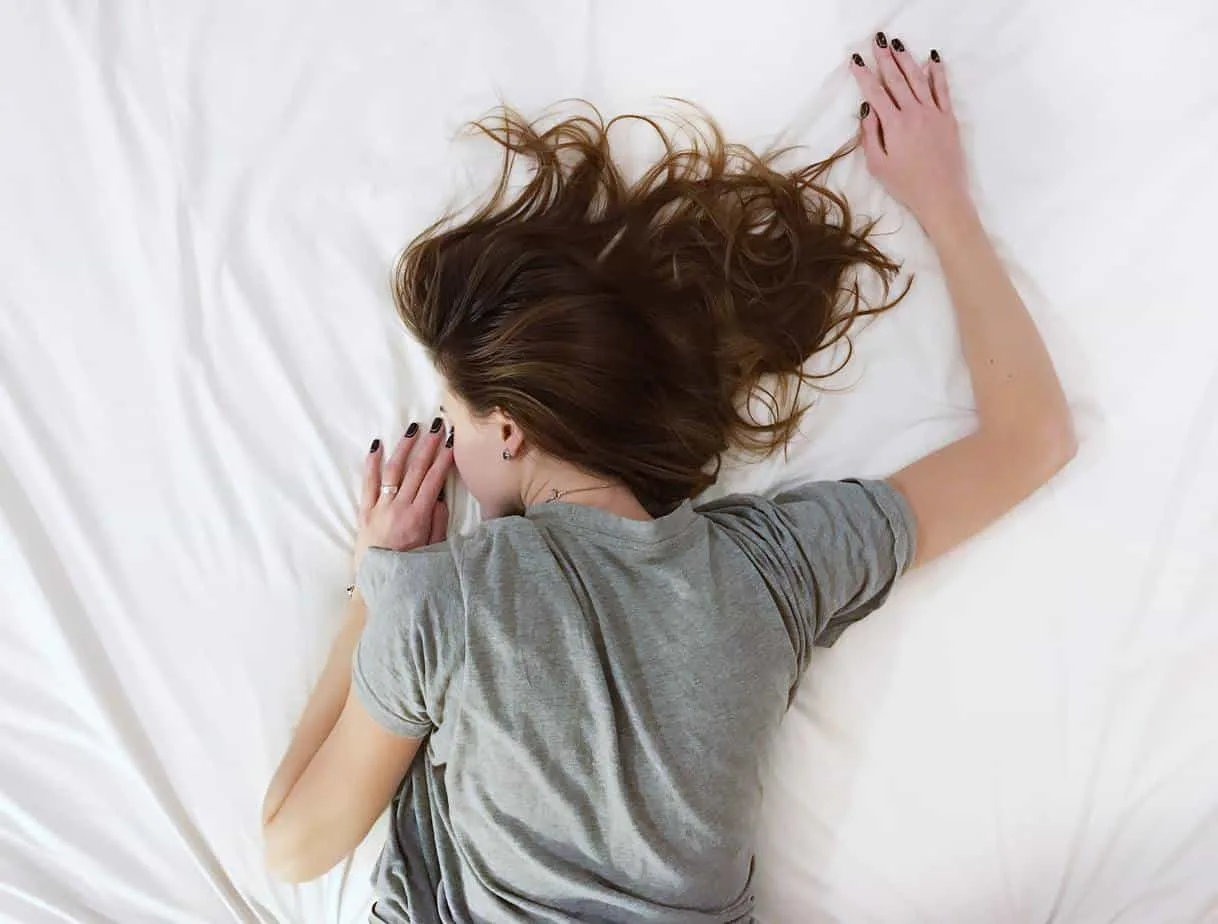 Rest Comfortably and Avoid Problems
Before we start sounding too negative about sleeping on your stomach, there are actually some positive aspects of sleeping in this position. It can help minimize or eliminate snoring, it opens airways for easier breathing patterns and helps alleviate jaw pain caused from tense muscles around the jaw area.
Positive Benefits of Sleeping on Your Stomach
Helps Control or Avoid Snoring
Helps Alleviate Jaw Pain
Opens Airways
Potential Issues from Constantly Sleeping on Your Stomach
Contributes to Misalignment of the Spine
May Aggravate Back Pain
Over Time It May Flatten the Natural Shape of Your Spine
Adds Pressure to Nerves Surrounding the Spinal Chord
If Back Pain Develops, It Can Quickly Lead to Additional Problems
May Contribute to Chronic Neck pain
Stomach Sleeper Solutions
Place a Pillow Underneath Your Hip Area
Placing a pillow underneath you elevating the hips helps to maintain the natural curve of the spine. Maintaining a position where the spine can keep its natural shape and is not flexed backward, helps to keep unnecessary pressure away from the nerves that surround the spine area. Additionally, you will avoid adding additional and direct pressure on the lower back area.
If you have ever had a problem with lower back pain, then you know once your lower back begins having problems, then it can quickly cause pain in other areas of your body as well. In fact, it is not uncommon to experience foot pain as a result of prolonged back pain.
Top Tip for Avoiding Problems from Sleeping on Your Stomach
Use a High-Quality Thin Pillow
If you just can't shake the need to sleep on your stomach to get a good night of rest, then the #1 best thing you can do is use a high-quality thin pillow. Many stomach sleepers have reported that using a thin pillow alone with no other adjustments or aids alleviated their minor and moderate neck or back pain.
A thin pillow allows you to sleep on your stomach while maintaining the natural alignment of the spine, avoids putting extra pressure on the lower back and around the spine area, as well as provides sufficient support for your neck area.
There are specific models of thin pillows that are specifically designed with the proper measurements and size for stomach sleepers. Therefore, you have to be very careful in your choice of thin pillow, as not all thin pillows are created equal for the purposes of sleeping on your stomach.
One crucial element in a high-quality thin pillow is height. A model that is properly designed to provide support for sleeping on your stomach needs to have a height of 2.25-2.75 inches for most people. However, if your body type or size falls outside of the normal average range, then you may need to try several different models to see which one will fit your needs.
Below, we take a detailed look at three of the best models you can choose if you need a pillow for sleeping on your stomach while maintaining a healthy level of support for your back, neck, and spine areas.
The Slim Sleeper is an excellent choice if you need a quality thin pillow. The height of the pillow measures almost exactly 2.75 inches, which is perfect for most people. The overall dimensions are in a moderate range, not too big and not too small making it a good all-around choice.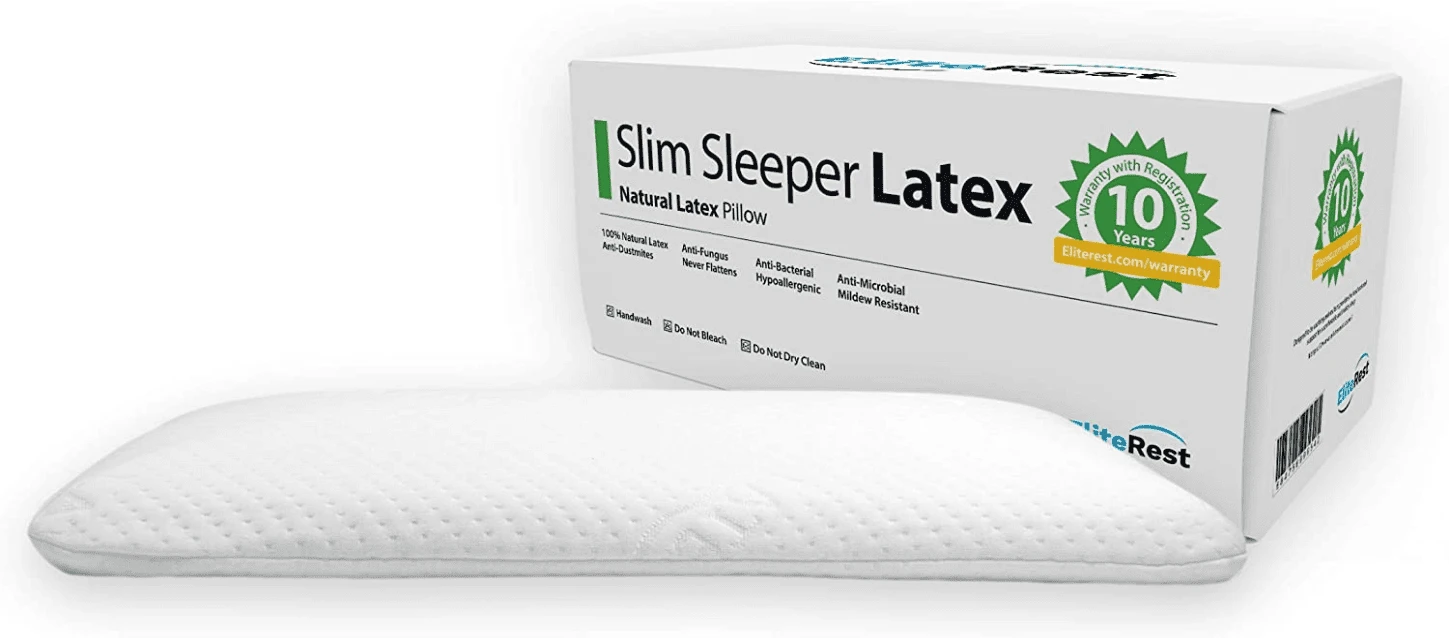 One unique feature of the Slim Sleeper is its design. The pillow uses an advanced technology called dimpled latex, which means it has a dimpled outer layer while still providing firm and comfortable support.
A key advantage to this design element is it helps keep stomach sleepers significantly cooler by providing additional space and airflow between your face or head and the surface of the pillow. It is produced using only all-natural materials and is one the best thin pillows available if you like to sleep on your stomach.
Features of the Slim Sleeper Pillow
Measures 2.75 inches in height
Made Exclusively from All-Natural Products
Fungus and Mildew Resistant Properties with an Easy-to-Clean Surface
Engineered with Dimpled Latex Technology
Comes with a Nylon Pillow Cover
An Excellent Choice for Stomach Sleepers
The Doctor Breus Low Profile Thin Pillow
The Doctor Breus Low Profile Pillow offers a significantly different feature set than many other thin pillows. First and foremost, by design, it is not nearly as firm as most other thin pillow models. So for those of you that like to sleep on your tummy and need a pillow that provides a much softer and giving environment this pillow should be at the top of your list of models to consider.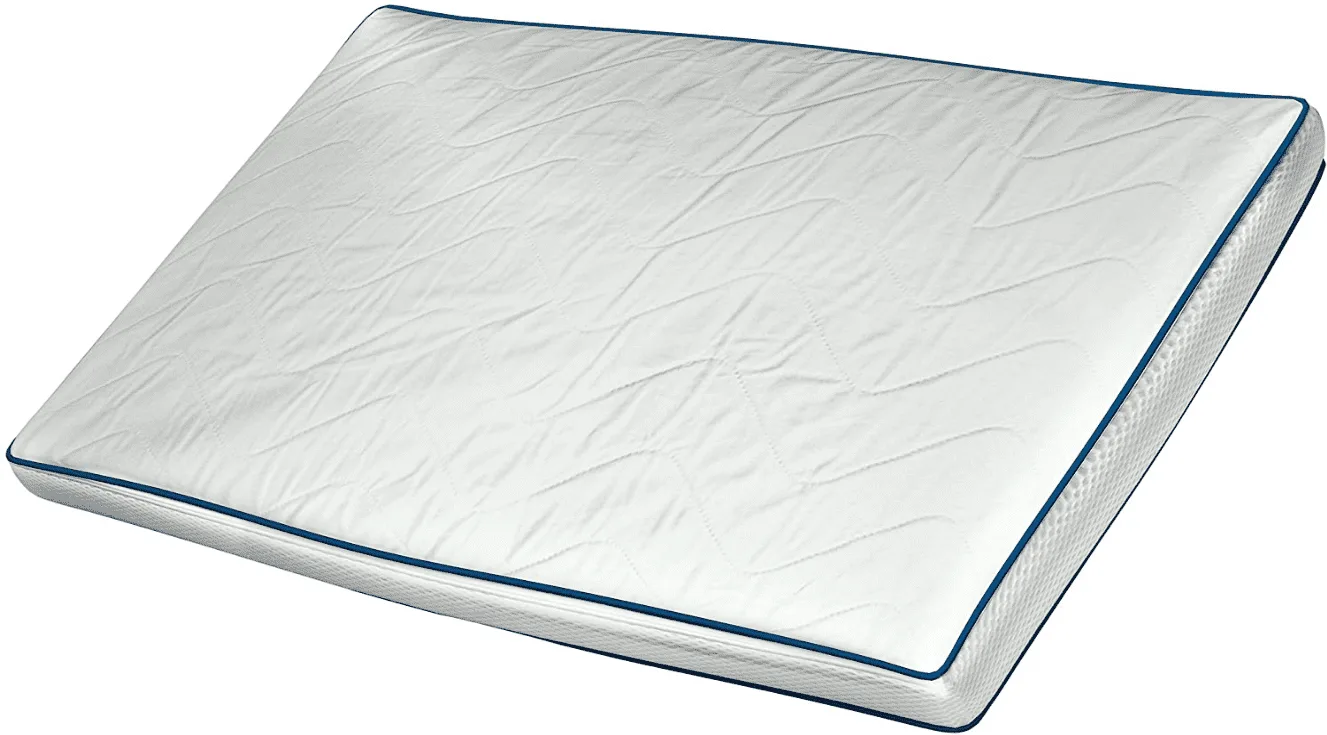 The pillow is designed with memory foam as a base which provides a very comfortable yet supportive area for your neck and head. It does tend to be warmer than other models as the ventilation capabilities of memory foam are not quite as good as other materials.
This pillow falls into the moderate category in terms of price, functionality, and design features. It is a solid performer at a reasonable price and slightly above-average quality.
Features of the Doctor Breus Low Profile Pillow
Designed with a Memory Foam Core
Properties that Are Resistant to Dust Mites
An Interior Hidden Storage Pocket for Convenience
Easily Washable Outer Layer
Trim Sleeper Pillow-Hudson Industries
This thin pillow model is a good choice for people that are taller, larger, or just enjoy head support that is a little above the average 2.75-inch mark. The pillow height measures exactly 3 inches and it provides a nice firm support area that is very similar to the feel of the Slim Sleeper Pillow reviewed above.
This model doesn't boast any features that are necessarily special or exciting, but it provides a very functional option with form support and offers a good value. If you need a thin pillow that is taller than most other models offer and do not need any "bells and whistles", then this thin pillow is a solid choice.
Final Verdict
Reviewing pillows is a little different than many other products as comfort level and individual physical needs play a much larger part in what makes a good product choice. All three of the above models offer excellent support for stomach sleepers helping them avoid potential physical problems. Additionally, each one offers a slightly different configuration depending on your individual needs.
Regardless of which model you choose, we believe you will find value in all three models as long as you choose according to your physical needs.