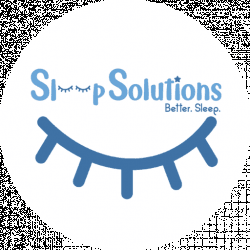 Latest posts by Sleep Solutions HQ Team
(see all)
The combination of highly responsive memory foams and advanced pocketed coil systems has made hybrid mattresses incredibly popular. This Intellibed review will examine the features of different hybrid models produced by this brand and help you choose the one that best matches your sleeping style.
The best mattresses for back pain must be able to keep the spine in a natural position while providing sleepers with the comfort they need to rest properly.
Each of Intellibed's models meets these conditions, as they take the pressure off the high-stress points and cushion the body in order to achieve maximum comfort.
Our Intellibed review will take a closer look at the technologies the brand uses to produce luxury hybrid mattresses that improve sleep quality and alleviate back pains.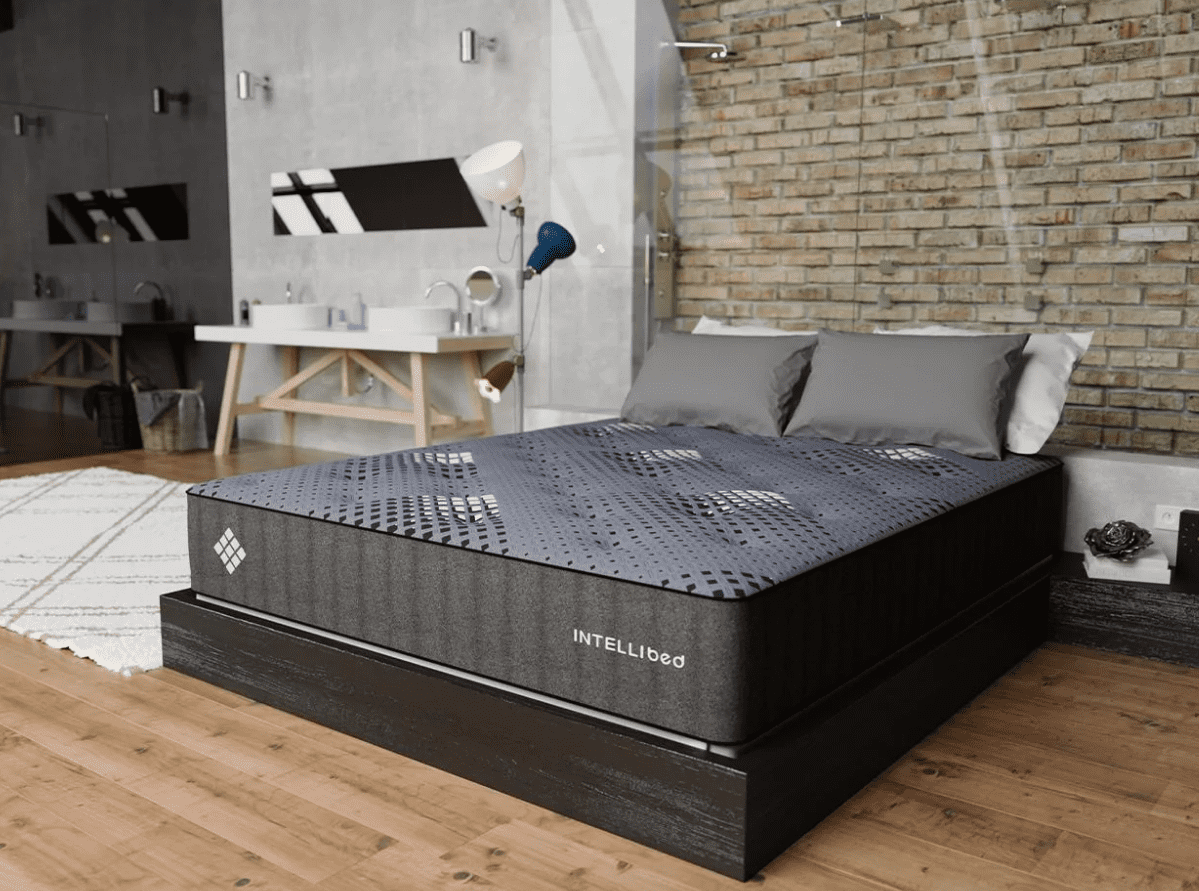 Intellibed Review
Innovation is at the very core of Intellibed's philosophy, as the brand's goal is to redefine the ways we think about a good night's rest. Started as sleep wellness and health company, Intellibed utilizes some of the most innovative technologies ever invented to manufacture its mattresses.
After just two decades on the market, Intellibed is widely accepted as one of the industry-leading brands that set standards in terms of mattress comfort and therapeutic properties.
The main reason for this is the Matrix Gel that was originally used to create hospital beds for patients who suffered from bedsores or burns that affected deeper skin layers. This copolymer gel is highly responsive and elastic which enables it to adjust the body's movements.
The material is also very firm, and it takes a lot of pressure for it to start contouring. As a result, Intellibed mattresses reduce the number of pressure hips and joints are taking and ensure that the sleeper retains the correct sleeping posture throughout the night.
Besides mattresses, the company also manufactures adjustable bases and accessories like mattress protectors, duvet covers, or pillows. It is also worth pointing out that Intellibed's pillows contain the Gel Matrix and that they complement the anatomic properties of the brand's mattresses.
Read our full guide to pillows for combination sleepers to learn more about models that enable you to sleep more comfortably in this position.
Key features of Intellibed mattresses
In this Intellibed Review, we will look at the three collections of Intellibed mattresses, and you can opt for a model from the Legacy, Signature, or Limited collections. The Legacy collections include the following models:
Mattresses from this Intellibed collection are most affordable as their pricing starts at $2.700 and goes up to $7.600 for the Split King version of the Indigo mattress. Their features are not identical, since Azure models don't have pocket coils systems for advanced motion control.
The Intellibed Signature Collection feature these four mattresses:
Models from this series can have between 6 and 8 layers, so for instance the Intellibed Indigo and Matrix have the same number of layers, but they have different pocket coil systems and comfort layers are composed of different materials.
The Intellibed Limited collection includes these models:
All mattresses from this series utilize the phase-change cooling materials that absorb the body heat and move it away from the sleeper.
However, each model from the Limited collection has slightly different features so the steel edge support that can be found on the Midnight mattress is not available on Starlight or Nightfall models.
These mattresses also have a different number of coil zones for focused support, so the Starlight model has just one focused support coil zone, while the Nightfall and Midnight models have three and five coil support zones.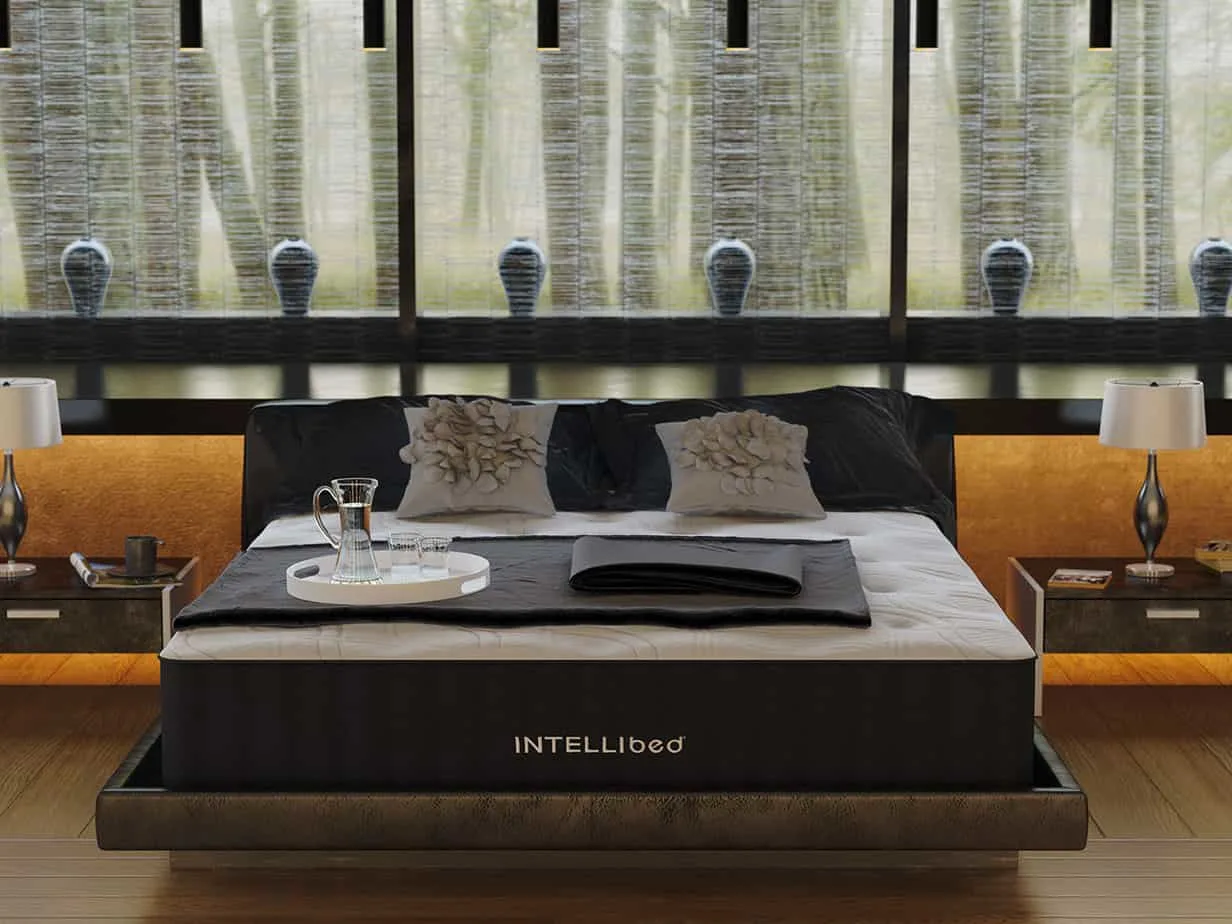 Each Intellibed mattress has at least one Gel Matrix layer while some models can have several layers that are made from this material.
Also, the width of these layers varies from model to model, which is the reason why the Azure mattress features a single 2-½ inch Gel Matrix layer while the brand's most expensive mattress the Intellibed Midnight has 1-1/4 and 2-½ Gel Matrix layers.
The level of support and pressure relief capabilities of an Intellibed mattress depends on the coil system they use since a base model like the Azure features continuous coil construction.
On the other hand, a high-end model like the Matrix Supreme has an adaptive pocket coil system that is designed to provide localized support. This mattress also has titanium infused Energex™ layer that further enhances its pressure-relieving capacities.
Although the cooling properties of Intellibed mattresses also vary from one model to another, each of the brand's mattresses is capable of dispersing body heat efficiently.
You should go through our guide to the best mattresses for hot sleepers if you want to learn more about other brands that manufacture mattresses with excellent cooling features.
Understanding the features of the Intellibed mattresses
Making sense of each feature an Intellibed mattress offers can be a time-consuming task since phrases like five-zone quantum® edge elite coils support system or reticulated airflow layer can be confusing as they reveal almost nothing about the mattress's performance capabilities.
However, they do indicate that Intellibed mattresses are made from high-quality materials that prevent overheating and take the pressure off the hips and shoulders in all sleeping positions.
Also, very little information about the Gel Matrix is available, other than that is both firm and soft and that its structure resembles a 3D checkerboard pattern which allows the air to flow freely through the material.
You can expect a high degree of comfort and support from any Intellibed mattress, as the Gel Matrix and their multi-layered construction ensure that their surface is firm enough to allow the body to stay in a natural position and soft enough to make it feel cushioned and comfortable.
Moreover, a brief look at the list of materials used to produce any of the Intellibed mattresses will reveal that they don't attract dust, mites, or mold, which makes them a great choice for people who suffer from allergies.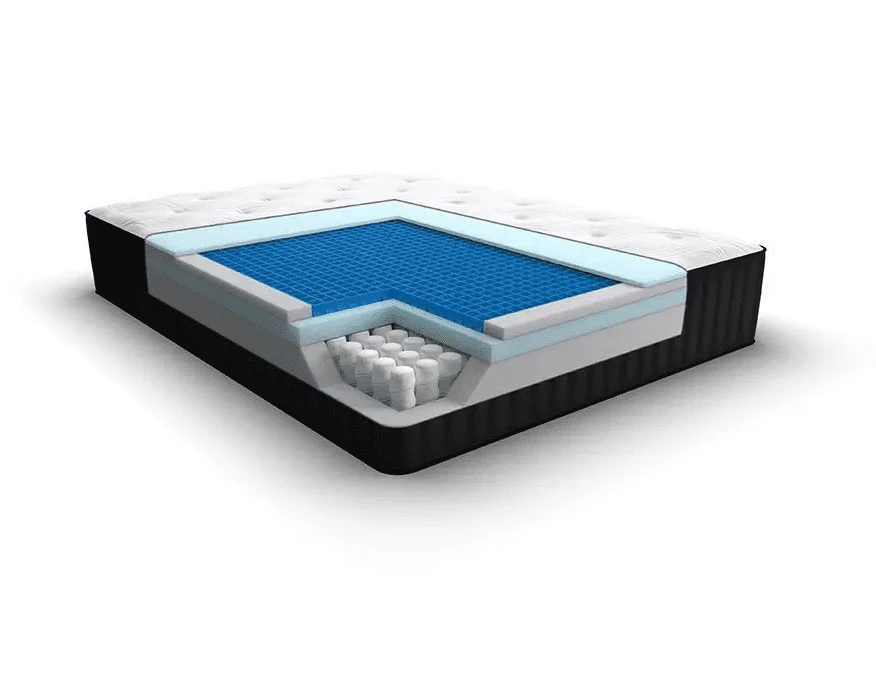 Hybrid mattresses are not really known for their motion isolation capabilities, but some of the models produced by Intellibed utilize advanced motion control pocket coil systems that enable them to prevent motion from spreading throughout the mattress's surface.
Edge support is yet another area where Intellibed mattresses excel since each model provides even support across the entire surface and their edges don't collapse under pressure.
The company claims that their mattresses are neither too soft nor too hard which places them into the medium firm category. However, you won't be able to opt for a soft or extra hard Intellibed mattress, since each model has just one firmness level.
The height of an Intellibed can vary between 12 and 16 inches and it may be difficult to find the sheets that fit them perfectly. Our guide to finding the best sheets may help you discover sheets that are large enough to fit on an Intellibed.
You should also check out our guide to the best firm pillows if you are searching for a bedding accessory that will complement your Intellibed mattress.
Who are these mattresses for?
The high price of all the Intellibed models makes them unavailable to shoppers who are searching for an affordable mattress that is both firm and flexible. The Intellibed Azure is the least expensive option, but you'll still have to spend more than $4.000 for the king-sized version of this mattress.
All other models from the Legacy, Signature, and Legacy collections cost more, and the split-king version of the Midnight model that costs $13.998 is the brand's most expensive mattress.
However, if you are suffering from chronic back and joint pains getting an Intellibed mattress can prove to be an excellent long-term investment. Intellibed's models are among the best mattresses for a heavy person, as they can accommodate the needs of people who weigh more than 250lbs.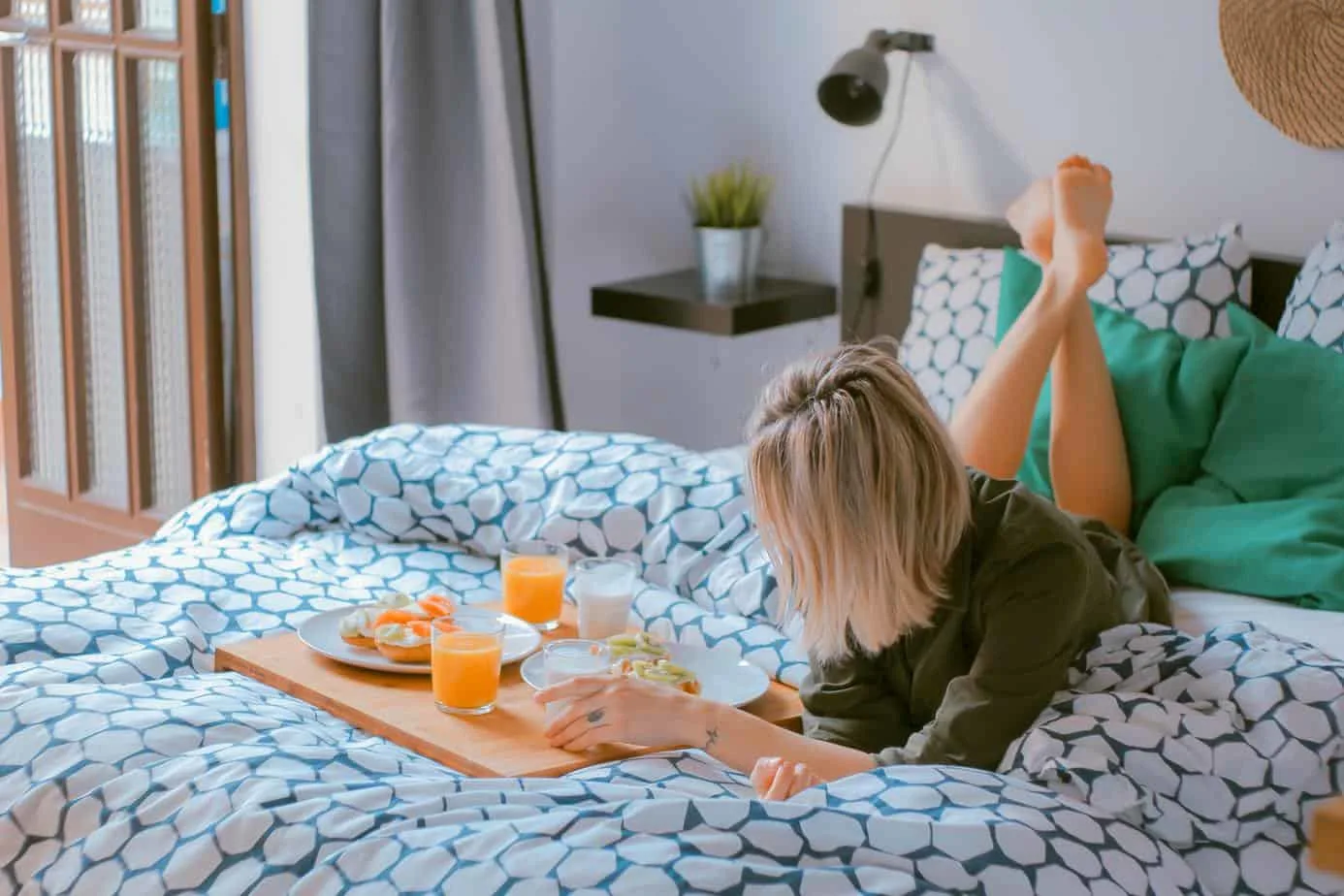 Also, these mattresses are not designed specifically for one sleeping position, which is the reason why they can be beneficial for back, stomach, and combination sleepers, as they feature localized support zones that eliminate the pressure the neck, shoulders and hips are taking while you sleep.
Hot sleepers can also benefit from sleeping on an Intellibed mattress as the Gel Matrix and numerous other features disperse the heat efficiently and help the sleeper to stay cool during the night.
These mattresses can be too firm for some side sleepers, so if you prefer to sleep on the side you must check the firmness level of the model you'd like to get. Go through our Purple Mattress vs Intelibed comparison to learn more about the differences between mattresses produced by these brands.
The Pros
The brand offers 10 different mattress models
Features layers made from the Gel Matrix
Advanced pocket coils system with targeted support zones
Both firm and highly adjustable
Excellent motion isolation properties
Great cooling properties
Available in all standard mattress sizes
Intellibed mattresses have antimicrobial and hypoallergenic properties
The Cons
Not an ideal option for side sleepers
High price tag
Just one firmness level available per model
90-day sleep trial
The best alternatives to Intellibed mattresses
Besides the high cost, the firmness level of Intellibed mattresses can be the reason to consider its alternatives, which we are going to cover here in this Intellibed Review. Luckily there is a broad spectrum of hybrid mattresses that can help you deal with chronic back issues by providing you with the support you need to sleep comfortably.
We've selected several of the best alternatives to the Intellibed mattresses that enable most sleeper types to fully rest, so let's take a closer look at what they have to offer.
The DreamCloud Luxury Hybrid Mattress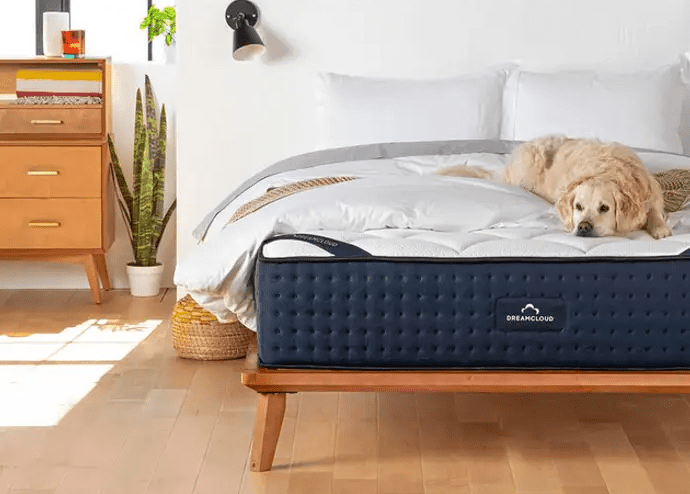 The layered construction of the DreamCloud Luxury Hybrid Mattress ensures that your body receives the support it needs to remain comfortable regardless of the position you're sleeping in.
The top layer of this mattress features a quilted foam and cashmere layer that pairs a high degree of comfort with excellent cooling capabilities. The pressure relief layer made from a gel memory foam contours your body and adjusts to it as you turn in your sleep.
The targeted-support coil layer takes the pressure off the high-stress points and eliminates the pains that are associated with common sleeping positions. Read our DreamCloud Mattress review to learn more about this hybrid mattress.
Casper Wave Hybrid Mattress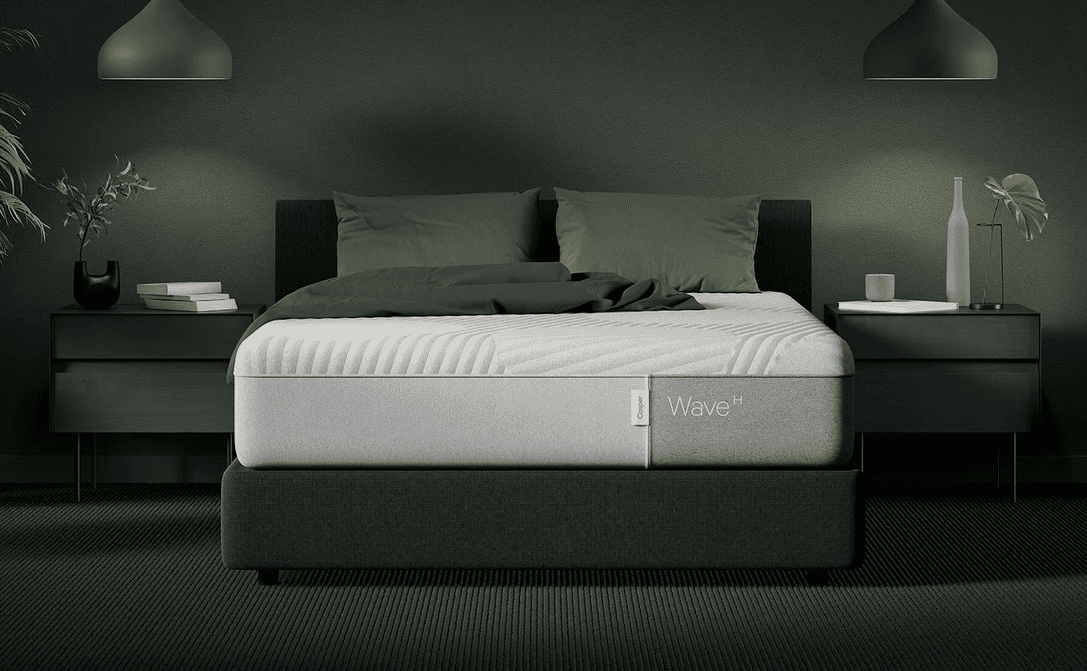 Produced by one of the industry-leading brands, the Casper Wave Hybrid Mattress features a combination of memory foam and natural latex materials. This mattress has an excellent cooling capacity as its top layer is made from the AirScape perforated foam and coated with a cooling gel.
It also features 86 gel pods that are distributed across the waist and lower back area in order to help sleepers get rid of the pains in the lumbar region. The ZonedSupport™ Max layer provides additional support to hips while allowing the shoulders to sink slightly into the mattress.
Check out this Brooklyn Bedding vs Casper comparison to find out which brand makes better mattresses.
Idle Hybrid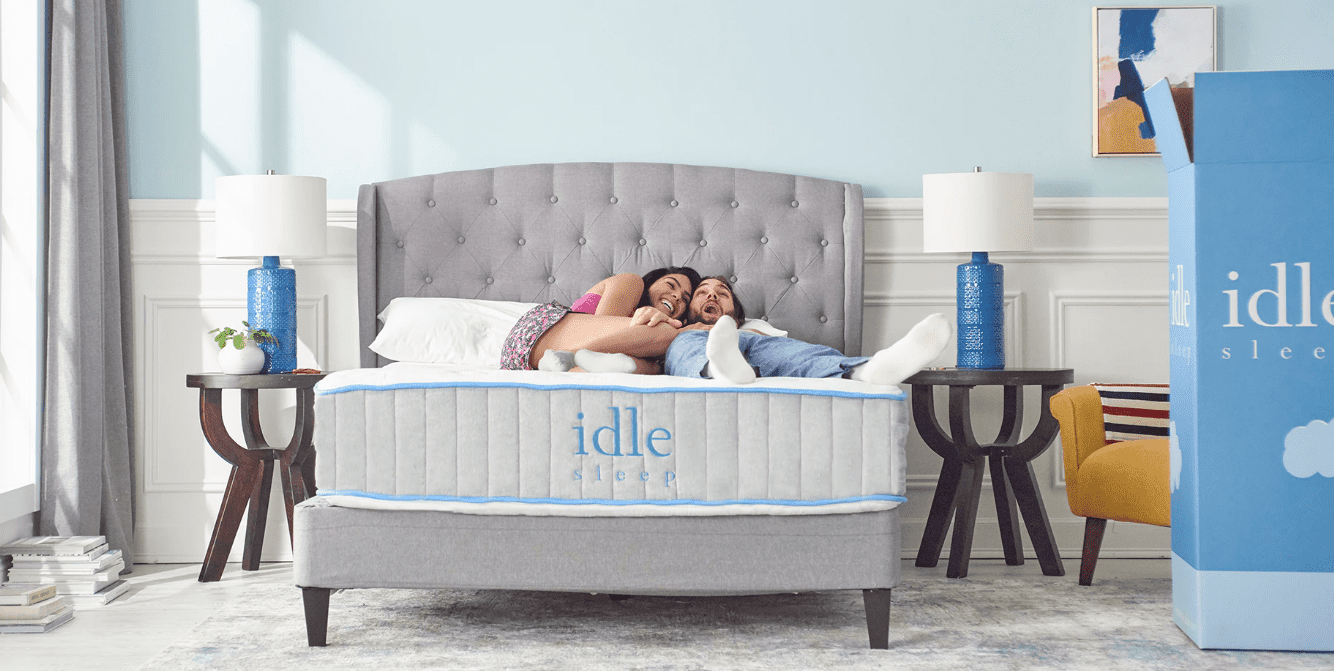 The two-sided construction of the Idle Hybrid mattress enables you to select the firmness level you prefer. However, you should keep in mind that this is still a firm mattress that lets you choose between medium-firm and firm options.
The mattress's cooling features are enhanced by the Idle Cooling Buoyancy Foam that is both highly breathable and responsive. The Idle Hybrid mattress has 6-inch quantum wrapped coils that deliver equal support from one side to another and prevent the edges from collapsing under pressure.
This Idle's model costs much less than the least expensive Intellibed mattress, and it can help you deal with back pains.
Parachute Mattress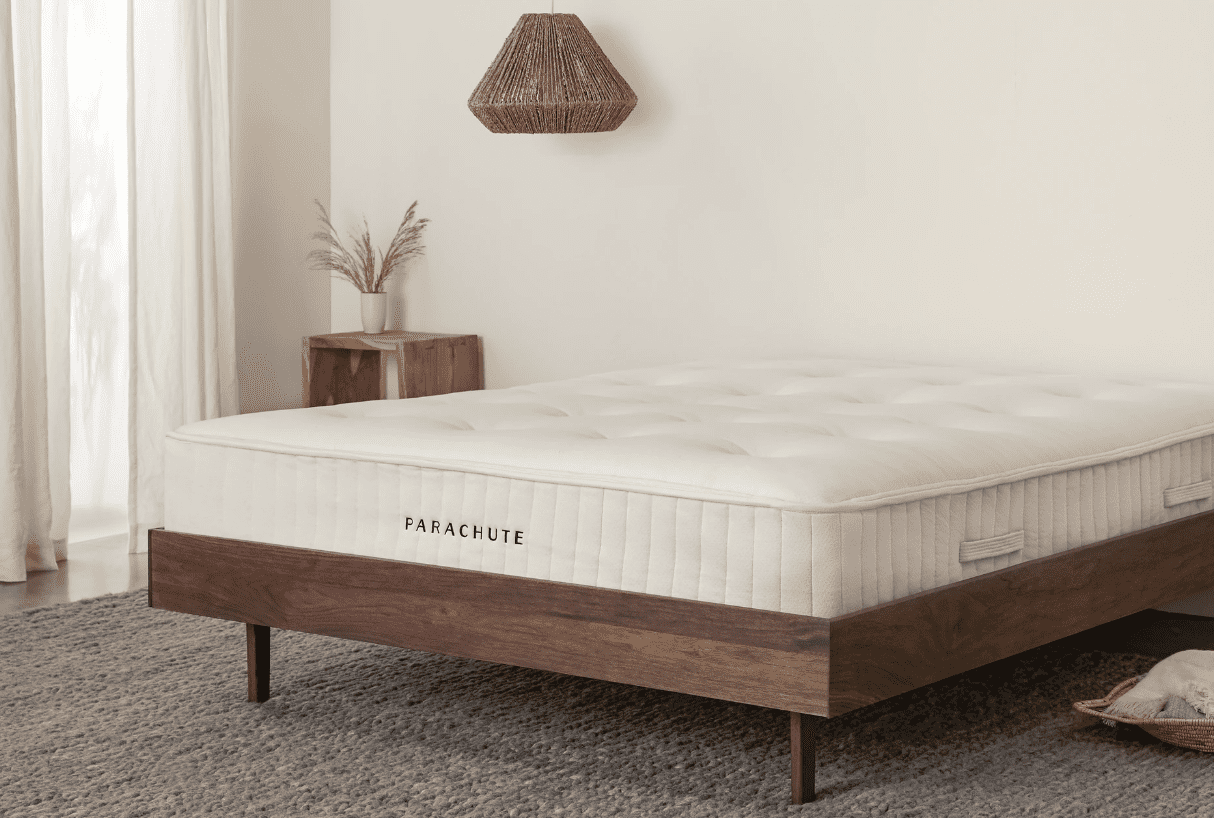 Unlike most mattresses on the market, the Parachute Mattress doesn't contain memory foam or latex. Instead, this hybrid mattress is constructed from organic wool and tempered steel coils.
Two comfort zones based on shoulder and feet regions are made from soft coils, while the support zone is located in the middle section of the mattress so that it can take the pressure of the lower back.
Additionally, the mattress has a layer that is composed of three tiers of microcoils that react to movements and contour the body. Each wool layer is designed to improve the mattress's level of comfort and increase its breathability.
Read our Boll and Branch vs Parachute comparison if to find if the sheets produced by these brands can fit the mattress you want to get.
Intellibed Review FAQs
Question: Are Intellibed mattresses covered by a warranty?
Answer: Yes, all Intellibed mattresses are covered by a 20-year No-Nonsense warranty that ensures you can replace your mattress and get a new one for free if it sags during the entire warranty period.
Question: Are Intellibed mattresses difficult to maintain?
Answer: Soaking the mattress with water isn't recommended, and you should use a regular clothes steamer to clean a stain on this mattress.
Question: Do Intellibed mattresses have a long break-in period?
Answer: Most mattresses have a 30 to 90-day break-in period, and Intellibed mattresses are not different. Also, the company requires you to keep their mattress for a month before deciding to return it.
Question: Is off-gassing common for Intellibed mattresses?
Answer: These mattresses are made from non-toxic materials, and they have a minimum amount of off-gassing.
The Intellibed Review Final Verdict: Which IntelliBED's mattress to choose?
Only a handful of brands produce mattresses that can be compared to Intellibed's mattresses in terms of comfort and pressure relief capacity, which we pretty much covered in this Intellibed Review.
The Intellibed's Gel Matrix largely contributes to the quality of the company's mattresses but it is not the only reason why they outperform most of their competitors, as advanced pocket coil systems or the titanium-infused Energex are also responsible for the high-end performances of Intellibed models.
Even the Intellibed Azure, the brand's least expensive mattress, comes with an impressive set of features that gradually improve your sleep quality.
Models from the Signature collection like the Matrix Deluxe or Matrix Grand are an excellent choice for all types of sleepers, although their price may be the reason to look for alternatives such as the DreamCloud Luxury Hybrid Mattress or Casper Wave Hybrid Mattress.
We hope that this Intellibed review provided you with the information you needed to decide if any of the brand's models are a good choice for you. Which Intellibed mattress are you going to choose? Let us know in the comments or continue reading about the best mattresses for hip pain.