Latest posts by Rosie Greaves
(see all)
With nearly one-third of our lives spent asleep, it's no wonder many of us crave the best possible sleeping experience. And, as we all know, the perfect sleeping environment comprises several factors: bedding, our mattress, the temperature of the room, etc.
But not as many of us think about our bed's base. This has a massive bearing on our beds' comfort in terms of firmness and stability. This is where Sleep Number comes into its own. They've been innovating all things bed design for years – including bases.
One of their popular products is the Sleep Number Integrated Base.
This works alongside your existing bed furniture to provide a firm, level surface for your mattress. However, although their name precedes them, Sleep Number products aren't for everyone, and they tend to lean on the pricier end of the scale.
In light of that, we're taking a look at a few Sleep Number bed base alternatives. There are lots to cover, so let's dive in!
Why Do You Need a Base for Your Bed?
A firm, solid bed base benefits any mattress. An uneven surface can cause your body weight to sink into specific spots on your mattress, which can lessen your mattress's lifespan.
That said, opting for an adjustable bed base that mirrors some of Sleep Number's functionality can unlock the full potential of your mattress. A suitable base goes a long way to ensure the pressure relief you need – especially as you shift from one position to another in your sleep.
Despite that, when people want more flexibility from their bed, they often look to an adjustable mattress, thinking this provides them the most options. But in fact, it's usually an adjustable base they're after. This allows the sleeper to elevate their feet or head to help find the most comfortable sleeping positions. The same goes for settling down to read or watch TV.
To provide the fairest comparison to the Sleep Number Base, we'll only evaluate other adjustable bases.
Legget & Platt Prodigy 2.0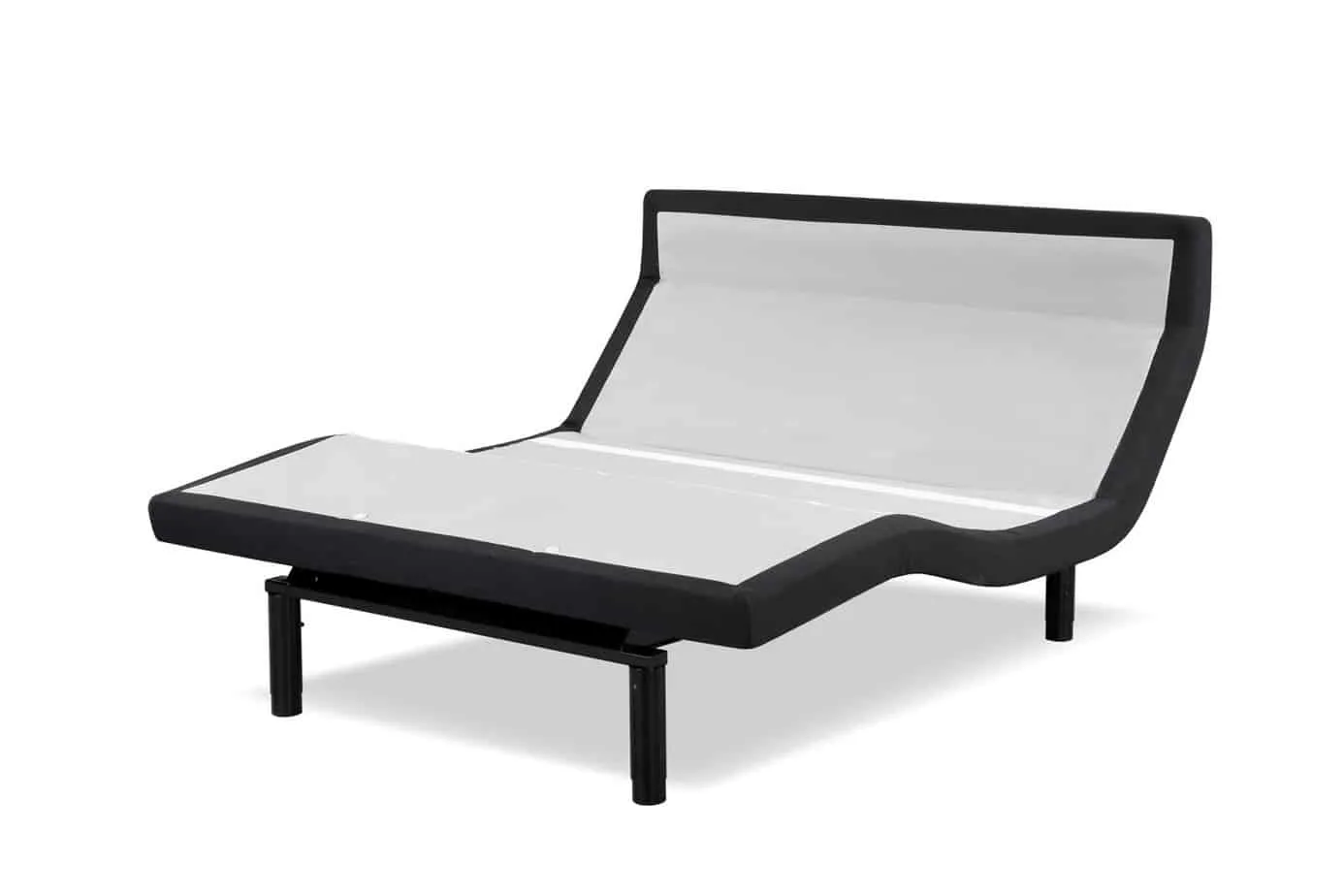 This adjustable base is one of Legget & Platt's most popular models. This Sleep Number Base alternative boasts an impressive 4.5 out of 5-star rating on Amazon.
This model comes with luxury features like under-bed lighting, a capacitive-touch remote, and an app for Apple and Android devices so you can control the base from your phone.
The base comes with built-in full-body dual massage and wave technology. You can adjust the intensity through the app for greater relaxation. You can even enable a sleep timer and gentle-wake alarm to help you stick to your preferred routine.
While customers love this bed base, some point out that some of these bells and whistles don't perform too well and are unnecessary in places. The massage feature, for example, is quite loud and isn't comfortable in all settings. The remote also doesn't come with its own lighting, so it can be hard to navigate the controls in the dark.
It also has fewer size options than some of its competitors and a shorter warranty of just ten years.
The Prodigy 2.0 is stocked by various sellers and retails at around $1,890.
The Purple Power Base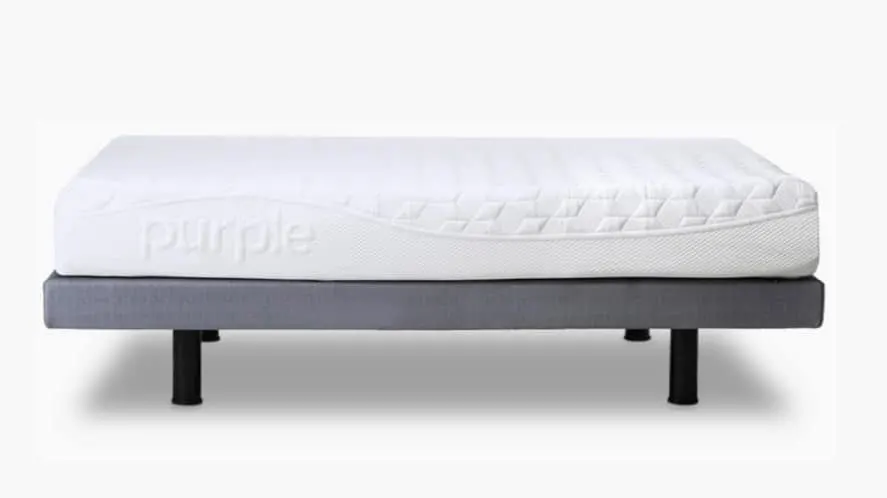 The Purple Mattress, with its iconic Purple Foam technology, is well-renowned amidst the sleep industry. However, Purple isn't limited to just mattresses. They also offer an adjustable Power Base in four sizes, including Twin XL, Queen, King, and Split King.
You can adjust the base to meet all your favored sleeping positions and has features like resonant-frequency massaging. This is some of the most innovative technology on the market, as you can program the massages to dive into different modes based on intensity.
Getting it back to a flat position is made easier with Purple's one-touch flat setting. The base also comes with under-bed lighting, simple set-up, and USB charging ports. The Power Base's height is also adjustable.
This Sleep Number base alternative comes in at around $1399 for the Twin XL.
GhostBed Adjustable Base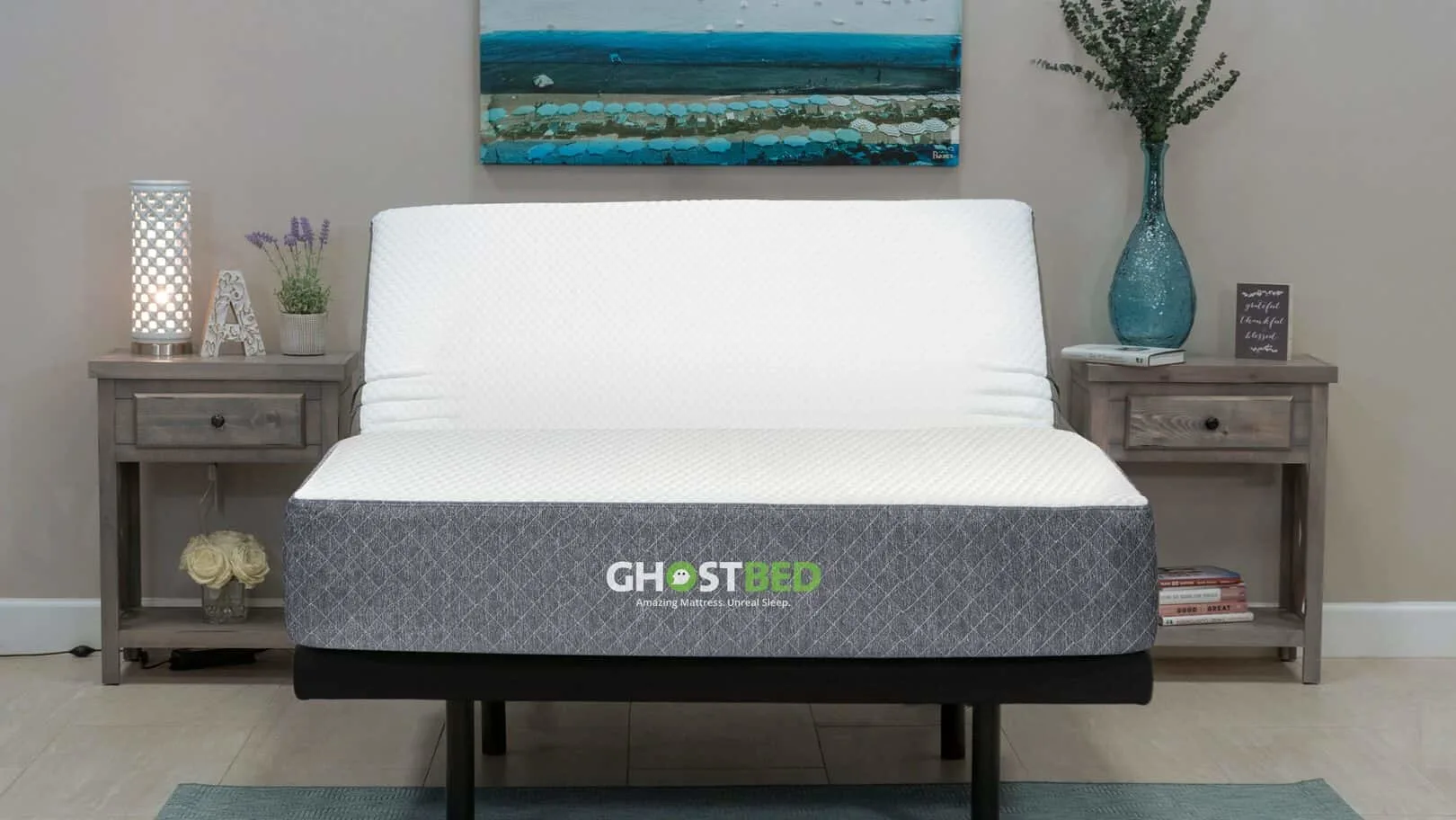 This adjustable base is well-suited to those living with lower-back pain, sleep apnea, and couples with different comfort preferences. The base comes with various upper and lower body positions for sleeping, watching TV, and lounging around. It also boasts a zero-gravity setting that is terrific for high blood pressure and/or lower back pain.
The anti-snore preset is another noteworthy feature. Like many of these Sleep Number base alternatives, the GhostBed base comes with under-bed lighting and dual USB ports. It has an impressive 15 massage modes to ensure luxurious relaxation. The base keeps the mattress in place with a sturdy retainer bar and its non-skid surface.
Available in three sizes: Twin XL, Queen, and Split King. For the Queen size, the GhostBed adjustable base is priced at around $1,299.
Nectar Adjustable Bed Frame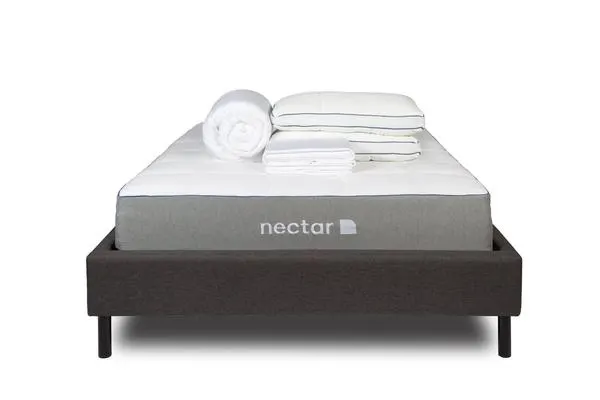 Adjustable beds are luxury items and carry an accordingly high price tag. For those looking for a slightly cheaper option that doesn't compromise on features and structure, the Nectar Base might be a great solution.
The bed comes with 15-minute zoned massage sessions and head, foot, and zero-gravity positions. Couples also have the option to order the split-style to adjust the base to meet their individual needs. The base also comes with programmable memory settings, which allow you to change the bed to your preferred position with just a click.
Compared to other adjustable bases, the price point of this one is lower at $999. You can also test it out for fifty nights without risk. That said, the warranty is only three years, which might turn some buyers off. After all, the best part of a grand is still lots of money for just a three-year guarantee.
Tuft & Needle Adjustable Frame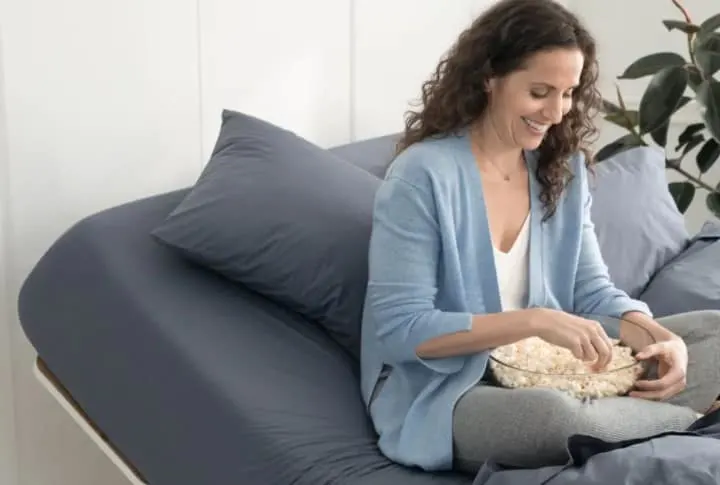 Instead of placing an adjustable base on existing sleep furniture, the Tuft and Needle Adjustable Frame might be a winner for anyone looking for a sleek, minimalist frame design. This flexible frame is designed with steel and wood components that are thin and modern in appearance. The frame comes with hassle-free assembly, customizable height, zero-gravity, and anti-snore functionality.
However, if you're looking for a more luxurious experience, this model will leave you wanting. It doesn't come with lighting or massage features.
The Tuft and Needle Base is available in Queen, King, California King, and Split King sizes. Like Nectar, The Tuft and Needle Frame is one for value seekers at $995. It also comes with a 100-night sleep trial and a 10-year warranty. However, the electrical components are covered by a significantly shorter three-year warranty.
Dynasty DM9000s Series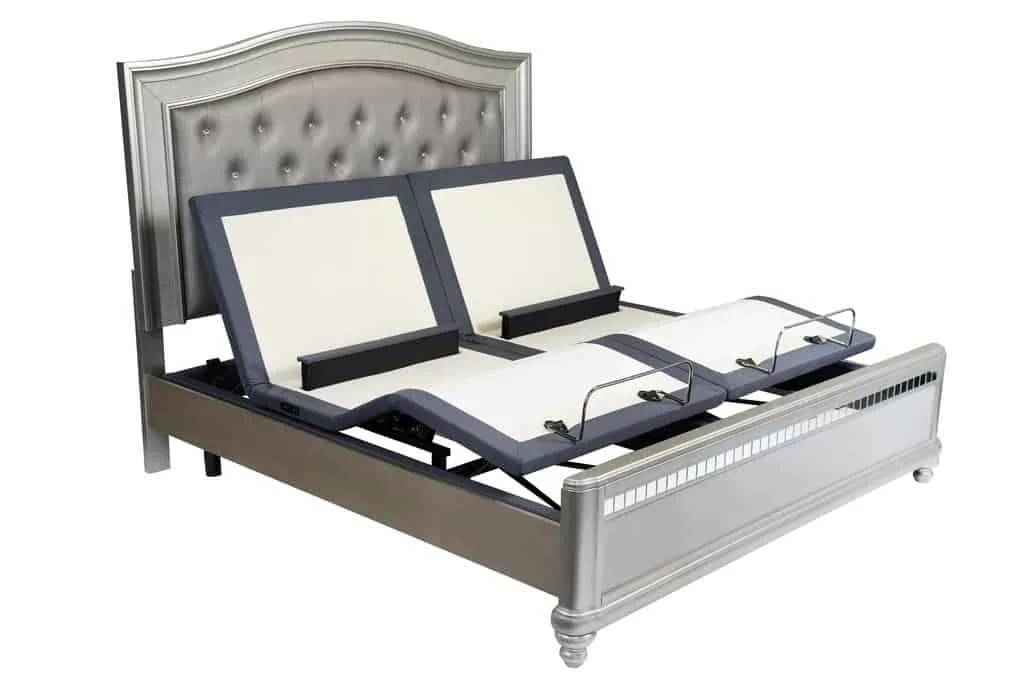 If your budget can stretch a little further and you want a fully adjustable bed base, look at the Dynasty Series.
Highlights include independent head, chest, foot positioning, and lumbar support to alleviate lower back pain. The base also comes with innovative wall-hugging technology to ensure your bed stays within easy reach of your nightstand.
This series is recommended to anyone with back pain, couples with different sleeping requirements, and those living with mobility issues. The adjustable legs can be lowered to rest just six inches from the ground. Another nifty feature is its in-built Bluetooth-compatible speakers. These are positioned on both sides of the bed. Needless to say, this comes in handy for those who like listening to music at bedtime.
You can choose from seven sizes – including Split King and California King. The bed base also comes with a 25-year warranty for the frame and a ten-year guarantee for all components, including electric parts. Currently, the Dynasty DM9000s Series sits at around $1,600 for a Queen.
Tempur-Pedic Ergo Extend Smart Base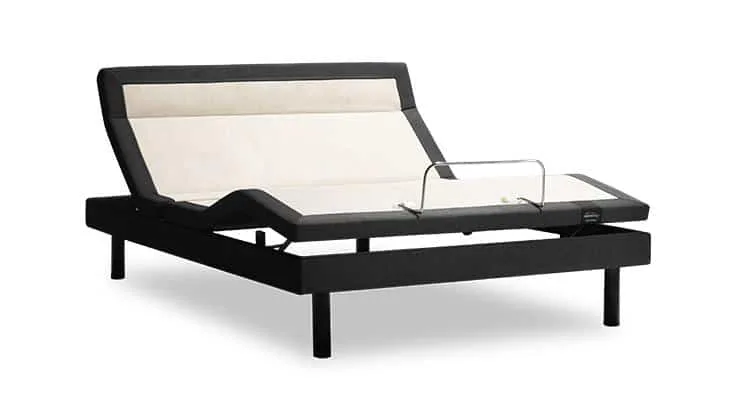 At the very high end of the market, you'll find the Tempur-Pedic Extend Smart Base. This is great for people wanting to track their sleeping patterns and require assistance setting up their frames.
The base is one of the most advanced sold today, with a wide range of positions and sleeping options. It comes loaded with smart features to improve your sleep experience—for example, automatic snore response. Here, built-in sensors adjust the bed to a more inclined position when they detect snoring. There's also a massage function that can be programmed at three intensity levels between two and four zones.
The Smart Base's sensors track nighttime movements, including when you wake, fall asleep, and other metrics. You can access your sleep score each morning from the Sleeptracker-AI app. From here, you can also retrieve recommendations on how to improve your sleep.
It offers sleep coaching and a smart alarm to wake you at the right time for your sleep cycle. You can also synchronize this base with tools like Alexa so that it responds to basic voice commands!
Worth noting is that TEMPUR provides free white-glove services with this base, so anyone who can't or doesn't want to set up the bed themselves will have this taken care of.
At $2,199, the base comes with a 25-year warranty.
FAQs
Question: What mattresses can I use with an adjustable base?
Answer: Most modern, adjustable mattress bases are designed to work alongside the majority of mattress models. This includes foam, latex, and hybrid models. It's worth noting, however, that there are exceptions. Innersprings, for example, aren't recommended for adjustable bed use, as they don't provide the same range of motion.
Question: Do adjustable bases ruin mattresses?
Answer: The base itself won't do anything to hurt the mattress (as long as you're using a mattress type compatible with the base). However, moving your mattress into different positions means you'll also be putting pressure on various points with more weight. This can lead to the lifespan of your mattress deteriorating.
Question: Do adjustable Bases cause back pain?
Answer: Adjustable bases themselves don't take away from the comfort and quality of your mattress. But they encourage you to sit in bed in various positions, with your head propped up for watching TV or reading.
While this is comfortable, you should remember that a comfortable lounging-pose isn't always good for your back. When it comes to sleeping, aim to keep your spine straight. Sleeping in an adjusted position may bend your body against its naturally preferred position.
Question: Do I need special sheets with an adjustable bed?
Answer: As the mattress may be moving alongside the base, you'll benefit from using larger sheets with extra deep pockets or oversized flat sheets that you can clip underneath the base. You could also use suspenders to secure the sheet under the bed.
Question: Are there health benefits to sleeping on an adjustable bed?
Answer: The base itself may not offer health benefits, but sleeping at an incline can. Elevated sleeping has been linked to reduced acid reflux, improved heart health, and better circulation. The latter can also help relieve restless leg syndrome.
Question: What should I consider when buying an adjustable bed frame or base?
Answer: An adjustable bed is a considerable investment, so do your research to find a base that will work for your needs. Make a list of all the features you need, set your budget, and see what you can afford.

Here are a few things to consider:

Talk to your partner about whether you need different sleeping set-ups. This is often the case with couples where there's a significant weight difference.
• Weight limits
• What mattresses are compatible with the base.
• A new mattress, if needed, is another cost to keep in mind.
• Warranty
• Ease of assembly
Most adjustable beds will cost you more than $1,000, so it may be worth paying a few extra hundred more to get a good warranty and the additional features.
Top Tip: When choosing expensive bed furniture, we always recommend finding an option with a sleep trial. That way, you can spend your hard-earned cash with your eyes wide open.
Our Final Thoughts
We hope you liked our review on the best Sleep Number base alternatives. An adjustable bed base is an exciting option for anyone looking to introduce new functionality and luxury into their sleeping experience. However, this significant investment is one worthy of careful consideration – so take your time and shop around!
Let us know in the comments below what you think. Have you had an adjustable bed base before? What are your favorite features, and which brand would you go with in the future? Whatever your thoughts, we want to hear them!