Smart beds are a piece of bedroom furniture that has married technology and a good snooze to create a brand new sleep experience.
Mattress design has started to lean toward the customizable in the last few years with bed quizzes popping up on several company websites; it's clear that we are beginning to take our sleep more seriously and leaning towards a more personalized sleeping experience. These smart beds take this concept up a notch.
Why Consider a Smart Bed?
Sleep is one of the most essential parts of our day, and one thing that makes a crucial difference in our sleep quality is what we are drifting off to sleep on. A bad mattress can cause you to wake in the night and leave you feeling sore and aching in the morning, almost as if you didn't rest at all. A good bed is an investment you'll never regret since its effects will permeate your whole life.
So if you want to take your sleeping to a whole new level, look no further than a smart bed! These beds don't just have mattresses specially designed to fit a host of sleeping needs; oh no, no! The adjustable bases that let you customize your sleep directly from your phone make these beds truly smart.
The power of a good night's sleep is literally in your hands. The specially designed apps will let you change your bed up physically and provide you with your sleep data so you can improve your sleep.
Smart beds are great for people with physical ailments, from a sports injury to more ongoing problems like connective tissue diseases, arthritis, or chronic pain. The mattress cushions the joints gently, and the bed can be manipulated to support any areas that need an extra helping hand.
A smart bed could let you rest easy and pain-free once you've got your settings just right, which should be easy using their handy apps. Using the app means that you won't need any help to adjust the bed as you move it to the perfect healing spot.
When it comes to smart beds, two brands stand head and shoulders above the rest, and that's Intellibed vs Sleep Number. We will be comparing these two directly today to see which one would suit your slumber the best.
Bottom Line Up Front
Alright, so when you look at these two brands side by side, my winner would be Sleep Number. These beds offer so many base and adjustable features and at half the price of the Intellibed equivalent.
Main Differences Between Intellibed vs Sleep Number
The main differences between Intellibed vs Sleep Number are:
| | | |
| --- | --- | --- |
| Feature | Intellibed | Sleep Number |
| Adjustable | Whole bed | Each side separately |
| Mattress | Firm and Soft 6 Layer design | 2 Layer design |
| Sleep Quiz | No quiz | Quiz |
| Warranty | 20 years | 15 years |
| App | Controls base | Controls mattress and base |
So Which One is Better?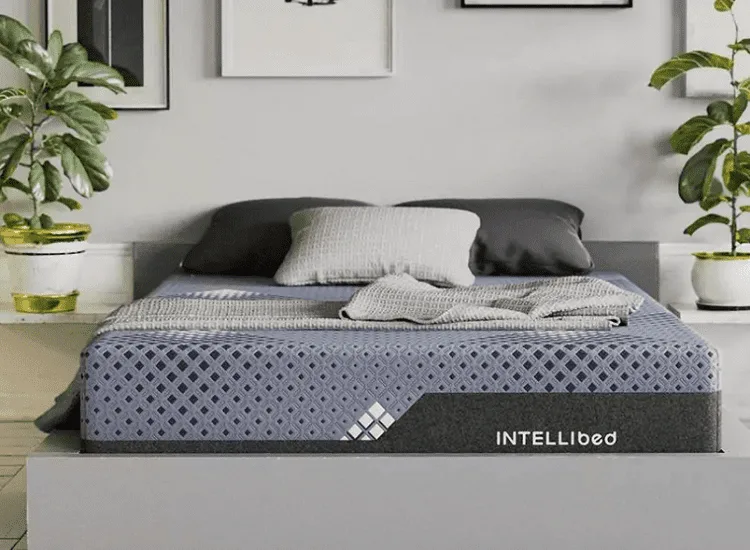 Looking at the barebones features of each and not considering the price, the better bed is the Intellibed. The mattress design is exceptionally, as the name suggests, intelligently designed, and it promises to be one of the most comfortable nights of your life!
The added technology built into the base is also very innovative and luxurious. You'll feel like you're relaxing in a spa rather than just lying in your own bed, propped in perfect comfort and ease.
Now that we've got a bit of an overview of what each bed has to offer, I'm going to be showing you the key features of each brand's flagship classic beds so you can directly compare the two with a little bit more detail.
Key Features of an Intellibed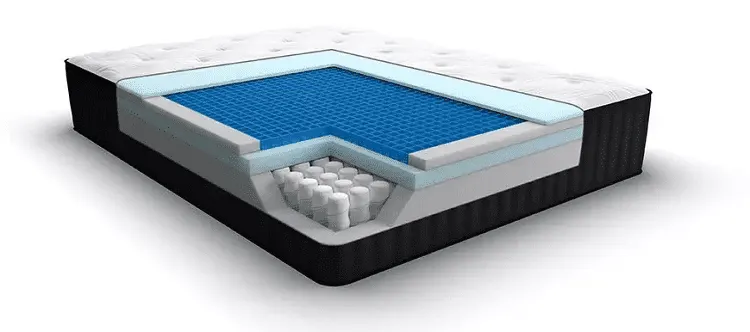 The bed from Intellibed that I want to highlight today is their Matrix design which is their entry-level bed. I'm going to pair this mattress with their Sleep Genius smart base, which is their entry-level adjustable base. This combo is super cool and techy, so let's take a look at some of their features:
Firm and Soft (TM) is their trademarked technology behind their mattresses that is firm enough to keep your spine aligned but soft enough to alleviate any pressure on your pressure points.
They boast a six-layer mattress design sandwiched like this: breathable outer cover, memory foam, foam comfort layer, gel matrix (TM), foam comfort layer, pocket coil system. All these layers create a bed that is crazy comfortable and will last you a long time without sagging.
The pocket coil system looks like a regiment of foam cylinders standing close to one another, and this helps to provide localized support in an innovative way that will get rid of any sleep-induced aches and pains.
All materials are non-toxic and hypoallergenic.
The Sleep Genius Smart Base pairs with an app on your phone so you can control everything with the push of a button. The base has a speaker system, under-bed lights, and even a massager built right in. You can also adjust the mattress to lift the head for anti-snore purposes or lift the base to cushion your knees.
Pros
Longer lifespan
Controlled with an app
Six layer mattress design
Firm and Soft technology
Hypoallergenic
Cons
Very expensive
Adjusts the whole bed in one go
Overall the Intellibed is genuinely an incredible design. The mattress design alone is so thought out there's no doubt you'll sleep incredibly well on this bed, and that's before I even mention the adjustable features!
This option is certainly the luxurious choice and comes at a pretty considerable price tag, so it's something to seriously consider before diving right in. However, if you do, I doubt that you'll be disappointed with the results.
Key Features of a Sleep Number Bed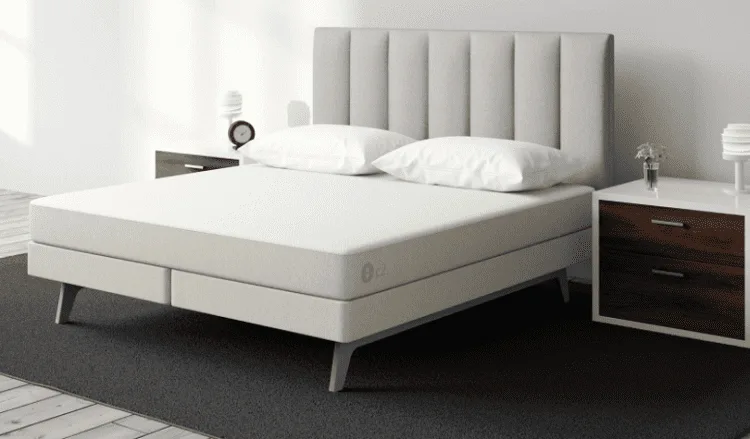 For today's comparison, we will be looking at Smart Number's 360 Smart Bed with their Flexifit base. Here's a little run down on what this bed has to offer:
The app controls the whole bed! With this brand, the app can adjust the base as one or adjust the head of each sleeper individually so each person can sleep the way they like in the same bed. This is perfect for couples where one snores, and the other doesn't. Simply raise their side of the pillow, and your problem is solved.
Their sleep quiz will match you with the perfect smart mattress for your needs.
The mattress is a nice and thick 8″ with a 2″ comfort layer on top.
The app allows you to adjust comfort and firmness on each side individually so each party can sleep comfortably.
Responsive Air (TM) technology means that the mattress adjusts with your movements as you sleep to keep you sleeping soundly all night long.
Using their Sleep IQ (TM) technology, you can track your sleep quality and advise you on how to improve your sleep score.
Even though the Sleep Number mattress doesn't boast such a complex design as Intellibed does, this brand still has a lot to offer. When it comes to customization, this option has so much technology that not only lets you change your bed to suit your needs, but it also adapts to fit your body as you sleep. I'm pretty sure a night spent on this bed would be one of the best night's sleep you've ever experienced.
Pros
Adjusts each side individually
Controlled with an app
More affordable
Cons
Another Alternative to Consider
Saatva Solaire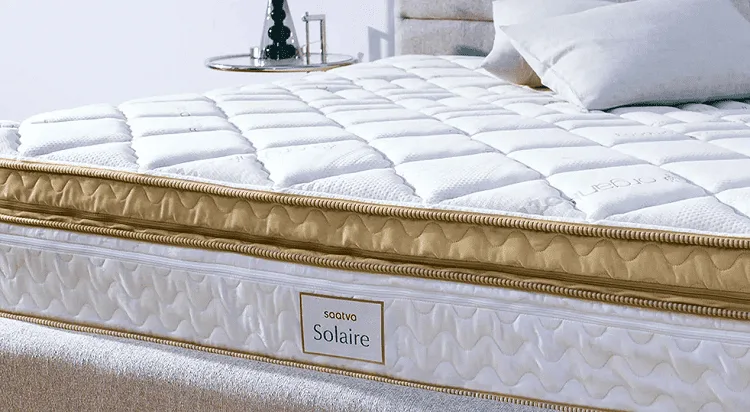 If you want a mattress and base that sits in between these price ranges, then this Satva Solaire is a good option for a mattress paired with the Lineal Adjustable Bed Base.
The main element that sets this apart is that this bed uses a remote to control the base rather than having an app that can also provide you with sleep data. So while it's not as techy as these two, it still gives you some control over how you sleep.
The mattress comes in a standard or upper flex version that lets you raise the head of the bed as one piece or separately for each sleeper. The base is pretty simple, but it is also offered in two options that mirror the mattress. This option also comes with a massage setting like the Intellibed, so if that feature stands out to you but the Intellibed is too pricey, then this is one to take a look at.
Best Bedding For Smart Beds
Sure, you can use your own everyday bedding for your smart bed, but if you're going to go as far as investing in one of these, you might as well pair it with the best bedding.
Luckily, both of these brands have their own bedding lines to go with their revolutionary beds.
Smart Number Bedding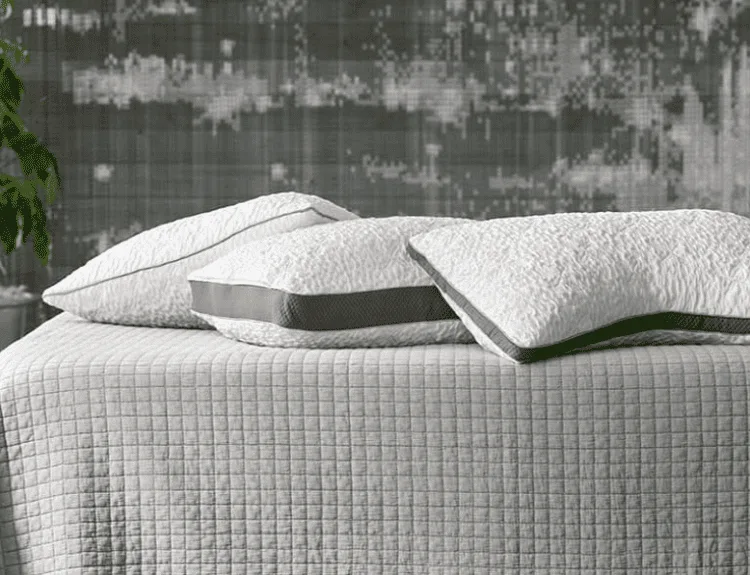 Smart Number has the word smart in the name for a reason. This brand has put so much work into making this brand customizable and intuitive, and it's working. Their bedding section has a Bedding Visualizer Tool that lets you create a virtual bed with the sheets, comforters, duvets, and pillowcases that they have on offer.
I had so much fun playing with this tool and creating my perfect aesthetic; I can only imagine it would be even more fun to get to design your real bed yourself. They have a good range of fabric quality and textures, so you'll definitely be able to find a set that looks and feels incredible.
Just like for their mattresses, Smart Number also has a specially designed pillow quiz to help you find the ideal pillow to go with your smart bed. A good pillow will prevent neck pain and rest your head at the perfect height for the correct spine alignment.
Their ComfortFit (TM) pillows are a thick mixture of memory foam and down alternative, which will feel like resting your head gently on a cloud. They are also very breathable, hypoallergenic, and molds to fit you to give you the best support possible.
I would recommend throwing a few of these in your cart along with the bed while you're at it, along with the bedding set that you designed.
Intellibed Bedding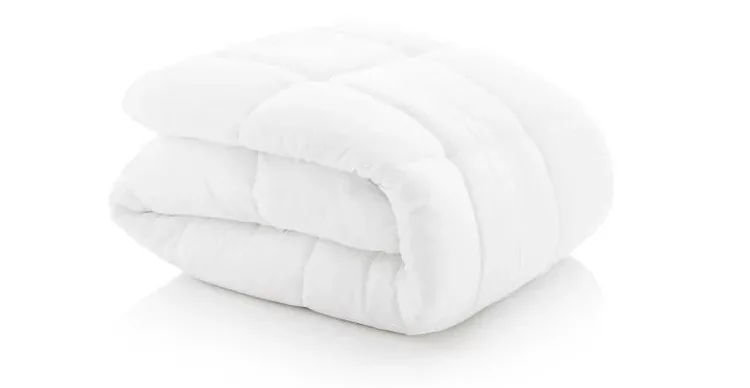 In this department, it's actually Intellibed that is a little less impressive. They don't have the extensive range that Sleep Number has or the personalization, but they do have a range of pillows, sheets, comforters, weighted blankets, and throws.
I would suggest trying out their Gelled Microfiber pillows from this range as they are the most reasonably priced while also being comfortable. The gel-coated microfiber won't clump and imitate down perfectly without worrying about allergies or quills poking you.
I would pair this with one of their Down Alternative Microfiber Comforters, which uses the same filling and feels like sleeping in cotton wool.
FAQs
Question: How Long Does an Intellibed or a Sleep Number Bed Last?
Answer: An ordinary mattress will last you between 8-10 years, but these smart beds come with a longer lifespan to go with their unique designs.
The Gel Matrix inside an Intellibed is very durable and is guaranteed to ensure that it won't break up or melt. The bed is under a 20-year warranty, so it should last you at least that long, which is a good deal. The Smart Bed is guaranteed for 15 years.
Question: Do smart beds make you sleep better?
Answer: The whole thought behind smart beds is that you can customize your sleeping experience to fit your sleep style. This should lead to an increase in your comfort level when you sleep, which should leave you feeling rested and not achy or sore in the morning. So short answer, yes, smart beds can make you sleep better.
Question: Why are Intellibed's so Expensive?
Answer: Smart beds are obviously going to be on the pricier end than your regular bed because of all the tech built into them.
The base is rigged with many features, including lighting and movement, while the mattress has the signature six-layer design. All of this comes together to make for a luxurious sleeping experience that doesn't come cheap.
Conclusion
Ok, so after looking at these two, which one do I think is best? To be honest, my gut is to always go with a good deal, and I think you get that from Sleep Number. It may not have some of the bells and whistles of Intellibed, but the technology is still there, allowing you to customize your sleeping experience.
When comparing equivalent mattress and adjustable bases combos, the Sleep Number pair comes in at half the price of the Intellibed version while still being a super comfortable smart bed. To me, that makes the decision pretty easy.
My recommendation is to spend your money wisely on a Sleep Number bed and sleep away your days in blissful, but not bank-breaking, comfort.
If you need any more help finding your perfect mattress that covers every possible scenario, I recommend this great article on How to Find the Best Mattress.