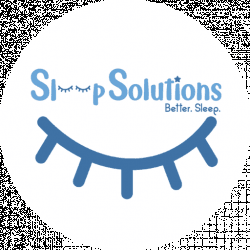 Latest posts by Sleep Solutions HQ Team
(see all)
Did you know that your pillowcase may be a factor in your struggle for clear skin? Not everyone has acne issues because of their pillowcases, but if you've been trying various acne-fighting regimens and acne products without complete success you might want to take notice.
A pillowcase probably won't cause acne to occur but it can exacerbate current trouble spots on the face. Micro-irritations can happen quite easily and bacteria on the pillowcase can easily cause inflammation. Naturally, if you're a side or stomach sleepers you're more likely to have this issue since your face is in contact with the pillow the whole night.
A Primer on Pillowcases and Acne
If you suspect your pillowcase may be to blame for the last of your stubborn spots, here are a few things to try:
Wash Pillowcases Every Few Days
It is highly recommended to wash sheets every 7 days, and most people wait to wash their pillowcases with their sheets. Unfortunately, this might not be often enough for those with sensitive skin. If you have trouble with acne-prone skin you should be washing/replacing your pillowcases at least every 2 to 3 days. This is especially important if you've been sleeping warm or sweating at night or if you have oily skin.
Wash Your Face Before Bed
Always wash your face before bed. Not only does this help the skin, but it also helps to keep your pillowcases cleaner between washes. Even if you've had a very long day always try to at least have a quick face wash before you go to bed. Over time, this will help lessen acne breakouts and control the build-up of cystic acid which will help prevent and treat cystic acne.
Invest in Acne-Fighting Pillowcases
Dermatologists recommend using pillowcases made of breathable materials, ideally organic, for the most positive effects on acne. However, there are some manufacturers that now produce pillowcases specifically designed for acne-sufferers.
Even just sticking to a standard silk pillowcase can help mitigate acne breakouts. Silk typically does not clog pores, which is why a silk pillowcase is a good option to consider, especially when faced with limited options (most hotels or linen closets have silk). Since clogged pores are the most likely culprit for acne breakouts, sticking to a silk pillow is a great option.
There is speculation about how well these pillowcases really work at stimulating clearer skin, and whether they're worth the extra cost. However, there are a few brands that have quite a lot of positive reviews from people that have found them to really help.
If you'd like to invest in a quality pillowcase made for acne treatment and prevention, here are three of the best.
The Best Pillowcase for Acne
These are the best best pillowcases for acne:
#1 NuFabrx Pillowcase
Up first is the NuFabrx pillowcase, one option that can not only help with your acne but also might get you to fall asleep faster.
Rather than relying on silver ionic technology like other pillowcases, NuFabrx decided to harness the power of essential oils. Before getting into that exciting stuff, let's look at the pillowcase materials. While many acne-fighting pillows go with cotton, NuFabrx went with bamboo, specifically 220 thread count bamboo (equivalent to 500 thread count cotton).
This bamboo material is just as soft as a high-end cotton pillowcase but is actually more breathable due to the lower thread count. Bamboo stands up to washing just as well as cotton and NuFabrx recommends washing once a week, though many customers wash twice a week.
Now, onto the essential oils used by NuFabrx. There are four essential oils infused into the pillowcase – lavender, lemon balm, tea tree, and wintergreen. These oils are encapsulated within the bamboo fibers and release onto the skin from a combination of natural body heat and the weight of your head on the pillow while sleeping. All four oils were selected for their antimicrobial nature, but many customers find that they sleep more soundly on this pillow. Lavender and lemon balm are well-known for their relaxing effect, often helping lull people into relaxation and sleep.
The NuFabrx pillowcase only needs to replace every 4 to 6 months, which isn't bad at all compared to most. The essential oil infusion will gradually lessen over time but will remain effective for about 15 washes before it begins to fade.
Reviews
"I mean who would think a pillowcase would make such a difference? I really thought it was silly to buy it, and I suffer from migraines with scents being a trigger. I had more reasons not to buy it THAN to buy it. But I was desperate, the same side of my face kept breaking out…it had to of been how I slept. So I bought it. Best decision ever. I love it! It has a mild scent that is delightful and doesn't trigger a migraine at all (in fact I find it soothing). My skin has never looked better. Truly amazing….from a pillowcase. It was totally worth every penny for me. Love." SweetMagnolia24, Amazon
#2 HyGenie Silver Ionic Pillowcase
Though it has a lower rating overall compared to other two brands featured, the HyGenie Silver Ionic pillowcase has been successful for some acne sufferers that didn't find relief with other pillowcases in this category.
The HyGenie is a cotton blend pillowcase embedded with ionic silver.
Ionic silver has a few advantages. Firstly it helps inhibit bacteria growth, which naturally is useful for those with acne as bacteria is the primary issue. The ionic silver also helps protect against odors and pollutants.
The odor advantage isn't too important since you should be changing your pillowcases often enough that odors shouldn't form, especially if you have acne. The pollutant protection is important, however, as contaminants can irritate the skin further. This is particularly true if you have active acne on the face already. Allergy sufferers can also find relief with this pillowcase for the same reasons.
The embedded ionic silver doesn't last forever so this pillowcase will need to be replaced. HyGenie has found that this pillowcase will withstand 30 washes before the ionic silver is affected, but only by a few percent.
Depending on how often you wash your pillowcase, you may need to replace after 4 months or so, give or take. Many customers purchase two pillowcases for this reason. Washing the HyGenie pillowcase is easy and it requires no special care. It maintains its softness perfectly as well.
If you tend to get sick often or also have allergies along with your acne, this pillowcase can be a very useful option. It may be best for those that only have minor acne or have gotten their acne under control but need prevention for future blemishes.
Reviews
"I've been using this pillow case for about a week now, and I have to say that I love it. When I wake up, my face feels just as clean as it was when I went to sleep – not oily feeling. I can see my face slowly clearing up, and no new blemishes have appeared. The only thing in my nightly schedule that has changed besides this pillowcase is that I've started taking fish oil supplements for my skin, and I think that they and the pillowcase are working very wonderfully together. If nothing else, a fresh new pillowcase will always be good for your skin. My only (admittedly minor) gripe is that I would love to see this available in different colors. I would definitely recommend this to anyone fighting off acne!" Heather, Amazon
#3 SleepClean Pillowcase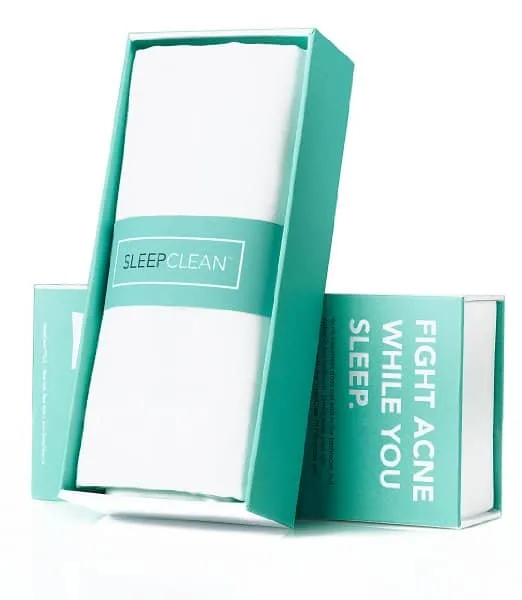 Last but not least is the SleepClean pillowcase. Similarly to the HyGenie the SleepClean is another silver ionic cotton pillowcase, though it seems to have fared much better than its competitor.
While both seem nearly identical, it seems that SleepClean has a higher quality product, along with a slightly more expensive price. If the price is no concern you might want to give this one a try.
As explained above, the SleepClean pillowcases' silver ion technology works by reducing bacteria growth on the pillow. In all aspects it seems just like a normal cotton pillowcase, with no difference in texture or any chemical scent.
The embedded silver is permanently bonded to the cotton fibers, but silver ion does degrade over time and with washes. SleepClean recommends washing their case every 7 to 10 days and replacing after a year- though you may want to replace earlier if you're washing twice or more a week. Essentially the silver ion will last about 50 home washes.
The SleepClean is hypoallergenic, non-toxic, and non-irritating. It is made of a 300 thread count cotton material, so it's comfortable as well as breathable.
The SleepClean case can fit most pillows up to a queen size. If you want a long-lasting, no-fuss pillowcase that you won't have to worry about replacing anytime soon, the $35 retail value may be worth it for this brand.
Reviews
"I absolutely love this pillowcase!! This is a product I had seen on a bloggers profile and was anxious to try. I am an extreme clean freak and I love that this pillowcase has the antimicrobial properties that help block bacteria from growing as quickly as other pillowcase fabric. Clean pillowcases are a part of our skin care regimen we often don't think about but it can have a HUGE impact on our skin. I hate the idea of using a pillowcase set every single night and imagining all of the oils on my skin building bacteria over and over on a pillow case. Since purchasing this product, I have noticed those stubborn surface pimples subside which occurred only on the left side of my face where I slept. It is worth the peace of mind and would be ideal not only for your room but also would be a great addition to a guest room where friends and family sleep!" Katherine Krech, Amazon
| Pillow | Technology | Fabrics | Lifetime | Price | Customer Opinion |
| --- | --- | --- | --- | --- | --- |
| NuFabrx Pillowcase | It works with 5 antibacterial essencial oils that release onto the skin from a combination of natural body heat and the weight of your head on the pillow while sleeping. | 220 thread count bamboo. | Needs to replace every 4 to 6 months | $36.99 | " My skin has never looked better. Truly amazing….from a pillowcase. It was totally worth every penny for me. Love." |
| HyGenie Silver Ionic Pillowcase | Embedded with ionic silver. It helps inhibit bacteria growth. | Cotton Blend | 30 washes before the ionic silver is affected, (4 months in total) | $23.57 (Check out the latest rates here!) | "...I would definitely recommend this to anyone fighting off acne!" |
| SleepClean Pillowcase | The silver ion technology works by reducing bacteria growth. Hypoallergenic, non-toxic and non-irritating | Cotton fibers. | 50 home washes. Can last almost a year. | $35 (Check out the latest rates here!) | "...Since purchasing this product, I have noticed those stubborn surface pimples subside which occurred only on the left side of my face where I slept." |
FAQ: Frequently Asked Questions About Acne and Pillowcases
Do silk pillowcases cause acne?
No, silk pillowcases do not inherently cause acne. In general, traditional pillowcase silk tends to actually be better than most other materials as it is NOT as porous, particularly options like mulberry silk fiber. However, a silk pillowcase alone is not an anti-acne substance. More often than not acne irritation from pillowcases is caused by infrequent washing of pillows, certain detergents and fabric softener, or chemically treated (in-organic) pillowcases.
Is a bamboo pillowcase good for acne?
Not usually. Bamboo as a fabric tends to be more porous, so it absorbs more oils and dirt which can lead to acne flare-ups.
What are the worst pillowcase materials for acne?
In general bamboo (unless it's specifically designed for acne prevention), traditional cotton pillowcase fabric, microfiber, and hemp all are more porous than silk (mulberry silk pillowcase) or satin pillowcase (satin pillowcase) which makes them more prone to issues for acne sufferers.
What is the best pillowcase material for preventing acne?
The best non-harmful fabric is generally satin pillowcase or silk pillowcase material for non-irritants. However, specially treated bamboo pillows with ionic silver or other antimicrobial pillowcase materials with ionic silver can be great ACTIVE acne prone skin mitigants.
The Final Snooze: Top Anti Acne Pillowcases
A new pillowcase may not completely get rid of acne, but it can definitely help with preventing new acne from forming.
These ARE the best pillowcases for acne, in terms of reviews from real acne sufferer individuals (and our personal anecdotal experience) and are worth every penny when compared to regular pillowcases.
If you are unable to purchase one of these three at the moment, in the meantime using inexpensive organic cotton pillowcases can be helpful.
Also, if you use products in your hair or have oily hair, keeping your hair up or even in a sleep cap during sleep can help prevent the transfer of these substances onto your face.