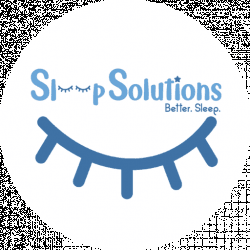 Latest posts by Sleep Solutions HQ Team
(see all)
It's estimated that roughly 25% of adults in the US are affected by acid reflux, an uncomfortable and sometimes quite painful disorder. Acid reflux occurs when stomach acids go back up into the esophagus, causing a burning pain in the chest area. This is often why acid reflux is commonly referred to as heartburn. Those experiencing acid reflux symptoms more than twice a week may actually have GERD, a more serious (and painful) digestive disorder with acid reflux being the main symptom.
Those living with acid reflux or GERD are probably already aware that the symptoms and associated pain are often worse at night. Acid reflux is often most severe at night for a few reasons. Stomach acid concentration is naturally higher at night which means any acid reflux will often carry a higher amount of acid than during the day. This combined with laying reclined means it's much easier for acid to enter and remain in the esophagus. Additionally, humans don't swallow while sleeping. During the day if acid reflux occurs you will naturally swallow which moves the acid back down but also counters the acidity with your saliva. You may not know that saliva has bicarbonate, which aids in neutralizing the acid. At night when you aren't naturally swallowing saliva, the acid can cause more damage.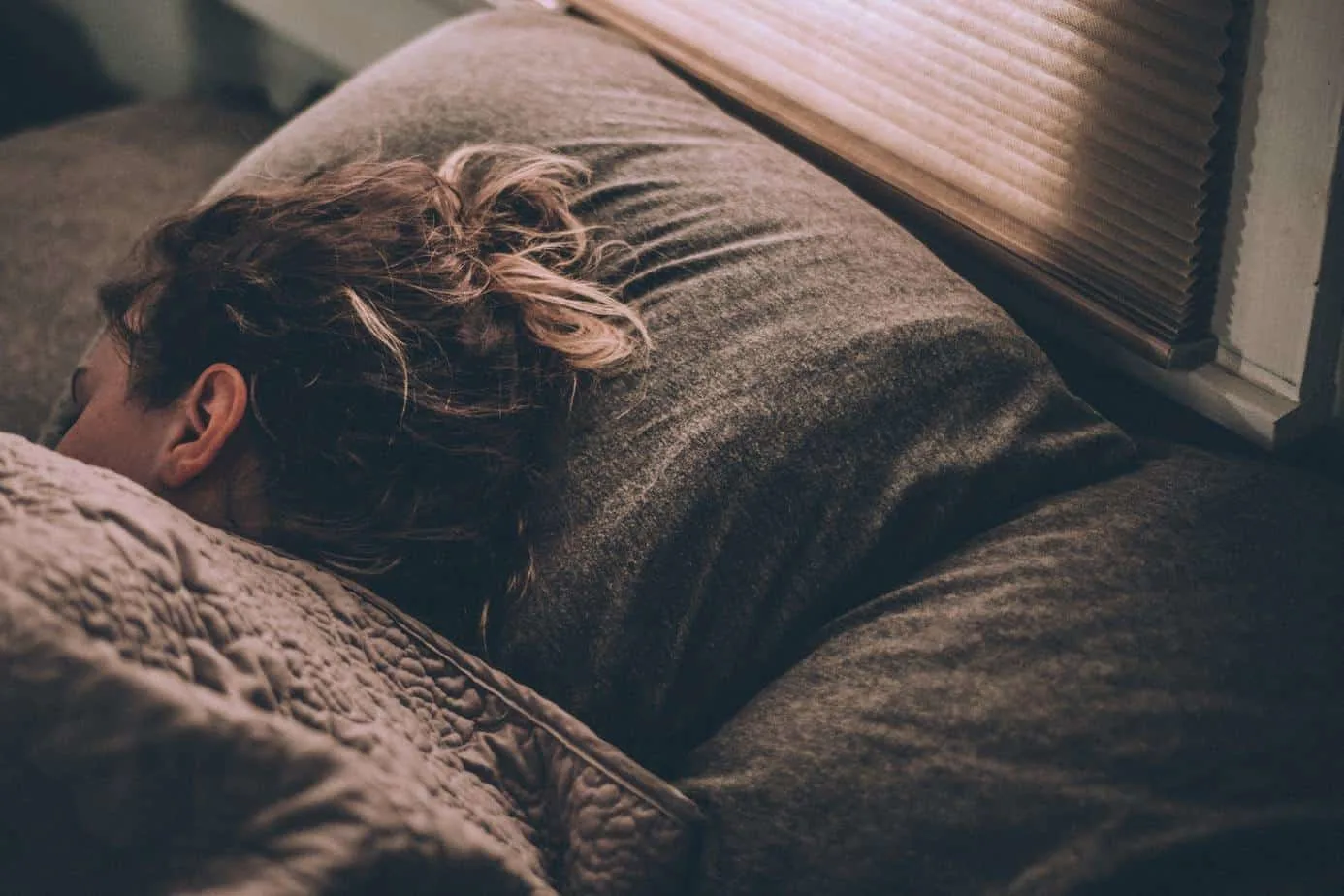 All too often those with chronic acid reflux or GERD experience poor sleep quality. They may have a difficult time falling asleep and/or staying asleep. Very painful bouts may easily wake them up due to the intensity of the heartburn and ruin their night. Medications can only do so much to help with acid reflux, particularly at night. However, one effective way of reducing symptoms and pain is to use a pillow designed for acid reflux.
As mentioned above, laying down in bed makes it easy for acid to splash back up into the esophagus. The use of specially-designed pillows put the body on a slight incline, which can have surprisingly effective results for those with mild to moderate acid reflux. Even those with more severe cases may find that the use of proper medication combined with the right pillow can at least reduce pain and discomfort enough that they can get proper sleep.
If you're tired of waking up to heartburn attributed to your acid reflux, here are the best pillows you can use to manage nighttime symptoms.
The FitPlus Premium Wedge Pillow is listed as a top Amazon's Choice model for acid reflux wedge pillows. This pillow has close to 800 reviews and a solid 4.4/5 star rating. It retails for around $35 and comes with a 2-year warranty.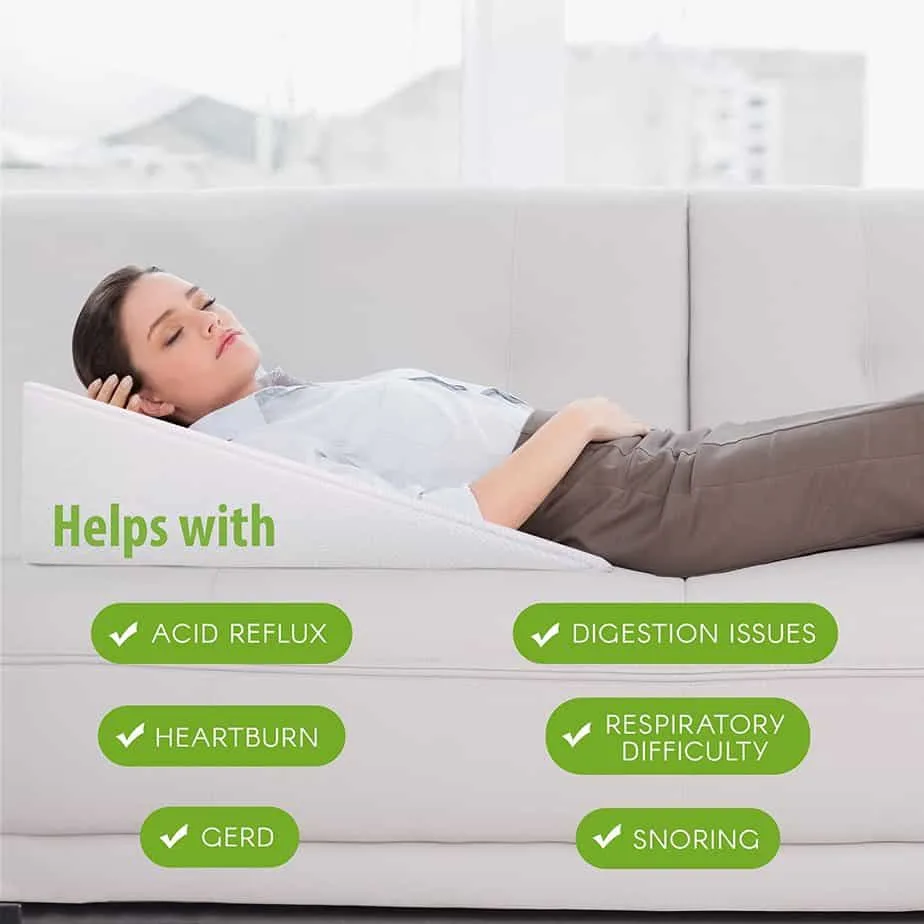 The FitPlus Wedge is a nice, versatile size, being 24″ x 28″ x 7.5″ in dimension. This premium pillow is made of two different materials – memory foam and polyurethane foam. The base is made of stable, supportive medical grade PU foam topped with 1.5″ of memory foam for comfort. It comes with a removable cover you can wash right in your washing machine. This cover also has very nice breathability to help keep you cool at night.
Customers have found this pillow to be effective for managing acid reflux as well as relieving other ailments, such as neck and back pain. This pillow molds very nicely to the body and offers great comfort, especially for back sleepers. The combination of base foam also eliminates the frustration of too much softness, a common issue with inexpensive pure memory foam pillows.
AERIS Memory Foam Bed Wedge Pillow
While many wedge-style acid reflux pillows tend to all look the same, the Aeris Memory Foam Bed Wedge clearly has a unique design. This pillow has an ergonomic curved design it and this wave adds a lot of comforts as well as versatility.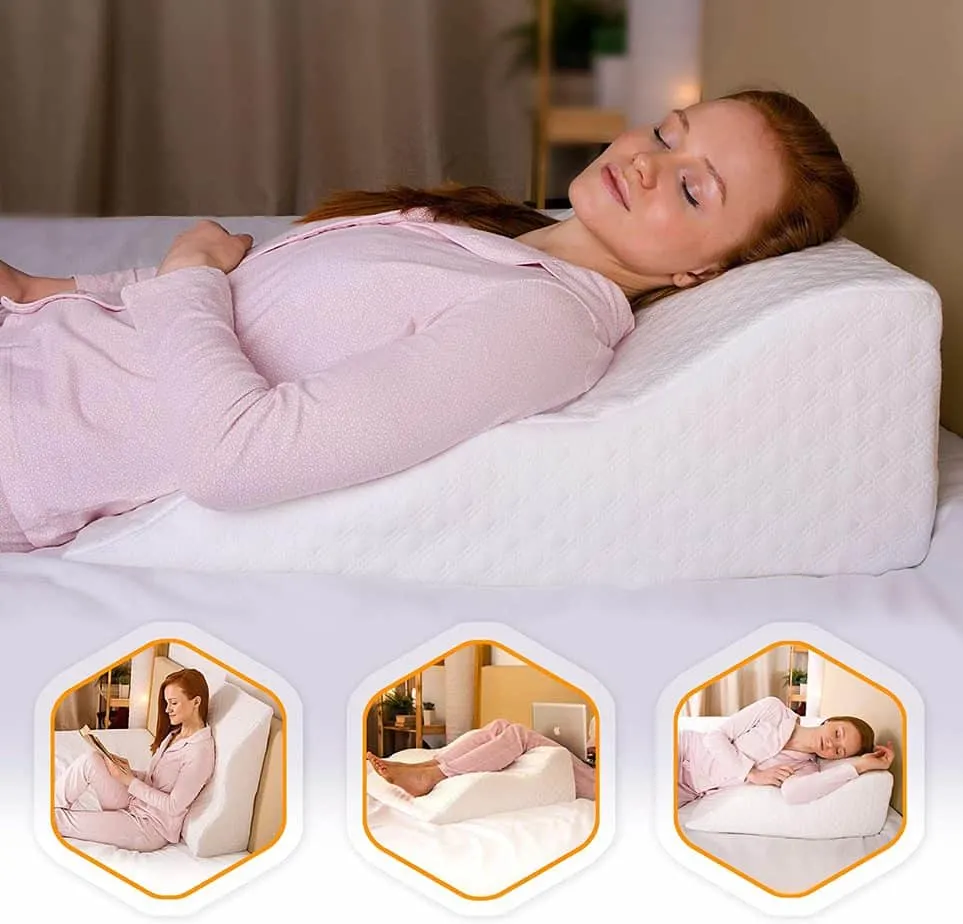 First off, this pillow is 25″ x 25″ x 8.6″ in size, just a bit bigger than the FitPlus pillow. The curve design was chosen specifically to alleviate GERD symptoms, breathing problems and back pain. Also, this wave shape makes it particularly nice for side sleepers, who often feel like regular wedges are uncomfortable or cause them to slip.
The Aeris pillow is a little more pricey, sitting just under $78 on Amazon. However, it has a 4.3/5 star rating, and many customers rave about how well this pillow works compared to others. If you've tried standard edges before and just don't really find them comfortable, this is an excellent option to try.
The Original Bamboo Pillow is quite a popular regular bed pillow, so naturally, the Original Bamboo Bed Wedge is also recommended. Just like the regular pillows, the Original Bamboo Bed Wedge is made of hypoallergenic bamboo foam, which makes it a safer option for those with allergies or those who are just concerned about bacteria growth associated with regular memory foam.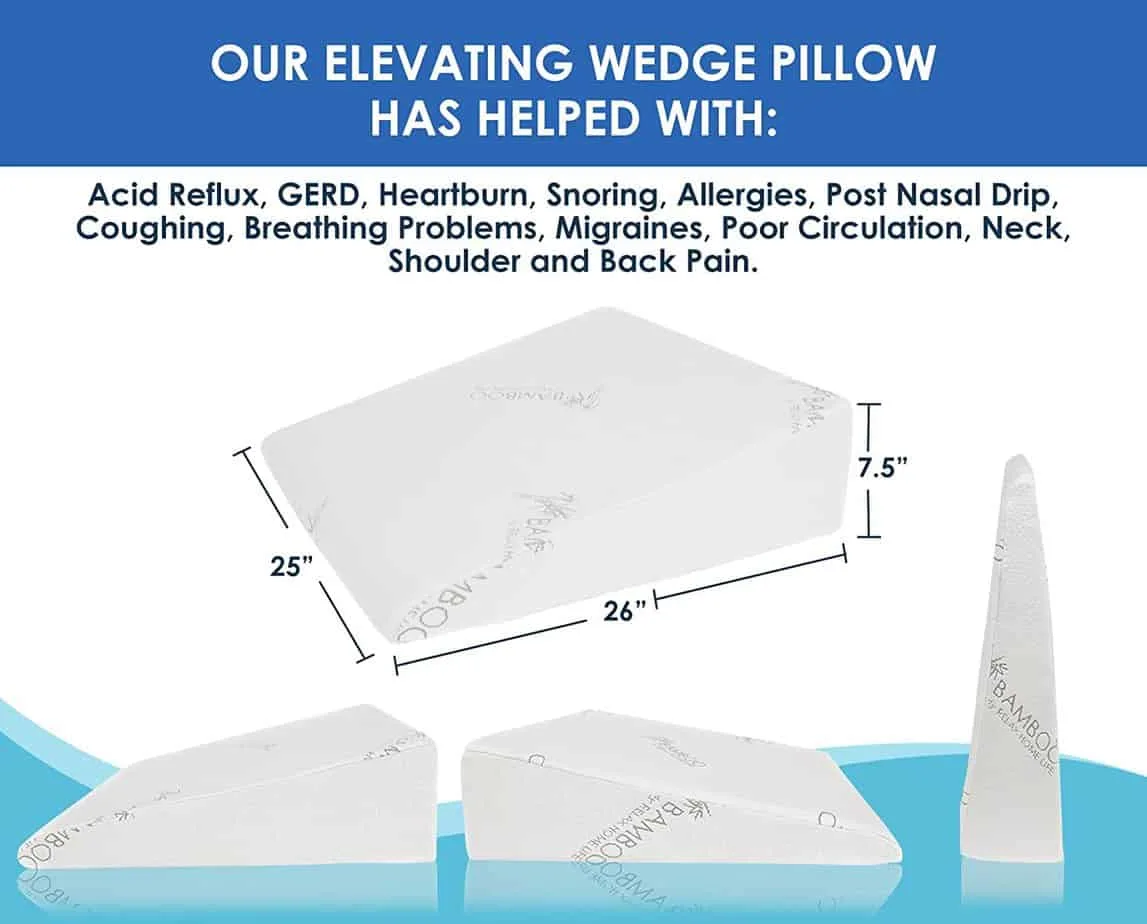 This pillow is 26″ x 25″ x 11″ in size, retails for under $50, and comes with Original Bamboo Pillow's 60 money-back guarantees. Customers tend to agree that this pillow is quite comfortable and versatile, helping to eliminate acid reflux symptoms. The fact that it's hypoallergenic is also a big plus.
A difference that is quickly noticed between this pillow and other wedges is the steep slope. The Original Bamboo Bed Wedge is 11″ thick which allows you to lay at a much more inclined angle. Those with more severe acid reflux may need this sharp incline to better relieve their symptoms.
If you really want a luxury style memory foam wedge pillow you can't go wrong with the Avana Back Wedge. The Avana pillow comes with a bamboo cover that is completely removable and washable while being extremely soft and comfortable to lay on. Unlike other pillows Avana allows you to purchase this Back Wedge in either an 8″ or 12″ height – with the 12″ is a better choice for those that can't easily find relief from their acid reflux.
The pillows range from around $65 up to $75 depending on the height and color options you select. Height aside, the dimensions of both options are 24″ x 24″. Avana includes a 1-year warranty on these pillows. Customers may also find the fact that Avana pillows are made in the US as a bonus as well. This is a memory foam pillow so if you aren't concerned about chemicals or toxins in Chinese memory foam, the Avana won't be an issue for you.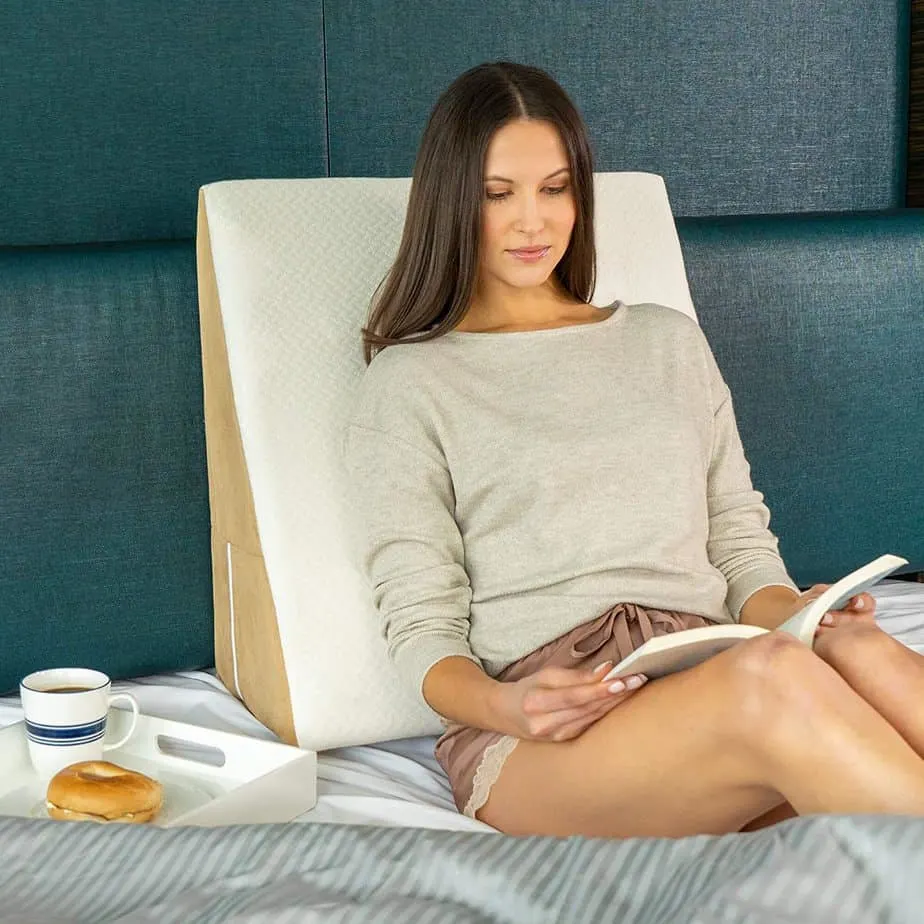 Overall the Avana is just a very nice, beautifully designed memory foam wedge pillow that is a step up compared to most. It is a great choice for those that don't want a plain white wedge that looks a bit too "clinical" sitting on their bed.
While specially designed pillows can certainly help you get a better night's sleep, they aren't a magical cure for untreated acid reflux. Remember, if you're experiencing chronic heartburn or experience acid reflux more than a couple of times a week, you must consult your doctor for help. Once on proper medication and perhaps even a change of diet, you will find that a wedge pillow will offer far more comfort and effectiveness.