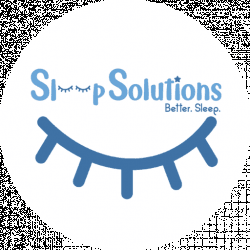 Latest posts by Sleep Solutions HQ Team
(see all)
Pregnancy is a beautiful part of life but comes with a few challenges for expecting mothers. Getting a good night's sleep can be tricky after the first trimester, leaving many moms feeling tired and sore from trying to find a comfortable position to sleep in. One of the most effective ways of solving this sleep issue is to use a pregnancy pillow.
Pregnancy pillows are a type of body pillow designed specifically for expecting women. They come in variety of different shapes and sizes, with majority looking like an exceptionally large U- or J-shaped body pillow. The large size and ergonomic shape help support the entire body, providing exceptional support for the growing belly, back and legs. Many women find sleeping in a fetal or side position to be very comfortable while pregnant but getting enough support for a growing baby bump is challenging. Pregnancy pillows not only make side sleeping incredibly comfortable, but it also reduces anxiety some mothers may feel when it comes to accidentally sleeping in way that puts too much pressure on their stomach.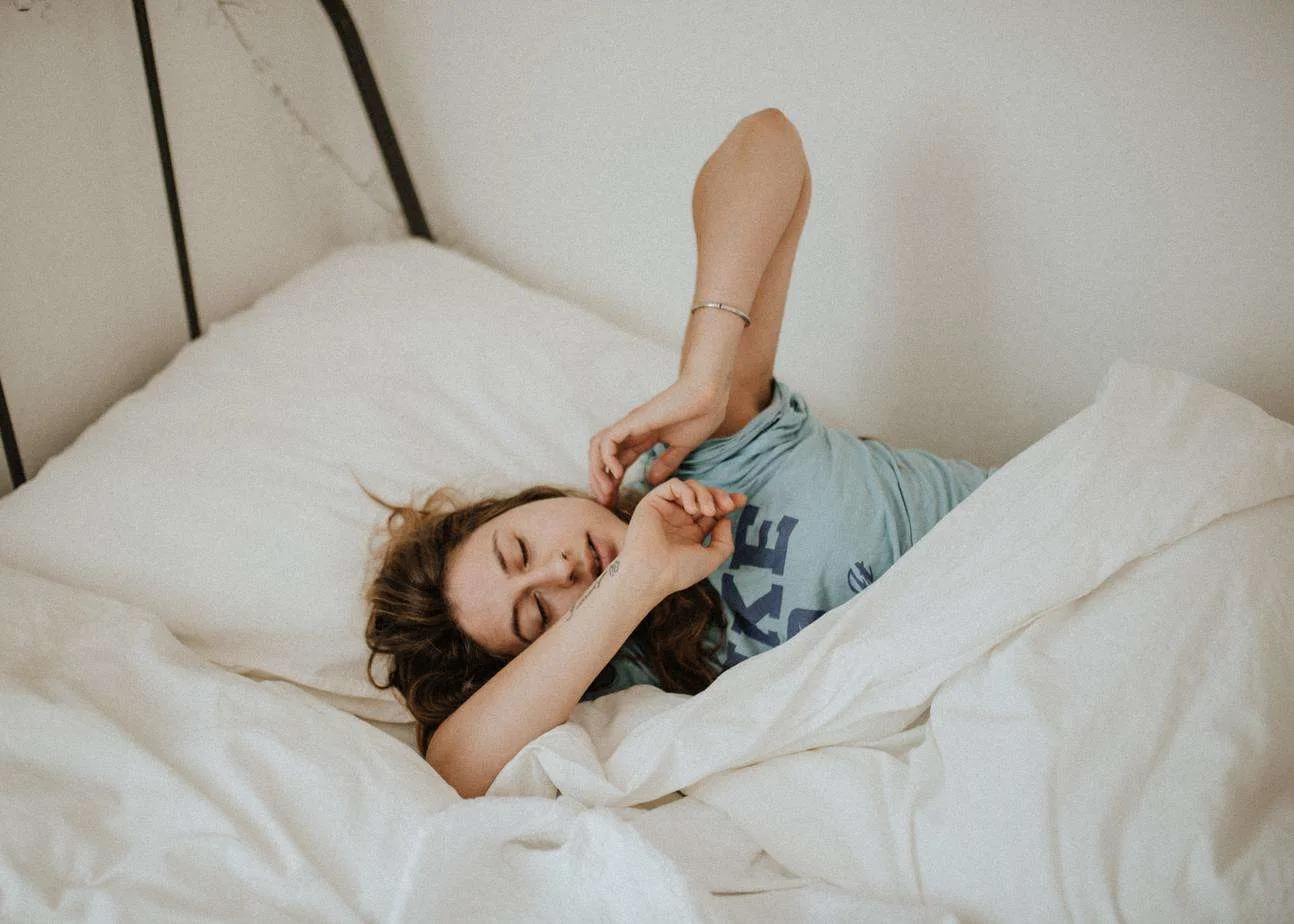 Not only will you get better sleep while pregnant, but pregnancy pillows still offer benefits after birth. They cradle the body in a way that can help mothers feel more comfortable during sleep, especially if they've had a challenging delivery or C-section. The pillow is also great for helping to support the baby while nursing. Many mothers also find that U-shaped pillows can be perfect for keeping their baby safe while napping or sleeping, especially for moms wanting to do co-sleeping without the worry of rolling.
Here are 4 of the best pregnancy pillows available:
One of the best-known pregnancy pillow brands is Leachco, and the Snoogle is arguably their most popular body pillow. If you really don't want to shop around much and just want to buy a pillow that you know will work, you'll likely find the Snoogle to be the perfect fit.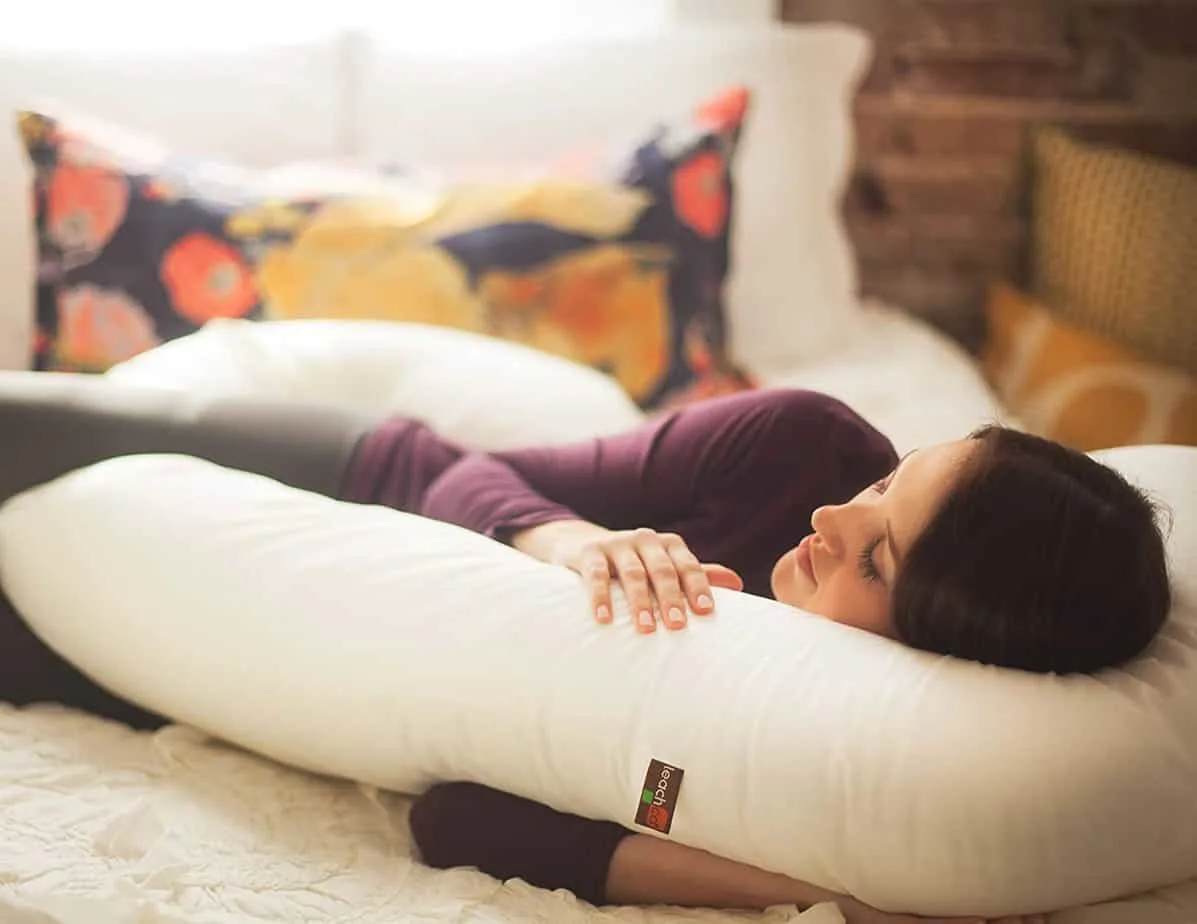 As the name would suggest, the Snoogle Total Body pillow provides complete support for the entire body. This unique horseshoe-shaped cushion gives back and baby bump support, as well as leg and head comfort. You can sleep with the Snoogle in essentially anyway that feels comfortable for you. Side sleepers will particularly enjoy the design of this pillow. Back sleepers may find the nesting effect to be very cozy. Stomach sleepers that tend to like to hug a pillow while sleeping will also discover that the Snoogle allows them to sleep soundly with hugging.
The Snoogle is plenty long enough for the average height woman. Even men will find this pillow comfortable. Even though it is technically a pregnancy pillow, there are plenty of other customers who purchased this pillow for regular nightly use in place of a basic body pillow.
Today's Mom Cozy Comfort Pregnancy Pillow
A great pillow choice that can easily be found on Amazon is the Today's Mom Cozy Comfort pillow. With a solid 4 star rating with close to 1k reviews across a couple of different colors, this pillow obviously checks out favorably for expecting mothers.
The Cozy Comfort pillow is the traditional whole-body support pillow that is ideal for pregnant or nursing women. It focuses on head, back, and shoulder support. One feature that sets this pillow apart from the competition is its Shoulder Comfort System. The Shoulder Comfort System offers head, neck, and shoulder support more similar to a traditional bed pillow.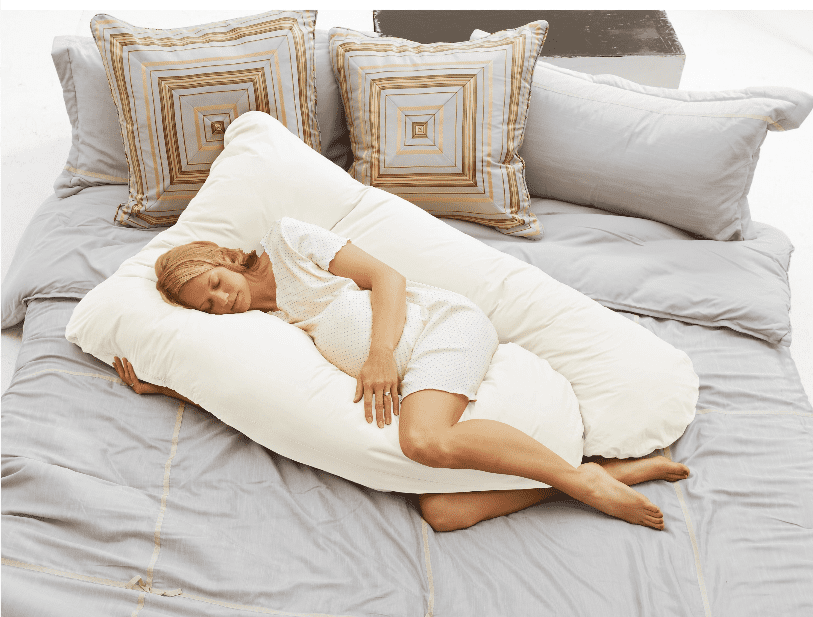 Unfortunately, many pregnancy or whole body pillows often come up short in shoulder and neck support, as their rounded shape isn't the best for cradling the head as a normal rectangular pillow would be. This pillow has a much larger head/neck/shoulder section so you get the best of both worlds. The inside of the Cozy Comfort is rounded and curved to the natural shape of this body, further providing even more luxurious comfort.
The Cozy Comfort pillow comes with a zippered cover so you can easily remove it for washing in a standard machine. For the nursing mother being able to just zip off a cover is essentially a necessity. This pillow is already priced very reasonably compared to others and is even more economical considering you won't have to buy an additional zippered cover to keep things sanitary.
Naomi Home Cozy Body Pillow
Another Amazon winner is the Naomi Home Cozy Body pillow. Similar to the Cozy Comfort pillow above, the Naomi Home pillow has additional head and shoulder support, along with some extra versatility.
The gusseted neck and shoulder of the pillow reduces strain and helps to keep you cool while sleeping. Many customers find that this pillow is already fairly cool to sleep with, compared to other dense body pillows that could leave you uncomfortable and sweaty. It still maintains an ideal firmness but isn't so thick or dense that it doesn't shape itself to the body. Belly bump support comes in the shape of a wedge which will hold even a full term bump comfortably.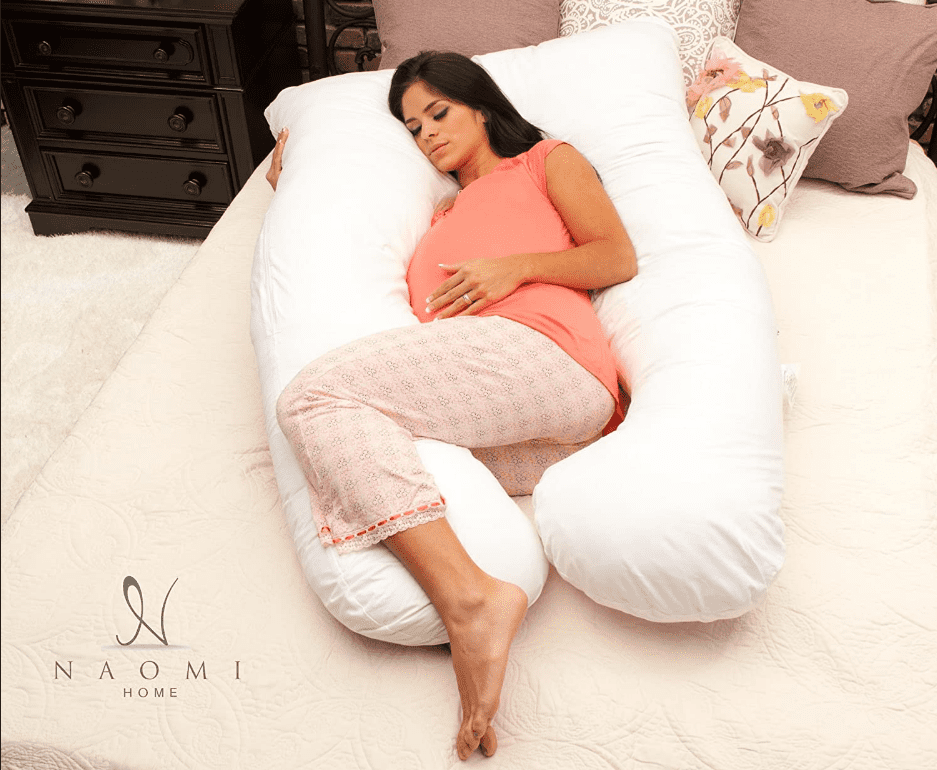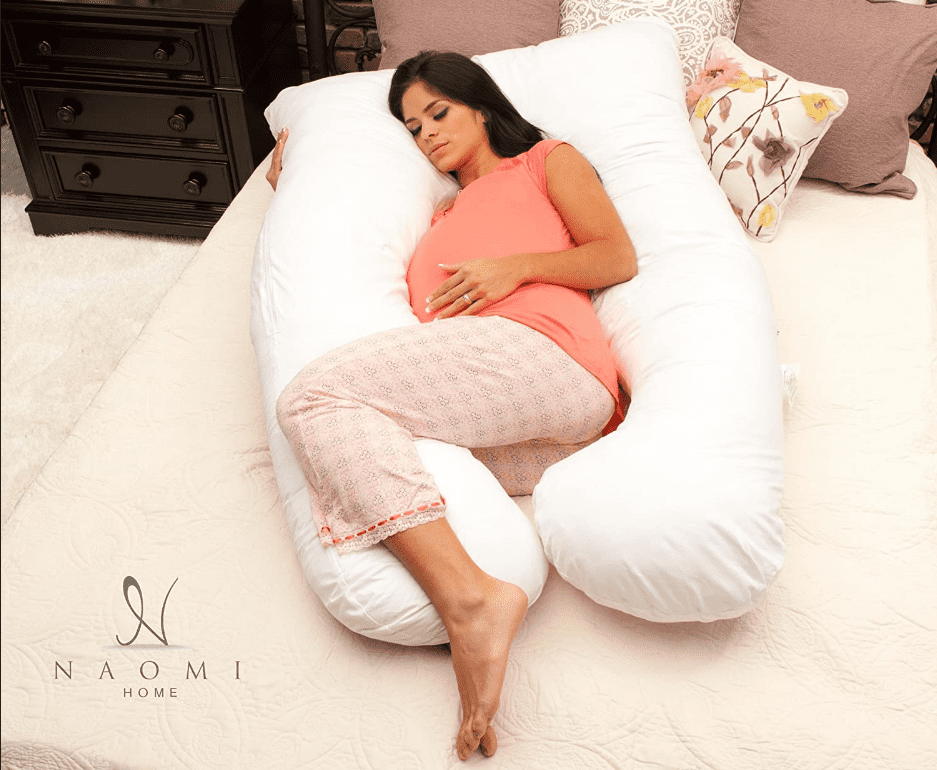 As mentioned earlier, pregnancy pillows can be useful as a safe space for babies and toddlers to nap. The Naomi Home pillow can easily be positioned into a circle by bringing in the arms of the pillow, which nearly touch already. This will create a round area that an infant can sleep in without fear of the baby rolling or crawling away.
This pillow also comes with a removable, 300 thread count machine-washable cover, and is available in red, copper, espresso, royal purple, gray and stone.
The Total Body Support Pillow at Hammacher Schlemmer may be a bit more expensive than most pillows but is perfect for the expecting mother that has found traditional polyfill pillows to be uncomfortable. This pillow isn't actually a pregnancy pillow, but still works equally well as most others.
This pillow was originally designed to help those suffering from fibromyalgia, which means this pillow is exceptionally good as reducing muscle pain, soreness and eliminating pressure points that prevent a good night's sleep. The design and construction that went into making this pillow to achieve comfort for those with that disorder means it is especially supportive for pregnant women.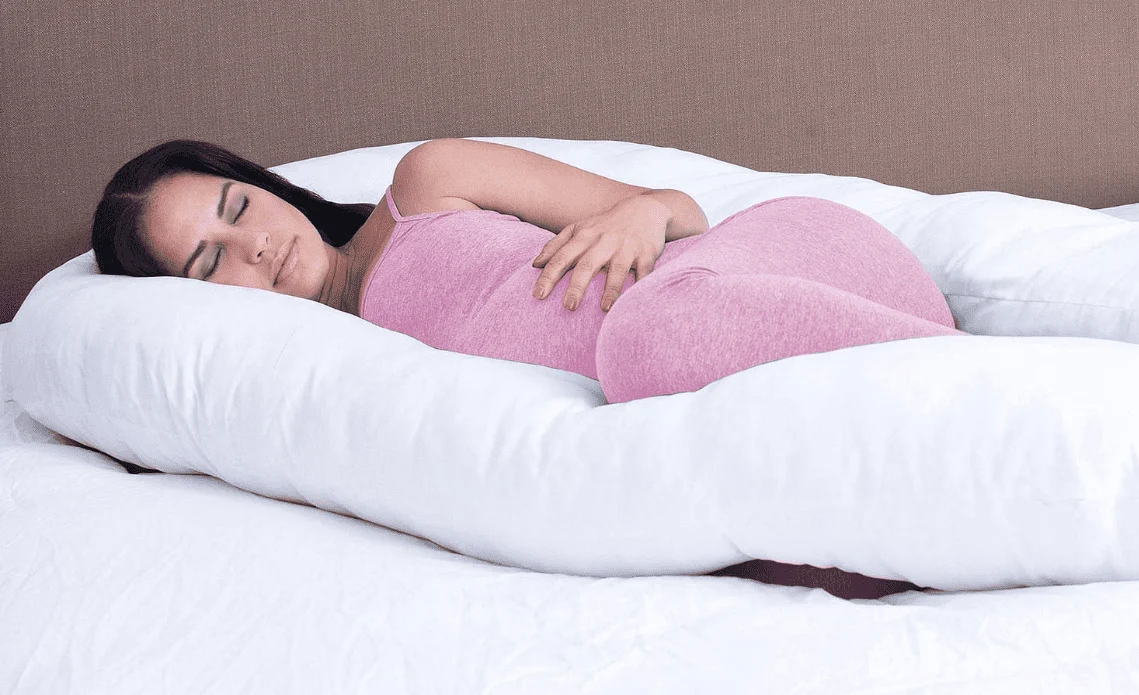 The Total Body Support Pillow is about as versatile and flexible as you can get. It's filled with a hypoallergenic Fusion fiberfill, similar to what you would expect to find in a beanbag chair. The pillow is machine washable and actually improves with every wash. Normal cotton pillows tend to lose loft and softness significantly after a wash, whereas this pillow will only get softer and more flexible.
The bean bag type of filling and overall shape of this pillow means you can move it into really any shape you find to be comfortable. Move the arms out and use it as a normal pillow, bring one arm in for side sleeping or both for a nesting effect, or position the pillow into a complete circle. The loft and level of density make this pillow perfect for sleeping, napping, or just lounging. Some customers find it to be perfect after pregnancy as an alternative to beanbag on the floor for their kids.
Final Thoughts
Pregnancy pillows aren't cheap but moms everywhere agree they are worth every cent. Not only are you buying something that will help you sleep better and protect your baby, but also a tool that will be useful once your baby arrives. Rather than battling with your normal bed pillows struggling to get some comfort and security, consider buying one of the 4 featured pillows instead.