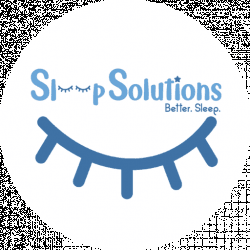 Latest posts by Sleep Solutions HQ Team
(see all)
Can you honestly say you would mind sleeping in the most premium of beds, on luxurious mattresses, surrounded by high-quality bedding accessories?
Gone were the days when natural and organic pillows were pretentious and used to cost a fortune. Even if they are still more expensive than a regular pillow, organic ones are slowly increasing their fan database because they provide a lot of health-related benefits and the comfort of a good night's sleep.
Great Pick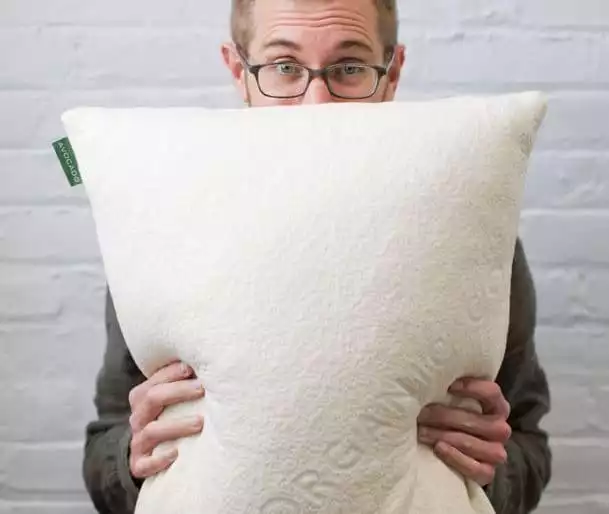 Is the Avocado Green Pillow Worth it?
If you consistently struggle to find the right pillow OR are constantly buying new ones, the Avocado Green Pillow might be the LAST ONE you ever buy. It certainly has been for us. All-natural, organic, comfortable, and durable!
Check Latest Deals
We earn a commission if you click this link and make a purchase at no additional cost to you.
Are Natural Pillows Any Good?
As a general rule, tradition pillows are often made with polyester or cotton, both of them being bad for our health and the ecosystem. Cotton is usually grown with the use of pesticides and herbicides, which are known for being harmful to humans.
Polyester filling is made with a combination of chemicals, such as ethylene glycol. Every chemical that's used in the construction of a pillow can take a toll on your health, being bad for both your skin and your lungs. While you may not feel the repercussions immediately after inhaling these chemicals, they can do a lot of damage in the long run.
Not only do they cause direct harm, but by washing them, these chemicals find their way into the atmosphere and can go as far as contaminating the water supply.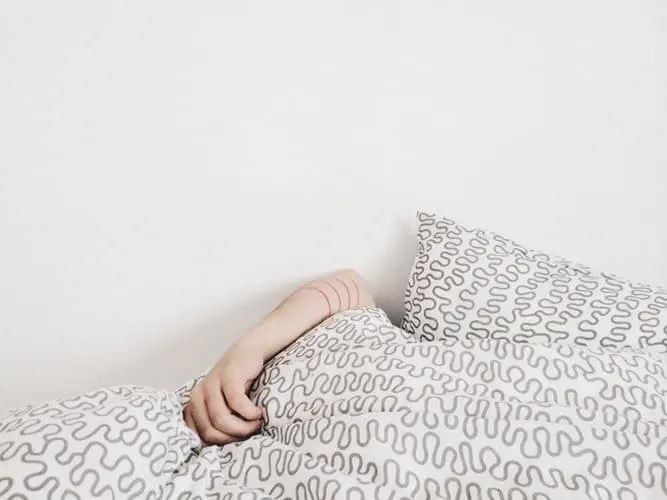 Aside from the damage, they cause after being sold, think about the harm they do before even being released on the market. Every time a product that uses chemicals is in its production phase, it can end up polluting and taking a toll on resources that are not renewable, such as water. For example, to produce a single shirt with regular cotton, it takes about 2,700 liters of water and about 1/3 lbs. of chemicals.
In fact, almost 25% of the chemicals used worldwide are designated to cotton growth. As far as polyester is concerned, we have another wave of serious environmental concerns. One of them is related to the fact that the production of polyester uses non-renewable petroleum. Another issue is that harmful gases are a result of the fabrication of this material, gases that find their ways into the atmosphere and the worker's bodies.
These are just a couple of examples of how some of the world's most spread materials are doing more harm than good. They are just a few reasons why manufacturers try to create sustainable manufacturing cycles for their products and why today, more and more items are being made from organic and natural materials.
Materials Used
Organic Cotton
Organic cotton is grown differently than normal cotton.
It is eco-friendlier and more sustainable and it doesn't contain any dyes or perfumes. Aside from being natural, organic cotton is also hypoallergenic, which means that it will be very useful to people who suffer from allergies and want to avoid any type of triggers.
Organic cotton pillows are best suited for a stomach sleeper, because they are more plush and provide better pressure relief.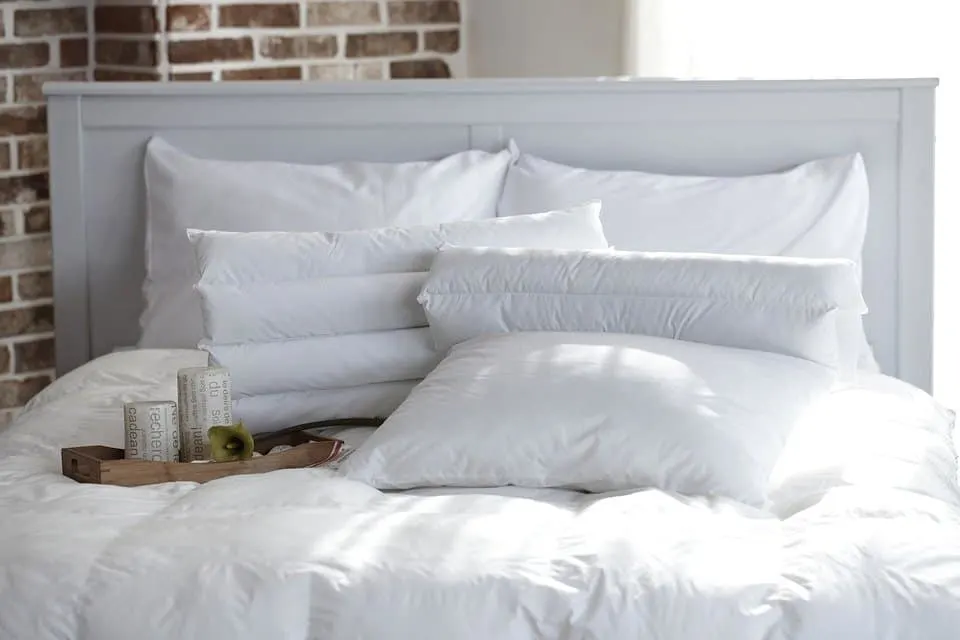 Organic Wool
In the recent years, more and more organic pillow manufacturers have turned their attention to the wool demand. Organic wool has temperature regulating properties, which means that it will keep your head warm in the winter and cool in the summer. This type of wool is also hypoallergenic, water and fire-resistant. It's ideal for side sleeper. Alpaca wool is especially warm and light.
Natural Latex
Harvested from natural rubber trees, latex is an eco-friendly resource because it rapidly generates to create new raw material. Aside from being naturally hypoallergenic, latex is also resistant to dust mites. It can absorb moisture and it is very resistant and durable. It can repel mildew and mold and contributes to constructing pillows for stomach and side sleepers.
Kapok
Kapok is a material that's extracted from Ceiba trees. This silky fiber is about eight times lighter than cotton and today, it's considered to be one of the best replacements for down.
It can naturally repel pests, dries very quickly and it's also water and mold-resistant. If you're a fan of down pillows, this is a great replacement that's based on vegetables.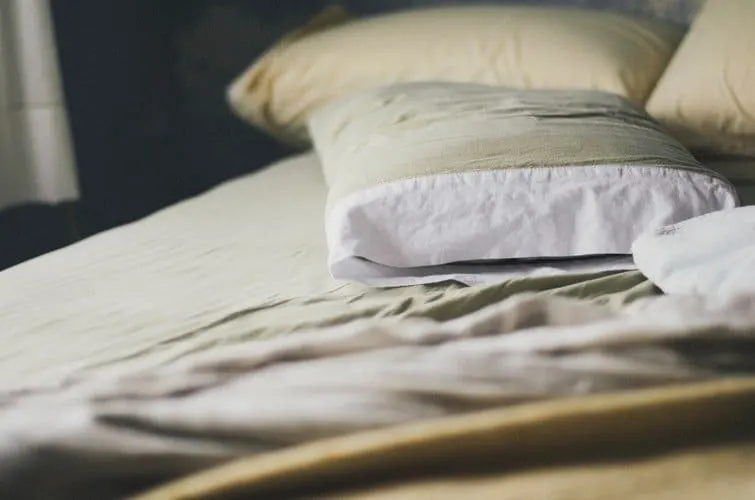 Millet/Buckwheat
A more recent development in the organic pillow market is the buckwheat or millet pillow. As you may have already guessed, these pillows are filled with buckwheat or millet hulls and they have quite some unexpected properties.
First of all, they allow for great air circulation within the pillow.
Second, these compounds are very easy to manipulate, which means they can adjust to whatever head shape or position you prefer, being able to eliminate back, neck or shoulder pains.
There are two major downsides to these pillows. First off, they are a bit noisy, so you might want to opt for a product that has an outer layer that can muffle the sound, maybe one that's made from wool. They aren't very fluffy, but they are still great for a lot of different sleeping positions. If you prefer sleeping on a softer pillow, millet ones are a better choice.
Needless to say, pillows are a very intimate bedding accessory. Since you press your face against them at the end of the day, it's important to choose high-quality products that compatible with your body.
The Avocado Green Pillow is exactly as the name suggests it: organic. The Avocado brand also sells the Avocado Green Mattress line with a similar green mattress focus. The Green Pillow isn't just a throw-in with the Avocado Mattress, however, and is sought after in it's own right.
Created by blending some natural and vegan-approved materials (just like the Avocado Bed), the Avocado Green Pillow is highly customizable and health-supportive product.
Thanks to the ease of firmness adjustment, you can use it for several other activities during the day (we'll give you some examples later in this review). And if that isn't enough for you, the Avocado does have a couple more aces up its sleeve.
Avocado Green Pillow Pros
Made from organic materials.
High level of firmness customization by adding/removing filling.
Possibility to purchase extra bags of filling.
Comes with a one year warranty and 100 night trial.
Gathers a lot of certification that guarantee the product is natural and organic.
Avocado Green Pillow Cons
Runs a bit warm for some people's preferences.
Emits a temporary odor when first unpacked.
Can't be thrown in the washing machine – has to be spot cleaned.
Avocado Green Pillow Sizes
It's always important to know your options before making a purchase. As far as the Avocado Green Pillow is concerned, there are three available sizes, with the following specification.
The Standard size measures 19 x 24 inches and weighs 3.4 pounds.
The Queen size measures 19 x 28 inches and weighs 3.9 pounds.
The King size measures 19 x 35 inches and weighs 5.2 pounds.
Construction
Organic bedding accessories are the next best thing. The cover of the Avocado pillow is made from organic cotton and renounced the traditional weave in favor of a four-way stretch knit. In other words, the cover of the pillow features two layers of organic cotton which are backed dup by a layer of polyester stretch knit. This adds extra durability to the pillow, aside from the obvious skin benefits.
There is a zipper discreetly hidden on one of the sides and you can access it if you need to expose the internal fill. Here's something you're going to love: since you add or remove filling from the pillow, you can basically have it as soft or as firm as you like. In fact, manufacturers over at Avocado confessed adding more than enough filling, so customers can fiddle around with it and find their best configuration.
This filling is a combination of Kapok (a natural tree fiber) and natural Dunlop latex shreds. As you can imagine, both of the have the eco-INSTITUT certification, which means they are harvested from organic sources.
The latex shreds fulfill two main roles: first, they are more durable compared to other types of filling (because latex is a material highly-known for its durability properties) and second, it is more responsive under pressure.
The other natural materials used in the filing composition comes from the Ceiba tree. It meets all the conditions required from an organic pillow material: it's hypoallergenic, biodegradable and non-toxic.
Feel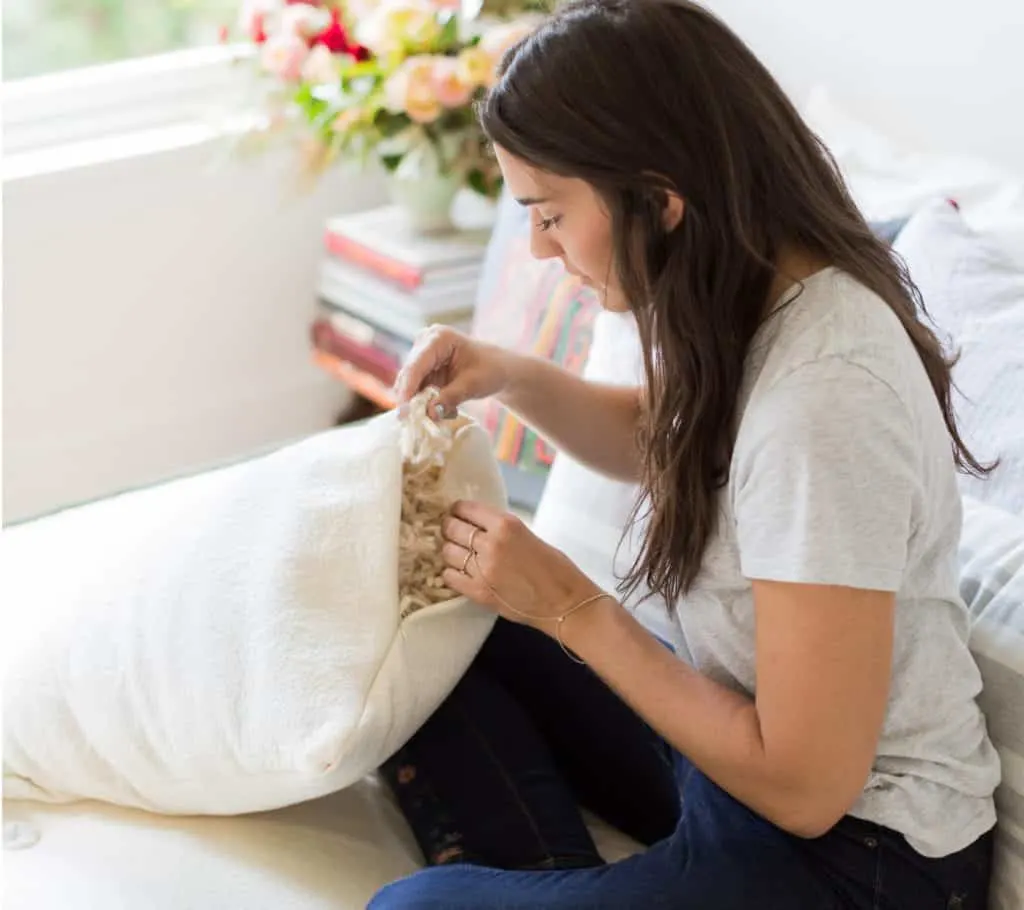 We're not going to discuss pillow firmness since we've already established that you get to decide how firm you want it to be by controlling the inserts. What we can do is talk about how soft and fluffy it feels when you rest your head upon it.
We do have to mention that if you're looking for a cool pillow, this is not it. It was designed and constructed to be temperature neutral, but there are chances you will feel it getting warm after resting your face on it.
However, it shouldn't cause any heat discomfort. One of the main advantages of owning an Avocado Green Pillow is the fact that it can satisfy any type of sleeper. That's because the filling is so supportive, it can basically contour all sides of your head as you move around at night. It can support your neck in every position.
The important thing is to determine your most favorite sleeping position and then add or remove filling to create a pillow that meets the firmness requirements for your particular sleeping position. For instance, if you often find yourself sleeping on your stomach, a pillow with a lot of filling will be super bulky and put a lot of strain on your neck. Thankfully, the solution is simple: just remove some of that filling before going to bed.
Target Market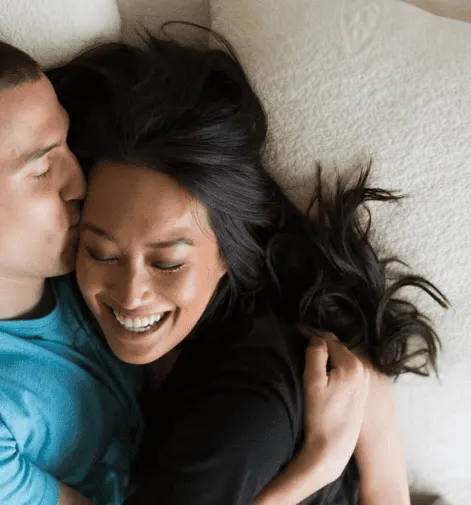 The Avocado Green Pillow target three very specific groups of people.
The vegans – For all those of you who have been in love with down pillows forever, but would feel much more comfortable in using a pillow that doesn't use any animal products, the Avocado is perfect. It manages to imitate the comfort and fluffiness given by down, but won't harm any feathered friends in the process.
The neutral-temperature lovers – People who don't want a pillow that runs too hot or too cold are going to adore the Avocado. The pillow manages to adapt to your body temperature, but doesn't have any out-of-the-ordinary heat dissipation features, nor will it make you feel like your face is on fire.
The combo sleepers – Since the inserts allow you to customize the level of firmness of the pillow, it should be an ideal sleeping companion for people that prefer multiple resting positions. In fact, you can even customize the firmness depending on the several pillow-related activities you have during the day. If you want something to support you while you're sitting on the couch with a good book in hand, you can add some extra filling to create a firmer pillow. If you want something soft to cuddle while watching a horror movie (fine, romantic comedy it is…), then you just have to remove some of the filling and presto!
Refill Packages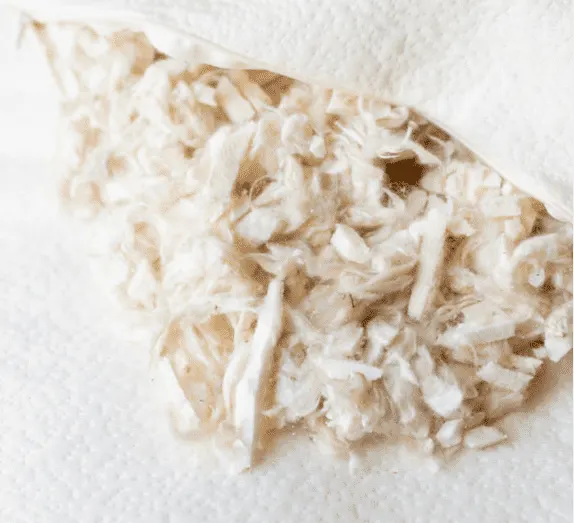 Since we mentioned that the Avocado Green Pillow allows you to adjust the firmness by adding or removing the fill, what happens when there is no more fill left to add? The answer is simple: just order more fill!
When receiving the pillow, it is stuffed with inserts that provide it with a medium-plush feel. While this standard configuration is great for some, it is not ideal for everyone. That means that if you want a pillow that's firmer, you can purchase a bag of extra fill, delivered in a reusable canvas bag.
You can opt for the half pound or entire pound bag of stuffing. Half a pound of fill should be enough to add volume to a single pillow, while the larger fill bag is good for two pillows. In case you need some reference, the King pillow uses five pounds of filling, the Queen size – four pounds and the Standard size – 3 pounds.
Certifications
While we're at it, let's talk about the certification that this pillow has obtained. The Greenguard Gold certification is a statement that tells us the Avocado pillow meets global emission standards for pollutants and chemical exposure.
Just so you know, there are very few products that obtain this Gold certification. The pillow is also vegan certified by the Vegan Awareness Foundation. The pillow doesn't use wool in its construction and none of the products used in its manufacturing have been tested on animals.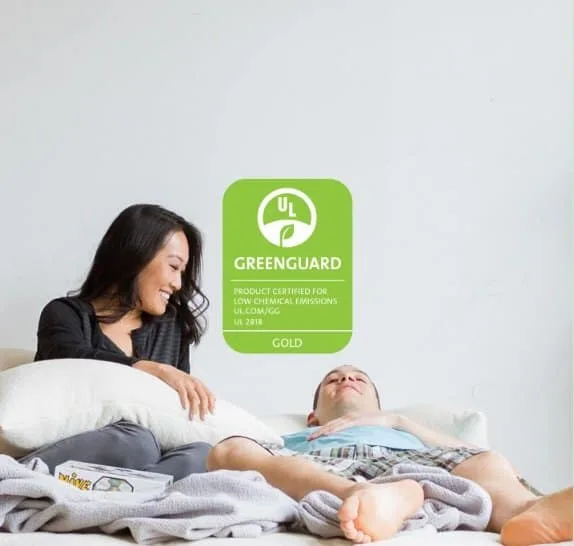 Customer Opinions
Comfort
If there's one thing that all customers of the Avocado pillow can agree upon is that painful necks are a thing of the past. The pillow does its fair share of work in making sure that your head is always in the right position and that it's never too high or too low to cause any discomfort that might wake you up.
Firmness
Since Avocado allows you to adjust the firmness of the pillow by fiddling with the inserts, customers are really happy with the fact that they can switch preferences and firmness levels at any time. Some will add inserts to make the pillow harder when lying in bed to read a book and then remove the inserts to have a softer pillow when sleeping.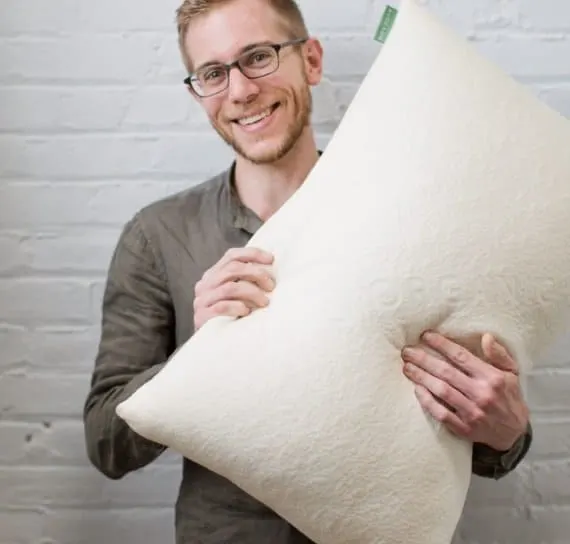 Materials
It's no surprise that people are becoming huge fans or organic bedding products and customers of the Avocado Green Pillow are no exception. The hypoallergenic and organic materials that were used in manufacturing the pillow are a delight amongst its customers. Some would even describe the pillow by using a simple word: noncancerous.
Stuffing
There are some complaints about the stuffing to move inside the pillow at night, which can cause lumps in certain areas. This normally happens when the most part of the filling is removing, as the remaining space inside the casing allows the inserts to move around a lot.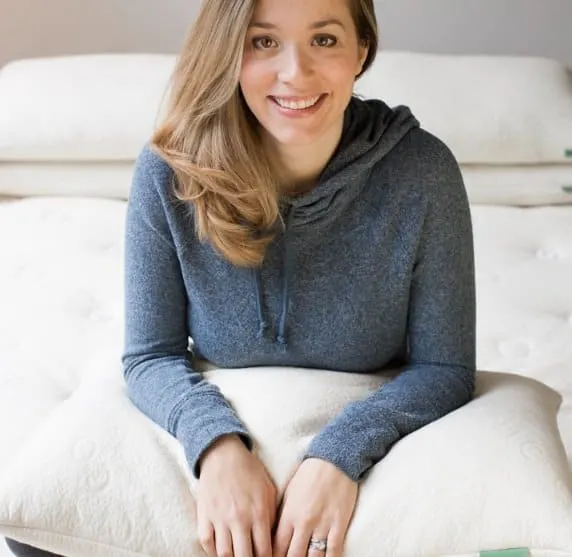 Conclusion: Avocado Pillow Review
Great Pick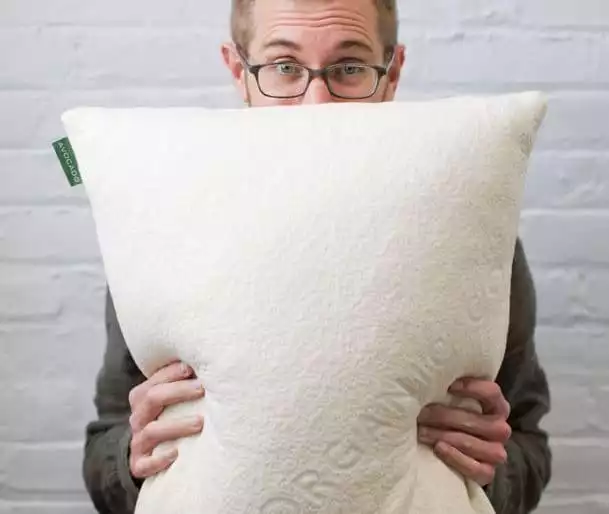 Is the Avocado Green Pillow Worth it?
If you consistently struggle to find the right pillow OR are constantly buying new ones, the Avocado Green Pillow might be the LAST ONE you ever buy. It certainly has been for us. All-natural, organic, comfortable, and durable!
Check Latest Deals
We earn a commission if you click this link and make a purchase at no additional cost to you.
Even if there is a small number of complaints related to the Avocado pillow, for the most part, people are extremely delighted with the level of comfort that it provides. The first thing that stands out is the blend of organic materials used in its construction.
The ribbons inside the pillow are made from natural latex rubber, being super-resistant and harvested from organic sources. They are the core of the Avocado pillow and aside from being eco-friendly, they are also resilient.
Next comes the Kapok fiber that comes from the Ceiba tree. It is combined with the rubber ribbons to make sure that between all that durability, lies a softer companion that provides a vegan alternative to down.
Then there is the cover, which is made from certified organic cotton. From the very first minute you touch it, you can feel the softness of the cover and it only makes sense that this should be the pillow caressing your face every night.
This safe, non-toxic product was clearly designed to have the customer's best interest at heart. Since the pillow doesn't contain any chemicals, it shouldn't have a negative impact on your breathing and your overall health.
You can spot clean the cover of the pillow and then leave it to dry in a sunny and well-ventilated spot. There is always the option of washing it gently with cold water, but never use bleach when trying to clean it. For drying, you can use a tumble dryer, as long as the air is set to cool.
Further Reading on Natural Pillow and Memory Foam Pillow Options
Further Reading on Avocado Mattress Line