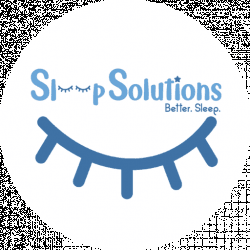 Latest posts by Sleep Solutions HQ Team
(see all)
Roughly 1 in 3 American adults suffer from sleep problems, according to the CDC. While there are many reasons that cause sleep disorders, some of the most common complaints are being unable to get comfortable or waking with a stiff neck. Neck pain is not a normal part of bedtime and the issue can easily be addressed with a new pillow.
If you're experiencing neck pain, purchasing new pillows designed for optimum neck and head support is important. Shopping can be daunting, as every manufacturer claims they have the best pillow, but these 4 options come out on top for comfort, quality and neck support.
The Company Store Duo Sleep Neck Pillow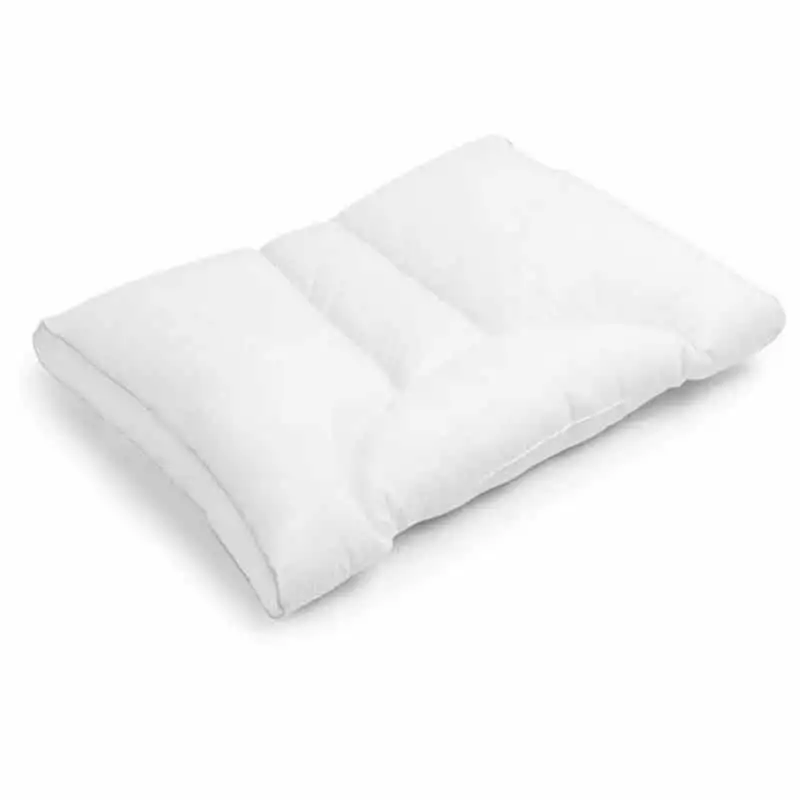 The Company Store is all about high-quality bedding and home decor so it's no surprise they make some incredible pillows for those with chronic neck soreness. The Duo Sleep Pillow is one example of an ergonomically designed pillow that combats neck tension and supports proper sleep posture.
Specs and Features:
Designed by The Company Store and made in the USA
Made of a blend of 45% cotton and 55% Lyocell
Created for side and/or back sleepers
Extremely soft yet durable
Machine washable and hypoallergenic
Chiropractor approved
The Duo Sleep pillow design was created by a chiropractor for TCS, so you can trust that it offers superior support. This pillow is extremely comfortable but recommended for those that either sleep on the side or back. You can easily change back and forth from these positions while still maintaining proper neck support. Looking at the pillow you will see that there is even allowance in the pillow for those that sleep on their side with their arm under the pillow.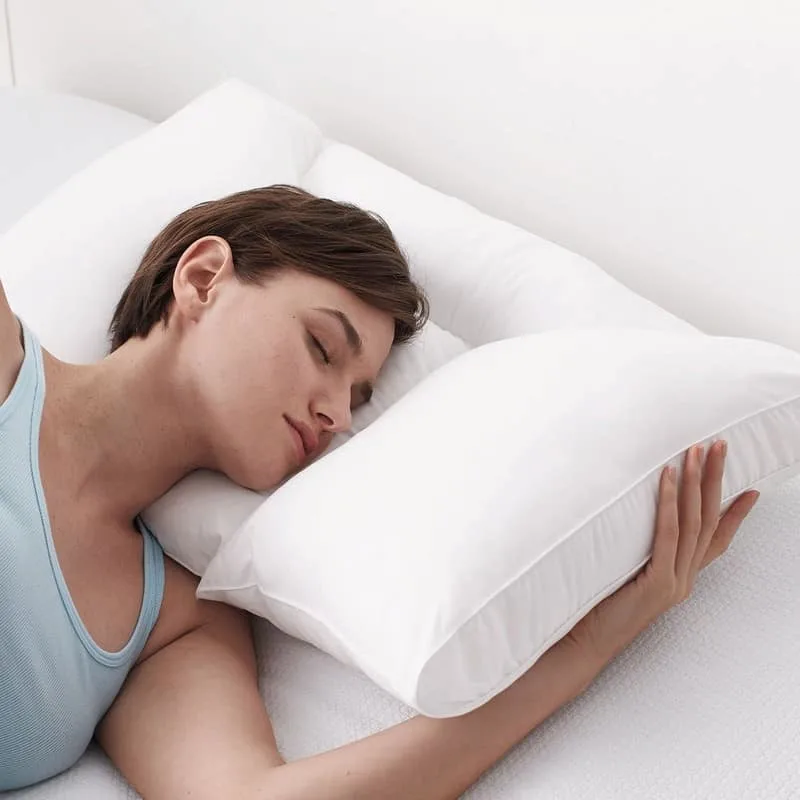 Like most pillows, the lifespan of the Duo is less than 2 years, depending on whether you use it every night. It is luxuriously soft but can handle careful machine washing without a problem. The blend used for the fill is a mix of cotton and Lycocell, which is a synthetic rayon fiber. This blend makes the pillow hypoallergenic, ideal for those that have allergies to latex, down or sensitivities to foam.
If you are a dedicated side sleeper that has trouble finding a pillow that gives good shoulder and arm support, the Duo is a good choice. It is priced at $79, which is very reasonable for a pillow of this quality.
Sleep Innovations Contour Memory Foam Pillow
Sleep Innovations has over 20 years of experience making mattresses, mattress toppers, and pillows. Their belief that everyone has different needs for a good night's sleep carries through to their selection of pillows, which are made for comfort, support, and longevity. The Contour Memory Foam pillow is a very popular model, with thousands of positive reviews from happy customers.
Specs and Features:
Available in Standard or Queen size
Offer comfort with therapeutic neck support
Designed for back and side sleepers
Comes with a 5 yr warranty (will hold contoured shape)
Cradles head and neck as well as shoulders
The Contour Memory Foam Pillow is a classic shape that holds the head while providing support for the neck and shoulders. What isn't so traditional about this pillow is that offers two foam densities in one. Depending on your personal comfort, you can either use the high-density or low-density curve. This feature is great for those that feel like they need varying support. Simply turn the pillow around for a change, rather than having to switch for a new pillow.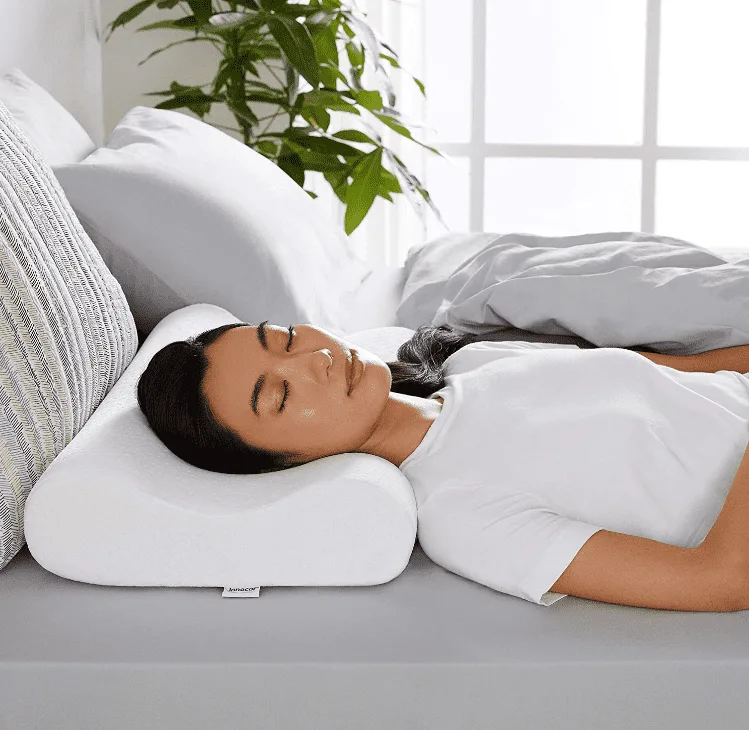 Many contoured memory foam pillows are fairly expensive, so a major advantage of the Contour is that its pricing starts at just $24.99. Sleep Solutions sells their products through various retailers which means, you can find this pillow for even less if you shop around. The quality and price point make this pillow ideal for someone on a budget or for the pillow-addict that wants to try something new.
Xtreme Comforts Shredded Memory Foam Pillow
Xtreme Comforts are pros when it comes to crafting super comfortable, pain-alleviating pillows. They essentially have a pillow for every need and their products have been given awards for their impressive quality. Their Shredded Memory Foam Pillow offers a few advantages that traditional contoured foam neck pillows can't.
Specs and Features:
Available in Standard, Queen, or King size
Shredded foam allows pillow to adjust to your individual head and neck shape
Versatile and suitable for back, side, and stomach sleepers
Kool-Flow bamboo pillow cover keeps head 47% cooler
Alleviates tense muscle and pinched nerves
Meets CertiPUR-US standards for material quality, low emissions, and overall durability
Longer life than more shredded memory foam competitors
Xtreme offers a 30-day money-back guarantee and a 6 yr warranty
The combination of shredded foam and a Kool-Flow Micro Vented pillow cover gives this pillow incredible breathability. A common complaint of memory foam is how easily it can make your head and neck hot, as the density of the foam traps heat. Shredded foam is less likely to cause this issue, due to air space. The vented technology of Kool-Flow only makes this pillow even more pleasant to sleep on. If you are a fan of memory foam but are a warm sleeper that finds they just get too hot, this pillow is the perfect solution.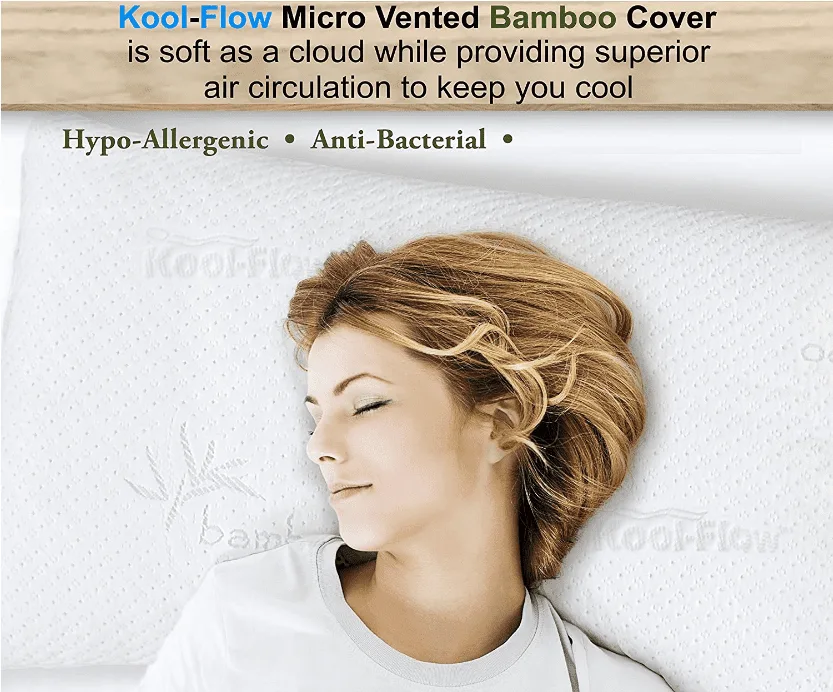 The bamboo pillow cover and shredded foam are also hypoallergenic, anti-bacterial, and highly resistant to dust mites. Many customers also find that the typical chemical smell associated with new memory foam pillows isn't an issue with this model- though those that are extremely sensitive to scent may need to air it out for a day or two before using.
The Shredded Memory Foam pillow price starts at $44.97 when purchased directly from Xtreme Comforts. Prices for the Queen and King sizes are more, but you may be able to find a better deal through a retailer's website.
Malouf Zoned Gel Dough Pillow
Malouf is a higher-end sleep company that focuses on innovation, technology, and affordability. While their pillows are priced higher than most, there is a reason this company is so highly praised. Their pillows simply go above and beyond what you would expect. The Zoned Gel Dough Pillow is an incredibly soft, supportive pillow that provides an experience you can't find elsewhere.
Specs and Features:
Available in Standard, Queen, King, Travel, and Travel Neck size
Comes with low, mid, and high loft options
Gel Dough technology softer and more breathable than traditional foam
Zoned comfort so you can find the most comfortable position
Designed for back and side sleepers
Bamboo rayon velour pillow cover keeps head cool
Has a 5 yr warranty
Right off the bat, you can tell that Malouf really pays attention to detail and individual customer needs. Most pillows will come in two or three sizes, and the customization ends there. This isn't how Malouf operates. Their Gel Dough pillow comes in the typical 3-bed sizes, as well as two travel sizes. If you are a frequent traveler, knowing you can get the same quality support on the go as you do at home is a lifesaver. The Gel Dough pillow also comes in varying lofts – 4.5″ low, 6″ mid, and 7″ high, depending on your needs and body size.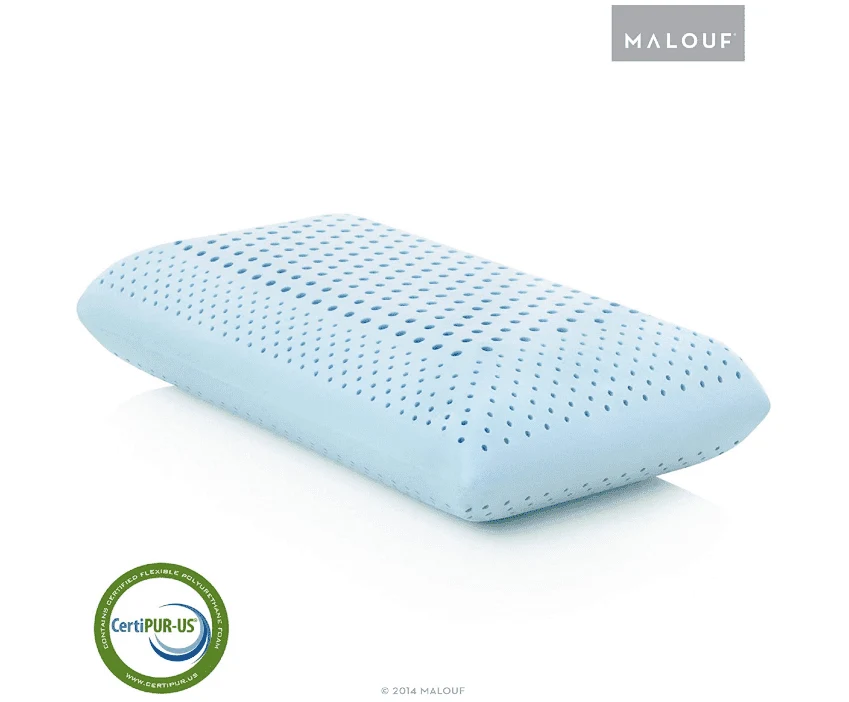 This pillow is made of a combination of cooling gel with Malouf Dough memory foam. As the name suggests, this foam is dense yet incredibly soft and pliable. It conforms to the shape of the head and neck easily, while the gel adds support and cooling. As mentioned previously, a common issue with dense foam is overheating, so Malouf solved the issue with a layer of high-tech gel. The bamboo pillow cover also works to disperse heat while staying silky smooth against the face.
The Zoned Gel Dough Pillow retails for $119 for the standard, low loft (prices increase with size and loft). This may seem expensive for a pillow but considering you spend about 8 hrs per day on it, the investment is fairly low for the quality. Customers rave about this pillow and if you give it a try, you'll be a fan as well.
The Final ZZZ's
Getting a solid 7+ hours of restorative, deep sleep is important for overall health and well-being. If you've been having trouble falling or staying asleep, or have been waking up with neck pain, try purchasing new pillows before shopping for a new mattress. These 4 options are an excellent starting point for someone experiencing neck and shoulder pain or discomfort.