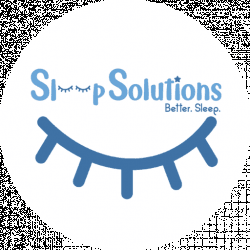 Latest posts by Sleep Solutions HQ Team
(see all)
Reading in bed, whether you're just lounging or getting ready to go to sleep, is a relaxing activity that is a surefire way to soothe the nerves after a hectic day. Unfortunately, those that often read in bed find that it can get uncomfortable after a while, especially when it comes to neck and back soreness.
The cause of this is improper posture over an extended period of time. Most of the time people read in a bedsit at a bad angle, leaning back against their headboard or wall. Others stack up pillows as support but still find that after an hour or so their body feels fatigued and their neck is stiff.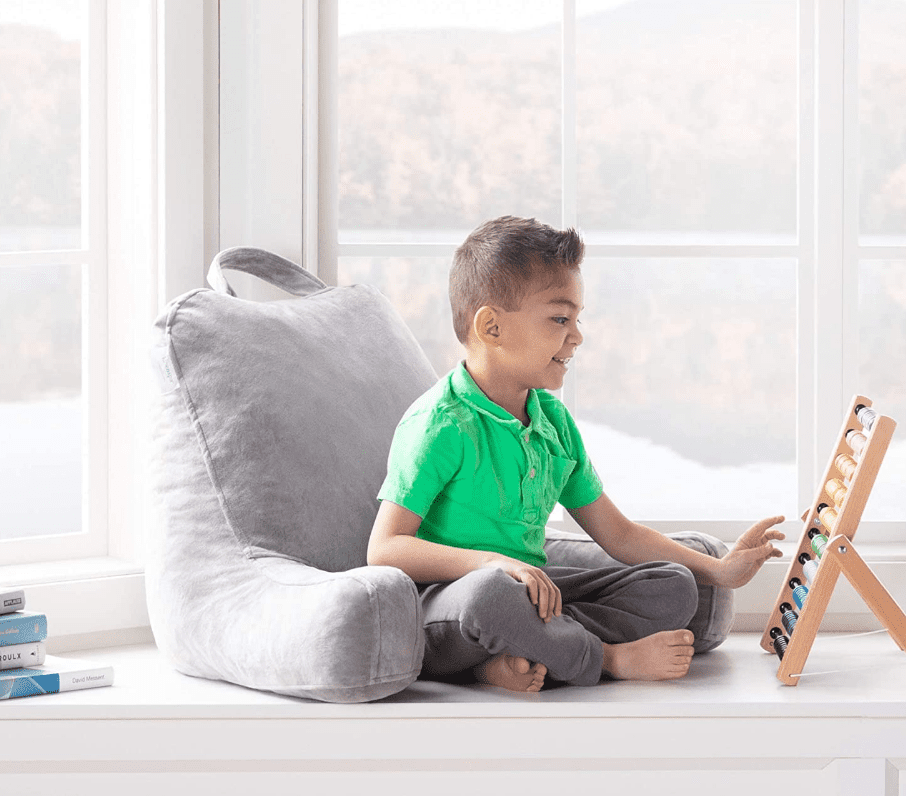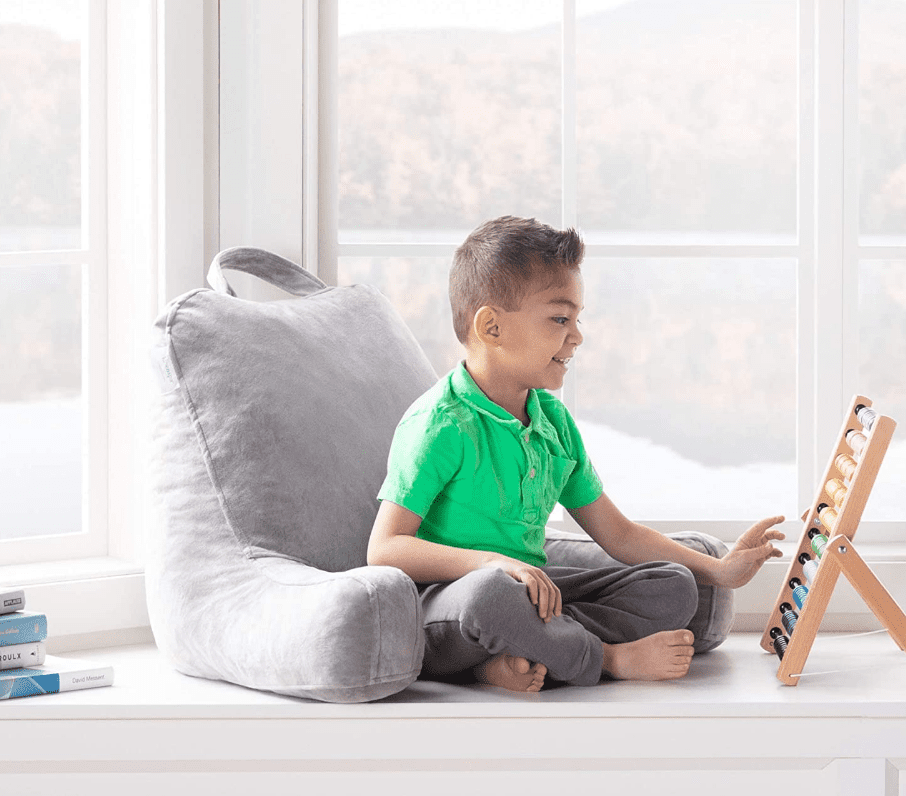 The solution to the problem is using a pillow specifically designed for upright activities on a bed or couch. You've probably seen these pillows before being sold as "reading pillows" or, more commonly, "bed rest" pillows. They are popular for those that are on bed rest, particularly the elderly or infirm who need maximum support while resting.
If you're a fan of reading in bed, or perhaps enjoy playing games on your phone or tablet before bed, here are 5 of the best, most supportive reading pillows you can find.
1. LinenSpa Shredded Foam Reading Pillow
The LinenSpa Shredded Foam Reading Pillow looks like your classic reading/lounge pillow. It offers back as well as arm support and has a large carrying handle on top for easy transport.
Specs and Features:
Available in Standard or X-Large sizes, retailing for $39.99 or $59.99
Comes in a neutral Stone color with velour cover
Stuffed with shredded foam for comfort and support
18″ high back offers ideal lumbar support
Comes with a 3-year warranty
The main difference between this LinenSpa pillow and many others is that its filling is shredded foam and not solid foam. This shredded foam is essentially just tiny clusters, which means this pillow easily molds to the body or can also be hand-fluffed easily after use. Shredded foam is also more breathable than solid foam, so those that tend to be warm while laying in bed will really benefit.
The overall appearance of this pillow is attractive and does look more "adult" than the common bright-colored reading pillows. The cover is made of soft velour and is not removable, though it can easily be spot cleaned with a damp cloth.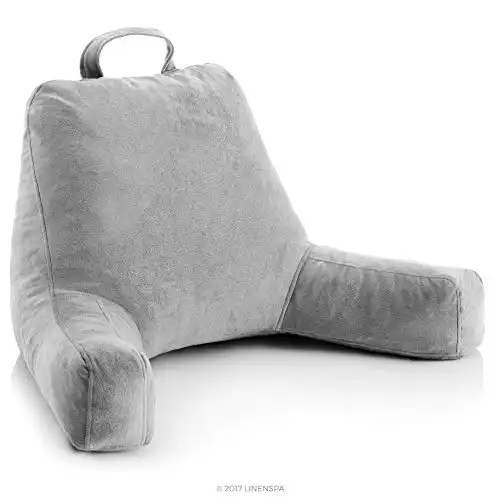 2. Brentwood Originals Plush Bed Rest Pillow
Though somewhat similar to the above pillow, the Brentwood Originals Plush Bed Rest Pillow does have a few key differences that may or may not make it a better choice. Either way this pillow is an excellent choice for a versatile, simplistic pillow.
Specs and Features:
Available in one size for about $35
Comes in an attractive teal color
Made of polyester and polyester blend
18″ back and fairly room width
Very well stuffed and firm while maintaining softness
This bold teal pillow is super soft and plush to the touch. Though it offers some firmness for support, overall the pillow feels very luxurious. It only comes in one standard size, though the arms are a little bit wider than other standard size bed rest pillows.
Though it doesn't have a removable cover, the Brentwood can be spot cleaned when dirty. It also has the typical carrying handle on top. This pillow is also stitched flawlessly and the larger seams help give it more structure as well as support. Brentwood makes these pillows in the US, which is an important factor for some that are concerned about questionable materials from foreign brands.
3. ComfySure BedRest Reading and TV Pillow
If you like the shape of the classic reading pillow but really want more cushion, the ComfySure Bedrest pillow is a great choice. It is slightly oversized and particularly ideal for large consumers or even pregnant women.
Specs and Features:
Available in one size (oversized) for $29.95
Comes in a very attractive gray shade
Uses shredded foam clusters for stuffing
Soft armrests with no uncomfortable large seams
19″ back for extra support
One of the biggest bonuses to the ComfySure pillow is that comes with a removable cover. Majority of bed rest pillows have a sewn-on cover or if the cover is unzipped you're left with uncontained foam. ComfySure designed this pillow with an easily removable zippered cover that is machine washable.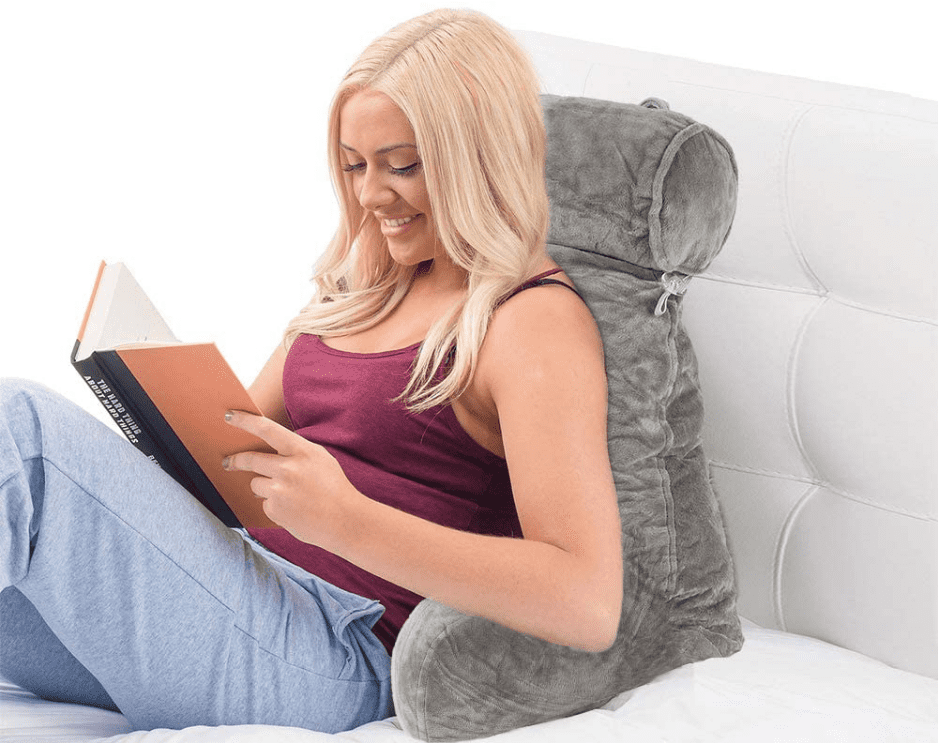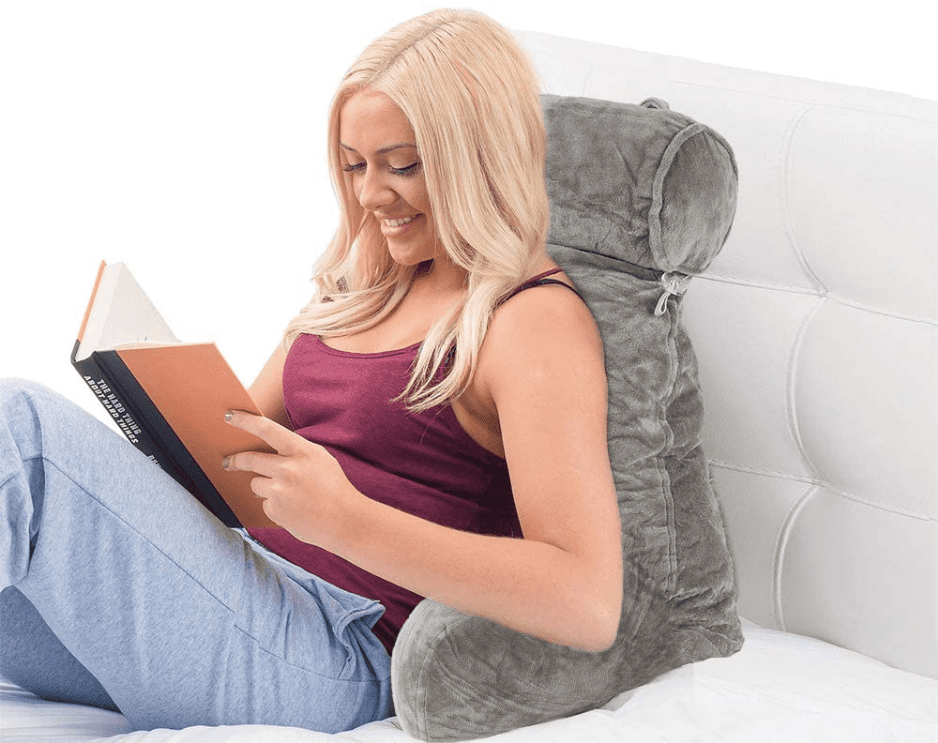 This pillow is slightly oversized or larger in size than most standard bed rest pillows. Overall it is very comfortable, especially for larger people, and won't sink from the added weight. The shredded foam is very breathable and is easily re-fluffed after it is compressed. Features combined with a low price make this a great choice.
4. BedLounge Classic Regular Pillow
If you want something a little different and perhaps a little more luxurious, check out the BedLounge Classic Pillow.
This pillow looks far more attractive and nearly like a chair of sorts compared to other pillows.
Specs and Features:
Available in a small or regular size for under $140
Huge color range with 10 different options in various shade types
Very ergonomically designed (small for 5′ 3″ and under, regular for 5′ 3″+)
Weighs only 6.5 lbs and is easily moveable
Movable headrest with up to 12″ of extension
The BedLouge is about as ergonomic as you can get with a reading pillow. It offers a full range of adjustments including arm width, headrest length, headrest tilt, and lumbar support.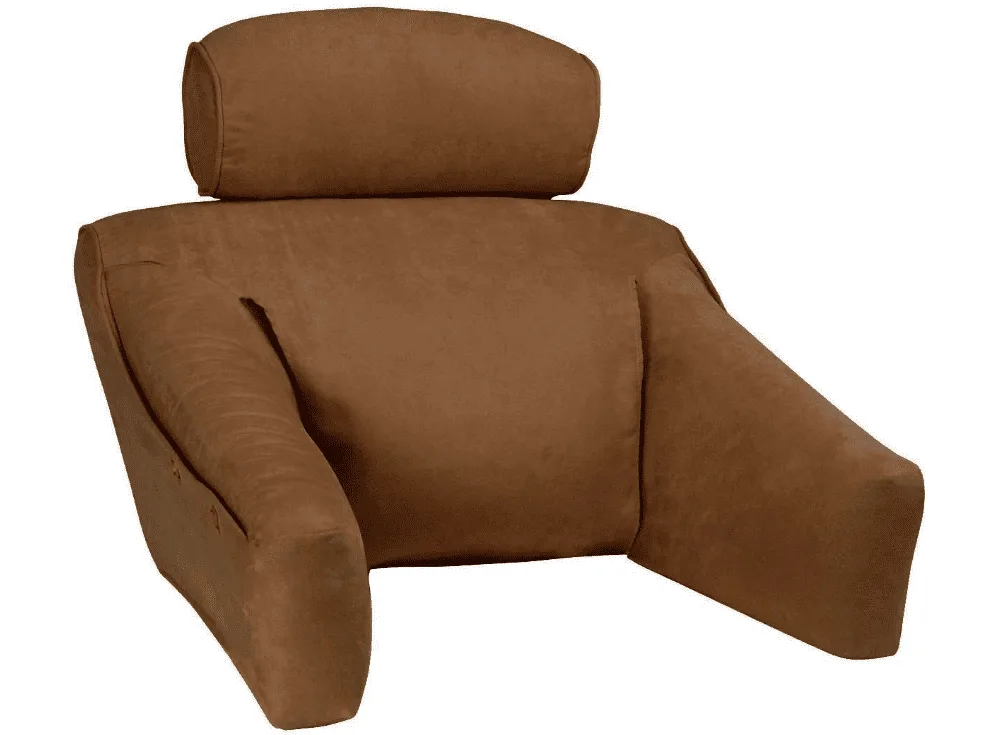 These pillows are not like your typically stuffed pillow but are actually designed more like a chair. There is an inner frame for structure support, along with 2″ fiberfill foam. Feathers and down add a layer of extra comfort in the lumbar and head region.
These pillows not only come in different colors but also different fabrics, including twill, cotton, and suede. The covers are all removable for machine washing. The BedLounge has even created a doctor skilled in treating neck and back pain, so chances are this pillow will be the key to more peaceful reading if you suffer from soreness already.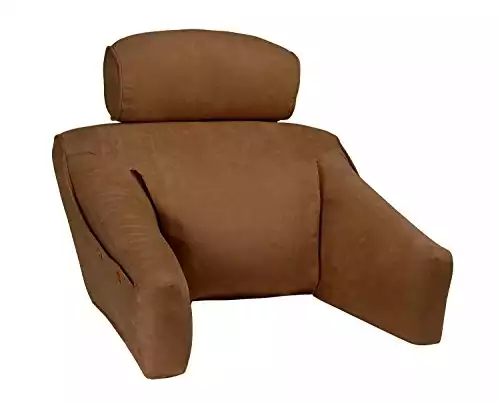 5. InteVision Foam Wedge Bed Pillow
Though not a traditional bed pillow style for reading, wedge pillows can be used in combination with your normal sleeping pillows for extra effect. If you don't like the style of the other reading pillows, this one may be a better choice.
Specs and Features:
Available in a 12″ tall wedge for $39.99
Made of therapeutic memory foam
Ideal for added back support and lift while reading
Versatile (reduces snoring, GERD, acid reflux, etc)
Removable, machine-washable cover
If you like your current bed pillows for sleeping but need a little more lift to comfortably recline back, a wedge pillow is a great choice.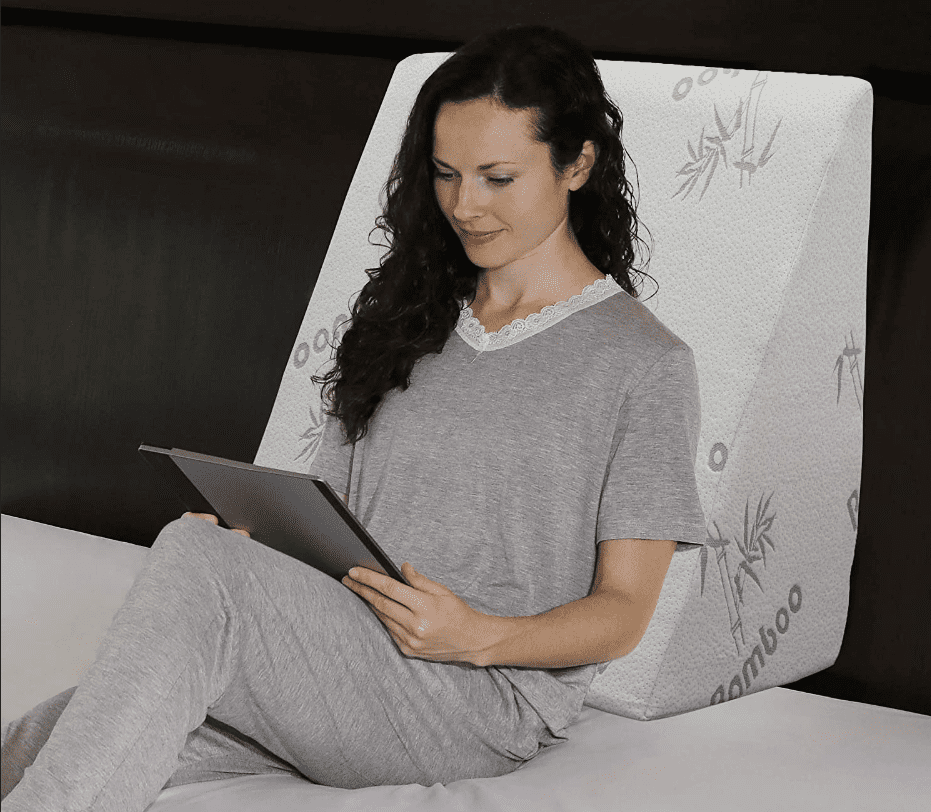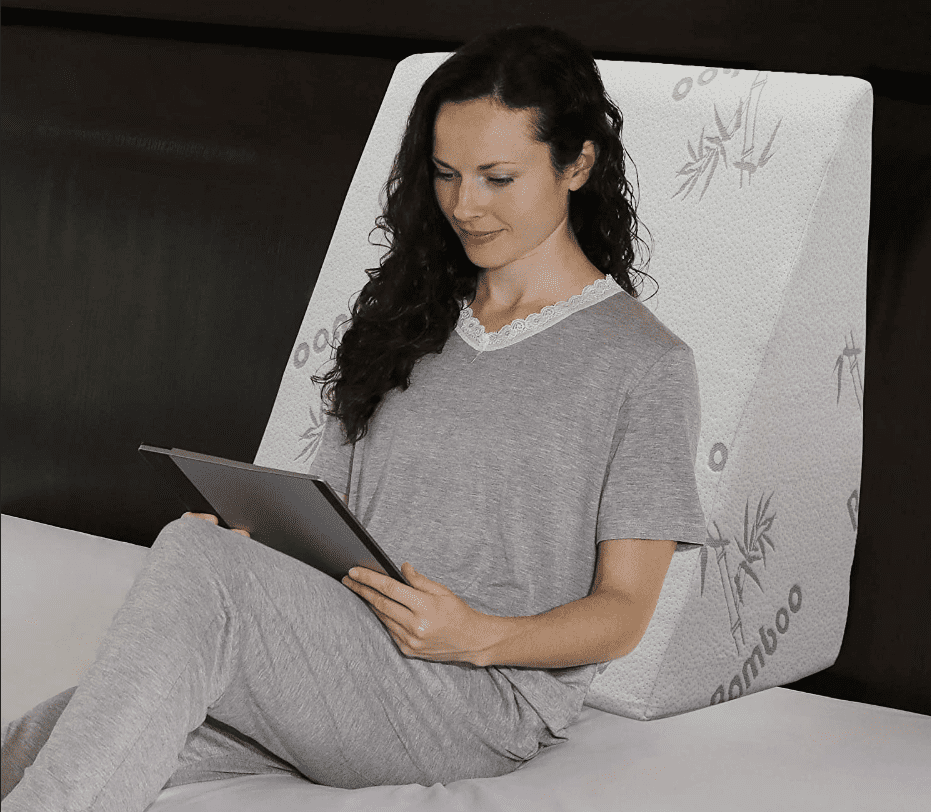 Simply place this wedge pillow against the wall and place one or two other pillows on top for lumbar and neck support. You can also use it while sleeping to alleviating snoring and other common issues, which really adds to the versatility of this pillow compared to others. This pillow is also non-allergenic.
There is no excuse for bad posture while reading in bed when so many pillows are available to alleviate soreness. Not only is neck and back soreness an irritating problem, it can lead to chronic pain and negatively affect your sleep.
If you're a big fan of reading a good book in the comfort of your bed, any one of these 5 pillows will increase your comfort and allow you to really focus on what you're reading instead of on slipping pillows or neck stiffness.