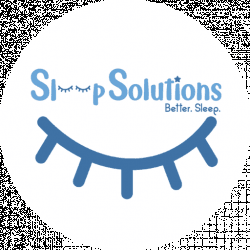 Latest posts by Sleep Solutions HQ Team
(see all)
The recliner is a wonderfully comfortable and cozy piece of furniture that a lot of people crave to have. There's nothing like grabbing a glass of wine, your favorite blankie, and the remote control and snuggling in your recliner for a well-deserved relaxation session after a long day's work.
Today's article is dedicated to this wonderful invention and the best lumbar cushions review round-up for a match made in Heaven.
These are the best lumbar support cushions for recliners:
Suitable for use in a recliner, but versatile enough to be used on your office chair, car seat, sofa, and many other places, the Relax Support cushion is a good unit with more than a decent price tag. It provides the back support you need to help alleviate pain. It's made with memory foam that's designed to give you support and correct spine alignment.
In case you plan on using the support pillow in another place other than a power recliner, the pair of adjustable straps might come in handy. Alternatively, they can also be removed before placing the support pillow on the recliner, just to get them out of the way.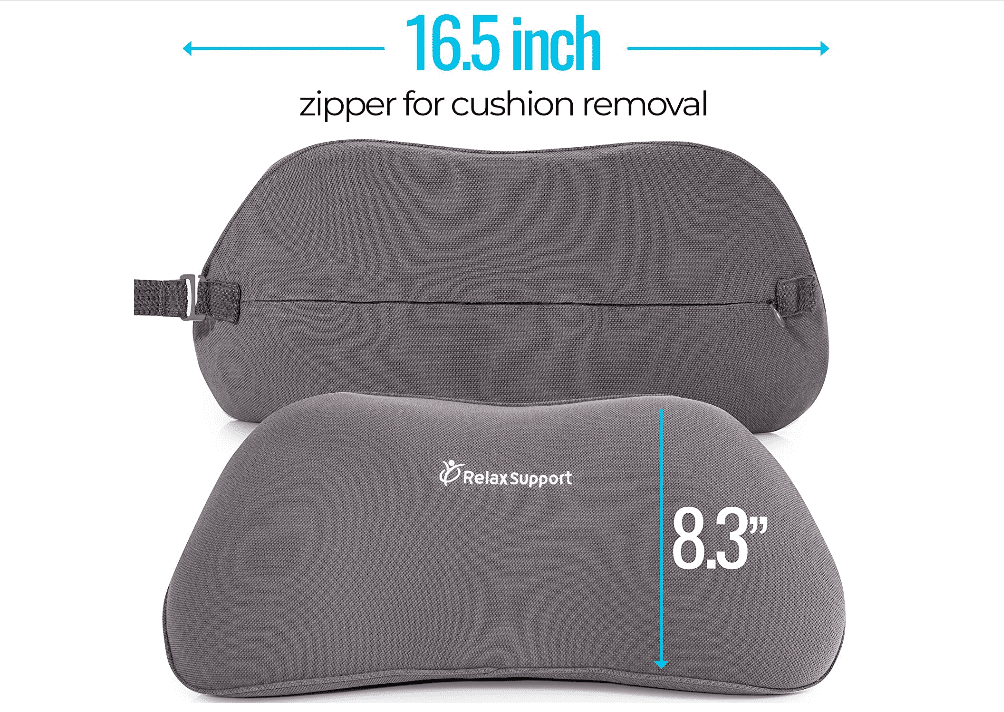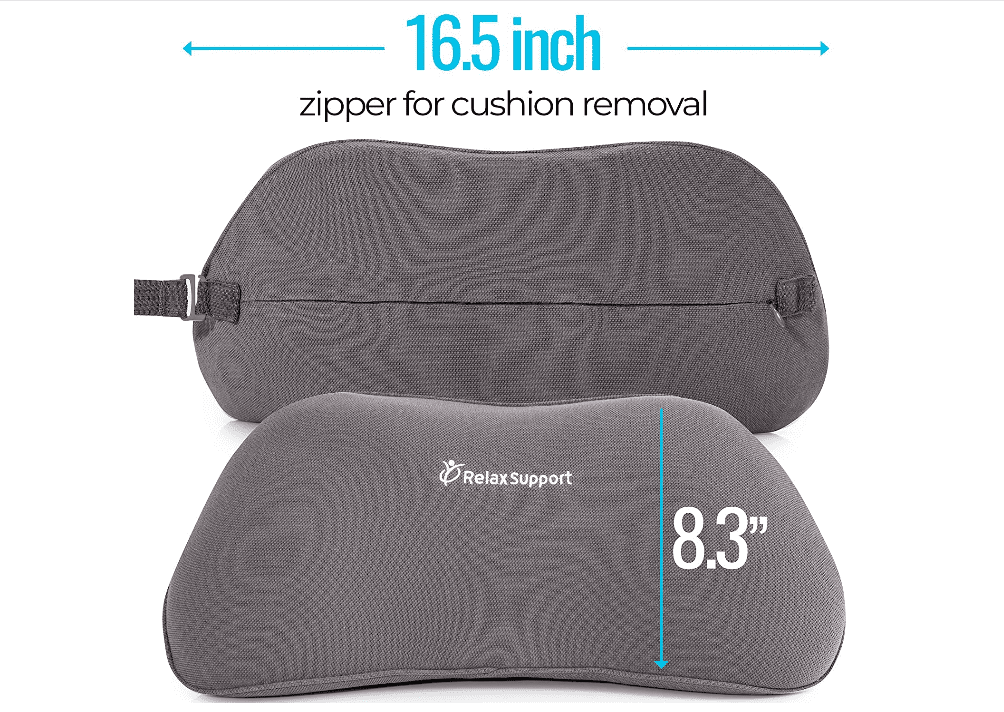 The cotton cover is really pleasant to the touch, but that won't matter much since you will have your back against it. What's important is that the cover can easily be removed and cleaned in the washing machine (machine washable).
Pros:
Pillow is lightweight and can easily be moved around from one place to another.
Comes with a pair of adjustable straps, to fix the pillow in place.
For recliner use, the straps can be removed to get them out of the way.
The cover can be removed and washed.
Cons:
A bit soft may cause discomfort for some people.
Specs:
Dimensions: 16.5 x 4 x 8.3 inches
Weight: 1 pound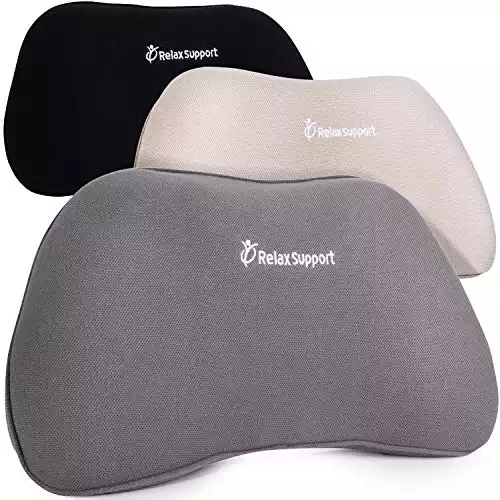 The ergonomic design of the support cushion pillow is meant to provide support for your lower back, whether you place it on your recliner or any other type of seat. Because of its design, it does more than support your back, as it also forces you to align your hips, shoulders, and back for a more correct posture.
The support pillow is ideal for people who spend a lot of time sitting down or are generally prone to having back problems. Due to its lightweight, it also makes for a good travel accessory, whether you use it in your personal car when driving or on the airplane.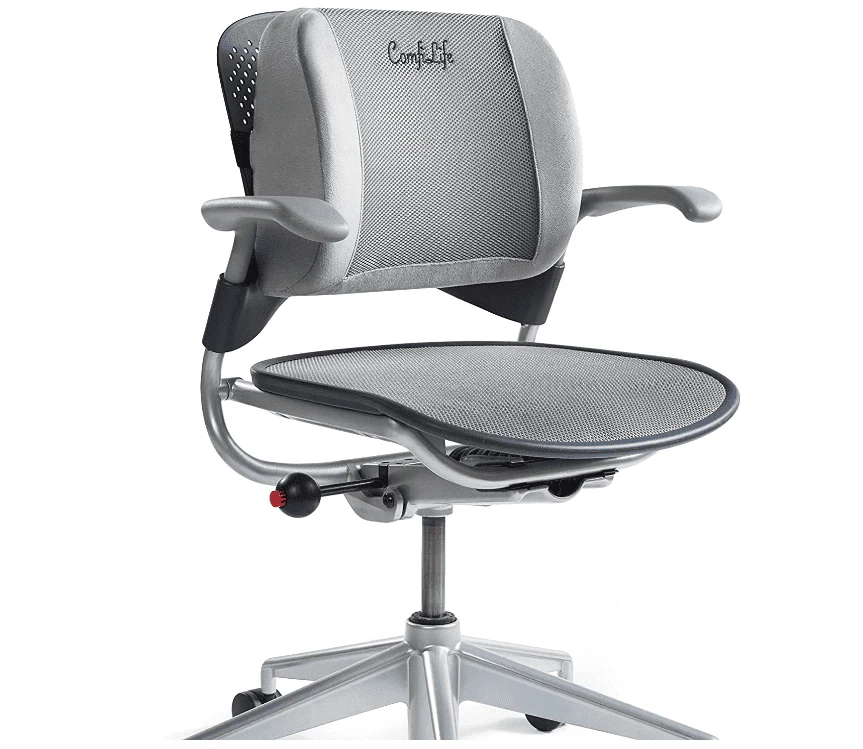 The high-density memory foam does a good job in offering support without putting a strain on your lower back. The adjustable strap is good for when you want to use the cushion with a regular office chair. The cover comes with a convenient zipper for removing and cleaning it. Because it's made from mesh, the cover is also breathable and prevents any excess sweat from disturbing you.
Pros:
Versatile enough to be used in several situations.
Can easily be taken on trips because of its lightweight.
Suitable for people who spend a lot of hours sitting down every day.
Helps correct and support good posture by keeping your spine aligned.
Mesh cover is highly breathable.
Cons:
The horizontal strap is not enough to keep the pillow in place.
Too small/big for certain car seats.
Support Cushion Specs:
Dimensions: 15 x 12.5 x 4.7 inches
Weight: 1.25 pounds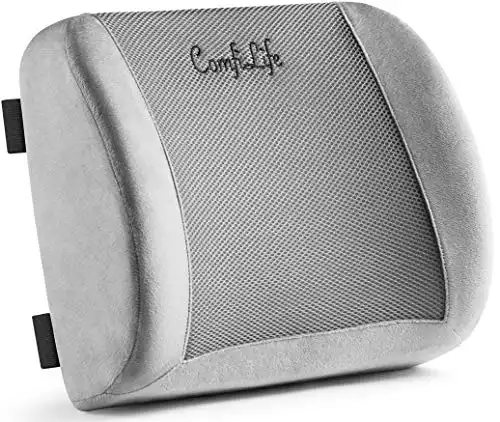 The Desk Jockey is yet another lumbar support pillow that could snuggly fit in your reclining chair. It helps alleviate back pain (pain relief) and provides comfort when sitting down.
One of the main promises of the manufacturer is the limited off-gassing, as chemical smells are often the subject of complaints when people purchase pillows online. The memory foam used in the construction of the pillow promises many years of use without ever going flat.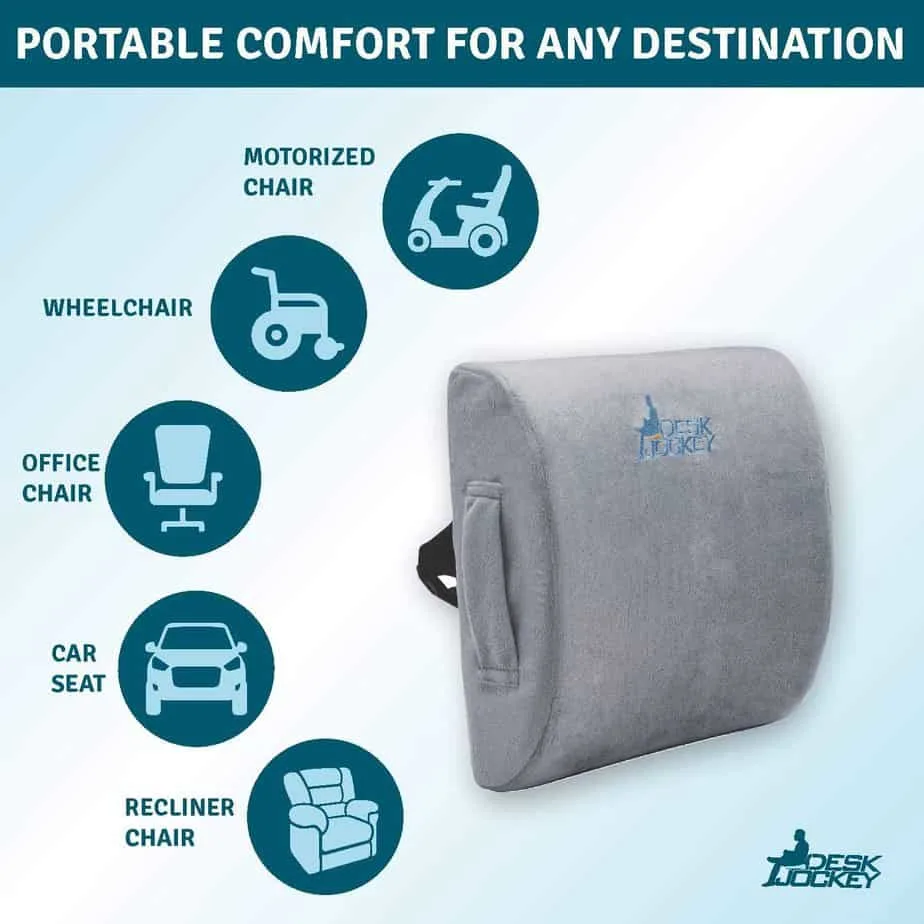 The cover can be removed and washed in the machine, while the added strap is meant to keep the pillow in place if you use it on a regular chair. Additionally, you will also receive a storage/travel bag that allows you to take the pillow with you on longer car, bus or airplane trips.
But what really caught our attention is the product presentation made by the owners of this business who stand behind their product every step of the way. In fact, their transparency has led them to share the research and design process of the pillow, as a reminder that some of the best products are ergonomically designed over time, with a lot of testing and patience.
Pros:
Made with therapeutic-grade memory foam.
Provides the perfect balance between softness and firmness.
Highly recommended by customers that have to deal with back pains.
Doesn't feel uncomfortable even after hours of continuous use.
Cons:
The single strap doesn't do a good job in keeping the pillow in place.
The buckle location is a bit out of hand in case it needs constant adjusting.
Support Cushion Specs:
Dimensions: 13 x 3.9 x 11.8 inches
Weight: 12 ounces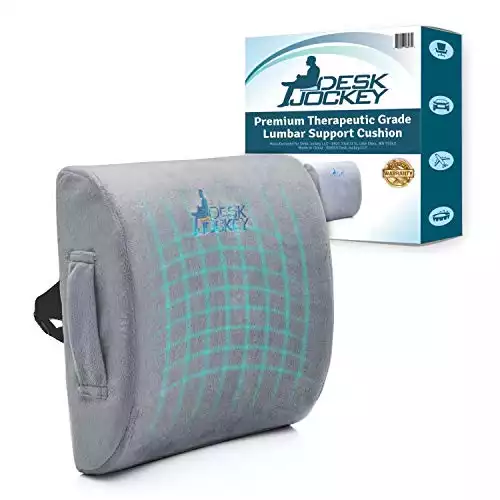 Available in eight different colors (yes, pink is one of them), the LoveHome pillow promises versatility and aid for people in need of lower back support. Aside from that, it also does a good job in preventing muscle tension and improving blood circulation (which is actually a huge problem when you're constantly sitting in the wrong position).
The agronomical design of the pillow is one of its strong points, as it fit the shape of your spinal curve and helps realign your back so you'll never feel uncomfortable when sitting down (prevents long-term pain, as well as near-term pain relief). Just like the other models, this pillow is made from memory foam with just the right amount of firmness.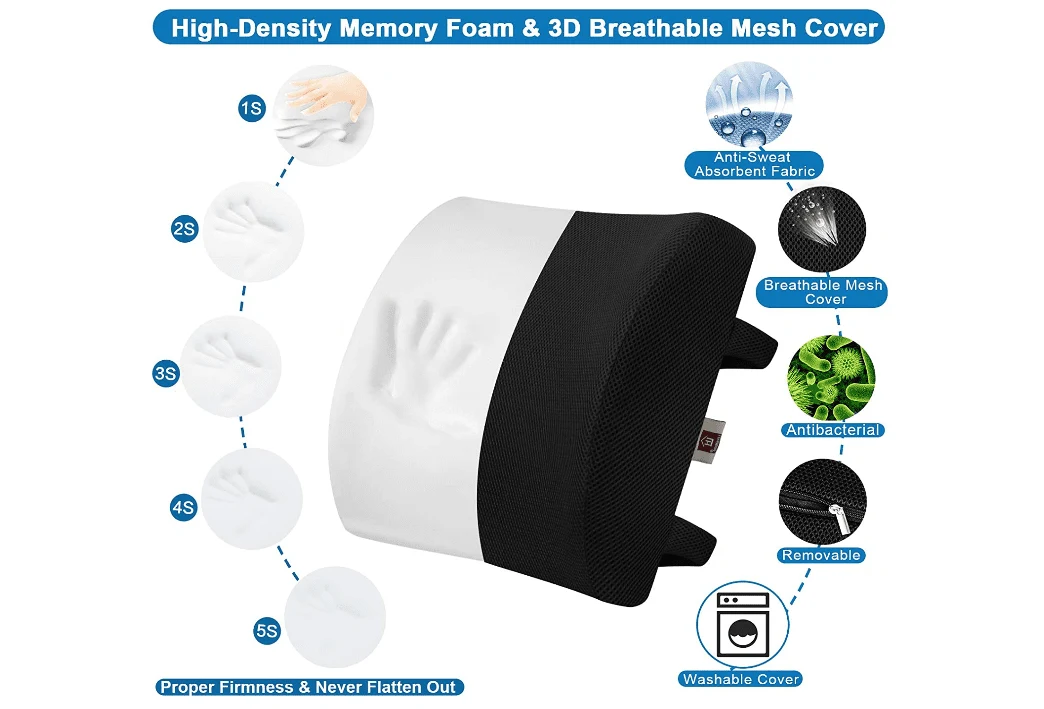 The cover is made from highly-breathable mesh and it can be removed and cleaned whenever needed. This anti-sweat fabric also happens to be antibacterial, which is always a plus with stuff you have pressing against your body. There is an added extension strap so you'll never have to worry about short straps ever again.
Pros:
Available in eight different colors.
The cover is made from breathable mesh.
The cover is antibacterial.
Cons:
Pad runs a bit small for larger people.
Specs:
Dimensions: 13 x 13 x 4.5 inches
Weight: 1.45 pounds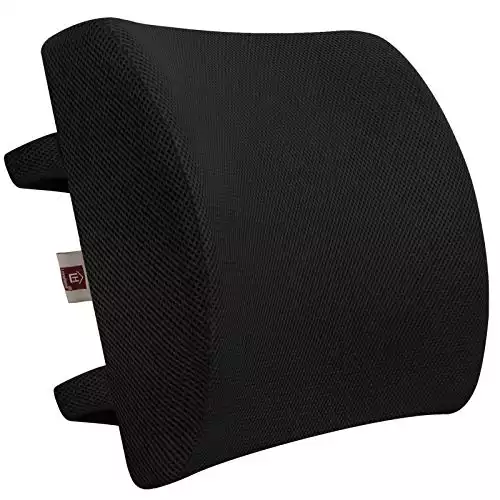 With a hugely positive reputation amongst people who were looking for a long-term solution for their back problems, the Everlasting pillows check all the important features off the list with this great product. Thanks to the foam used in its construction, the pillow balances the support your lower back need while ensuring comfort even after many hours of sitting down.
The moment you start experiencing chronic pain is when you truly learn to appreciate a pillow like this one that provides actual pain relief. But we strongly recommend you avoid this pain altogether and invest in a lumbar back support pillow while there's still something to be done about it.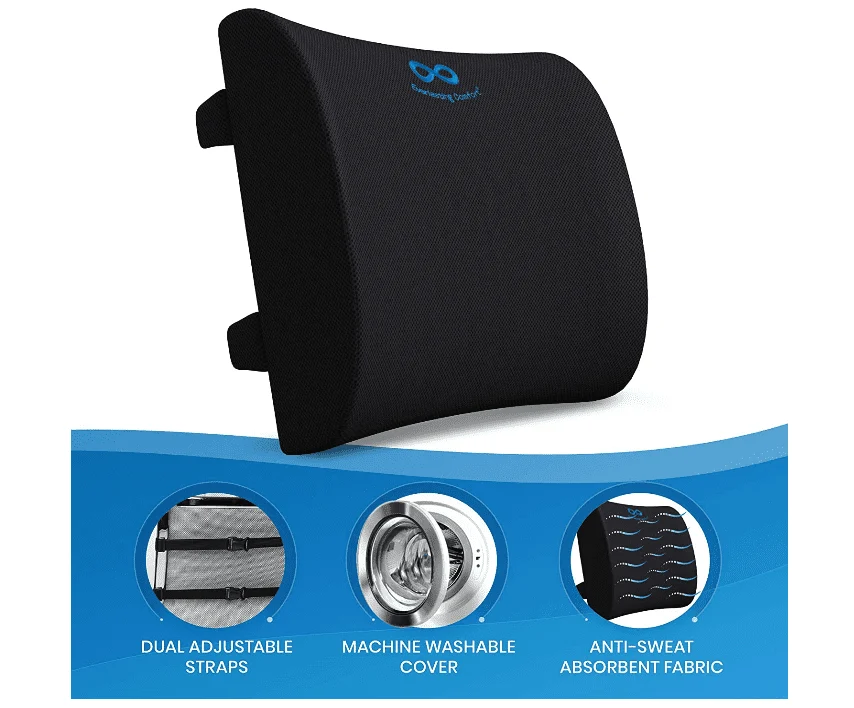 The mesh cover is hypoallergenic, breathable, and should be comfortable enough for you to trust it by leaning your lower back on it for support. The dual adjustable straps are meant to keep the pillow in place and are especially useful when the pillow is placed on a chair.
Pros:
Mesh cover is highly breathable and hypoallergenic.
Comes with two straps for better adjusting.
Versatile enough to be used in all kinds of seating-related situations.
Has a lifetime replacement guarantee.
Cons:
Not that suitable for small people (due to its size).
Even with the dual straps, it still slides off certain office chairs.
Specs:
Dimensions: 13.4 x 4.1 x 12.6 inches
Weight: 1.8 pounds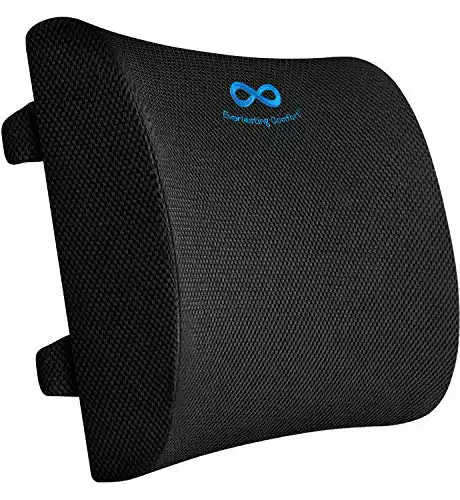 6. Vremi Premium Memory Foam Lumbar Support Pillow
While there aren't any noticeable differences between the Vremi pillow and the other ones we've gone over in this roundup, it is still a great product, recommended by a lot of satisfied customers. The pillow is compatible with a range of seats (and don't you just love versatility).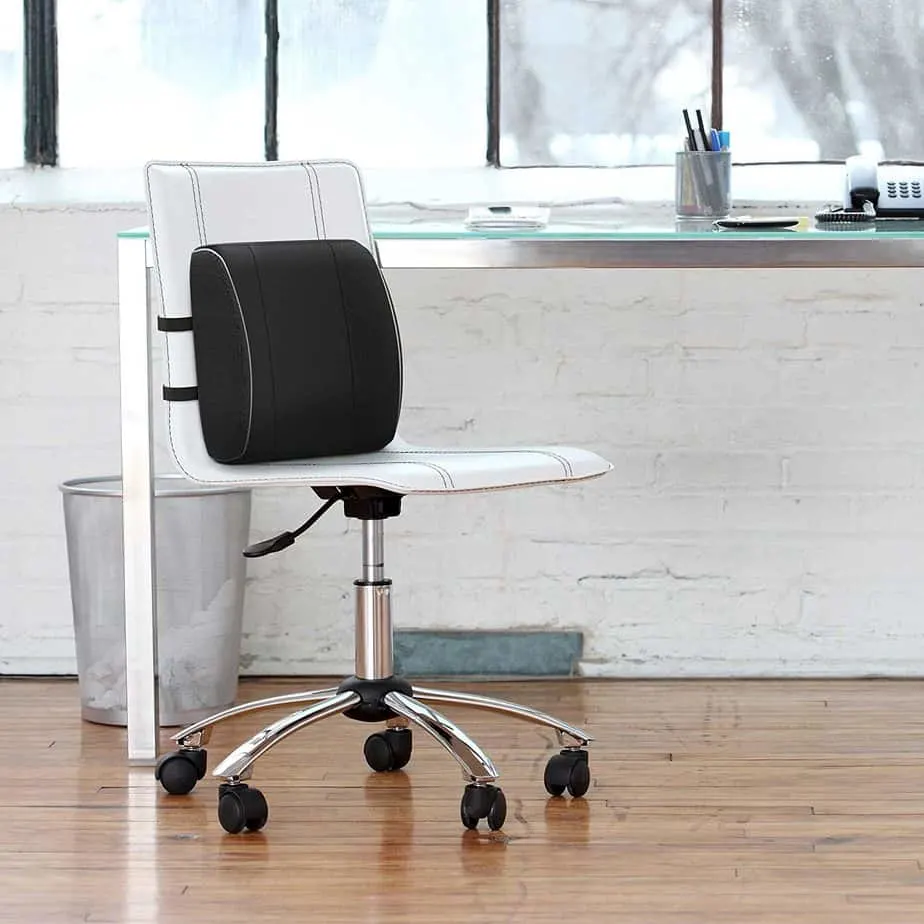 Just as with the other models, this one is also made with memory foam, because it is the wisest and most suitable choice as far as lumbar pillow inserts are concerned. The mesh cover is hypoallergenic, which means that it won't take a toll on your skin. There is a set of adjustable straps that are meant to keep the pillow in place, but common knowledge has taught us that these lumbar pillow straps aren't always that reliable.
Pros:
Versatile ergonomic pillow to be used in multiple conditions and situations.
Made from memory foam, with enough lower back support and added comfort.
Mesh cover is hypoallergenic and highly breathable and prevents excess sweating.
The cover can be removed for easy cleaning.
Cons:
Straps don't do a good job in keeping the pillow in place.
Specs:
Dimensions: 13 x 12.5 x 4.2 inches
Weight: 2.25 pounds
Types of Recliners
One would say that recliners are almost therapeutical since they force every muscle in your body to relax. The real reason why they have these amazing health benefits is that they can provide you with great lumbar and neck support.
Rocking Recliners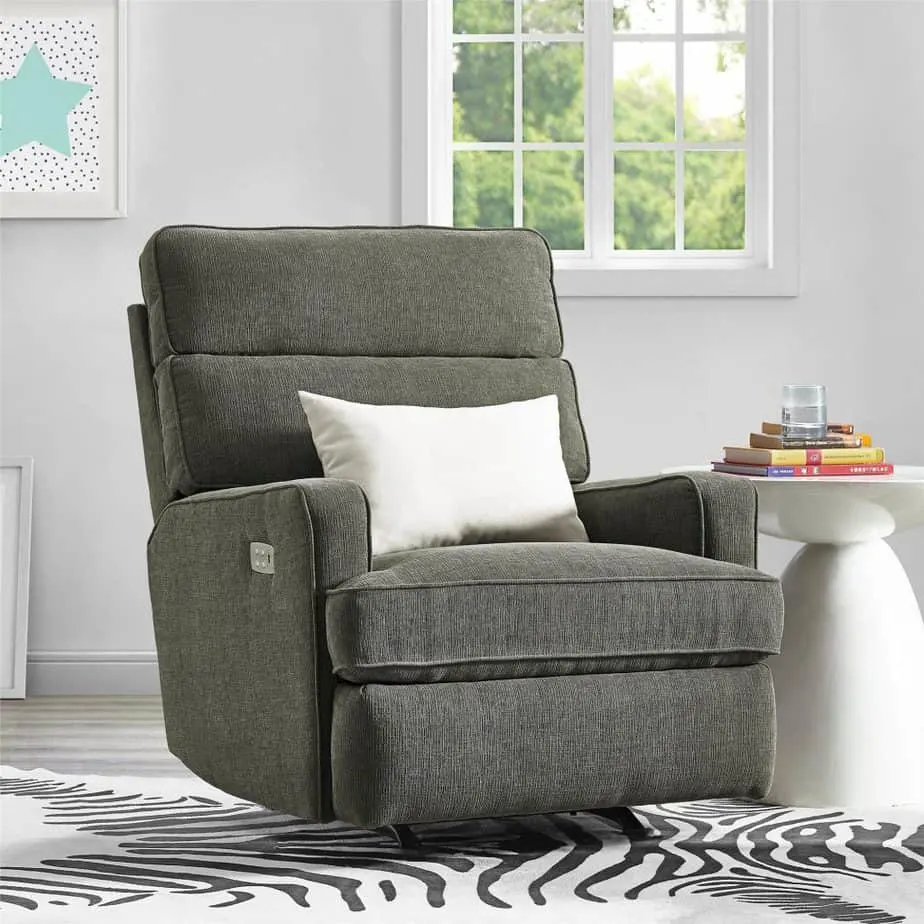 Just as the name suggests it, this recliner will rock you straight to snoozeland and even if you don't believe it, there are actually people that prefer to sleep in this type of recliners instead of an actual bed. It is often the favorite furniture piece of nursing mothers because the motion helps the baby relax and fall asleep a lot faster. There are some rocker recliners that are enhanced with a swivel feature, but they will also cost more.
Lift Chairs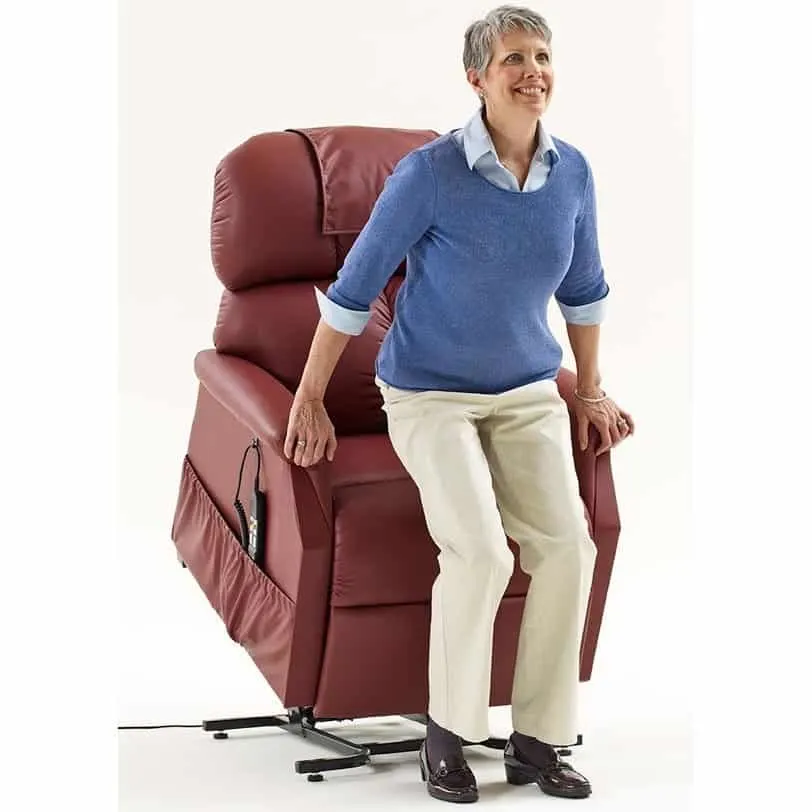 Lift chairs are like the ultimate recliners because they are powered by motors. These mechanisms will push the chair upwards from its base so that people with limited mobility will find it easier to get up from their seats. These chairs are available in all shapes and sizes and will fit almost any body type.
They are particularly useful for people with leg problems and weak knees. Because of the mechanism, it's based on, a lift chair is also more expensive compared to other types of recliners.
Wall-Huggers
Wall0hugger recliners are considered to be pretty basic (if you can even refer to a recliner as being "basic"). Because of their shape, they fit perfectly in rooms with limited space available.
A wall-hugger can also act as a rocker recliner, but their main characteristic is forcing people to sit in a straight position. This is also useful for people who have knee problems because it's easier to sit and get up. Depending on the model chosen, some even have adjustable heights.
Massage Recliners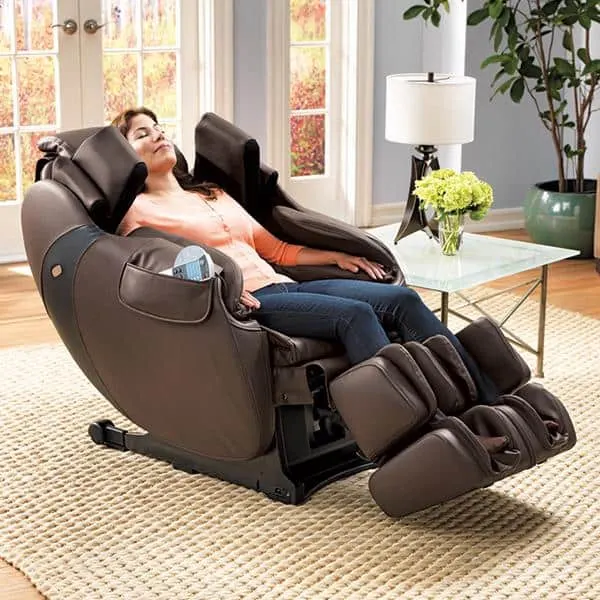 This chair is definitely a dream come true. To push things even further, you can opt for a massage recliner that also has a heating function. It's basically everything you could wish for on a cold winter day. Even if they are pretty expensive, the way they help you relax is priceless.
Important Lumbar Pillow-Related Info
Just as you use pillows to support your head or pillows that go directly on the chair's seat for more comfort and support, why not use a pillow that can actually help you with your back-pain problems. When you opt for using a lumbar support pillow, you are reducing pressure in the lower back muscles and easing the pain located in this area.
While lumbar pillows are a great idea for anyone, they are especially recommended for people who spend a tremendous number of hours sitting down every day. That's the reason why they are loved by office workers all over the world. It's enough having a job that doesn't allow for mobility because you have to sit a desk all day, why not make sure that you have all the comfort you can get while working?
As always, the most important item on the list is the material used in the construction of such a pillow. It is best to opt for one that's made from memory foam because you will be able to enjoy a good balance between support and contouring. The cover should also be breathable, either organic or made from mesh which is known for its cooling design. The cover of a good lumber pillow should have a zipper to remove it and clean it in the washing machine.
Resistance and durability are two factors that go hand in hand. The pillow needs to be just right to feel comfortable when pressing against it while also being firm enough to make sure that your spine is in the correct posture.
For a recliner pillow, straps and adjustability aren't that important as they are on a pillow that's used in a car, for instance. The role of the straps is to keep the pillow in place because a lot of people don't use these pillows as they should. The pillow should support your lower back's curved and not rest directly on top of the seat.
However, with lumbar pillows, testing is everything. Some of the best pillows on the market were returned by customers who felt that the pillow wasn't a good match because of their body shape or weight or the fact that the pillow was too wide/narrow for a specific chair.
Even so, a lumber pillow should be versatile enough to be used in multiple situations. Some of the best pillows are also designed to be as lightweight as possible because when you're experiencing back pains and you have to travel, someone should have your… back.
If you're ever skeptical about spending money on such an item, think of it as a long-term investment. The more you act towards preventing back pain problems, the less likely you are to spend a lot of money on medical procedures later on.
Bottom Line: What Are the Best Lumbar Cushions for Recliners?
Lumbar pain is something you DO NOT want to mess with. Even when you're in your mid-20s and have a 9 to 5 office job, you are putting a great deal of strain on your body by just sitting down. Chances are, you'll start having back pains by the time you're 30 and it really only gets worse from there.
So, investing in a good lumbar pillow is important. While there isn't exactly a lumbar pillow designed exclusively for a recliner, the beauty of such a product lies in its versatility.
A lumbar pillow that can be used on a recliner should work just as well on any other seating. There are some recliners that are sold with their very own lumbar pillows but don't be fooled, they are mostly regular pillows with a leather cover that act more as an accessory to match the recliner itself.
While these pillows act to alleviate lower back pains, there's no harm in using them to prevent such pains from installing in the first place. The best lumbar support pillow for a recliner is a combination between a good price, solid materials that are firm enough to support your back and soft enough to be comfortable, and a breathable cover that prevents your lower back from excessively sweating.
Further Reading