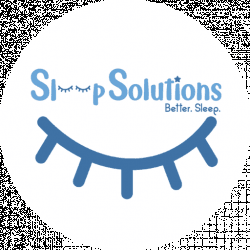 Latest posts by Sleep Solutions HQ Team
(see all)
There is little doubt that a plush, comfortable recliner is a joy to take a nap in. The reclined yet slightly upright positioning of the body in a recliner versus a sofa or bed can actually be beneficial for the body. It is particularly ideal for relieving stress on joints and improving circulation, as a recliner helps fights the effects of gravity.
Those suffering from medical issues can also benefit from sleeping in a recliner chair, especially people with sleep apnea. In fact, some sleep apnea patients may be advised by their doctors to sleep in an upright, reclined position to ease snoring and achieve more restful sleep.
Whatever your reason is for sleeping in a recliner, your average recliner probably isn't going to be the most beneficial reclining chair for your needs. Not only is comfort important, but the angle the chair reclines should be considered.
If you have medical issues with the power recliner that requires more of an upright position, a normal recliner may prove unsuitable and a recliner lift chair hybrid could be the best choice.
Here are 3 excellent recliners models that work particularly well for napping and sleeping.
Finding an oversized recliner isn't difficult, but finding one that can provide the right support throughout the night can be. Oversized recliners are often more expensive as well, due to the increase in materials used in design, so taking the time to compare models is important.
Typically very large-framed people are more likely to suffer from sleep conditions like obstructive sleep apnea, so a recliner like the Catnapper Magnum Chaise model can really help with snoring and breathing concerns.
Recliner Chair Details:
Comes in 4 upholstery color options – Hazelnut, Merlot, Saddle, and Sage upholstery
Retails for around $900 as of this writing (but check the live pricing here)
Dimensions – 46″ x 48″ x 44″ (weighs 135lbs)
Max. weight capacity – 300lbs
Includes Sensate Heat and Massage technology
Has side pockets for magazines and remotes
Super durable 100% steel seat box foundation for zero warp/splitting
Steel mending plates improve strength and increases longevity with the reclining mechanism
Strong 8 gauge steel seat springs are "No-Sag" and comfortable for long periods of sitting/relaxing/sleeping
The Magnum Chaise Rocker recliner isn't super oversized, but will be a more comfortable for larger men and women.
This recliner chair has plenty of features that really make it a joy to own. The built-in Sensate Heat and Massage feature is easily controlled via remote. The warming ability is really useful for those that are sleeping in a recliner to aid with sore muscles or joints. The massage option has various vibration modes, such as pulse or steady.
This sleeper recliner model doesn't fully recline flat, so those that want to sleep in a more upright position should consider this power recliner. It is very reasonably priced for the quality but Catnapper certainly didn't skimp on upholstery materials.
This rocking recliner has been enforced with steel to ensure users get the most support and life from it as possible. This extra enforcement is also ideal for sleepers, as they will be spending more time in this recliner than average customers that only buy it for sitting.
Where to Buy the Catnapper Magnum Chaise Rocker Recliner
#2 Med Lift Full Sleeper Lift Chair
As mentioned, sometimes people end up sleeping in recliners due to health issues or disabilities that limit movement. Normal recliners may be comfortable enough, but few offer the ability to fully recline or lift forward for easy transition to a wheelchair.
If you require a lift chair but want the comfort of a cushy power recliner, the Med Lift Full Sleeper is going to be a real treat.
Sleeping Recliner Details:
Retails for about $1,350, depending on retailer
Built for average adults between 5′ 6″ and 6′ 4″ in height (also available in Petite for smaller adults)
Max. weight capacity of 375lbs
Body dimensions – 36″ x 38″ x 43″
Seat dimensions – 21″ x 21″
Impressive lifetime warranty on both frame and lift mechanism
Can get level 2, 4 or 6 Med Lift Vibration and Heat option reclining mechanism
Fabric upgrade options up from level 5 to 7
Option for removable head pillow
Full reclining sleeper
Quiet lift motor won't disrupt others at night
Acella-Flex foam seating technology
Seat has 5 No-Sag springs for prolonged comfort
Has a full chaise pad
Med Lift really went all out on designing this recliner for sleeping. On it's own it performs extremely well, and the availability of a huge number of options, from massage to fabric upgrades, is even more impressive. This recliner is naturally more money, but still well-priced if you need the lift recliner feature.
Being able to fully recline back is a feature not often found in average consumer recliners, but is a huge comfort boost if you are someone that prefers a bed but must use a recliner. The reclining feature is controlled with a button as well, not an arm, so you can customize how far you'd like to recline.
The lift recliner feature can handle up to 375lbs of weight and has a limited lifetime warranty on hardware. The motor for the lift recliner is incredibly quiet and also low voltage, so you can easily plug it right into the average home outlet. Med Lift also added a battery backup for emergencies.
#3 La-Z-Boy Gibson Reclina-Rocker Recliner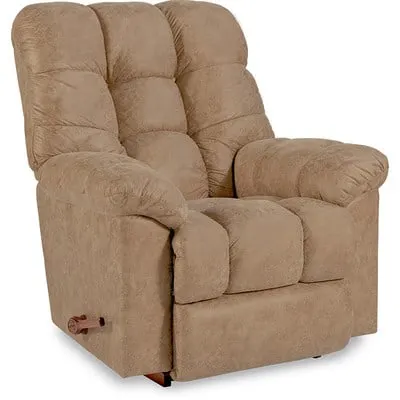 When it comes to furniture brands, few are as synonymous with recliners as La-Z-Boy. Not only are they a reputable brand to purchase from, but they have a huge selection of models and tons of options to go with them.
The Gibson Reclina-Rocker is a seriously tufted, cozy recliner that is comfortable to sleep in (as a sleep chair and reclining chair) and the ideal size for the average adult.
Sleeping Recliner Details:
Comes in 5 upholstery cover types – Performance, Leather recliner, iClean, Fabric, and Renew upholstery
Has a total of 935 upholstery color options available
Can be ordered with standard, elongated or arc handle
Comes in a standard brown upholstery finish or optional polished finish
Standard base or swivel base reclining mechanism
Choice between standard cushion or a luxurious memory foam cushion
Body dimensions – 43″ x 44″ x 40″
Seat dimensions – 22.5″ x 20″ x 17″
Retails anywhere from $899 to $1,299 depending on cover (extra options increase price)
You can't find this on Amazon currently, but you can purchase it directly from the La-Z-Boy site.
One look at this recliner is enough to tell that this beautifully tufted model is enough to make anyone want to drift off into a peaceful slumber. The Gibson is extra-tufted and extremely plush but maintains enough back, leg and shoulder support for sleeping.
An advantage of being a La-Z-Boy model is that this reclining chair comes in a ridiculous number of cover/color options. Regardless of how your home is decorated, you're going to be able to find a look that matches.
You can get the Gibson with the PowerReclineXR option, which gives you independent control over the back and legrest. This is more expensive but could be extremely useful for those with health concerns or disabilities that make basic reclining with an arm difficult.
Some Final Thoughts on the Best Sleeping Recliners
A high-quality sleeping recliner certainly isn't a cheap piece of furniture so be sure you carefully research a prospective model prior to investing. If possible, see if you can visit a local furniture store and test out a few models in person.
It's also a good idea to purchase a recliner from a retailer that accepts returns, in the event you find that the chair that comfortable for sitting and relaxing isn't the right recliner choice for sleeping.
Further Reading Related to the Best Recliners for Sleeping